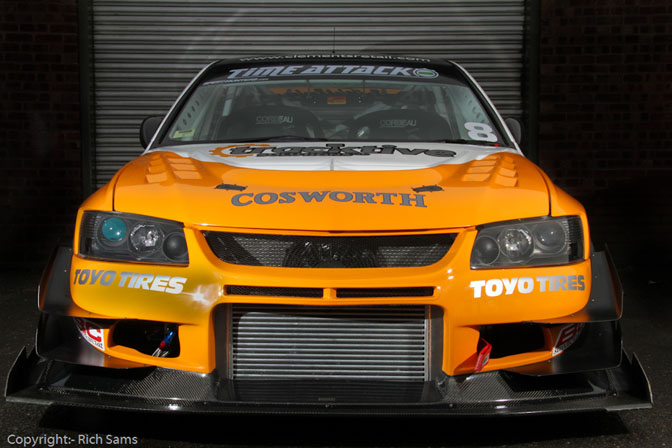 We've featured our fair share of EVOs on Speedhunters and I personally never get tired of seeing them. In standard trim, they can look pretty aggressive but when built up as a Time Attack competition machine, there's even more potential for pure fearsomeness. We all know the Sierra Sierra and Cyber EVOs but now there's a new kid on the block from Redbrick Racing in the UK.
Let's have a quick look.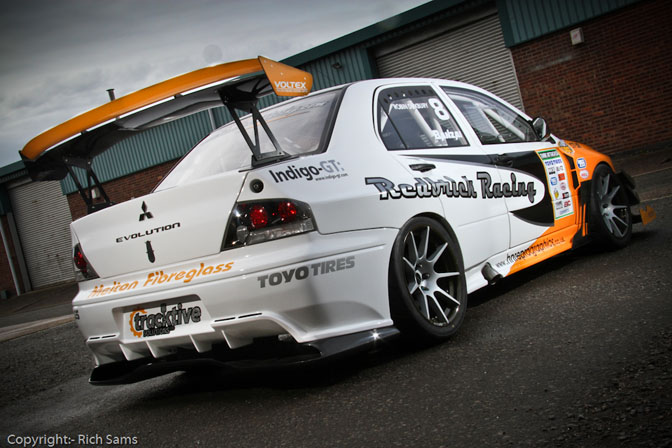 Last year they ran the car in a different spec, but Red Brick wanted to be
more competitive for the 2010 UK Time Attack
season, and decided to spice things up a bit.
It all starts with the Voltex spoiler that's a must have, wind tunnel proven item; need I say more? A fully functional diffuser has also been added for a better airflow underneath the car.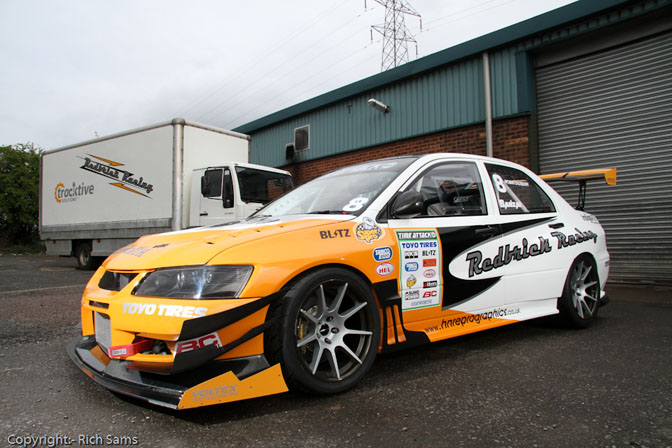 Another item from Voltex is of course the carbon front splitter with additional canards. The extensions on the fenders and sideskirts are made by Do-Luck.
The carbon wheels, yes carbon, are made by Dymag and come in 18"x10 with Toyo R888's wrapped around them.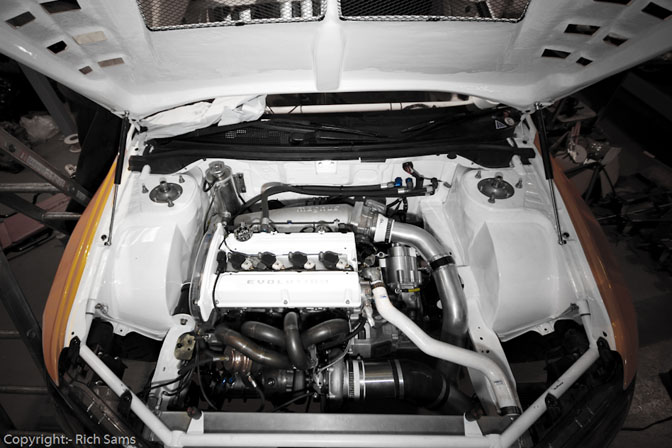 The 4G63 engine has been prepared by Tracktive who upped the displacement to 2.2 liter. A very trick part is the Inconel exhaust manifold and downpipe. Inconel is also used for the exhausts on Formula 1 cars because it can withstand extreme high temperatures and is resistant to corrosion.
Here's a more comprehensive list of what has been done to the engine: Tracktive prepped Mitsubishi 4G63 Stoked to 2.2, Cosworth CNC ported race Cylinder Head, Garrett GT42 V band Turbo, Inconel Exhaust Manifold and Downpipe, Custom Dual Core Intercooler, 8 Injector Manifold + Direct Port "Wet" Nitrous system, Tracktive Custom Dry Sump.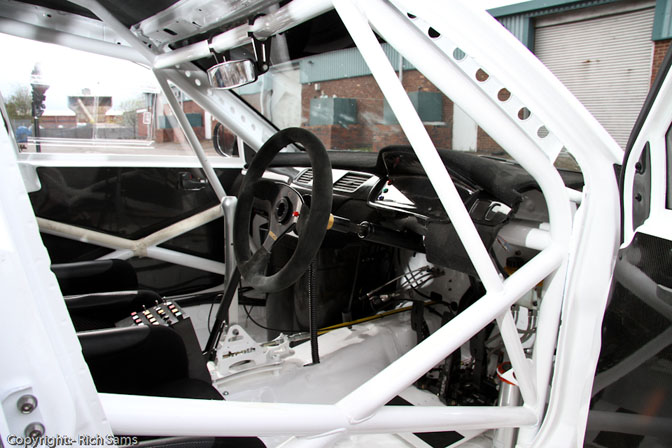 Inside it's all business with a flocked dash, stripped interior and a welded cage. There's also a Drenth sequential shift system for lightning quick gear changes. Those with trained eyes can also see the Tilton paddle box and airjacks.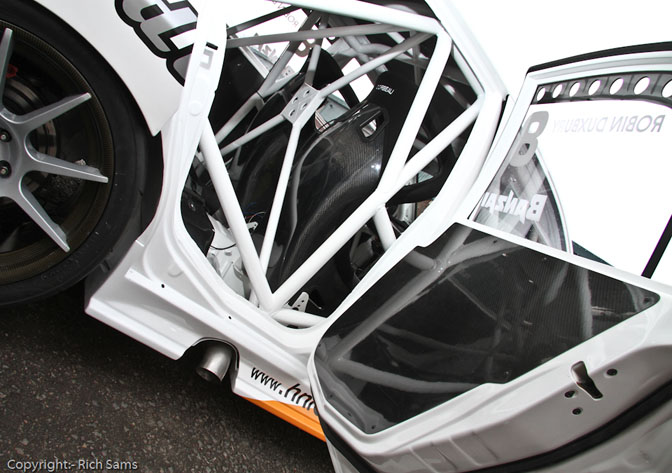 The exhaust gasses are being expelled via this custom side exit exhaust. Door cards from carbon and plexiglas windows keep the weight down.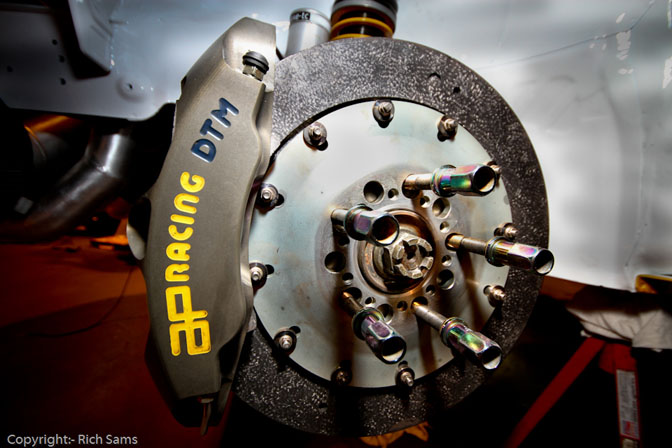 Here is something special you won't find on your regular EVO. A complete AP Racing brake setup with carbon 343mm rotors and DTM calipers with titanium race nuts. In the rear we can find carbon 278mm rotors and F1 calipers from the same company.
Besided the engine, the suspension is another very important part of a car so here is another list with all the goods: Custom Tracktive T45 Rear Sub frame, Custom Tracktive T45 Front Sub frame, Custom T45 Front Wishbones , Titanium Front Strut Brace, Custom Aluminium Rear Suspension Arms, Custom Blade Anti Roll bars, EXE-TC WRC Gp A Dampers, Custom Billet Aluminium front / Rear Hubs, Hell Titanium Brake Lines, Hell Carbon F1 Fluid Lines.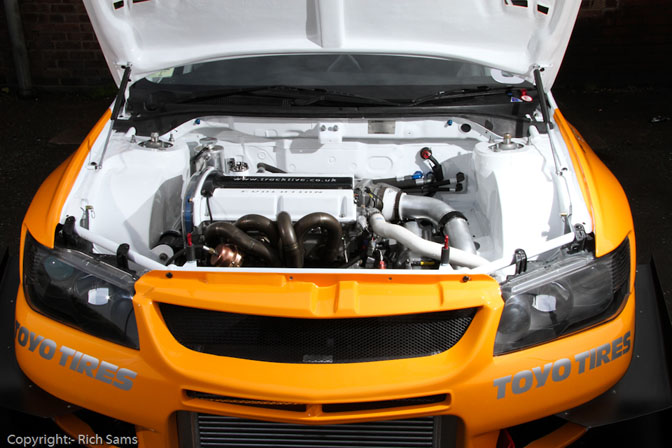 Will we see this car at the World Time Attack Challenge next year? I sure hope so because then it would be a true World Championship with almost all continents represented. But for now, we'll have to see how the car does in the European Time Attack series and keep our fingers crossed.
-Jeroen Willemsen