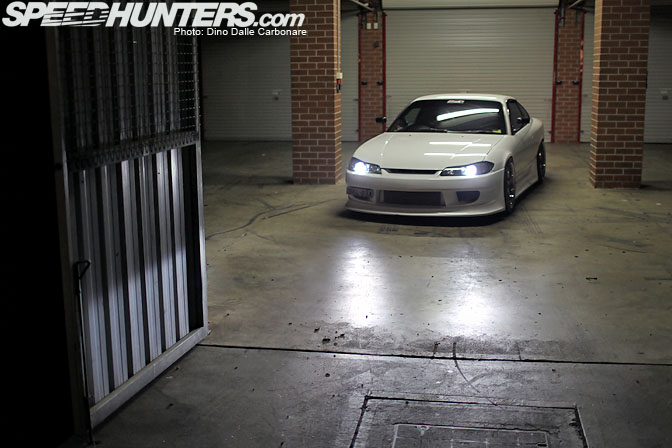 Throughout the other weekend at Eastern Creek Rod and I found ourselves eyeing out a very clean S15 on display on the paddock. Upon closer examination it turned out this was without a doubt the nicest Silvia we had seen during our time in Australia and proceeded to get permission from the owner, Matt, to do a small shoot with the car.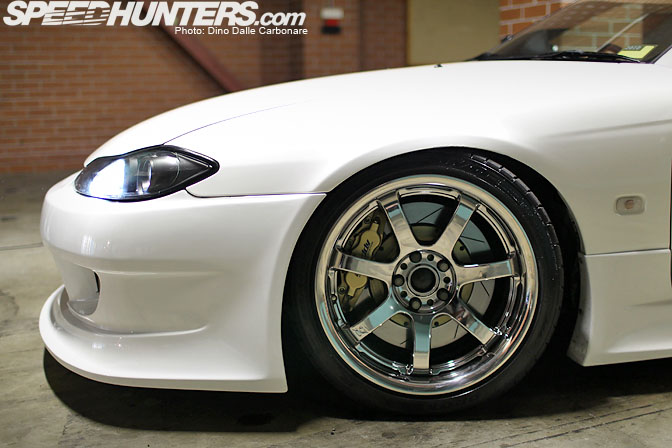 Matt kindly hanged around after the end of the World Time Attack Challenge waiting for some of the pits to clear so we could get a nice location to shoot the car in.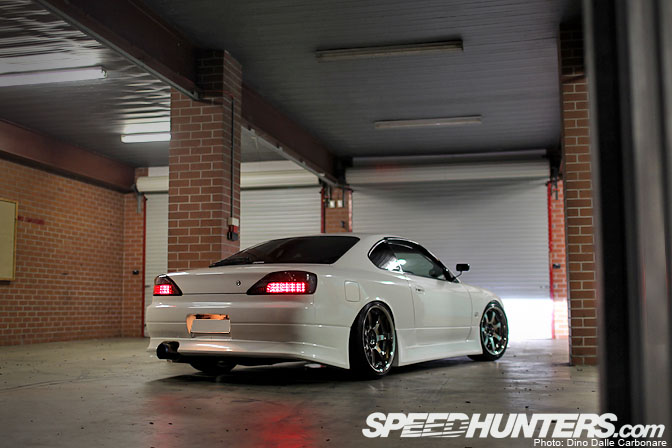 The S15 sits low on its Trust type-S dampers and staggered 18-inch front and 19-inch rear Gram Lights 57S-PROs, sporting the kind of stance we love to see on cars we feature.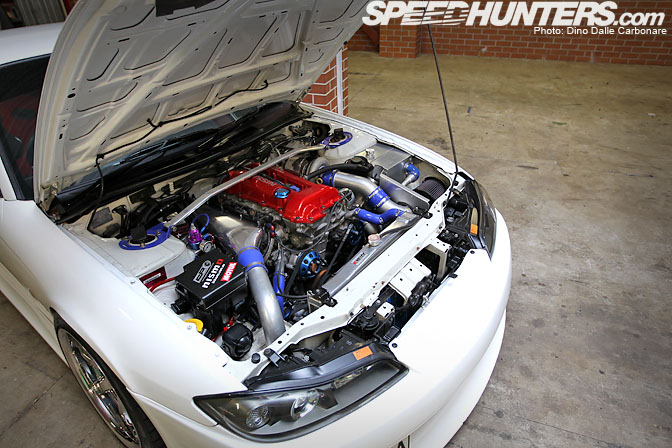 Tons of work went on under the hood to extract the 400 HP the SR20 now develops, thanks to the forced induction the externally gated Trust TD-06 supplies. To boost throttle response and overall flow an Ikeya Formula 4-throttle conversion along with their intake plenum was also fitted.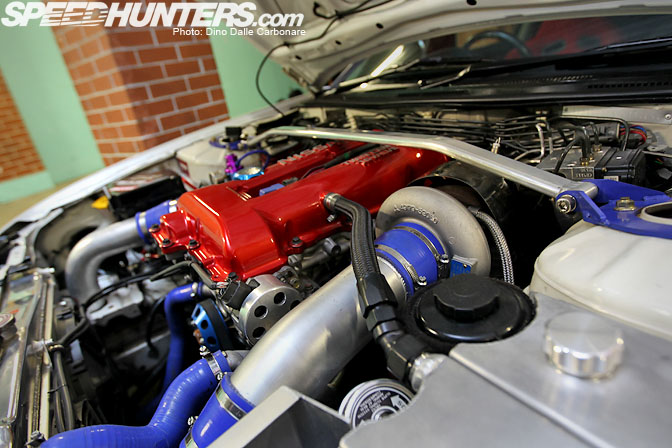 The TD06 is run at 1.3 bar and dumps spent gasses into a Trust front pipe and titanium exhaust system.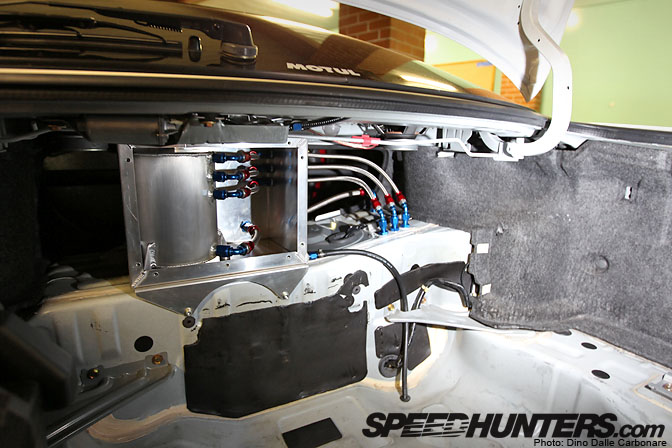 No expense has been spared in this build, which includes a pretty serious looking fuel system neatly integrated in the trunk area. The Nismo in-tank fuel pump is helped by a Bosh external pump which sends juice up front via braided lines, not before being swirled around in the custom surge tank. Power Enterprise 800 cc/min injectors take care of the rest.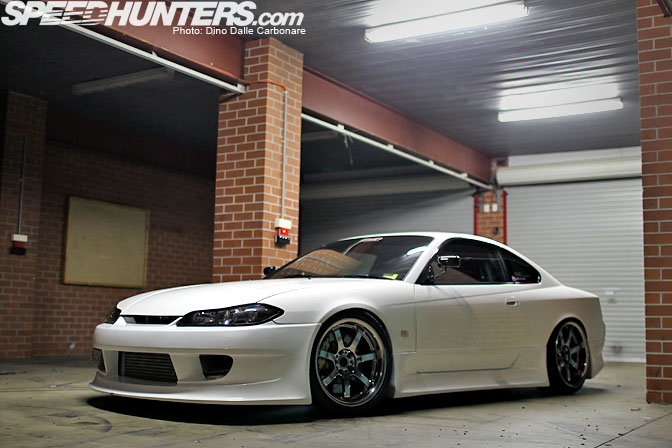 Matt's Silvia wears a full T&E Vertex Lang aero kit painted in a very nice shade of House of Kolor pearl white.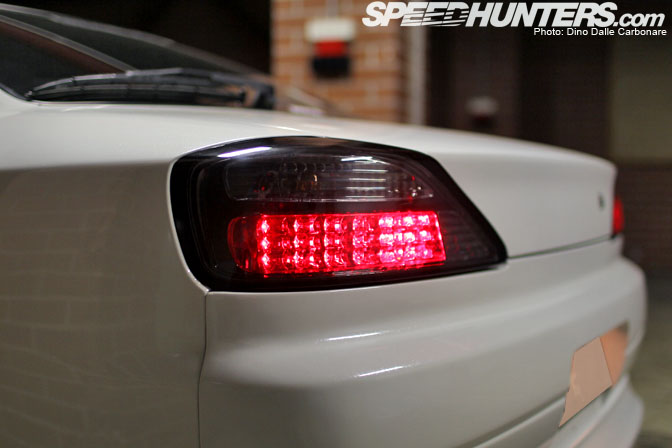 I really liked the LED rear light conversion!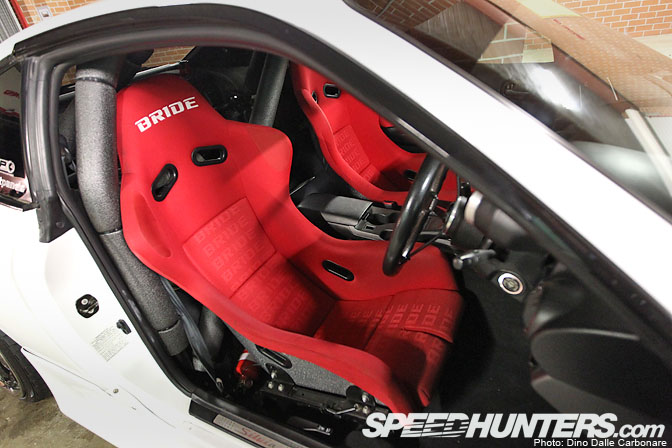 Inside Bride Zeta III are fitted on both the driver and passenger side, just managing to clear the beefy roll-cage in the rear of the car.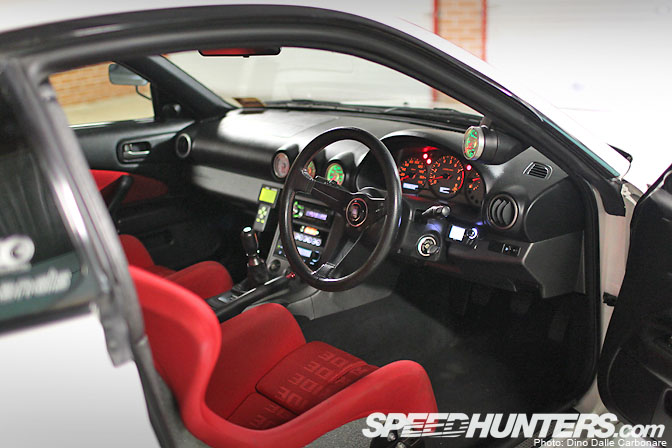 The deeply cupped Nardi steering wheel is a great addition to any interior and it's joined by a host of additional instrumentation starting with the A-pillar mounted Defi boost gauge…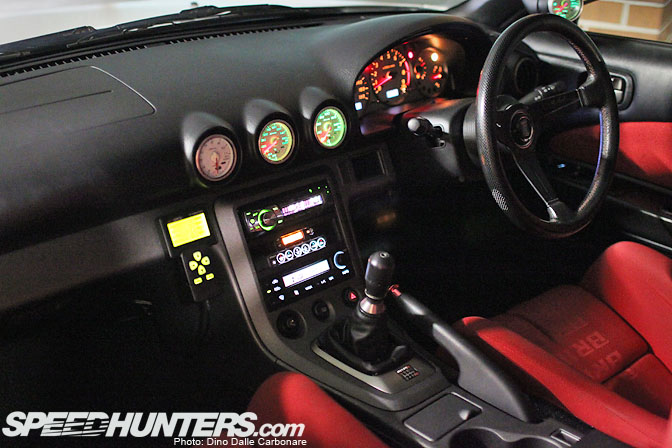 …and an additional triplet of clocks mounted in the three central air vents. The Apex Power FC commander has a permanent position on the dashboard, displaying a multitude of parameters at any one time.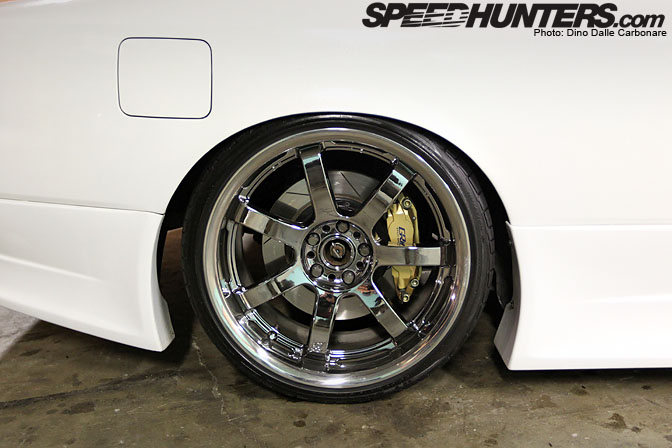 This S15 must offer a pretty amazing braking performance as the GReddy full brake kit it's fitted with, 6-pots up front and 4-pots at the rear, is usually used on GT-Rs here in Japan!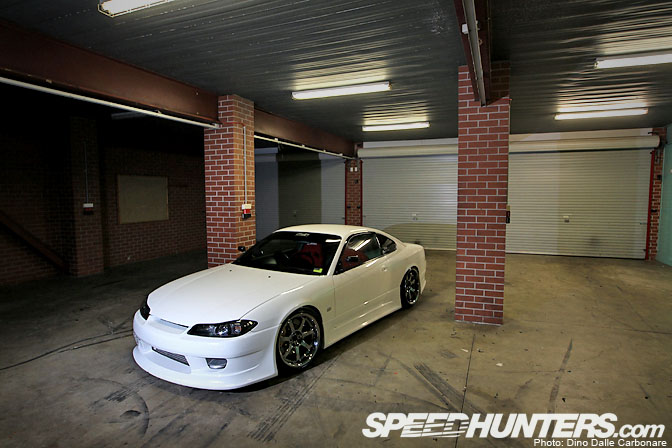 For the time being Matt enjoys the Silvia on the street but is looking to participate in more track events in the future to really make full use of those 400 HP. 
Matt would like to give a big thanks to City Performance, Nick and Athid.
Full Specs of the car:
ENGINE:
- Tomei rocker arm stoppers
- Tomei 1.2mm head gasket
- Tomei head stud kit
- Tomei pon cams 256in 256ex
- Trust GReddy TD-06 L2 20g 8cm turbo kit
- Trust GReddy high mount manifold
- Trust GReddy 48mm external wastegate
- Trust GReddy dump pipe & front pipe
- Trust petir titanium cat back
- Ikeya Formula quad throttle bodies
- Ikeya Formula intake plenum 
- Ikeya Formula fuel rail
- 2.5L Custom fuel surge tank
- Nismo intake fuel pump
- Bosch 044 fuel pump
- Magna Flow fuel regulator
- Speed flow fittings and braided lines throughout the whole car
- Power Enterprise 800cc injectors
- GReddy 13 row oil cooler kit with remote mount
- Trust LS front mount intercooler
- Fwin dual layer radiator in a custom alloy shroud
- Twin Spal thermo fans
- SFS radiator hoses
- GReddy pully kit
- K&N air filter
- Custom made airbox, radiator overflow and oil breather setup 
- Nismo engine mounts
- Apexi evc
- Split fire coil packs
- Trust oil cap
- Trust extended sump
- Battery relocated to the trunk
- Apexi Power FC d-jetro (map sensor)
- Blitz ID-3 boost controller
- Defi Control Unit II
- Defi Boost gauge
- Defi oil pressure gauge
- Defi oil temp gauge
- Defi exhaust temp gauge
- GReddy in-cabin suspension damper control
DRIVE TRAIN:
- Nismo 6 speed
- Nismo super coppermix clutch
- Nismo lighten flywheel
- Nismo GT LSD
- Trust diff cover
SUSPENSION & BRAKES:
- GReddy type-S coilovers
- Nismo front & rear strut braces
- Nismo front & rear lower control arms
- Nismo front & rear sway bar
- Uras front cast rods
- Tein tie rods
- Cusco rear camber arms
- Cusco rear toe arms
- Uras rear subframe bushes 
- R33 GT-R brake master cylinder BM57
- Trust 6-pot front callipers & Trust 355 mm rotors
- Trust 4-pot rear calipers & Trust 330 mm rotors
- R33 drum handbrake conversion
- Trust Braided lines
- Trust pads
WHEELS & TIRES:
- Rays Engineering Gram Lights 57S-PRO 9Jx18" +12 (front), 9.5Jx19" +12 (rear)
- Toyo Proxies R1R 225/35/18 (front), Ironman 235/35/19 (rear)
- Trust wheel nuts
BODY:
- T&E Vertex Lang kit
- House of Kolor candy white
- Spoiler holes removed and de badged
- Front and rear guards flared
INTERIOR:
- BOND's 4-point cage with harness bar
- Bride Zeta III seats
- Bride SL seat rails
- Bride door trims
- Nardi deep corn steering wheel
- Nismo gear knob
-Dino Dalle Carbonare