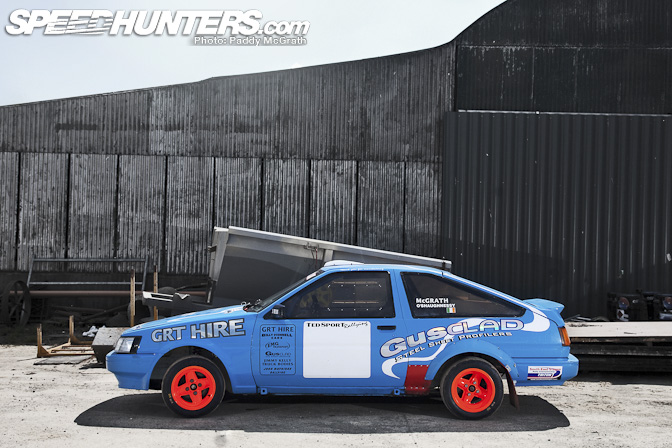 Already I can hear the call of those deriding the ride height of this eight/six. I do have some unfortunate news for these people : Stance, ride height and offset is not the be all and end all. Like everything there is a time and a place for it and hell, I enjoy a properly stanced car as much as the next guy but sometimes you have to realise that there can be more important factors to consider …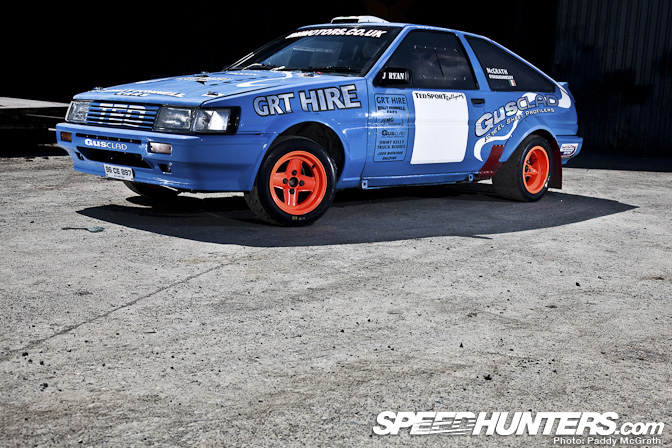 You may remember last month I covered the Carlow Stages / MKII Escort Challenge rally here in Ireland. One of the front runners at that and many other events is Mr. Terence O'Shaughnessy in this Toyota Corolla AE86. I've watched videos of Terence for years and was always amazed at his balls out, flat out style of driving.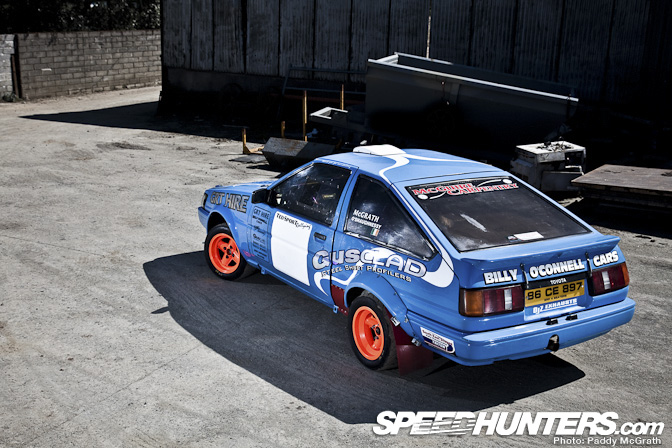 I think I was expecting to meet a guy who was completely crazy and not precisely sane but Terence is the complete opposite of his driving style. He's a quiet gentleman who is happy to talk cars all day long with just about anyone.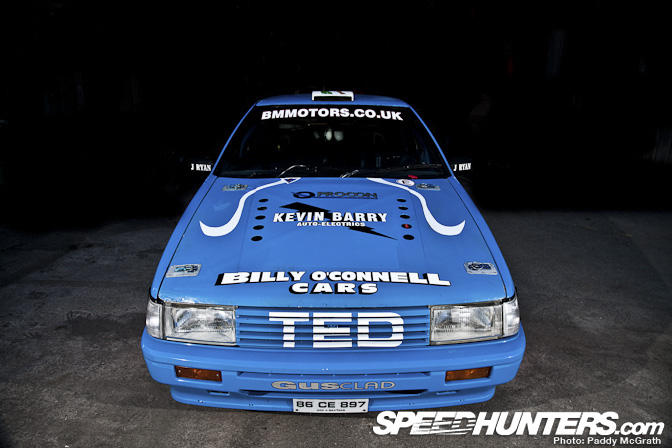 This isn't exactly a normal Corolla as you are about to find out.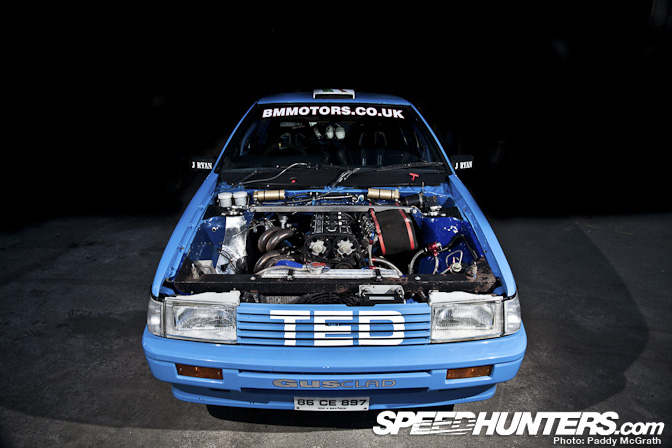 Gone is the trusty but comparatively slow 4-AGE. In it's place is a 2.5 Series 2 Millington engine which produces 318BHP and 230 ft/lbs from it's compact four cylinder, normally aspirated motor.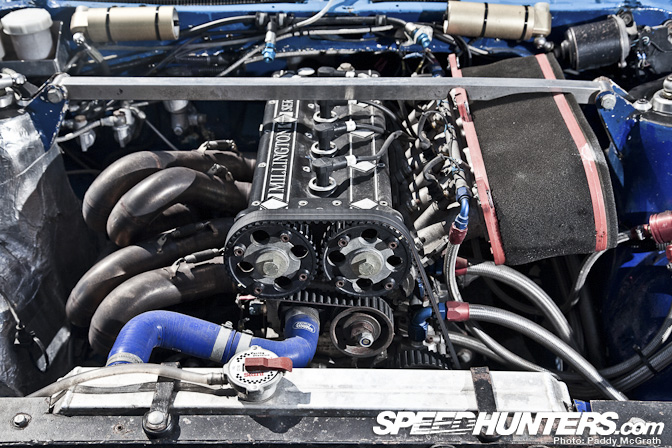 The engine features an all alloy block and head to keep the weight down. Weight saving is one of those things that every AE86 owner will have in common.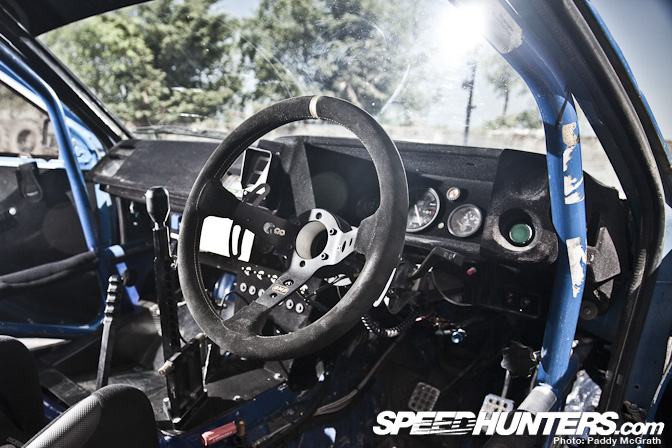 The engine is mated to a Tractive 6 speed sequential gearbox. The eagle-eyed amongst you will have noticed that it's also a paddleshift system with an LED gear display.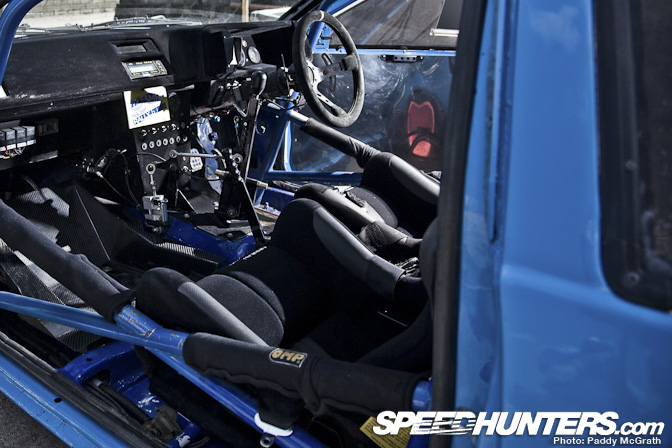 The rest of the interior is your standard motorsports affair; a flocked dash to reduce glare.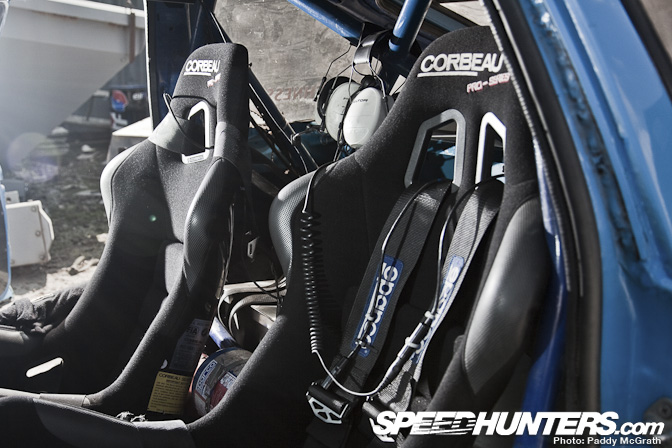 Fixed back FIA approved Corbeau seats with Sparco harnesses.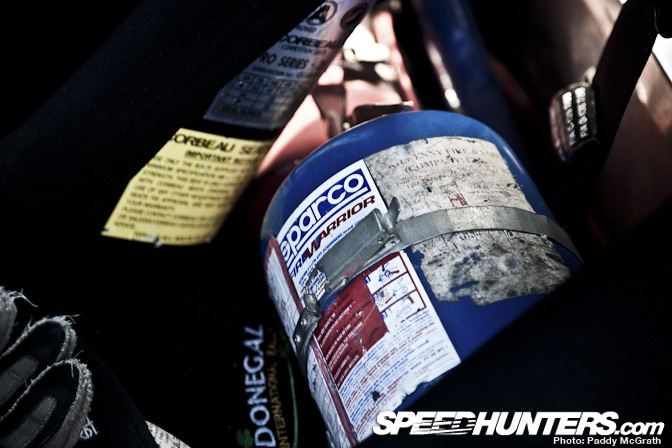 A plumbed in Sparco Fire Warrior extinguisher system.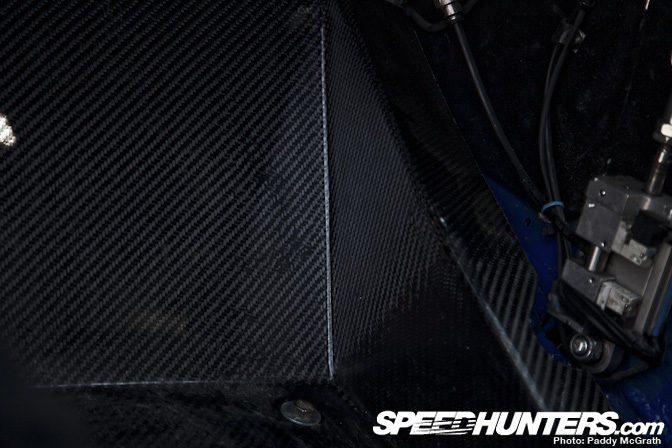 A carbon fibre footrest for the navigator.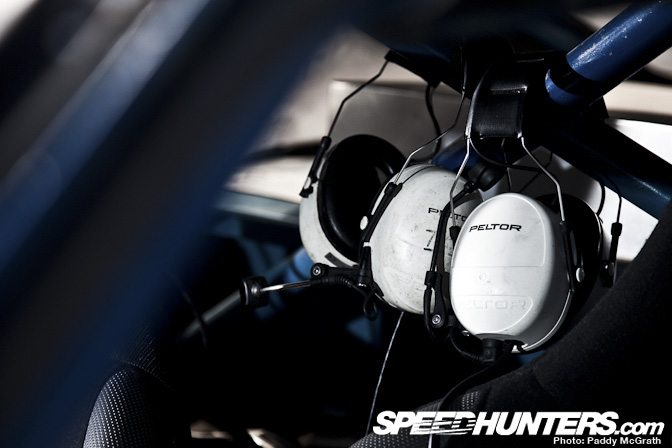 A pair of Peltor headphones and microphones allows the driver and navigator to communicate between stages. It get's exceptionally loud in here.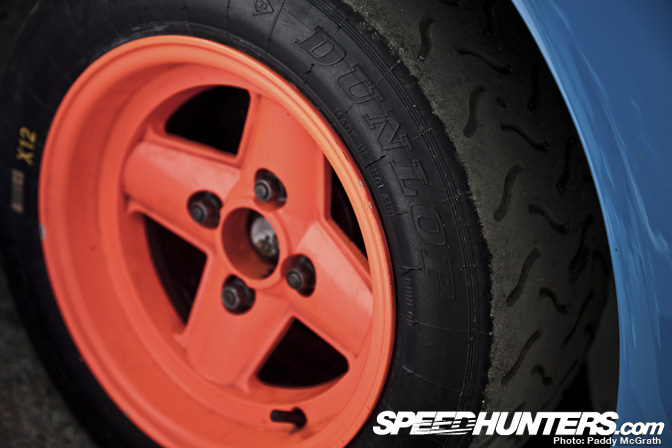 Back on the outside, we have Dunlop tires on Revolution 8×13's up front …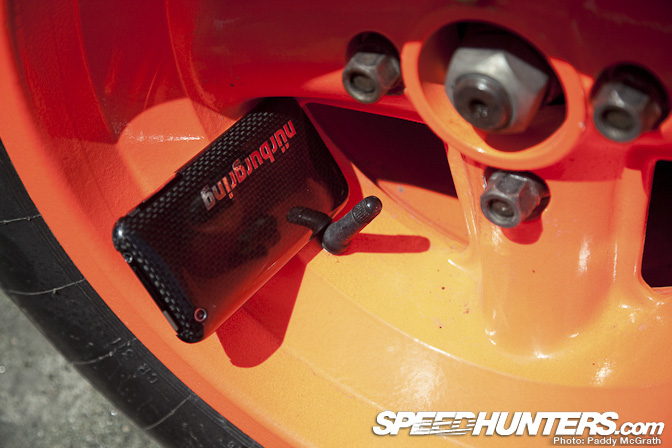 … and 9×13's on the rear. Surely enough dish to satisfy most people !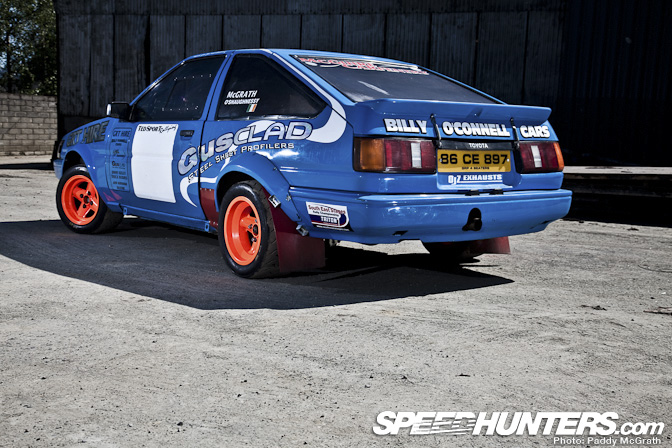 Exterior wise it's pretty much a standard AE86 with rolled front arches and bolt on rear arch extensions. There's also a functional roofscoop.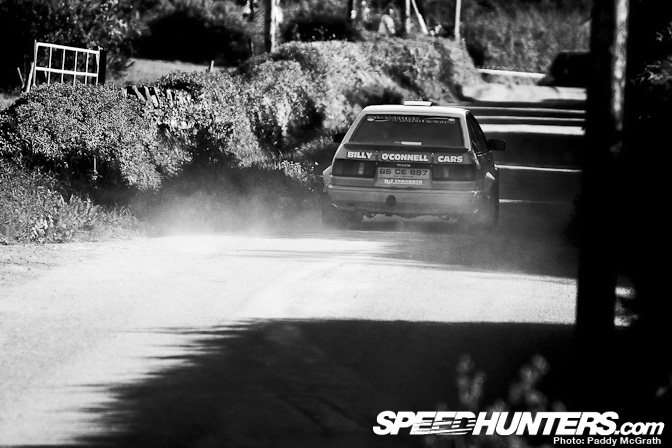 Helping the car to stop are a pair of hi-spec 6 pot front brakes and 4 pot AP rear calipers with Carbon Lorraine pads all around. These are all controlled through an adjustable pedal box.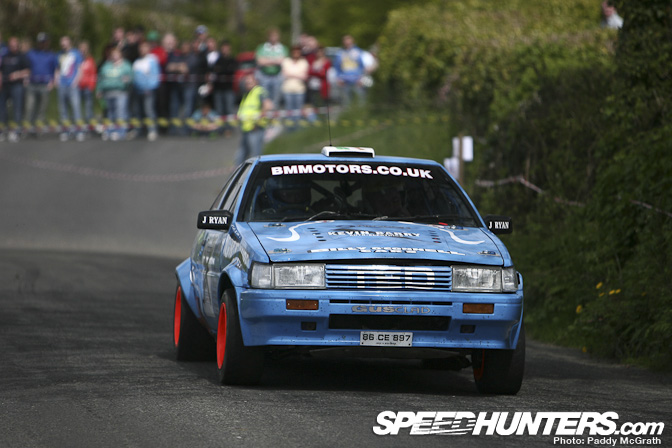 Assisting in helping the car to grip and corner are 3 way adjustable Proflex suspenion units at all four corners.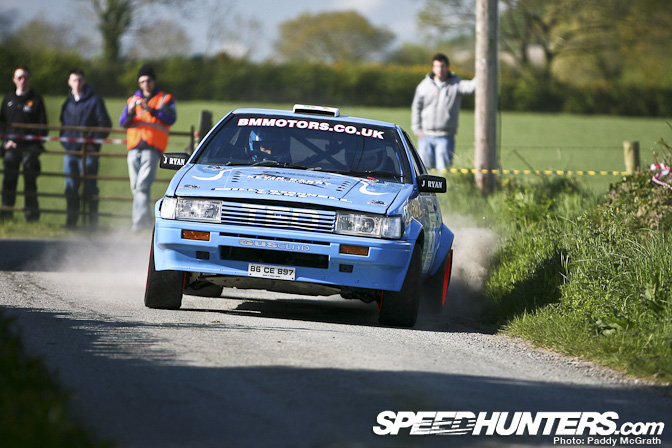 It all comes together to create a very competitive package and not only is it competitive but it's wildly exciting to watch on the stages.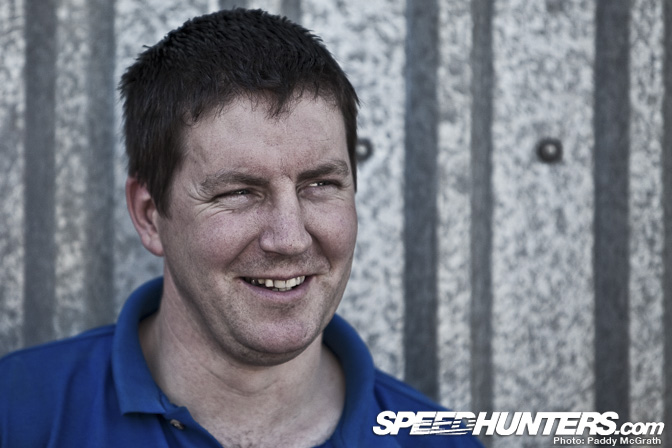 As we wrapped the shoot, I was packing away lightstands and other random bit's of camera equipment into the Speedhunters VW Caddy when Terence enquired would I like to take a passenger ride. It would of been rude not to so I dropped into the passenger seat and strapped myself in with the Sparco harnesses. Leaving the shoot location we head down the road to a quiet backroad that Terence is obviously very familiar with.
Over the constant engine noise, he tell's me he'll have to take it easy as the tires and brakes won't be up to temperature. Unfortunately for me, Terence's idea of an 'easy' spin is broadsided at every opportunity and just shy of clipping rev limiter in sixth gear on a clear straight section of backroad.
There's definitely a bit of Jekyll & Hyde with this O'Shaughnessy fella …
Paddy
A big thanks to Peespeed Photography for organising the shoot. Cheers Peter !