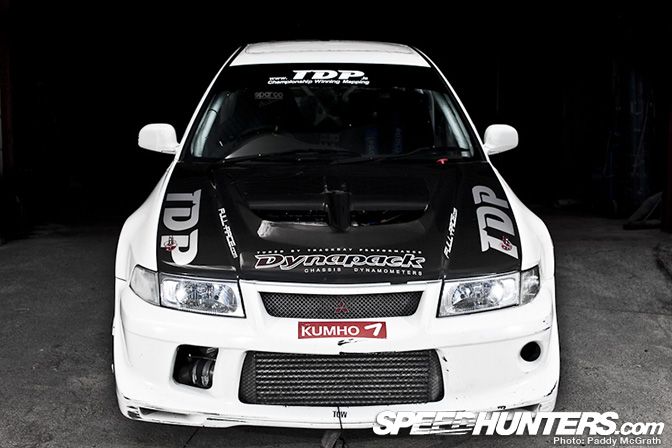 The Evo before you is a pretty special car. Built by Trackday Performance (TDP) in Ireland, the car has become a multi-discipline weapon, successfully competing at drag racing events, time attack events, rallycross, rally sprints and hill climbs to name but just a few. Not only does it just compete, but more often than not it will completely dominate it's class. So let's take a closer look at what makes this Lancer Evolution so special …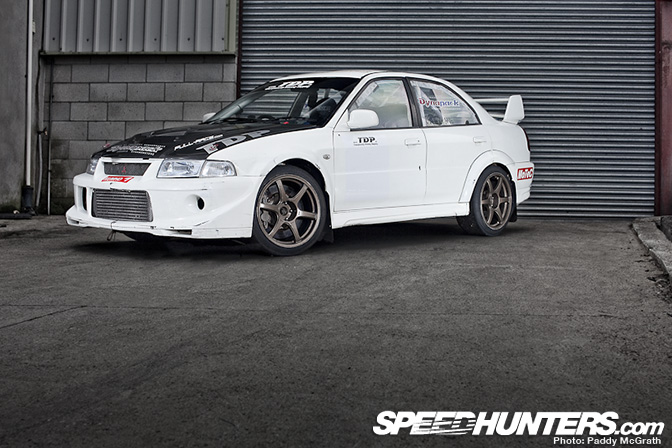 Sitting behind the almost standard exterior is a car with a proven 650BHP at 2.0 bar boost. The shell is a CP9A Evo 6 shell. Yes, there are a few marks on the exterior but any of you guys that have seen Rallycross events will know the competitors ain't shy of trading paint.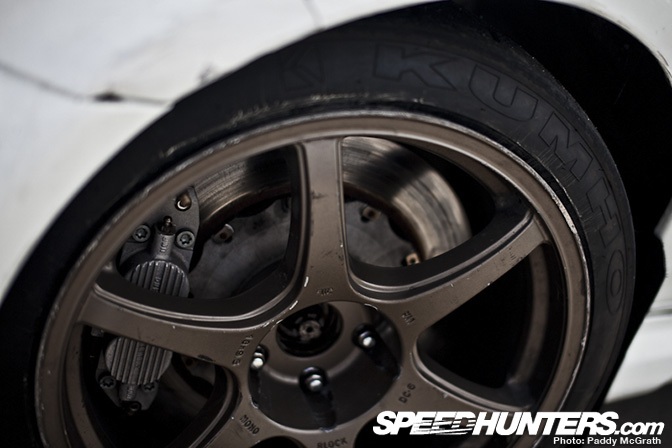 The wheels are these bronze 18's in 9.5J all around. Behind the simple shape lies 380MM front rotors with four pot Lucas / Gerling Le Mans titanium alloy brake calipers with Pagid RS19 pads. At the rear are the standard Evo items with Ferrodo DS3000+ pads. Kumho supply the rubber in the shape of their V70A tires, 265/35/18 all round.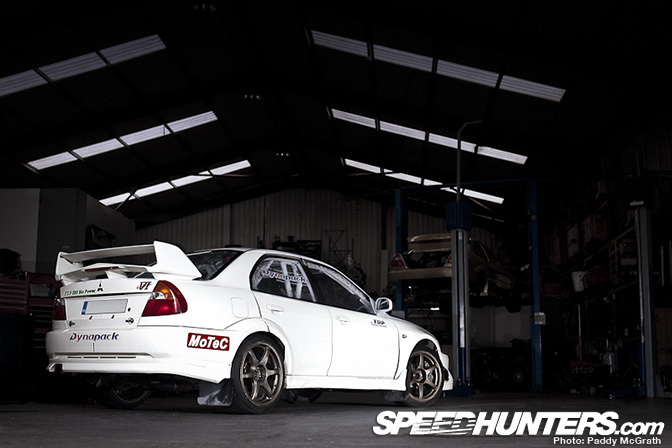 The car sits on Proflex WRC Tarmac dampers, which ensures this Evo can corner just as well as it can accelerate and brake. The car sits a little bit high because it works better like that. Form follows function …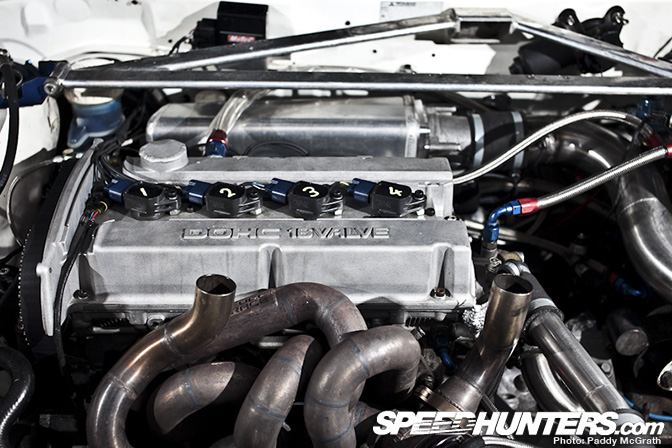 It is however under the bonnet that things get quite interesting. The 4G63 engine has been heavily modified to produce the aforementioned 650BHP and 550 ft/lbs of torque. TDP have retained the standard 4G63 crankshaft (albeit on ACL race series bearings) but it would appear that is all that's original. Connecting the TDP customised Wossner pistons are Wossner forged H-section connecting rods. The block has been CNC machined by TDP along with their own custom combustion chambers. The engine also uses a HKS Le Mans dry sump system. A Fullrace T4 exhuast manifold is in place with twin 44mm Tial wastegates.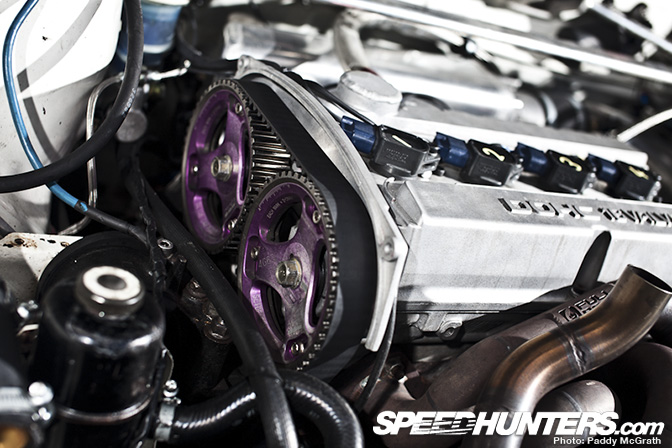 At the top end we have HKS camshafts, valve springs and cam pulleys. TDP have built a custom eight injector inlet manifold with an 80mm drive by wire throttle body. The primary injectors are 540cc and the secondaries are 1000cc. A Cosworth head gasket and head stud kit help hold it all together.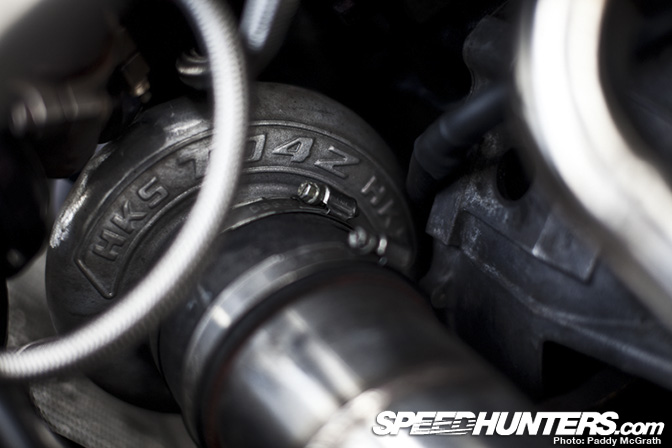 Capable of 2.8 bar boost is this HKS T04Z 1.0 A/R turbocharger.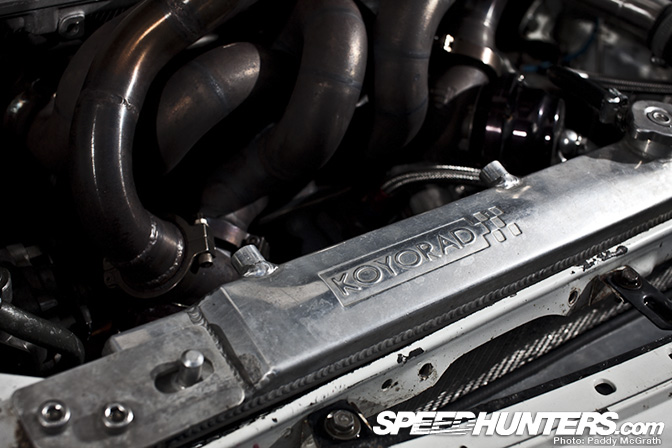 Helping to keep the temperatures under control is a Koyo radiator with a TDP custom pressurized water system which runs at 2 bar.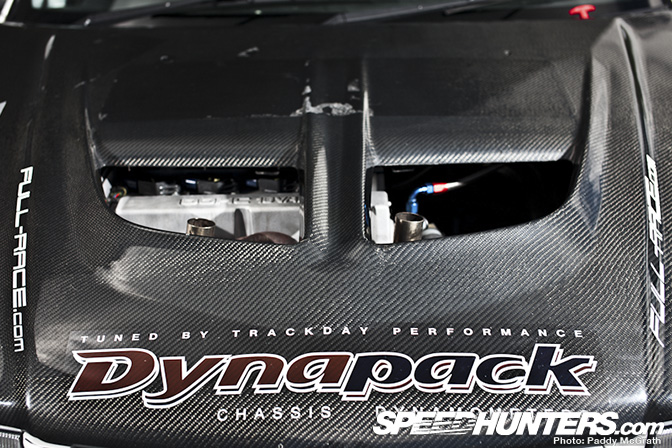 I love how the Fullrace manifold pokes through the carbon fibre.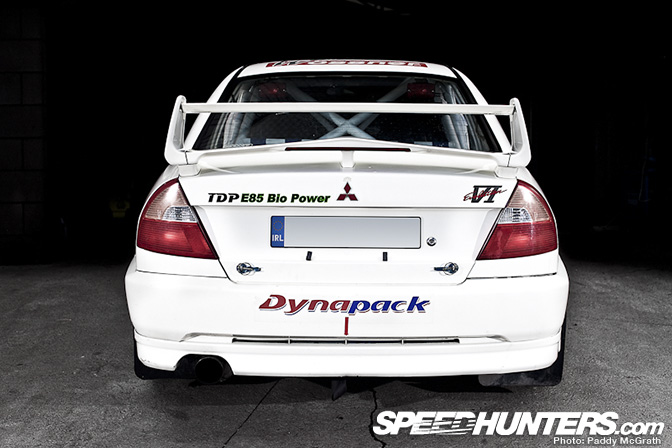 I should of mentioned that not only is it road legal but it's also environmentally friendly as it runs on E85 bioethanol. Take that environmentalists !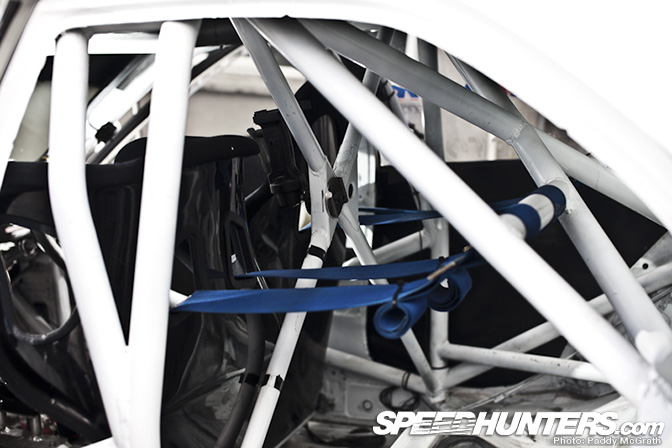 Back inside and we have a T45 WRC cage to protect the driver and passenger.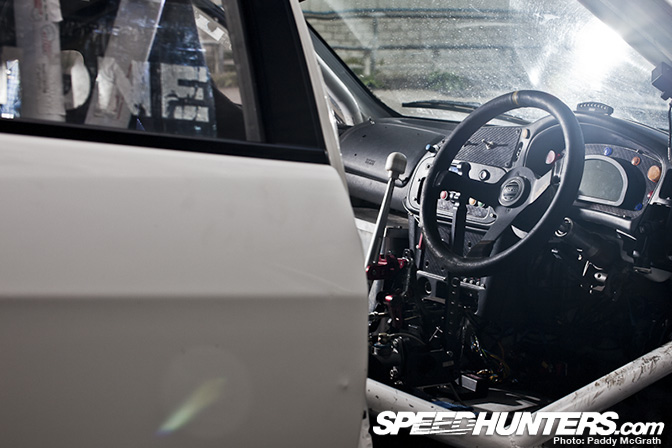 For the controls, we have a Sparco wheel, a hydraulic handbrake and a standard Evo VI gearbox with Drenth gear kit with GSR ratios. On the subject of transmission, there is an Exedy Hyper twin plate clutch, custom front and center limited slip differentials and a Ralliart 1.5 way rear LSD.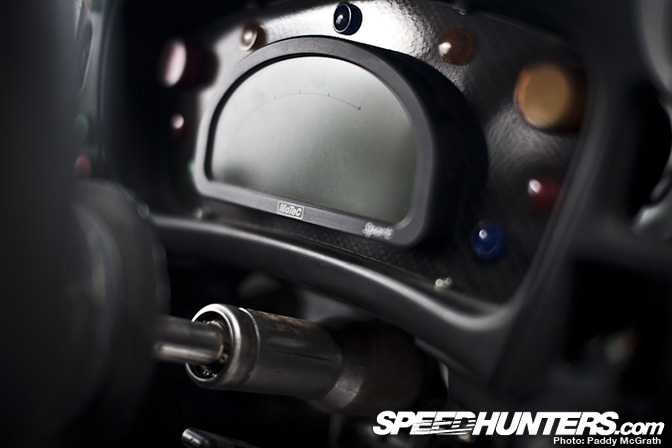 The electronics of the car are covered pretty exclusively by MoTec. I've included the full MoTeC listing in the speclist at the end of the article.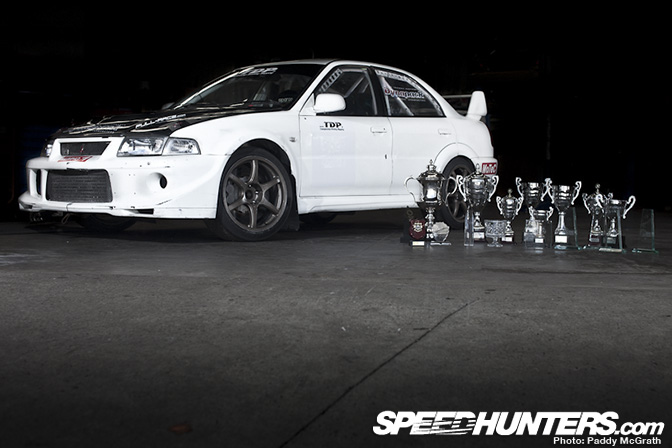 The power and reliability developed by this car is a testament to the hardwork and commitment of the staff at TDP. The guys are very proud of this cars past and ongoing achievements. I'll be documenting a trip to the TDP premises next week so be sure to keep an eye out for that where you will see some very special stuff …
Paddy
Engine 4G63 EVO 6
Standard Crank Shaft
Wossner Forged H section connecting rods
Wossner Custom TDP Pistons 1+mm O/S
ACL Graded Race Series Bearings
TDP CNC Machined Block
Fully dynamically balanced assembly
HKS Le-Mans Dry sump system
TDP CNC machined combustion chambers
Cosworth Head Gasket
Cosworth Head Stud Kit
HKS Camshafts
HKS Valve Springs
HKS Cam Pullys
Fullrace T4 Manifold with twin 44mm Tial Wastegates.
HKS T04Z 1.0 A/R Turbo Charger
Custom 8 injector Inlet Manifold with 80mm Drive By Wire Throttle Body
Injectors 540cc Primaries 1000cc Secondaries
TDP custom pressurized water system 2 bar
Fuel
STD Tank 200 liter lift pump
2 liter Swirl pot at 3 bar pressure
2 Bosch 044 Pumps
2 Sytec Pressure Regulators
-6 & -8 Aeroquip through out
Electronics
MoTeC PDM 15
MoTeC M400 with advanced functions and drive by wire Lamda Controol
MoTeC SDL 8MB Logging Dash
MoTeC E888 CAN Input output expander
MoTeC 20hz GPS
MoTeC BR2 Beacon Receiver
MoTeC Ignition Expander
TDP Coil on Plug system
All Sensors MoTeC
Transmission
Exedy Hyper Twin Clutch
STD EVO 6 Box with Drenth Gear Kit ( GSR Ratios )
Custom front LSD
Custom Center LSD
Ralliart 1.5 way rear LSD
Chassis
CP9A EVO 6 Shell
T45 WRC Cage
Proflex WRC Tarmac Dampers
380mm Front brake rotors
4 Pot Lucas/Gerling LeMans Titanium Alloy Calipers
Pagid Rs19 pads
Std Rear Brakes with Ferrodo DS3000+
18 x 9.5J Rims all round
Kumho V70a 265 35 18 tyres
Power measured on Dynapack Evolution 8000
Axel BHP 580 @ 2 bar boost Estimated flywheel 650 bhp
Torque flywheel 550 lbs @ 2bar boost