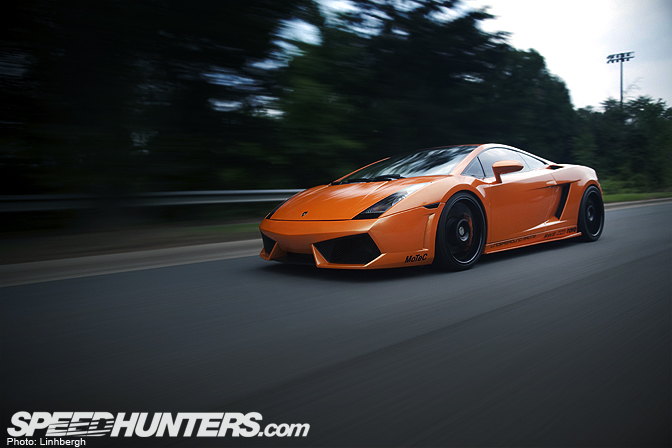 After a quick blast down the motorway, Mobil 1/Theory Communications guy, Andy Williamson, stepped out of an orange 2006 Lamborghini Gallardo with the biggest grin on his face. He stood there for a moment and regained his composure. After a minute or so of breathless silence, the only utterance that came out was an almost inaudible "wow."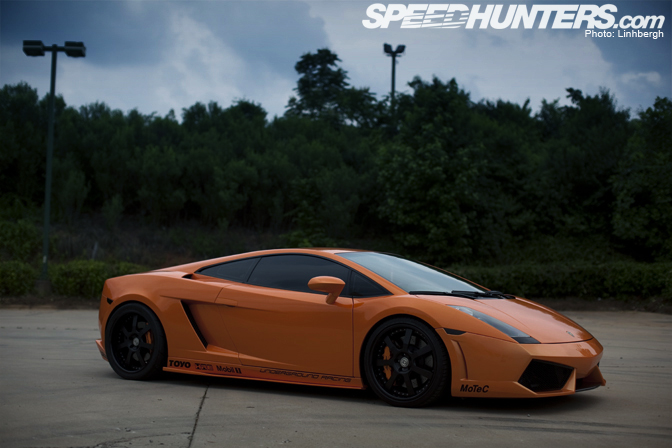 After another period of extended pause, he became a talking machine. First, he mentioned that he's been in a lot of high horse power machines, then he mentioned how this very Gallardo, owned by a nutter named Kyle Bernett, has the best day-to-day use of 1000 horsepower he's ever been in.
Oh, and that's 1000 horses with pump gas.
Most other cars with that much horse power are insane machines that require drivers and passengers to bring a change of undergarments — a precaution in case things get, well, a little wild.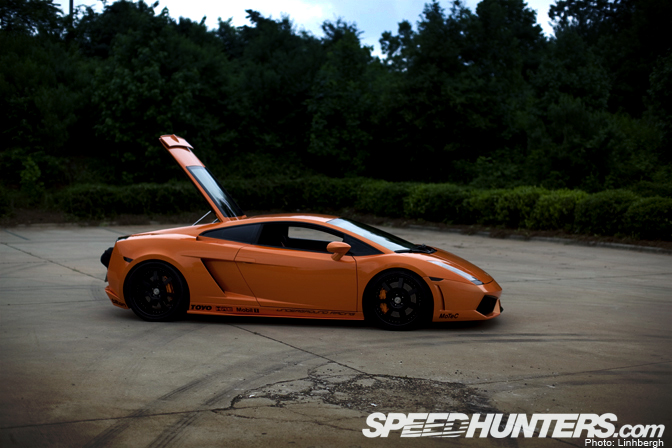 So let's pop the hood and see what exactly powers this tame, yet clearly untamed, beast, shall we?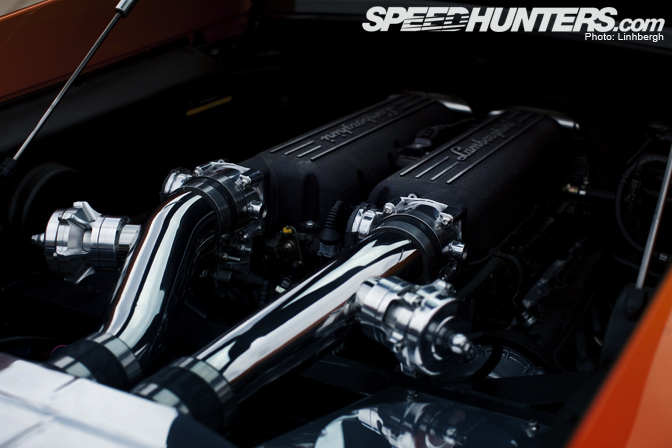 So, instead of the usual me blabbering on about what goes into an Underground Racing twin turbo system for a Lamborghini Gallardo, how about I list it?
- Custom twin billet 67mm Precision Turbochargers
- Mobil 1 15W50 Motor Oil 
- TiAL billet wastegates and billet blow off valves
- Custom fabricated stainless steel exhaust using aircraft quality metal
- Ultra lightweight stainless steel mufflers
- Custom fabricated stainless steel air induction using aircraft quality metal
- Custom Air/Water intercooler system with high flow water pump
- Custom ice water reservoir
- High flow intercooler water heat exchanger
- Crankcase ventilation system
- K&N air filters
- Show quality polishing on turbo compressor, intercooler and charge piping.
- Custom heat shielding and high quality heat wrap
- Exhaust Finish Options:high temp heat coating or polished mirror finish
- High quality silicone hose
- High pressure T-bolt clamps for intake pressure tubes
- High quality V-band clamps for exhaust connections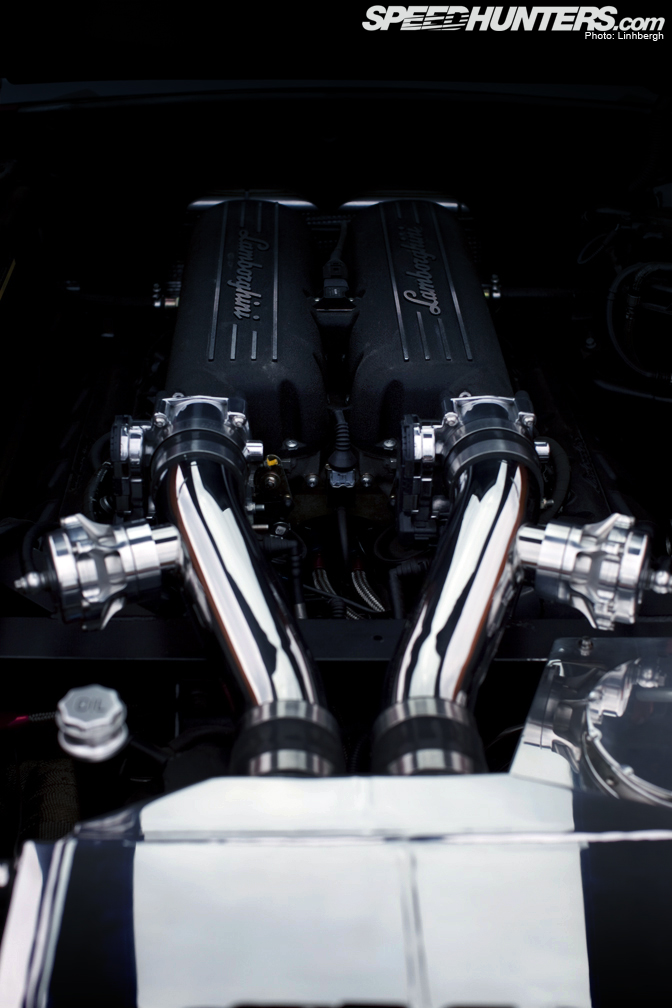 Kyle's Gallardo also features an Underground Racing custom a billet short block. So much goes into these motors that they're bullet proof. Usable 1000 wheel horsepower that's also reliable? Yes please. This is what's in one of these crazy UR engine blocks:
- Full blue print and balanced race short block
- Carrillo billet steel connecting rods
- CP custom reverse dish aluminum race pistons
- CP spiral locks
- CP .180+ wall wrist pins
- CP oil rail support
- Custom steel cylinder sleeves
- Main bearings
- Rod bearings
- Total seal TNT file fit rings
- Stage 3 Race heads
- L-19 head studs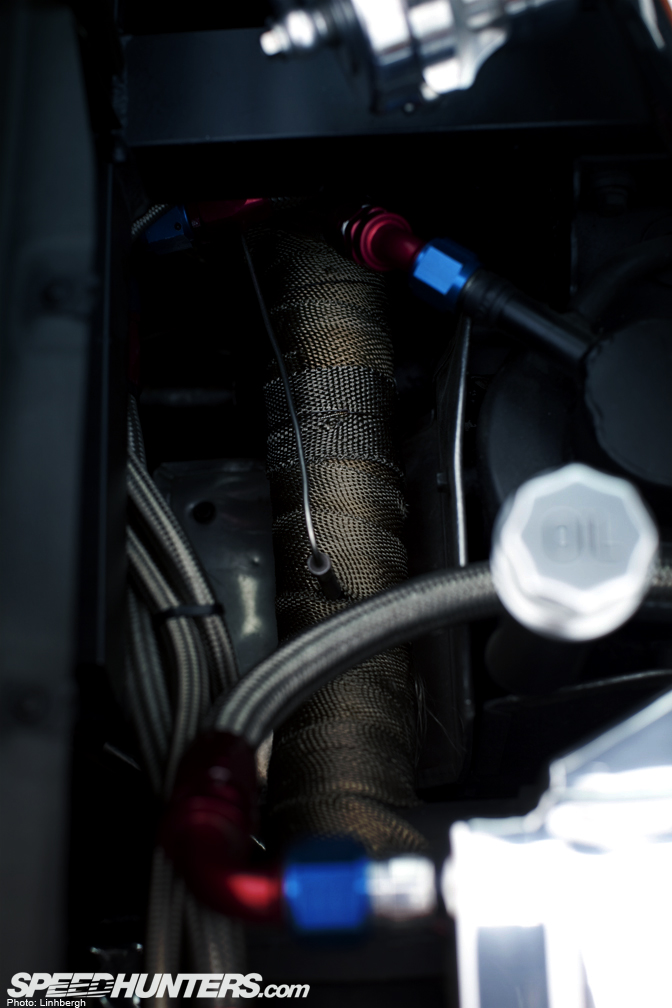 I'm sure we'd all love to see all of Underground Racing's beautiful stainless steel piping that's underneath the heat wrap, but as we all know, this car is driven on the street and also does 240+ mile per hour blasts down airport runways…. Heat is the enemy when you're driving at ludicrous speed!
I'm still blown away that all Underground Racing turbo kits have a 2 year / 24,000 mile warranty. Though, the warranty is void if the car is serviced without Mobil 1 15W50 oil! The boys at Underground Racing swear by that motor oil.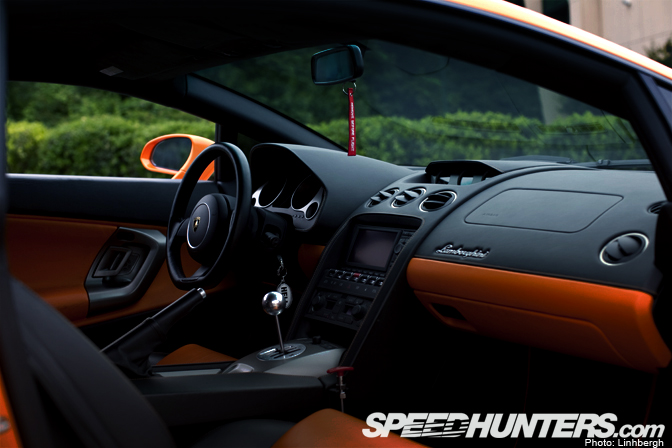 With all that power, there's no need to strip away the interior. This car is just as comfortable as when it left the dealership.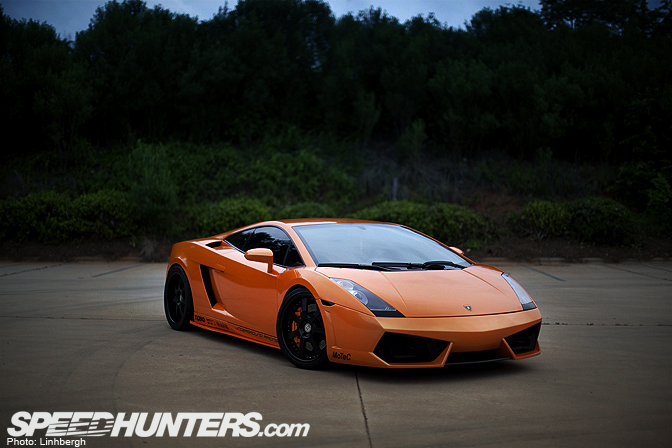 When you wake up in the morning and go out to the garage and see this sitting in it, how could stop the urge to run inside, grab the keys and do a few quick blasts down the motorway?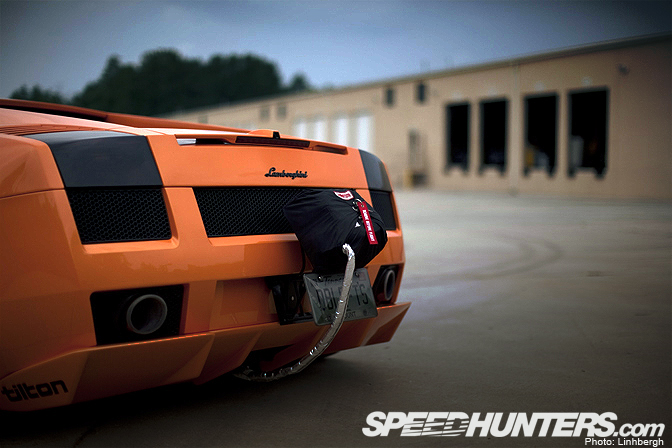 When you go 240+ miles per hour, a parachute is needed –just in case. It also looks so hard on the car. When you see a car with this on the street, you know its serious business.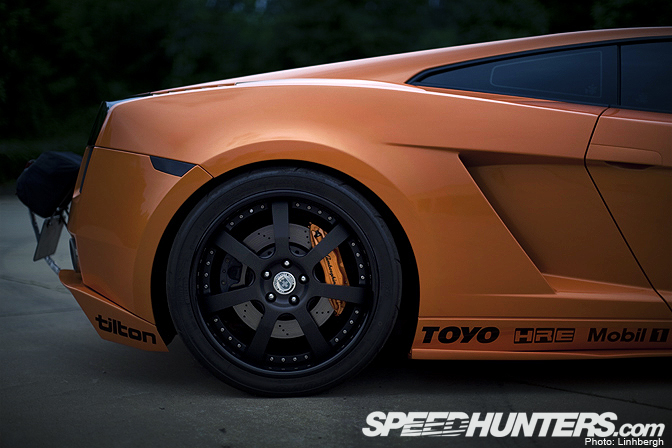 A set of flat black HRE 790R wheels grace all four corners.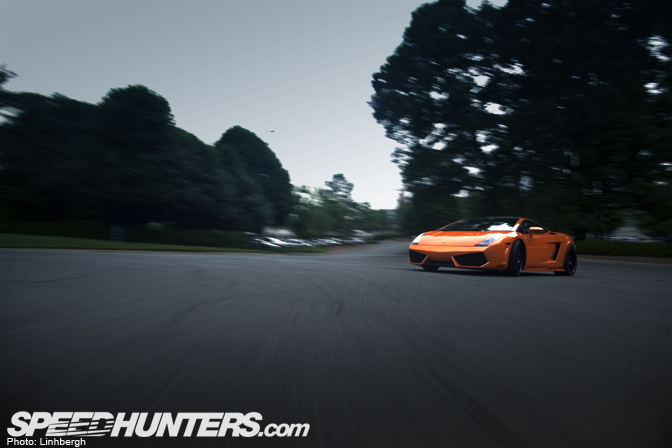 During my visit at Underground Racing, Kyle started telling us how his kid begs him almost everyday to have his dad pick him up from school with this Lamborghini. And for 179 days he resisted the urge to spoil his kid in that way. But on the last day of school, he rolled up in this bright orange Gallardo.
When the school bell rang and the kids started pouring out of the classrooms and saw this, many jaws were on the floor and Kyle's kid instantly became coolest kid on the block.
You can't blame the kid can you?
-Linhbergh
P.S. If you missed the desktop wallpaper of this car the last time around, be sure to grab it here!