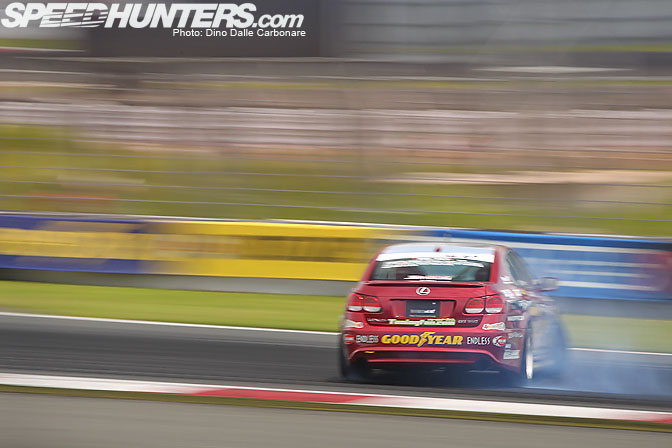 Ever since its debut at the first round of D1 in Odaiba a few months back I've been meaning to focus more closely on D1's latest and newest car, the AS Mori Lexus GS350. It may well be the most conservative car in the D1 championship, seeing its luxurious roots, but as we all know appearances are often deceiving! I headed down to Auto Service Mori in Atsugi, a short drive south of Tokyo, to properly check out Tomikazu Hirota's new pro drift machine.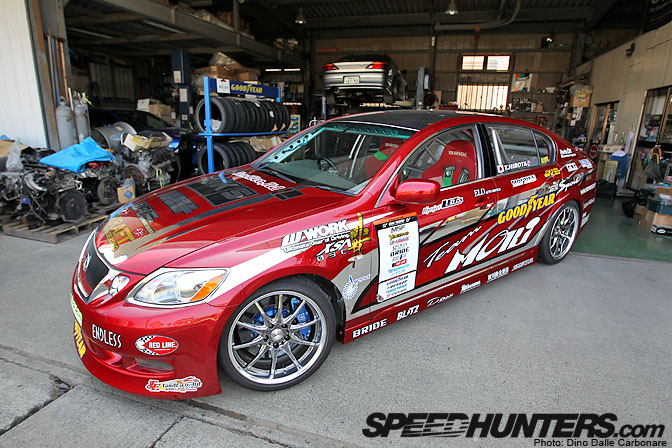 I met up with its creator Mori-san, and Daniel Ellis from GCG Turbos who supplied the turbo used in the project. Only a few sedate changes were carried out to the exterior, like the T&E Vertex front bumper which was originally developed for T&E's own GS front conversion for the Aristo.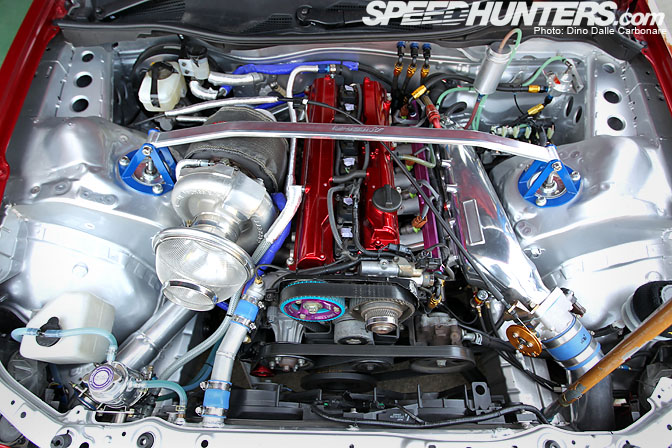 Under the hood is where things begin to get interesting, with a 650 HP 2JZ swap. This is actually a temporary motor, until something more special is finished!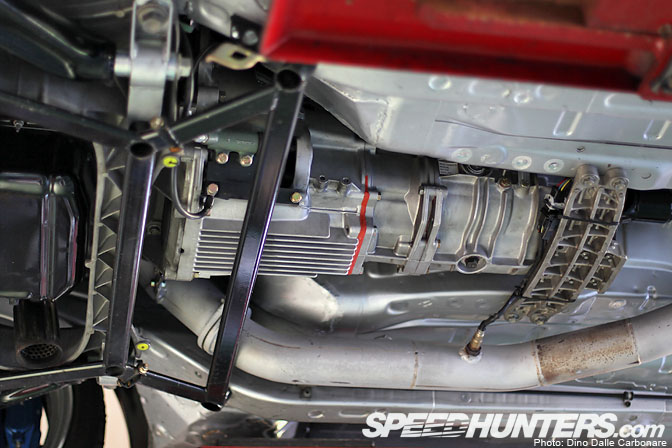 Mori-san was kind enough to let me shoot away under the car, something I always love doing as it's best way to fully understand just how much work has gone into a build. Pictured above is the Toyota/Getrag 6-speed manual gearbox from the JZA80 Supra, which replaces the stock 6-speed Lexus slushbox.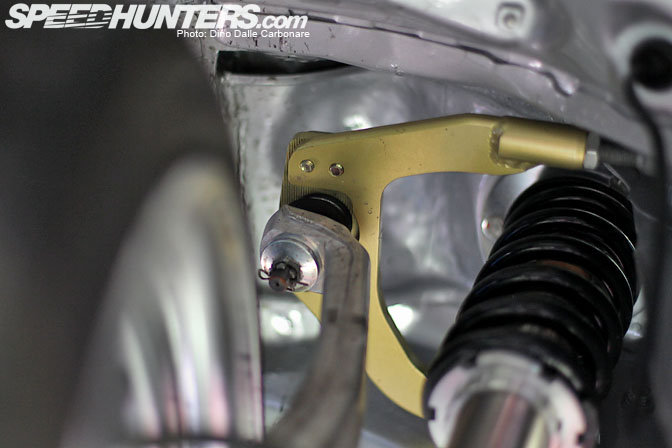 No corners were cut in creating the GS, which on top of a fully spot welded chassis, sports some cool suspension mods like the custom Ikeya Formula front top adjustable arms…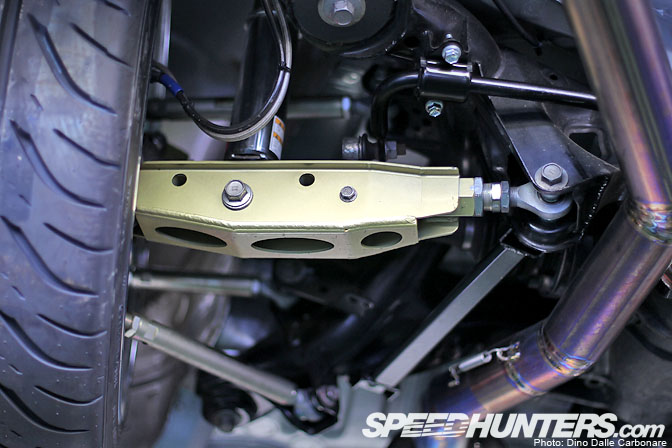 and rear links and tension rods.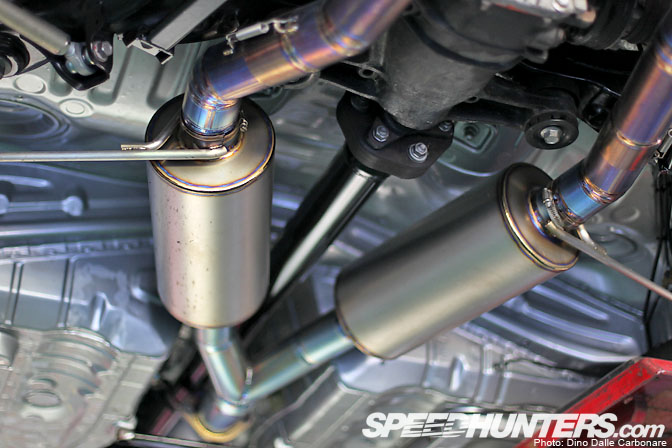 The hand-built titanium exhaust system splits into a "V"…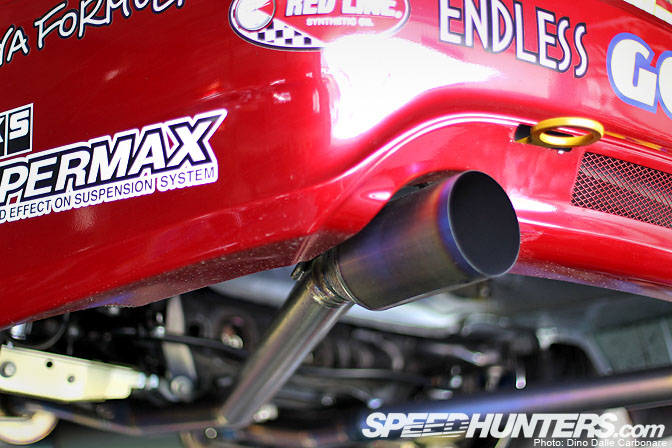 …ending up with twin tail pipes, heat-treated to give that unmistakable bluish titanium finish.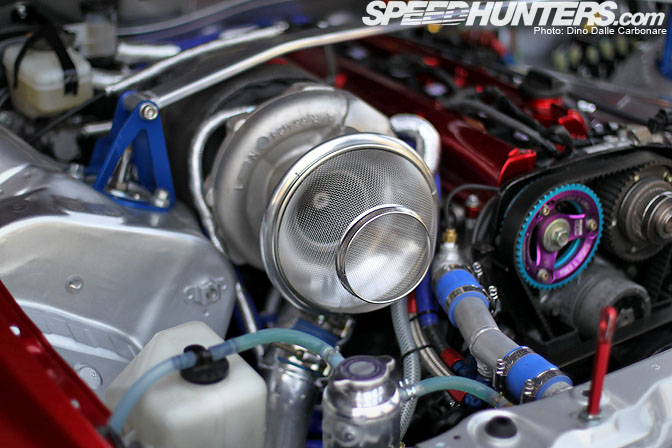 When Mori-san lifted the hood Daniel and I literally fell over laughing. Not wanting to fit a restrictive filter to the GCG turbo, but at the same time needing to protect the compressor's vanes, Mori-san fitted a soba-strainer which he picked up at the local 100 Yen store! Not only does the strainer make perfect sense as it's light and does a great job of acting as a kind of filter, but it actually looks like an aftermarket performance part! Not bad for 100 Yen (91 ¢). Oishii soba anyone? LOL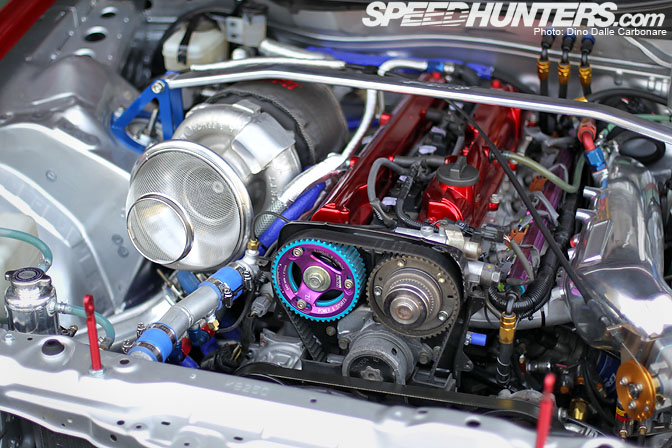 The polished Trust intake plenum feeds the engine via the big diameter throttle, while the single nitrous oxide fogger helps give an additional hit of power when needed.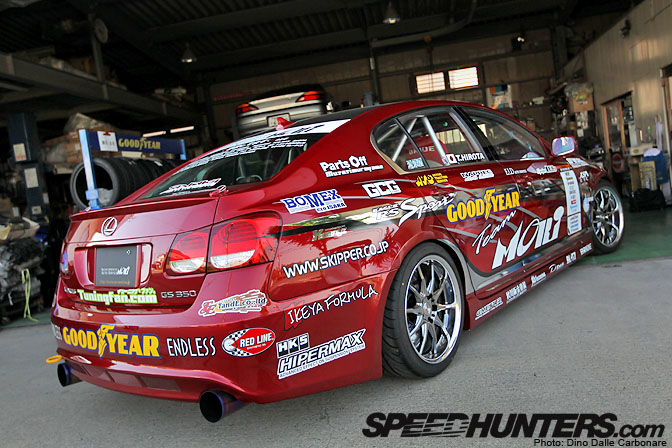 I love how they even left the stock Lexus badges! If it wasn't for all the sponsor's graphics it would really look factory!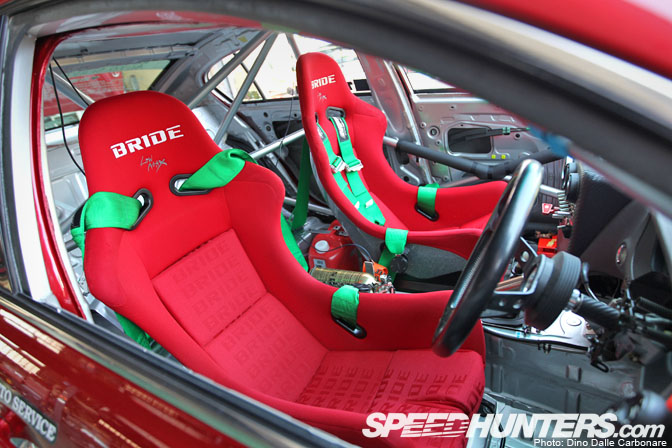 The interior means serious business starting with the two Bride bucket seats…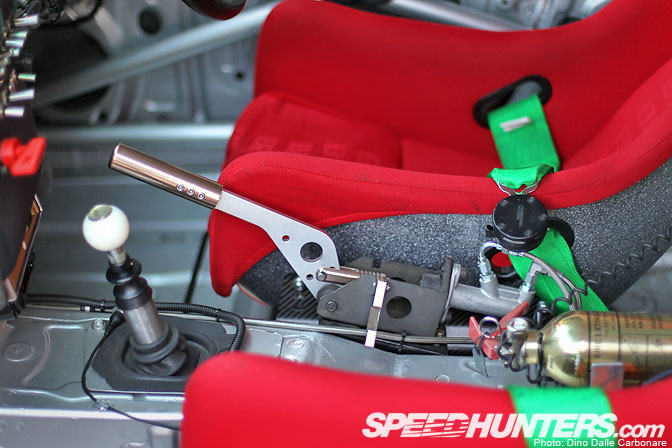 …and a drifter's best friend, the hydraulic side brake!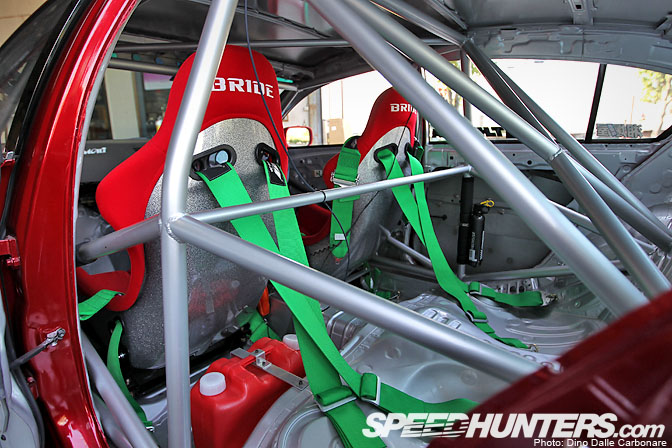 This is the most serious looking roll-cage I have ever seen on any Japanese drift or time attack car. Thanks to the multiple cross bars and additional strengthening bars to crucial areas of the chassis this is one very stiff and safe car!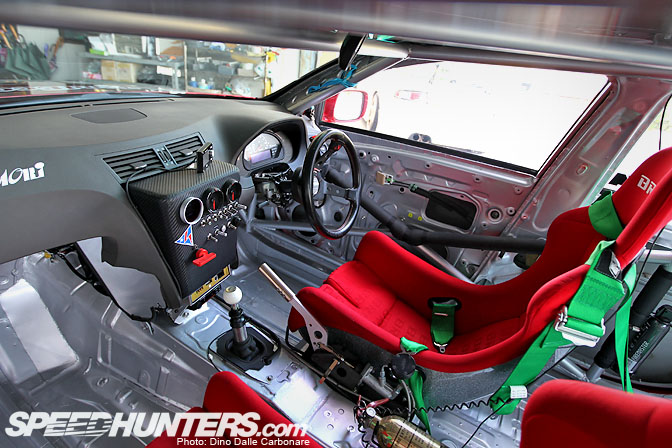 Check out the cross bars in front of the driver side door. The custom center console houses various gauges and switches…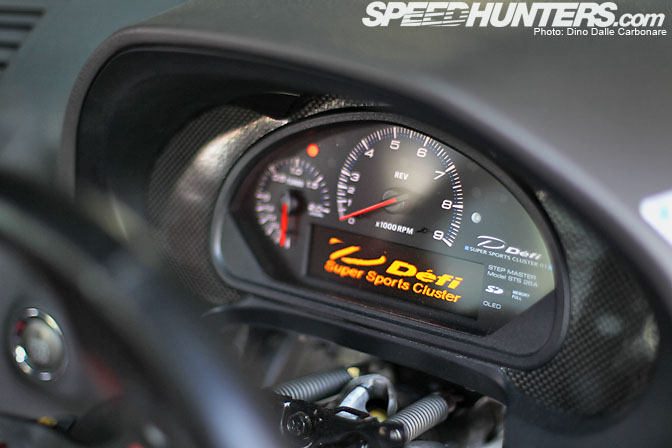 …while the main instrumentation has been removed and replaced by my favorite dash-unit, the Defi Super Sports Cluster. I'm surprised that after a few years on the market it's still not on sale outside Japan! The big OLED display gives you a few pages of readings of engine parameters, all nicely integrated along with the analog rpm and boost gauges.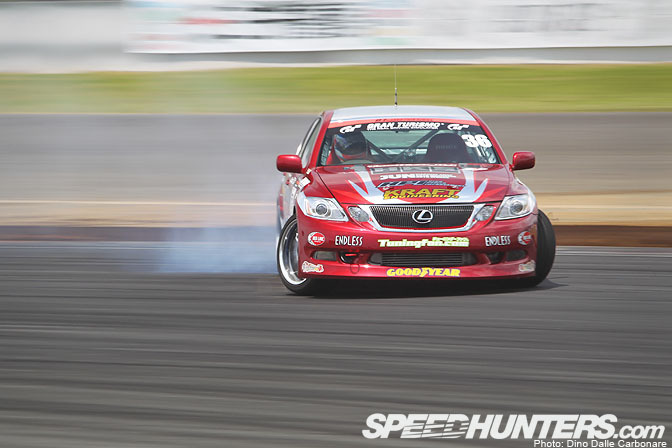 Hirota didn't do so badly at Fuji for Round 3 but was unable to make it into the Best 16. The team is still trying to find the best set-up to make the car as competitive as possiblel. I'm hoping to see some crazy rear-first entries at Okayama this weekend!!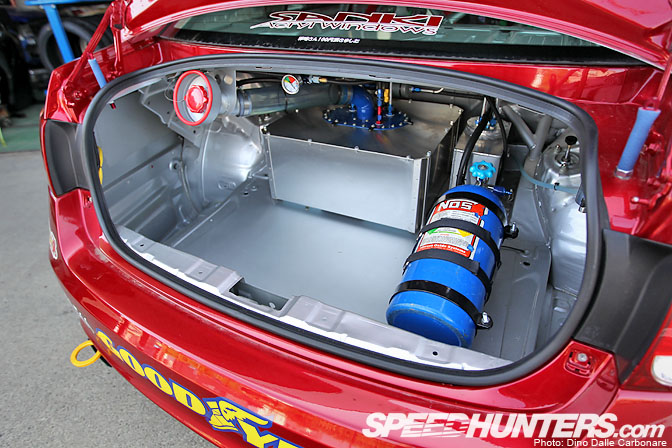 To optimize weight balance the racing fuel tank has been positioned deep inside the trunk along with the collector tank and nitrous oxide canister.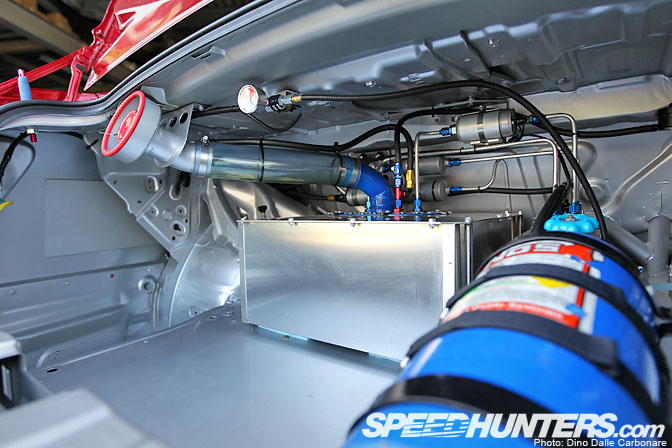 This called for a very long filler!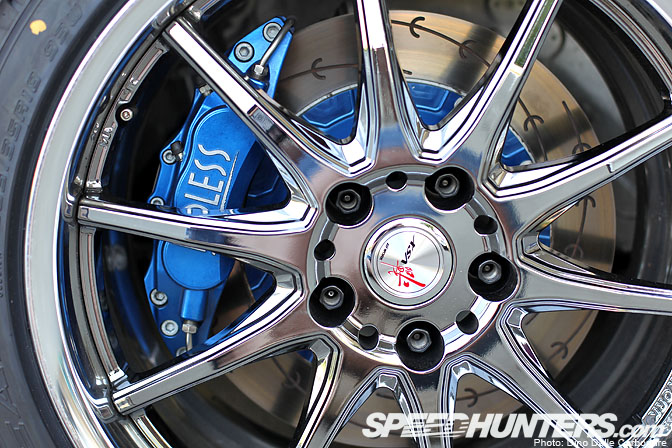 The chrome Work XSA wheels are wrapped in Good Year RS Sport tires and as you can see impressive Endless brakes are the final touch, 6-pot at the front and 4-pots at the rear. Check out the "E" grooving on the 2-piece floating discs!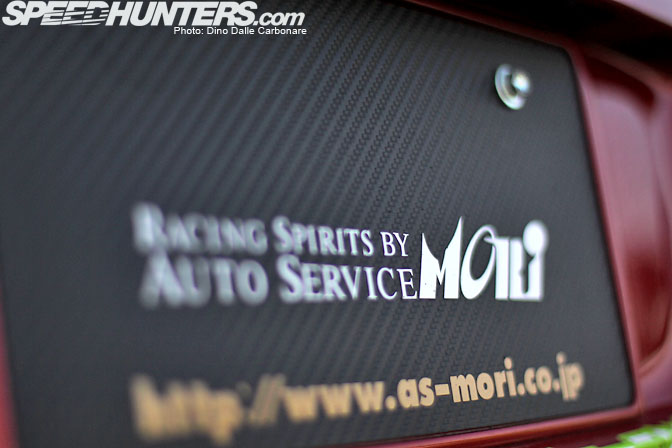 Auto Service Mori has built one of the most impressive D1 cars our there, but the GS350 is going to get even more special starting from the first round of the 2011 season. Mori-san is currently building a monster twin-turbo V6 based around the direct-injection Lexus 2GR-FSE. Fitted with two GCG turbos it will probably crank out close to 1000 HP, a power level every top team seems to be going for lately! Can't wait to see what it will look like as no one out there has ever really modified these new-gen engines.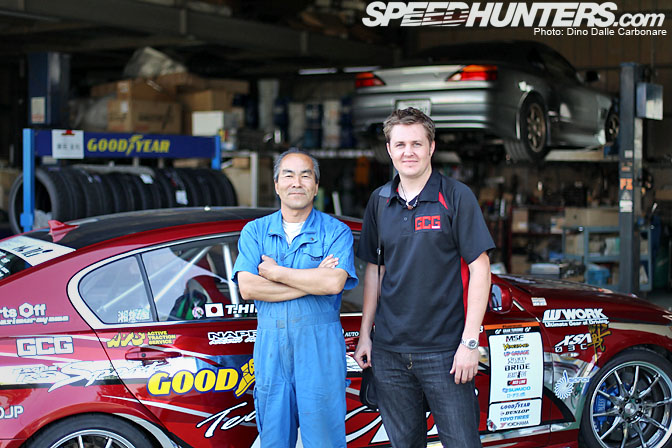 I'd like to thank Mori-san and Daniel for their help during the shoot. Good luck in Okayama!! 
-Dino Dalle Carbonare