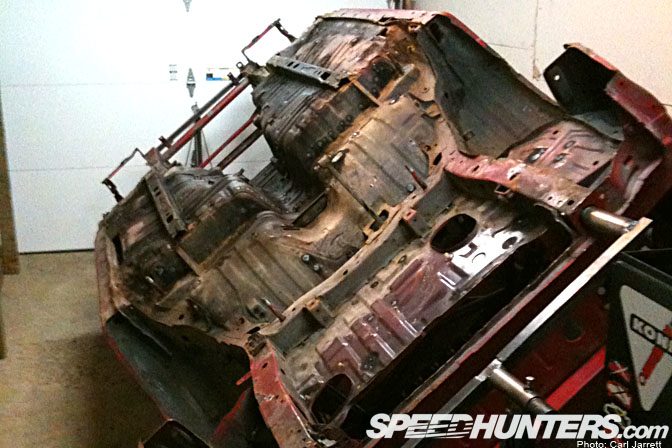 Holy crap! I flipped my car and I haven't even gotten out of my garage! Don't worry, no Mazda's were hurt in the making of this picture. I apologize in advance for this post, as there is nothing glitzy or glamorous here, just straight up elbow grease and hard work. And I also apologize, a few of the pictures were taken with my iPhone, and probably when it was covered in metal shavings which doesn't help.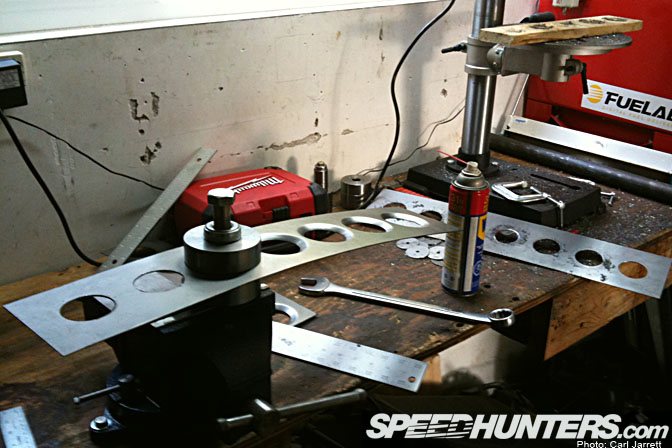 I picked up some dimple dies from a company in Texas that sells them on eBay, great purchase IMO. They are bolt through design so no need to use them in a press, of which I don't have. I took some pictures of one of the first gussets I've made since I'm such a geek for new tools. I spent a good solid day cutting up sheet steel and making parts that look like they are straight out of a B52 bomber. I also picked up a 12" Milwaukee chop/mitre saw the other day which I'm geeking out about right now.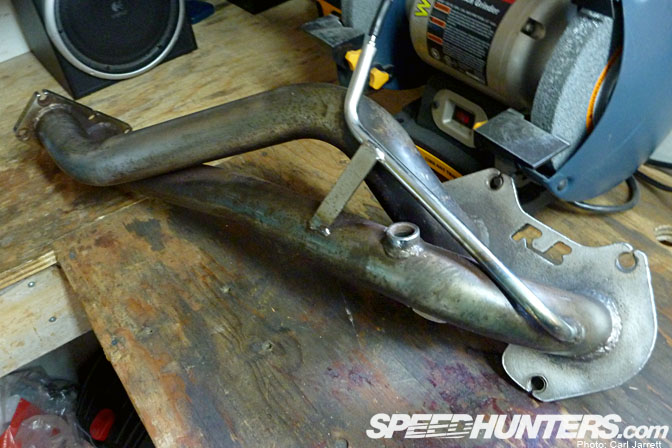 I've also started getting some parts I'll need for the build. The header is from Racing Beat, its thier race version with equal length 2" OD header tubes. I've also picked up some Turbo II driveline parts. A TII clutch type LSD, driveshaft, axles, and last but not least, a JDM TII transmission from a low mileage car. The JDM trannies are great for the track since they have closer ratios than the North American spec transmissions. I've purchased a 12lb Racing Beat aluminum flywheel as well which will work nicely once I figure out which clutch to run. I'm also in the process of ordering the suspension and body parts I'll need for the build, so things are progressing along on that front.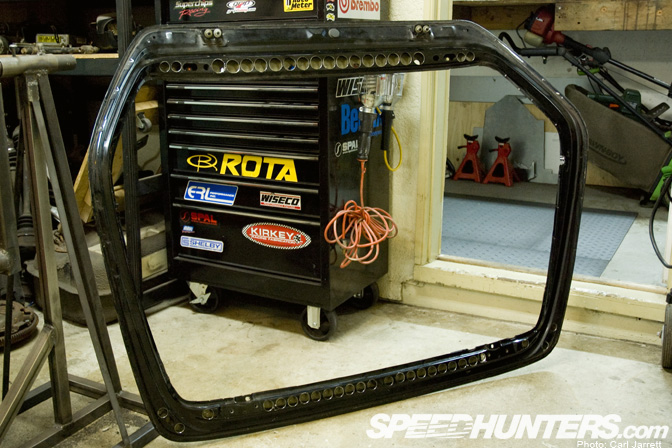 I spent a bit of time making a mess in the garage, smashed the rear glass out of the hatch, wow that glass is heavy! I've managed to get the rear hatch down to 13lbs, so once I add the lexan it should be around 18-19lbs complete. I'll be securing it with pins rather than the stock latches since they are heavier and more complex. At some point I'd like to make a mold of this and produce a carbon version but its not a big priority yet.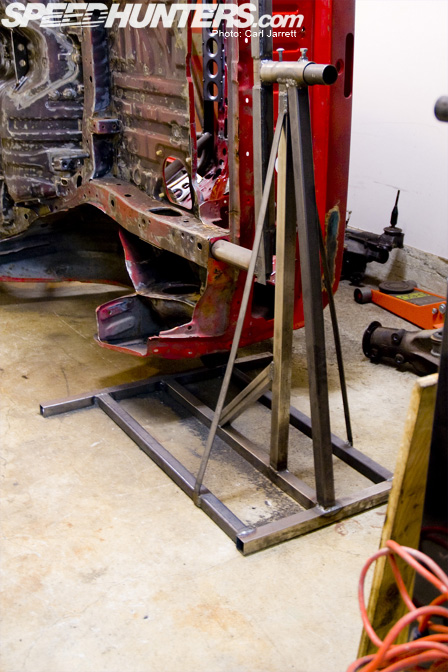 My buddy Dave came over and helped me create these ghetto rotisserie stands! Our first attempt was a bit too flexible… trust me, it didn't look safe. After adding some triangulation they are very stiff, and hold the 5-600lb frame with ease. All said and done I spent about $100 on the steel and it took us the afternoon to make the 2 stands, not as fancy as a $1000+ rotisserie, but also not $1000+! Also for the amount of time I'll need these, I just couldn't justify the cost. I did manage to get the car onto the stands on my own, while the rest of my house slept, I only almost dropped it once.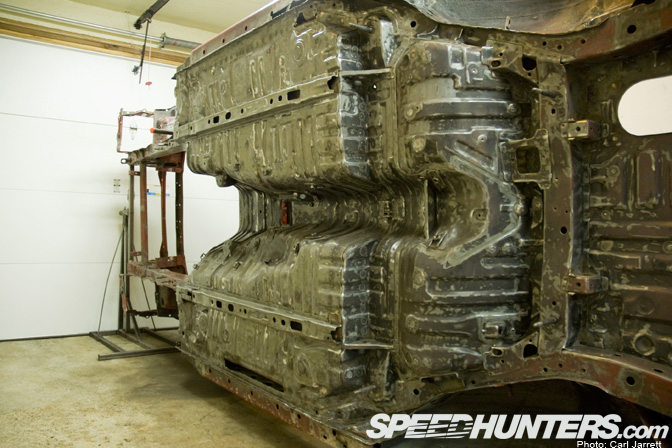 If you notice the first pic of this post, there is about 400,000kms of oil, mud, crud, and rotten undercoating stuck to the underside of the car. I wanted to do this the right way, the first time, but instead, I cheaped out, I decided to just use various wire wheels, and angle grinder, and a LOT of time to clean up the underside. My next project will definitely be media blasted or acid dipped (by the way, anyone have an original Fiat 500 that needs restoring they want to sell to me?)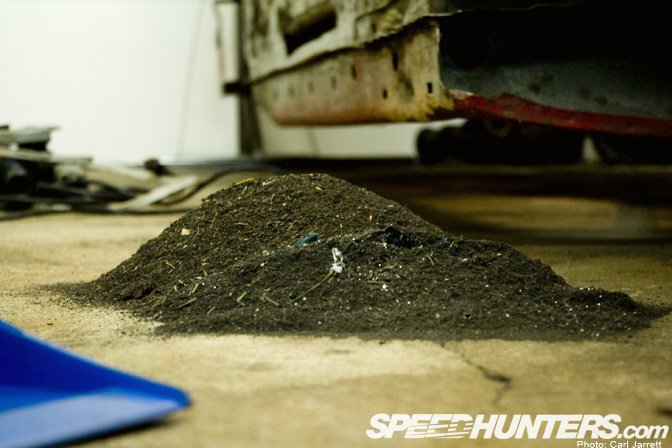 I went through 3 twisted wire brushes in a matter of a few days. The end result? A pretty clean underside, and a pile of crud that weighed close to 10lbs, no joke.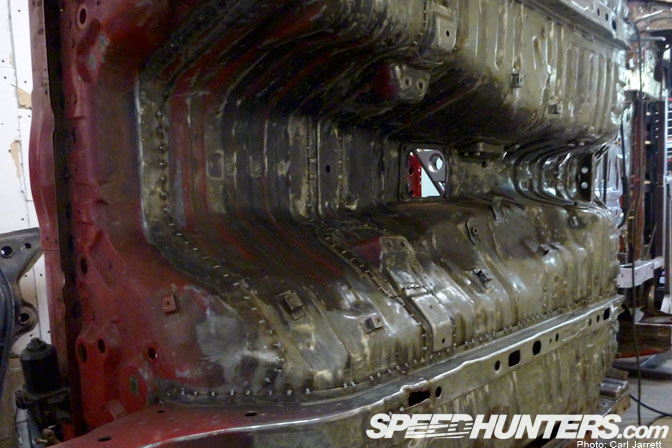 Once I got all that crap off, I spent the last few days stitch welding the underside of the car. Just finished it last night, just in time too, as I ran out of welding gas right at the end. You can still see some paint on the bottom, but I'm not too concerned with that as there is no chance of rust or anything underneath.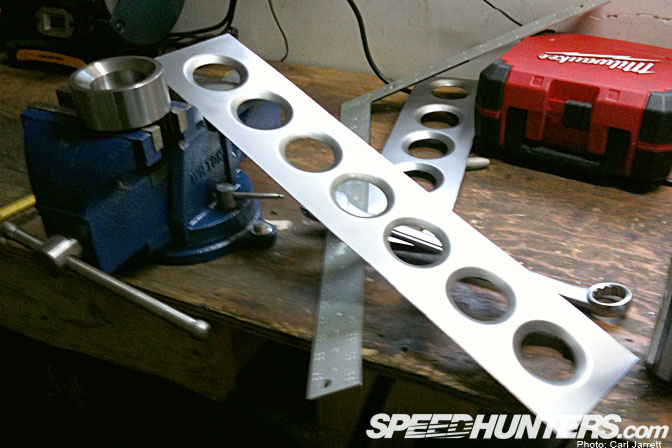 After creating all the gussets I needed for the cage, I started welding them in. That's where I'm at now and will finish all the welding in the next couple of days for the gussets with the car still up on the rotisserie.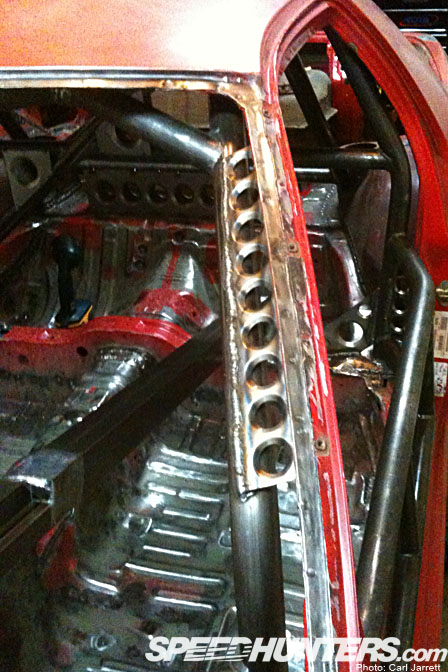 I've tied the cage to the chassis in another 10+ spots on the car which will help with a car of this age. Next step is to find a racing seat that fits and fab up the seat mounts and a back brace if I need it. I've had a tough time finding a seat tall enough for my long torso, being 6'4" and a 33" waist is tough when shopping for seats, as the bigger seats are made for wider waists. I may end up getting a regular seat and taking the bottom cushioning out so that the top/rear harness slots are high enough to get the proper angle going over my shoulders. Can anyone recommend a good race seat that might fit my frame?
I also need to spend a bit of time with the last few welds under the car, once that is done (hopefully this weekend), I can start to paint the chassis. I've decided to go with an epoxy primer and a Mazda white for color. Once that is done I can begin to re-assemble the car, which is where it starts getting exciting, no longer pulling things apart, but starting to get them back together!
I lost some motivation in the last few months, having to clean up the car and all the work needed for the chassis, but I've got all that back and more, so hopefully I'll be updating more often in the coming weeks. You can also follow me on Twitter @jarrettracing
- Carl