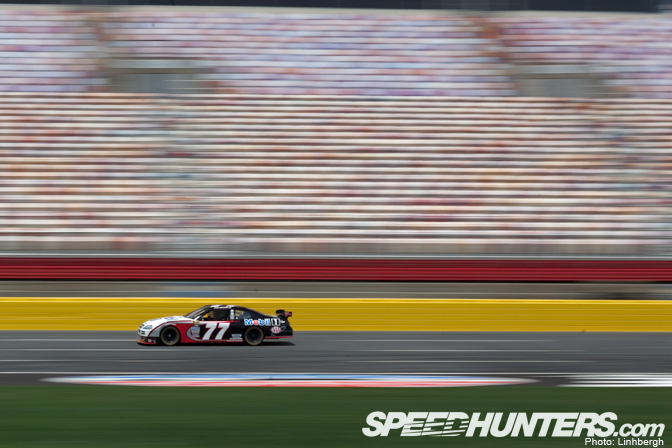 Before all of you start getting red in the face, I'd like you all to take a second take a few slow breaths, calm down and relax. Your regularly scheduled speedhunting has not been bought out, taken over and been renamed to oval-hunters or left-turn-hunters. This is just a look at something that we normally would never cover or have the opportunity to cover.  
The guys at Mobil 1 approached us with the rare opportunity with an inside look into the world of NASCAR. 
So, let it be known that I am a huge ricer. I like machines that go fast in a straight line, turn right, turn left, then turn right again immediately. I am also fond of automobiles that spark and crawl down the motorway at the eye blistering speed of five miles per hour while looking oh-so-fine in the process. I was never a fan of NASCAR –never. I muttered words of distain with the slightest mention anything stock car, oval tracks, or the name of all names, Dale Earnhardt Jr.. Mobil 1 asked for the most left-turn hating of all speedhunters, and well, they got me. 
And you know what? After a weekend spent with my arch-nemesis of motorsports, I fell in love with it –all of it.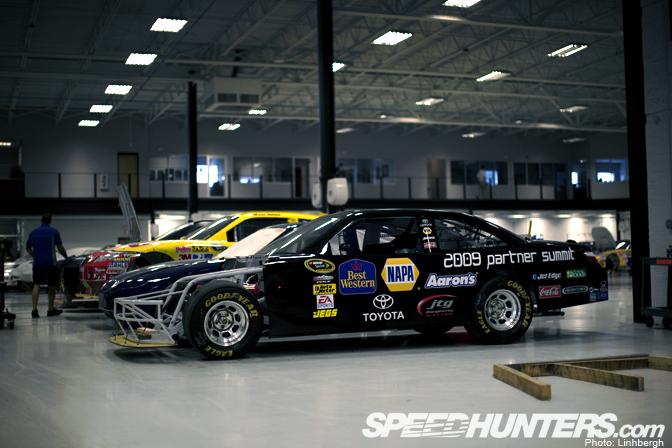 So, a few weeks ago I was whisked away to Charlotte, North Carolina for an insider behind-the-scenes tour of the high-tech world of stock cars and also to watch that weekend's "Big Show": the NASCAR Sprint Cup All Star Race.
My first foray into the world of NASCAR was a tour of Michael Waltrip Racing race shop. The race shop literally is a factory to pump out these racing machines as fast and as quality as possible.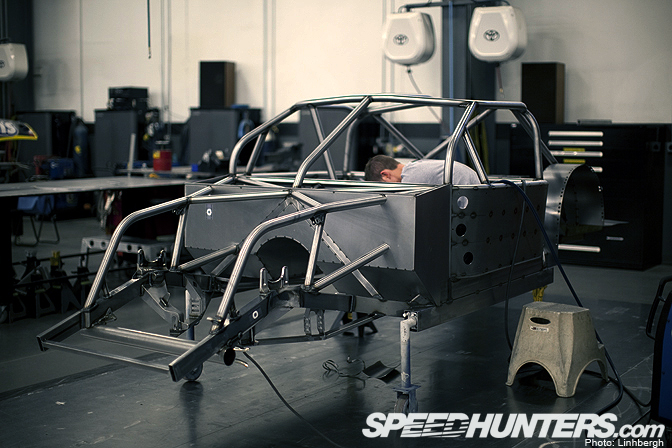 It first starts off with the building of the actual tube framed chassis. Each chassis is hand build from the ground up to NASCAR's specification and tolerances. And those chassis build tolerances is something NASCAR is very anal about. The metal thickness of the steel tubing has to be in a certain parameter or it would be considered illegal.
A spokesmen at the NASCAR Research and Development center mentioned that they've found race teams trying to hide the metal thicknesses to save as a way to save weight. The spokesmen also mentioned that there are only two kinds of racers: "cheaters and those that will be caught cheating."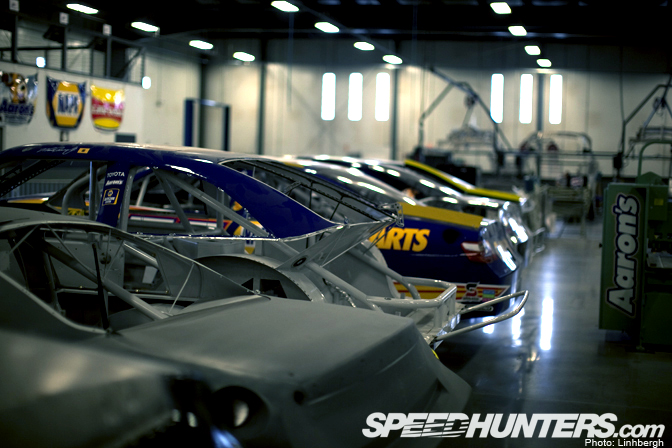 When the chassis is all finished up, it is then taken to the body shop to have the aluminum body fitted on.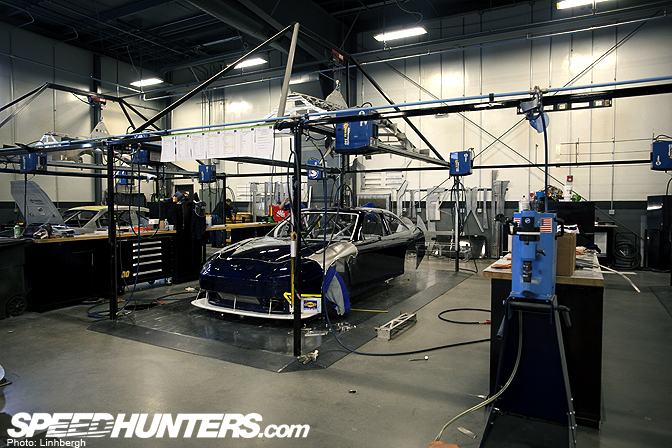 After the body finished, it is taken to this contraption. This machine is a template to measure the body of the car to see if it falls under NASCAR's tolerance specs.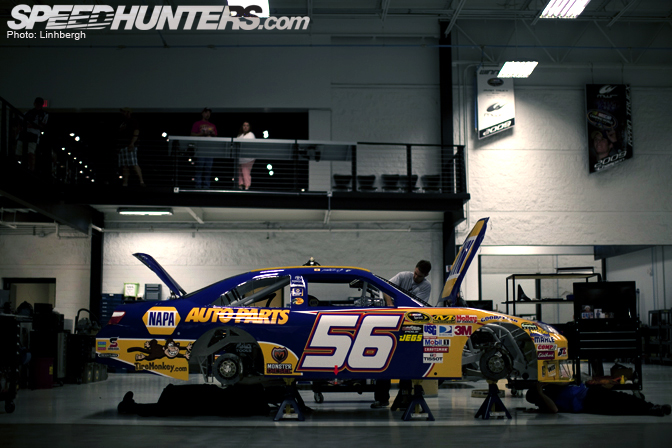 And once it passes through the chassis and body shops, it is then taken painted then taken to the final floor of the race shop. At this point everything else is put on. The engineers install the engine, the suspension and finish up the car's livery.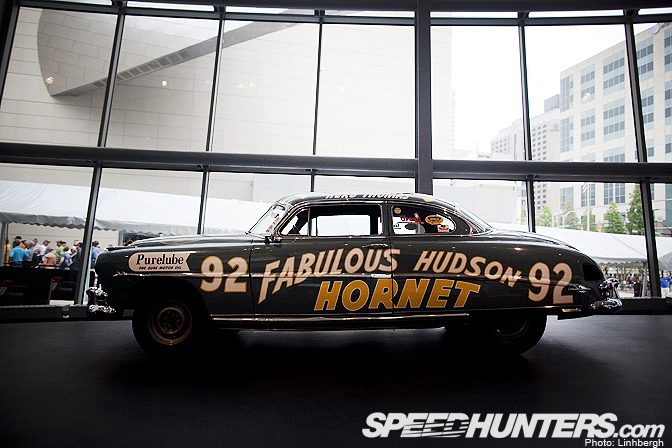 Before the race on Sunday, I went to go check out the newly opened NASCAR Hall of Fame in downtown Charlotte. My previous exposure to NASCAR and the history of stock car racing was from the Pixar Studio's film, "Cars."
So, seeing the Hudson Hornet in real life at the museum was a rather shocking and eye opening experience. What went through my mind: "There's no way that car is real. It's from a CG cartoon!" to "OH MY GOD IT IS." 
That's the real Hudson Hornet, ladies and gentlemen.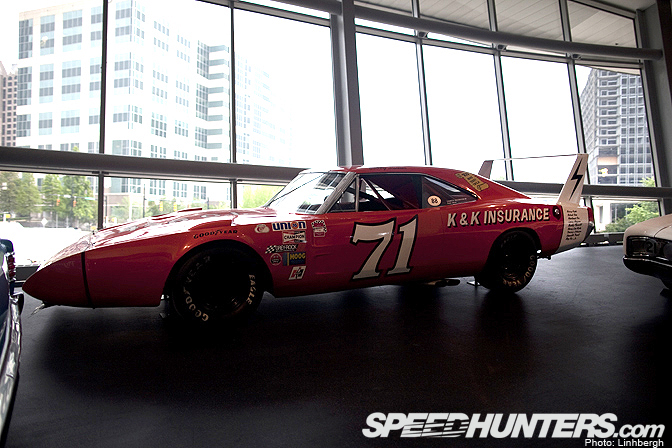 As continued down the row of famous and iconic stock car, I came across this Plymouth Superbird. I believe a Museum employee had to rush over with a mop to clean up the puddle of drool that was forming right under me.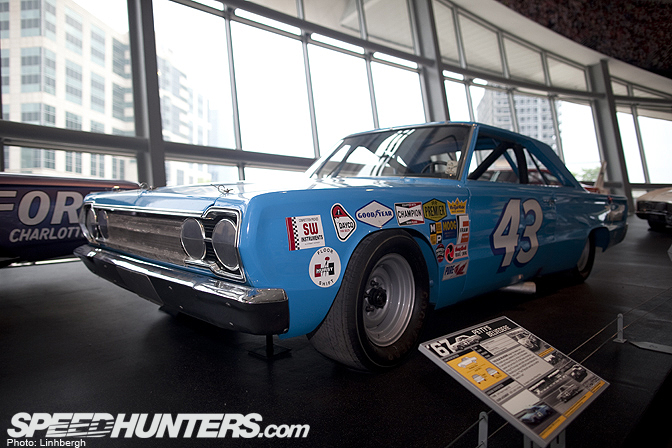 Another "OH-EM-GEE ANOTHER CAR FROM 'CARS'" moment. For those of you that aren't in the stock car know, this is Richard Petty's Plymouth Belvedere which lead him to win the 1964 Daytona 500. This was a time when stock cars still resembled their showroom compatriots. 
What a car, though….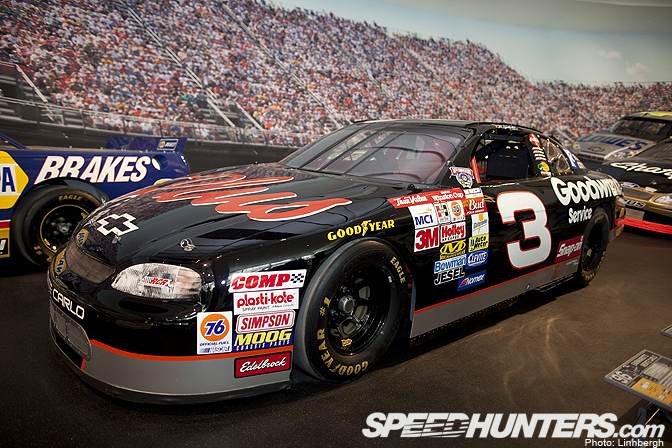 This is a car that needs no introduction, even for the NASCAR ignorant. This is the #3 car driven by Dale "the Intimidator" Earnhardt.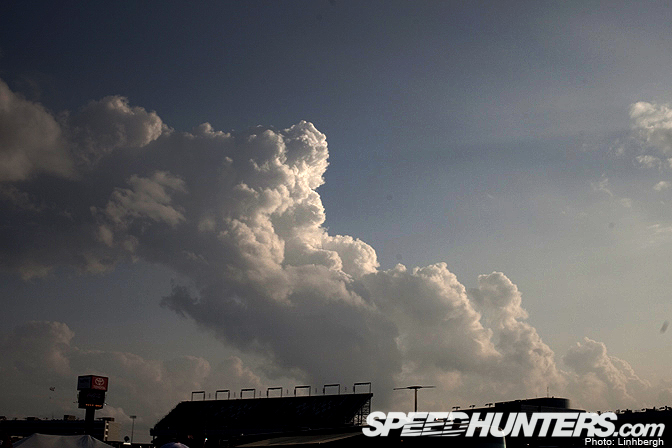 After the brief visit at the NASCAR Hall of Fame, it was time to head to Charlotte Motor Speedway and straight enter the alien world of professional stock car racing…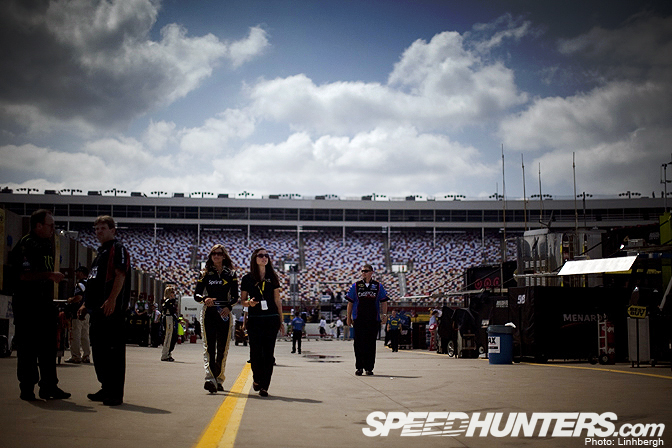 I've attended Formula D events, one FIA GT event, and a few rounds of the American Le Mans series and none of those racing series can match up to the amount of money, glamor and glitz that NASCAR has in its paddock…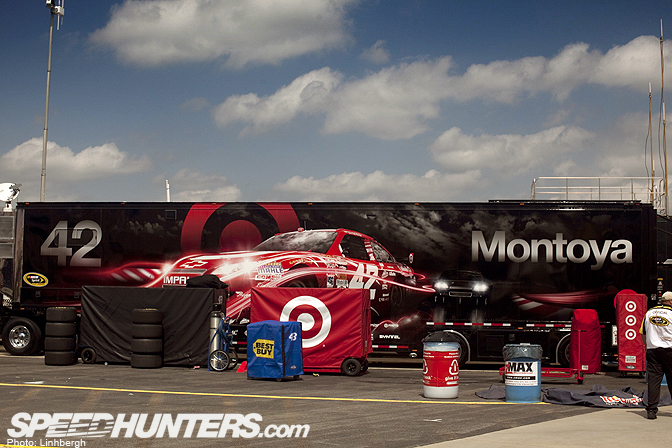 …take for instance, ex-Formula1 turned Sprint Cup driver, Juan Pablo Montoya's design on the team's rig.
Montoya's rig is an extremely cool looking rig.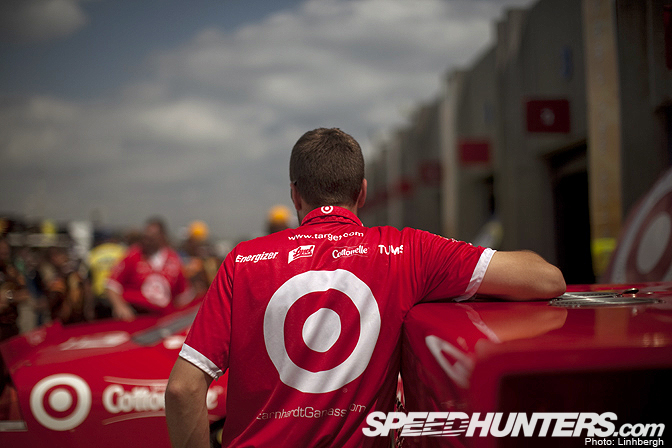 The money spent on a NASCAR program extends all the way down to the engineers and their uniforms. The Target branding and design aesthetic throughout the team makes the team as a whole look extremely professional.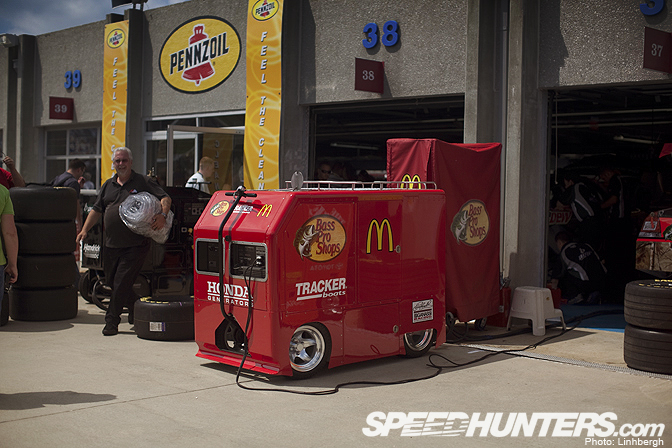 Have you ever seen a generator cart as slammed and as flush as this one? And yes, I just said that about NASCAR. Not even in the ricer series of Formula D has slammed and flush generator carts (let alone slammed and flush competition cars….)!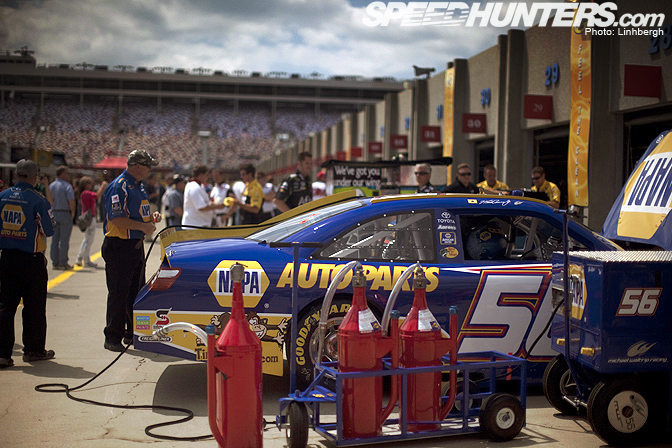 The paddock strangely reminded me of the Mos Eisley spaceport on Tatooine from the Star Wars Universe. Every turn felt dangerous. It seemed as though the teams were still trying to illegally run moonshine from county to county. Also, if you weren't looking where you were going around the paddock, you can get run over by passing tire carts, generators, and giant pit stop engineers. There was a plethora of people running about doing their business. So, in the confusion of the crowd and engineers, you just have to watch out if Greedo was to fire first…
Oh wait.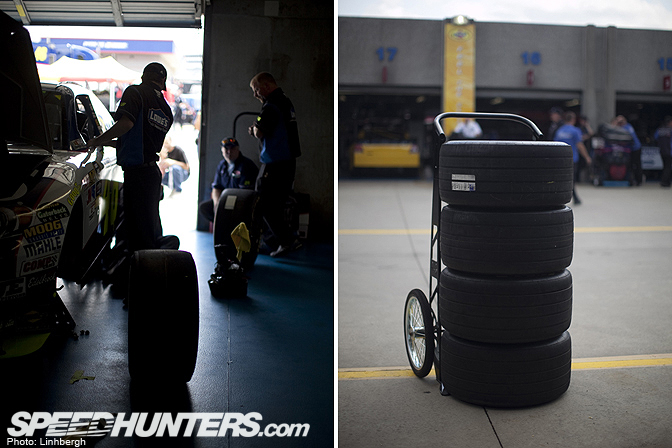 I spied a set of grooved tires next to the Mobil 1 rig and asked one of the Mobil 1 reps why they need grooved tires for a day that has zero percentage of rain. He mentioned that they have "rain" tires just to have them. Stock cars never race in the rain. these tires are for mildly moist conditions. Once the rain starts coming down at a regular interval, they stop the race completely.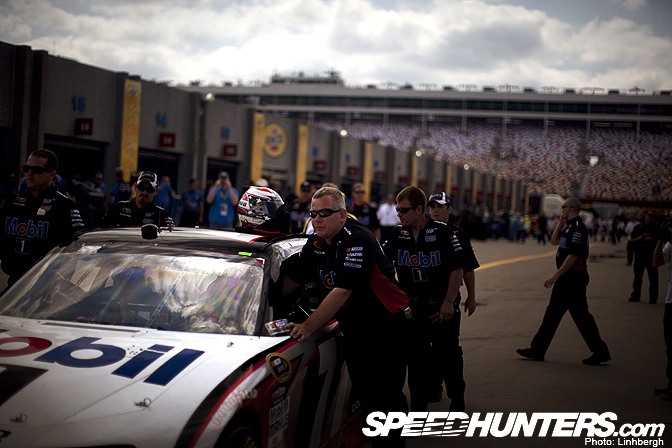 The Mobil 1 Team prepping for the All Star Race.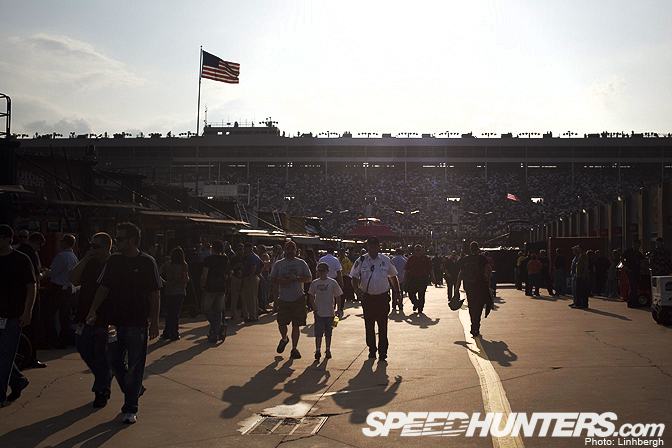 The paddock was filled with fans and the stands were filled up more so…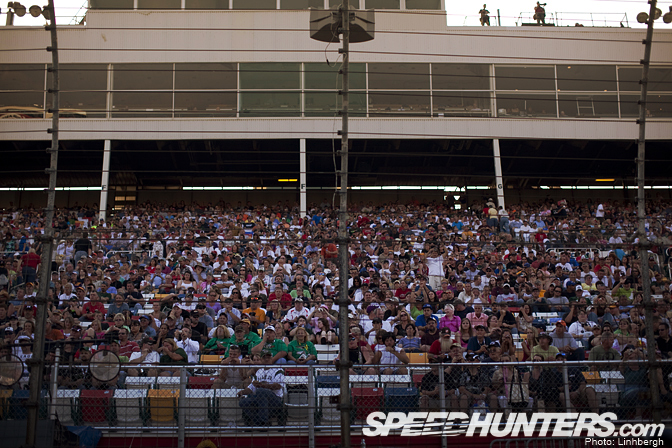 …150,000 spectators to be exact.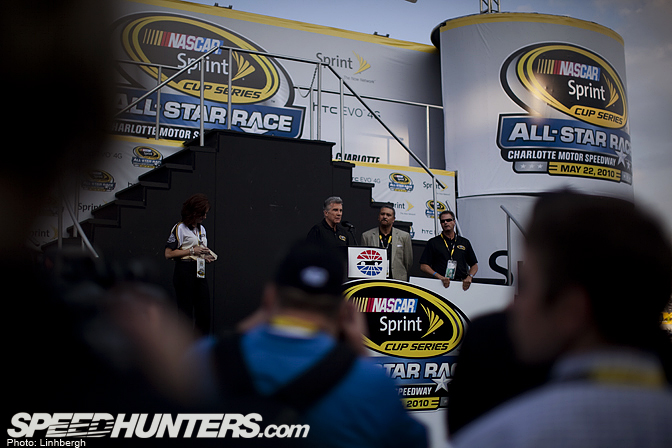 The opening ceremonies went underway with a some celebrities saying a few words. America's Most Wanted host, John Walsh, spoke a few words to the crowd followed by NBA basketball superstar, Michael Jordon.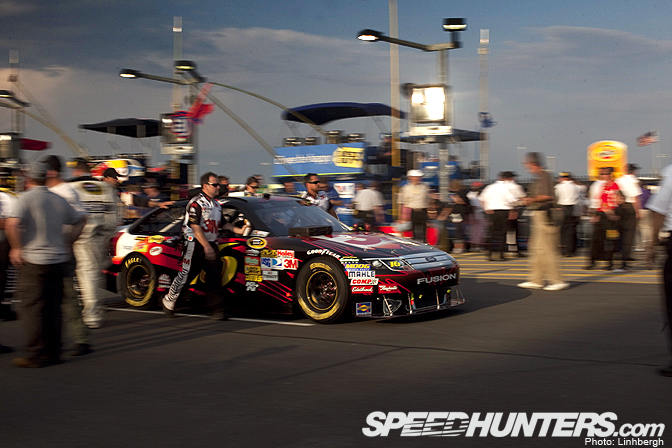 As the opening ceremony was going on, the teams started pushing out the cars onto the pitlane before the race start.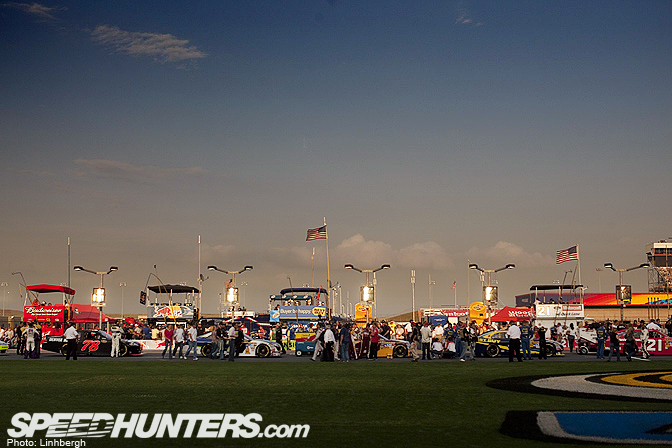 And here are the teams waiting for the ceremonies to finish so the race can begin….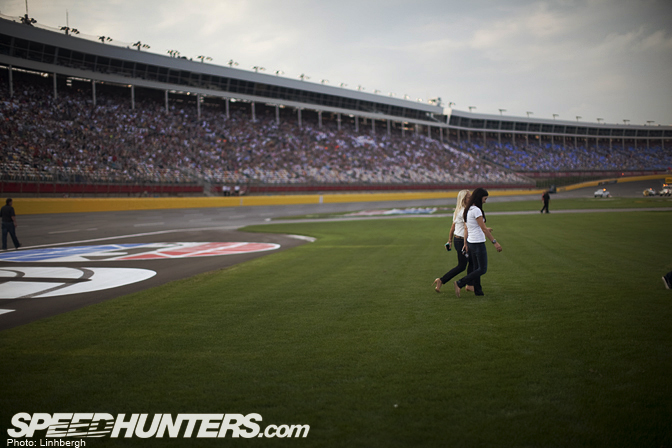 You'd think because of all the NASCAR stereotypes that there would be a lot of redneck women walking throughout the paddock, but oh you'd be wrong. There were southern belle's left and right!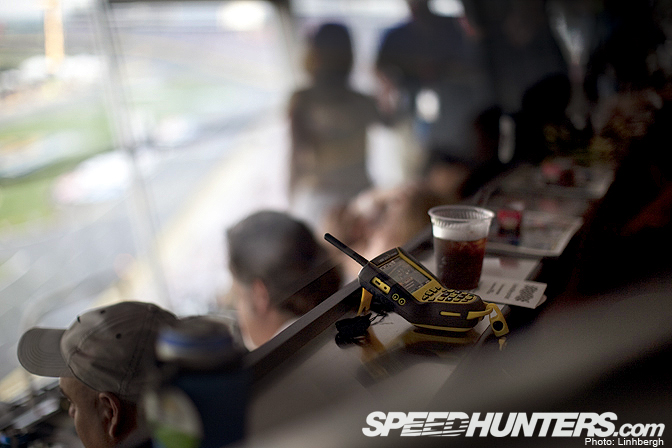 Right before the race started, I was whisked away up to the upstairs booths to watch the race start. The yellow device on the table is a little TV which you can choose which camera angle to watch and which driver to follow on the little screen! Anything and everything you want to view about the race is under control at your fingertips.
When you have a racing series this big, luxuries like the little handheld TVs come with it.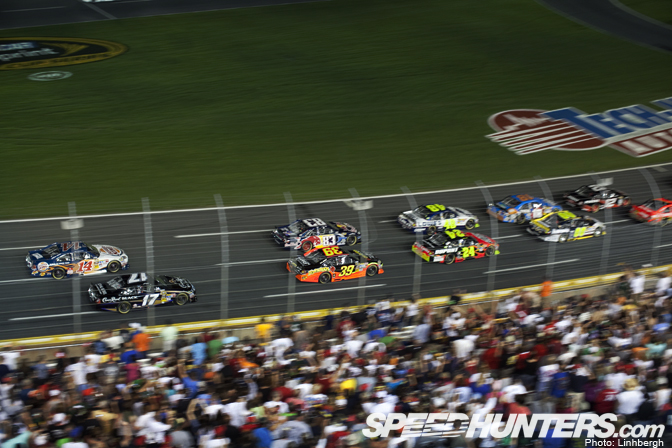 I had no idea what to expect when the green flag went down and 40 stock cars opened their throttles completely! Before the All Star Race, I would've joined the NASCAR nay-sayer crowd in support that stock car racing is not real racing. But after seeing these guys navigate through a pack of cars, drive inches away from each other, and negotiate around the bits and pieces of crashed cars, I have to say that these guys are real racers. 
I've seen a lot of racing in my time, but nothing was as aggressive, as fast, and as dramatic as seeing all these cars bunched up and bouncing off each other –NOTHING.
In other racing series, the action dies down after the first few laps once the cars get settled into the rhythm of the race. But in the All Star race that I was watching, the action never stopped. My butt did not touch down on my seat until 30 or so laps into the race. 
NASCAR is –wait for it– cool. Extremely cool.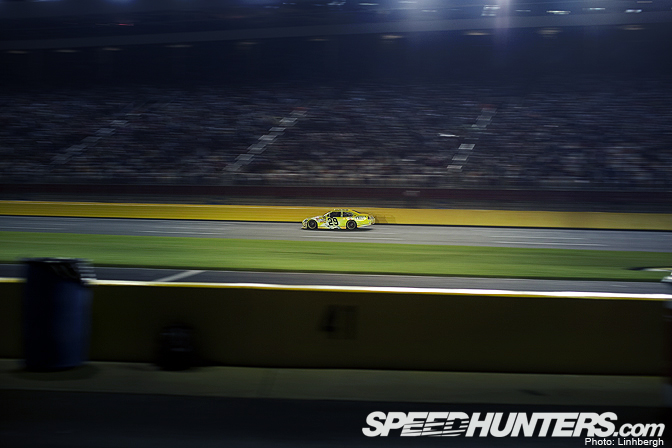 I remember when drifting was first becoming popular in the States and I was trying to convince all my friends and acquaintances to fall in love with the sport as much as I was. Expressive words and even youtube videos usually failed to persuade them into loving the sport. Though, their minds completely change instant you take them to their first drift event. Seeing a car fly into a corner and looking as though it is almost going to spin out is life changing. 
I feel that NASCAR is the same way. I can tell you how cool it is from my point of view, but like drifting, NASCAR is an event that you have to go see in person.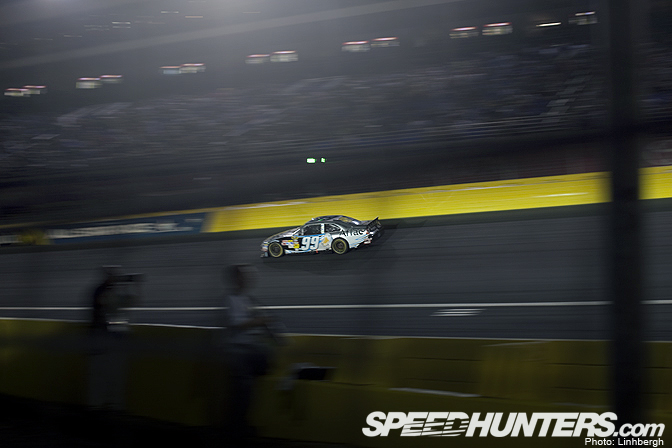 Being at a race and feeling a pack 40+ cars fly past you at 200 miles per hour is a feeling that cannot be felt anywhere else but on the NASCAR super speedways as with hearing wall of 150,000 fans scream in support of their drivers and booing their enemies.
NASCAR is a sport that you have to feel.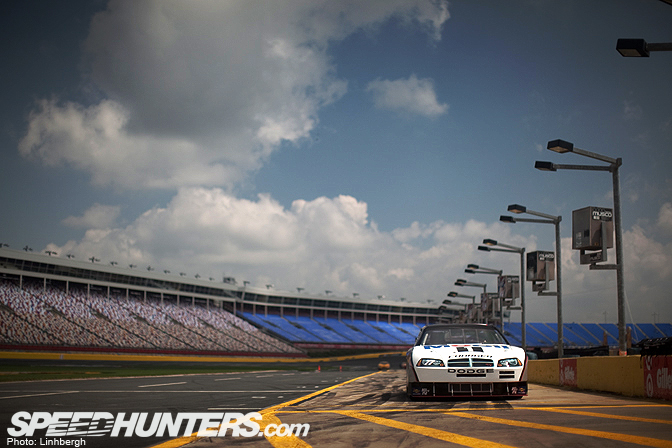 …and felt I did. The morning after the race, I was once again whisked away to Charlotte Motor Speedway for a few laps around the track in a Sprint Cup spec car driven by the #77 Mobil 1 driver, Sam Hornish. 
The acceleration in a straight line was really nothing I have not felt before, but once the car hits the first bank, you're slammed into a wall of g-forces. At 170+ miles per hour around a high speed bank, the g-forces are so intense that you can't move. Your arms are glued to your body and your face wants to fly out the window. So, thank the gods for window nets! Sam completed two laps round the track before he returned the pits. If he was to drive the car for just a few more laps, I would've either: 1.) threw up my breakfast, or 2.) blacked out from the g-forces. 
If I had to pick which, I would've picked the latter. The g's are that intense.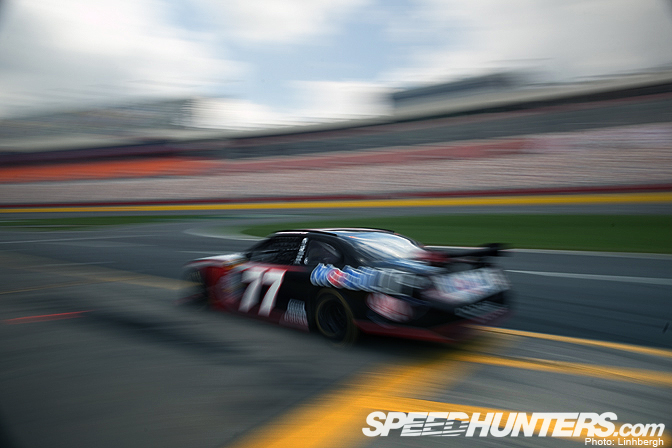 The g's sent all the blood out down from my head and straight into my feet. So with a head light on blood, I climbed out of the car and set foot on Charlotte Motorspeedway's pavement feeling a bit woozy. But at that point, my life changed. I saw the world with open eyes. The arch-nemesis of motorsport was now my best friend –if not my closest lover. 
The guys at Mobil 1 invited a few journalists that weekend, including myself, to Charlotte, that have never had the chance experience NASCAR. Their goal was to maybe sway their opinions on the sport somehow. A few journalists left with the same opinions they came with, but me?
Consider myself as a born again petrol head. 
Regular speedhunting will resume………… now. 
-Linhbergh