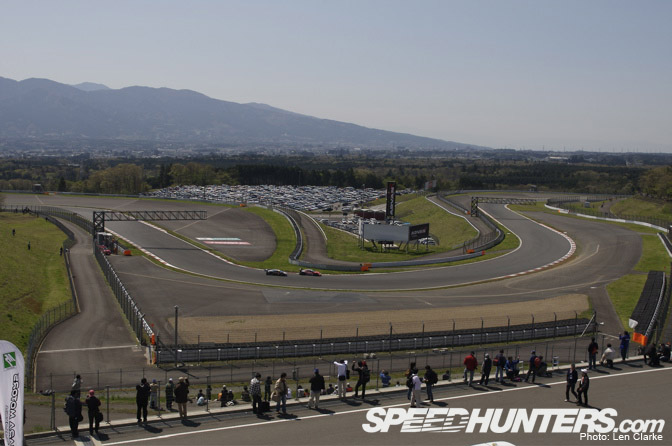 Races at Fuji Speedway never fail to entertain. The circuit itself is steeped in Japanese motorsport history – and has a few international accolades as well. Nestled in the shadow of Japan's largest volcano Mt. Fuji, it has the added attraction of its own weather microcosm.  This means conditions around the circuit can change rapidly on overcast, and particularly, wet days. But when it's sunny, there's no better place to be!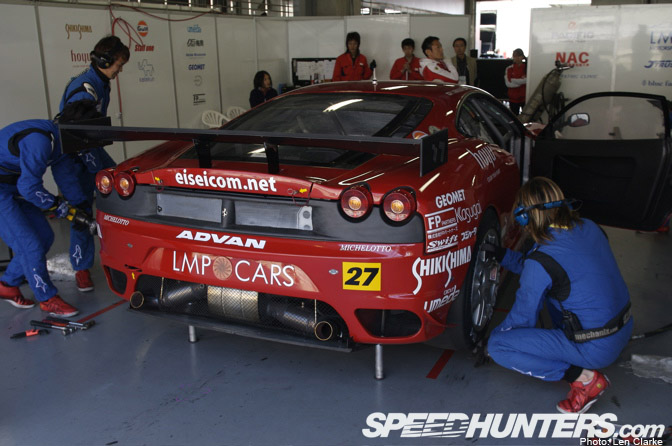 Straight into the garages during Saturday morning's first practice session, and a detail I hadn't previously noticed on the #27 Ferrari F430 was the Michelotto rear panel – looks fantastic!, This is a new car for drivers Yutaka Yamagishi and Hiroshi Koizumi, and they placed 8th in class in the race on Sunday – their best performance yet by far.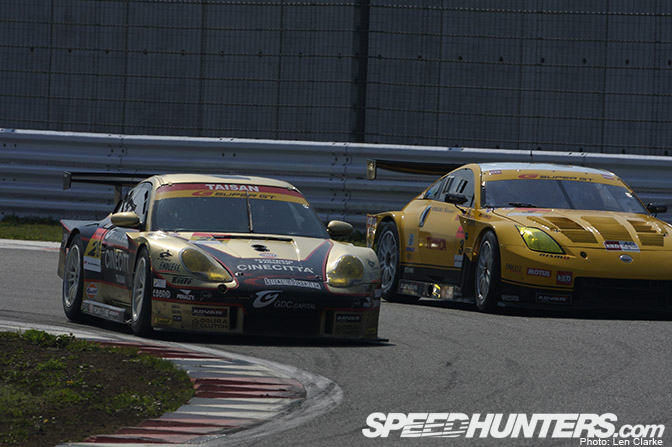 Here's former Super Taikyu driver Igor Sushko, a rookie in SUPER GT this season. Igor drove remarkably well over the Fuji weekend, netting his first point in the series with a tenth-place finish in only his third SGT race.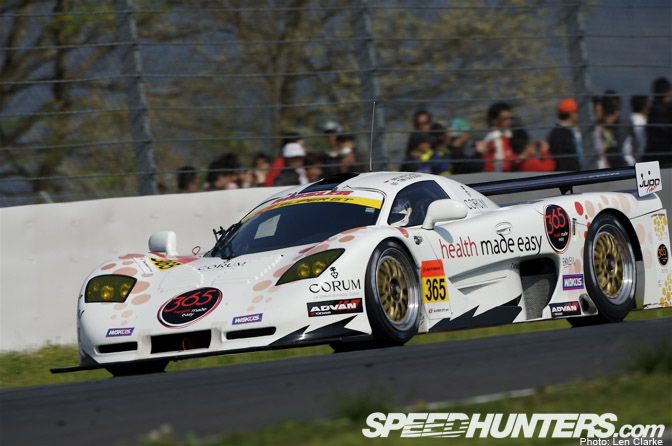 One of the new cars for the 2010 season, the British-built #365 ThunderAsia Racing Mosler MT900M of Melvin Choo and former double British GT champion Tim Sugden have been having a difficult time of it so far this season, citing a lack of power affecting the car's performance. Moslers typically run closer to 500hp in other series – and with 300hp on tap, the heavy car just isn't the same. I'll be doing a feature on this machine later in the month, so be on the lookout for that!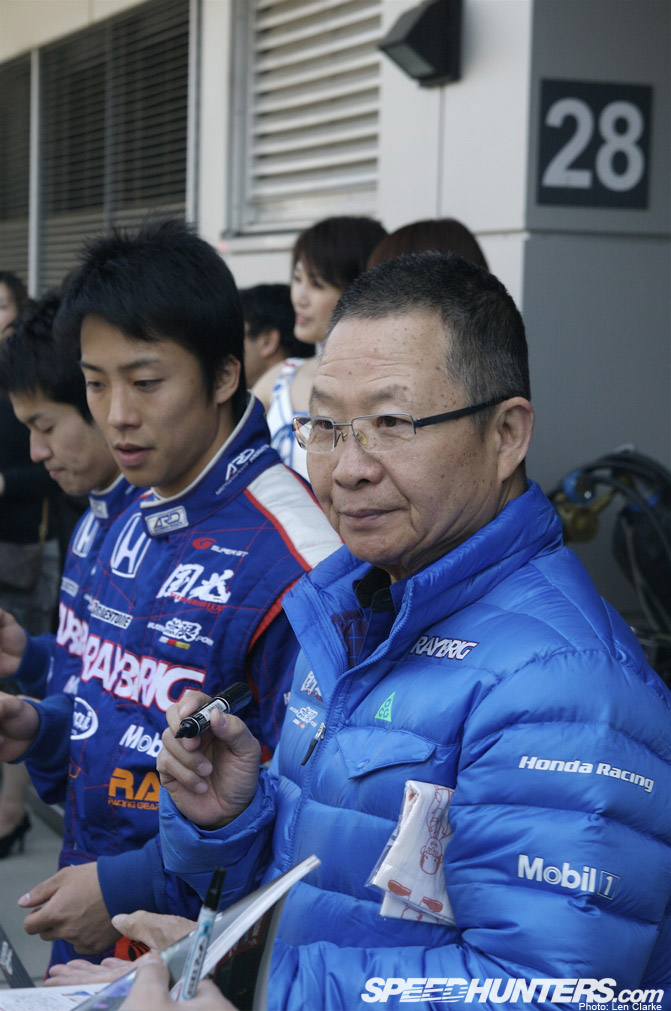 Here is the 'Emperor' of the JGTC/SUPER GT, Mr. Kunimitsu Takahashi. Owner/operator of the Team Kunimitsu Honda HSV-010GT (car #100 – with drivers Takuya Izawa and Naoki Yamamoto), Takahashi-san has a pedigreed background and formidable racing career. Originally a champion on motorcycles in the 1960s, he became a factory driver in cars at the end of that decade (very similar to Kazuyoshi Hoshino's career path). He was the first of that generation of Japanese riders to race in Europe. Like Hoshino, he was racing – and winning, until only a few seasons ago. If you happen to meet him, bow graciously.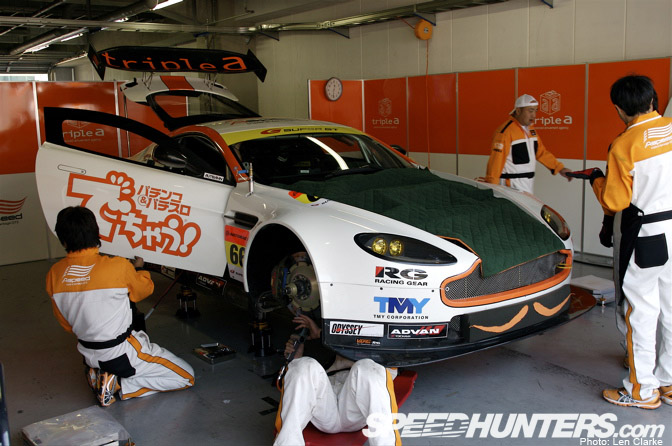 Another new entry in GT300 this year, the #66 Aston Martin Vantage GT2 of GP2 refugee Hiroki Yoshimoto and GT stalwart Hideshi Matsuda has performed better and better at every round. This time out they took 4th in qualifying (much improved on their 10th place on the grid for the previous round at Okayama), and netted their first podium of the year with third. The high point though, was Yoshimoto's passes until he took the lead in the race's early stages. The car was in contention all afternoon long. A win is definitely on the cards.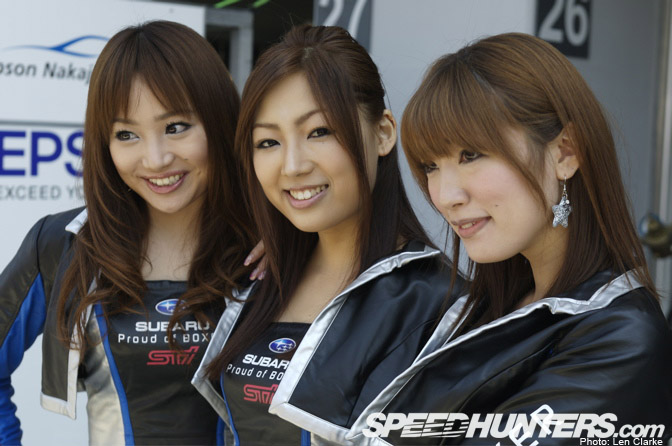 Here's lookin' at you, kid!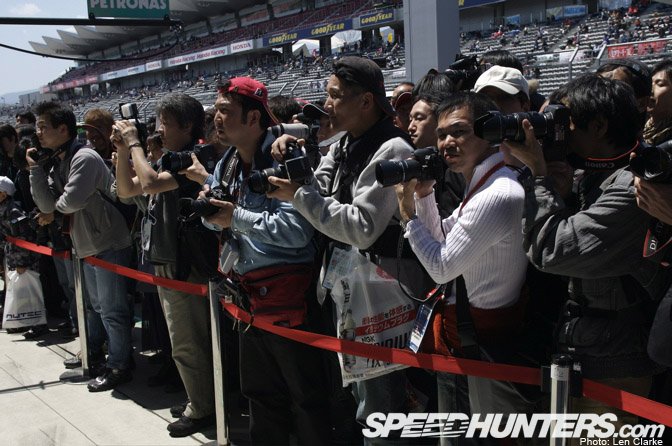 Do a 180 and…oops, I've been spotted.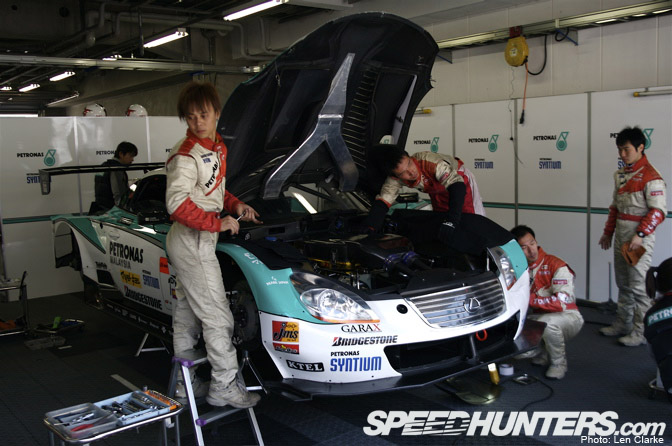 In the TOM'S garage there's a frenetic amount of activity. The reigning champions leave nothing to chance.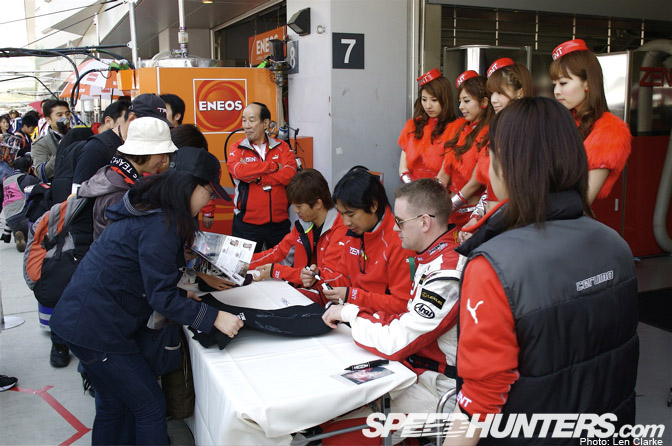 The autograph sessions are run meticulously, fans being threaded past the drivers – in this case Yuji Tachikawa (left) and Richard Lyons (right). That's ex-F1 and CART driver Toranosuke Takagi in the middle – now boss of the very successful team.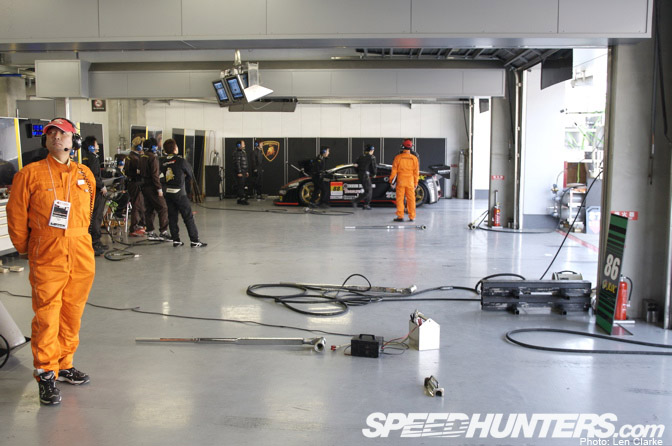 The only three-car team in GT300, the JLOC pit looks pretty gigantic with just one car. Granted, the pit garages at Fuji are the biggest in Japan…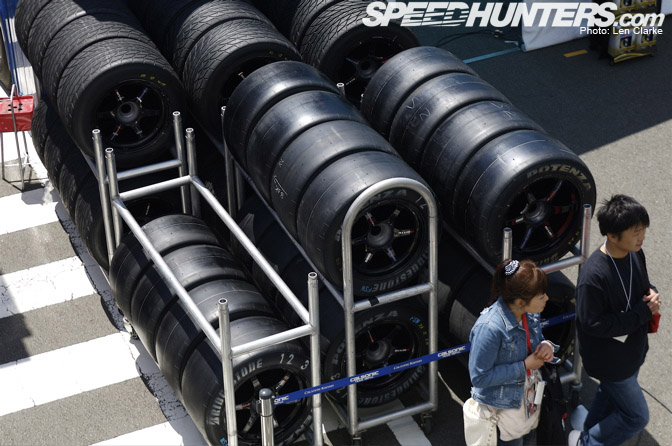 And here's evidence of just how unpredictable Fuji can be. Despite a forecast of five solid days of fine weather, one can never leave things entirely to chance at Fuji Speedway, and hence, the variety of rubber options.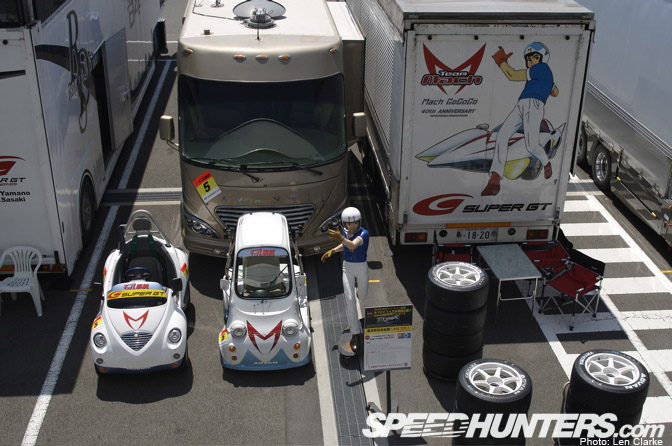 This is a little more curious…the Team Maha GOGOGO entry is supported by a pair of mascots (Speed Racer) and buggies – both of which are produced in numbers here.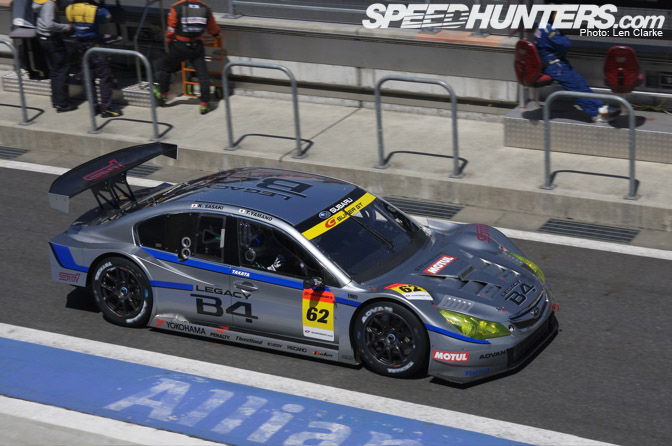 The R&D Sport Legacy B4 has made remarkable gains this season – and at Fuji this was most apparent. At the final round last season (also at Fuji), the car was nearly six seconds off the pace. Last weekend, the gap to the top of GT300 was a (relatively) scant 1.6 seconds. OK, the car went out after 30 of 88 laps, but the progress is undeniable.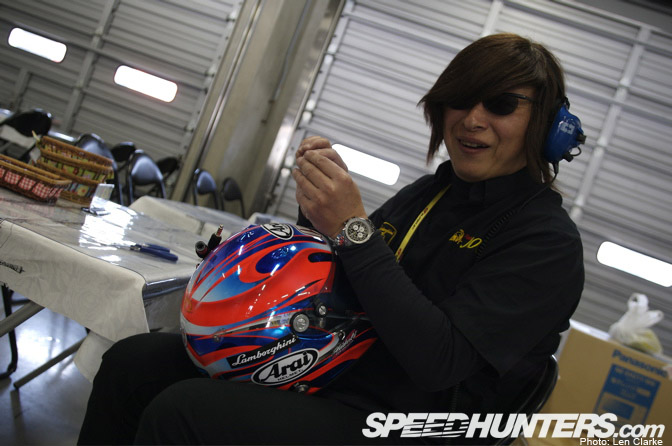 Meet Mearashi-san, Team Coordinator for the JLOC (Japan Lamborghini Owner's Club). One of the funniest – actually, the single most hilarious guy in SUPER GT – a character and a half if I ever met one. Here he is pasting Raging Bull stickers on top of the giant 'H' logos of former Honda GT500 competitor Shinya Hosokawa's helmet.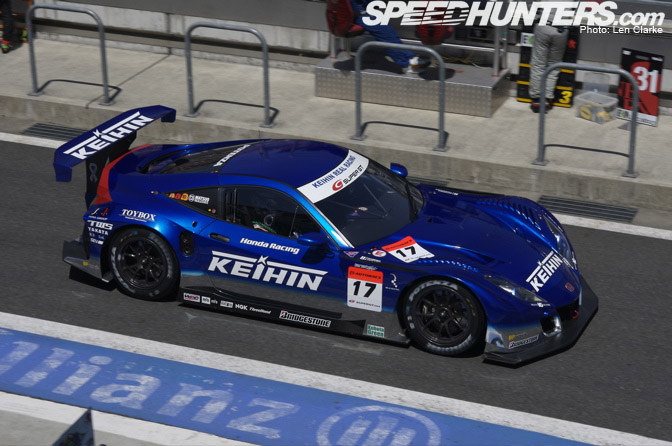 That brilliant blue against the sun, I just couldn't resist!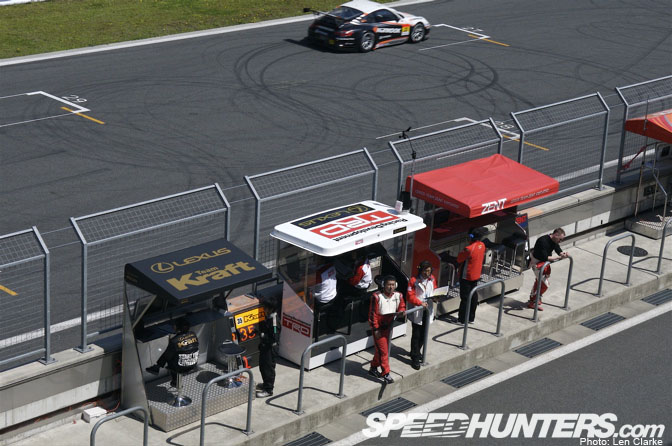 Richard Lyons checking his messages…Yuji's in the car.
OK, that's the Postcard from this round – hope you enjoy it.
 – Len Clarke