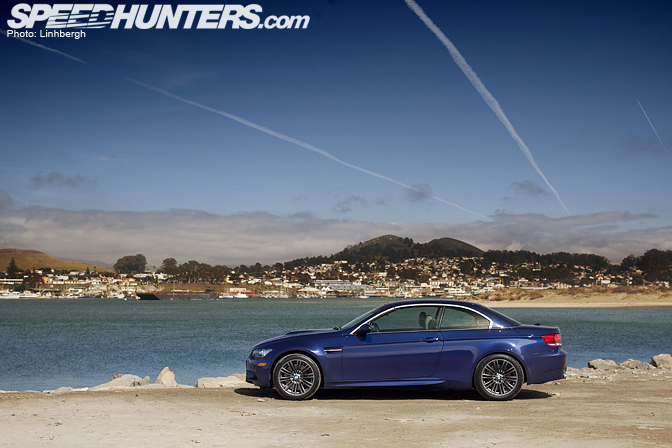 The open road is a very romantic notion. So many things can happen
when you're on a road trip and so many stories will come out of it. When
we were discussing this week's Drive Week, many of us Speedhunters
already had an idea of where they wanted to drive to. Being that I live
in California, there were many possibilities to go driving. Southern
California is home to many iconic driving roads; Mulholland Drive,
Glendora Mountain Road, Malibu Canyon, Route 66. But I decided on the
iconic drive up the coast on highway 1, the Pacific Coast Highway.
With
the help of BMW North America, I was able to secure a rather perfect
road trip machine: an E93 BMW M3 convertible.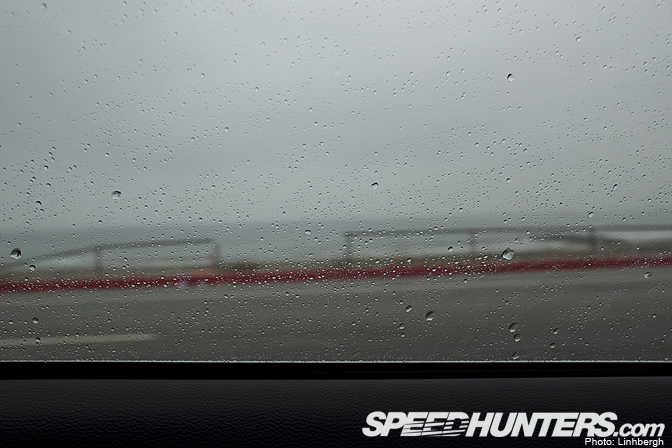 I woke up to the grey morning with a bit of drizzle. My heart sunk at
the thought that the drive up the coast would be dampened by rain. The
thought that I would not be able to put the M3's convertible hardtop
town, also saddened slightly me. I rolled out of bed and went through
the usual morning motions. The only difference this morning was the lack
of moaning or grogginess for the fact that the day ahead would be spent
with a pretty lady in blue. I decided to skip breakfast, as I headed
out the door, knowing that I had quite the drive ahead of me.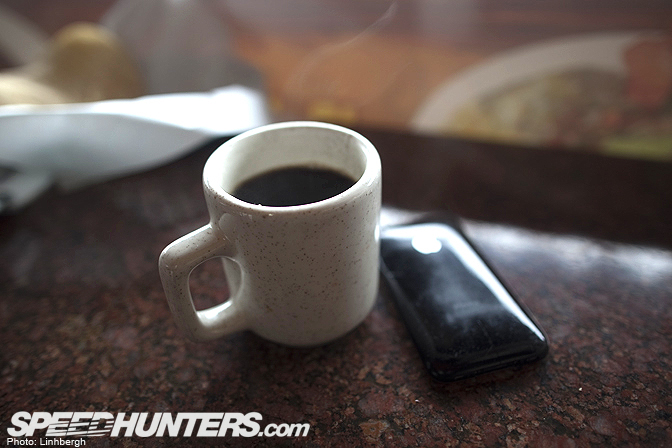 I climbed into the car and hit that oh-so-good "start" button on the
dash, the engine rumbled to life and the rain sensing windshield wipers
wiped off the rain squeegee clean. RAIN. SENSING. WINDSHIELD. WIPERS.
We're in the freaking future.
I sat in the chilled
cabin, letting that new car smell waft through my nostrils and while
pondering about the road ahead.
It was 8 am on a
Tuesday. Rush hour. Normally, the 405 freeway would not have northbound
traffic, but on this wet and chilly morning, Californians somehow forget
to how to drive when the streets became oddly shiny…
An
hour and a half passed before I stopped at the El Tarasco Mexican
resturant in Venice.
I ordered a coffee –black, no cream no sugar. Really, the only way to
start any morning.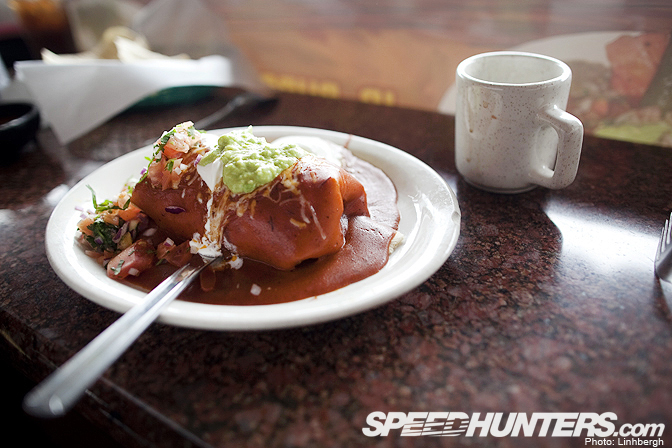 The next order of business was, of course, breakfast. El Tarasco has an
amazing deal for a junior burrito with a drink for only $4.75! And yes,
that is a junior sized burrito. Only in America, right?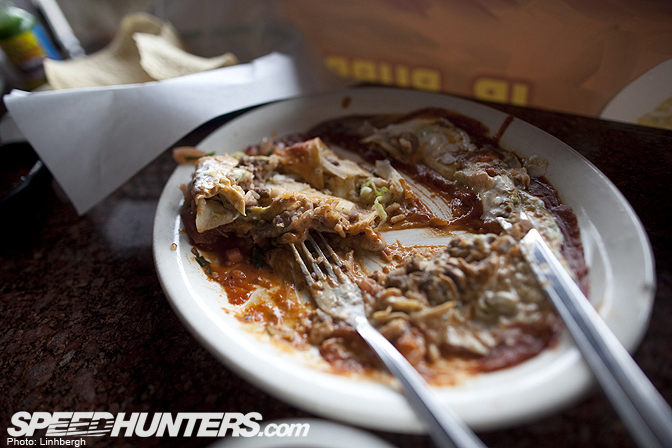 Breakfast. Demolished.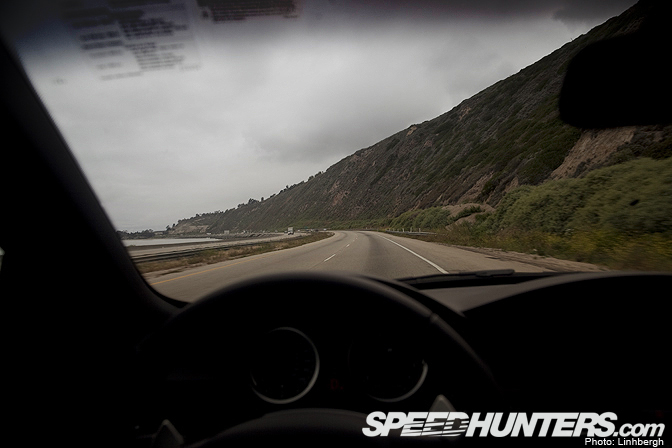 With a belly full of steak, rice, guacamole, sour cream and
tortillas, I finally made my way to the infamous Pacific Coast Highway
(PCH for short). It's the stretch of open road that hugs the California
coastline the whole way. It is literally one of the most scenic and
iconic driving roads in the country.
As I got into the
rhythm of the road, I couldn't help but think about the beast that was
under my fingertips. I was in possession of a 2010 Interlagos Blue BMW
M3 Convertible. Under the hood laid a 4.0L V8 that is a stable for 414
tamed horses. Horses which can instantly be untamed with the push of a
simple "M" button on the steering wheel. Such power that can be
commanded at a moments notice is corrupting. Zero to
land-your-ass-in-jail is done before you even finish exhaling.
The
clutch has six different engagement settings: from pansy-grocery-getter
soft, to OH-MY-HOLY HELL-WHY-AM-I-DRIVING-A-RACE CAR hard. And on the
most aggressive clutch setting, you can pound through each gear a 10
milliseconds. That's faster than you can blink.
The suspension has three settings and I'm sure you can guess what those
setting are. If not, your kidneys will.
Despite all
that hardcoreness, the car knows when to calm down and be just a normal
car. It's an utterly brilliant grand tourer. As you cruise on the
motorway, you'll never know it's such a monster until you slam that
right pedal down. Well, unless you have a heavy foot. But we all know
anyone blow themselves to pieces with such a foot….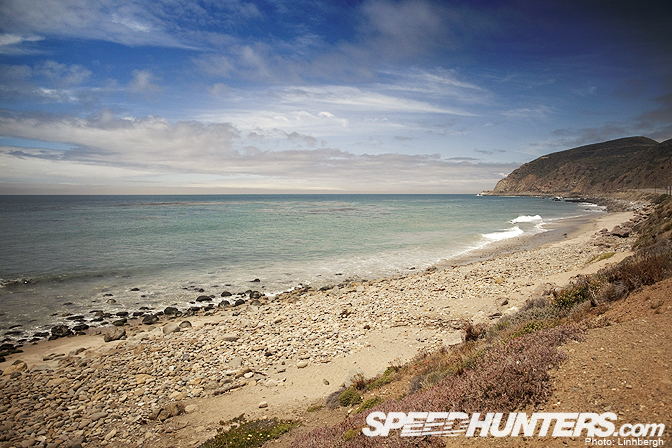 As the lady in blue filed away the miles on our way northward, the
grey clouds thinned out to reveal an absolutely stunning blue sky. It
also helped that the ocean was so clear and blue….
What
a sight, eh?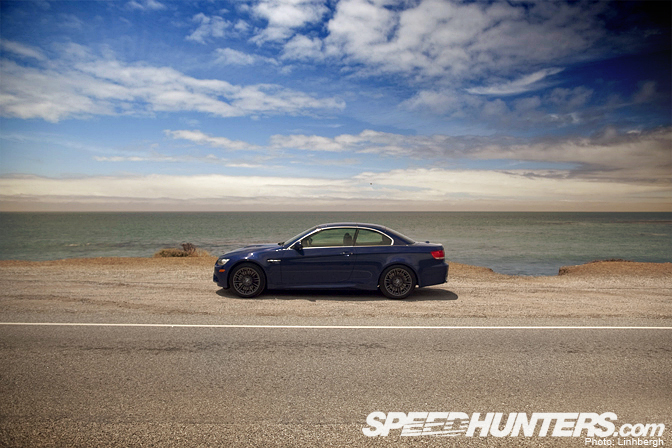 With such a back drop, I couldn't help but to stop and take some photos
of the BMW.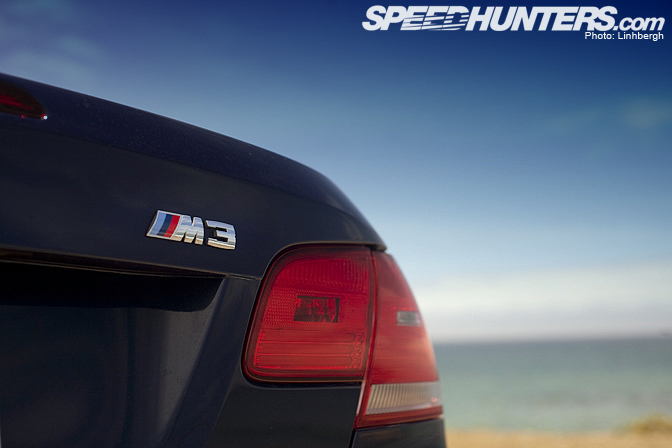 The car has ample trunk space, the back seats actually give its
occupants plentiful amounts of leg room, there's iPod/iPhone integration
within the BMW's iDrive system, and the seats don't destroy your
buttocks after one-hundred miles.
You can't go wrong
with such amenities.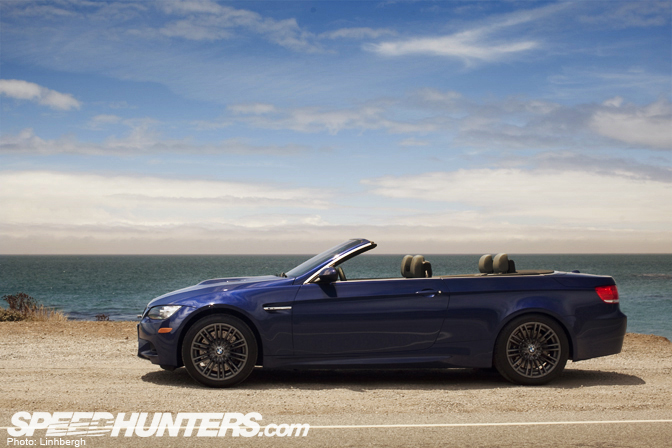 With the day ahead looking prettier and prettier, it was time for
the roof to come off. Driving in a convertible down a coastal high way?
Smiles, nothing but smiles were forecasted for remainder of the
journey.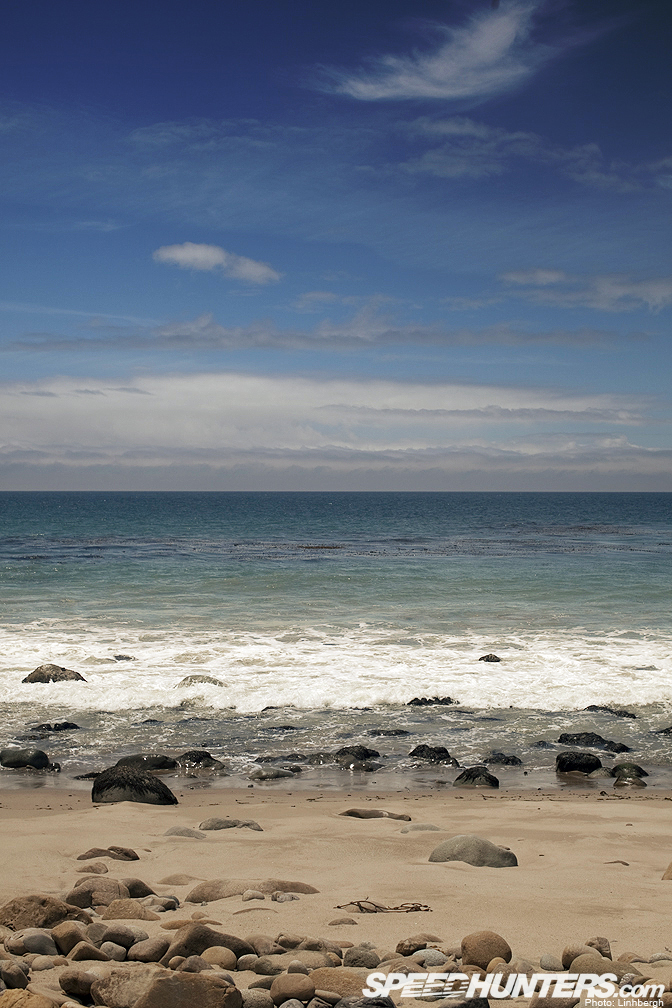 Quite a way to spend a Tuesday, no?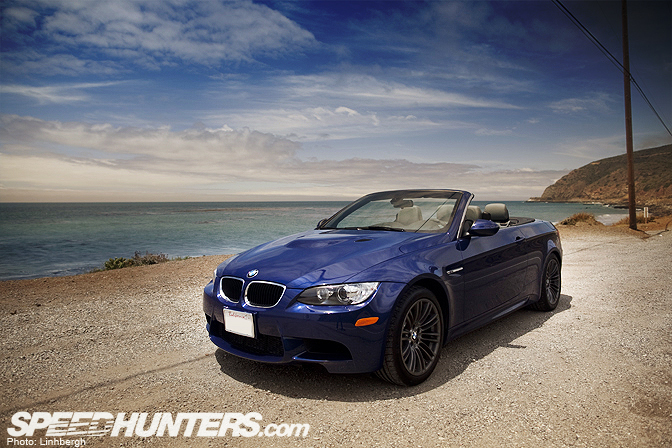 I could've stayed at this beach all day. I could've ended my road trip
right then and there. But alas, the feeling of an uncompleted journey
fell upon me and I climbed back into, the now, roofless M3. Oh what a
different beast it was.
As I rolled back on the motorway, I
pushed that discreet looking "M" button on the steering wheel. First,
second, third, and fourth gear flew by in mere seconds. The amplified
noise of of the four liter was so much more crisp and visceral with the
roof off.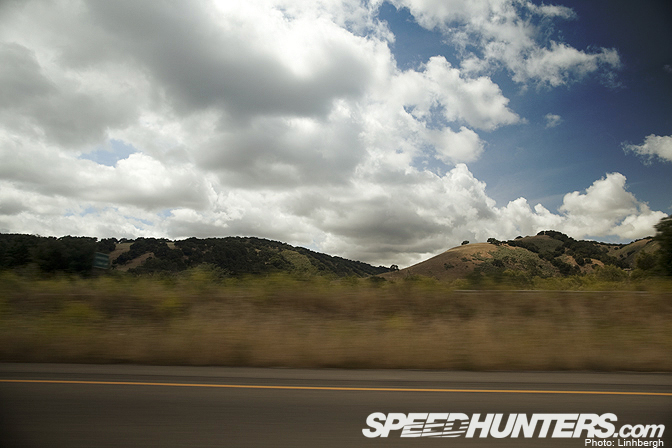 PCH hugs the coastline just north of Los Angeles County. But just a bit
more north of that picturesque beach above, the freeway curves inland.
Beautiful clouds and gorgeous rolling hills dotted the landscape. We
were entering wine country.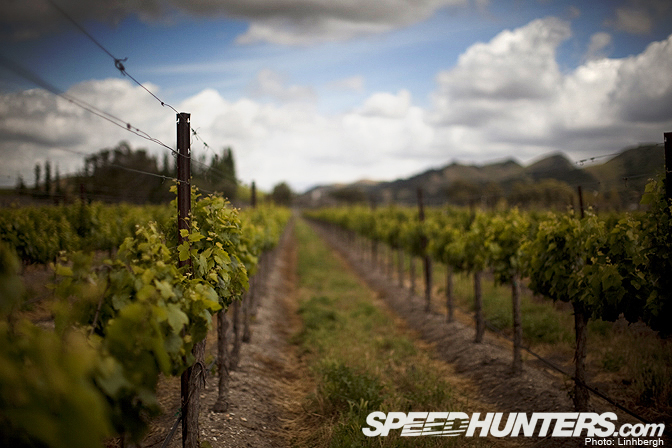 We passed various vineyards. Each one more marvelous than the next. I
had to stop. The light capture device that sat on the back seat was
calling me.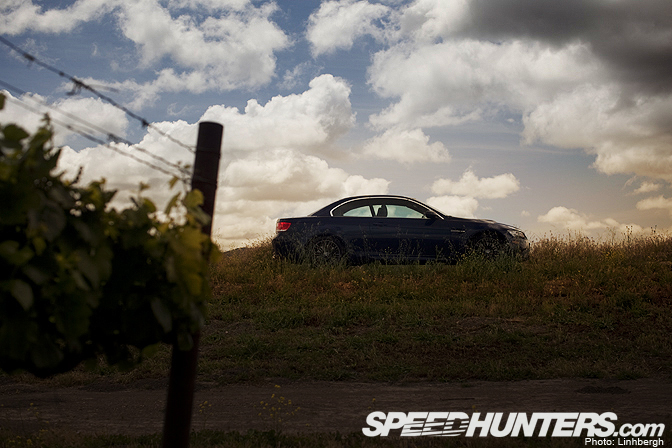 The M3 convertible with its roof up is not a visually appealing as its
sister coupe and sedan, but it still looks tasty doesn't it?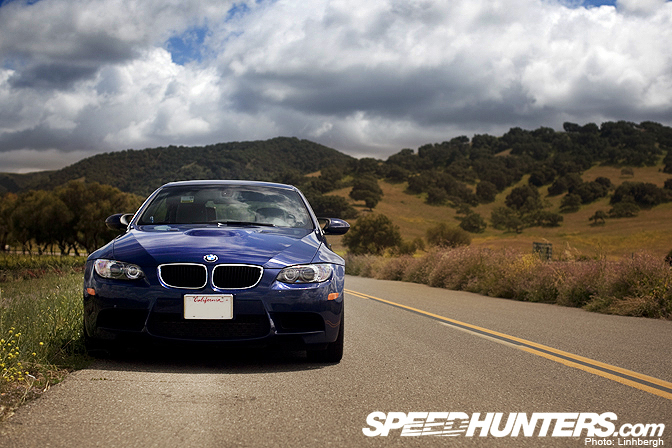 Couldn't help but to take a few beauty shots of the car.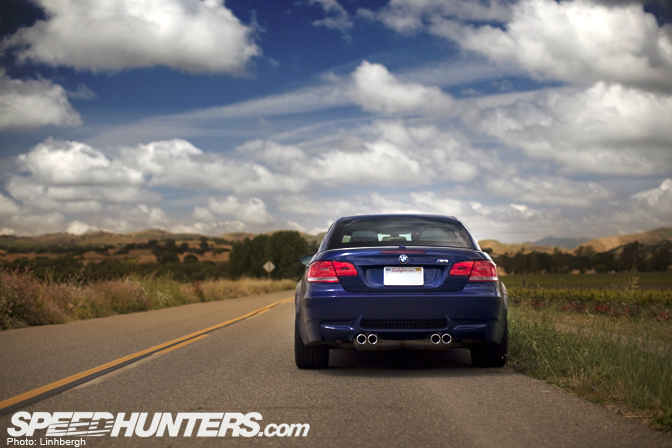 Despite being a convertible, the car still retains its sense of
manliness. That's a rather rare occurrence for a four seat drop top.
But
when the top comes down, all manliness is instantly washed away…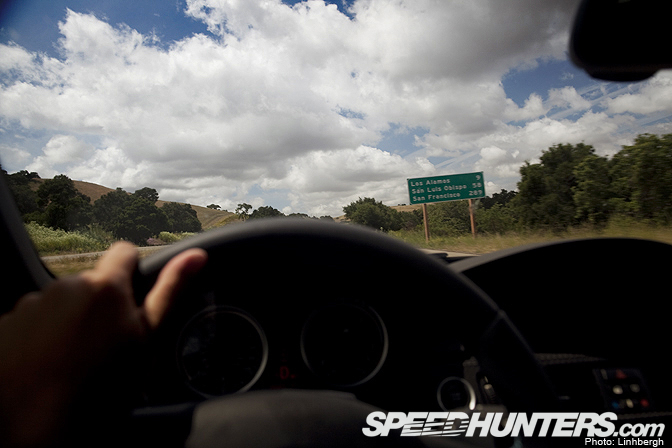 With those snaps fired off, it was off to hit the road again. Hey
look, San Fransisco is only 289 miles away! Shall we?
Before
I left on this mini-road trip, I had planned out a destination. It's
rather hard to have a road trip without and ending point, no?
Just about half way up the state is a little town called Morro Bay. That would be the most north
of the state I would go on this journey. So no, I would not be
completing the 289 miles to San Fransisco.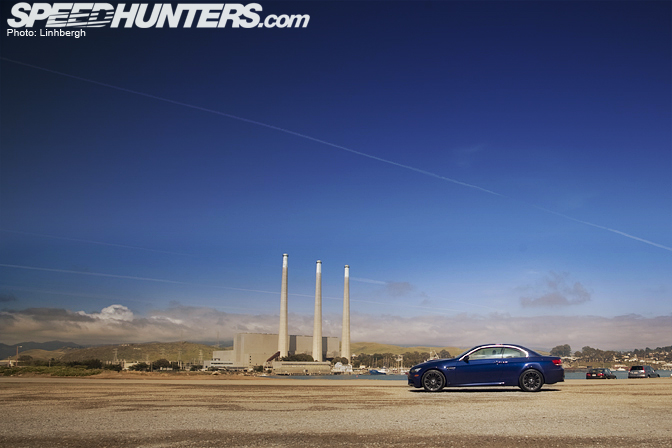 Morro Bay is a charming coastal town. It's everything you think a
coastal town would be. Antique shops are a frequent sight as you stroll
though the town's main street, there are corner cafes and delis with out
door seating, and there's plenty of sea food restaurant options long
the shoreline.
One of the most prominent sights of the
Morro Bay coastline is these three smoke stacks. Word has it that the
stacks will be torn down in a few years time to clean up the town's
picturesque view.
Anyone that is a fan of Hayao
Miyazaki's work would instantly fall in love with this town because it
has the same feeling as the coastal town in Kiki's Delivery Service.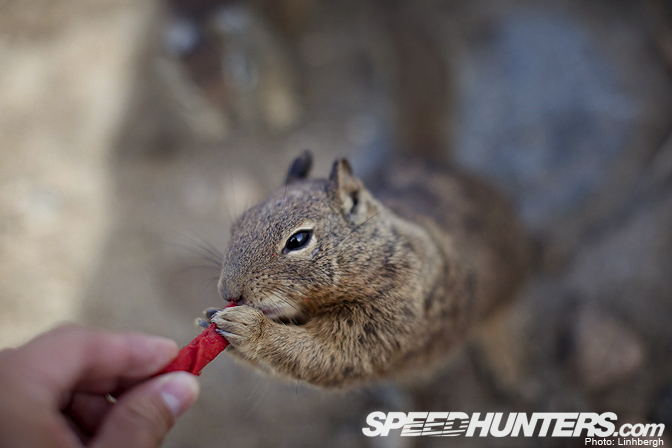 Along the water, there was a whole mess of sea squirrels that live in the
break water rocks of the Morro Bay harbor. These guys were
well fed little guys too. But I'm sure when you live down by the ocean
and live off a diet of seafood, you'd be rather plump also.
I'm
sure that it doesn't help that the random tourists offer Takis mini
rolled corn tortilla chips too….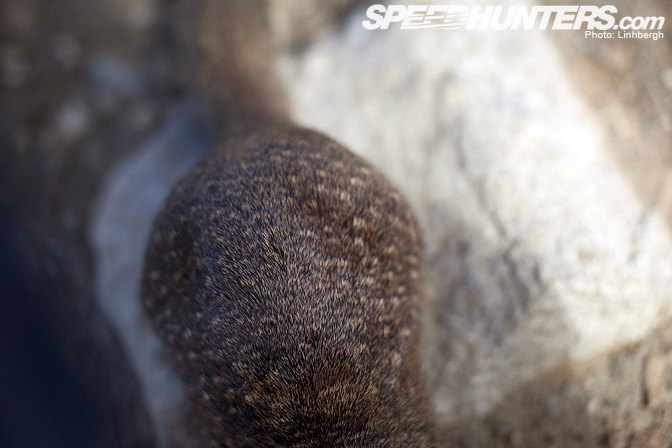 How can you say no to cute squirrel butt?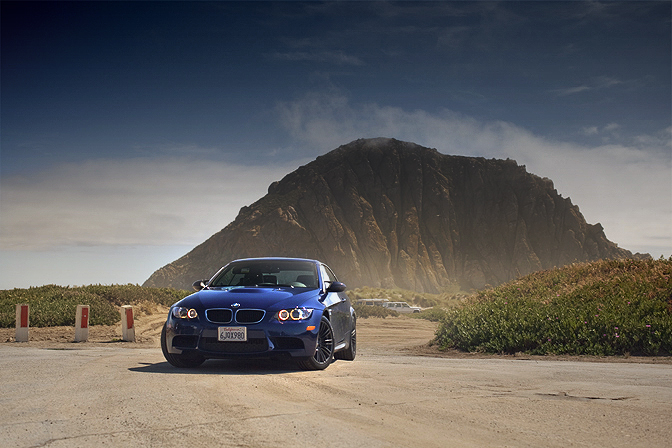 Morro Bay's main attraction is Morro Rock. It's a volcanic plug that
juts out of the water just a little distance from the town's shoreline.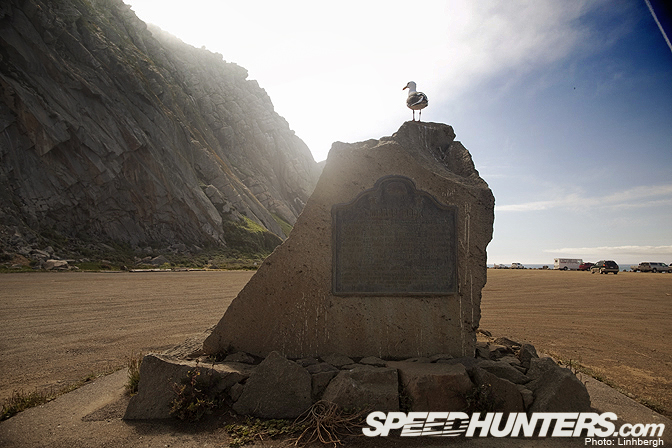 The historical landmark's plaque that sits at the base mentions that
Morro Rock was used as a navigational landmark for sailors for 300
years.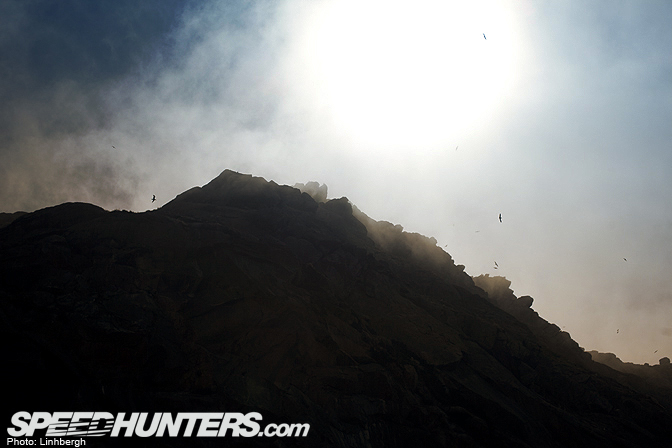 It is now a home to many birds and the rock is now protected by the
Morro Rock State Preserve. So any climbing up the rock is prohibited.
Shucks.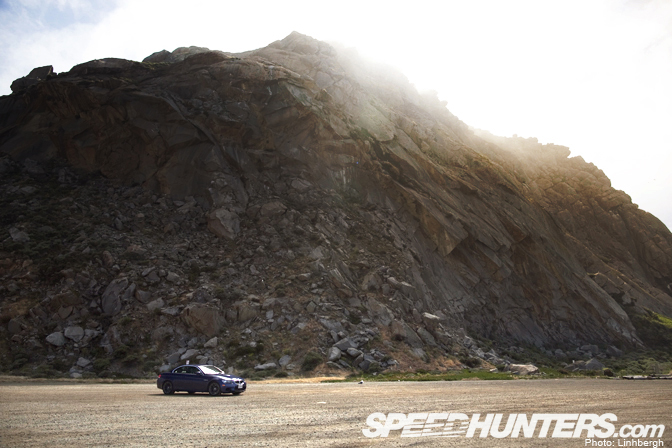 Did I mention that it is an extremely massive rock? Poor little M3 is
dwarfed by such a monument.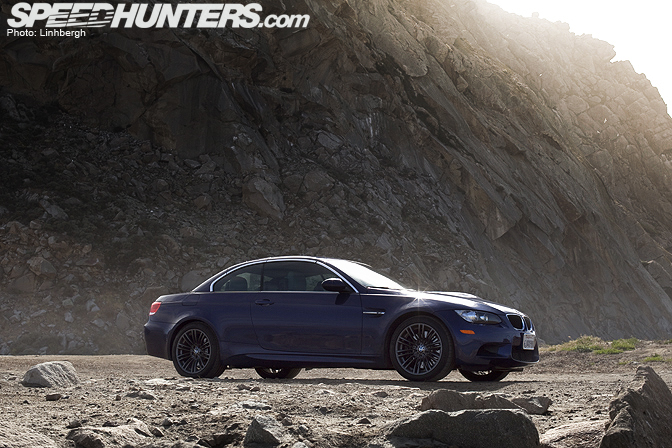 More beauty shots of the car.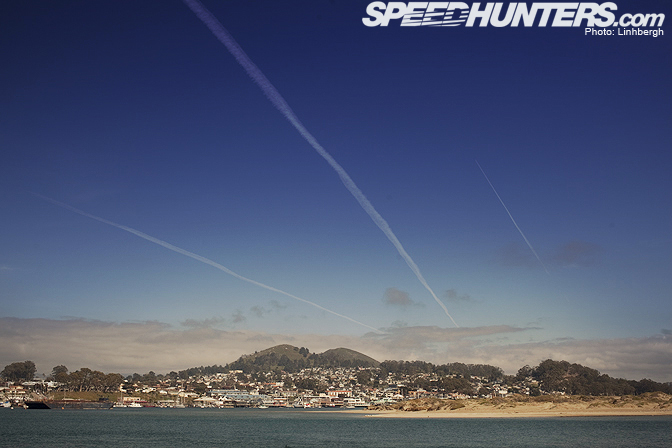 Morro Bay being the most north I'd go on this journey, I said my last
goodbyes to such a delightfully beautiful town.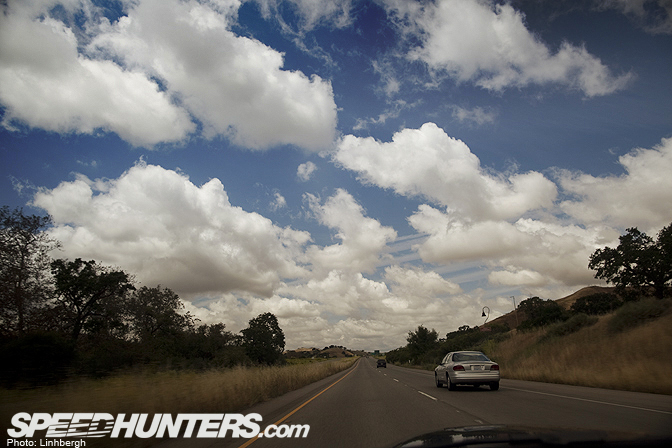 After being slightly sad that I had to leave Morro Bay, I headed
southward. I had one more stop before I head back home to Southern
California.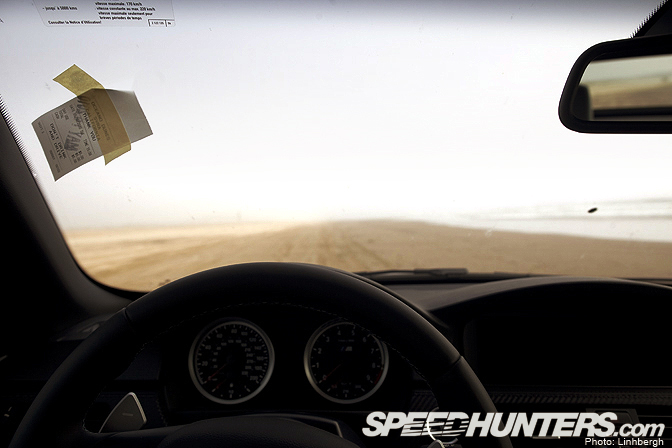 During the course of my interneting to look for new places to shoot
cars, I came across this area in Pismo Beach called the Oceano Dunes.
It's a recreational park for off road vehicles. To reach the dunes you
get to drive on the beach.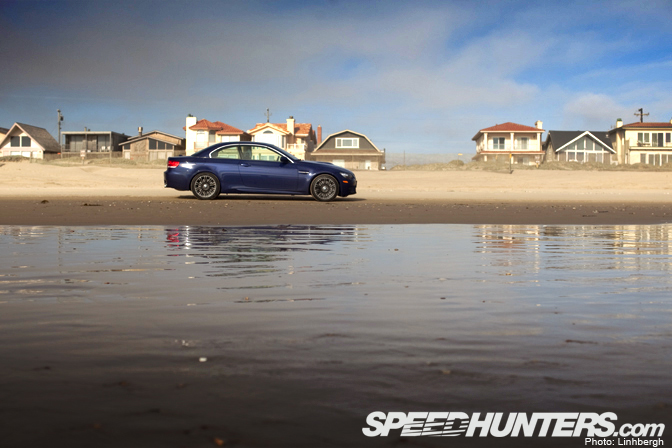 Any location where I can drive a car right next to the water is a
fantastic location to me and to do this for an entrance fee of only $5?
Count me in!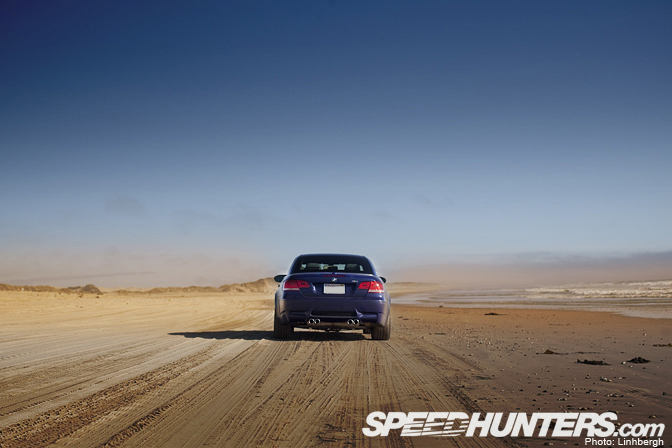 The beach proved to be a fantastic location for a few beauty shots.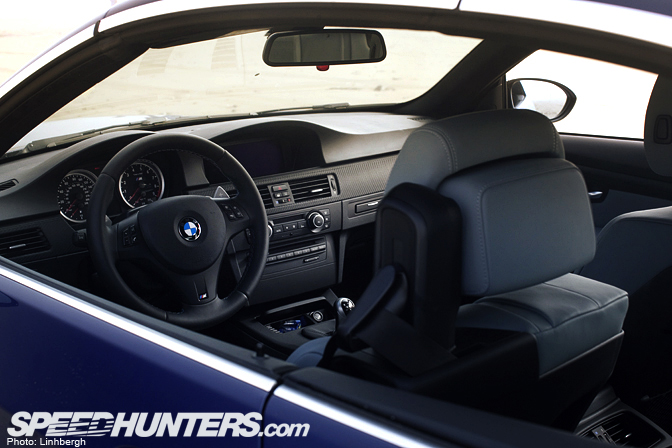 The M3 did not come with a premium package. But it had a
few premium package amenities. It had what BMW calls "The Technology
Package" which includes M Drive, key less entry, and a navigation system
that actually works pretty well. The dash was accented with carbon
leather trim, which comes with the premium package if you so opted for
it.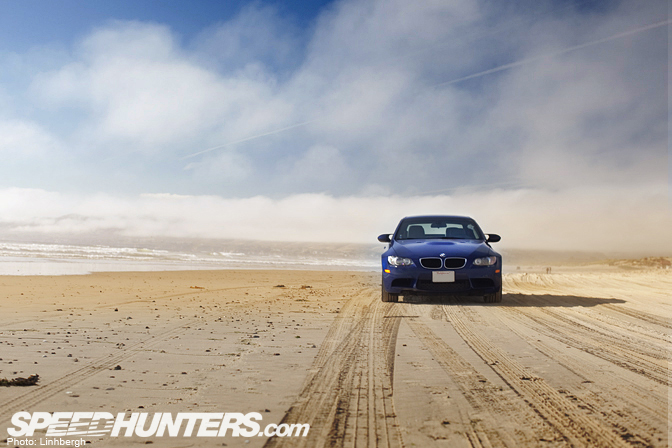 It was rather surreal to witness such a tarmac whore on the beach
sand….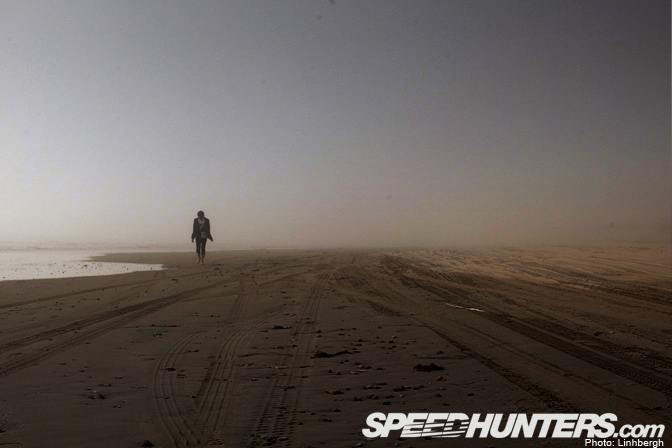 I was so into shooting the car, that when I finally stopped and looked
up, a blanket of coastal fog blanketed the beach. Visibility became
close to nil.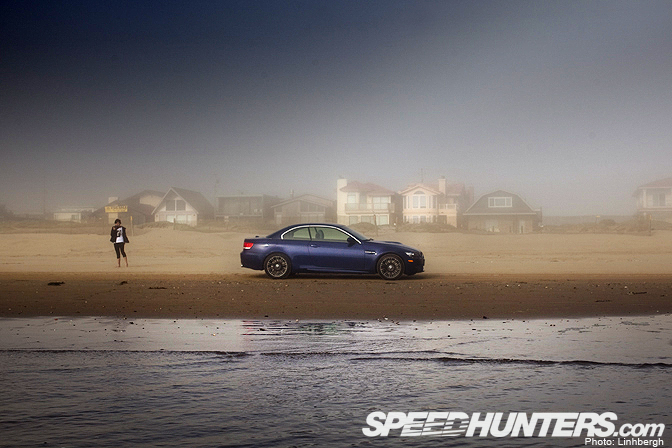 The fog did make for some great and moody photos of the M3 though!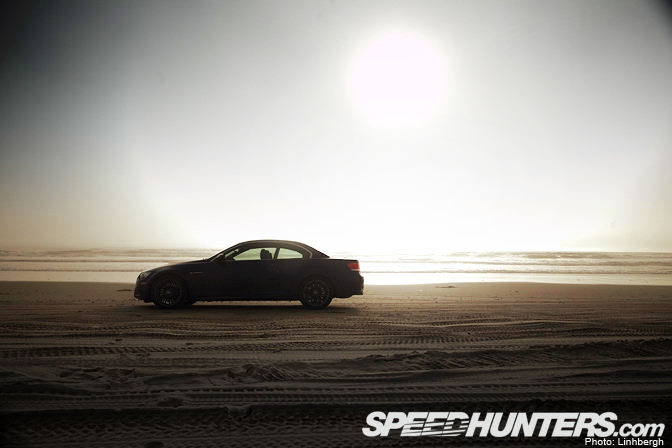 Watching the sunset under the fog was something else. It was such an
alien experience. It felt as thought I'm witnessing the sunset from
Mars, or from one of Saturn's Moons.
As I
finally started driving back to Southern California, I reflected once
again on the car and the journey.
The car proved to be a
fantastic asset to the trip. It was comfortable, luxurious and also
extremely good fun when you feel the need to be 12 years old again. The
"M" button should be renamed to the "LET ME BE A CHILD AGAIN" button. Because
that's exactly what it does. Put your foot down and you laugh whole
heartily at its absurdity. And when you're in the car and kissing
corners and there would be a smile on your face that'll take a long time
to leave. It feels you're driving a car the size of a Mazda Roadster.
But when you step out, you realize that its actually the size of an E39
M5. It's definitely not a small car. It is car will make you feel like
you're 12 again, I promise you.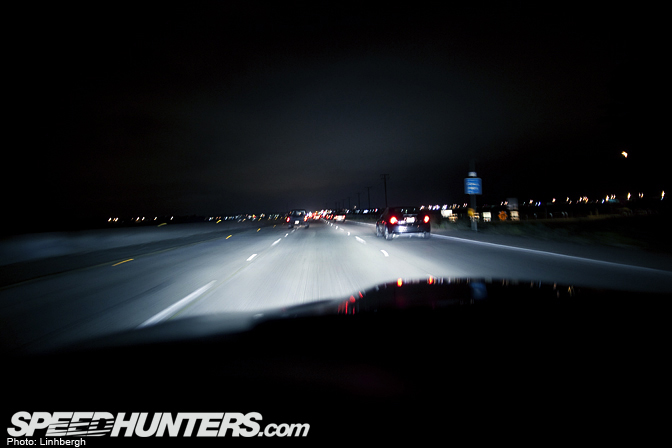 I think it is safe to say that most of us grew up playing Legos.
So cars became a natural progression as we grew older. It was the same
thing, just much more complicated. Air fuel ratios; proper ride height,
camber, caster, toe; turbos, super chargers; math, geometry, and
engineering were all things that we did for the love of automobile. Cars
became serious business. All it takes to wipe off all that seriousness
that is a journey down the motorway.
As we go
about our daily lives, driving to and from work or school, we tend to
forget about our love of cars and our love for the road. Every so often,
we need a reminder why we're into the things we're into. So get into
your car, and just drive somewhere you've always wanted but made up
countless excuses not to.
The destination is
trivial. It's the journey that you will fall in love with.
-Linhbergh