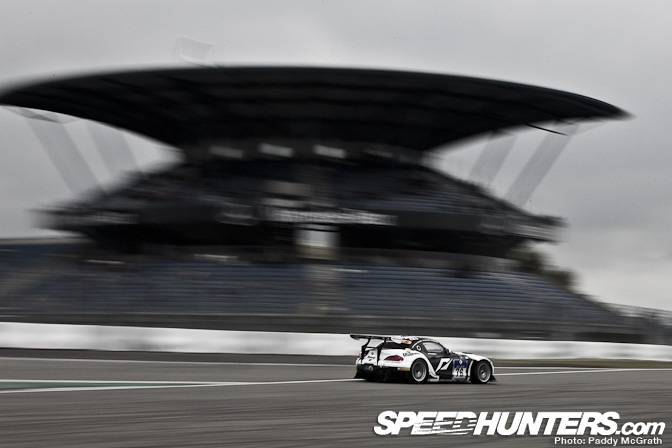 Hi everyone, I'm just getting around to writing this as it's been so crazy since it all happened ! I flew into Frankfurt on the Wednesday with the race starting on Saturday, so it's a couple of days before the race starts. I come up to Brunnchen which is the way you arrive from Frankfurt Airport. Brunnchen is one of the bigger spectator areas and when I arrive I can't see anything but tents !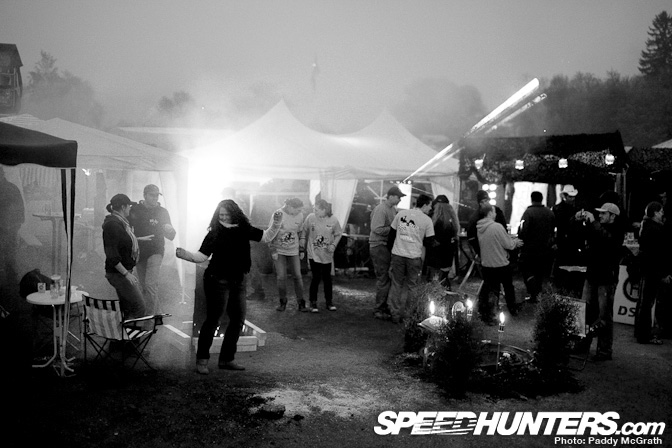 Literally nothing but a sea of tents and drunk spectators ! It was nuts
! I called Edward and a friend of mine Anders telling them they have to
come out here and see this, but they've already been. In the middle of
all the tents, caravans and drunk guys was a pool ! A couple of guys
got together and built this big, wooden pool with heated water and they
were all in it singing and drinking.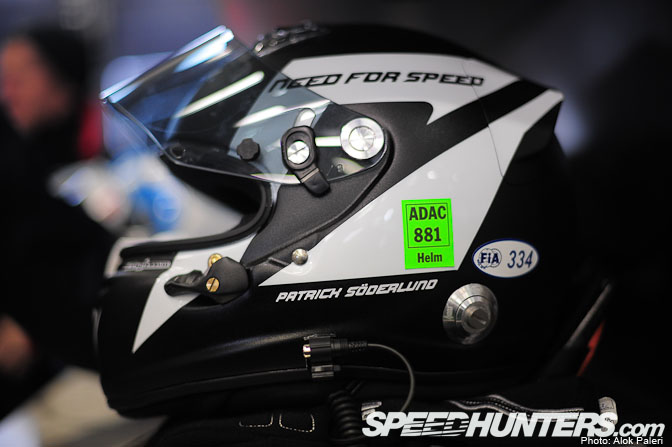 I've never seen anything like it. I got talking to some of the guys and they told me they arrive 10 days before the race starts to get ready. It's spectacular and it's nothing like I've ever seen before. It just might give you some idea of how crazy this event is !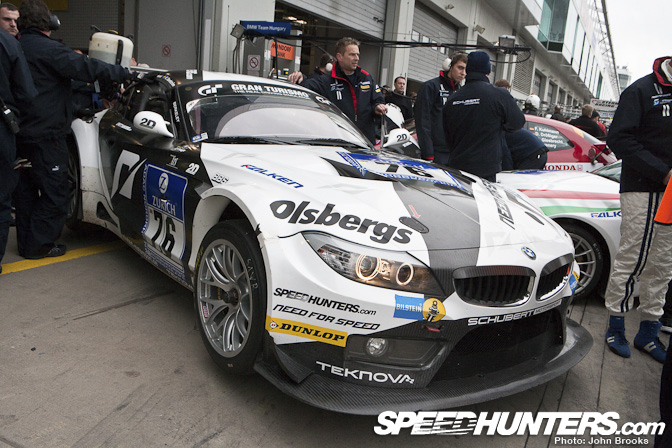 So we come to the track and the first thing we do is a kind of dialog with the team. We have practice Thursday and Friday and there is qualification both days as well. Thursday will also see us have a night time practice and Friday was only a couple of hours which is the main qualification session. On Thursday I only got to briefly drive the car as we were very busy adjusting the setup with my fellow Swede's Edward and Martin Ohlins who were driving and adjusting the car.
Edward is my regular GT3 team mate as you may know and Martin would join us alongside Marko Hartung for this 24 Hour Race.  Edward and Martin helped the team with the main setup of the car during the first sessions. I got two laps in towards the end which helped me familiarize myself with the car again, with the track and with the traffic. There were over 200 entries so it's a lot of traffic.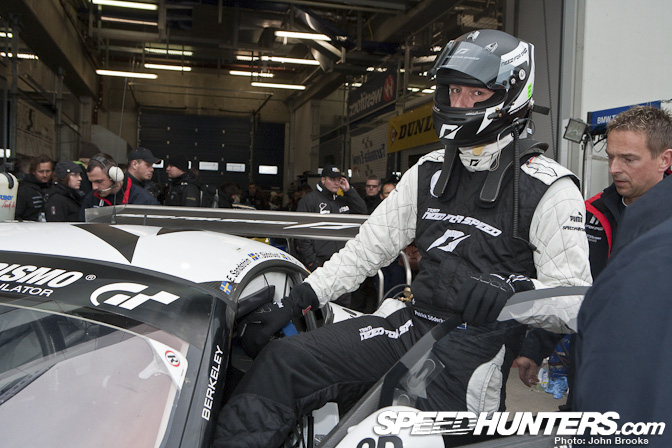 On Thursday evening around 7:3 p.m. we started the night practice session but it didn't start to get dark until around 9:30 p.m. I didn't get into the car until late and Edward told me it was very misty out. Once I got out in the car I couldn't see anything ! I done a few laps of the GP circuit (You choose to go out onto the Nordschleife at the end of the GP circuit or continue around the GP track for practice)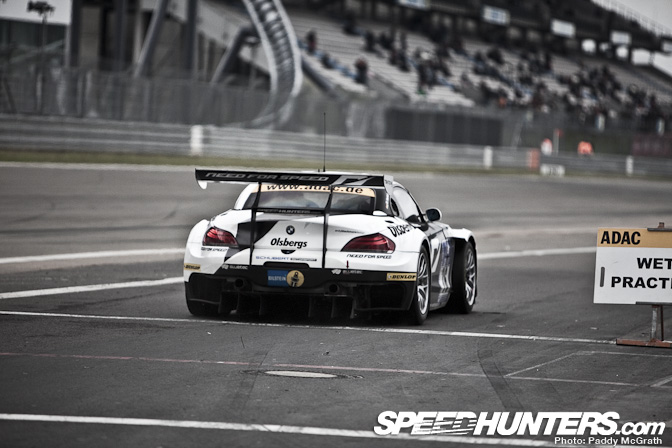 I just didn't want to go out onto the Nordschleife in these conditions as I could only see 10-15 feet in front of the car. After three laps of practice on the GP circuit, the organizers cancelled the night practice because of the weather. So when the race would start on Saturday, I only had three laps of the GP circuit and two of the Nordschleife completed during the practice ! But it was okay, I had done enough before to know my way around there.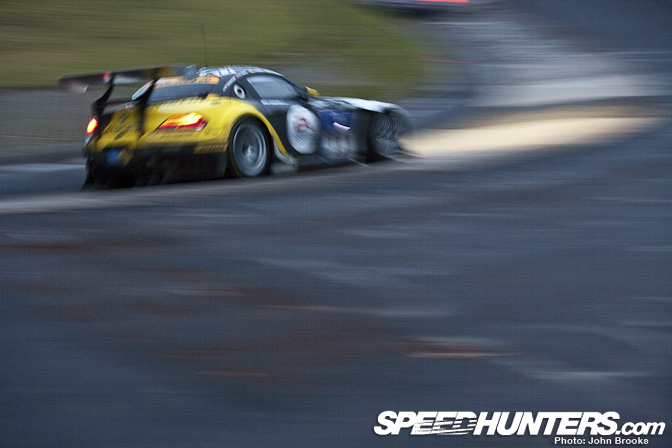 The other EA / Schubert Motorsport car driven by Claudia Hurtgen, Stian Sorlie, Jorg Viebahn and Richard Goransson was the Schubert 'A' car which they had planned to get a top five finish with. The team had a great line up of Nurburgring specialists so they were a little quicker than us during qualifying but not by too much so we were happy.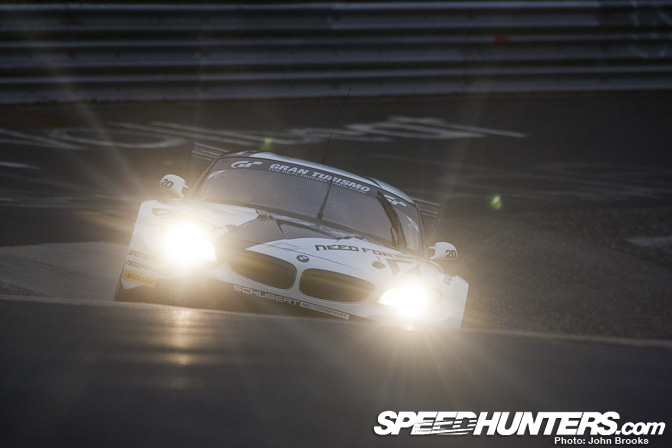 We qualified 20th place on the grid which gave us a blue LED light to place on our windscreen that would flash continuously during the race. This would notify other drivers that we were a top 20 car and the slower cars would move over for us during the race. It's a pretty big deal as there isn't a really big difference between qualifying 10th or 19th but qualifying 20th or 21st is a huge deal. I think we came in at 20th with two hundreds of a second to spare between the guys in 21st.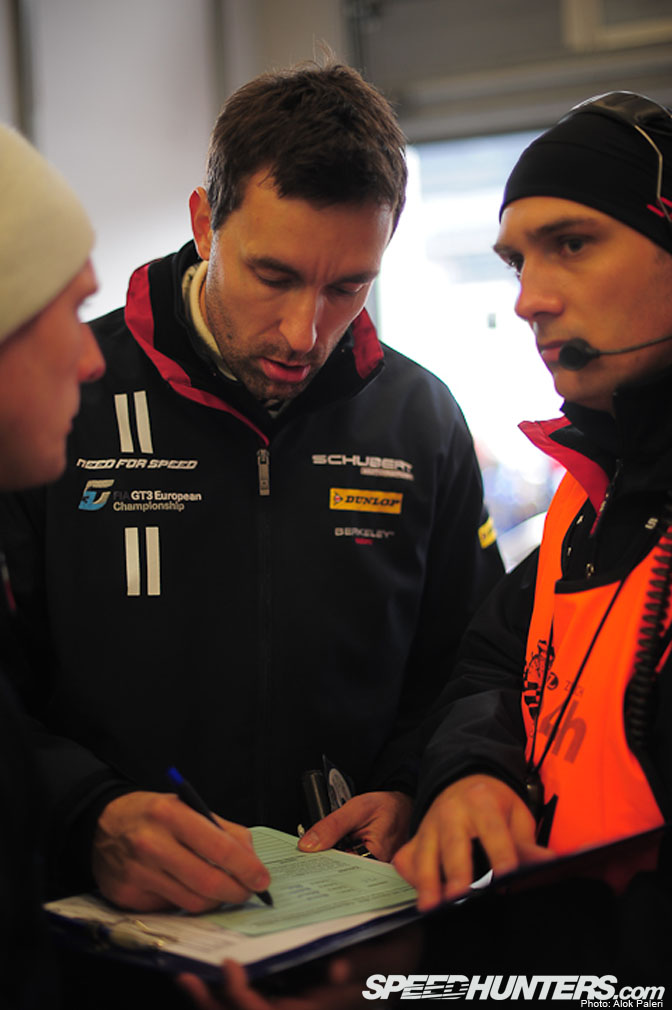 This green sheet needs to be filled in if your driving the car. It helps the organizers know who's in the car at any time and it also states the rules regarding how long you can drive and how much you should rest in between the stints. The maximum amount of time you can drive in one stint is two and a half hours and you must have at least ninety minutes rest before you can drive again. The roster can change several times during the race but you have to make sure it's always filled out correctly as the organizers are pretty strict on this.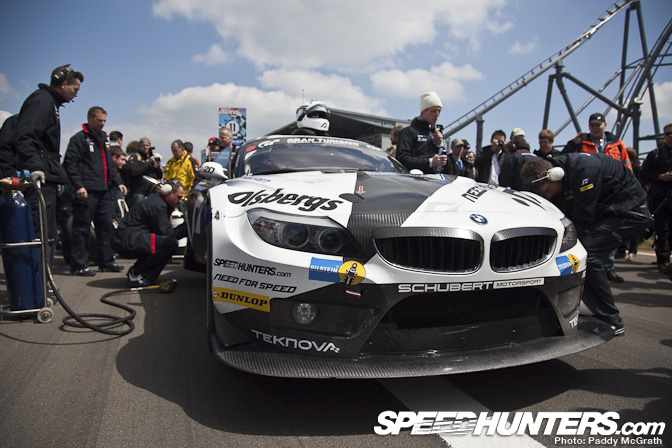 Having to run our car with a Gran Turismo sticker was something we always knew we had to do, but it wasn't a big deal for us, as we were still Team Need for Speed. It was an intentional choice for us to compete, we knew Gran Turismo was a main sponsor and we decided to participate anyways and we know we did the right thing.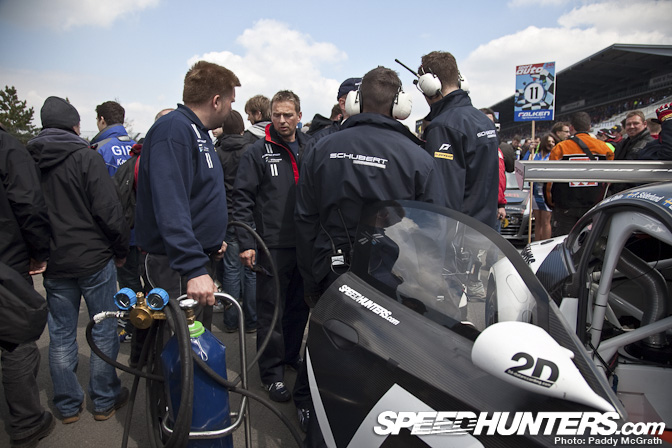 There were so many people on the grid that it was hard to find the car ! I had things I needed to give Edward before he started but I couldn't find the car with the thousands of people on the grid. I eventually managed to force myself through the throng of people to get to him so it was okay in the end.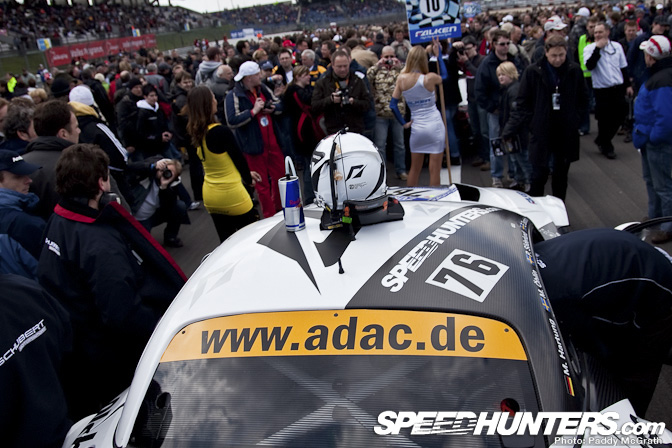 It was such a surreal feeling seeing ourselves there on the grid. I consider myself a hobbyist amateur and even though the rest of the guys are professionals it such a weird feeling being stood on the grid with factory backed Audi's, BMW's and Porsche's in front of us.
Another example of this strange feeling was when we went to the top 20 drivers briefing on Friday and there I met my friend Mattias Ekstrom whom I regard as the best race driver in Sweden. He looked at me and said jokingly 'What the hell are you doing here?' and I was thinking the exact same thing ! Your surrounded by all these famous drivers and I just felt I was completely in the wrong place. But after the race when we were left standing, I felt pretty good about myself after seeing these other guys crash out.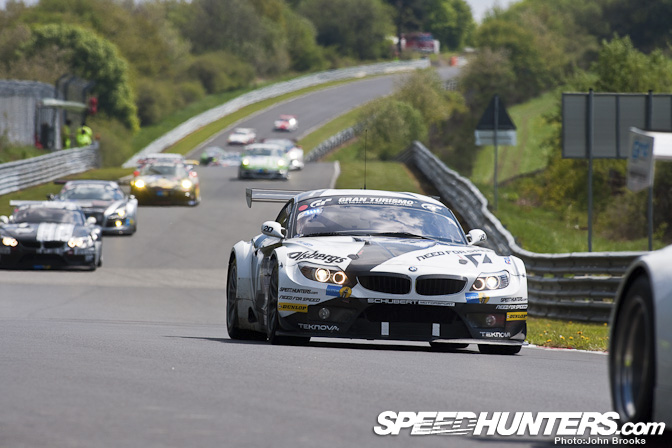 The start of the race is quite hectic with over 200 cars starting at the same time. The team manager and Edward decided to take a steady approach to the start of the event. As this is a 24 hour event and not a sprint race you have to be careful and look after the car. If someone wants to try a crazy overtake maneuver, we got to leave them past and worry later about how we can make up these positions.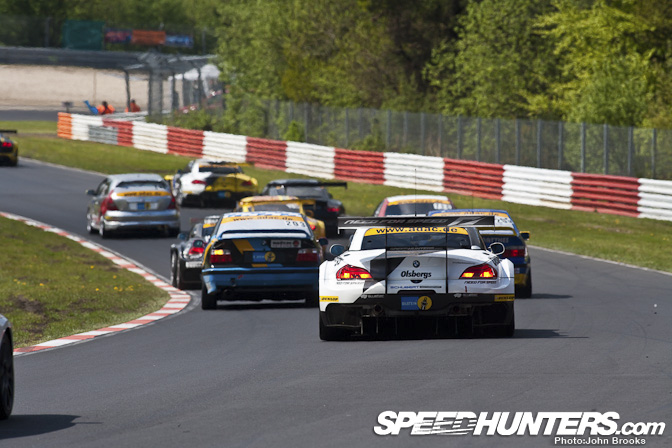 Edward is a really calm guy so I knew we would be okay during the start
of the race. When he came in for the first pit stop we had climbed to
maybe 15th / 16th place so we knew this tactic was working for us.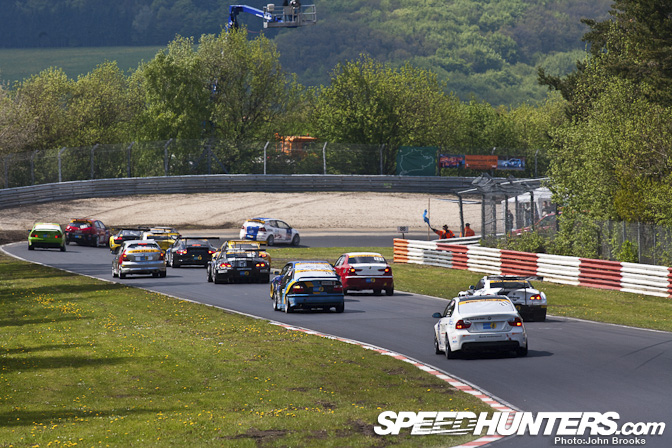 We actually pitted early, after about six laps where we would normally pit after eight. This was done to avoid traffic. The fast cars up front would usually complete eight laps before pitting.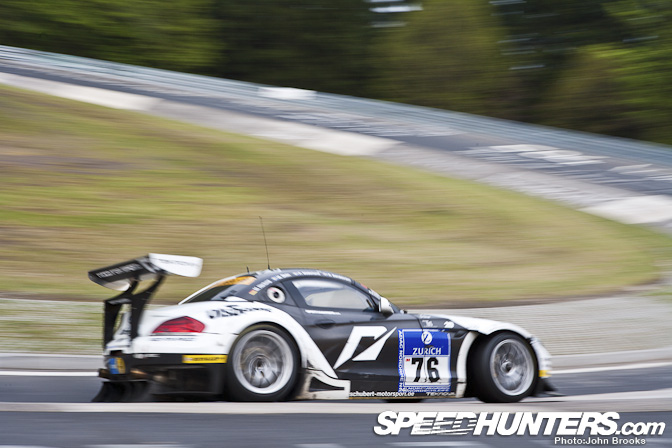 At the 24 hour Nurburgring you have to use regular pumps to refuel the cars in the pit. It takes around two and a half minutes to refuel the cars, just like at a gas station. So if you come in with everyone else there is a chance you might have to wait for someone else to finish refueling before you can start. This would be a devastating consequence.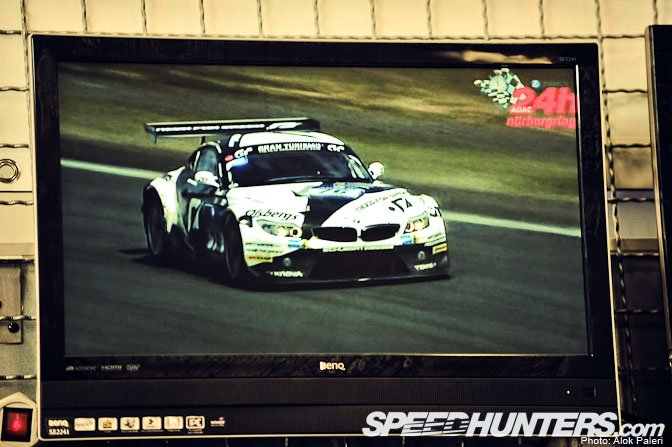 At this first pit Marko jumped into the drivers seat. We could see straight away that Marko is very fast and we could see that he was catching the team 'A' car and he then passes them!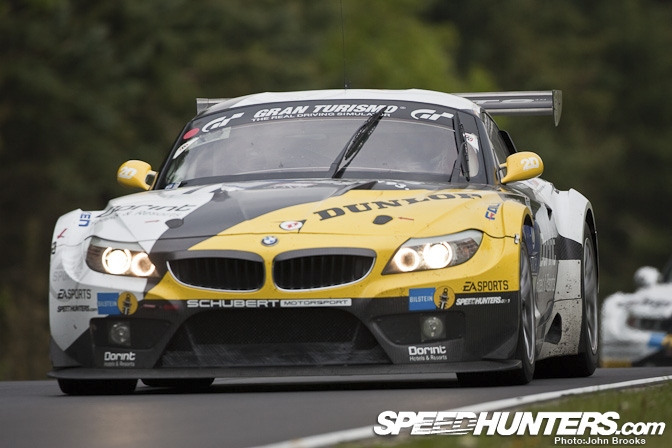 Our team boss was a little anxious as we now had our two cars battling each other on track. This is only hour two of twenty four ! Unfortunately a little bit later the other car had a huge crash just after Karussell and had to retire from the race as the car was completely destroyed.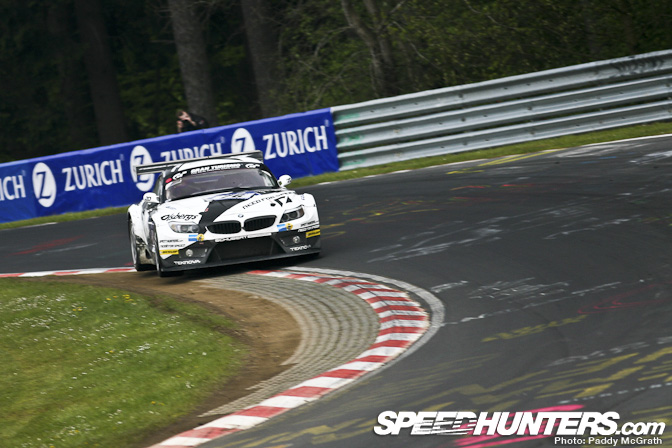 After about four hours it was my turn to drive. I had a good stint, I started to find my rhythm and get more comfortable with the car. I wasn't putting in very fast lap times but there was a lot of traffic and even more yellow flags.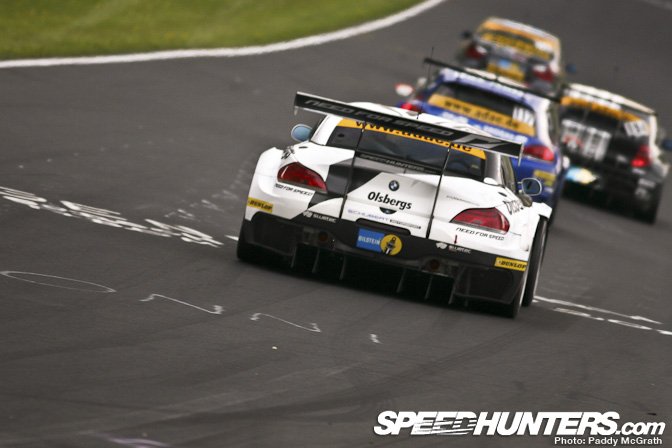 I was about 15 seconds a lap slower than the other guys so I felt kind of bad even though I knew it wasn't really my fault.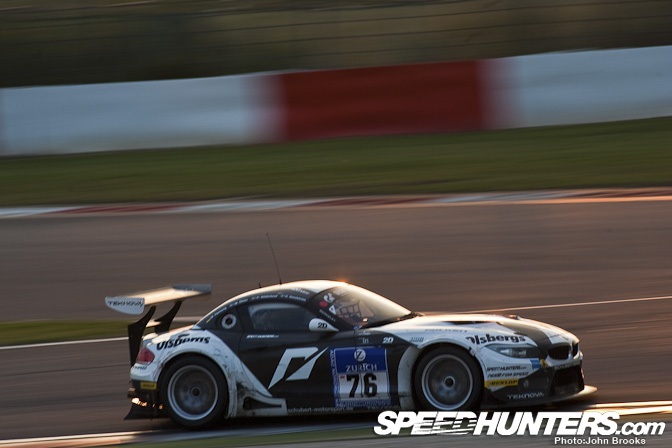 For my second stint, it was my first stint in the dark. I do like driving in the dark and the conditions were really good on track and the car was running great.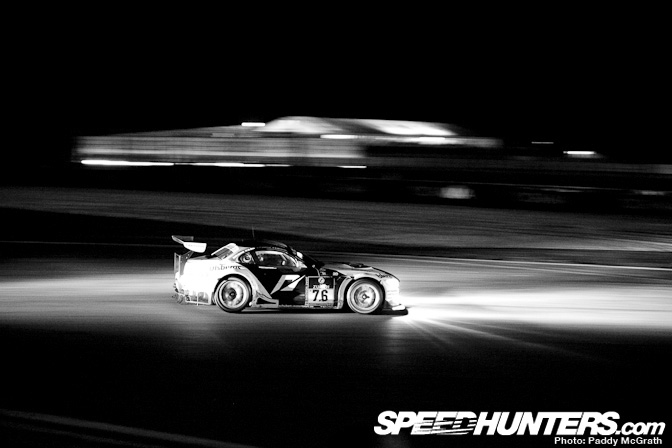 Unfortunately there were two huge crashes in front of me and from Karussell to Hohe Acht you couldn't drive more than 30KM/H because of the crashes in front of you and debris on track.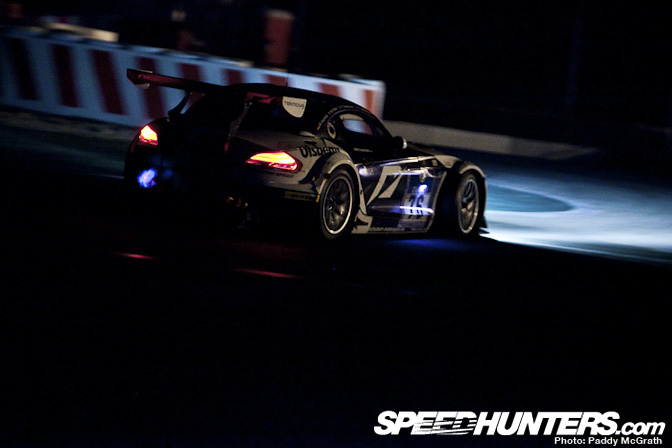 Everyone was struggling so it worked out okay for us and even better was we kept climbing up the leaderboard. The lead cars kept crashing out, the Audi's had to retire, we were overtaking and before we knew it we were in the top ten !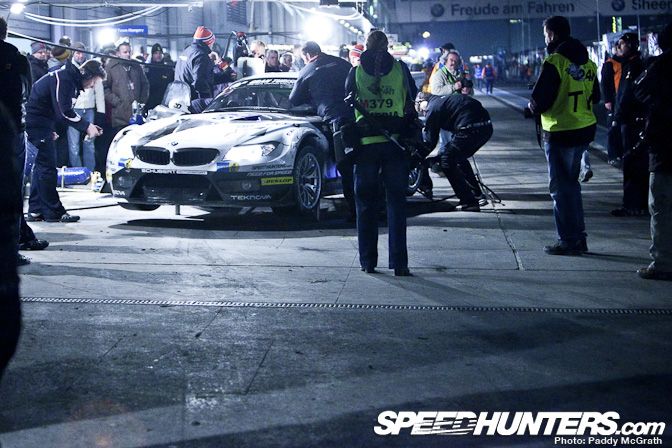 When my third stint came up, the car was driving better than it ever had. The track was getting rubbered in so turn in was better and everyone was feeling confident. During qualifying our lap was an 8:47 and that was with super soft tires and fuel load.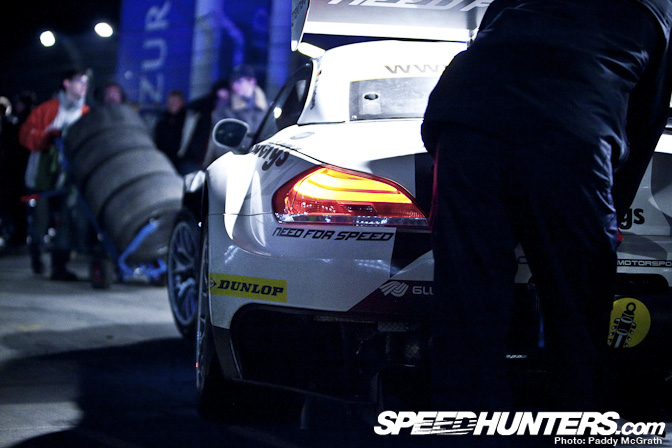 During this stint I was doing 8:54's which was only seven seconds slower (over 26KMs !) than our qualifying time so I was really happy with that. Edward remarked that I must of left the wife and kids at home and gone nuts !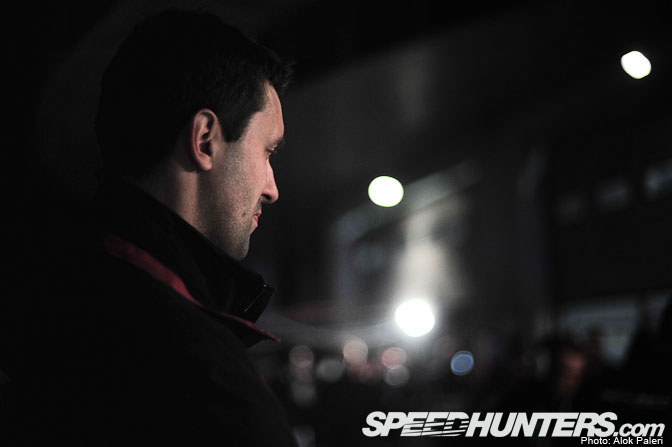 I was really proud getting out of the car as this was probably my best performance in my racing career.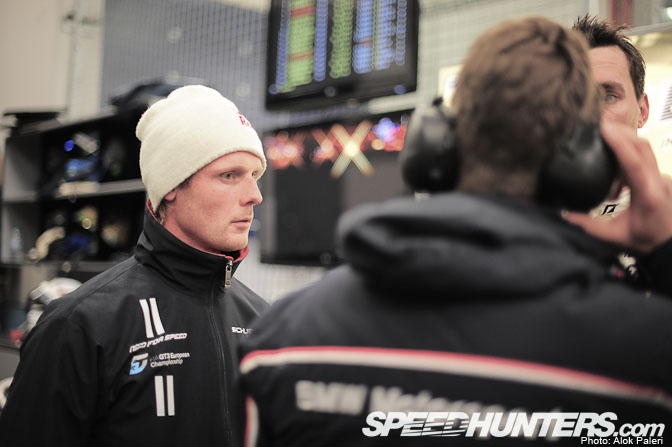 All together I done four stints and the rest of the guys did around six each. It kind of got to a stage where we were so close to third place that I knew we had to have the fastest guys in the car for as long as possible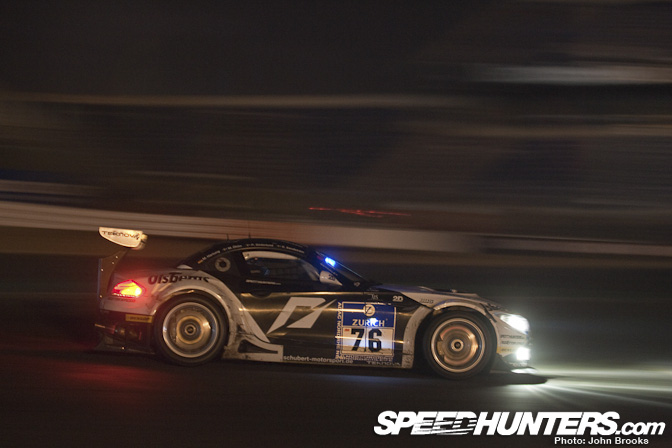 We were so close to that third place finish. We got a puncture at Karussell which cost us maybe four / five minutes and when the race ended, we were only 40 seconds behind third place !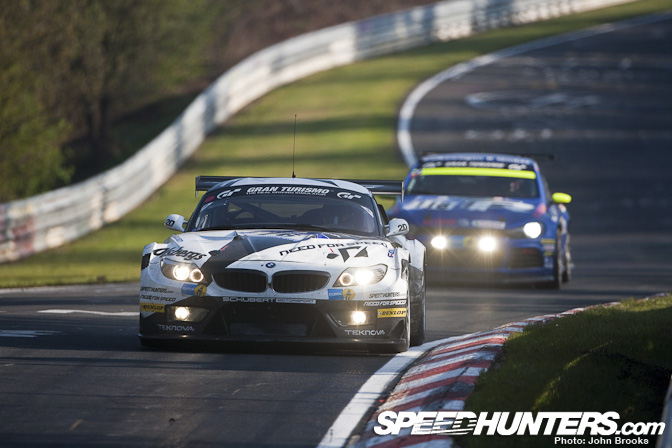 It is a lot of if's and but's, but if we didn't have that puncture I'm sure we would of being on the podium.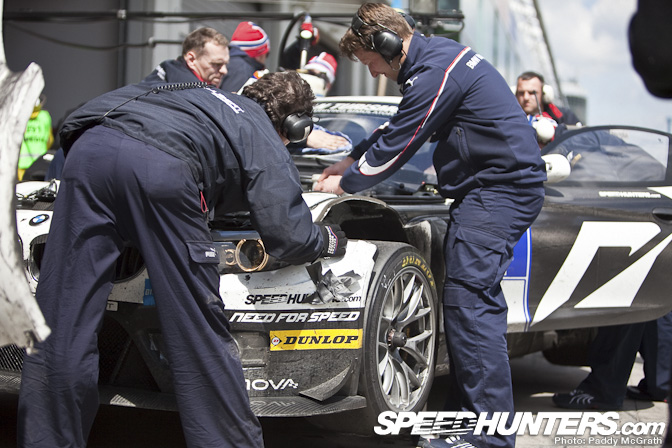 During a 24 hour race you need to refill the engine with oil as the car will use so much throughout the race. You also need to check other things like oil pressure which I think was a little bit high towards the end of the race.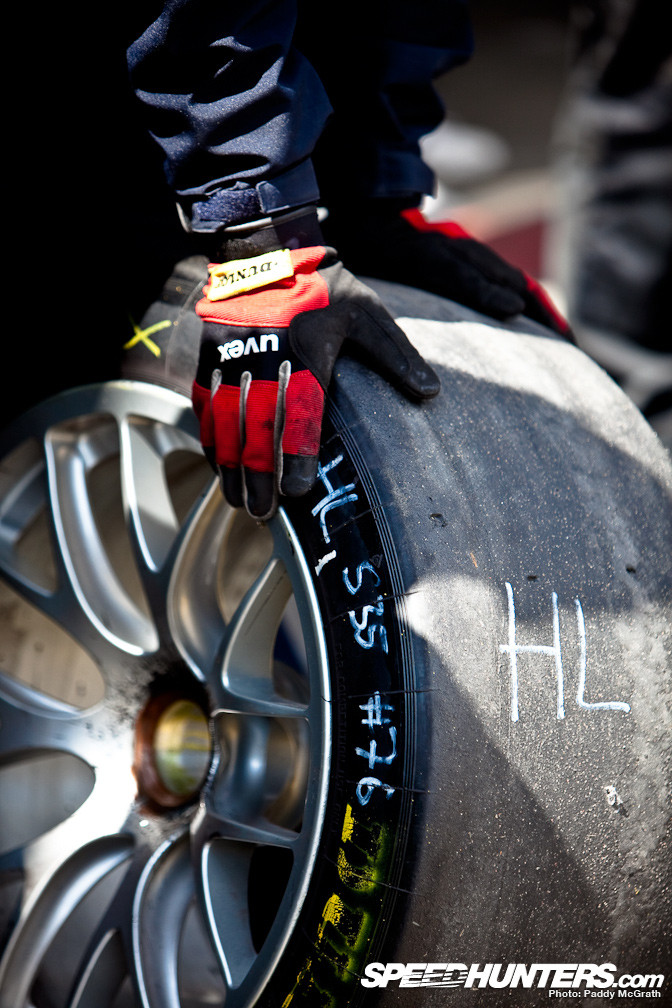 So for the last five or so pitstops we kept a close eye on the oil pressure and level. We also have to check the brakes amongst other things so it's not just a case of refueling and new tires at each stop.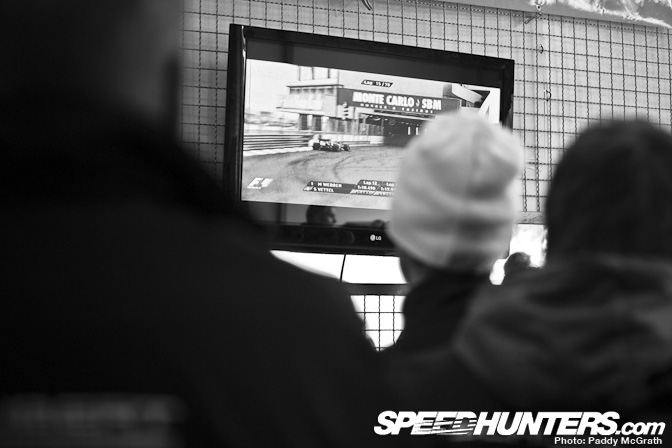 It was a little bit strange that we were watching the Formula One race together, but we were also keeping an eye on the lap times of who ever was in the car at the time.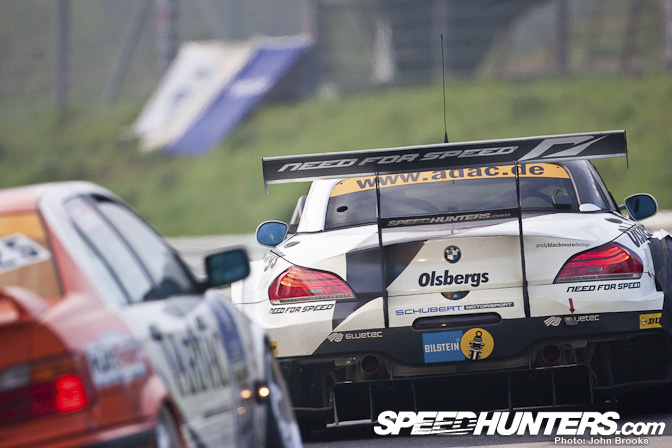 We were running fourth for pretty much the last five hours, swapping between third and fifth. We were really battling with the Audi R8's and it was strange that we were fighting with the exact same R8 I was racing the previous week at Silverstone that spun in front of me.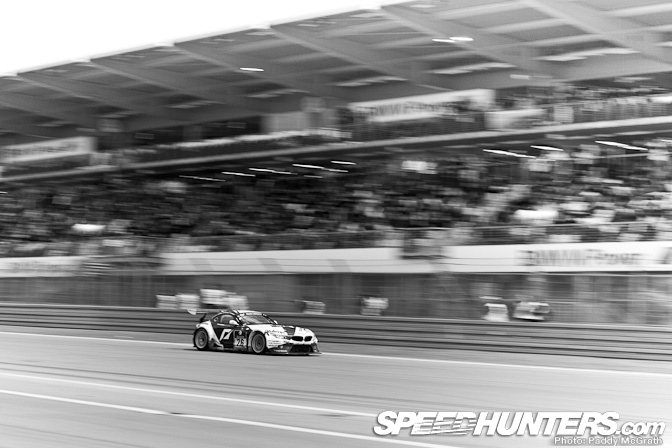 At the very end of the race, on the very last lap on the last long straight that is Dottinger Hohe, Martin had a huge puncture at approximately 275KM/H. The rear left tire completely exploded and took way a lot of the carbon fibre bodywork and parts. He came on the radio to tell us but he made it across the finish line on the three wheels before the Audi R8.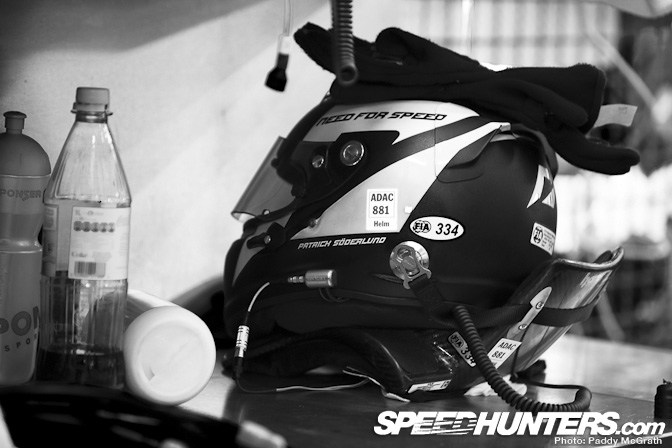 I have to say I've done a couple of 24 hour races like the one at Dubai and I know what to expect in terms of how tired you can become both mentally and physically. I have got to say that I just didn't know how to understand this whole event and I can't imagine a tougher 24 hour race anywhere. It is called the Green Hell for a reason. The track is demanding, the shifting weather, the traffic, the slower cars that you don't know what they're going to do when you come up behind them and the sheer speed it all happens at. Your average speed is over 170KM/H and you have to concentrate so hard for so long. It's the most physically demanding thing I've ever done. Even the rest of the guys were beat up for a week afterwards. Edward was giving out to me at Brno that he could barely walk. He did blame me because I'm so big and I need a big seat so he gets thrown around in it a bit during his stints.
I still can't believe the result. I don't think a lot of people understand quite how significant it is. You have the 24HR Le Mans and 24HR Daytona and you have this, the Nurburgring 24. To be 40 seconds off a podium spot in one of the three biggest 24HR races in the world, on your first attempt at the race, in a newly developed car with three guys who have never raced the the Nurburgring 24 before, two of whom are semi-professional and two who are amateurs racing against fully paid, professional factory backed drivers in factory cars. It's truly been a highlight of my career and I think for the other guys as well. Even when we got to Brno, the other drivers are looking at us now saying 'hey, good job'. They noticed it and now we're getting their respect which is pretty cool.
Patrick Soderlund
Nurburgring 24H 2010 Coverage on Speedhunters