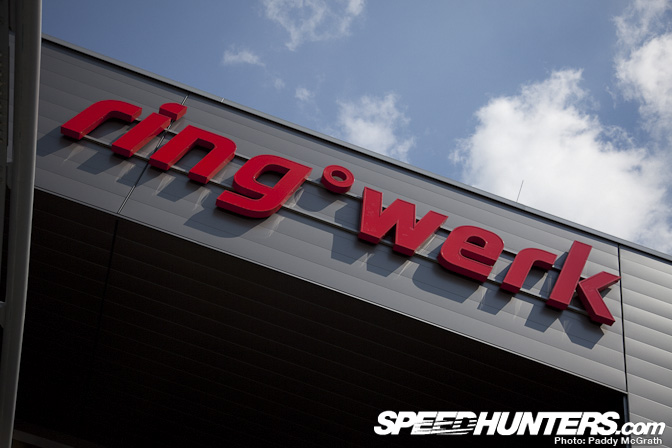 The morning of the 24 Hour race, I took a few hours to explore the newly developed Ring°Boulevard. Sitting outside the GP circuit, the area includes shops, restaurants, live entertainment and the new Ring°Werk museum. The museum sits on 15,000 square metres and features interactive exhibitions to suit both the young and old alike. The new facility which launched at the German GP in 2009 has proved a hit with visitors. Let's take a look inside …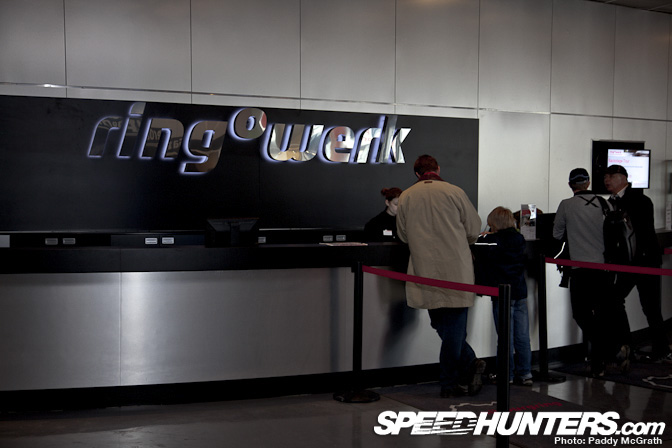 Once inside your greeted by a professional and modern reception area. Instead of a ticket you receive a keepsake plastic card that allows you access to the museum. There are several different cards, which all feature some stunning landscape photographs of the Nordschleife.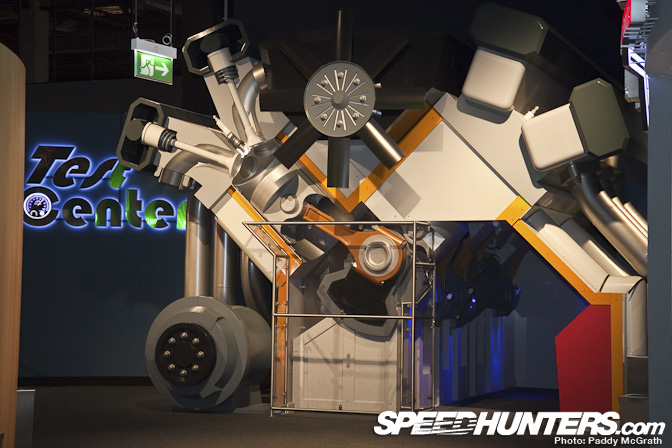 This giant cut away of an engine, allows kids (and big kids like me) to understand better how the engine works.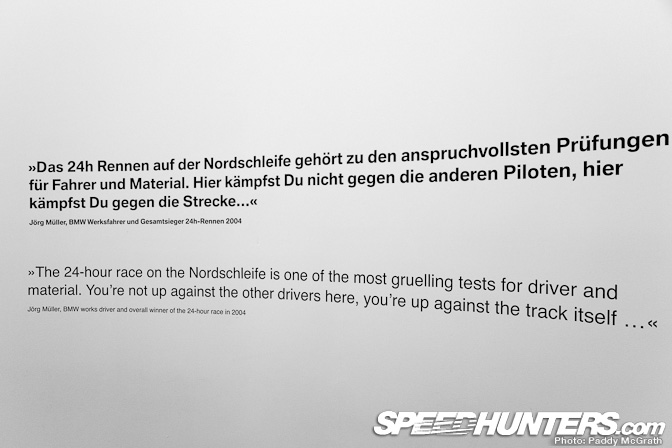 This was printed on the wall to the entrance of the BMW 4D cinema which features a documentary film about the 24 hour race, I'll come back to this at the end.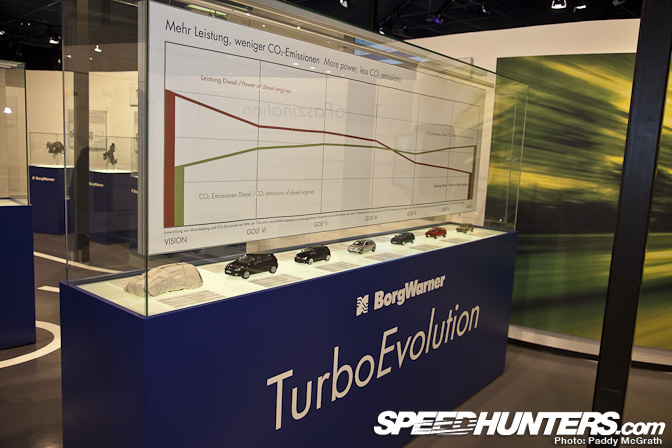 Entering the Test°Centre, you are greeted by an exhibition by Borg Warner explaining the evolution of the turbocharger and it's role in environmentally friendly driving.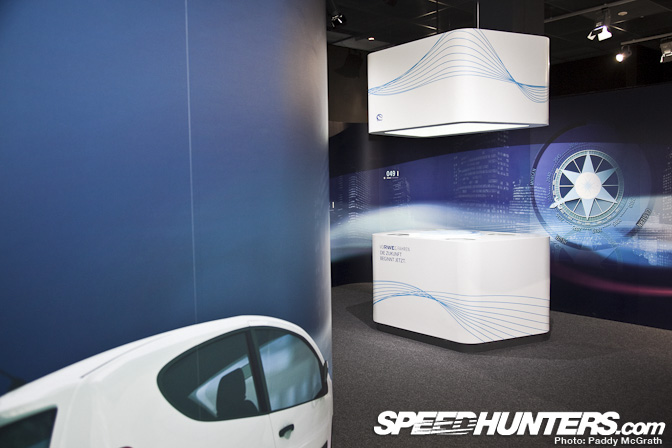 RWE were next in the exhibition hall, although it was all in German I'm certain the exhibition was about a sustainable form of energy for the motoring industry.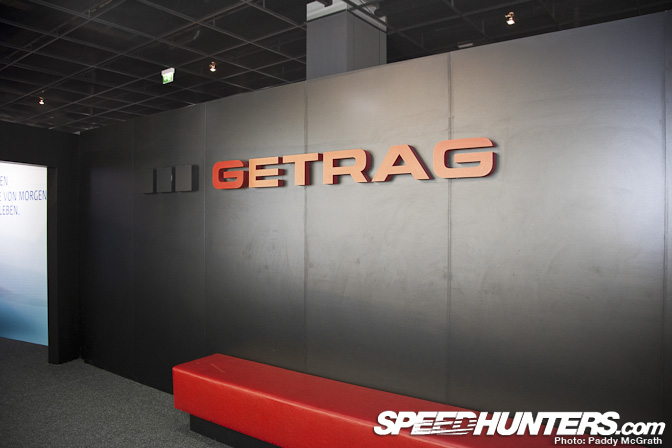 A name I'm sure most of us are familiar with …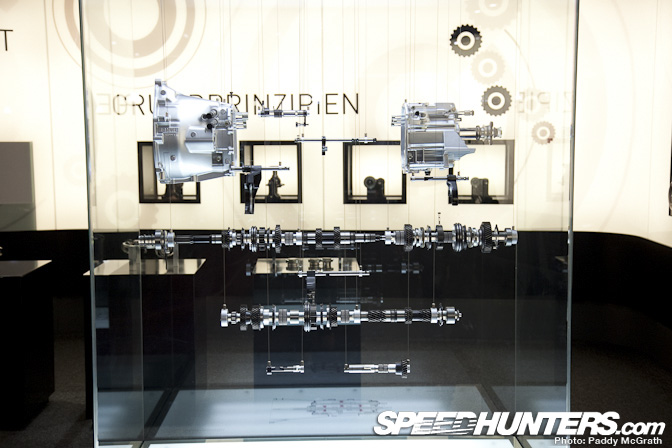 Gearboxes have always been a bit of a black art to me, so this exploded version of a Getrag gearbox helped give me a better understanding on how everything works.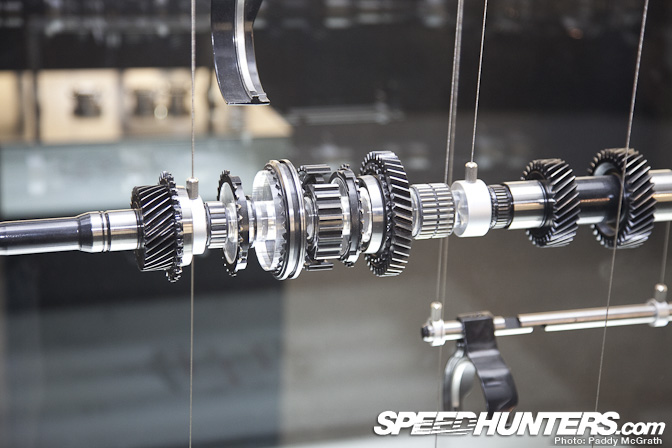 A closer detail shot of the above.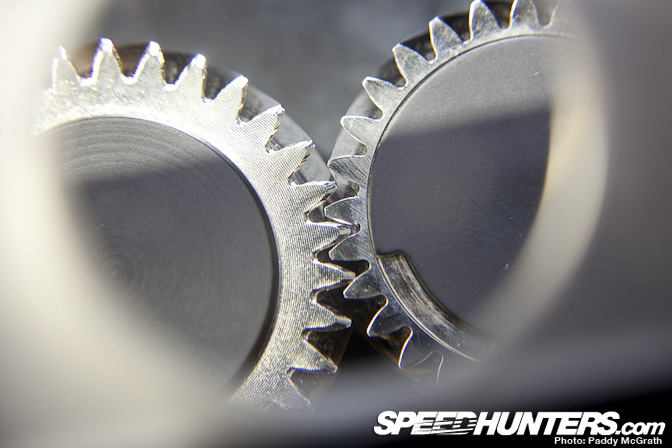 An even closer look at how the gears mesh together.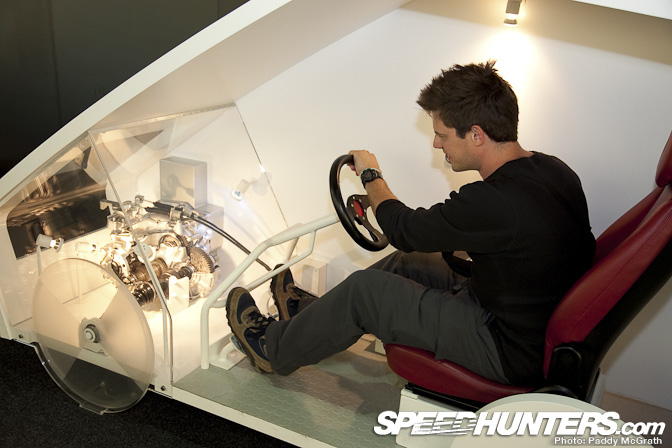 Jeff Naeyeart from MotoIQ demonstrates how the cut away gearbox works. Honestly, there were no Fast and Furious references made at any stage. He was neither granny shifting nor double clutching like he should of.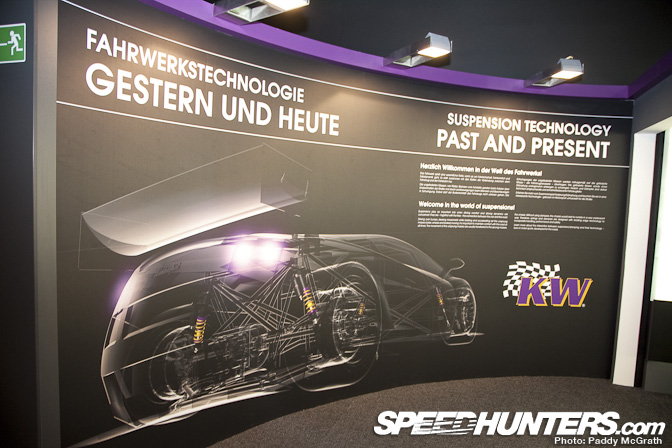 Next stop was an exhibition put in place by KW.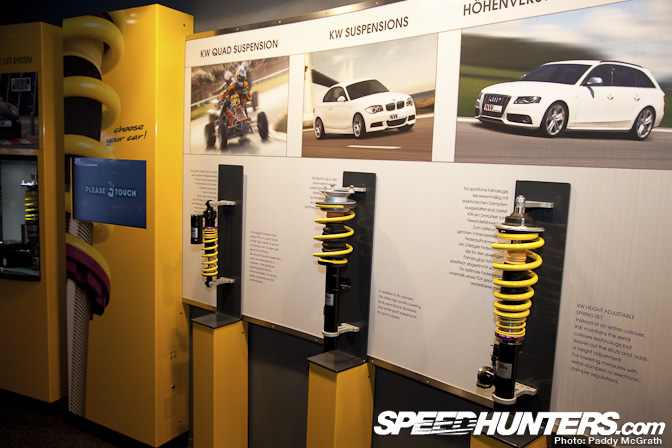 On display were the different KW applications.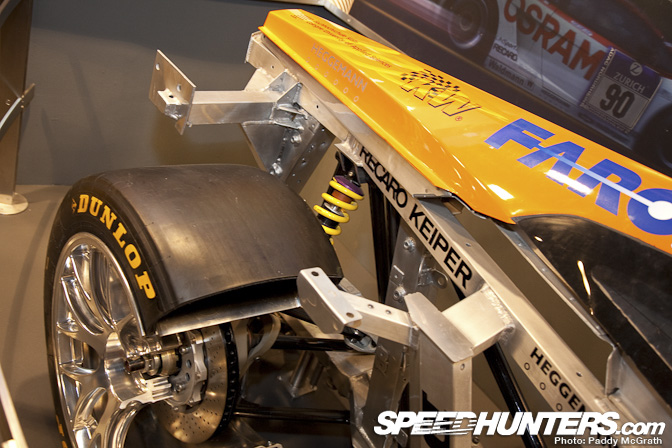 Along with this awesome cutaway of a Lamborghini Gallardo that competed at the 24 Hour Nurburgring in the past.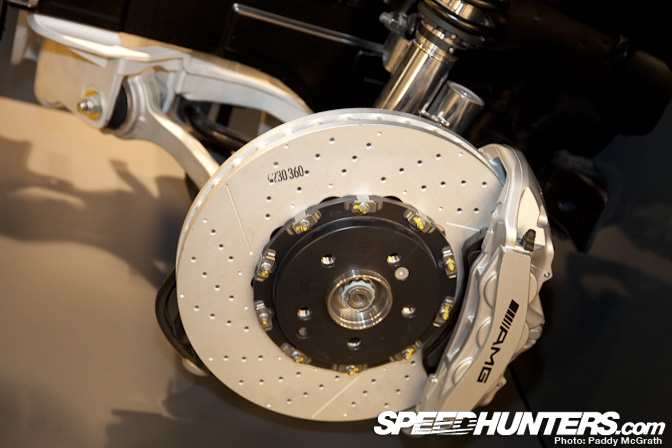 They also had units in place demonstrating the different suspension setups found in different cars.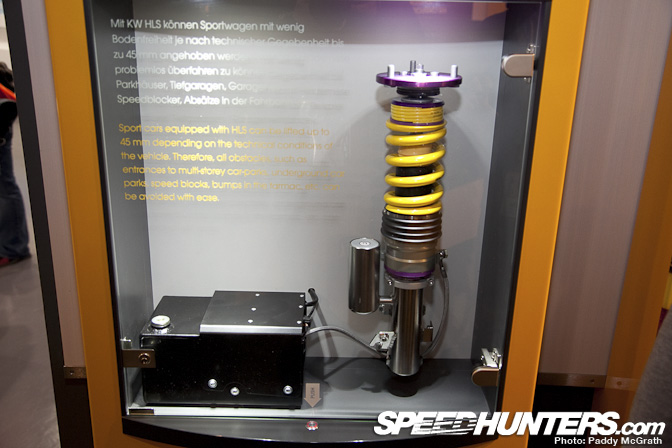 This was a demo of their HLS (Hydraulic Lift System) which we mentioned in our factory visit post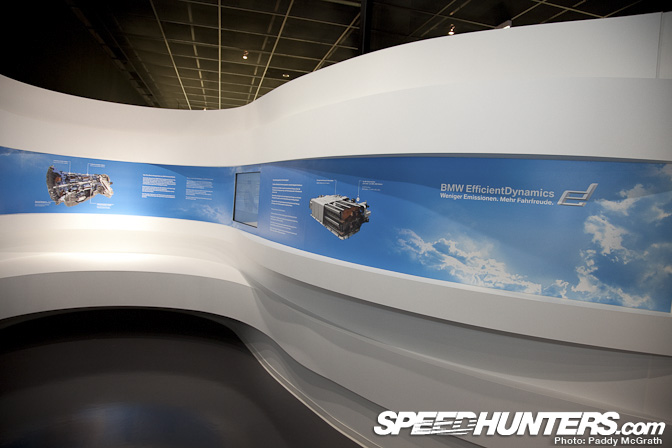 Next stop was the BMW Efficient Dynamics area. Although all this talk of sustainable energy and environmentally friendly shenanigans goes mostly against what we as petrolheads are all about.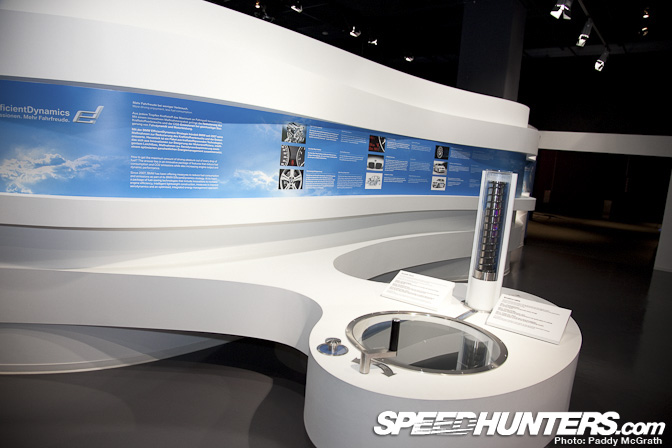 BMW are trying to develop it into allowing us to go faster for longer. In the foreground is an interactive piece about the KERS system.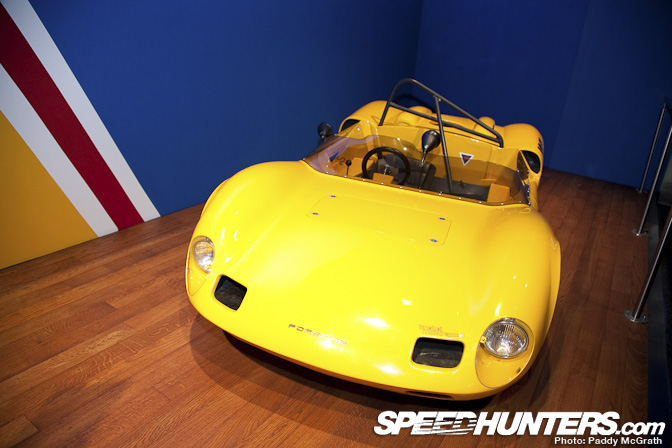 Back in the display area we see a 1963 Elva Porsche MK7 P …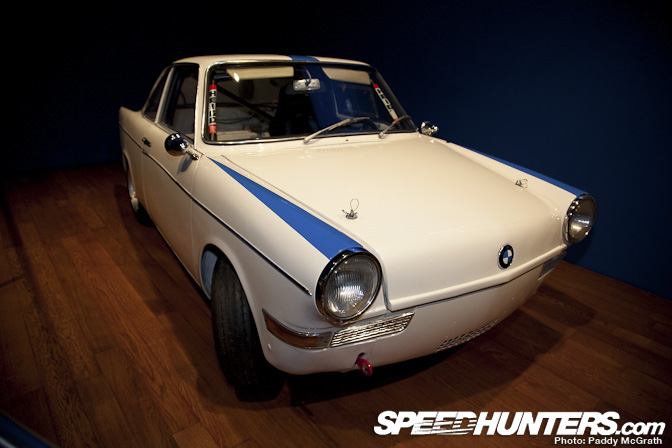 … and from the same era a BMW 700CS.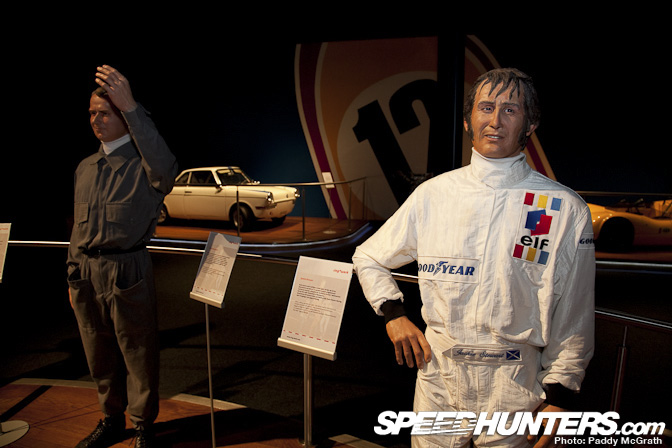 The centre piece was the ring of champions, which featured wax models of F1 greats such as Jackie Stewart whom coined the phrase 'Green Hell' …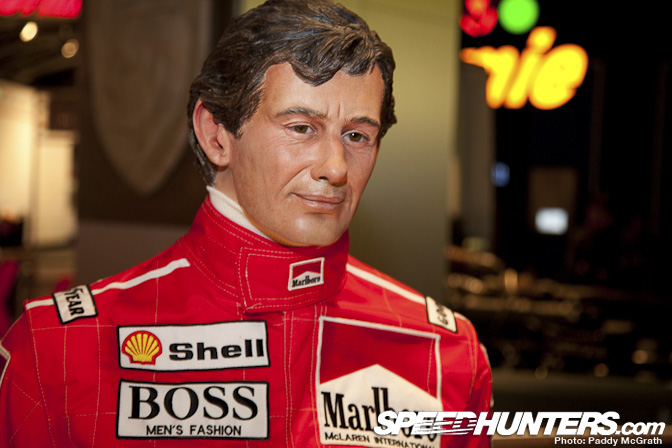 … and one of my own personal icons, Ayrton Senna.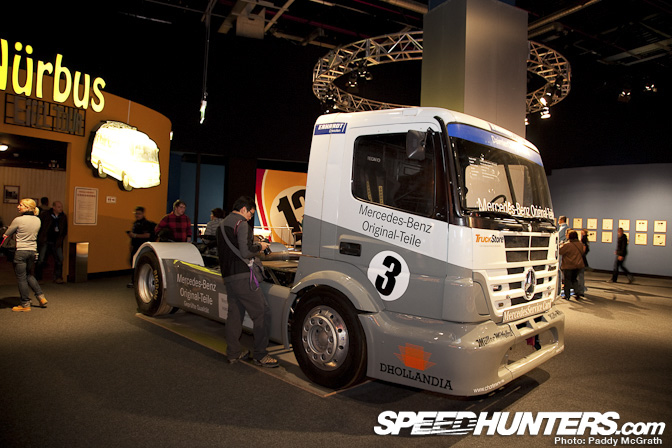 Truck racing has a huge following in Germany. The museum has a set of arcade machines which allow eight players to go against each other around the GP circuit in these 1000HP machines.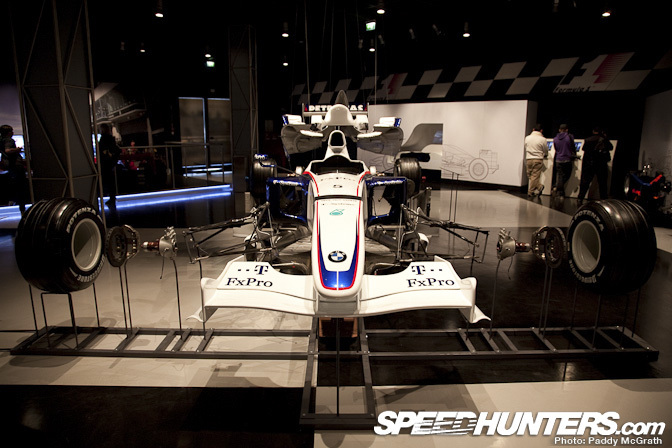 Inside the F1 exhibition was a complete BMW F1 car, explodinated (Yes, that's a made up word) in front of your eyes.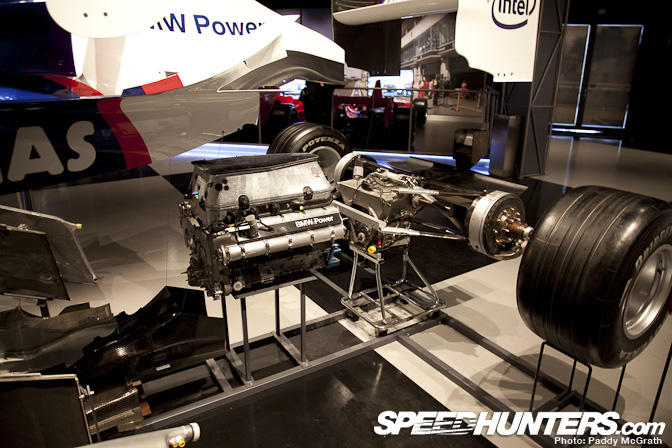 Although not every single part is present it really gives you a better understanding about how F1 cars are constructed.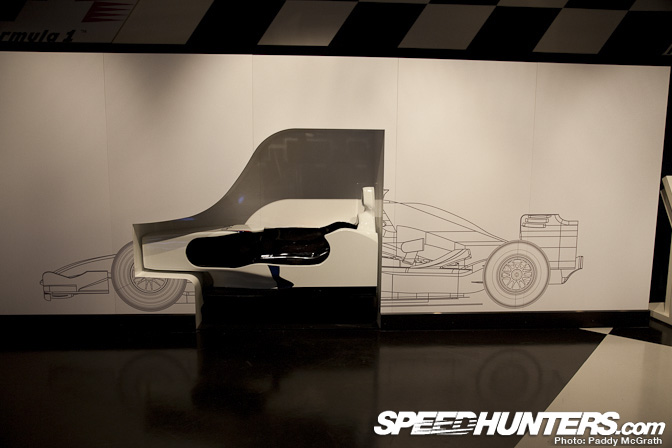 This cut away allowed you to sit into the car and show you where you sat relative to the rest of the car.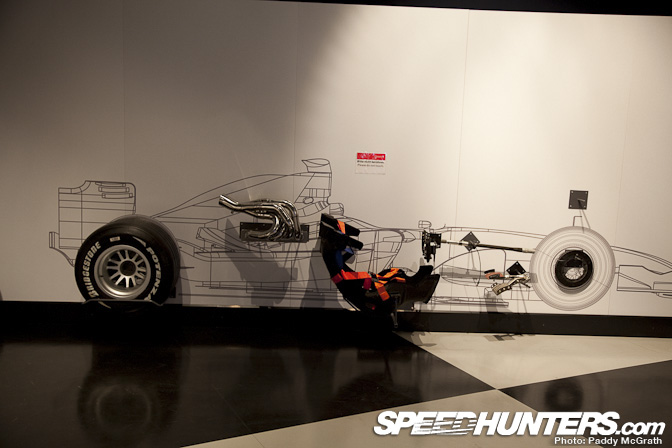 Whilst this one showed you the position of the driver relative to the pedals, brakes, steering wheel etc. Maybe it was because I never really thought about it much, but I never realised the exhaust manifold was upturned on an F1 car !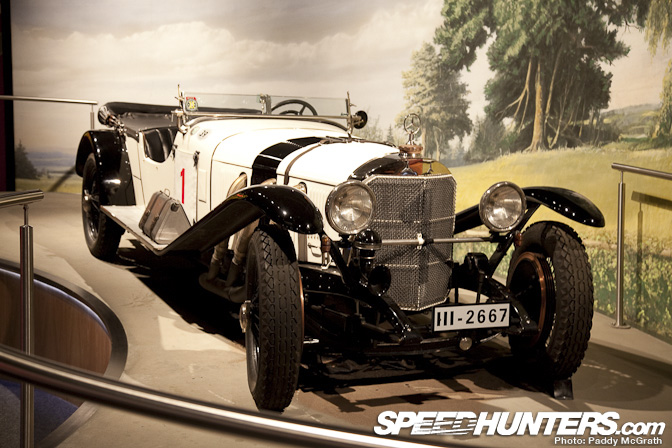 This vintage Mercedes race car was a reminder of how long the Nordschleife has been around …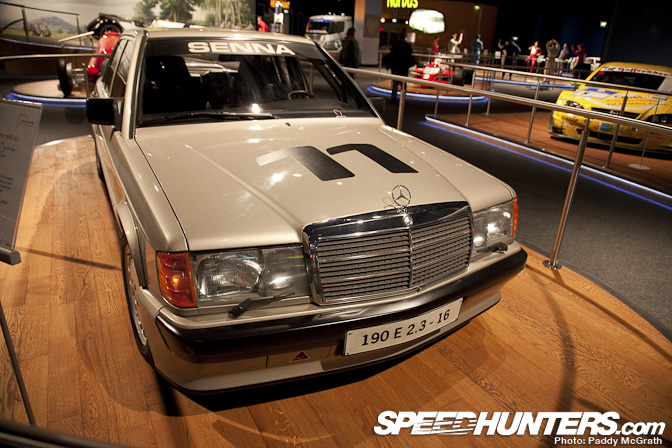 To celebrate the re-opening of the GP circuit in 1984, the organisers held a race featuring some of the greatest names in racing, all driving identical 190E Mercedes Benz 2.3-16's. Amongst those who competed were Phil Hill, Alain Prost, Niki Lauda, Ayrton Senna (Who's car is pictured above), James Hunt and Jack Brabham to name but a few.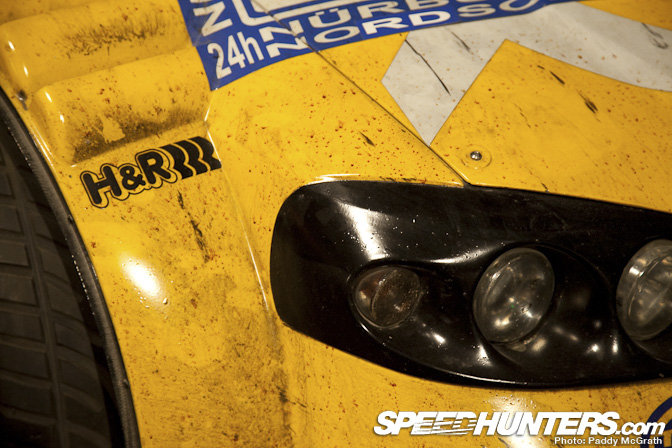 This Opel Astra Touring Car which featured in a past 24 Hour Nurburgring race had all the grime, dirt and dead flies lacquered over to preserve the car as it was after it crossed the finish line.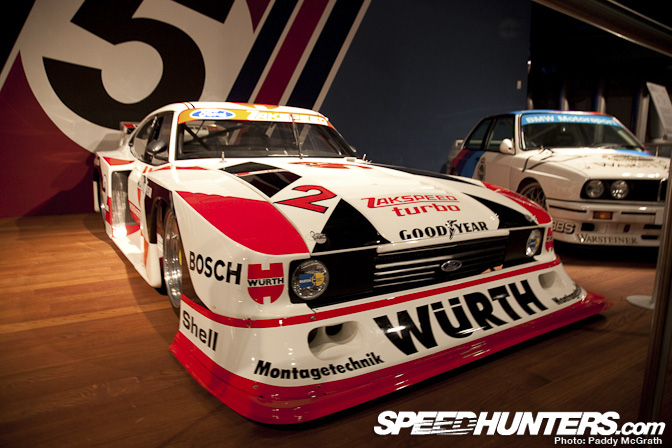 This turbocharged Group 5 Zakspeed Ford Capri was insanely wide. Parked just beside it was one of the most infamous colour schemes ever to grace an E30 M3, The Warsteiner / M Sport colours.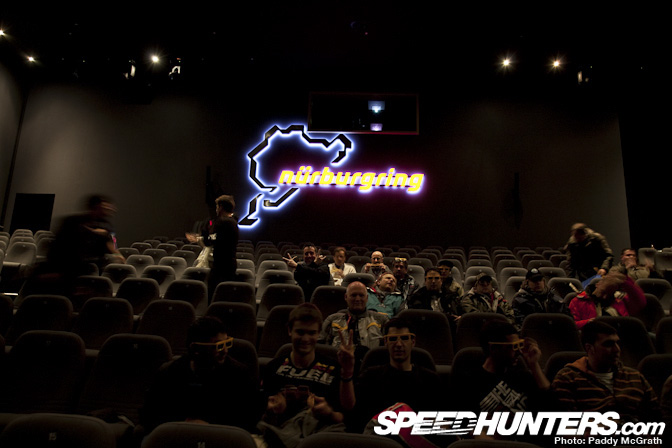 We made it just in time for the 4D showing of the 24 Hour documentary. Although it was entirely in German, the language of motorsport transcends traditional language barriers.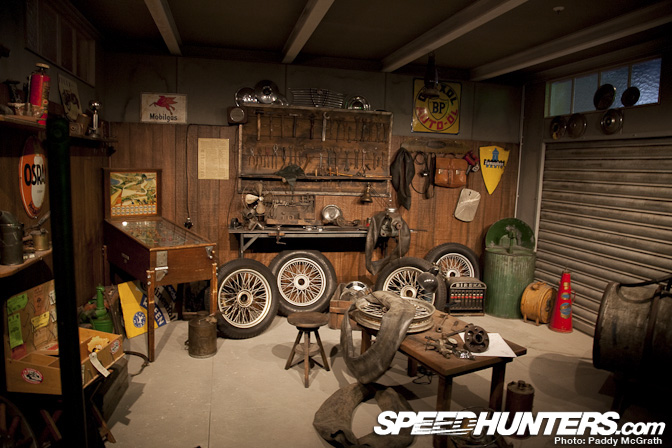 A glimpse back in time of an old garage. Some things never change that much …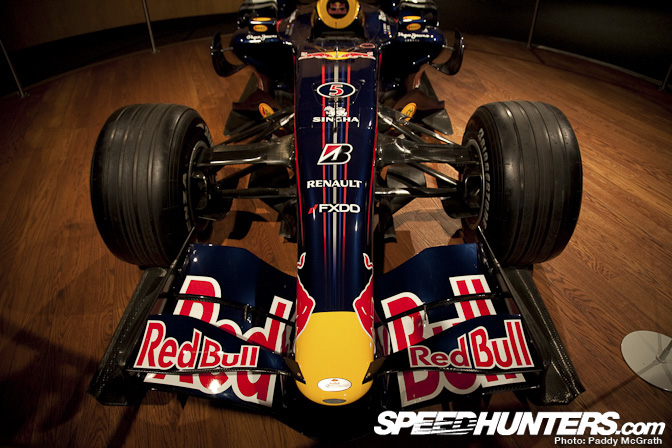 Can anyone tell me what year this Red Bull F1 car is from, I'm thinking 2008 ?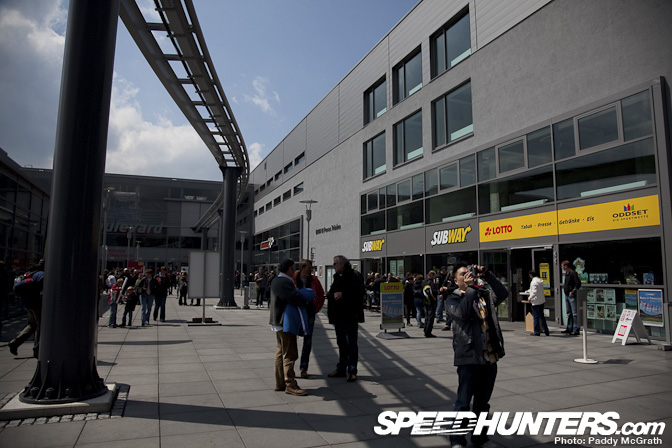 Heading back outside to the boulevard, you can see the ring°racer rollercoaster which was out of order during our stay. It's supposedly the fastest accelerating rollercoaster in the world and it actually travels through the boulevard shopping centre !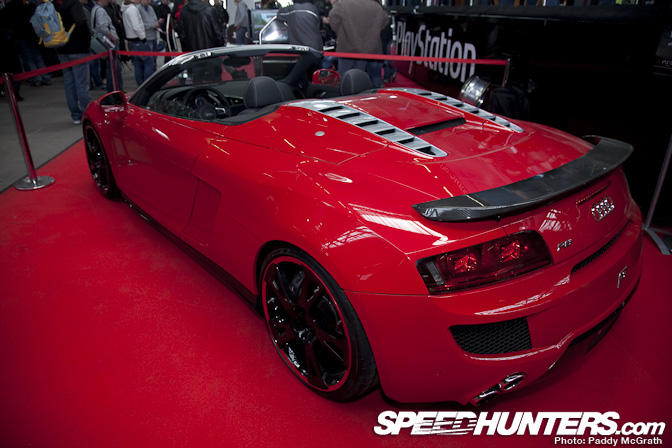 It was a bit manic inside the boulevard being race day, but they're were some cool cars on display like this modified Audi R8 Spyder.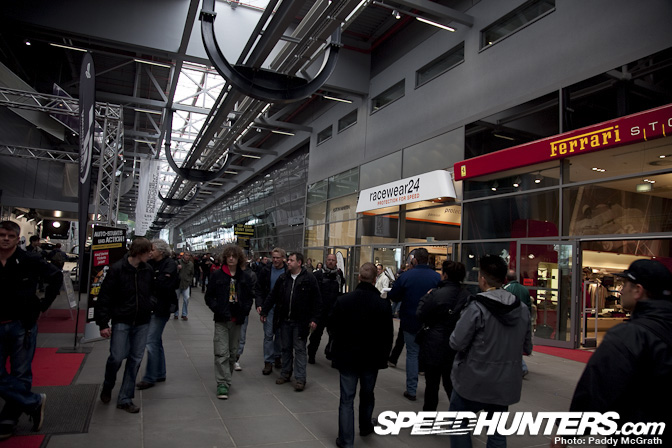 A lot of the big name manufacturers were present with their own clothing stores and restaurants.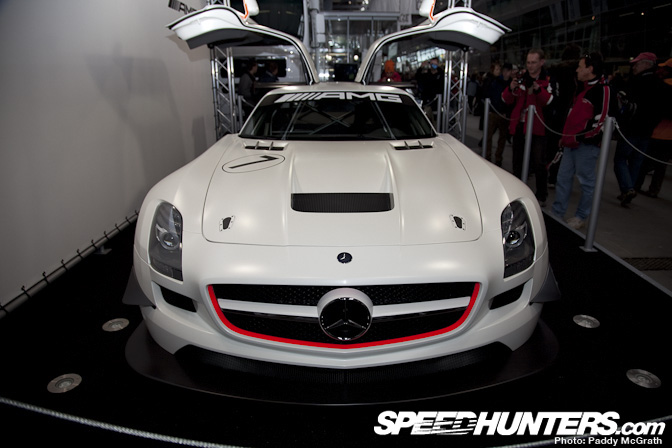 The SLS AMG is expected to be on track next year dicing it out with the best of them.
I've purposely excluded some items from the museum so if you ever do make it there are still a few surprises in store for you.
Paddy