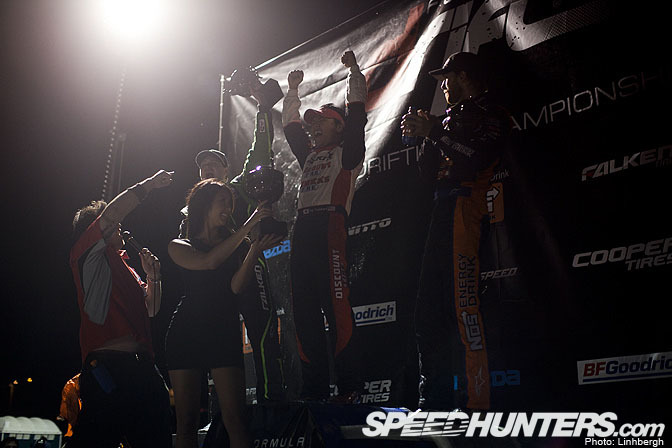 For Formula Drift Atlanta, we figured it'd be best to use our media partnership with Team Falken, to interview the current man of the hour, Daijiro Yoshihara.
Besides his performance in Atlanta, we also asked him about his sweet S13, and his killer hair.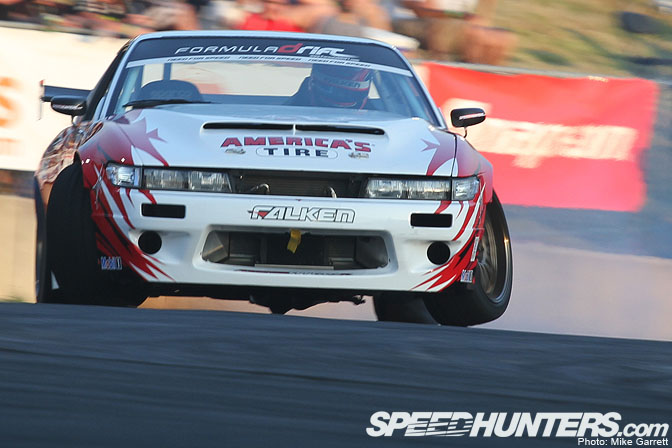 Speedhunters: First off Dai, omedetou gozaimasu on your win in Atlanta! So, for the first question we'd like to ask is about your car, since it's become one of our favorites in Formula Drift. What were some of the big changes done to the set-up over the off-season?
 
Dai: Thank you very much!! Well, pretty much we re-built the whole car. We got a better motor with 100HP more and worked on the suspension setup a lot. We gained more traction, more steering angle etc.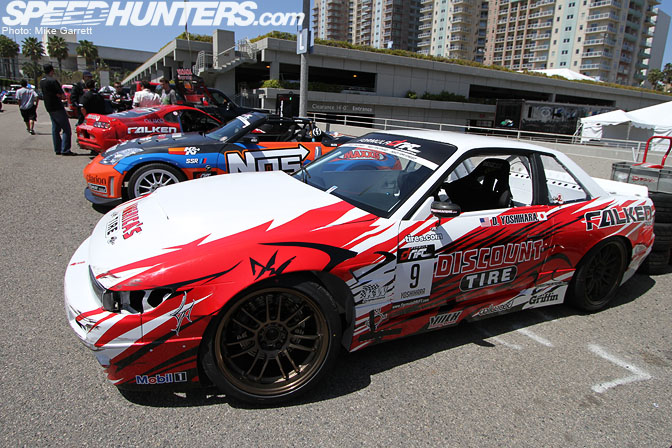 Speedhunters:  As for the car's exterior style. Who's responsible for that? Did you give any input for this matter?
 
Dai: I think some Discount Tire people and Falken people did. I had nothing to do with it!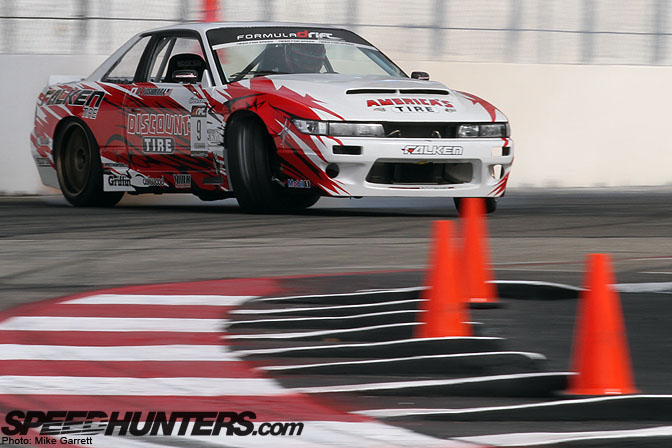 Speedhunters:  Long Beach was your first event with the rebuilt car, how did it feel there?
 
Dai: It was good. But I was still getting used to the car at that time and I don't think I could perform 100% yet.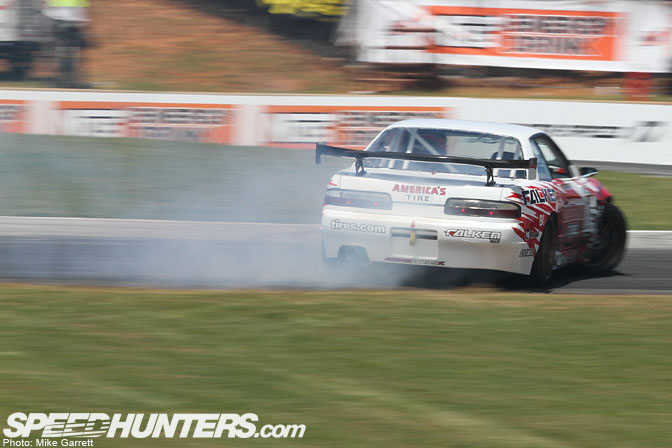 Speedhunters: Road Atlanta is one of the most unique courses on the FD schedule. Any thoughts about this track? Past experiences there?
 
Dai: I like that track a lot. I usually do well at that track. Because there's no walls! But it's good for everybody so it's not the easiest track to win, since everybody drives really good there.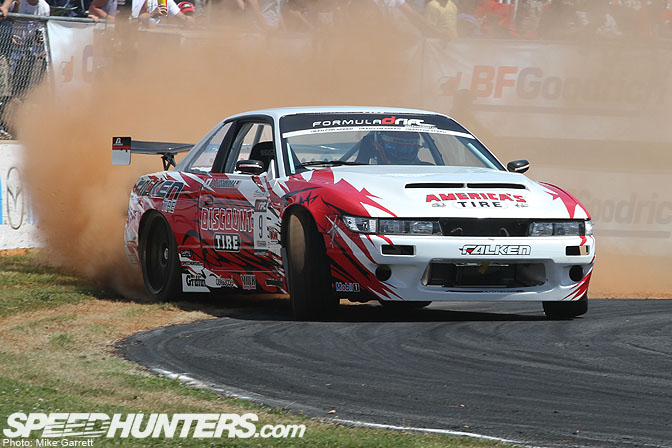 Speedhunters: Friday Practice. This was your first time on this track in the new car, how did it feel?
 
Dai: The car felt really good already in the first few runs. We didn't really need to change much on the setup.My crew Scott and Mike already set the car up for the track really well before I drove. We just changed the final gear.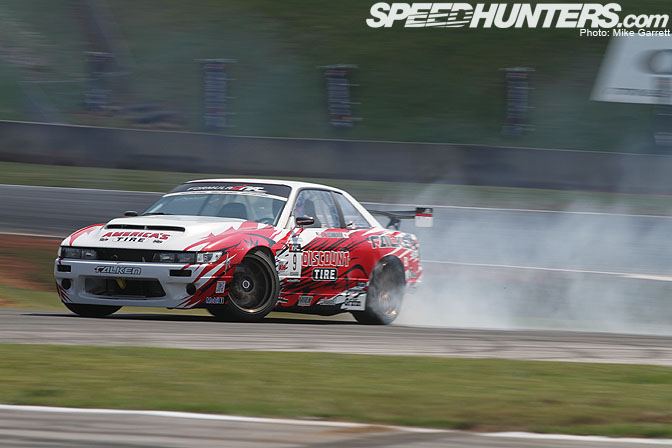 Speedhunters: Take us through qualifying. Any particular strategy here?
 
Dai: I usually try to do a little conservative for the first run. But I ended up initiating a little too hot and I went off the line. But I guess I got good score for the excitement. So the overall first run score wasn't that bad. I usually try to do my best on the second run, but I tried to drive more cleaner and nicer this time since the first run was a little too aggressive. It worked out good and I got a better score on the second run.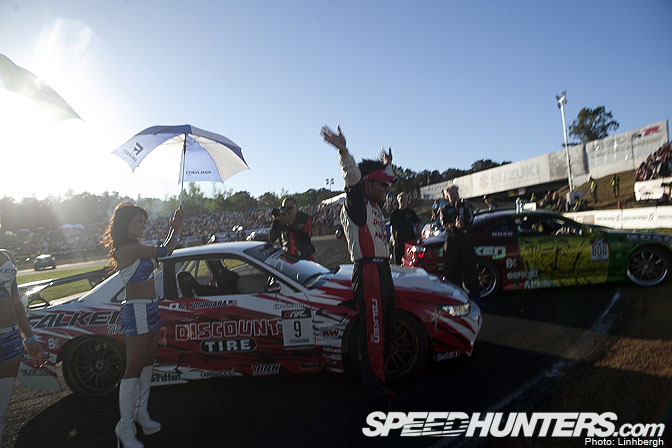 Speedhunters: You ended up qualifying fourth. How did this feel?
 
Actually qualifying was really competitive. Everyone was doing really good. fourth wasn't too bad but of course I wanted to be higher. But I know I needed to be more aggressive to be higher. Oh well.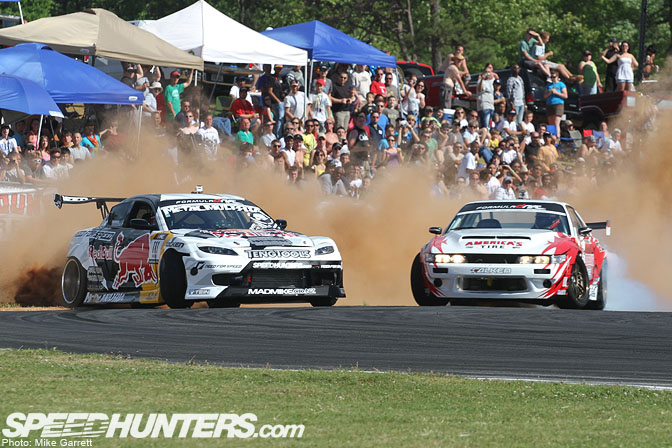 Speedhunters: Moving into the Top 32 tandem, your first opponent was Mad Mike Whiddett. How was this?
 
Dai: I know he is a good driver but it seemed like he was still having a hard time adjusting to his car and driving on the track. So I thought I can beat him as long as I don't make any mistakes.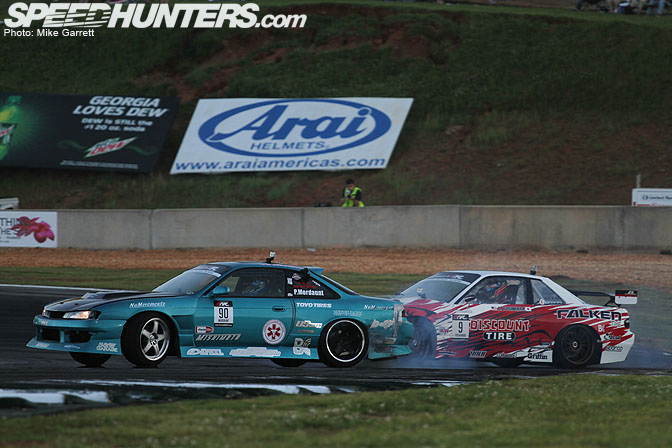 Speedhunters: In the Top 16, you were matched against Pat Mordaunt. You guys had a pretty epic battle in Atlanta in 2009, how was it this year?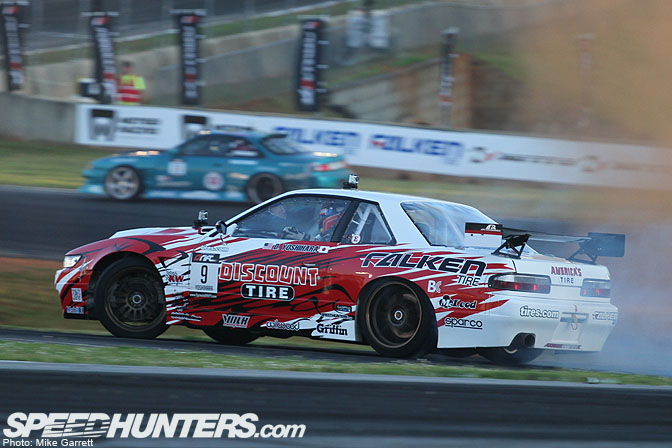 Dai: Yea, he beat me last year so it was a great chance for me to get revenge! I usually get nervous in that type of situation, but I was able to keep myself calm and both my runs were good. And when I was leading, he spun at the first corner.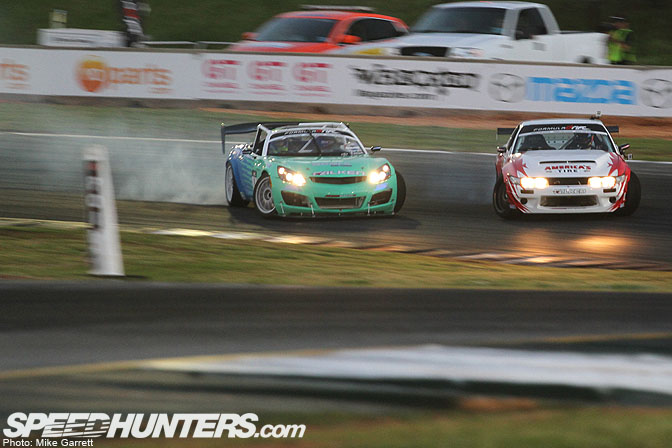 Speedhunters: In the Top 8, you are set against your teammate Darren McNamara. He's known as one of the best at Road Atlanta. Any special strategy?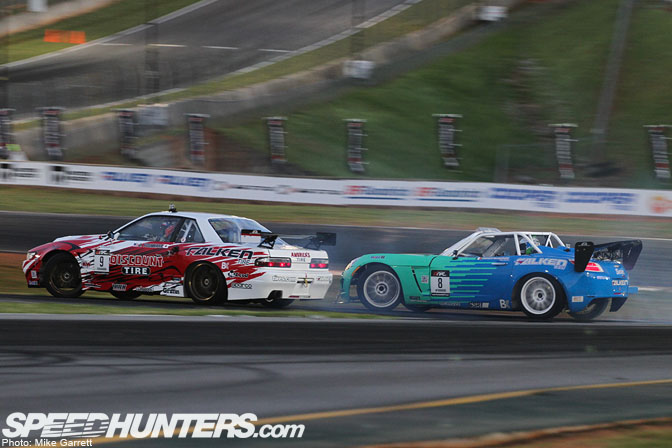 Dai: I know his car is very fast. so we set the tire pressure 5 psi lower and tried to gain little more traction.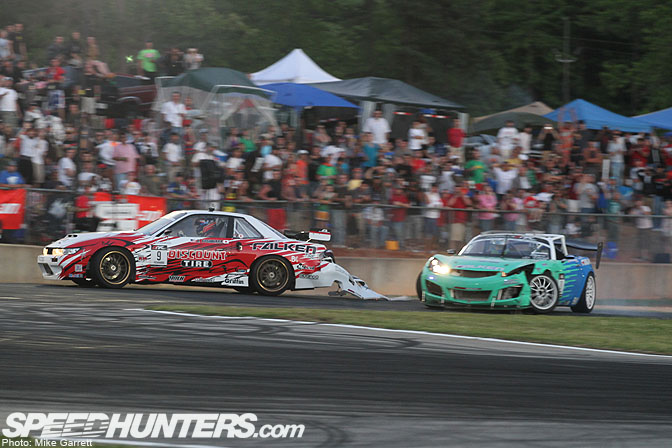 Speedhunters: After you and DMac made contact in the horse shoe, the back of your car was pretty ripped up. Was it just cosmetic damage, or did it effect the way the car drove?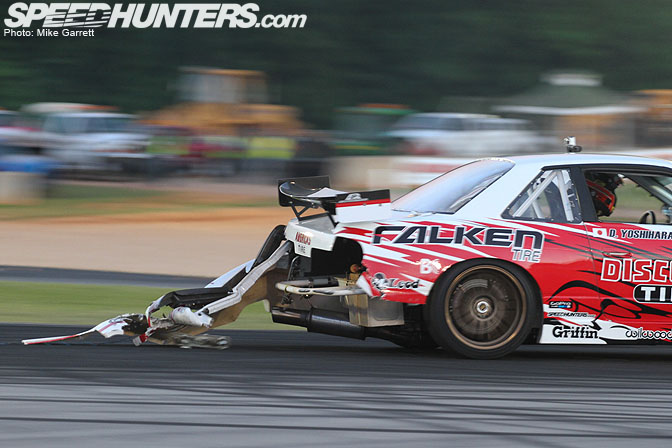 Dai: I thought my car was broken since the hit was pretty hard. But luckily it was only cosmetic damage.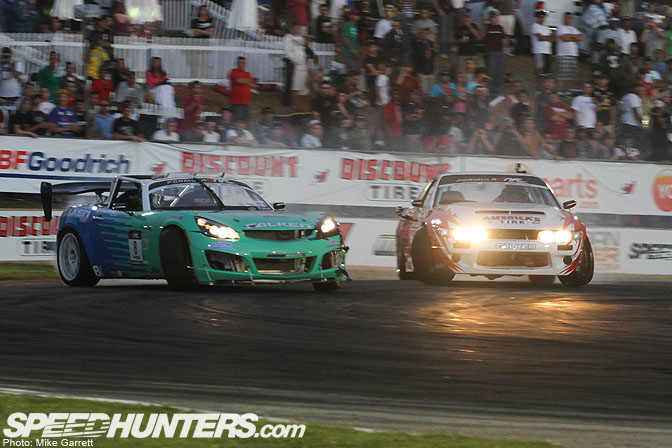 Speedhunters: How did you feel when you learned you beat DMac?
 
Dai: I felt awesome because he was the hardest guy to beat that day.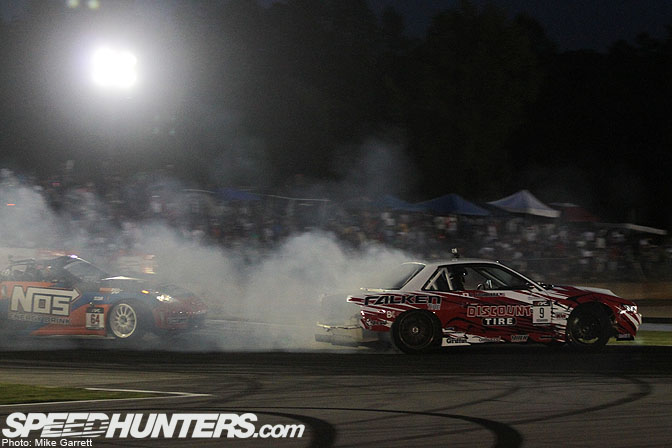 Speedhunters: You certainly didn't have any easy path to victory. Your next opponent was last year's Atlanta winner Chris Forsberg. How did this battle go?
 
Dai: Yes he is a great driver and super consistent. But I knew my car is faster so I thought I can pull away from him coming down from the horse shoe, so I focused to run as fast as I can when I was leading. It worked out!  And when I was following, it wasn't too hard to keep up with him.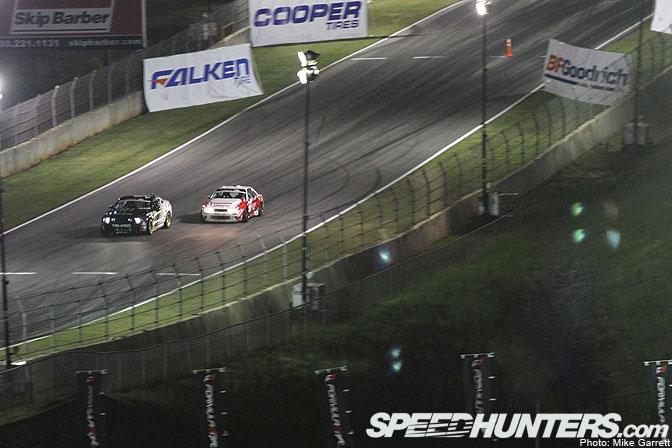 Speedhunters:  What was your reaction when you learned that you'd be facing another teammate, Vaughn Gittin Jr. in the final?
 
Dai: Oh sh!t! lol JK. Well, I just thought he is really strong now because he just won in Long Beach and he moved on to the final round again. At the same time, I felt that I had to stop him for the series points and all.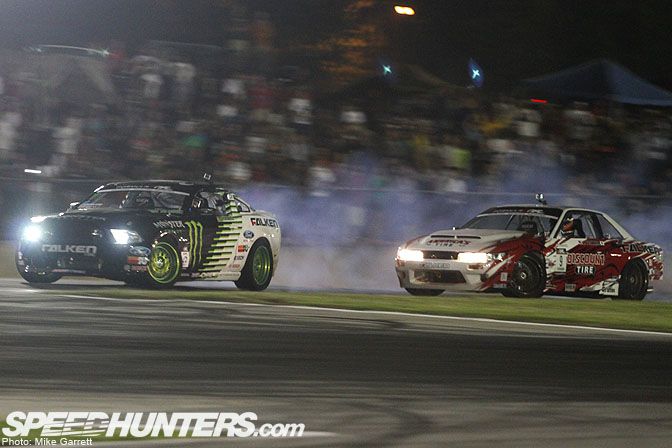 Speedhunters:  How did it feel when it was announced that you won?
 
Dai: It felt incredible!! It was the thing that I've been really looking for the past 3 years, especially last 1.5 years, because I didn't even had a podium finish. This win really means a lot to me and my team.
 
Speedhunters: This was your first victory in a while, and you're now sitting at second place in the point standings. How will you approach the rest of the season?
 
Dai: It was a great victory and all. But it is just one win. I feel like I just reached the starting grid. I will keep trying super hard and try to get some more podium finishes.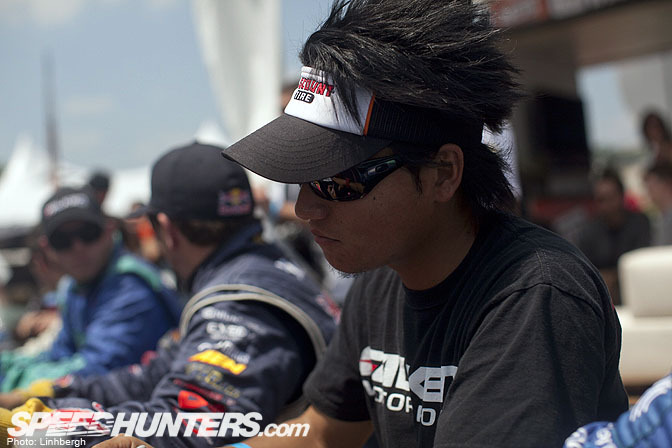 Speedhunters: Finally, any secrets to maintaining that awesome hair, even after wearing a racing helmet all day?
 
Dai: I use really good hair wax from Japan! I really think they should sponsor me! hahaha
Big thanks to Dai and Team Falken for the interview!
-Mike Garrett