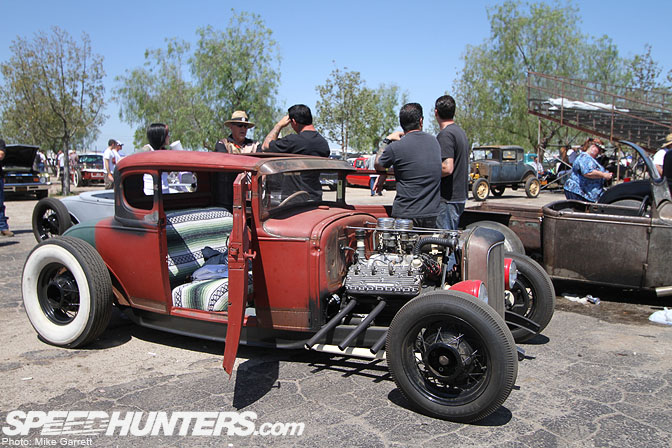 '
The life of a Speedhunter can be a busy one. My eardrums haven't yet recovered from the weekend's action at Dragfest, and it's already time to gear up for a cross country trip to Atlanta for Formula Drift Round 2. 
Before moving on to the Georgia countryside though, here's have a final look at Dragfest 2010.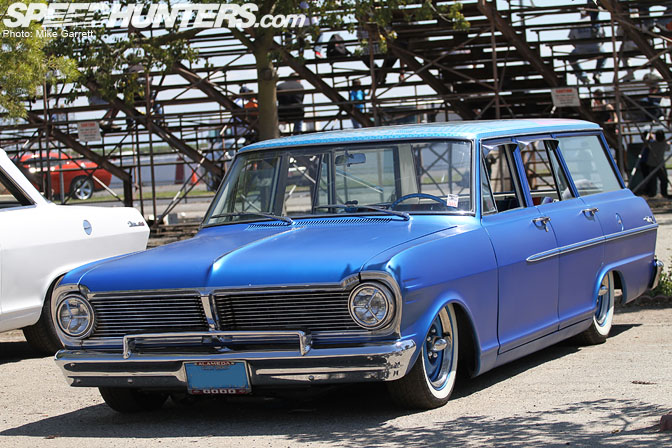 This sweet little Nova wagon was parked in the car show area. I'm a sucker for satin blue paint.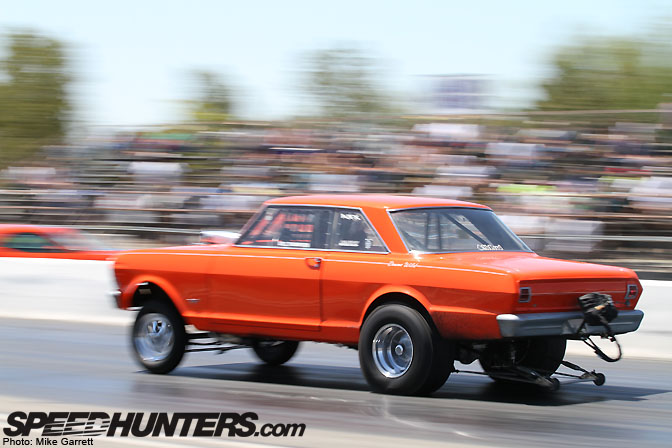 Another early Nova, this one built for a slightly different purpose. Being one of the lightest cars of the time, the Nova has always been a favorite among drag racers.The wide 'n skinny Cragars are so perfect on this car.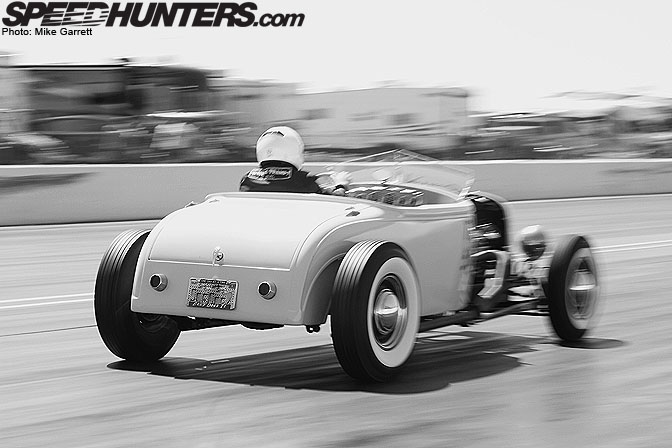 Meanwhile, the rear tires on this roadster aren't much wider than the fronts on the Nova in the previous photo…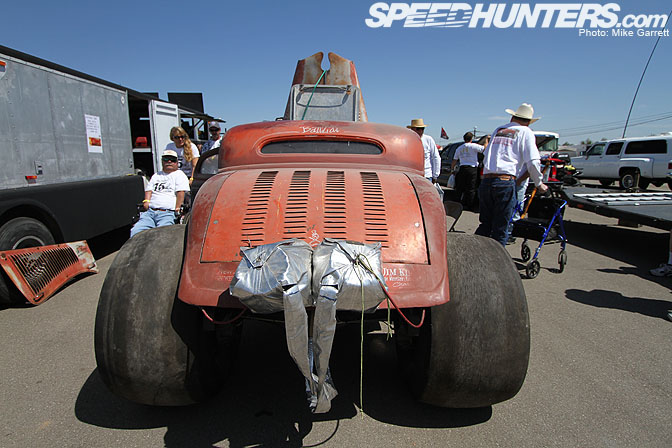 This was another one of my favorite cars of the event, the 15oz Fuel Coupe.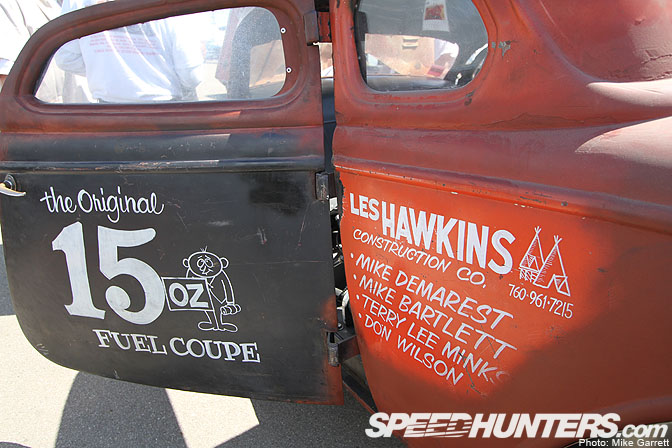 Love the old graphics and the suicide doors.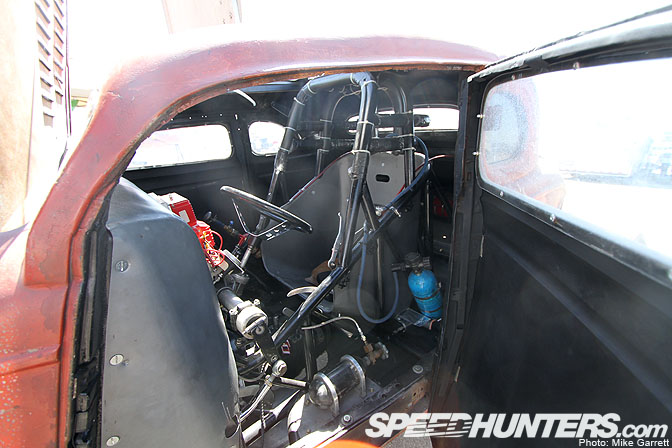 The cockpit of the beast. There is something so dangerous, yet so sexy about this.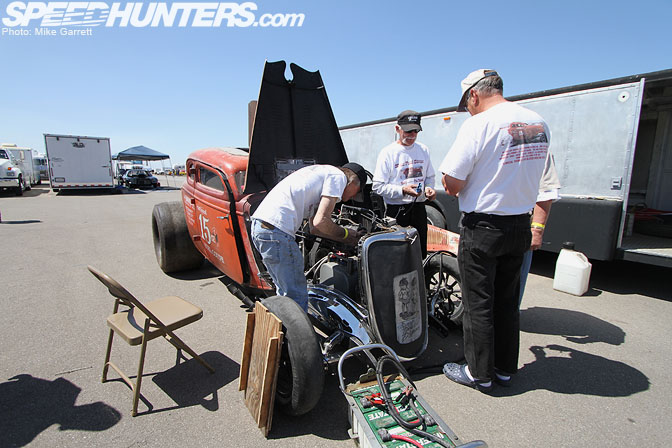 The crew of the Fuel Coupe seemed to be made up entirely of drag racing veterans. You can't help but feel humbled when seeing stuff like this.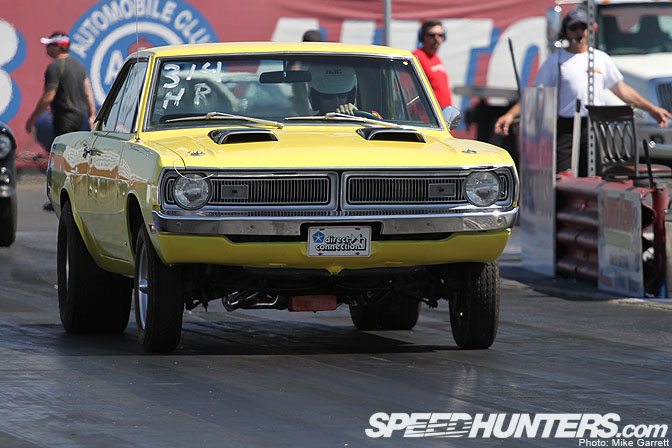 More for the Mopar fans. This Dart might be a little on the new side for the nostalgia drag crowd, but it's done in a perfect late '60s, early '70s street machine style.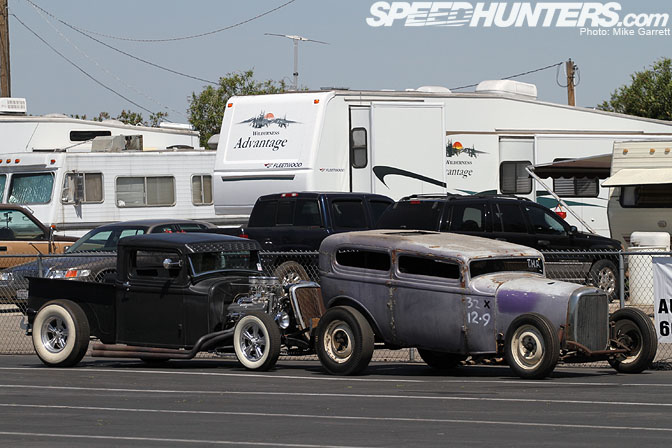 A pair of rods parked in the staging lanes. Love the rake on that sedan!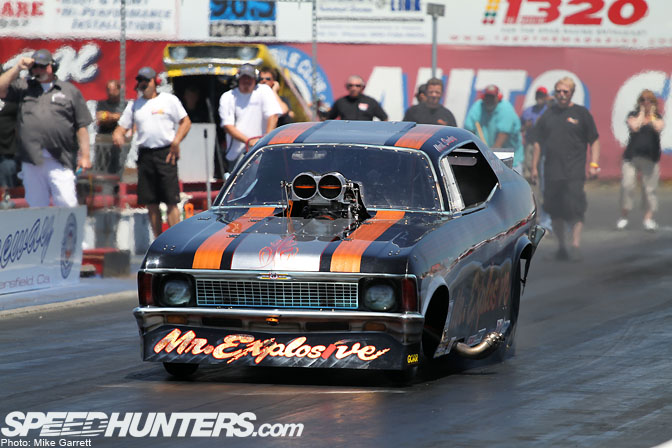 Quick, plug your ears. Mr. Explosive is on the track.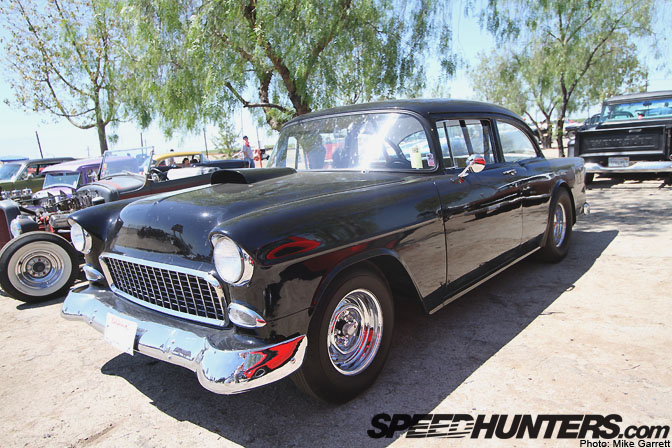 This '55 is a near perfect replica of the car that Harrison Ford's character drove in American Graffiti, except for the ride height, which should be a couple inches higher. The '55 from Graffiti is also the same car used a few years earlier during the filming of Two Lane Blacktop.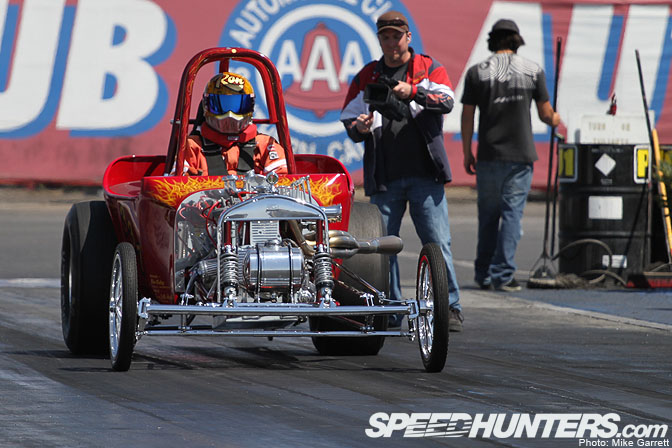 This cool little dragster had inline-six power if I remember correctly.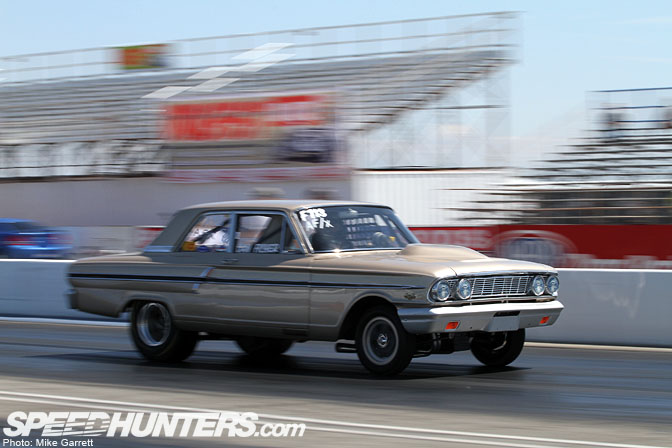 An AFX Ford Fairlane Thunderbolt coming out of the hole, with open headers visible just behind the front wheels.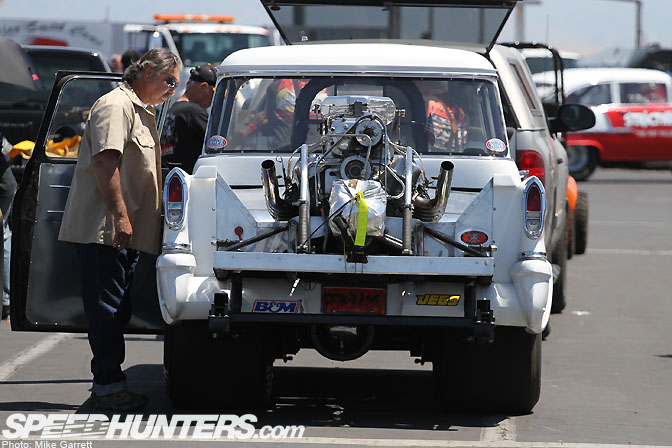 I bet this rear-engined Chevy pickup is capable of some pretty nasty wheelstands.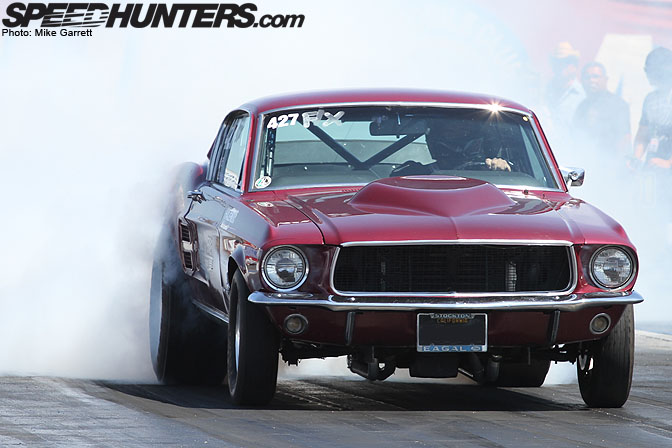 You have to love how versatile the Mustang is, whether it's a road course-going Shelby a car, or fat-tired drag monster like this one.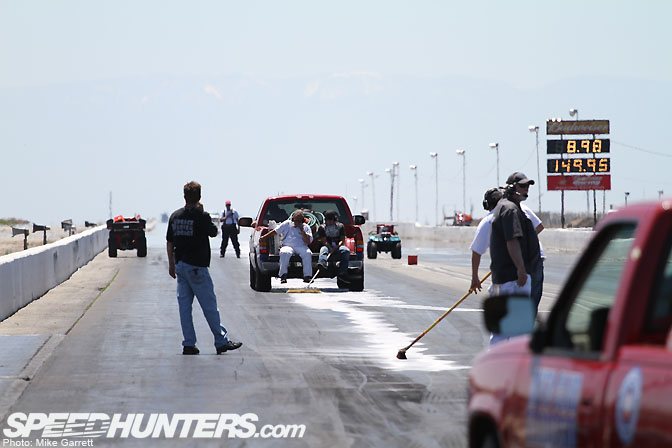 One of the crummiest things about drag racing – when a car drops oil down the track. This means the strip has to be completely shut down until the mess is cleaned up.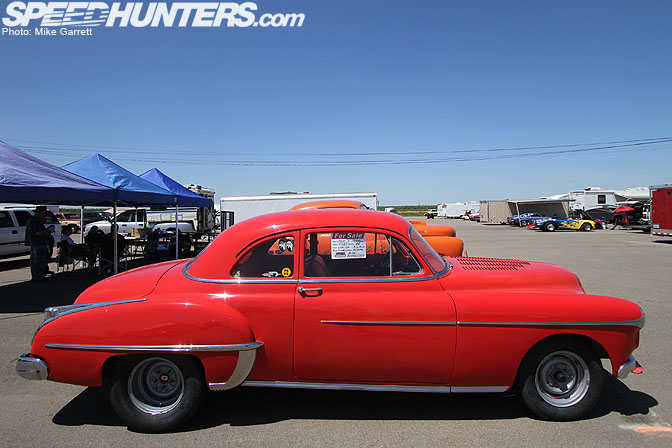 A 1950 Olds 88, already equipped with a big block Chevy and a Ford 9" rear end, and it's for sale!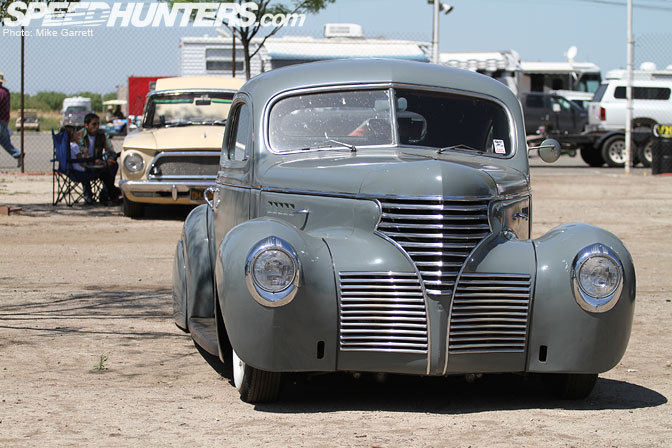 Alright that will do it for my Dragfest event coverage. I'll be back soon with some desktops for you guys.
-Mike Garrett