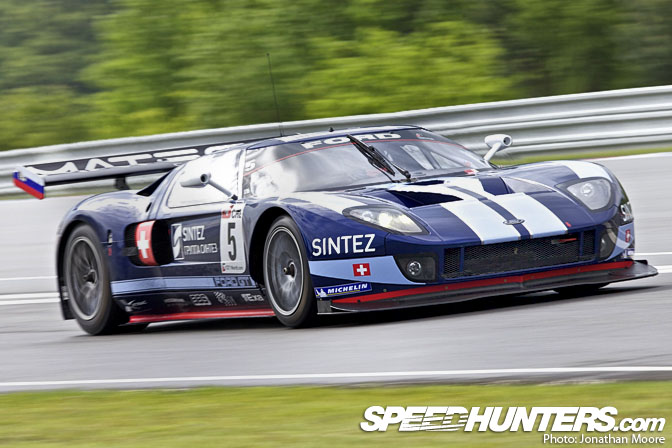 Five different winners and five different marques of car had won so far in the new World GT1 Championship, with no repeat winner. Not so any longer: this weekend's Championship Race at Brno in the Czech Republic threw up a surprise winner in the #5 Matech Ford GT. Romain Grosjean and Thomas Mutsch looked like they'd be fighting for fifth at best, but some stunning pit work and a penalty for the pole position Vitaphone Maserati for jumping the start brought them to the front halfway through the race. Despite huge pressure from behind, the Ford hung onto the lead all the way to the flag.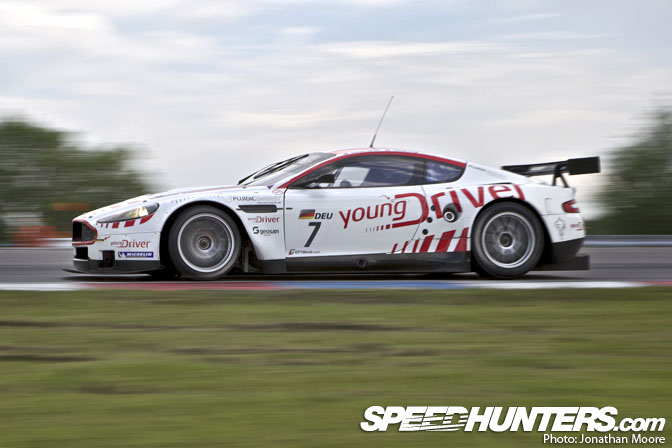 Second place went to the #7 Young Driver AMR Aston Martin DB9 of local hero Tomas Enge and Darren Turner. This was despite a huge moment at the start, as confusion reigned when the Maserati floored the gas early. #7 dropped all the way back to 16th position, but aggressive driving and smart pit work got them back up the order.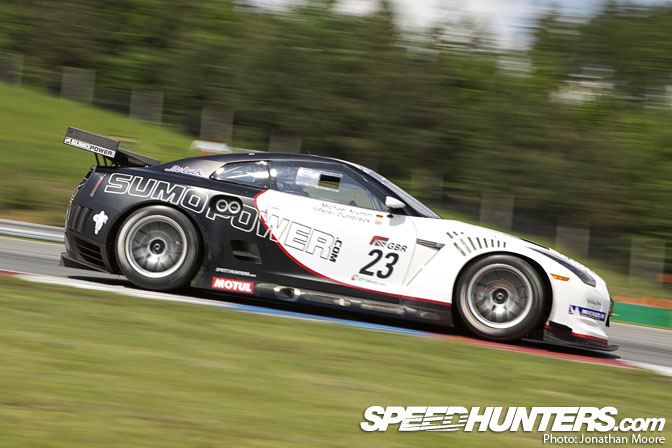 Right behind the Aston at the flag was the #23 Sumo Power GT Nissan GT-R driven by Peter Dumbreck and Michael Krumm: once again a problem during the pit-stop cost them dearly: this time the stop itself was carried out to perfection but the car's exit was blocked in by the SRT Nissan in the pit directly ahead, meaning the Sumo Power car had to be pushed back in order to be able to get out.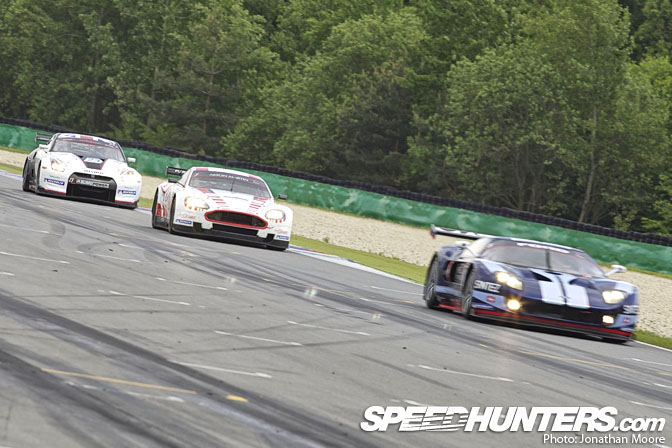 The leading trio circulated as one for 14 laps, the chasing Aston and Ford desperately trying to find a way past. The win puts the #5 Matech Ford GT pairing back at the top of the championship table, 12 points clear of the #1 Vitaphone crew. The next round is at the Paul Ricard circuit in the south of France in five weeks time, so finally the teams get a bit of a break to regroup. In the meantime, make sure you check out the race replays on the Speedhunters feed or on the GT1 World site!
FIA GT1 WORLD CHAMPIONSHIP – ROUND THREE CHAMPIONSHIP RACE RESULT
1: #5 Matech Competition Ford GT (Romain Grosjean/Thomas Mutsch) 28 laps
2: #7 Young Driver AMR Aston Martin DB9 (Tomas Enge/Darren Turner) +0.710s
3: #23 Sumo Power GT Nissan GT-R (Peter Dumbreck/Michael Krumm) +0.959s
4: #10 Hexis AMR Aston Martin DB9 (Jonathan Hirschi/Clivio Piccione) + 1.546s
5: #1 Vitaphone Maserati MC12 (Andrea Bertolini/Michael Bartels) + 1.759s
6: #2 Vitaphone Maserati MC12 (Enrique Bernoldi/Miguel Ramos) +9.050s
7: #38 All-Inkl Lamborghini Murcielago 670 R-SV (Nicky Pastorelli/Dominik Schwager) +13.278s
8: #13 Phoenix/Carsport Corvette Z06 (Stefan Rosina/Marc Hennerici) +16.706s
9: #9 Hexis AMR Aston Martin DB9 (Fréderic Makowiecki/Stéphane Sarrazin) + 20.867s
10: #3 Swiss Racing Team Nissan GT-R (Karl Wendlinger/Henri Moser) +22.655s
Jonathan Moore