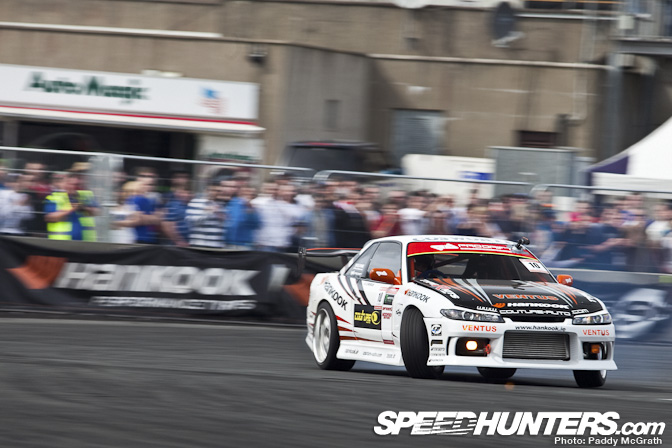 The second round of the 2010 Prodrift Irish series took place this weekend gone at the Punchestown venue in Co. Kildare. The Kildare venue was host to a street course designed by Prodrift on a large expanse of tarmac between the exhibition centre and the show arena. Due to new buildings constructed on site, the course was significantly shorter than previous years. The course was also brought further in field which forced the drivers to use a very bumpy line to link the course.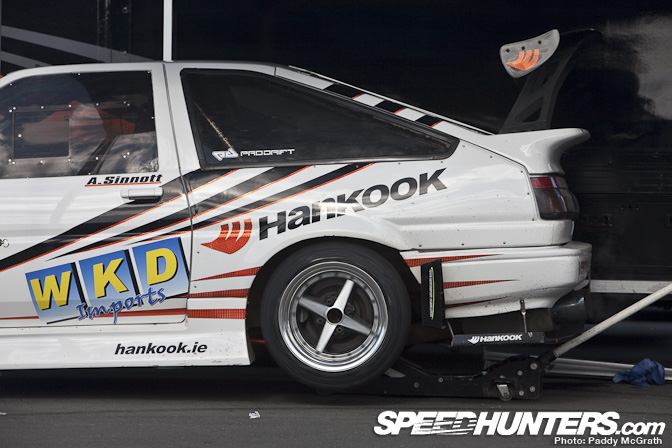 The pro class roster has been significantly reduced over the last few years. Missing from regular action in 2010 are Darren McNamara, Dean Kearney, Eric O'Sullivan, Martin Ffrench and John Power to name but a few. Some of these have graduated to Formula D whilst the others have fallen victim to the economic downturn. All is not lost as Prodrift's investment in it's amateur and semi-pro events has ensured a constant feed of new drivers to the pro class. Above, WKD Imports driver Alan Sinnott has joined Team Hankook for 2010.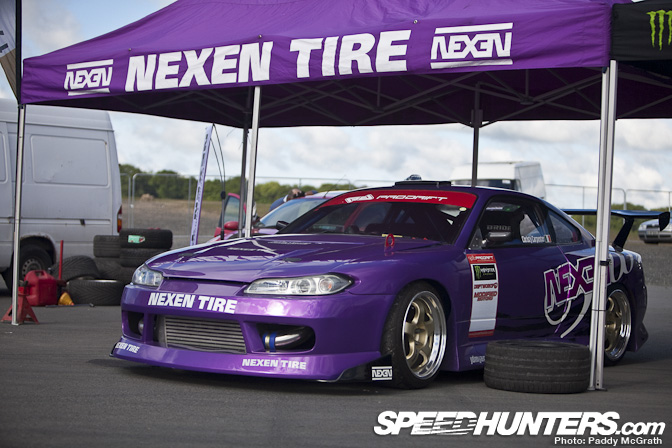 Christy Carpenter has joined Team Nexen alongside James Deane in his 1JZ powered Nissan S15 Silvia. I spent a lot of time this weekend getting to know this car, so you can expect a full in-depth feature in the coming weeks.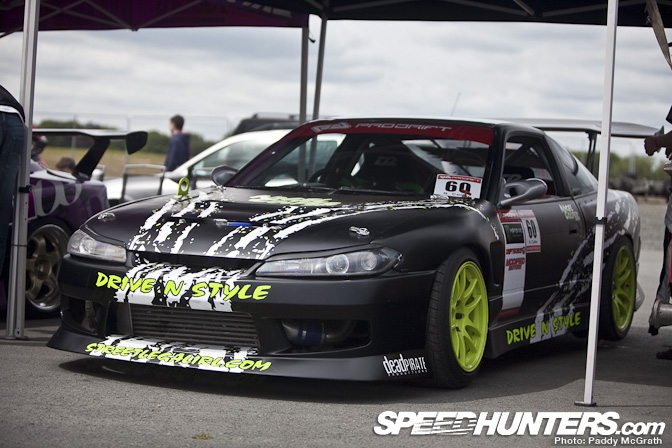 Nigel Colfer also arrived in his new look 1JZ 180SX. A great competitor in 2009 who was left down with repeated mechanical issues seems to have the issues sorted so he can concentrate on the 2010 drivers title.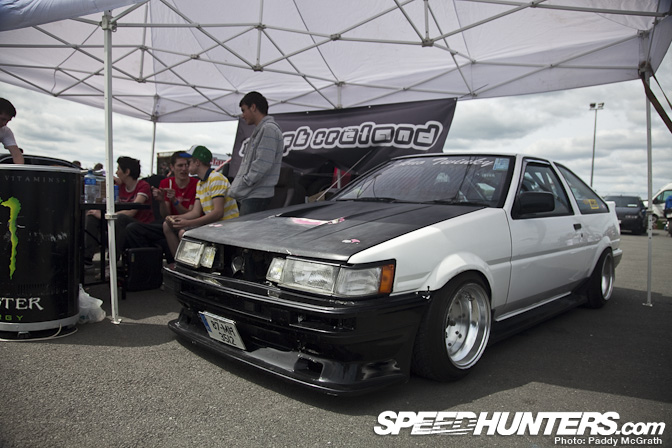 The paddock was home to some great road cars. I was sure to grab a few spotlights on some of these cars so keep an eye out for them throughout the week.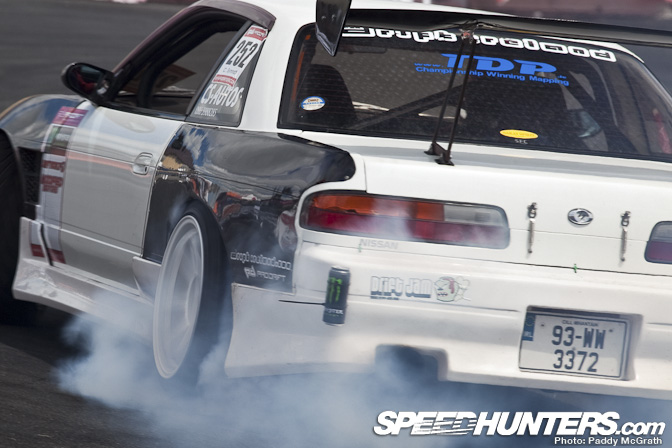 Onto the action ! The semi-pro competition unveiled the new talent coming through the rank. All of them with something to prove and maybe a screw or two loose. See the energy drink tin ?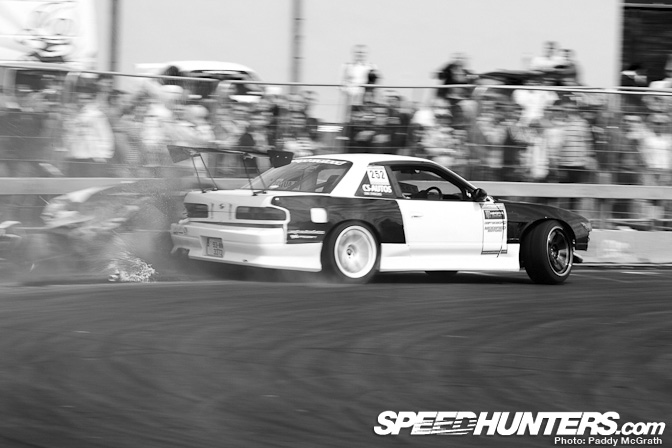 Now you don't !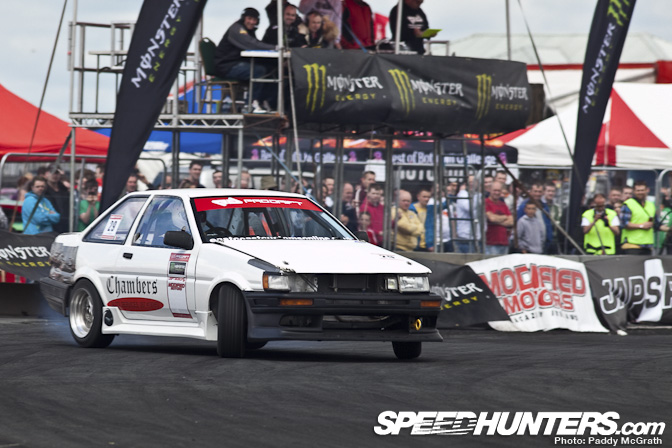 Back in pro class and my Hero of the Weekend award goes to Donal Garry. After suffering a huge impact with the barrier on Friday, most people would of giving up. But not Donal. Returning Saturday morning, the car was once again running and ready to do battle. Donal gave 120% absolute commitment all weekend, driving his 20V AE86 like it was intended to.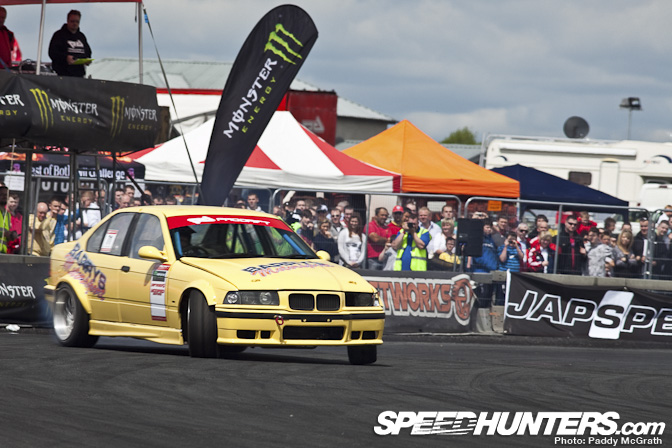 Also back from a huge incident at round one in Fermoy was JP McCarthy in his reshelled E36 M3. Don't worry folks, it's still as ignorantly loud as always.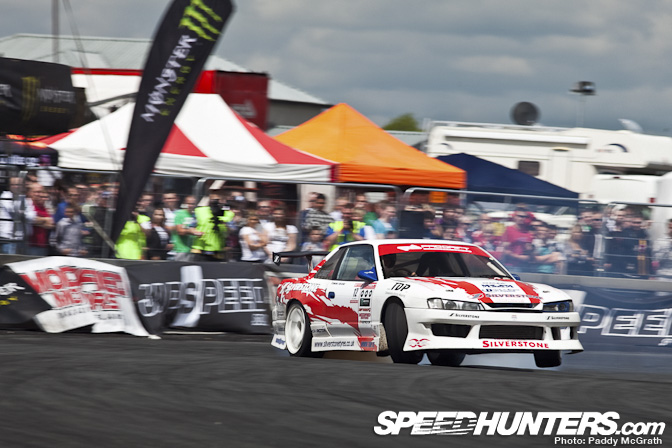 2009 Champion Mike Deane was back looking for another title in 2010.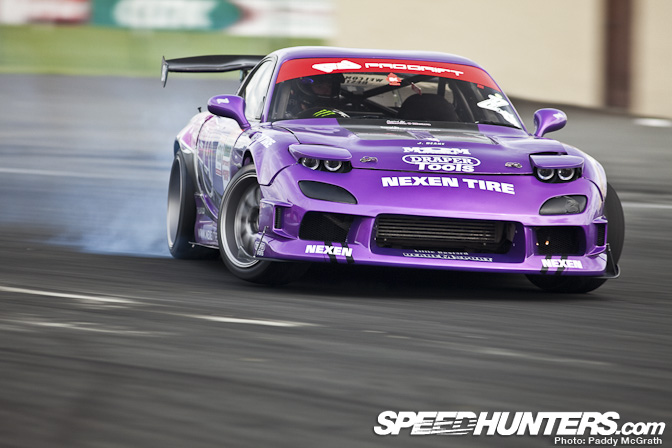 But I'm sure his younger brother James will be looking to be best drifter in the Deane household.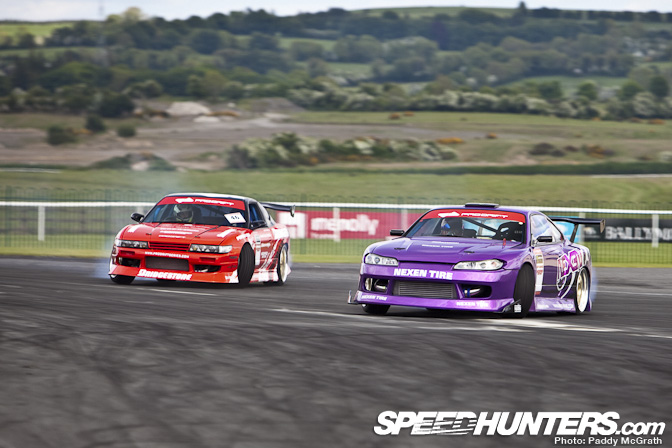 First battle in Top 16 saw Nexen driver Christy Carpenter eliminate Bridgestone competitor Mike Fitzgerald.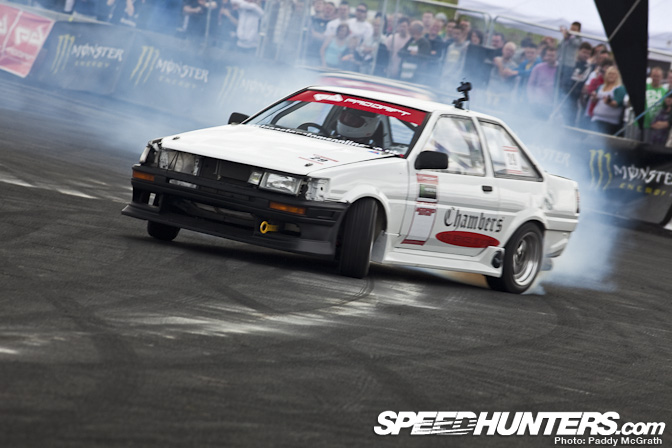 Donal Garry just couldn't match the power and speed of Gavin Lenihan and was himself eliminated at top 16.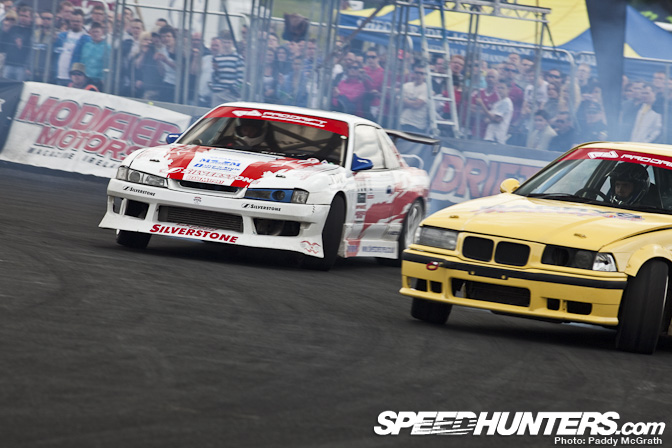 Mike Deane needed to see off a re-run situation before eliminating JP McCarthy.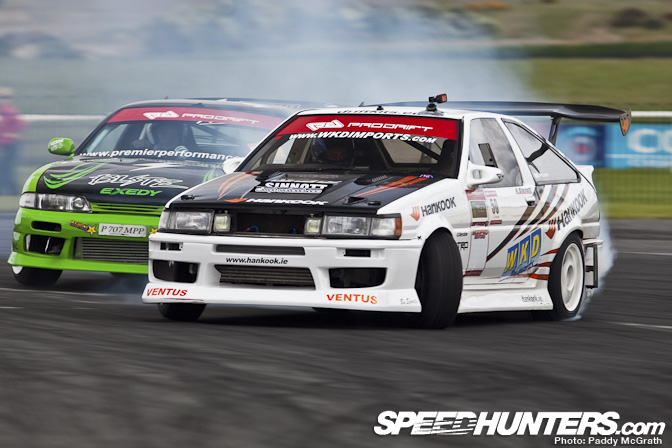 Alan Sinnott desptached Northern Ireland competitor Chris Brady to make his way to top eight.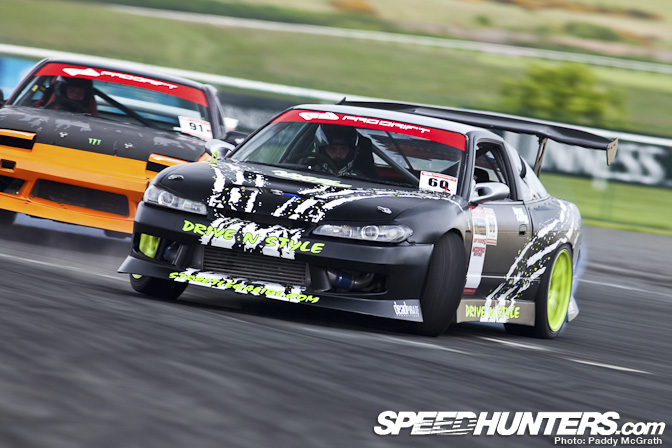 Nigel Colfer saw off Stephen Bolger to announce his intentions for the weekend.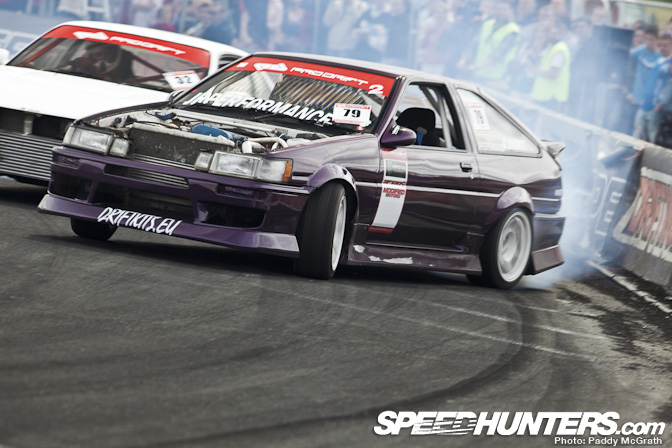 Damien Shortt in the SR86 was defeated by Michael Swan.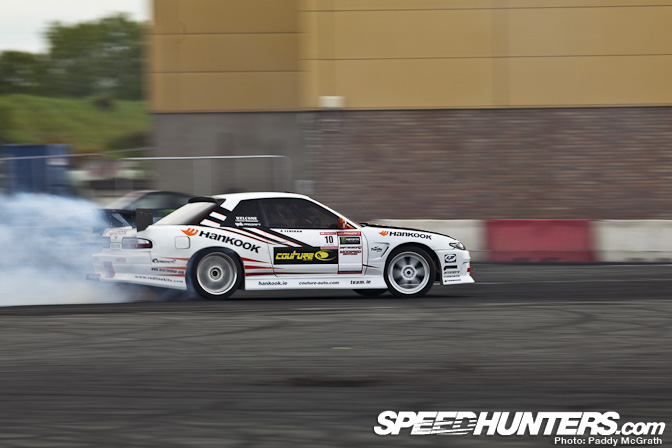 His ride height maybe questionable but his talent is most certainly not. Alan Lenihan defeated Martin O'Meara to progress.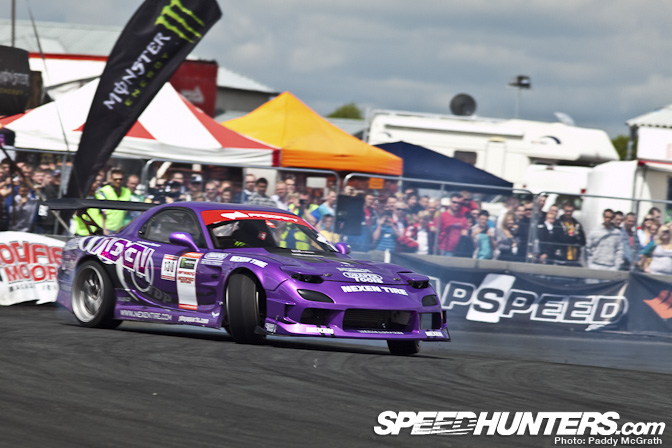 James Deane rounded out the top eight by defeating his neighbour Larry Love.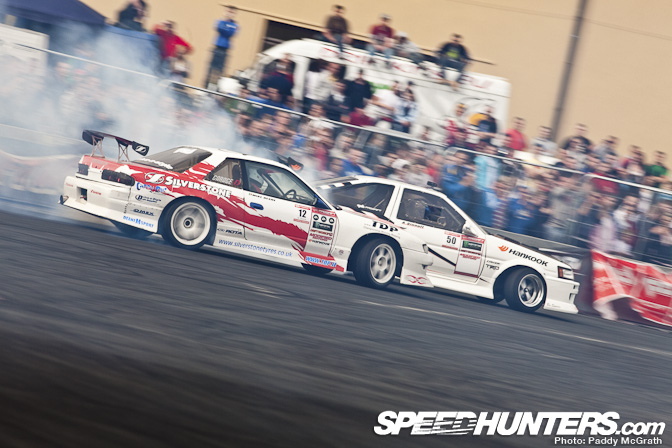 What was always going to be a tough battle, Alan Sinnott eliminated Mike Deane to make his way to top 4.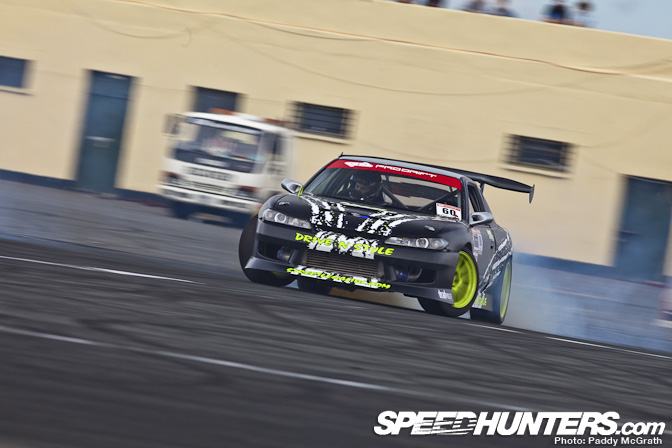 Nigel Colfer marched on towards top four by defeating Michael Swan.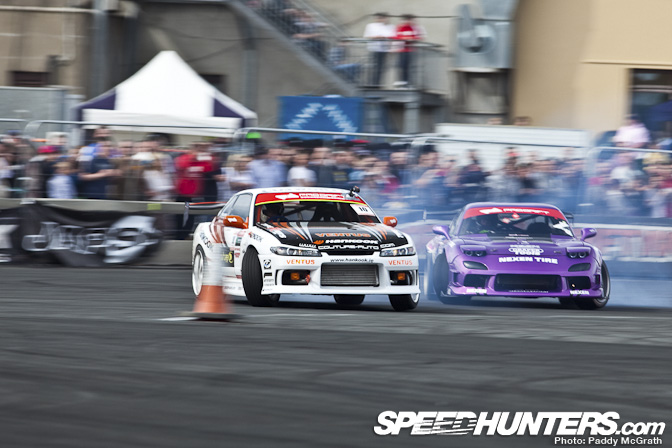 Aftter a tough battle, James Deane would eventually progress against Alan Lenihan.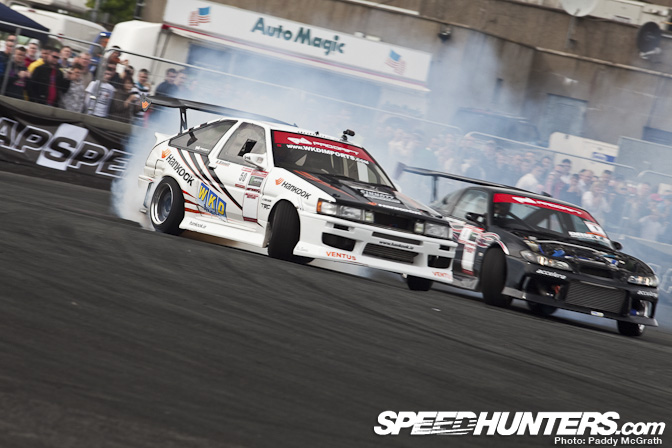 During a set of controversial runs which saw the judges strike out the first pair of runs, Gavin Lenihan eventually defeated Alan Sinnott to make his way to the final.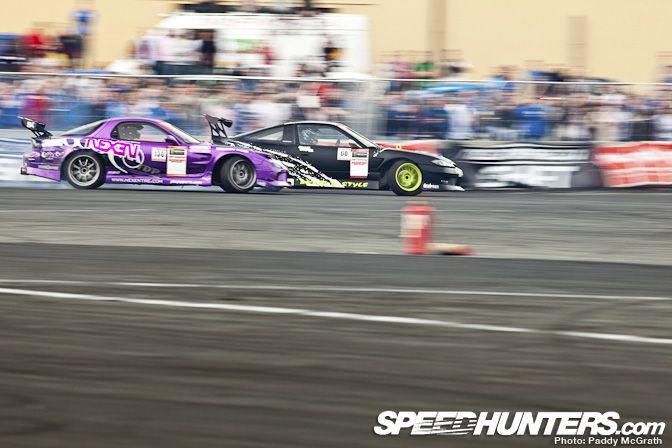 In the other semi-final Nigel Colfer would have to go one more time with James Deane before having the honour of duelling with Lenihan in the final.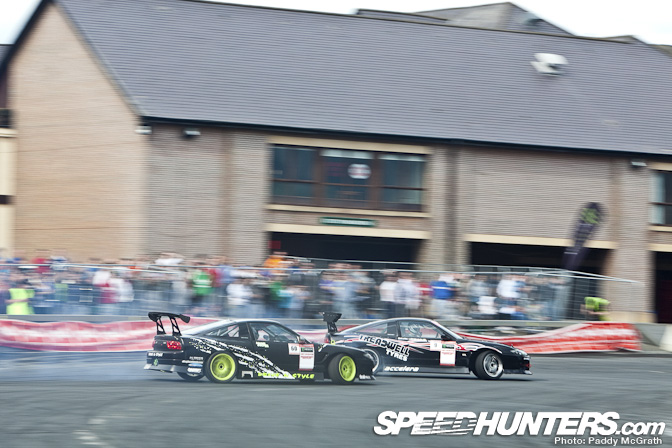 In the battle of the S13.5's it was the 1JZ powered car of Nigel Colfer that defeated the conventionally powered SR20 machine of Gavin Lenihan.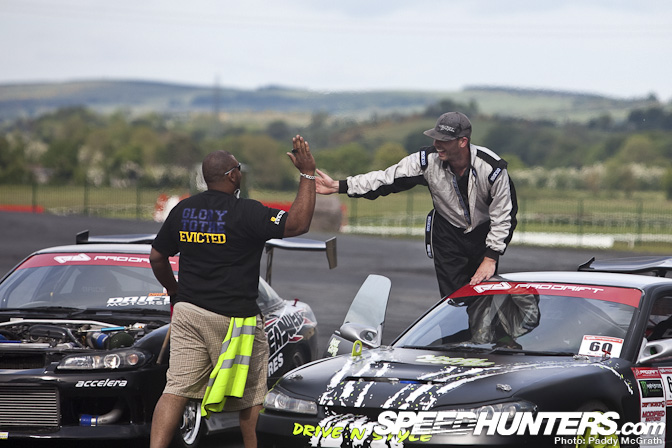 The victory will no doubt give Nigel the boost in confidence he needed after a troublesome 2009. Finishing 2nd at round one and victory at round two, Nigel has gotten off to an almost idealic start to challenge for the 2010 title.
The next round will be held at an all new street course at the Dublin based City West area at the end of June. A level playing field for all the drivers, but who will emerge victorious ?
Paddy