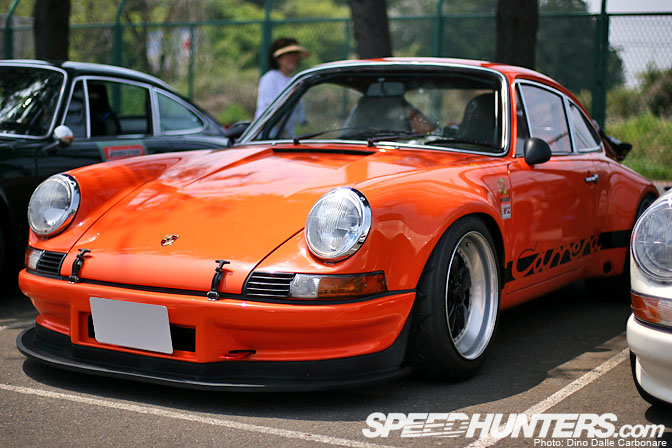 I promised you guys a look at some of the Porsches that gathered for the Old/Now Car Festival and to open this second post I just had to use this shot of this 1970 911S sporting an RSR conversion. Its raspy engine note that reverberated through the unsilenced race exhaust was truly intoxicating.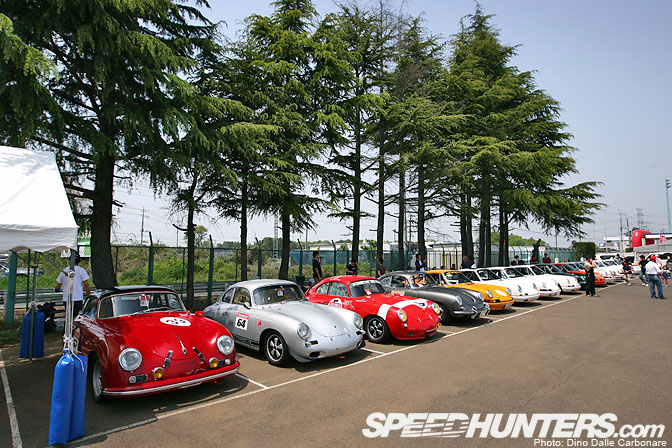 The Porsche aficionados took over most of the secondary paddock, creating a pretty mouthwatering display that spanned as far as the eye could see.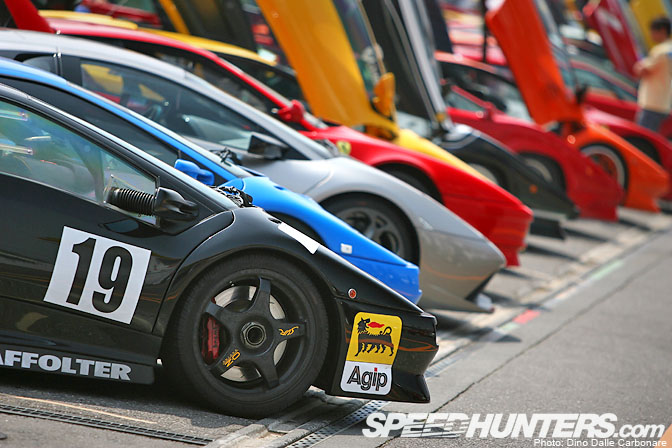 The mostly Italian line-up on the main paddock area however was equally pleasing…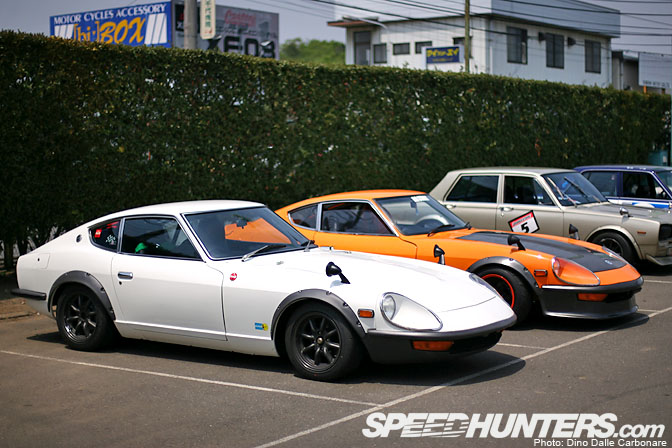 …but no car event like this would be complete without a healthy dose of JDM classics, like this pair of 240ZGs, the white one riding on obligatory Watanabe RSs!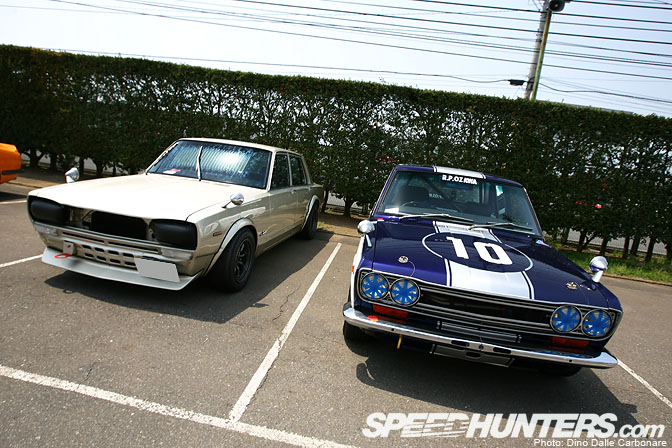 More Nissans with this pair of 4-door sedans, a GC10 Skyline and this Ozawa Project 510 Bluebird.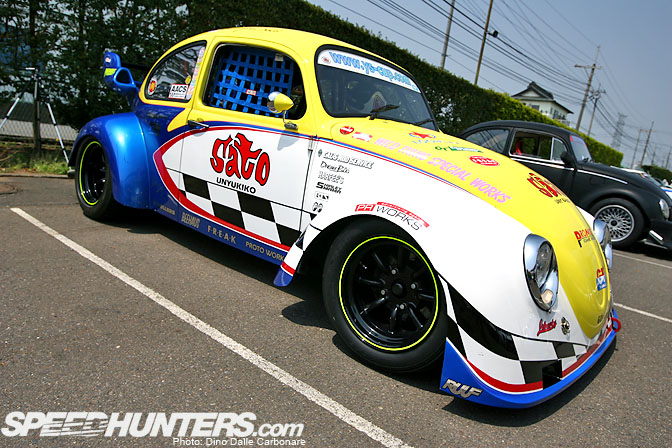 Those that remember last year's event must recall this crazy Sato Unyukiko Bug, resembling more a tuned Porsche with that massive rear hood wing with RS-like intakes.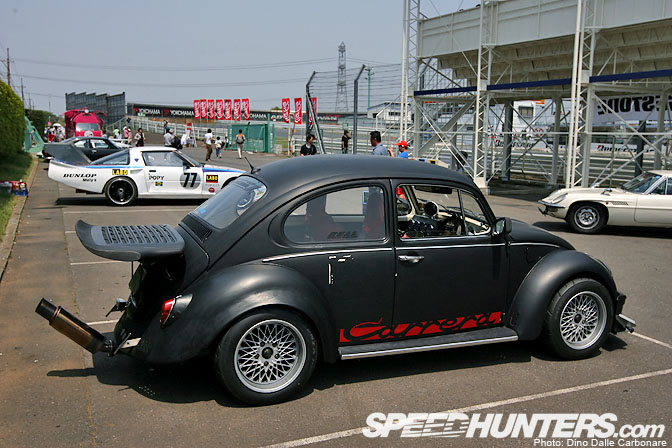 And talking of Bugs with delusions of grandeur, take a look at this satin black example. I don't know how legal that exhaust would be, but it definitely adds a very nice touch to this Carrera-Bug!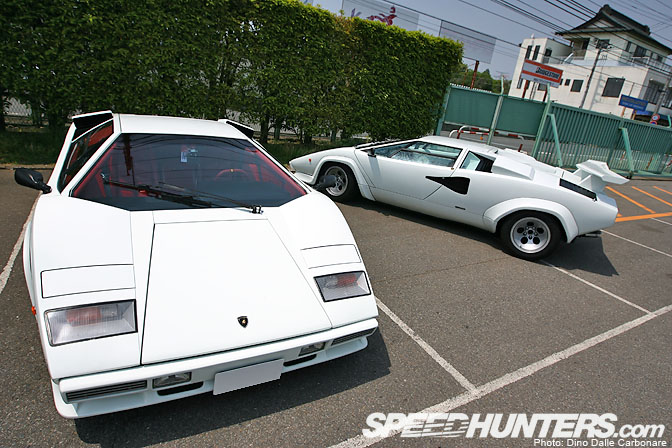 Am I seeing double? The Countach will forever be one of the most stunning examples of forward-thinking car design. I had a poster of one on the wall of my room while growing up, as millions of other car crazy-kids probably had back in the day. Every time I see one it still looks surreal. I'd take mine in unspoilered LP400 guise.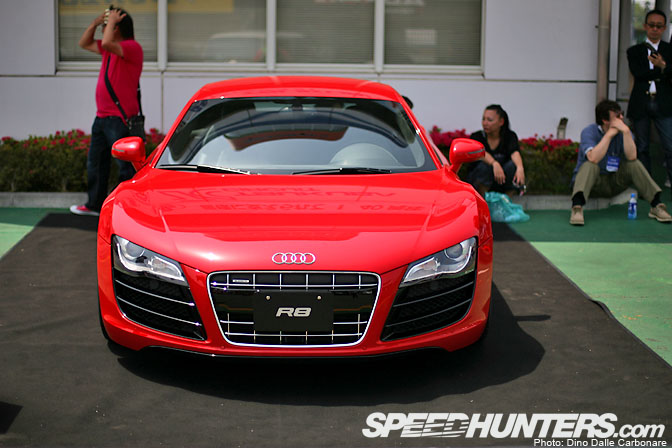 And from one controversial design to another. Audi had this red R8 V10 on display looking particularly mean. Seeing this had me thinking about the feature I did on the V8 version of the R8 last year. I think a drive of this V10 version is in order!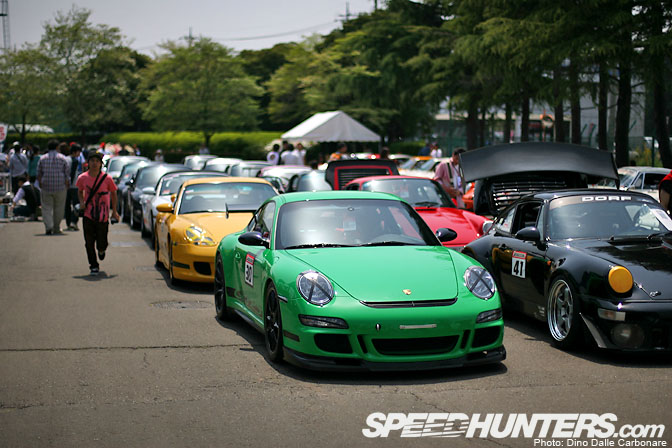 Getting back to the Porsches, at the front of the line waiting to head out on track for a few laps was this GT3 RS, probably one of the most focused driving machines currently on sale. I'm suddenly getting all these wild ideas for new car features!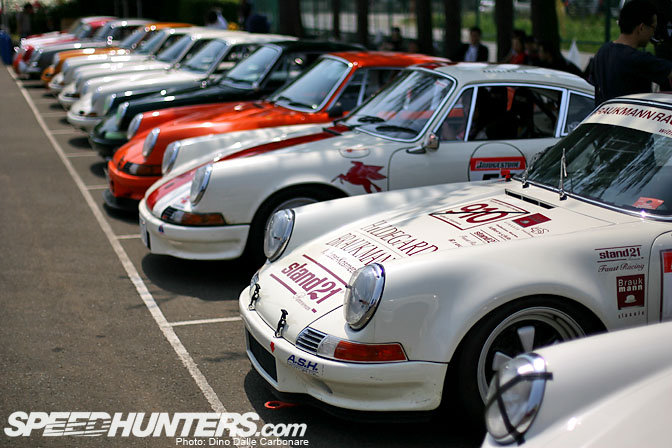 From the dozens of unmolested classics…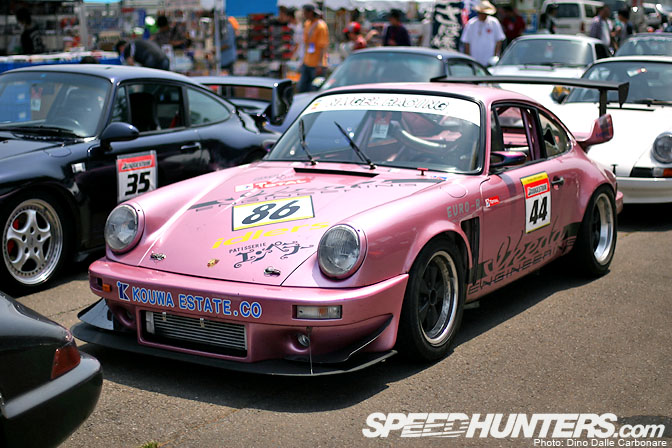 …to track prepped modified ones there was so much to look at. Even if you are not into 911s it is hard not to appreciate these mighty creations.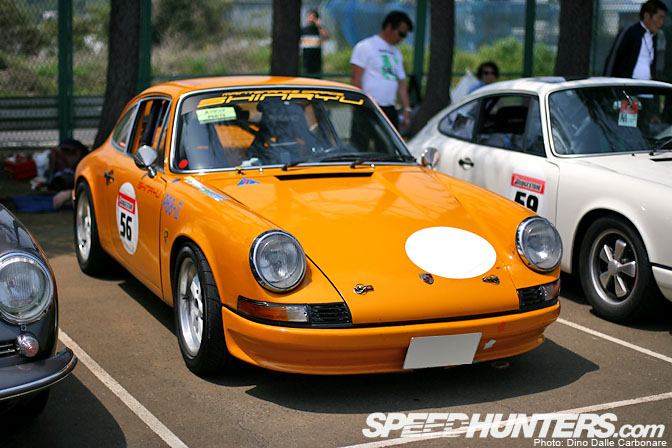 Here is another orange 911S. I'm not sure if I prefer the aggressive lines of the RSR conversion done to the one in the opening picture or the simple narrow stock body of this one. Simplicity is always best in my book but this is a tough one to call!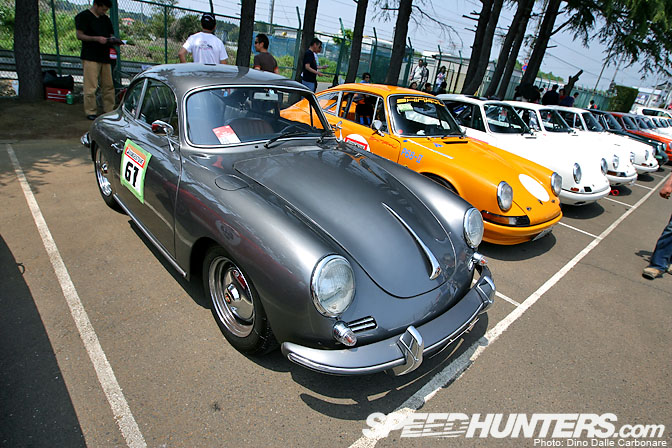 A 1963 356 B Super 90, the car that started the look of all Porsches.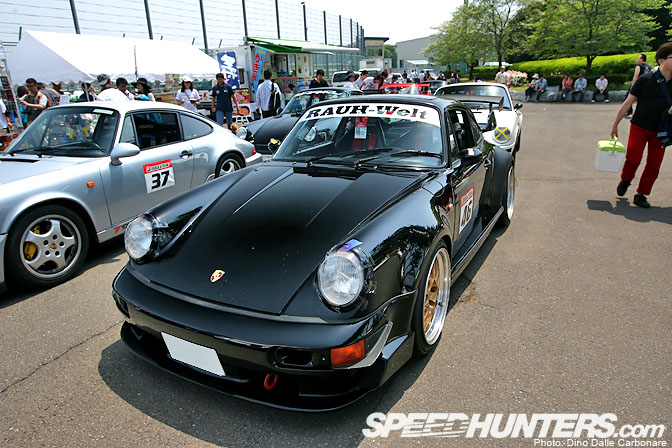 And what would a line-up of Porsches in Japan be without the participation of at least one Rauh-Welt modified example. This 930 Turbo is not as extreme as the cars we are used to seeing from Nakai-san but it definitely won hands down in the looks department thanks to perfect-offset BBS LMs and a massive raised rear wing.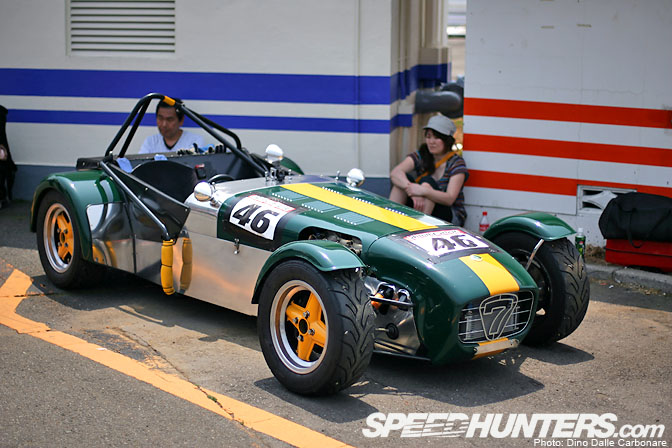 Can't beat these little Caterham Super 7s for a true adrenaline rush out on track.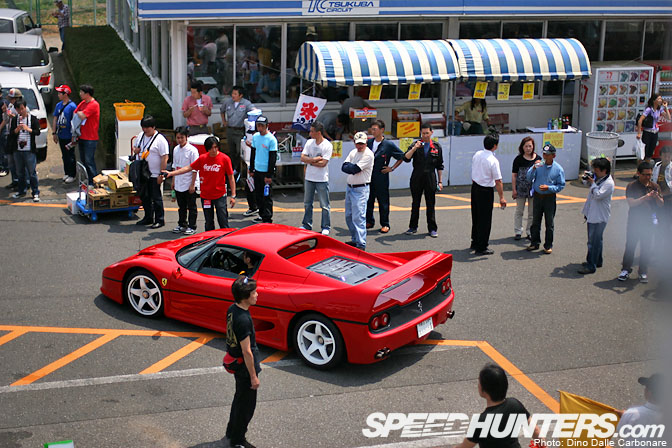 Yep, there were actually two Ferrari F50's, and the owner of this red example…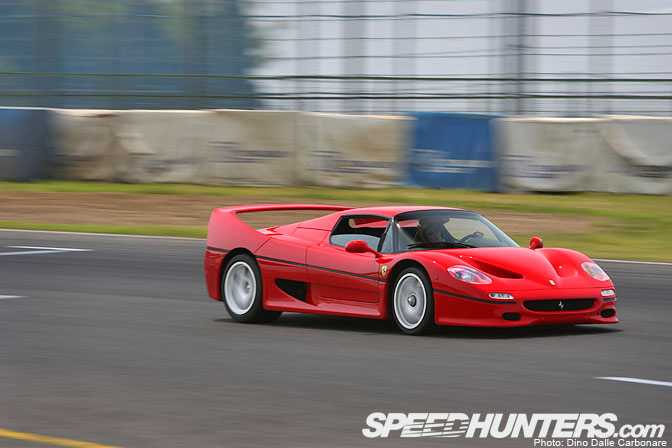 …didn't hold back when he got his chance to take the rare hypercar for a spin.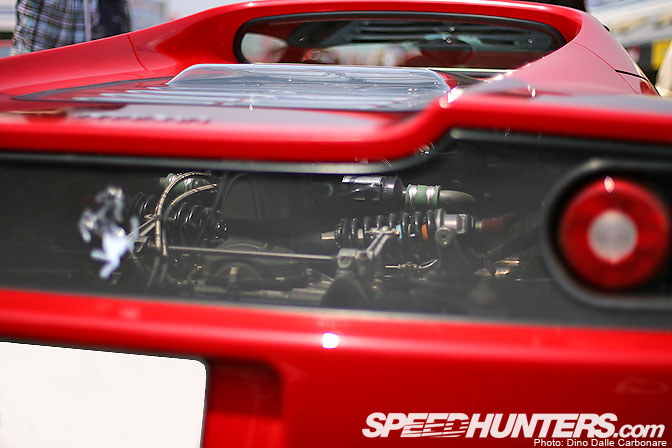 Need I actually say something here?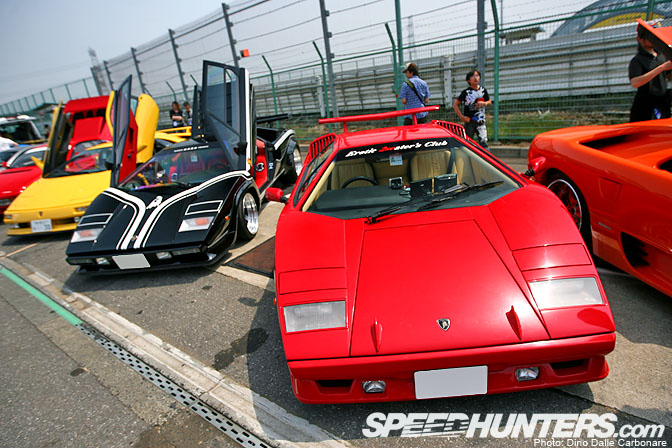 I promised we would take a more detailed look at the Lamborghinis on the paddock…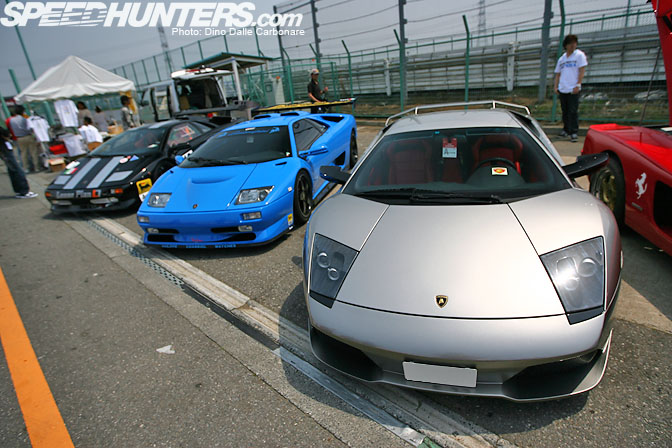 …a wild lineup that on top of some very nice Countachs included two Diablo GTs (only 80 were ever produced!) and a lonely Murcielago.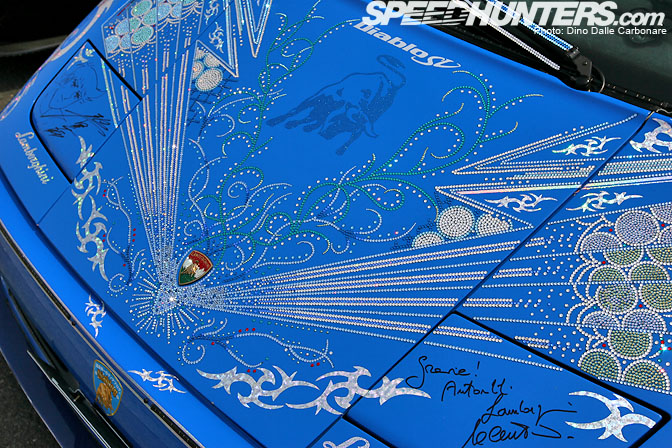 But it's this blue Diablo SV from Part 1 that was getting the most looks. If the exterior of a Lamborghini isn't eye-catching enough for you then a Svarovsky treatment to the front, sides and rear of the car would probably win extra looks from passers by.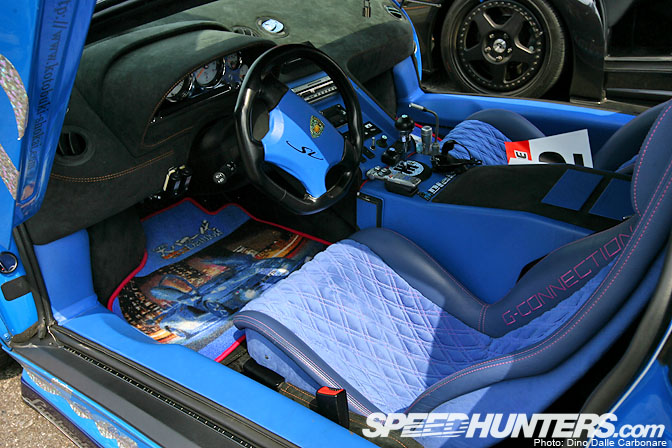 But it didn't end there; the interior was just as customized with tons of gadgets and a pair of floor mats displaying an image of the car itself!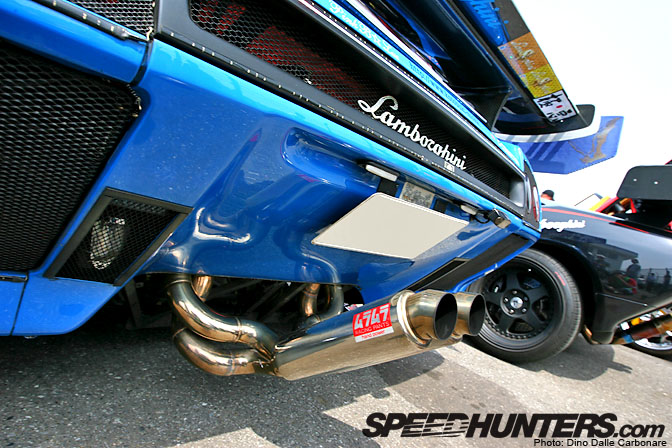 And what would a Diablo be without an outrageous exhaust system! Everything you see is custom and those look like a pair of bike silencers. The label reads "Mura-Mura Racing Pants – Hand Power." Mura-mura in Japanese means horny…which I'm guessing refers to the sound! Definitely mura-mura then hehe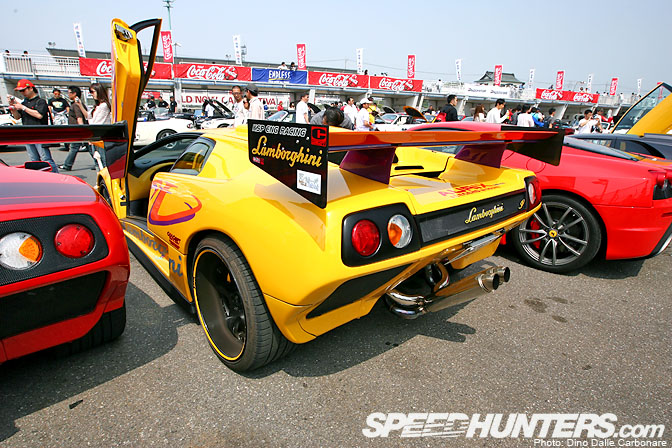 There is more to come in Part 3 including a look at my favorite car of all time. Stay tuned for more exotic goodness from Tsukuba!
-Dino Dalle Carbonare