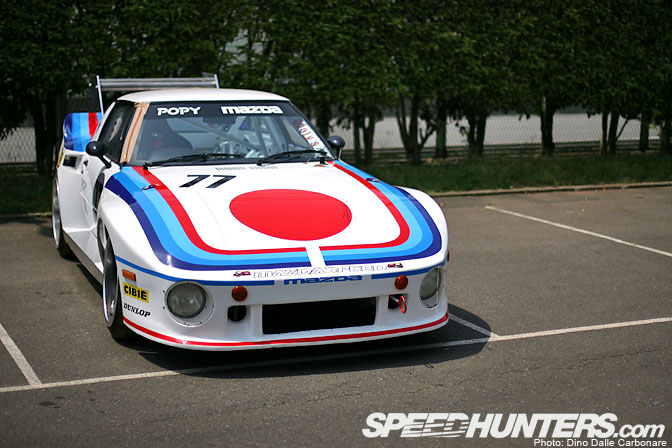 The event season is in full bloom here in Japan with so much going on around the country it's almost hard to keep up. After the week-end spent up in Ebisu for the Spring Drift Matsuri I found myself heading to Tsukuba a few days after for one of the longest running events in Japan, the Old/Now Car Festival, now in its 24th installment. When it comes to combining the widest range of exotics as well as classics from both from Japan and Europe, nothing comes close to this gathering.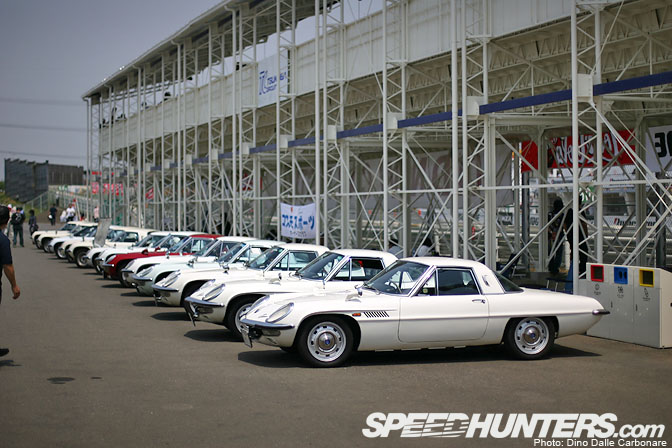 On my way to the circuit in the morning I run into a few Mazda Cosmos, all heading to meet up with fellow enthusiasts in the secondary paddock at Tsukuba. It's not everyday that you see a line up like this!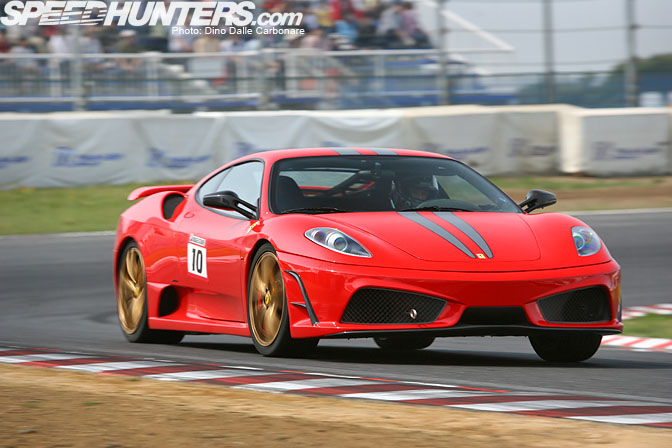 The event is very well put together with something always out on track to keep the crowds entertained. The Ferrari Cup guys put on a concerto of buzzing V8 engines as newer F430 joined F360 and F355 for a few hot laps. I was really hoping to see at least one 458 Italia but the car has yet to be officially launched in Japan.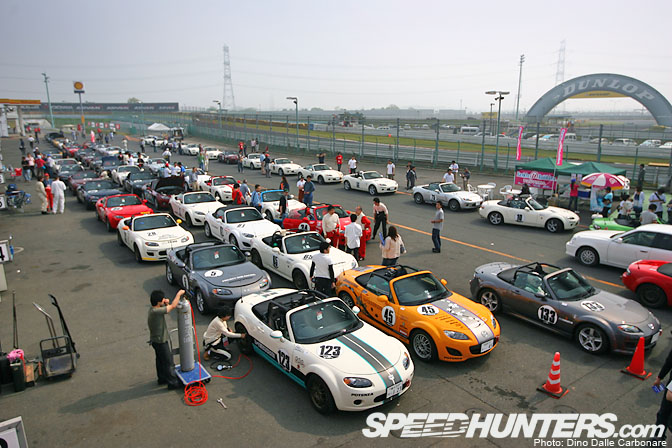 A few race series tag along to the day's proceeding like the Roadster Party Race and NC1 Clubman Class. These races really get the best out of the drivers as each car is identical so everything is ultimately only down to driver skill. After the loud Ferraris the little Mazda's sounded like electric cars when racing on track, with most of the noise coming from the tires!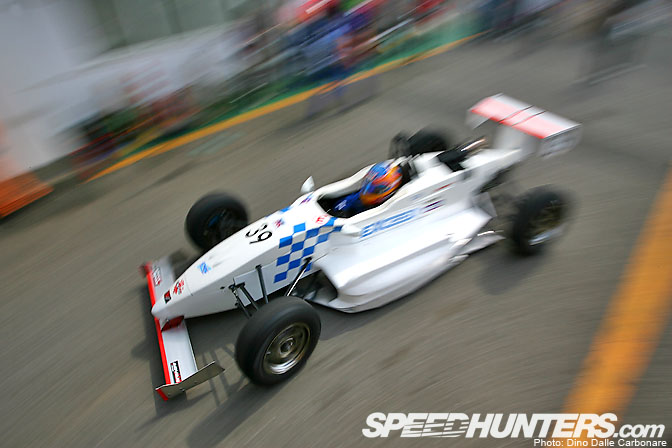 Like last year the Super FJ single seaters were out for a couple of races, buzzing around Tsukuba with their carbed Honda L15A screaming through the almost bike-like exhausts. All cars run the same 120 HP engine mated to a Toda Racing 5-speed transmission. Lack of weight and sticky slicks means these things lap the circuit in around 59 sec during the qualifying runs.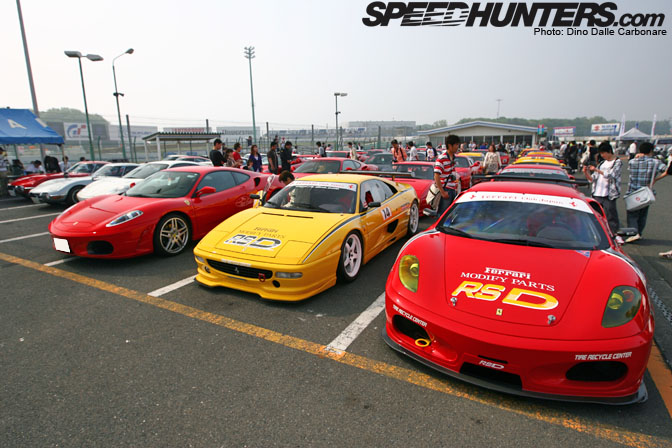 I love how the Japanese go absolutely crazy on Ferrari tuning with aftermarket exhausts, spoilers and brake upgrades being the most popular. That is if you have a street car, a lot of people rocked up in street legal Ferrari Cup race cars! LOL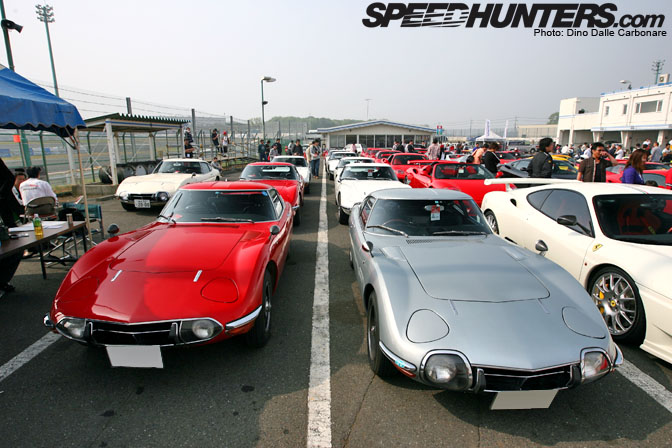 These two lines of Toyota 2000GTs reminded me of the Toyota Motorsports Festival. Owners of this rare Japanese classic participated in a demo run out on track, understandably more of a parade than actual hot laps!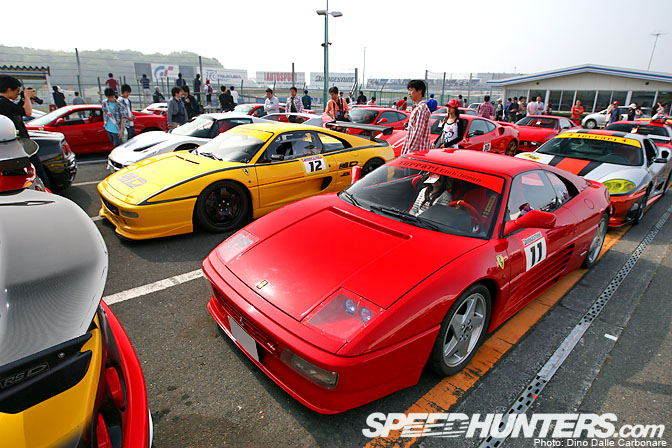 The headlight conversion on this 348 was very curious, probably the same headlights used on race cars back in the early nineties.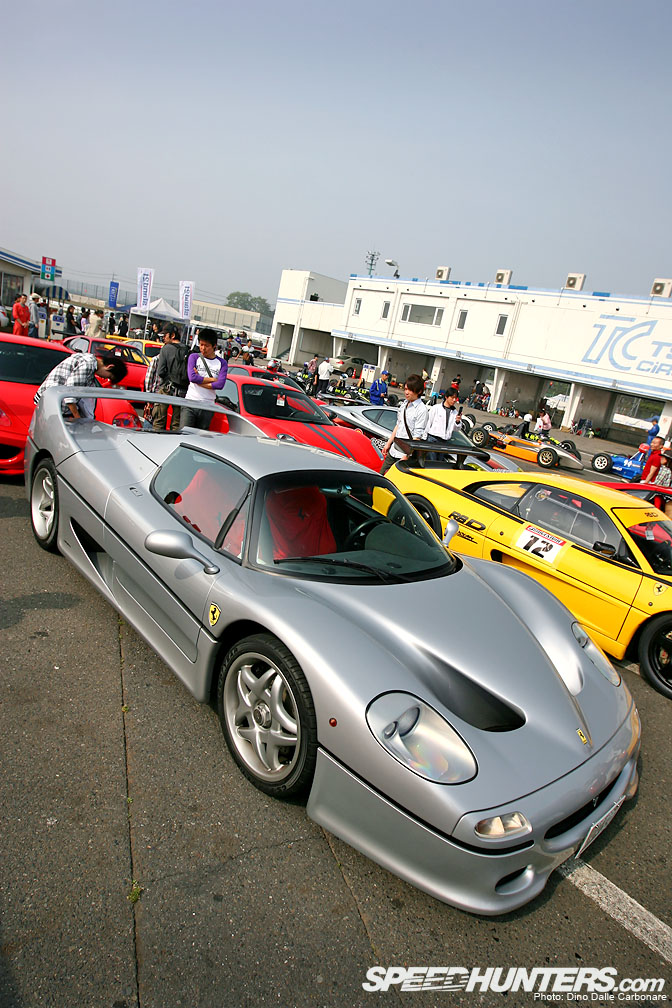 It was this gem that was attracting the most attention, from me at least. The F50 has always been criticized for not being quite as special as it could have been but I still very much like its unique design. This rare silver one was absolutely immaculate, in fact it still had the plastic covers on the bucket seats, covered up again by red fabric covers.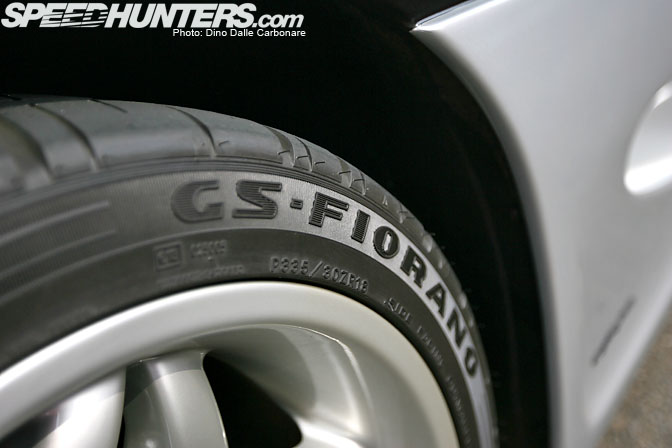 There is a good chance these are still the original 335/30/ZR18 Goodyear GS-Fiorano the car came with.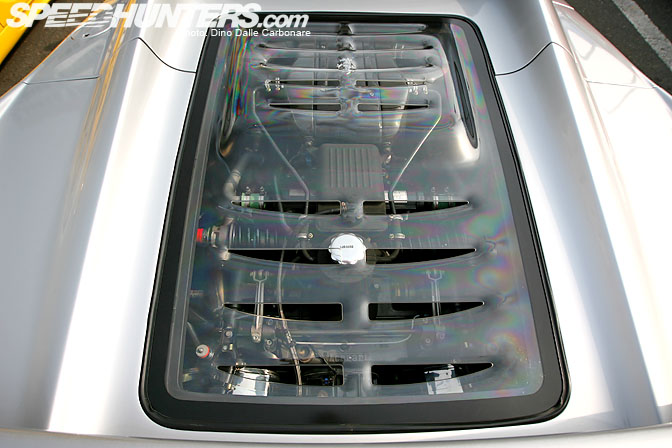 From the seats back this beast is all engine. The 513HP 4.7L V12 doesn't sound as special as the V12 in an Enzo but has plenty of F1-inspired character. I can't believe this car is 15 years old already!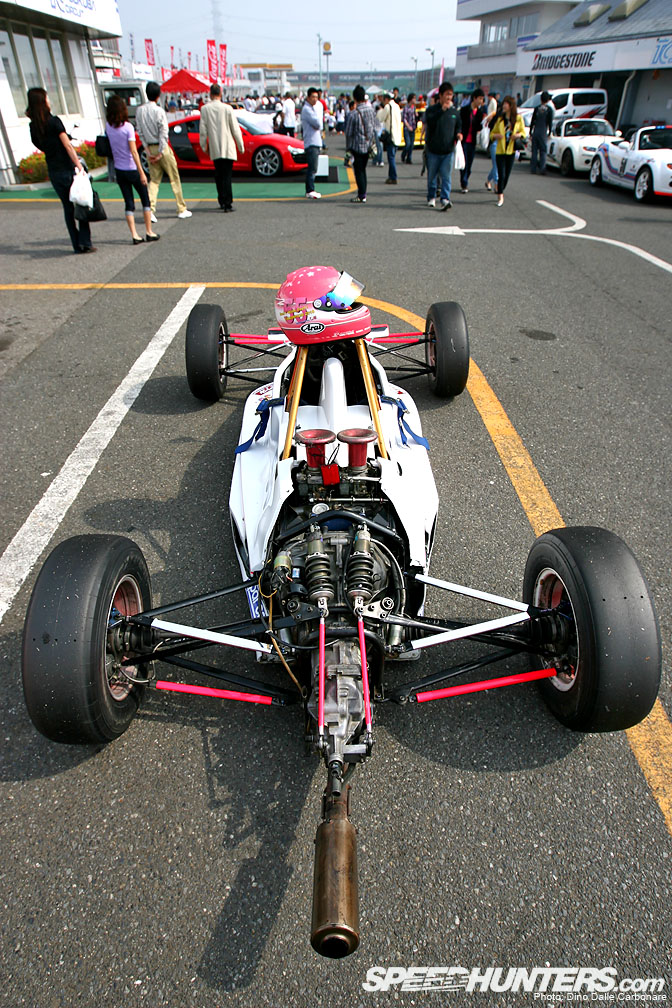 Simplicity. This is pretty much all you need to have tons of fun out on track!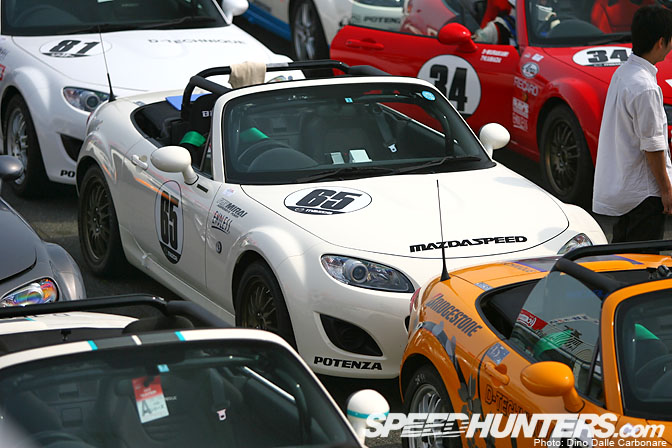 All Roadsters that participate in the Party Race need to run Bridgestone RE-11s and most cars seemed to be fitted with Volk Racing RE30s.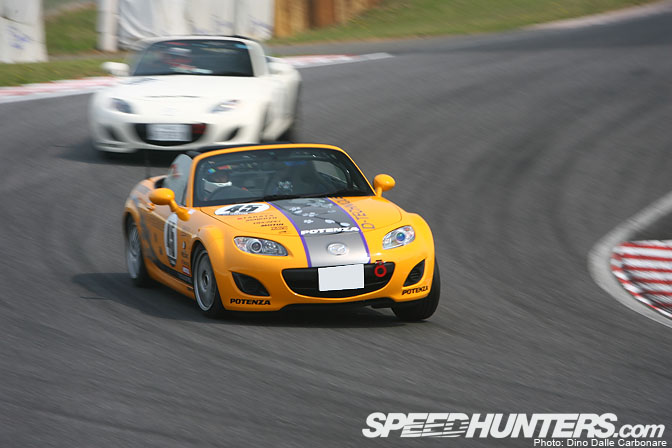 This is yet another way to have a go at competitive racing on the cheap. With such an even field drivers really learn a lot as they try to shave milliseconds off their times by driving as clean and as smoothly as possible. It's a good base to start off at before moving on to more powerful and challenging machinery.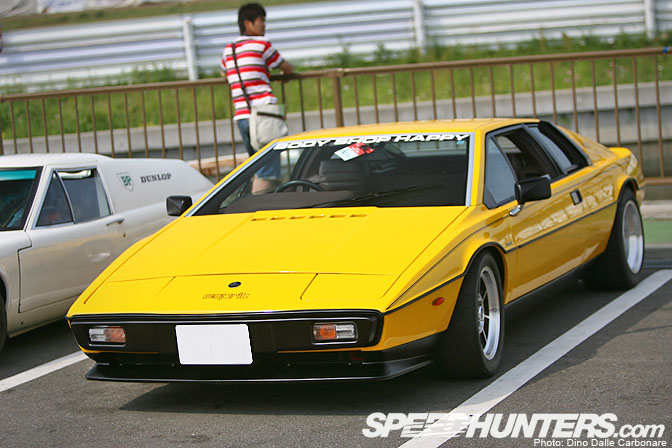 There is always a large Lotus presence at these events and I discovered I'm really beginning to develop a liking for these older Esprits.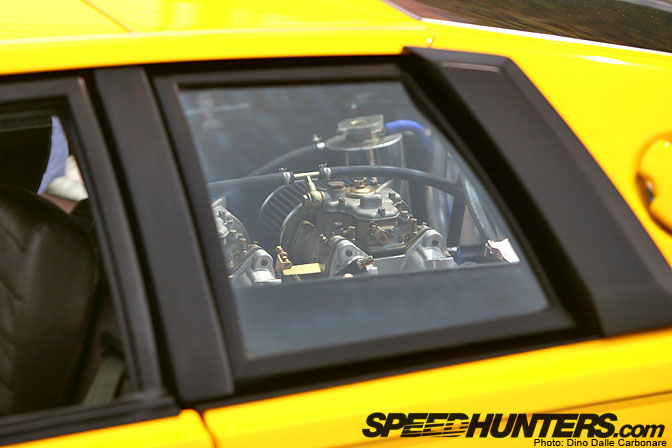 The edgy design still looks fresh but it's the exposed mechanicals that get me salivating. I'd take one in white so I can pretend to be James Bond.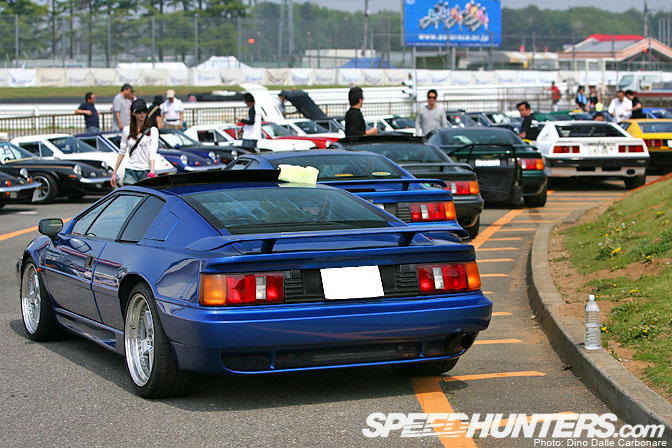 Every engine configuration was present including the 3.5L V8 later models.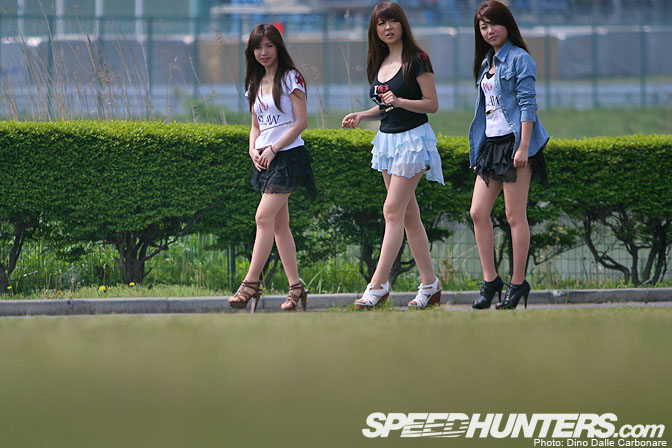 As ever the main focus of interest for most of the participants at these kind of events are the girls…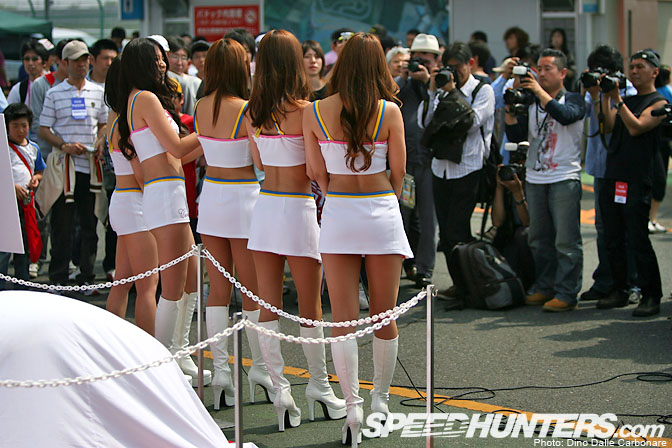 …which are always a great help as they help empty the paddock of all camera-carrying enthusiasts. This gives me time to get some nice clear shots of the cars, as well as a few sneaky behind the scenes shots of just how much attention race queens get!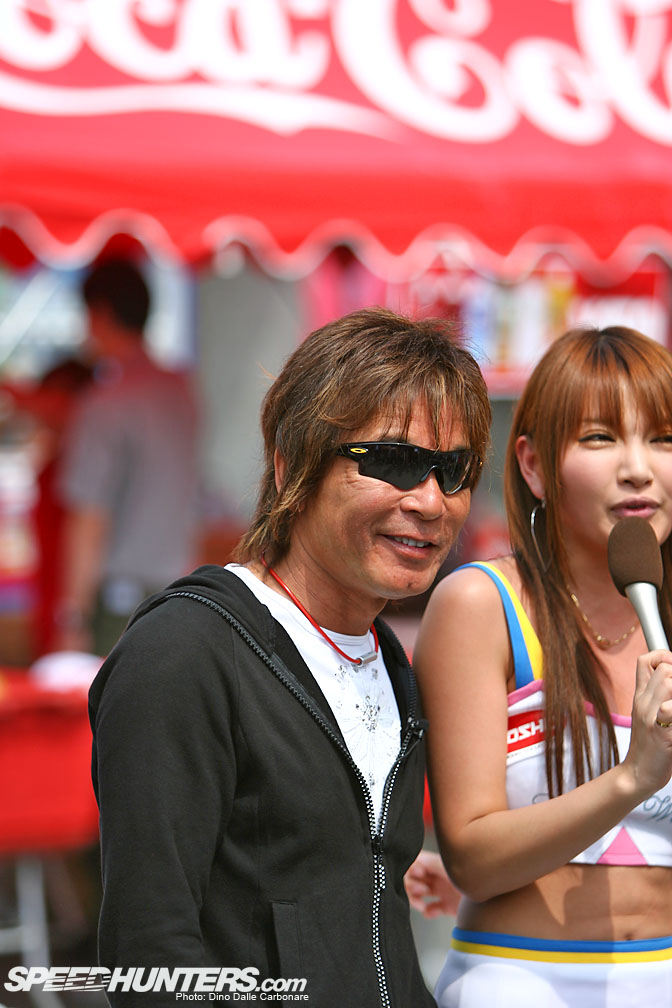 The girls above, known as the "Circuit Wolf Queens," accompanied famous cartoonist, race car driver and car collector Satoshi Ikezawa.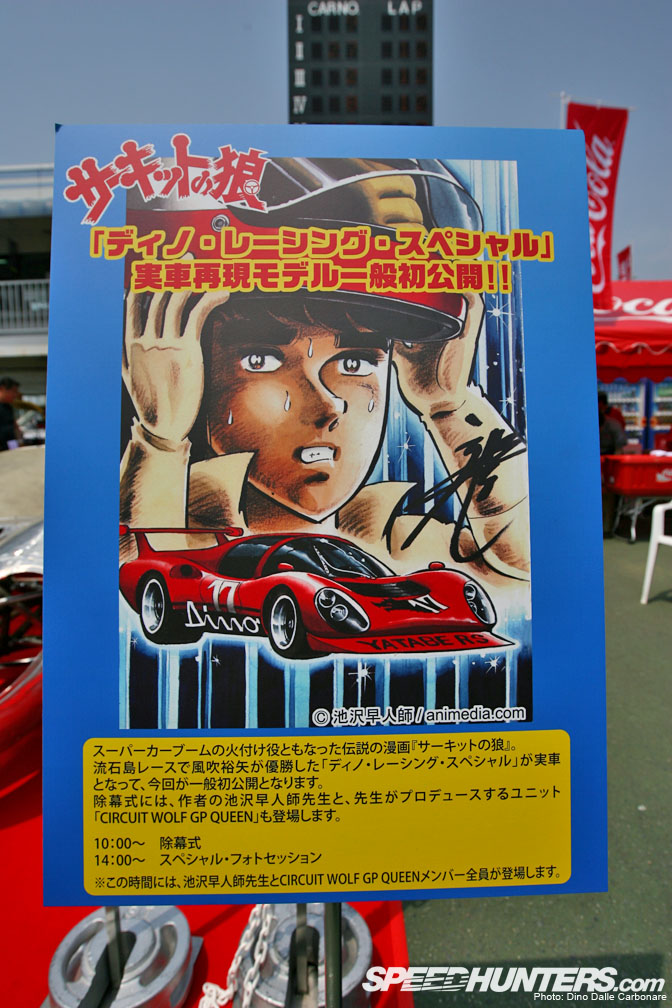 He is the man behind the "Circuit no Okami" seventies manga and one of the main organizers of the Old/Now Car Festival. The famous Ferrari Dino based race car from the manga is actually being recreated…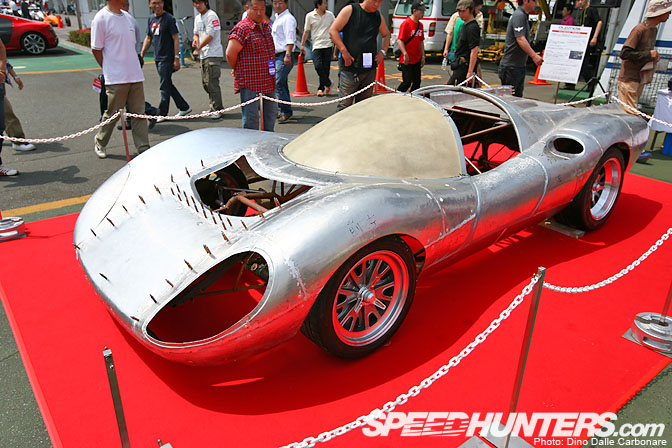 …and one of the high points of the day was its unveiling. Most of the aluminum body has been shaped already but I'm not quite sure if it will become a fully functional car, or just a full scaled model.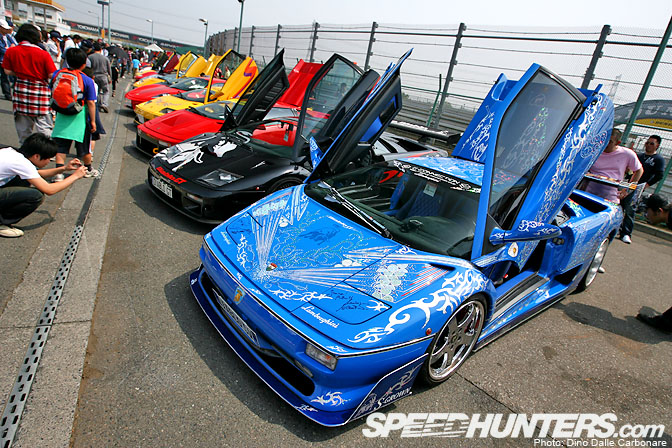 Mid-way through the morning I noticed a few more cars had arrived, or should I say heard them! I initially though Ferrari owners went a little OTT on their cars before seeing what some of the owners of these Lamborghinis had done.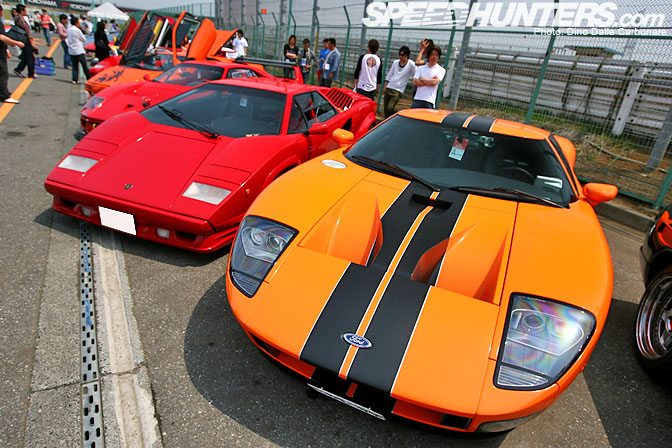 I'll take a more detailed look at these in the second part of the coverage as well as some of the other nice exotica that joined them.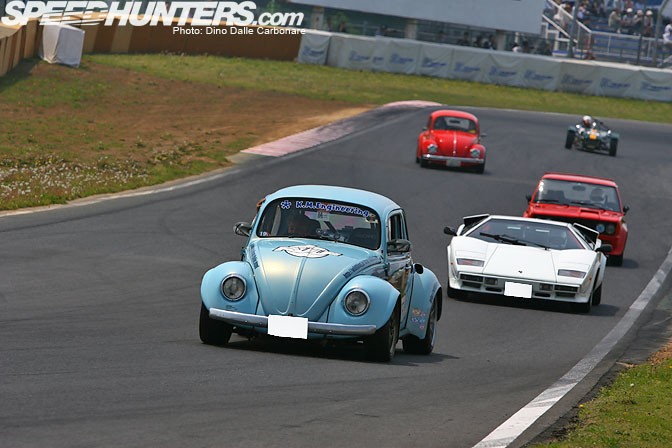 How about this for variation! Behind the Countach is an orange Fiat 131 Abarth; if you recall I recently did a spotlight on this rare car.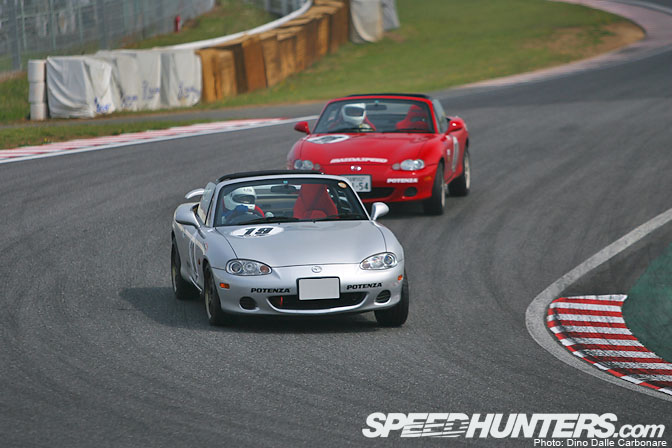 The action out on track continued with the Clubman Class of the Roadster race…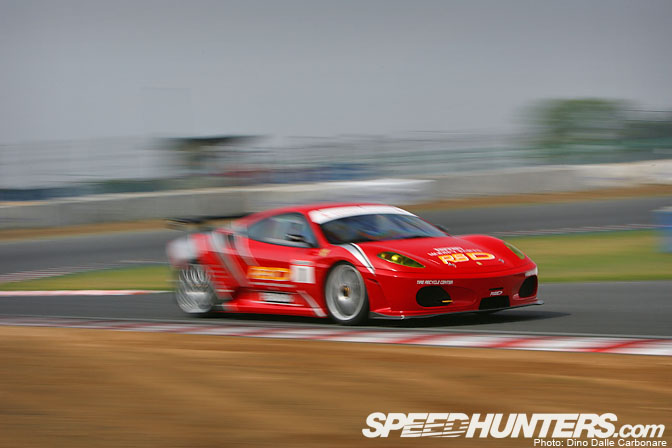 …as well as more Ferrari "music."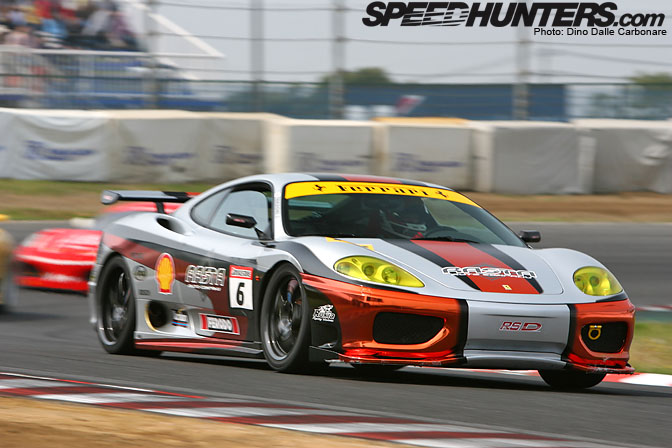 I'll get into more detail in the next post as well as taking a look at some of the Porsches that showed up for this 2010 Old/Now Car Festival.
-Dino Dalle Carbonare