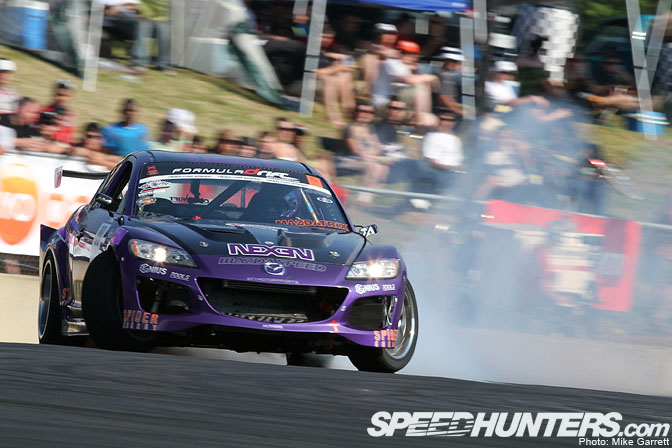 Ok, I'm back home in SoCal now getting myself re-adjusted to the old Pacific Time Zone. This means it's time to jump into our coverage from Formula Drift Round Two at Road Atlanta.
Keeping things in chronological order, I'll start with a selection of images from Friday's practice and qualifying sessions.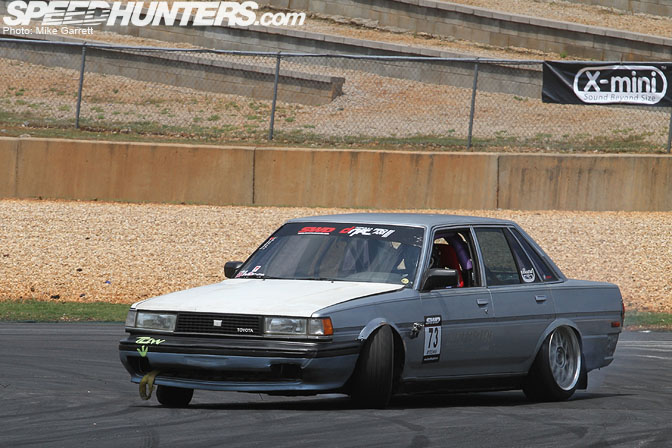 First up, a few photos from the Pro-Am competition held at the track on Friday. This 2JZ-powered MX73 Cressida was one of the more interesting cars there. Check that rear camber.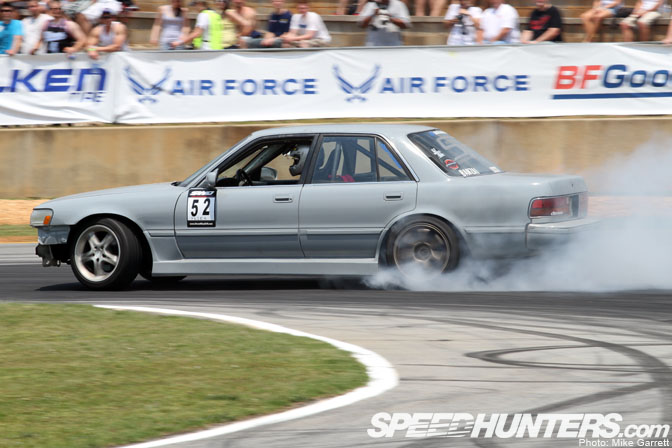 Another one for the Cressida fans. This MX-83 was actually sporting Lexus 1UZ V8-power. I was meaning to go take a closer look at the car in the paddock, but never got a chance. Damn.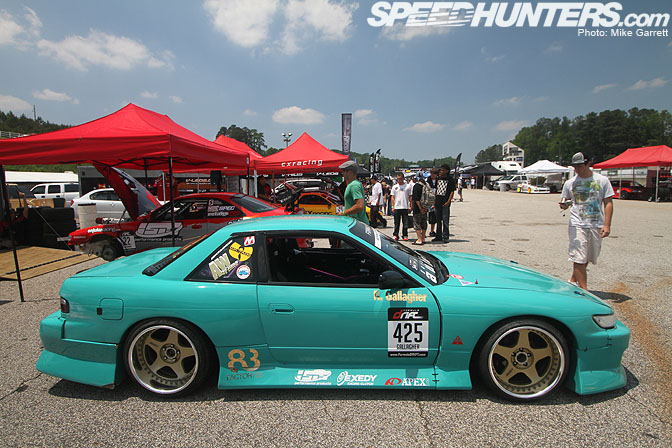 Roland G's S13 looking like a boss in the pits.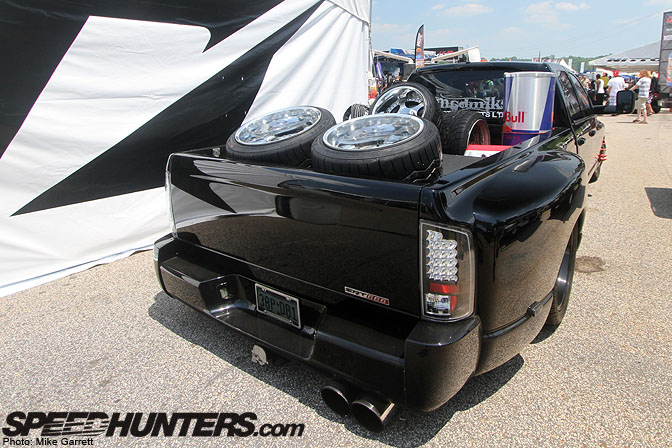 Mad Mike's tow rig is a phenomenon. I think it was actually getting more looks than his drift car.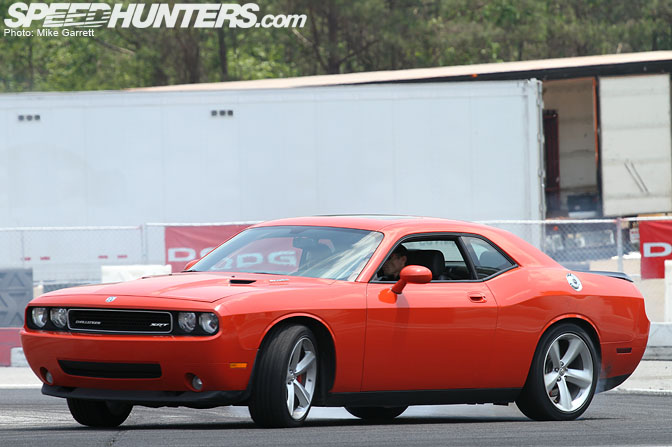 In one corner of the paddock Dodge had set up a small course where people could get rides with a pro-driver in a box-stock Challenger SRT8. Seemed like people were enjoying it, and the big Challengers actually looked pretty decent on the tiny course.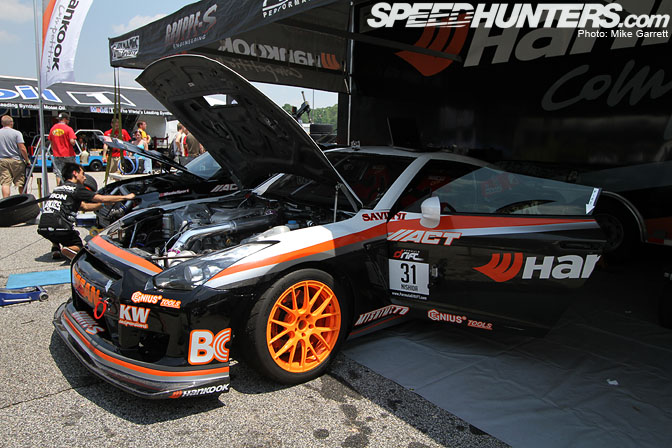 Atlanta was the debut event for the new Hankook GT-R driven by Robbie Nishida. Everyone was pretty excited to see how this VQ35-powered machine would do on the track.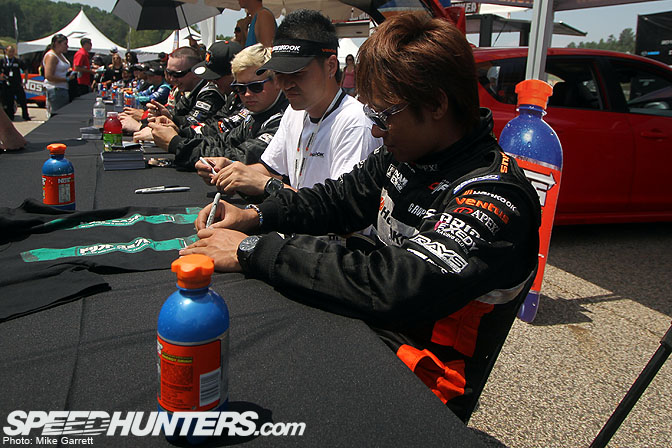 The crowds at every FD event are pretty crazy, but the Atlanta people always seem to kick it up an extra notch. Here Ryuji Miki signs a t-shirt for a fan.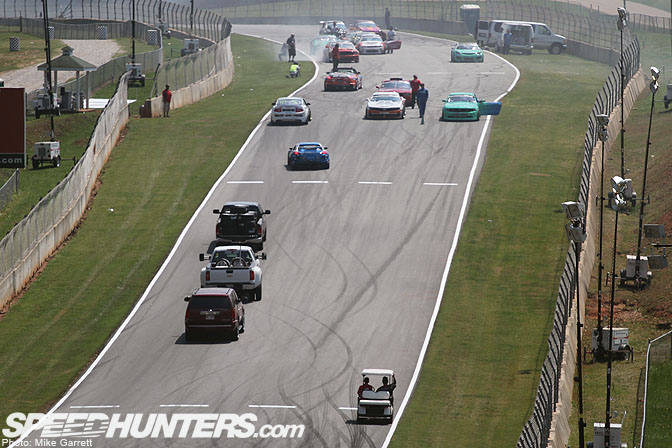 Friday afternoon comes and it's time to begin practice and qualifying as the convoy of race cars and support vehicles make their way up the hill to the grid. Atlanta is also the once place on the schedule where a golf cart is pretty much a necessity.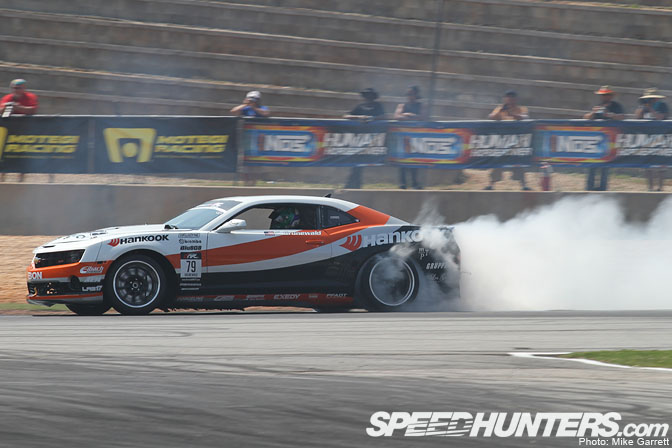 Conrad Grunewald smokes them up coming out of the horse shoe. I can't say enough how much I like this car. It's decently low, sounds mean, and runs hard.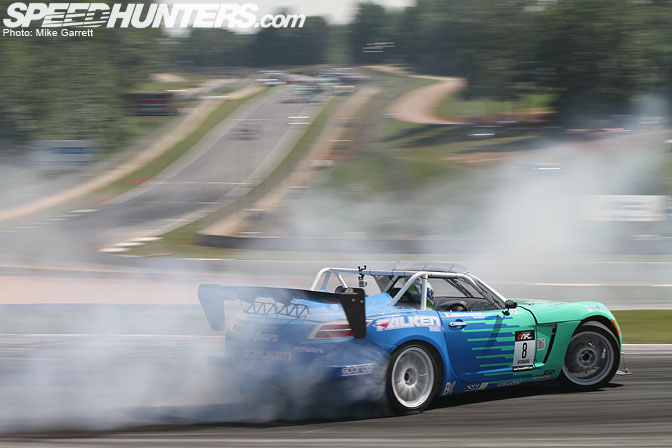 Darren McNamara always seems to do well in Hotlanta. Most of the people I talked to had him as a favorite to win the event. He'll be along later with his own driver blog.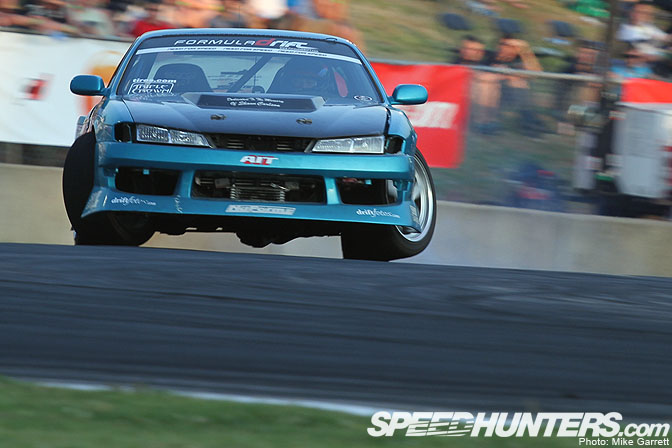 As will Pat Mordaunt – another driver who's done well in Atlanta.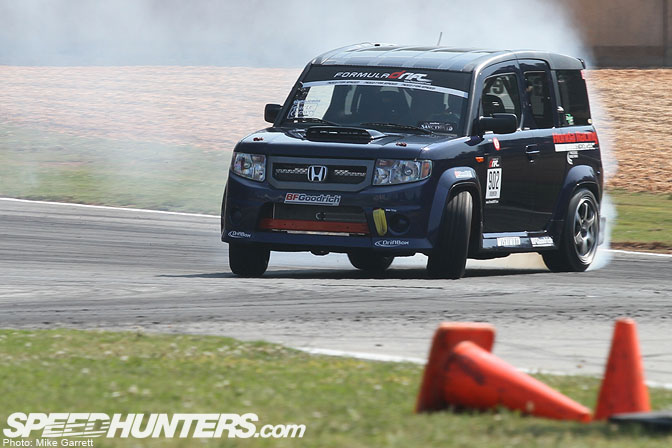 The Honda Element, certainly one of the most unique vehicles ever to compete in a Formula Drift event.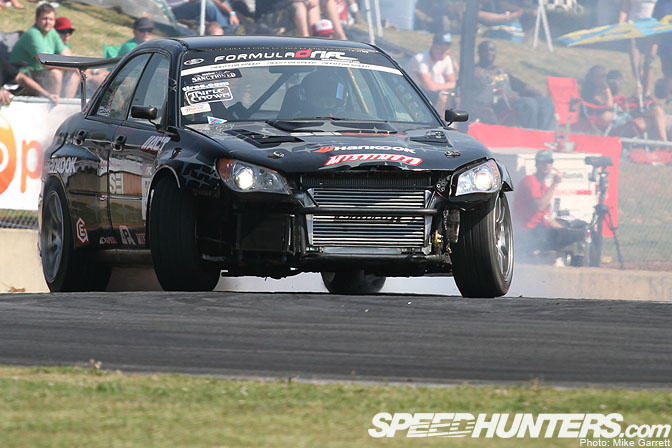 Another car hitting the track for the first time in 2010 over the weekend was Eric O'Sullivan's Subaru Impreza.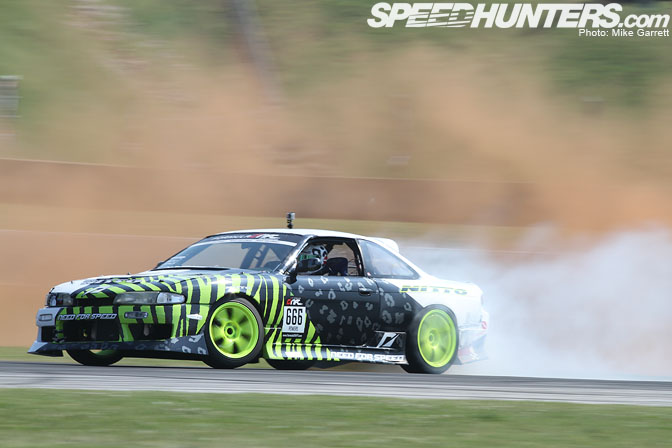 Oh hey, it's Matt Powers drifting through of a cloud of red Road Atlanta dirt.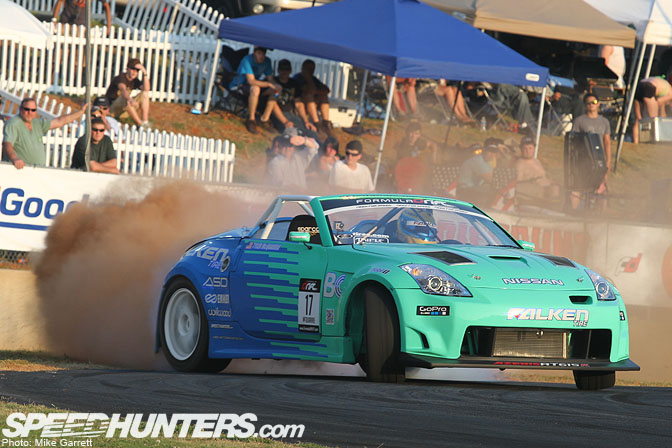 More dirt dropping, this time from Tyler McQuarrie.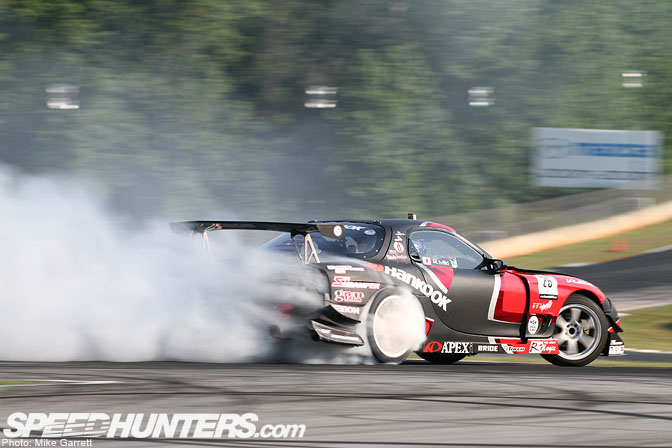 Ryuji Miki burns his Hankooks into nothing as he heads downhill off the horse shoe. Miki's entries were some the craziest I saw over the weekend.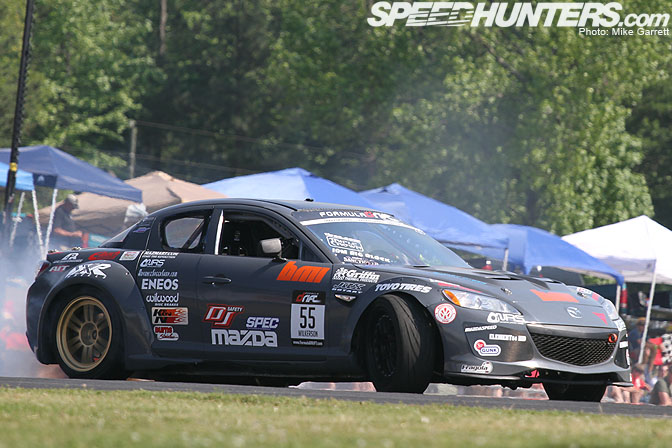 Brian Wilkerson in the BMI four-rotor RX8 during practice. Soon after this picture was taken, the car developed mechanical problems and had to retire. Hopefully things will be straightened out for New Jersey, as this car is pretty ridiculous to watch (and hear).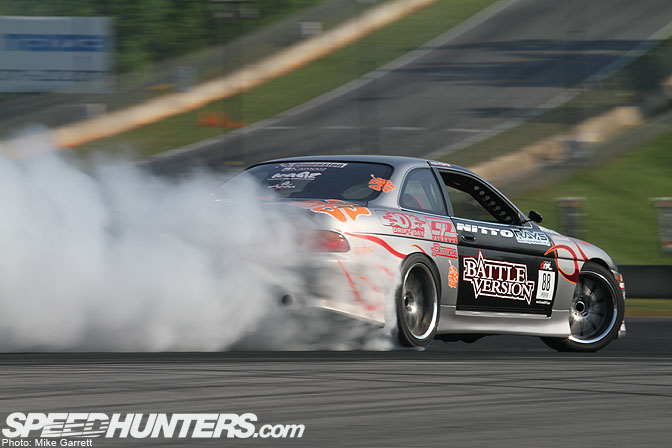 The Tanaka Racing Corvette was out of commission for this event, so Alex Pfeiffer brought out his personal SC300 to run in Atlanta.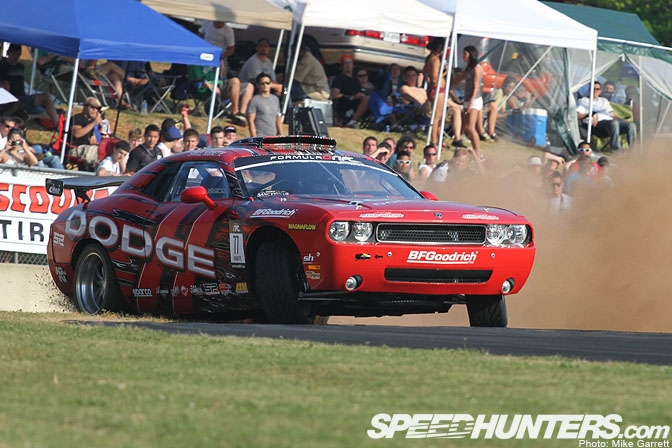 I know Sam Hubinette's Dodge might not be the most popular car out there, but I do think it has a certain essence to it. The exhaust note, the gobs of smoke, and squatting rear end make this thing pretty entertaining to watch.
Ok, I'll be back to soon with a look at the Top 32 competition from Atlanta.
-Mike Garrett