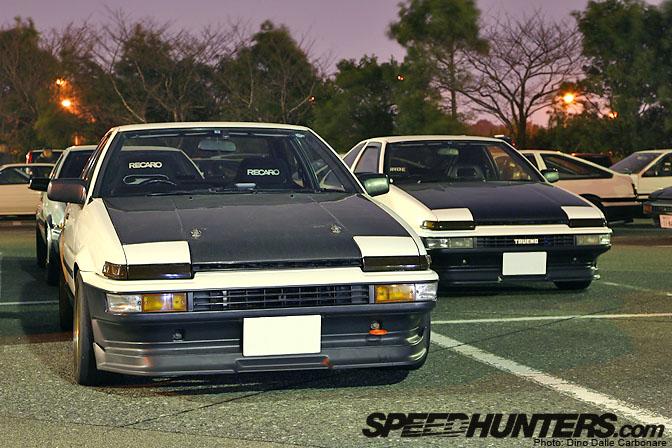 If it wasn't for a Speedhunter reader I would have never known that the Tsuzuki Parking Area on the Daisan Keihin expressway, a stone throw away from my home, is at times the place where one of the biggest AE86 meetings in the Tokyo/Yokohama area occurs. Forget your loud Daikoku PA meetings, the atmosphere at Tsuzuki on that Saturday night a few months back was very relaxed, no loud music being blared out from "night club on wheels" vans and no interference from bosozoku bike gangs that usually get most meetings prematurely shut down thanks to their concertos of unsilenced exhausts.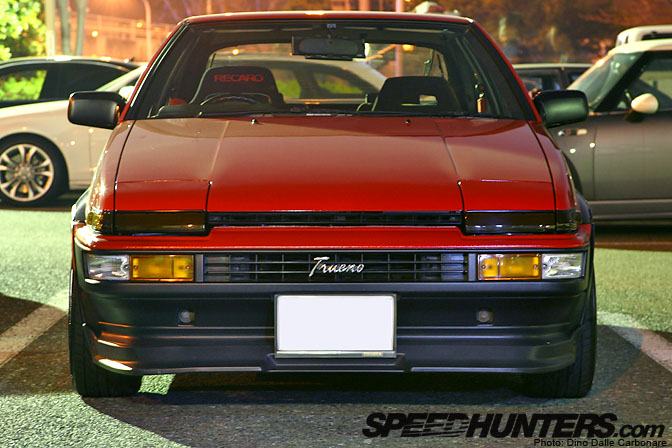 As with most meetings I arrived too early, but it's something I like to do as it allows me to check out the cars at they arrive, hearing their exhaust notes and seeing the gathering unfold before me.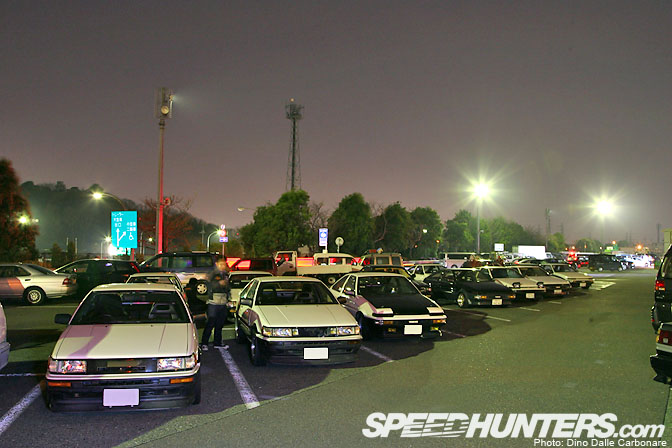 This is what the parking area was beginning to look like as more AE86 owners from as far as Yamanashi-ken made the drive to this very northern part of Yokohama-city.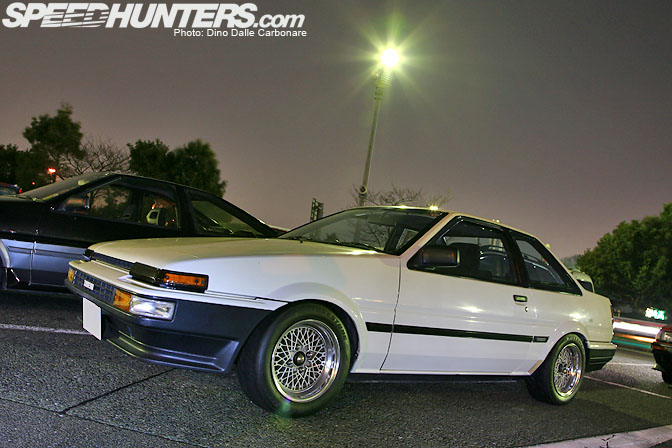 This spotless Trueno coupe belongs to the Speedhunter reader who tipped me on the meeting, a car he has owned for quite a long time. That seemed to be the case with most of the people present, a few of them owning their cars from new…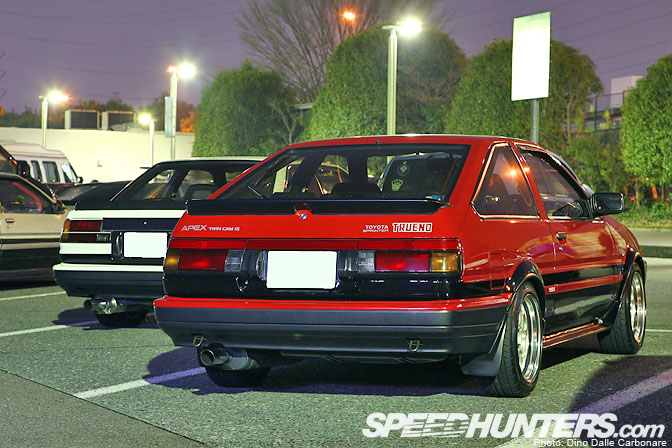 …this red Trueno hatch being one of them I believe. Notice the original decals!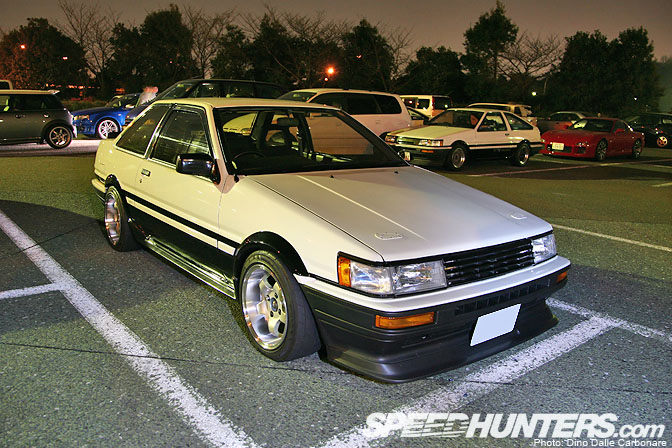 The way most of the cars present seemed to have been looked after was very refreshing to see; I don't know, maybe I'm spending too much time at drift events seeing beaten up hachiroku getting abused!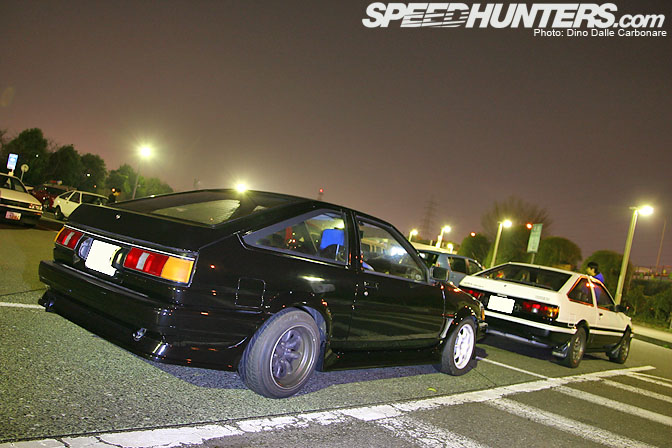 Even what looked like drift cars were in unbelievably clean condition. True heaven for any AE86 otaku!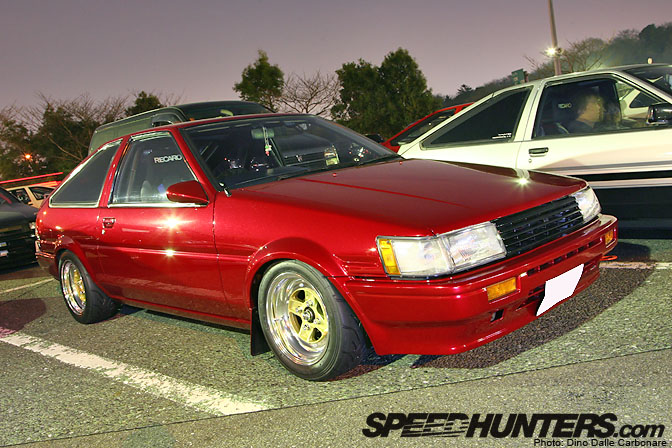 While some owners really tried to keep to the stock factory look, others went the opposite directions with bright paint jobs.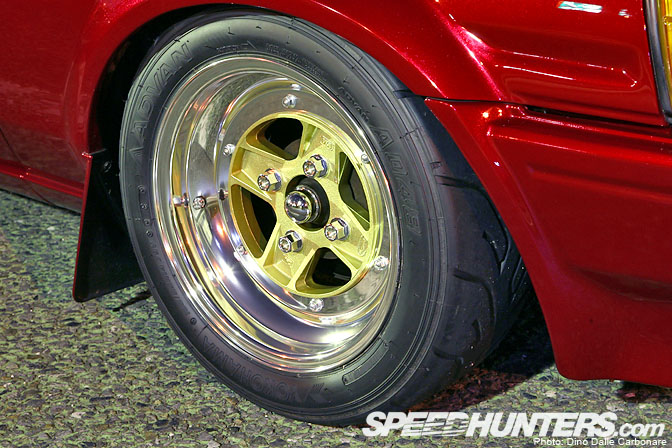 Oh and lets not forget all the vintage JDM wheels!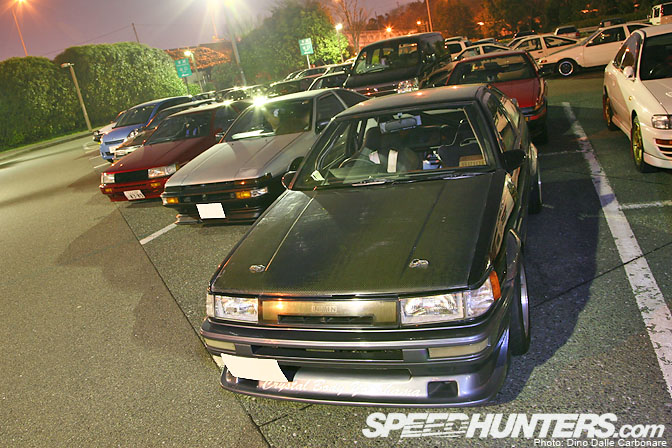 The car park was quite busy that night so the meeting was a little scattered. Just look at how many AE86 you can spot in the background.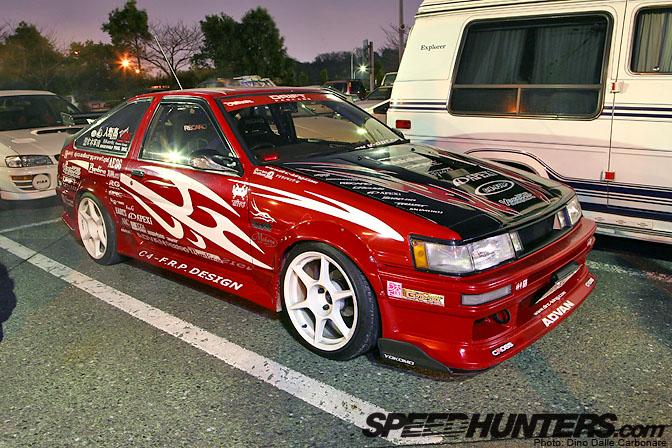 I had trouble understanding what shop this car was affiliated with as it was stickered up with decals from all the major brands and shops in Japan!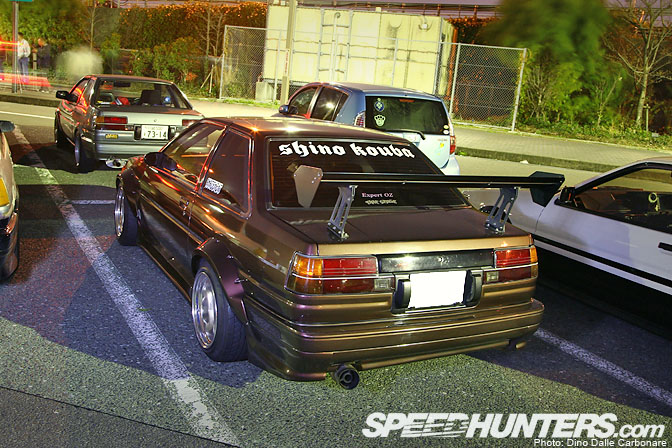 This one was a little easier to identify! Not too often you see AE86s set up for grip these days!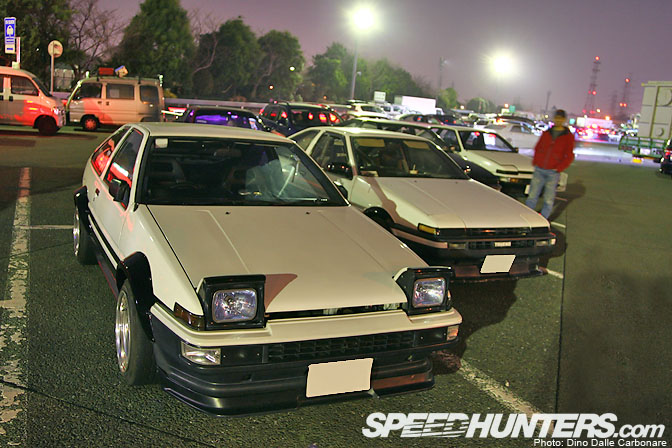 I had spotted this Trueno earlier in the night…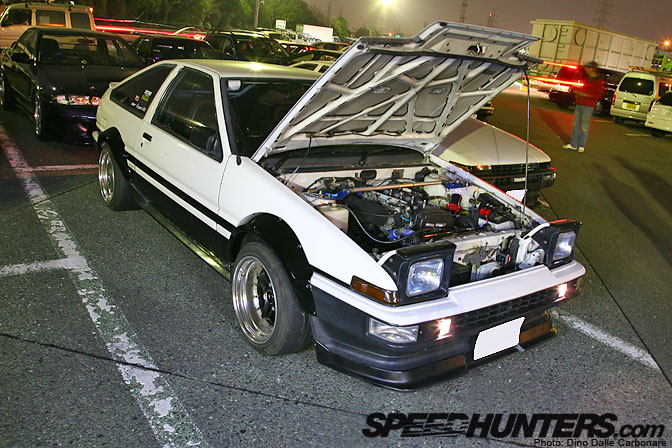 …it looked very special with its chunky overfenders, but it was under the hood where things got really interesting…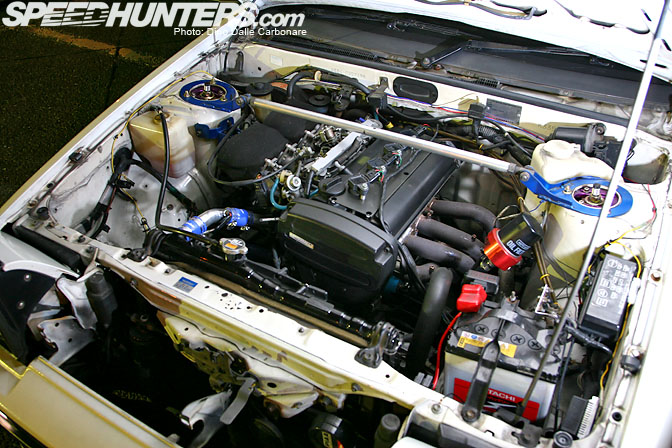 …with a very clean 20-valve black-top swap.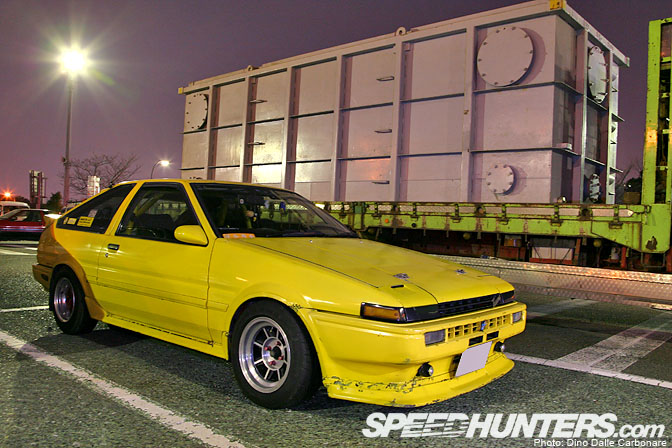 I only got a shot of this lonely yellow example, as I was a little concerned with the load on the truck it was parked next to. Surely that has to be nuclear waste!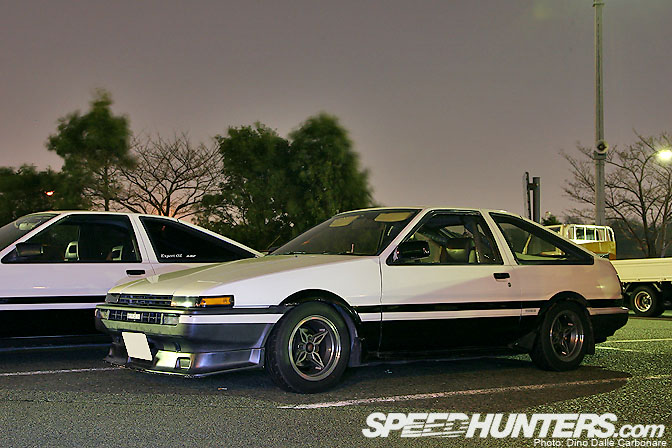 More "panda" goodness!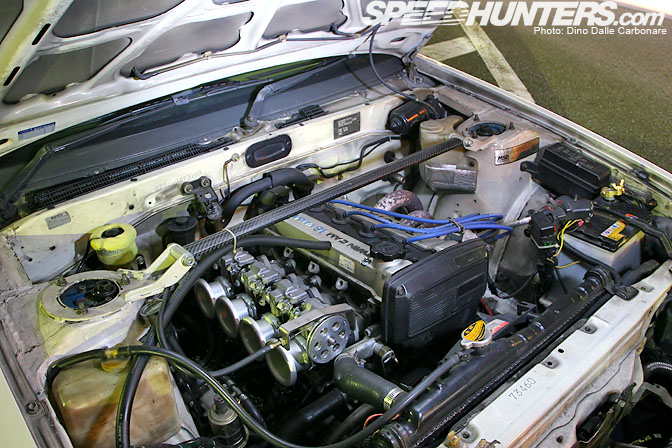 It's not all 20-valve swaps however, most of the cars are still running the good old regular 16-valve 4AG, carbed or fuel injected.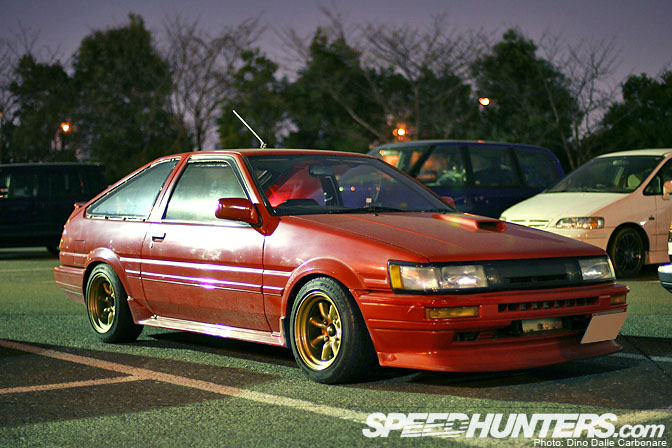 Watanabes are always such a great match for these cars.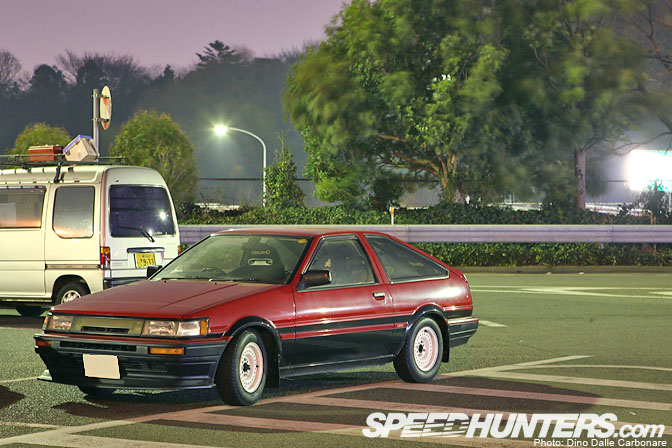 Let's see how many true AE86 otaku we have reading. They may look like painted steel wheels but can anyone identify these rare old school lightweight rims?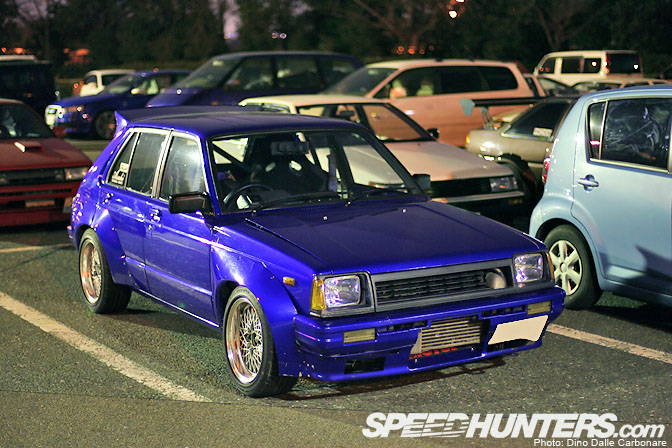 It might not be a hachiroku but it's still a Toyota!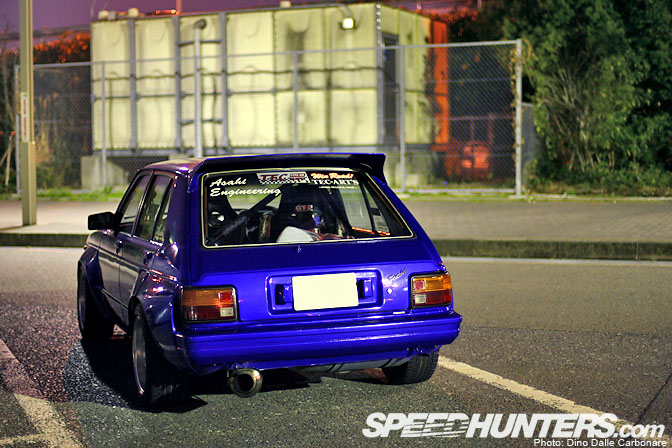 This particular turbocharged Starlet was built by the guys at Tec-Arts and it's one car we probably need to take a closer look at.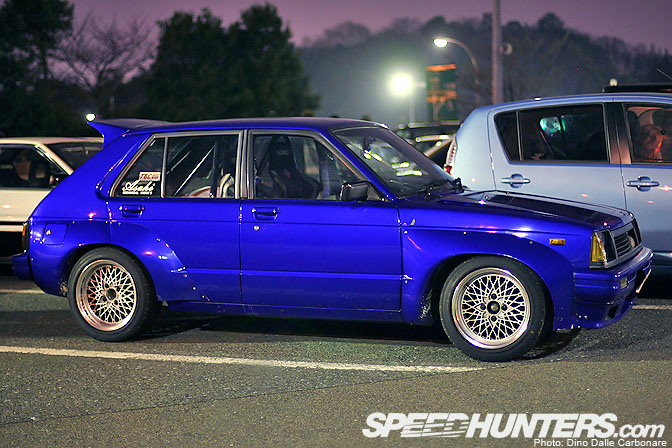 How mean are the front and rear fender blistering! So smoothly done too.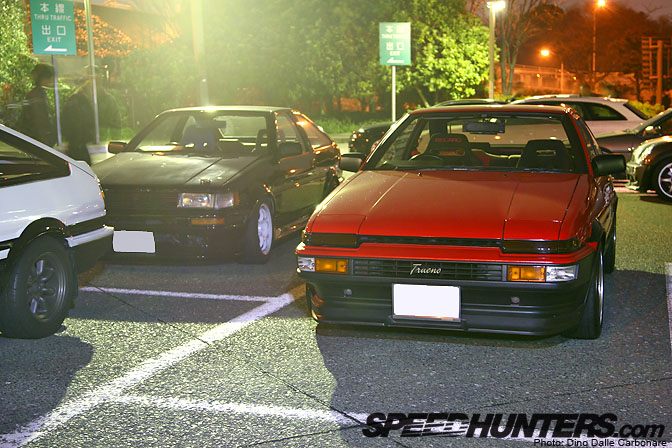 It is very hard to find out about low-profile gatherings like these, so I'd really like to thank the Speedhunter reader that tipped me off! He will be keeping me clued up on more of these meets so you can expect much more authentic JDM AE86 coverage in the future!
-Dino Dalle Carbonare