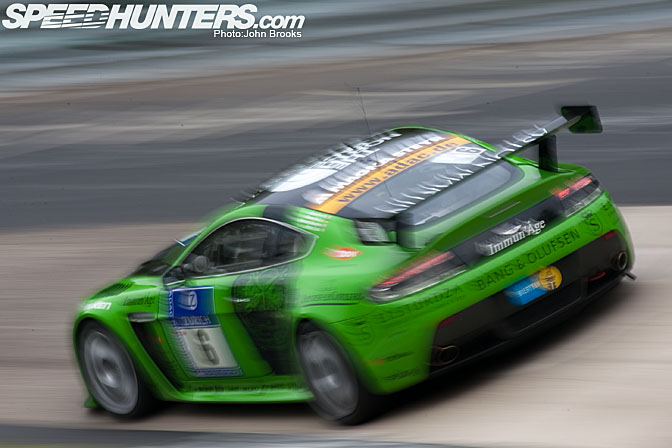 It is not only the Japanese manufacturers that regard the Nurburgring and the 24 Hour race as a suitable proving ground for their products. Aston Martin have embraced the race and the track enthusiastically in recent times. There is now a test facility located in Nurburg village and all new models get a 10,000 kilometre durability test on the track. The Nurburgring and Aston Martin have become close, there is an N24 version of the Vantage and in the 2010 race eight cars from the marque lined up to start.
The projects are under the control of the factory at Gaydon, not the ProDrive run Aston Martin Racing. #6 was a V12 Vantage which had taken class honours on its debut in 2009. No such luck in the race this year with problems with driveshafts, fuel pumps, brake pads all delaying the V12, restricting it to 39th overall and 3rd in SP 8 class.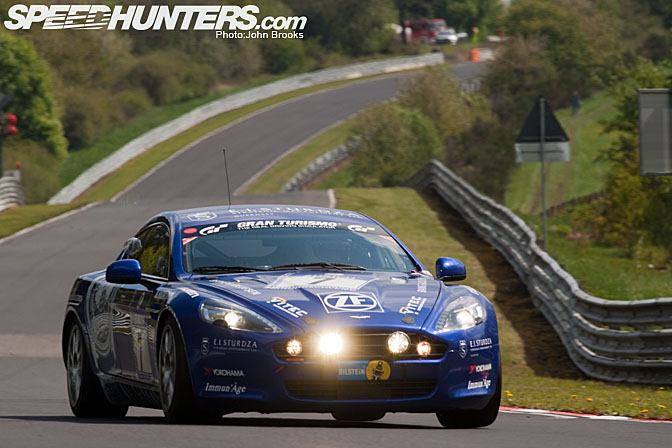 The V12 Vantage managed 132 laps of the 25.378 kilometre circuit, two less than its team mate, the Aston Martin Rapide. Yes that's right a foor door Aston managed to get to the finish in 34th place and score a class second place. Driven by amongst others Dr. Ulrich Bez, the CEO of Aston Martin Lagonda, the near standard luxury express saloon performed faultlessly. Bez had this to say after the race. "Our main objective was to come here with our new four-door Rapide, just as we would with any of our sports cars and prove its ability and reliability in what I strongly believe is the toughest race in the world. The car we ran in this race featured some weight savings, a standard production six-speed automatic gearbox, standard engine and FIA approved safety modifications. We have succeeded in what we set out to achieve.
It is also very pleasing to see so many Aston Martins on the starting grid when as recently as 2006 there was only one."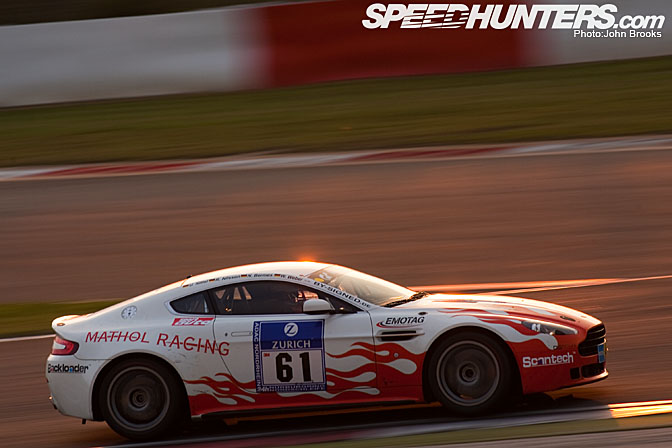 In the end the top placed Aston was #61, completing 137 laps for 27th place overall and winning SP 10 in the Mathol Racing V8 Vantage.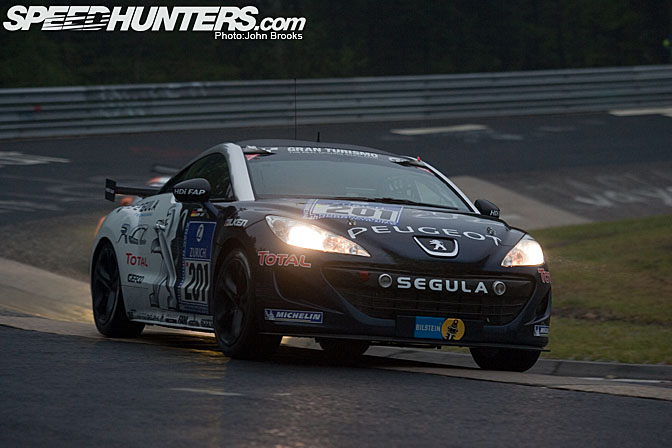 Another manufacturer, this time making a N24 debut was Peugeot with a brace RC Z diesel coupes. In what might be an omen for a small race in Frnace next month they scored a class one-two in D1 T.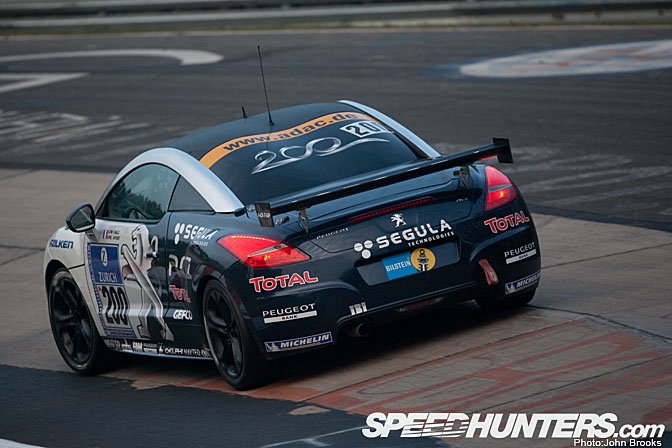 The cars were both liveried to celebrate the founding of the Peugeot business in 1810, they made coffee mills back in those Napoleonic times and have developed into PSA Peugeot Citroen, the second largest European car manufacturer. To show that there is still some family connections, Jean-Philippe Peugeot, Vice Chairman of the PSA Supervisory Board, was one of the crew behind the wheel of #200.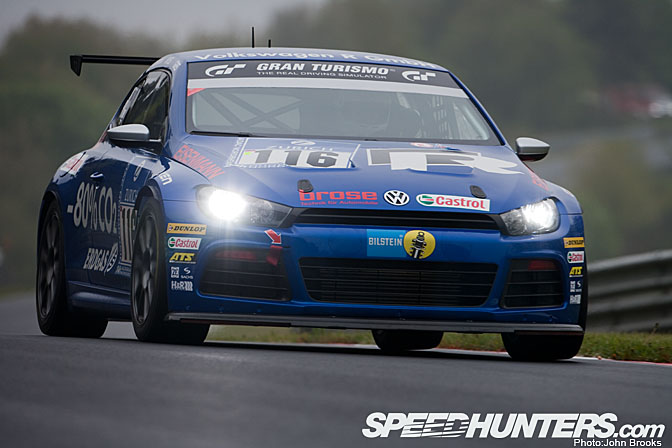 Another regular in the Boss Class racing at the Ring is Dr. Hackenberg, a member of the Volkswagen Board with responsibilty for Development.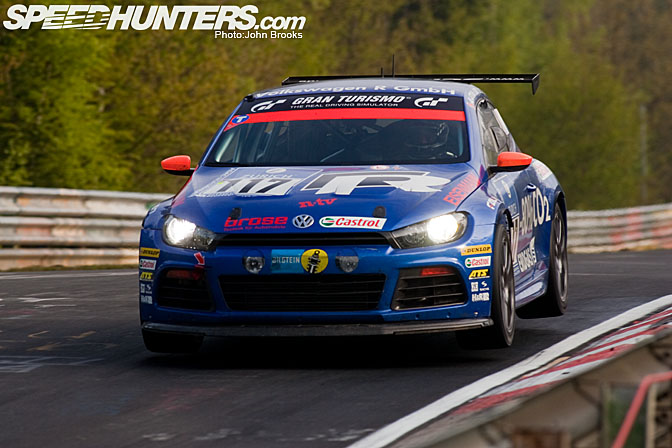 Running a trio of Scirocco GT24 CNG cars, powered by bio natural gas, the team took an impressive 16th place overall for #117.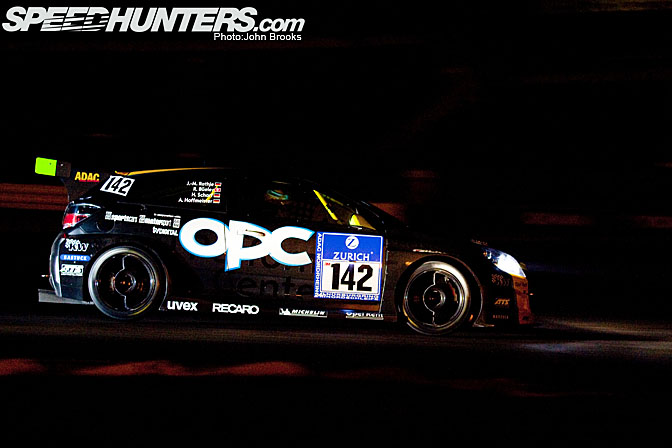 A different approach to the race came from Opel. The brand has huge and loyal following in Germany, so as a way of reaching out to the enthusiasts a competition was organised in 2007 to get fans to sign up with the ultimate prize being a seat in a car at the Nurburging 24 Hours. 18,500 entries were received for the original competition.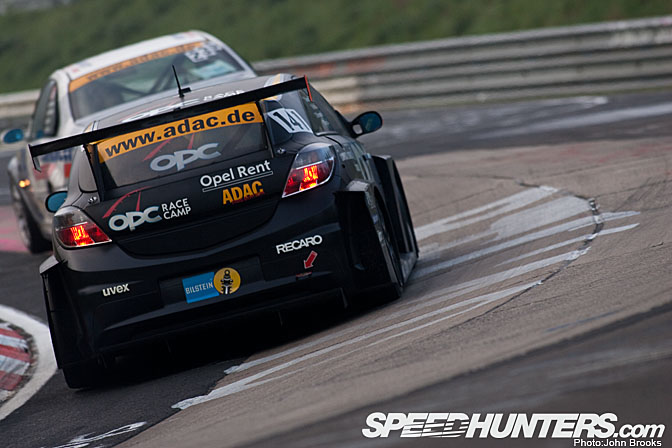 Another competition was organised in 2009, this time 22,000 folks tried their luck. These were whittled down to 8 who were then trained and advised in preparation for the 2010 N24. Running the project were former Le Mans winners, Jo Winkelhock and Manuel Reuter and that is how regular civilians came to be behind the wheels of a pair of Opel Astra OPC racers.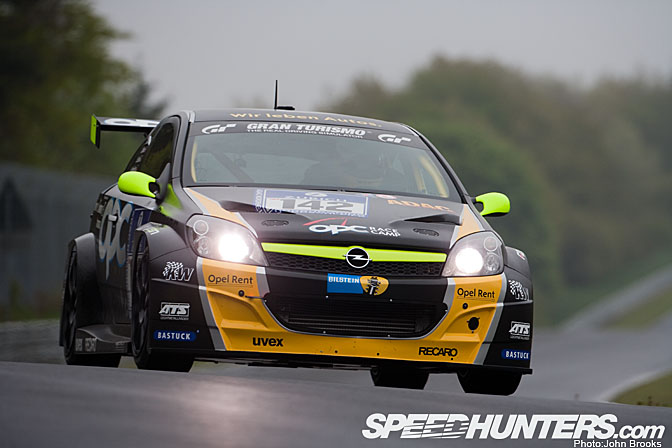 The selection process and training camp can be counted as a success. Both cars finished, #142 was 19th overall covering 141 laps. #141 managed 1 lap less to clock up 22nd…………..a reality TV show was made around the whole affair in Germany, good marketing by the Opel folks. I was told that there was even an OPC song in mp3 format but I resisted the impulse to download and listen. While the Germans are rightly famed for building cars, they are less so when it comes to contemporary music…………Amon Düül II or 99 Luftballons?? I rest my case.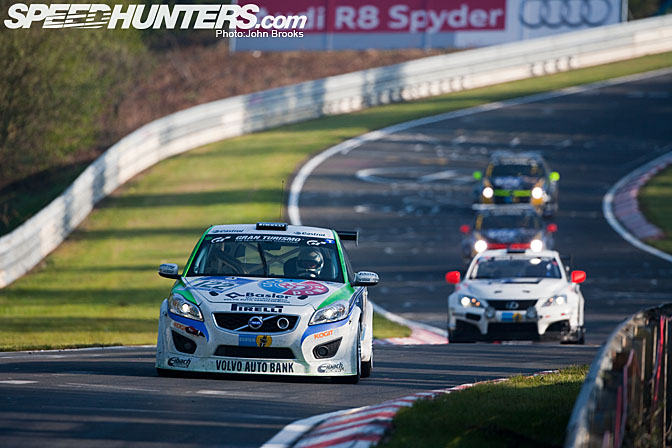 However the Nurburgring 24 Hours is much more than expense account
factory entries………….the 198 cars that started in 2010 were
mainly from regular guys and gals, looking to prove something to
themselves and each other.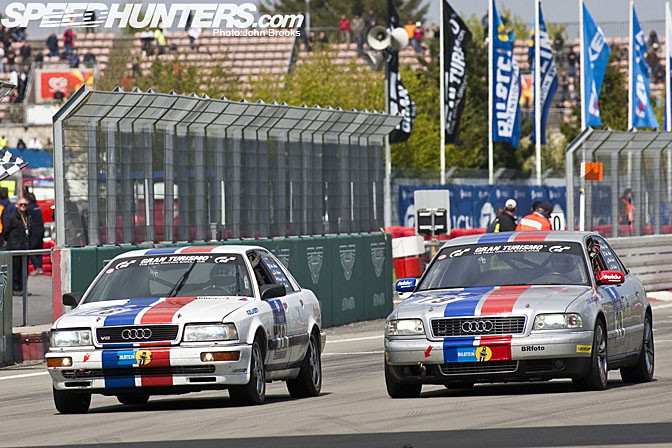 Some of the car choices are downright eccentric. Audi luxo-barges would not be top of anyone's list for the Nordschleife enduro yet historic racing outfit, Derichs Rennwagen run, not one, but two of these four door cruisers. #78 was an Audi V8, last produced in 1993 and powered by a 4.2 litre V8. #79 was an even rarer beast, being a A8 W12, one of only 750 made. As can be seen both cars finished, #79 completing 111 laps for 102nd place, #78 was a lap down and two places adrift. If the results are to be believed, three of the four drivers in each car drove in both entries, including the magnificantly monikered "Don Stefano". Well they would have had a comfortable ride in their class battle with the Aston Martin and Lexus.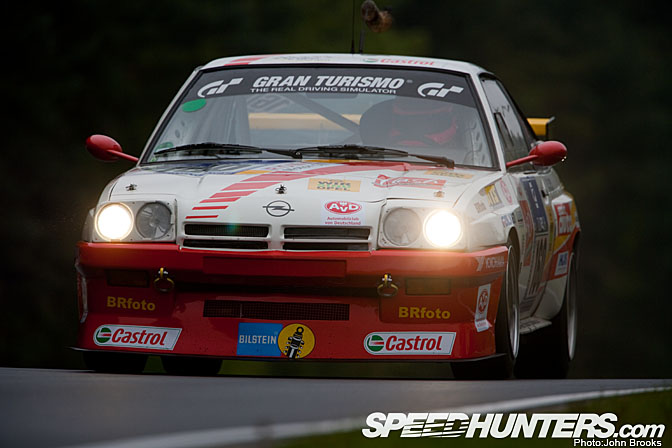 Another crowd favourite is the Kissling Motorsport Opel Manta 400. Unfortunately this veteran effort was one of the first retirements, not lasting an hour.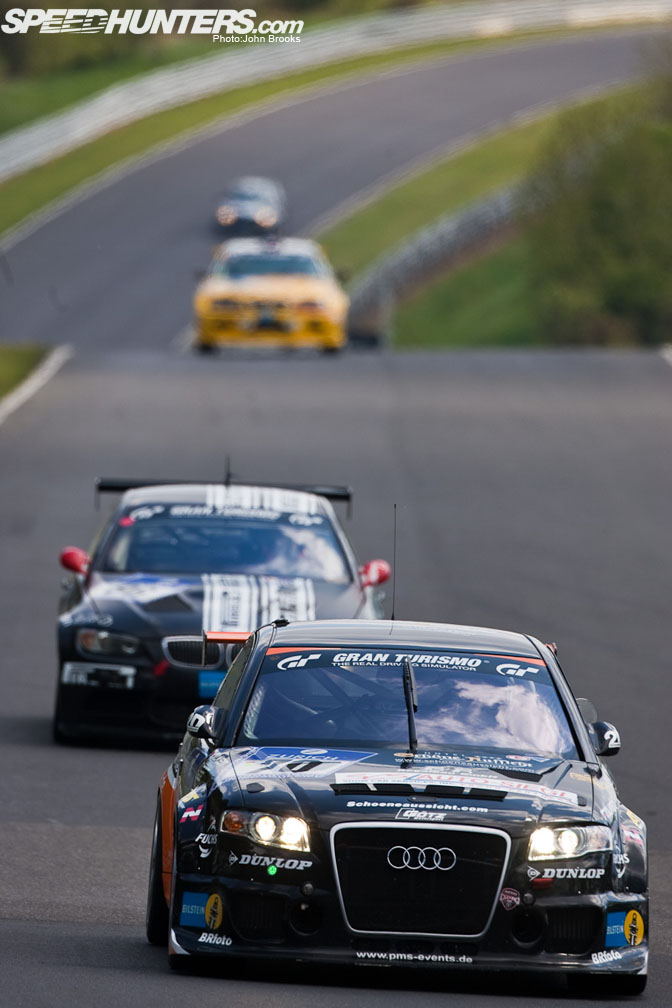 One of best parts about rocking up to an event like the Nurburging 24 Hours is running into old friends, either in the pressroom (Hola Julio!) or down in the pitlane. Trying to get some pit action shots during Qualifying I heard familiar voices greeting me. It was Shane Lewis and Vic Rice, friends from my time in the ALMS. They had made the trip over the Atlantic to run in the Team Gotz Audi RS4. Their enterprise was rewarded with a class win in SP 8T, and the 140 laps they completed gave a spot of 23rd overall. Rock on Tommy!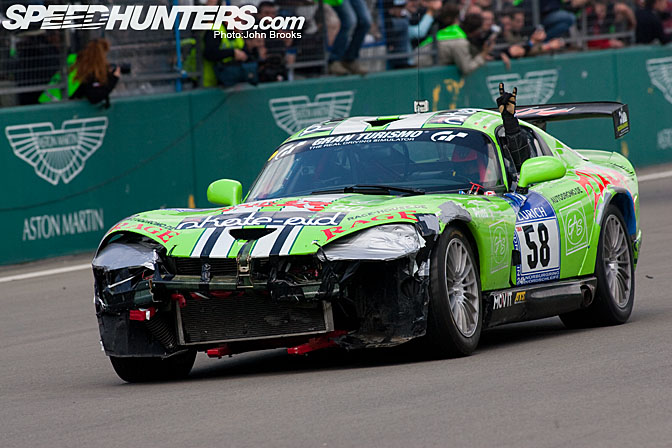 If a picture is worth a thousand words, then this encapsulates all the virtues of endurance racing. #58 lasted around five hours of racing before it became one of the many casualties round the Grun Holle. The crew recovered the wreck, set about patching it up and then sent it out to take the flag……………….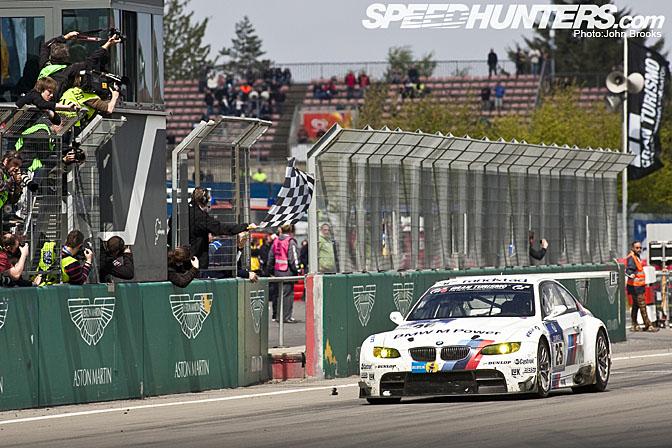 The final result was a triumph for BMW and Schnitzer, proving once again that being around at the finish is more important that being quick at the start.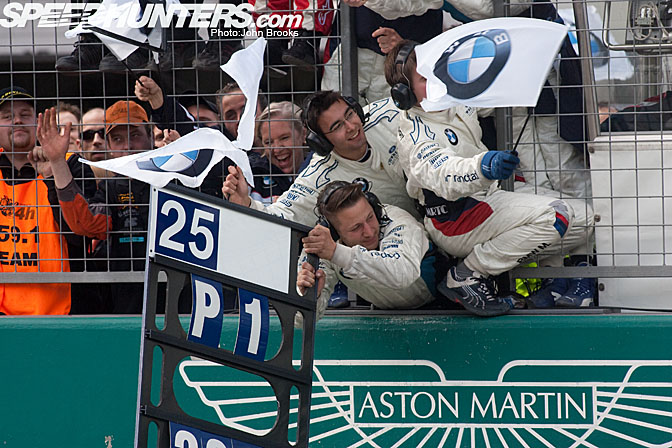 The team were overjoyed, celebrations continued long into the night. Now they will turn their sights to the West, first Le Mans in a few weeks, then Spa at the end of July. Who would bet against a triple crown? Mind you there are some folks with Ferraris, Porsches and Corvettes around who might disagree with that thought.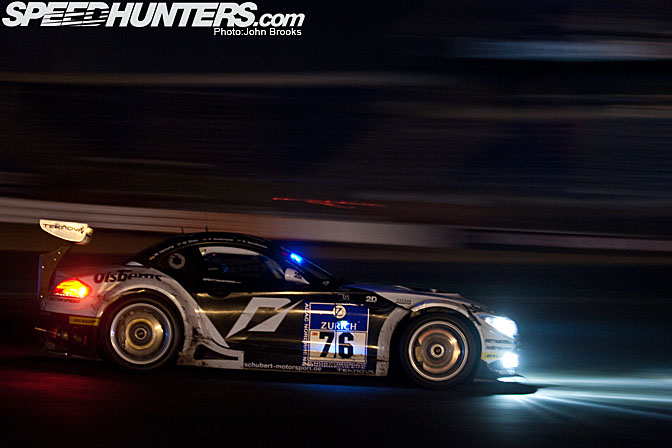 Another BMW team that will be over the moon with their 4th place finish is of course Need for Speed by Schubert Motorsport. Enough said, Patrick Soderlund will be bringing us a driver's eye view soon.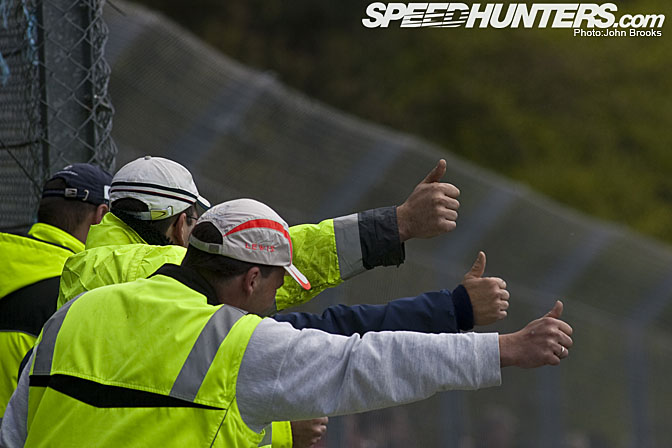 The 38th running of the Nurburgring 24 Hours was by any standards a roaring success, the event continues to grow in stature and importance, it offers challanges that are unique.
It goes without saying that this is a must do event for any SpeedHunter, but bring your thermals, SoCal it is not.
John Brooks