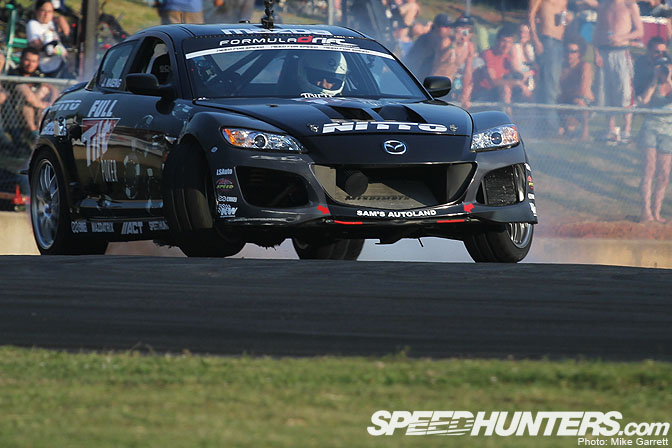 Good day Speed Hunters, fans and supporters! I started Formula Drift
Round 2 in Road Atlanta by having breakfast with the team and taking my
vitamins in preparation for a fun-filled day.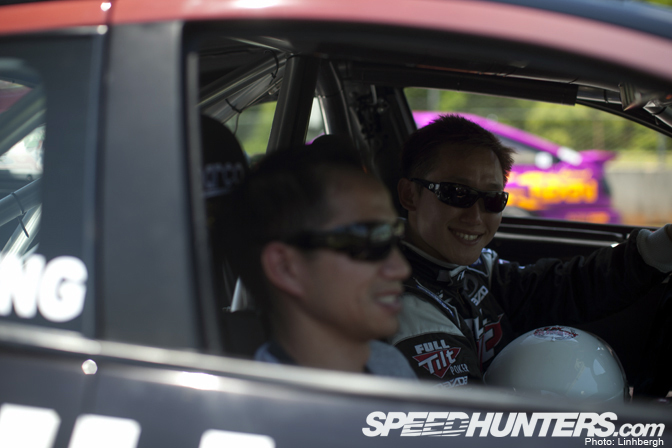 Ed Bergenholtz (in the passenger seat) had connected his laptop to the
Motec M800 and made sure that the Full Tilt Poker Nitto Tire Mazda RX-8
was running nothing short of strong after my first pass during the
practice session.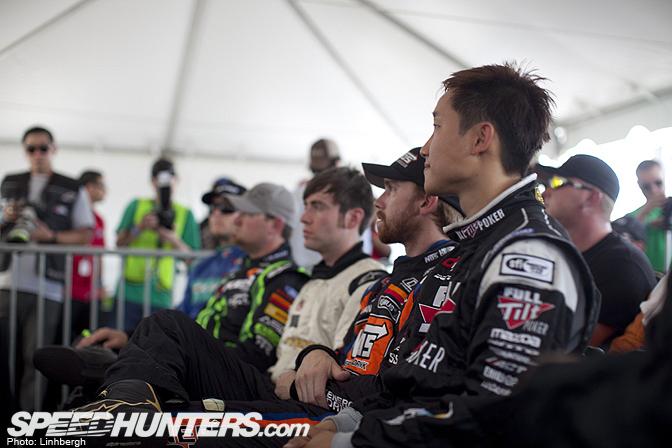 During the drivers' meeting, I carefully listened to what Formula Drift
staffs and judges had to say. It was great to see Drift Alliance bro,
Brian Wilkerson, driving BMI's four Rotary Mazda RX-8. That car sounds
insane!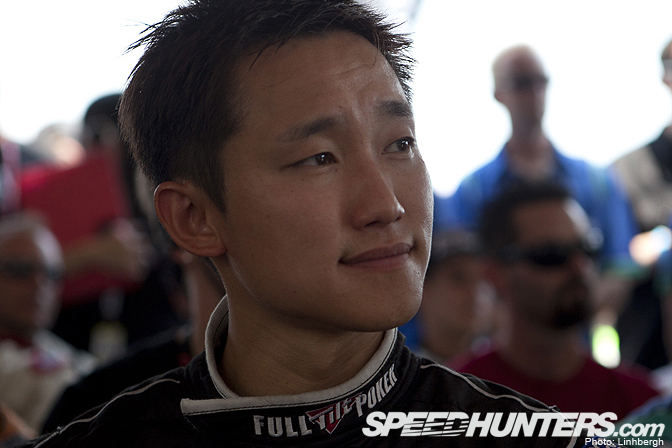 Formula D judges Tony Angelo, Andy Yen, and Ernie Fixmer where explaining
what they were anticipating for Road Atlanta! Obviously, they were
judging on angle, speed, and line but one of the main factors was entry;
coming in backwards was key to achieving good style points. All the
drivers attempted to initiate the drift with their rear-end coming out
first but the reward goes to Tanner Foust and Mike Essa! They did it and
it looked great! Next year I hope to come flying in backwards for
qualifying.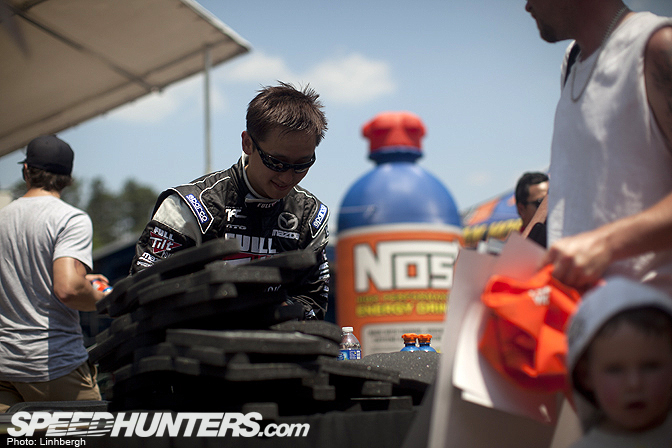 One of my favorite moments during the events is chatting with
spectators/enthusiasts/fans. It's amazing how, in the five seconds it
takes for me to write my autograph, some of them have a story to tell
and words of encouragement to share.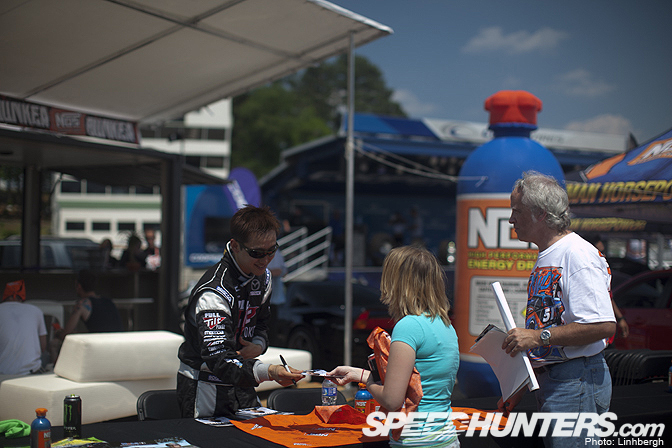 Yes, I was the last to leave the autograph session; I'll stay as long as
I can until everyone who waited has gotten what they stayed in line
for. It's the least I can do to show appreciation to all the drift fans!
Although it was hot and humid, I enjoyed every bit of it. The weather
was reminiscent of home for I lived in Huntsville, Al when I first
arrived to the states from South Korea. So, the humidity and heat are
things that I'm used to and missed.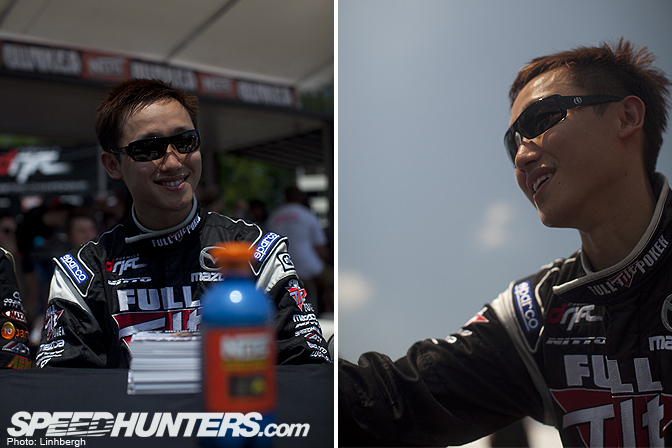 Got a stack of hero cards from Ed Bergenholtz and headed over to the
autograph session to join the other drivers. It was great to sit down,
relax, greet, and meet all the enthusiasts but it felt even better to
get up and personally shake the fans' hand and welcome them. Most of the
time, I don't have water with me but, thankfully, Mark Manasala was
kind enough to deliver me a bottle so that I could stay hydrated. Good
times!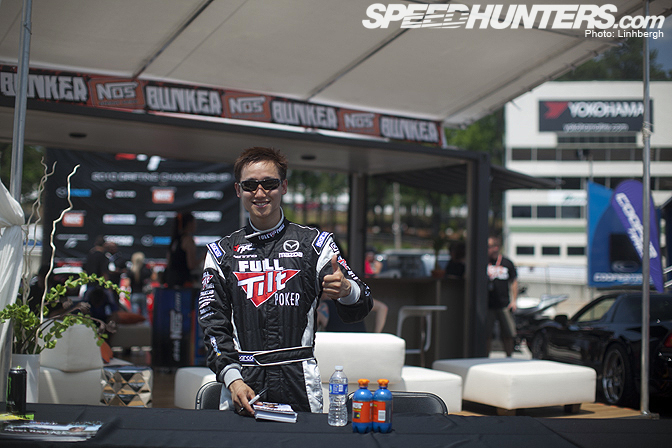 No more fans to greet so I knew that it was time to head back to the pit
area and prepare for practice and qualifying. Seeing and being a part
of everyone's excitement gave me the strength and courage to drive even
harder. Everybody plays a role in my success! Thank you all so much for
your words of encouragement!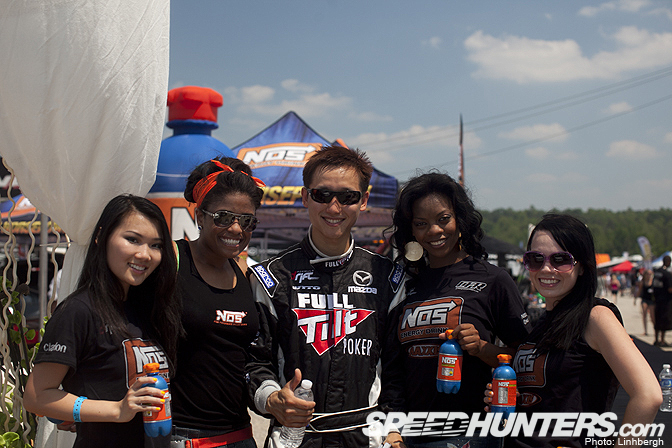 NOS Energy Drink models wanted a picture together before I was due
in my pit area. Thanks for the NOS drink Ladies. The NOS
Energy Drink is sentimental to me in that I drank so much NOS last year
while working countless sleepless nights at Chris Forsberg's shop with
Kevin Wells and Sergio Ramirez that the drink symbolizes those memories.
Awesome memories they are, too!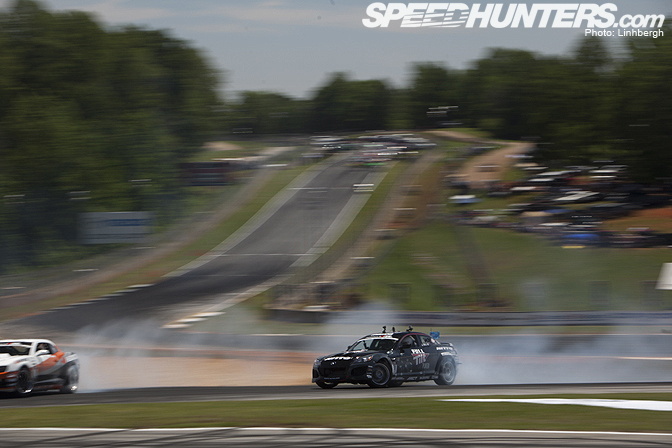 Compared to how it performed in Round 1 of Formula Drift, the RX-8 felt
completely different. I felt more in sync with the changes that
Bergenholtz Racing made on the KW suspension and ACT clutch. From the
very first run during practice on Thursday, I was confident and knew it
was going to be a successful weekend! I was just having fun driving my
heart out.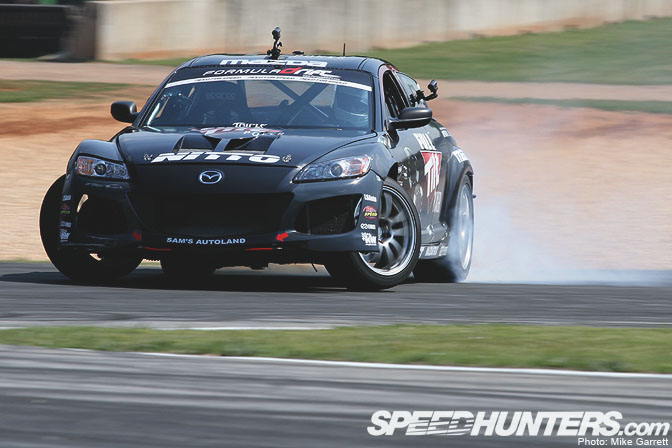 Initially, it felt different not having Brian Benson, my crew chief,
with us at Hotlanta. He had to attend his graduation on the same
weekend. He never fails to amaze me by his actions; he constantly called
and texted me and the team every day and even during his graduation
ceremony. He might not have been there physically but his presence was
felt none the less.
Attempting to work my way in coming in backwards on entry. With each
run, I felt that I was a step closer to achieving that goal.
Thursday night we stayed up till the wee hours of the morning to replace
the output shaft I broke during practice. I was trying different
methods to get a better launch on the straight away and one was to drop
the ACT clutch at 7,500 RPM. However, something had to give (although it
felt great prior to!). The repair turned out well and everything that
needed it was reinforced. With this newly acquired technique, I was able
to maintain a close distance with fellow drivers during practice.
During Friday's practice, my instincts and strength were on alert mode. I
enjoyed driving the beastly RX-8. My gratitude goes out to the team for
communicating with me and one another and putting my feedback into
effect.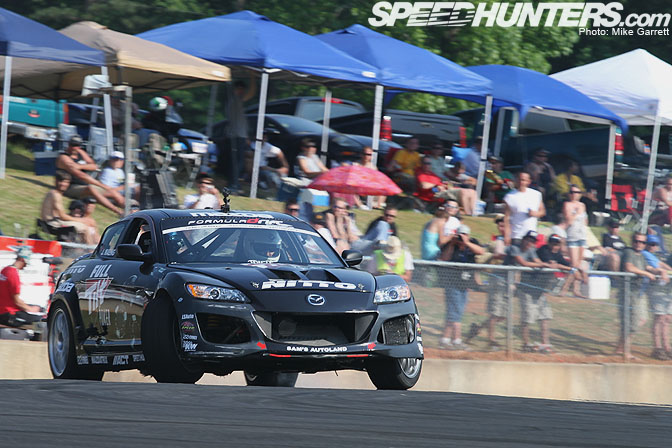 On my 1st qualifying run, once I up-shifted to the next gear, it
launched forward thanks to the Nitto NT05 Tires that are wrapped around
the ENKEI PF01, had plenty of traction. Also, with Lucas Oil in its
system, the Mazda Trix 3 Rotary and Mazda Speed Turbo Charger set-up ran
fierce!
I received a 59.1 on that first qualifying run. I was confused and
disappointed with the score because I thought I cleared the clipping
points and zones with a good amount of speed. Was I deluding myself?
Hmm…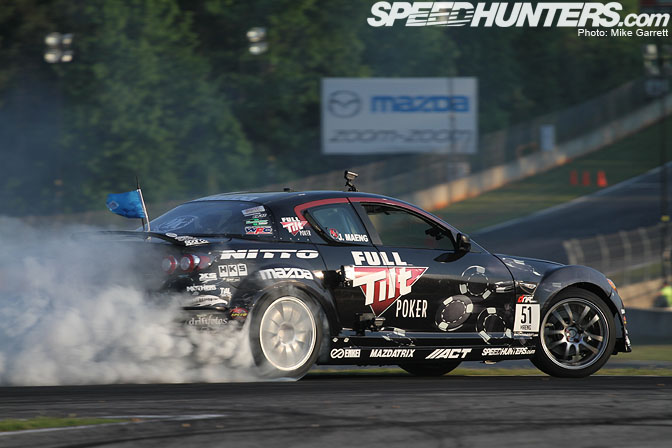 …But the fans kept me going by encouraging and cheering for me!
They were very supportive and it was awesome! I was so touched!
Please feel free to check out the entire event on www.formuladrift.com/live.
Obviously, the score to my first qualifying run wasn't going to cut it.
So, on my second qualifying run, I was game; it's all or none. Once
again, I gave it my all and earned an 83.5, which was good enough to
hold a position in the top 10. The HKS sequential transmission made it
easy for me to up-shift swiftly exiting the horse shoe and this is
particularly important because this area is where the driver is able to
regain speed.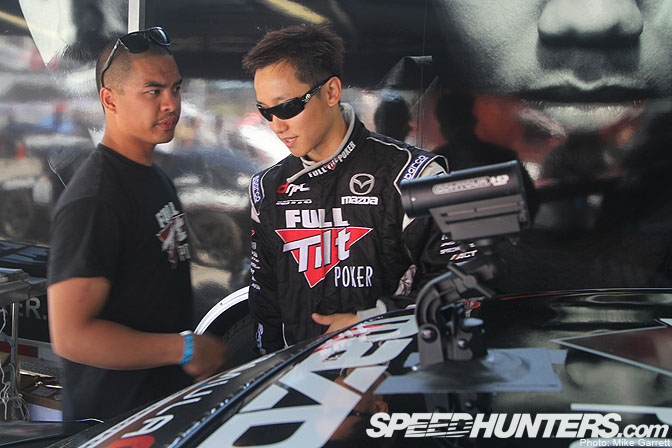 Preparing to head out to the track from our pit area for Saturday
morning's practice. Mark Manasala, who is also a driver in the XDC
series, joined us as an intern so that he can gain the experience of
what it's like to be a apart of a professional team. It was great to see
him again and I appreciate his help on setting up all those cool
Contour HD cameras. There will be footage soon so keep an eye out for it
on www.JoonMaeng.com!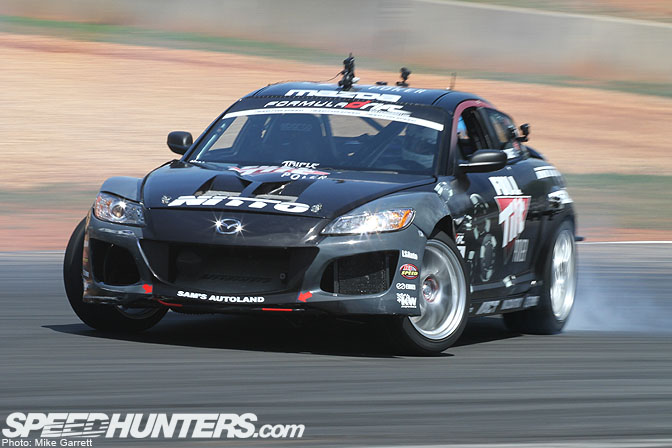 On Friday night, we were camping out in our pit area, working on the
RX-8 until 5 AM. Kevin Wells at LS Automotive/CFR gave us a hand to chop
and fabricate the damaged control arms once Derek Ige from Mazda Speed
mocked up the correct measurements. Kevin is always down to help anyone
in the drifting industry because he's just cool like that. I crave for
and cherish moments like these because winning doesn't come easy, takes a
lot of hard work and, is a result of countless sacrifices. It's a huge
undertaking. So, I look upon these moments as once-in-a-lifetime
experiences and, in the future, say, "Those were the days."
Yea, I'm trying to smoke it up to stay true to my drifting style: mad
angles, tamed throttle, and a whole lot of smoke!
The rumble strips at Road Atlanta seem to test the dexterity of the
wheels and tires when running in the counter-direction. Last year, they
are reprehensible for shattering 2 wheels off of the LS Auto/CFR S13.5.
This time around, I wasn't able to stay away from them either but the
RX-8 didn't have any signs of damage to the ENKEI PF01's. The Nitto
NT05s had normal wear without any chunks missing. I give them an A+ for
maintaining their quality after all that abuse!
The fans in Road Atlanta are amazing! They come with their coolers,
canopies, bottles of sun block and are ready to cheer and party away all
day long! Most of them are shirtless, feeling right at home. It's great
to feel a warm vibe from the drift fans! It inspires me to remain
focused on my passion.
The Bergenholtz Racing Team and I were up against the 2009 Prodrift
Super Series Champion Dean Kearny and his V-Leds Intec Racing S14. Great
driver and fun to be around!
My mission while leading was to run my qualifying line and put on a
great show for the fans. Dean chased me down good~
 It was great to feel Dean Kearney right next to my door, exiting the
horse shoe. It was so close that it felt like I could give him a high
five. This is a great shot that captures the moment of the event well;
fans in the background, photographers doing their thing, and the drivers
laying it all out on the track.
Although I felt Dean's presence right next to the Full Tilt Poker Mazda
Nitto RX-8, my focus was to remain in the front and run a clean and
solid line.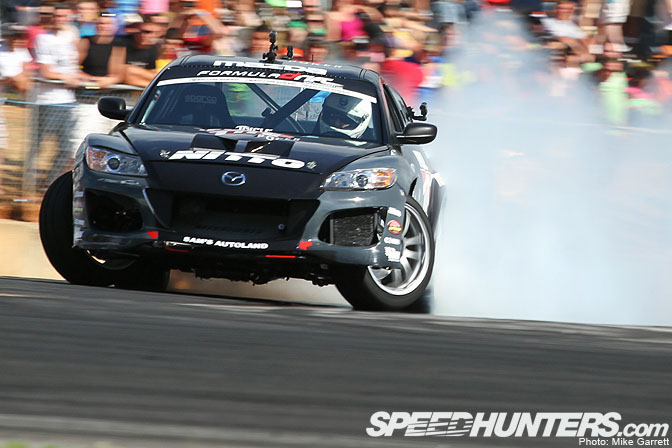 Once I passed the finish line, my heart went out to Dean when I was told
that his car broke an axle. I know how it feels to retire prematurely
from a mechanical failure. It's definitely not the way I'd like to
advance. Next time, I hope we get a rematch.
When I'm not in the car or helping out the team, I'll be standing near
the perimeter of the pit area with a handful of hero cards to greet and
fraternize with fans.
I usually don't eat during the events because I'd rather talk with the
fans since I only get to see them once a year. However, this time, Kurt
raved on about Lawrence from Intec Racing and his grilling skills.
Lawerence offered us his well-prepared steak and Ron actually fed me it.
The picture is funny but it's a moment I'll cherish forever. Seriously,
do you know of a manager who literally spoon-feeds (in this case,
fork-feeds) his driver? That's love, man.
During the halftime break, the pit area was full of drift fanatics and I
ended up running out of my hero cards. The fans in Atlanta are so
engaged with the sport and I enjoy receiving and sharing that energy.
Also, I'm thrilled every time I see fans whom I kept in touch with over
the years via facebook, twitter, myspace, and my website. They're
awesome!
Before heading out to the opening ceremony, my Drift Alliance brothers
and I discussed our layout: who goes where next to whom, the speed of
the driver and group, which technique to display, who does what, etc.
It was hot and, if not handled properly, the heat can be very draining.
Ryan Tuerck, aka Hampshaa, stayed smart and hydrated himself whereas I
completely savored the moment of being part of the Top 16!
Doesn't this picture make you react with laughter? When it's coming down to the wire and everyone has her/his game-face on, Ron will alleviate some of that tension with humor. Clearly, this face proves it.
Thank you Ron for your unwavering faith in me and guidance. I love you, man!
It was a great honor being apart of the opening ceremony. I was really
happy and excited. In the back is Kurt Gasper, who is a member of the
team and was also excited about being apart of the opening ceremony and
Andy Laputka, who was running around everywhere making sure he captured
all the DA moments.
Aside from the fact that he's an amazing driver, I felt tranquil when running against Drift Alliance Bro, Vaughn Gittin Jr. and his Monster Energy Drink Falken Tire Ford Mustang. There's always a bit of a sulking attitude that lasts a couple of seconds everytime I'm pinned with a DA brother; I should be cheering him on, not competing against him! However, the nature of this sport is sometimes unfair so all I can do is roll with the punches.
It was a great start so far on entry and my goal was to stay as close to him as possible and contour my drifts to that of the moving clipping point.
It was nice and smooth following Gittin! Everything happened within
seconds and instinctively that I vaguely remember the coordination
between my hands, eyes, and feet working with each other simultaneously.
What I do remember is how fun it was!
On the start, we had a good even pace. The RX-8 was just zooming down
the hill at Road Atlanta! On my lead run I was at full lock on entry and
Gittin did a phenomenal job following.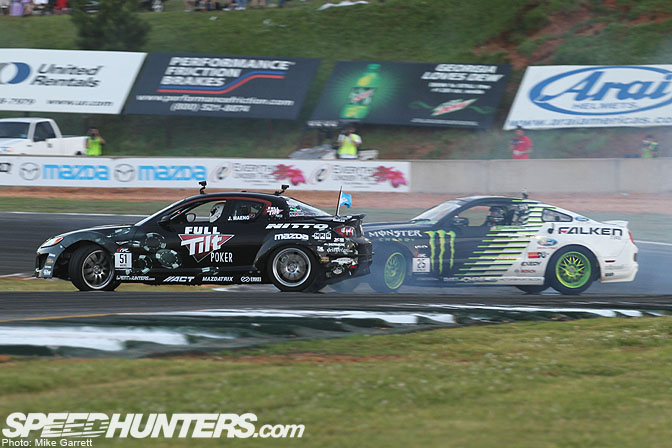 Decided to take the line that placed me top 10 during 32 Qualifier.
Right after entering the horse shoe, I made a slight correction but I
carried on.
My goal for the next 7 seconds was to clear the horse shoe with mad
angles and get out of there!
Because every DA driver represents a different flavor of on-track
aggression, it's fun and exciting to get a taste of everyone's unique
flavor. In terms of ice cream, for argument's sake, Gittin's is that
thick and chunky triple fudge chocolate ice cream with toasted pistachio
nuts. Whole lot of fun!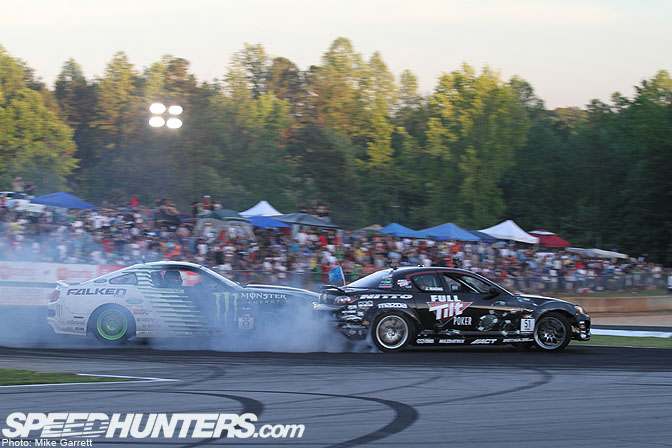 Wow~ Is Gittin hungry or what?!
Exiting the horse shoe, clearly, it's all pedal to the metal for the both of us.
At the end of the battle, I felt confident with my attack. If
anything, I thought that the judges would deliberate an OMT, especially
with the fans chanting their desire for one. It took awhile for the
judges to reach a consensus but, eventually, it came and advanced Gittin
to the Great 8.
I'd be lying if I said I wasn't
disappointed. However, like I stated before, the nature of this sport is
what it is and I just have to go with the flow. Fortunately, the next
round is less than a month away so I'm anticipating it with a new sense
of hope and excitement. With a phenomenal team that has my back and a
combination of promising collaboration and undeterred sense of hope and
focus, victory is within arm's distance. It's only a matter of time.
Lastly,
I'd like to thank everyone from Road Atlanta and the fans for their
ongoing support. I can't adequately express my gratitude beyond a thank
you but thank you!
Godspeed and God bless!
Sincerely,
Joon Woo Maeng
Speedhunters FD Atlanta Coverage