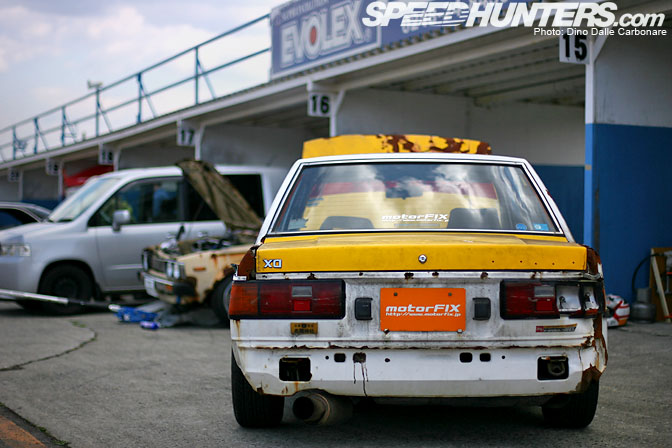 Junkyard look? Rusted out? What ever you want to call it, I've been seeing this kind of rat-rod style more and more in Japan and the guys from motorFIX have really mastered it in the drifting world. It really does make sense, why bother running a spotless drift car with expensive aero, when sooner or later the unavoidable will happen. These two motorFIX Corollas have been built following this notion, all of the attention being given to the engine and suspension.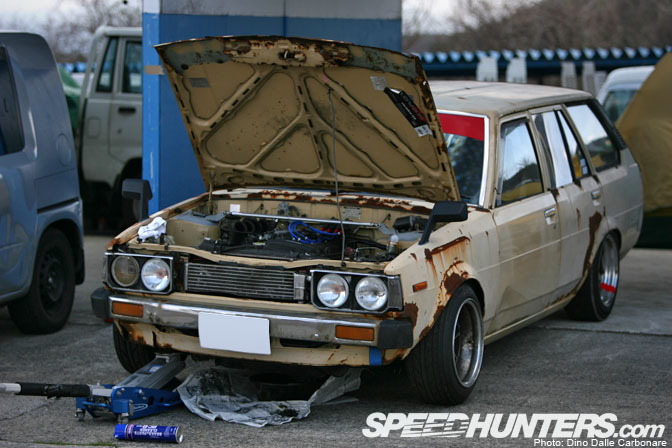 Joining the TE71 on the Nishi course pits during the Spring Drift Matsuri was the very well known KE70 Corolla Wagon, a car that originally started off life as a regular sedan, but was then converted by motorFIX into a station wagon with a lot of cutting and welding.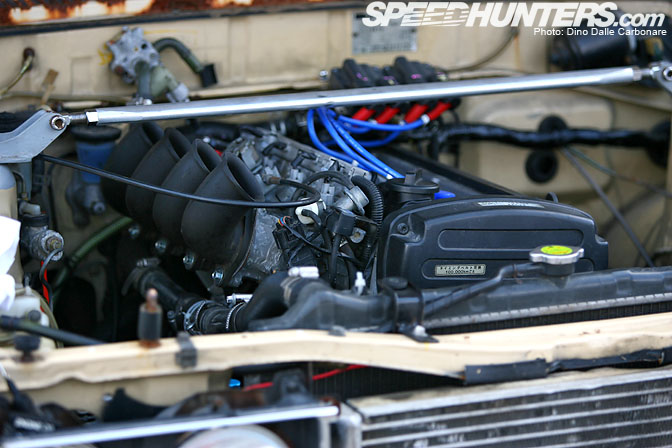 Powering the wagon is a blacktop 20-valve, still running the stock A111 funnels that are usually covered up by the intake plenum.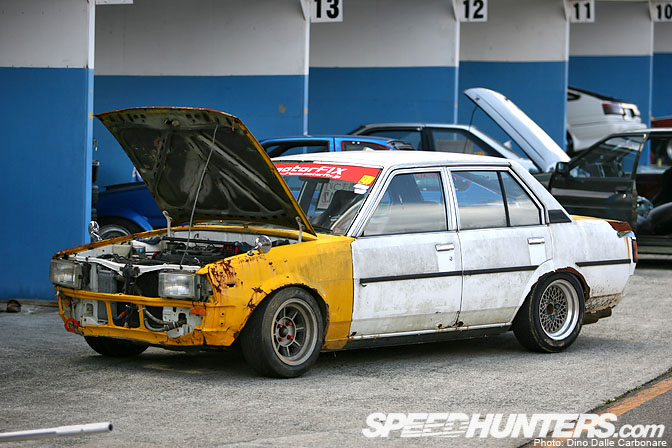 The white & yellow TE71, seen here showing off it's filthy, unwashed, battered up exterior…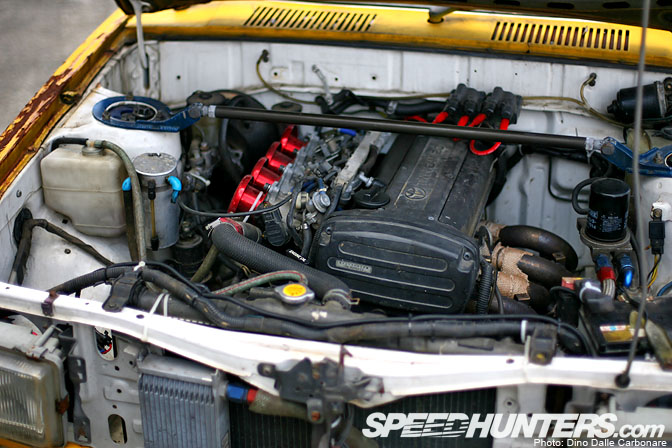 …is also boasting a 20-valve black top 4AG conversion…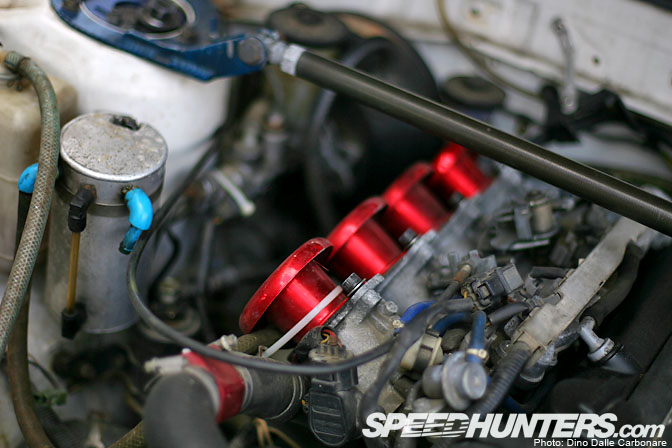 …running really short intake funnels.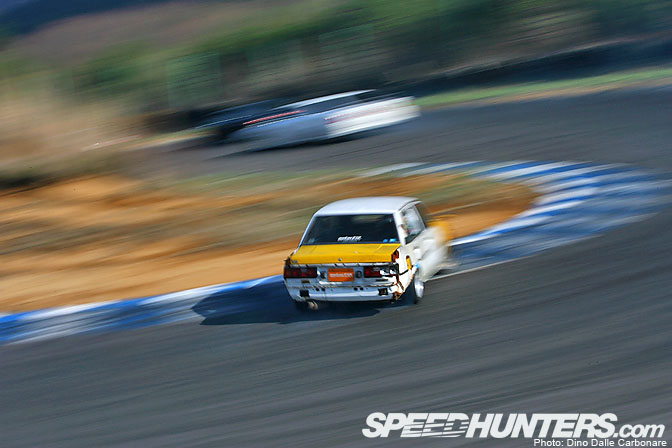 The 4AG supplies plenty of screaming naturally aspirated power to have tons of fun out on track.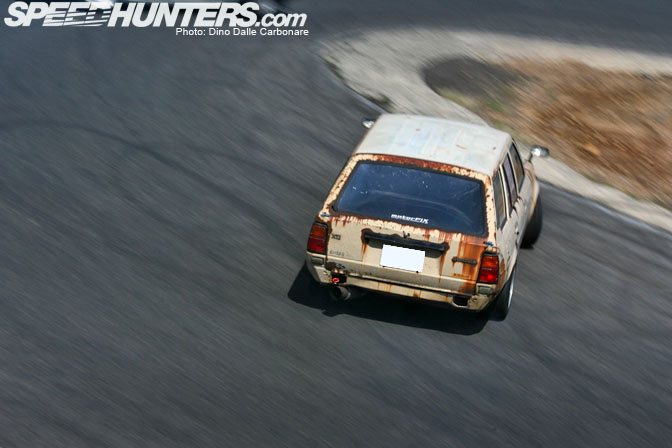 At one point through the weekend I spotted the driver of the rusty wagon doing his thing through the Kita course in-field.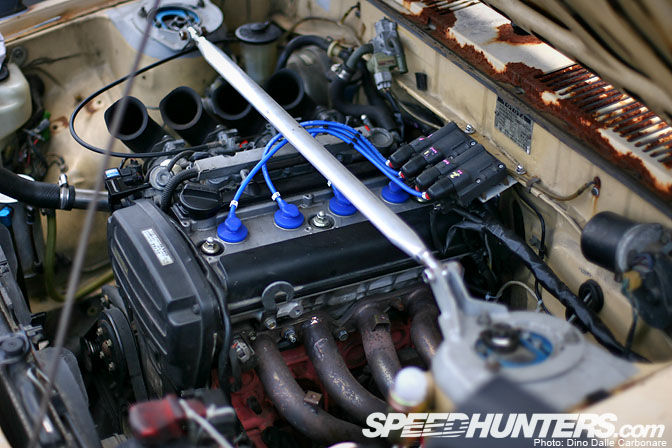 The 4AG in the KE70 runs 0.5 mm oversized forged pistons, a TRD 0.8 mm metal head gasket and a ported and polished head. The motor is mated, like in the TE71, to a T50 transmission.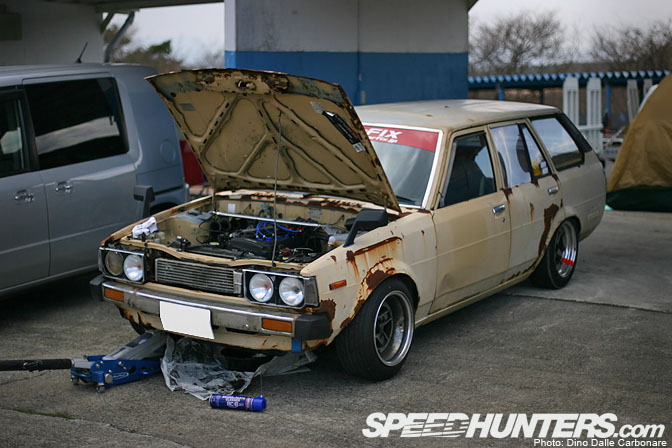 The owner ended up rolling the car at the Matsuri, caving in the roof pretty badly, probably spelling the end of what has become the most epic Corolla wagon on the net! I'm sure the new owner will come back with something totally new, or maybe attempt to fix it!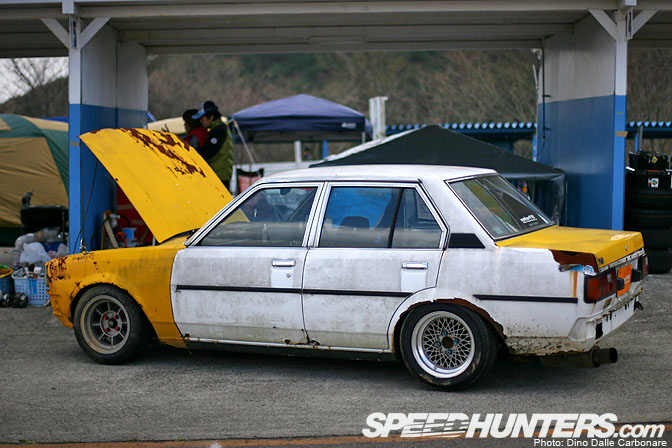 This thing is just oozing style, and rust!
That's it for this shot look at the motorFIX Corollas. If I have a chance in the future I really want to drop by their shop in Gifu-ken to check out what other cool cars they have built.
-Dino Dalle Carbonare