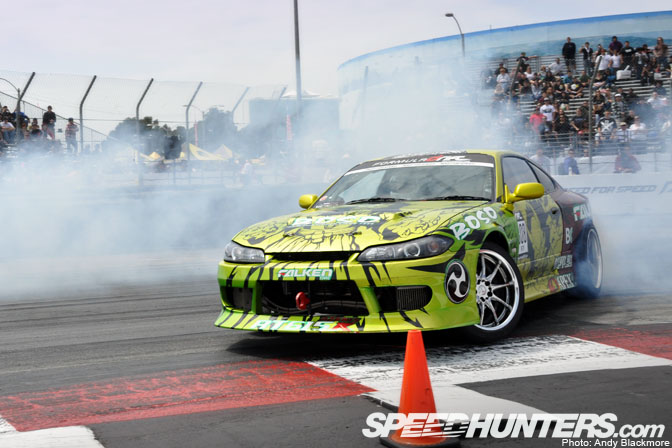 Long time readers of Speedhunters will be aware I come from a tradition motorsport background of circuit racing in the Europe. Drifting wasn't on my radar until I moved to North Amercia a few years ago.
I had never had the opportunity to see a Drifting event live, although I'd seen a few events on Television when Speed broadcast highlights a couple of years ago. I was involved in the design of the Team Need for Speed liveries and 'Electro Lounge' for this season, so this gave me a good reason to go and visit Long Beach, so see this post as a reflections from a Drifing Virgin!!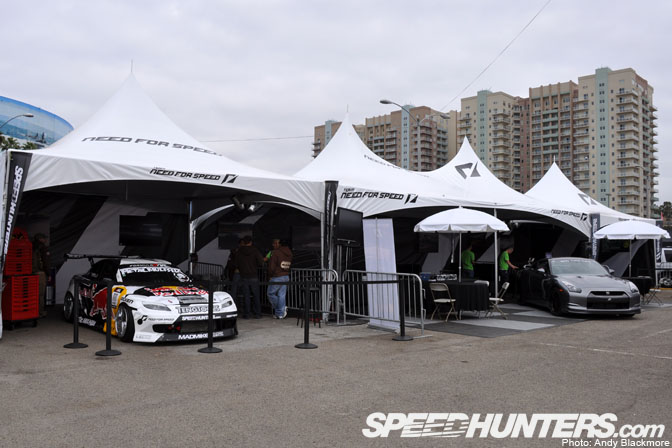 I arrived at the circuit on Thursday afternoon with Speedhunter's Jesse Abney, Stefan Harvalias and Need for Speed's Ron Yatco, joining Rachel Kelly and Rod who were already at the venue. These are the guys who make Team Need for Speed and the Electro Lounge tick! The lounge was still being built at this point. I have to say it was impressive to see Formula Drift's Executive VP, Ryan Sage helping out. Think about that for a second. How many VP's do you know who would get their hands dirty helping to build a stand….. Respect!
Friday was the start of competition, although I was surprised how quiet it was.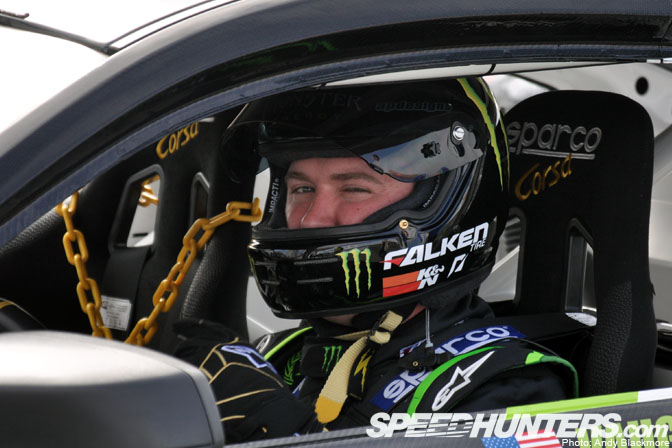 It's a great day to get up close and personal with cars and drivers if you are interested. I'm one of those types who like to spend time in the paddock, watching teams prepare and study the cars in detail.
I was fortunate to have a lovely green photo vest, which allowed me to join all the other photographers looking for the gap (or rather freshly cut hole) in the catch fencing. My first experience of viewing drifting…The tyre smell, tyre chunks hitting you and how close the drivers really do get to the walls. I know that's the idea, but to see that precision does destroy that myth that drifting is just a demonstration.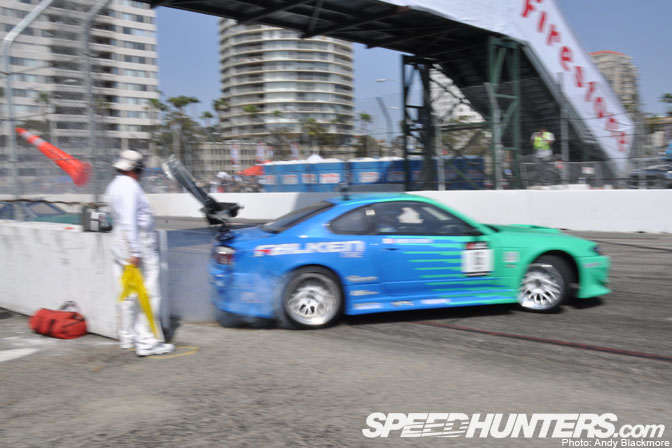 As you can see by James Deane in the Falken Nissan S15, he swipes a cone off the top of the barrier, ripping his wing to pieces in the process. The corner worker doesn't seem bothered….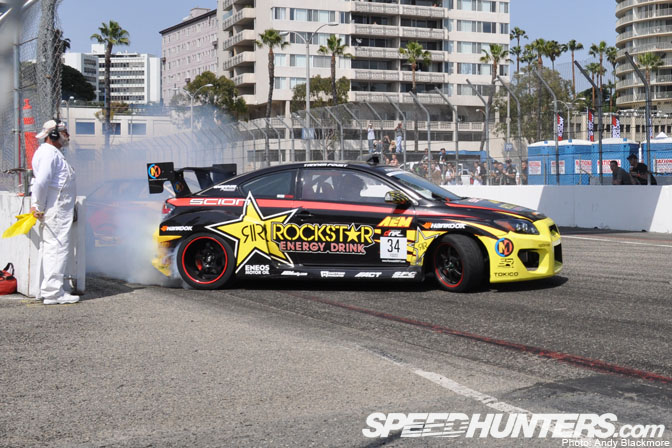 Minutes later, now in focus,Tanner comes through and the corner worker hasn't moved LOL!  People don't give these workers enough credit by the way, without them we wouldn't have any form of motorsport.
Anyway, I had a great experience taking shots, although in retrospect I was using much too fast a shutter speed. Other than Petit Le Mans, I haven't shot at a race for a few years now.  I was impressed how everything was so open and everyone was so friendly.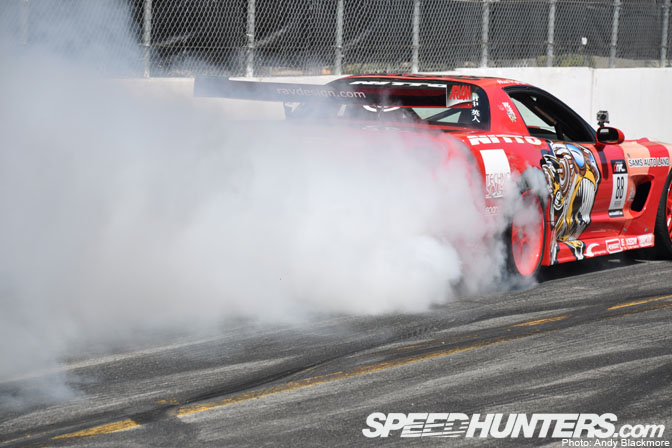 Armed with my Photo Pass, I was able to go to the start line during qualifying and enjoy the build up to the runs, watching how different drivers prepared.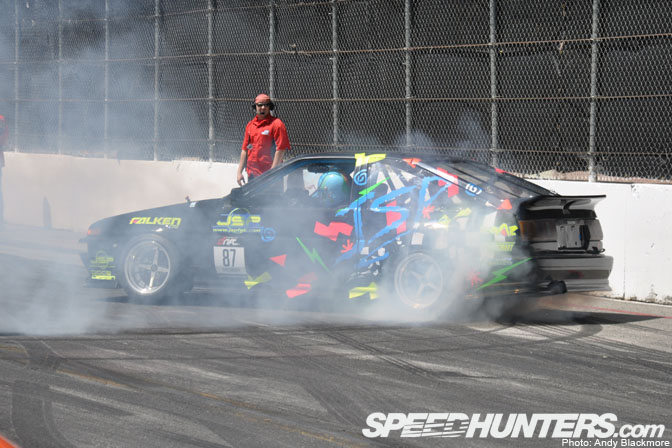 Some drivers were were busy with 360's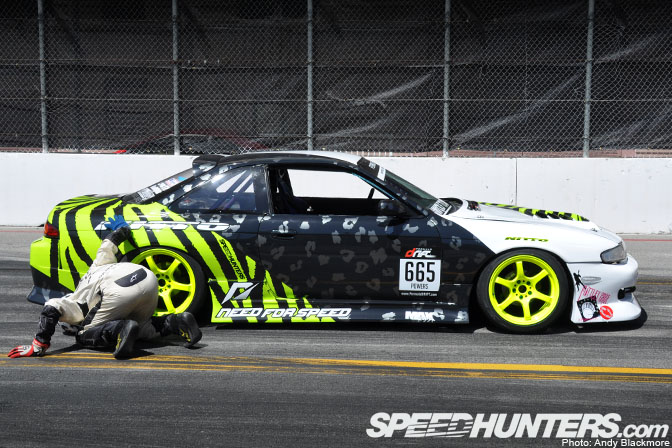 Unfortunately, I also witnessed Matt Power's Nissan Axle destroy its axle on the start line during qualifying.
By this time, the Electro Lounge was fully operational and built up. It was a cool little project to design the graphics for.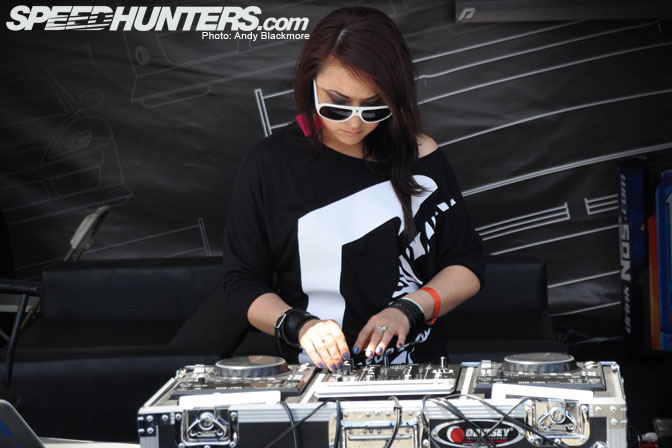 We have the main lounge area in the middle complete with Xbox 360's and comfy seats to experienced Need for Speed games while listening to some awesome mixes by Miki Taka.  Highly recommended!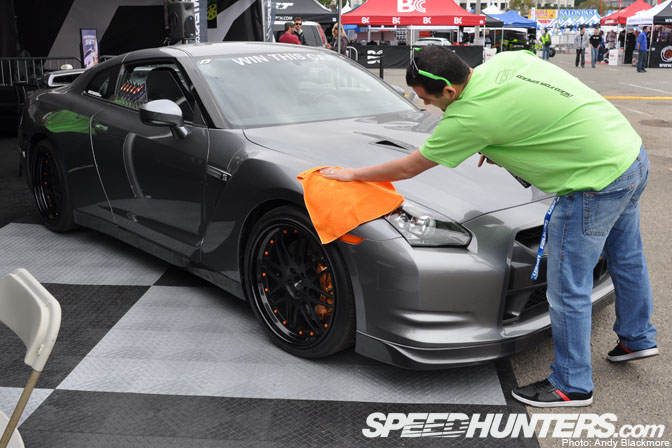 Either side are the two race bays. Mad Mike with the Turbo Twins crew on the left and Matt Powers on the right. Taking centre stage, alongside Miki, was the Nissan GT-R which you can win with Yo-Parts. Here, Stefan is keeping it clean for its future owner.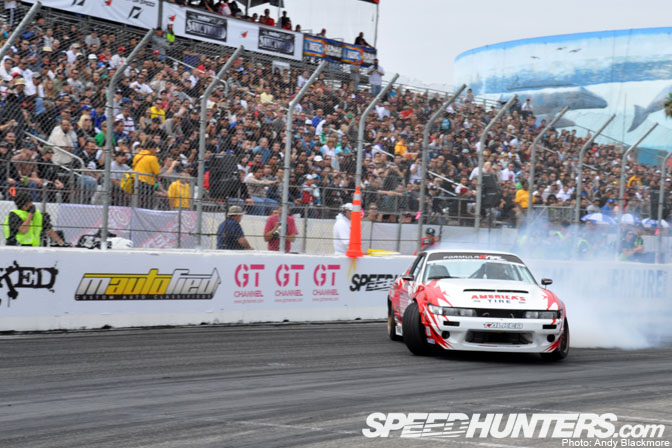 Race day was a whole different experience. This was more like it, crowd wise. It was very busy! First time, FD have sold out before the event apparently. The crowd atmosphere was unreal. Something I had never experienced in Europe. I must have been one of the oldest there LOL!
The crowd were pumped helped by announcer, Jarod DeAnda. I've heard lots of commentary at events in my time and Jarod easily ranks up with the best. Makes a huge difference to an event.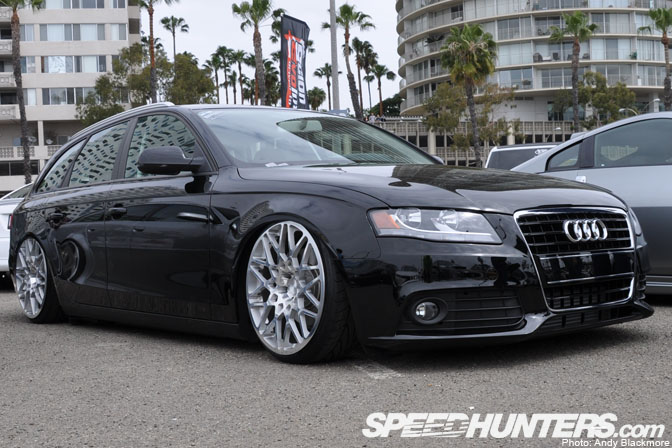 I also made a quick visit to the car show which Mike covered on Speedhunters. Cool Audi A4 Avant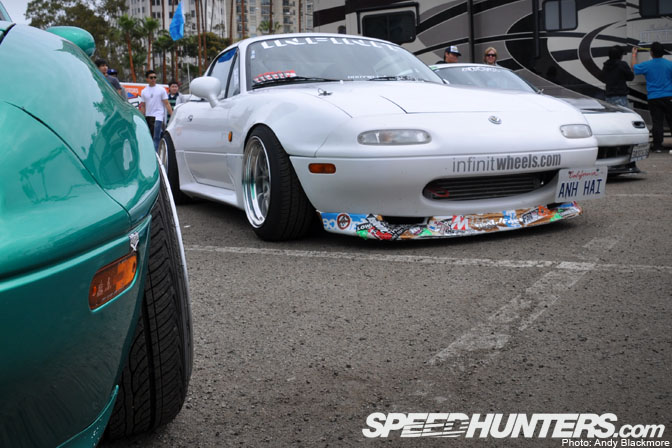 I've always been a fan of MX5's after my wife had one back in the UK. I use to steal it off her whenever I could….I miss roundabouts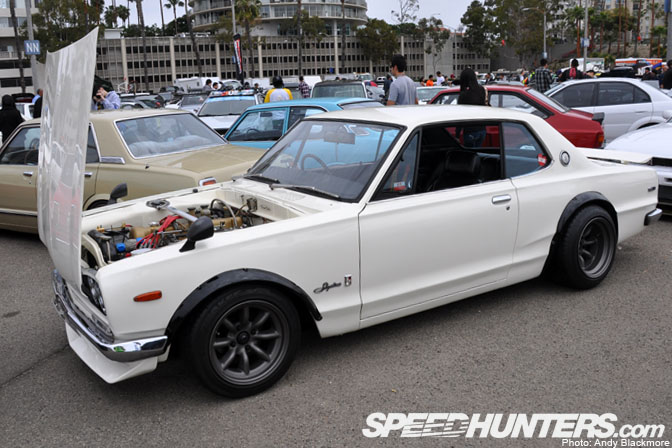 Although this Skyline was my favourite of the show.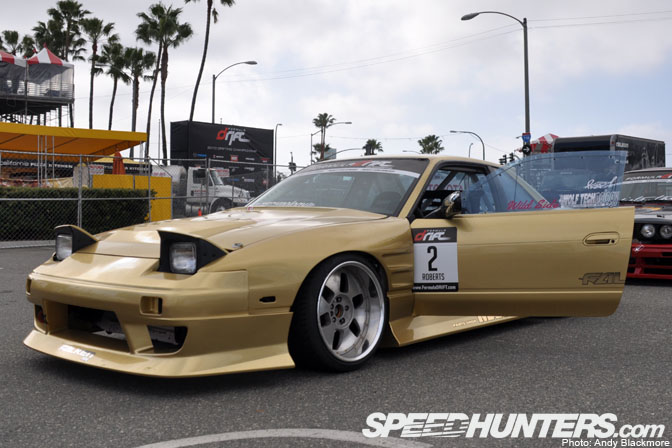 Back to the competition cars.  They were very impressive, from grass-route machines like Tommy Roberts Nissan S13 to trick machinery like the Team Falken cars.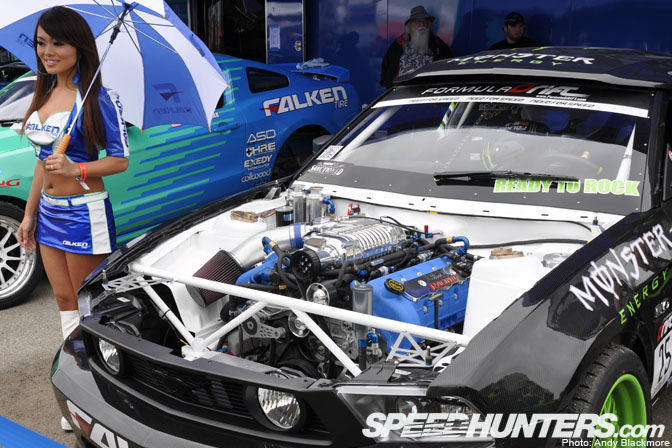 A diverse, eclectic mix, again fairly unusual in motor racing.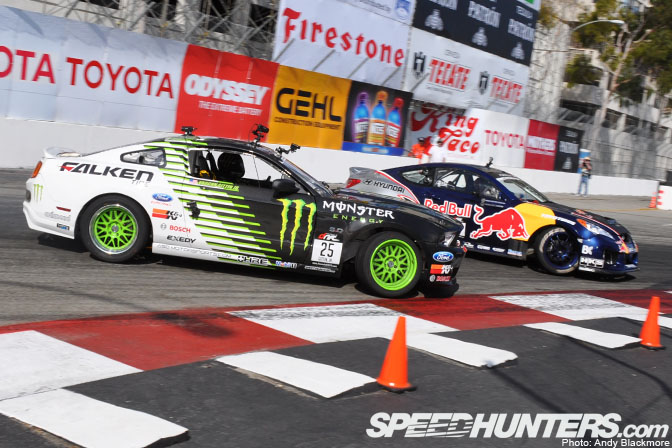 Armed with camera and photo vest I was able to get quite close to the action too, witnessing the battles as JR worked his way through to the final with Rhys Millen.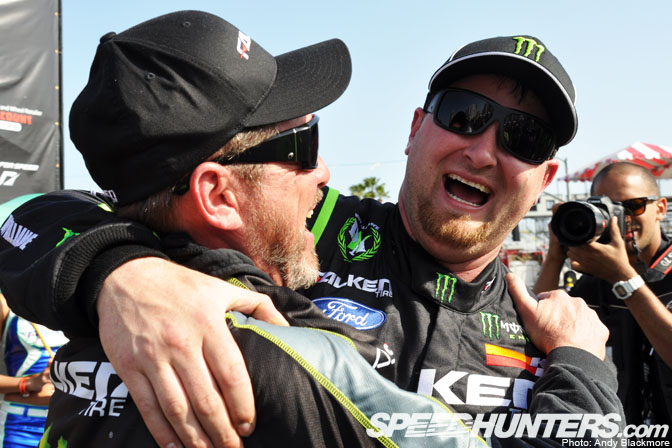 Unfortunately, I'd walked back to the first corner by that point and missed most of the on track celebrations, but got back for the podium celebrations.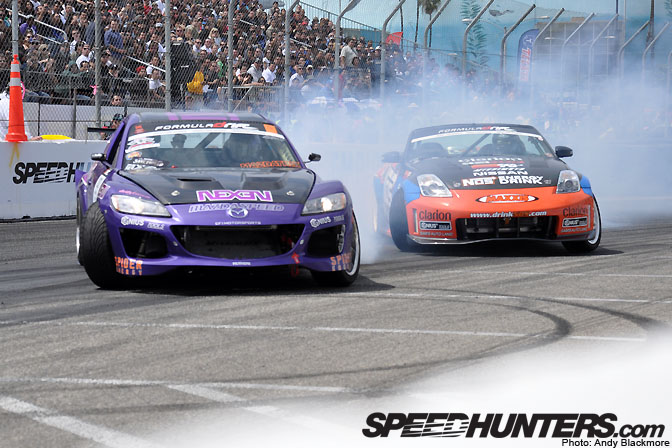 So, what did I think?
I suspect being close to the action at a place like Long Beach enhances the effect. I loved the openness and friendliness of absolutely everyone. Teams, drivers, organisers and fans. Many series could learn a thing or two from that and the crowd atmosphere was just great. I was very impressed with some of the builds as well.
I was a little disappointed how short the track was, but that is due to my traditional background. I still have to get my head around the subjective voting at the end as it's a new thing for me, where first across the line is the winner (unless you are an Aston Martin at Silverstone), but it is good that the large screens show each judges voting. Nice to see driver,Tony Angelo, as one of the judges, something the FiA have only just introduced with their stewards at Formula One events this year!
As you can probably tell, I had a great time and if you haven't been to a drifting event, I'd recommend a visit. One of the best experiences I've had at a circuit.
I have been converted. I now get it!
-Andy Blackmore