Every now and then a car makes an appearance and you just go WOW! You know it has attitude, class, speed and just a whiff of danger. Back in late 1997 Toyota unveiled their latest weapon in the continuing quest to take overall victory in Les Vingt Quatre Heures du Mans and the motorsport world took a step back in amazement.
Now on the eve of the opening round of the new GT1 World Championship, it is a very SpeedHunters move to look back at the most extreme GT1 car of them all.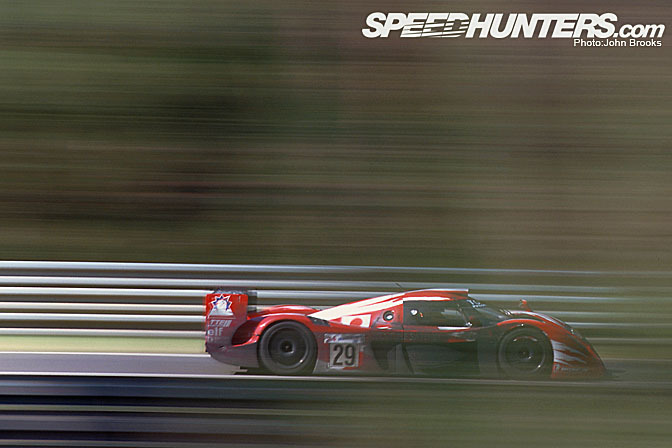 After the dark days following the 1992 collapse of sportscar racing and Group C in there was a gradual return to racing GTs that were based on actual road going cars. There was a rule that a racing version of a car had to derived from a model that had been certified for normal road use. Furthermore the road going car had to be offered for sale within 12 months of being homologated. Of course as soon as the McLaren F1 GTR (based on a genuine road car) started winning, Porsche chucked the road car element out of the window and built their GT1. This process accelerated as soon as Mercedes Benz arrived on the horizon with their CLK GTR. Bowing to the inevitable, the restrictions concerning a realtionship to a road car were quietly forgotten by both the FIA, and more importantly, the ACO, custodians of Les Vingt Quatre Heures du Mans. This paved the way for the launch of the radical Toyota GT One or TS020.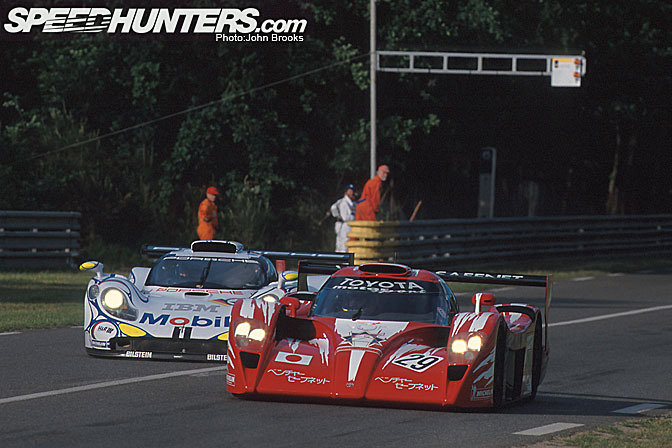 Toyota's management had decided on a fresh approach to the question of how to win at Le Mans. Previously the TOMS organisation had been entrusted with the task and despite a huge budget and resource, they had failed. Sounds a familiar story in 2010. However this time it would all be very different. They called on their rally team TTE (Toyota Team Europe) from Germany to build and run the car. In the background this project would provide the foundations for the planned Formula One campaign, though few were aware of this ultimate destination at the time.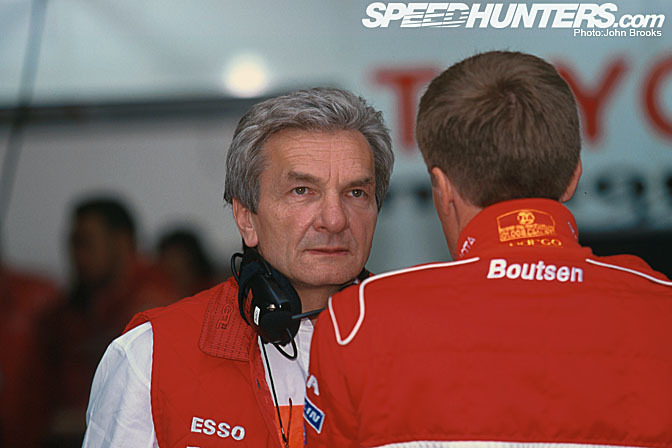 Work started on the project in 1996, when former Peugeot designer, Andre de Cortanze, was commissioned to produce a car that would be capable of winning Le Mans by 1998. Given that the rules at that point did not allow the kind of prototype that he came up with, it begs a few questions as to why he took the radical route, when others such as Nissan did not. What did he know and when? That is one question that you will wait a long for an answer. One thing was for certain, he had the pedigree to produce a winner as evidenced by his Peugeot 905 design that took convincing victories in 1992 and 1993.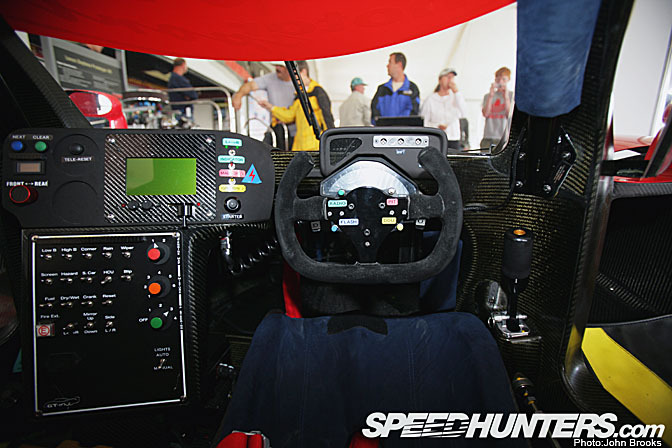 The first tub was built and the rest of the chassis was completed by March 1997. The complete car was ready for a shakedown in October of that year so the first target on the road to victory in France the following June was passed.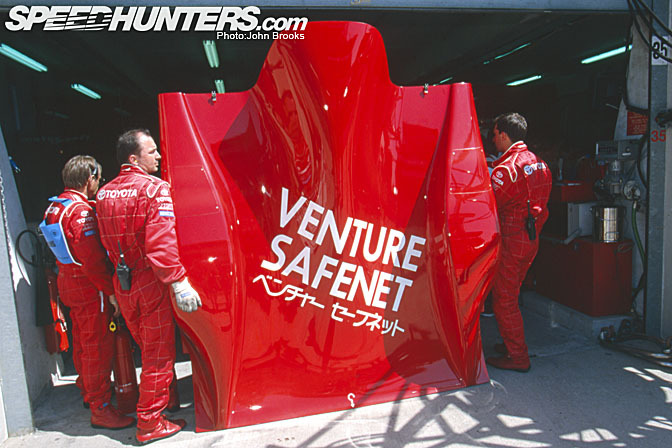 1998 was a year of intense manufacturer involvement at the Le Mans 24 Hours.
Here on SpeedHunters we have posted a few stories on this topic here and here.
So the line up included full factory teams from BMW, Porsche, Mercedes Benz, Nissan, Chrysler as well as Toyota.
The paddock was subject to an extraordinary level of paranoia and secrecy, even by motorsports already low standards, with Mercedes and Toyota easily winning that contest. I recall that Toyota had a gang of very big, very fierce, security goons, with very big, very fierce, dogs. It was difficult to know who to be most terrified of, but it was commonly held that you could get rabies from either source and that might not be all. So despite the editors of the time yelling at us to get interior and engine shots of the GT leaders, there was not much enthusiasm for the task, given the consequences of being caught, especially at Toyota.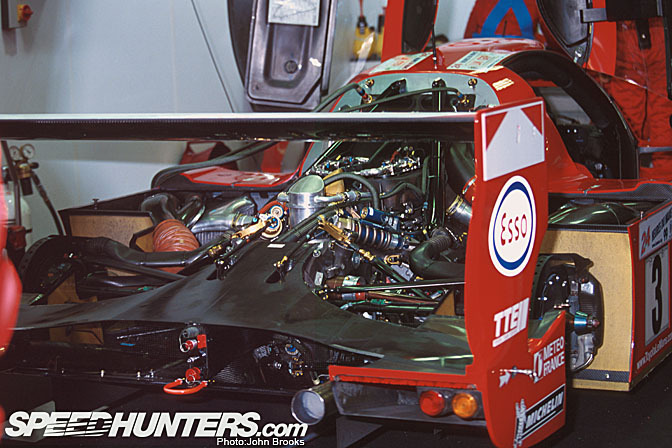 You had to be quick to seize any opportunities and it did not help that I was well known to the press police at TTE. It made for an interesting time in the pits.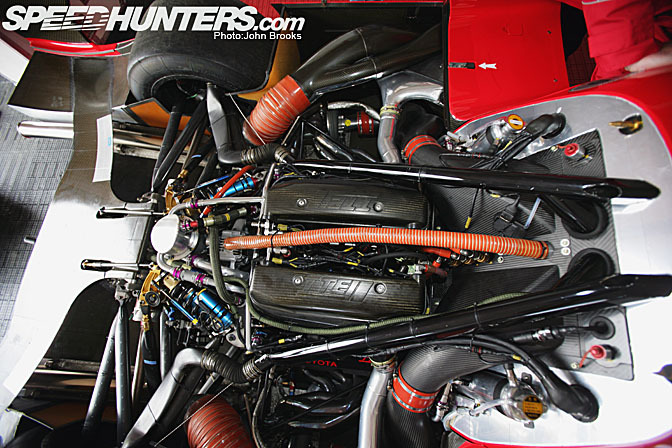 What was being concealed and why?The answer was not much in reality and because they could. While it was an advanced spec for a Le Mans racer, the technologies involved were well known in Formula One circles and would not have taxed the knowledge base of rival factory teams who would have been drawing similar conclusions to the Le Mans conundrum. The engine was a evolution of the Group C engines that had run in 1989 and 1990. 3.6 litre V8 with a twin turbo with two 33.9mm air restrictors, a consequence of the overall weight of 920 kilos. The power, 600+ bhp, was transmitted through a X-TRAC/Toyota 6 speed, sequential transmission, mounted behind the engine.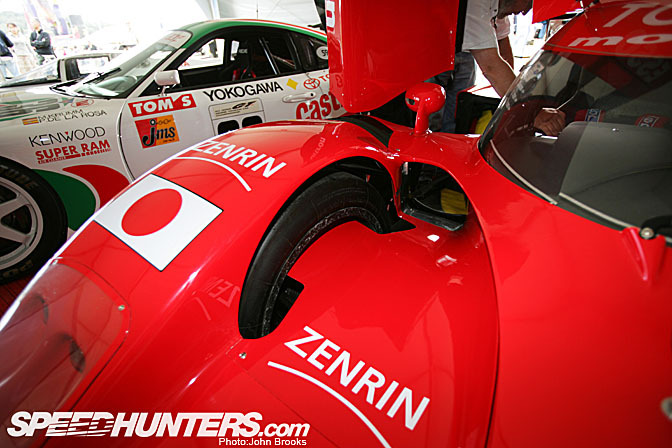 Elsewhere the fully carbon tub and bodywork was complimented by carbon disks and pads for the brakes, with traction control and ABS. A lot of attention had been focused on the aerodynamics with low drag a priority for good fuel economy and top speed.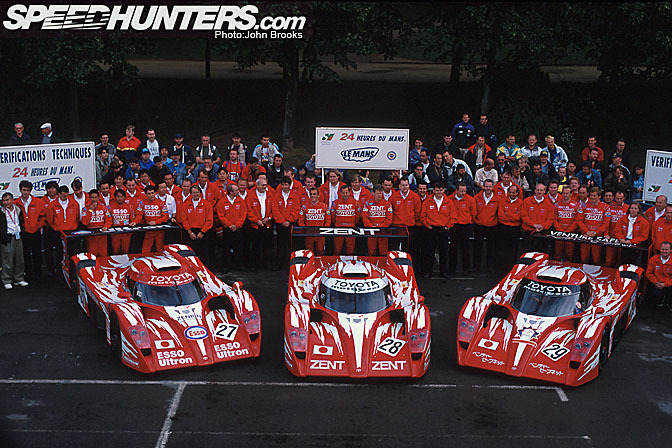 So in typical OTT style Toyota arrived at Le Mans in early May for Pre-Qualification weekend with three cars. Safely over that hurdle the team rolled into Place des Jacobins six weeks later for the ritual of public Scrutineering and the traditional photo op.
#27 was staffed by an all Japanese crew, Toshio Suzuki and Ukyo Katayama joining "Dori Kin" Keiichi Tsuchiya. #28 had former winners, Martin Brundle (1990) and Eric Helary (1993) plus Emmanuel Collard. #29 featured Thierry Boutsen, Ralf Kelleners and Geoff Lees. Three fast, highly experienced crews, all with a decent shot of victory given the raw speed of the GT-ONE.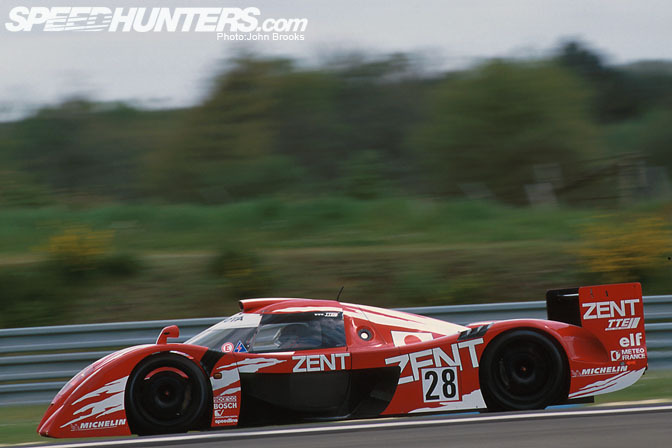 The Toyotas looked sensational on track and went like stink. In particular Brundle was in maximum attack mode, eventually posting a 3:36.552, under a second slower than the pole position claimed by Bernd Schneider's AMG Mercedes CLK-LM. Round one to Stuttgart. Boutsen and Katayama were a few seconds adrift putting them a handy 7th and 8th.
Part two tomorrow.
John Brooks