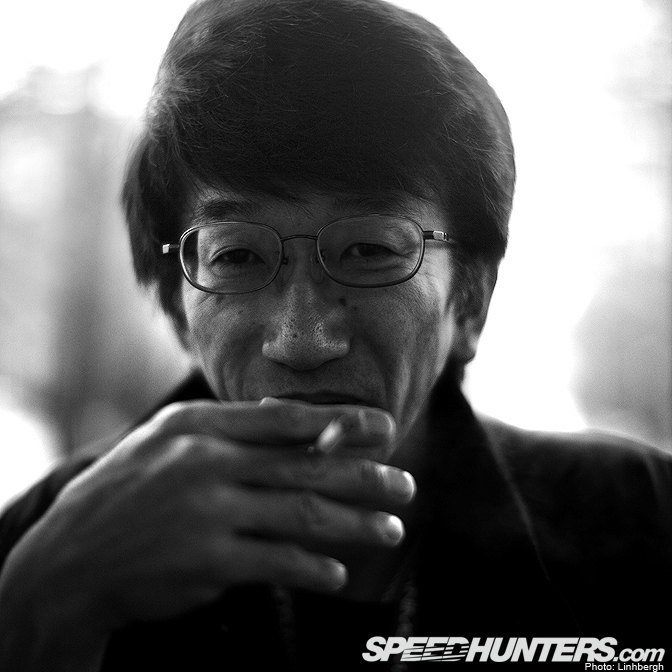 Kazuhiko "Smoky" Nagata is a gentle and soft spoken man. He's not a particularly tall person, nor is he a particularly short person. He's rather skinny. He wears clothes that fit loose on a man of such a small frame which in turn makes him even smaller. He smokes a lot. He'll steal any chance he can get to smoke. He smokes when he has his coffee in the morning, he'll smoke outside the balcony of his room, he even smoke when he's tuning cars. It's a part of his character just as his eyes are. They're piercing but gentle eyes. His eyes that have witnessed things that the everyday petrol-head only dreams about. He lives, breathes, and sweats automobiles. That's all he thinks about and that's all he ever wants to think about.
He's not really that animated of a speaker. His hands do the acting for him. And when he speaks, he's fidgety. Maybe it's the fact that he's sitting next to a guy with a gigantic camera looking to steal his soul… He rubs his hands frequently, plays with his lighter, and runs his fingers across the wood grain of the table. Despite all that, I never got the impression that he was uncomfortable throughout the interview. Though, he was a bit bashful when I was taking photos of him smoking (something he mentioned to my translator, Hajime, that he's never had someone so intent to take photos of him smoking…). At the end of the day, he's human. Just like everyone else if they were to sit down with a journalist to be interviewed. But to us gear-heads, he's far from just human. He is as much of a mystery as he is a legend.
Every person of legend and lore starts out as human as the rest of us. It's what that person does with the time that is given to them that makes them legendary.
I was fortunate enough sit with him for a quiet talk….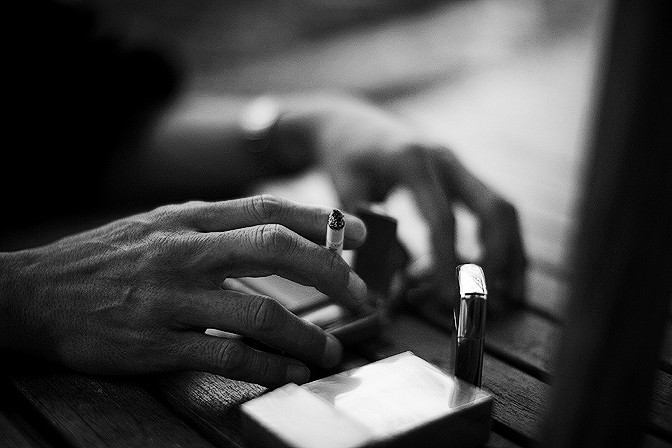 Linhbergh: How did you get into tuning cars and what influenced you to become who you are today? 
Smokey Nagata: Right now Top Secret is located in Chiba, Japan, but I grew up in Hokkaido. It's all farmland. My parents had farm which I helped out with since I was 14 years old. And since there wasn't really anything around, we had to drive around in the family truck which I also drove around to help with the family. I drove it everyday and started to fall in love with the actual act of driving.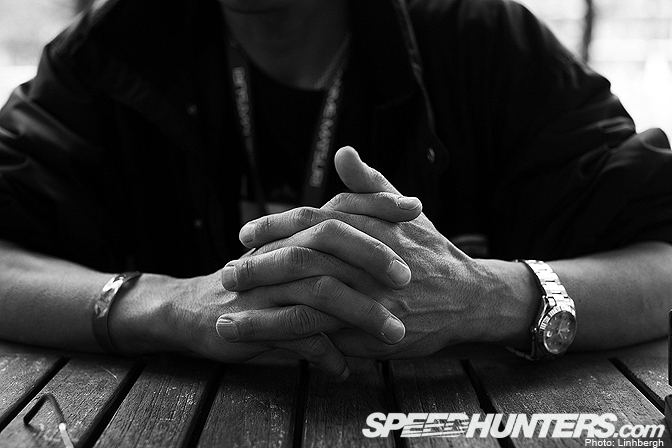 I started to enjoy driving so much that I purchased a motorcycle for fun. But I still drove the family truck around when they needed me to though! During that time, I also purchased a go-cart. I started to fall in love with speed… There was no place to drive the kart since the area was all farm land, so I started driving the kart on the street!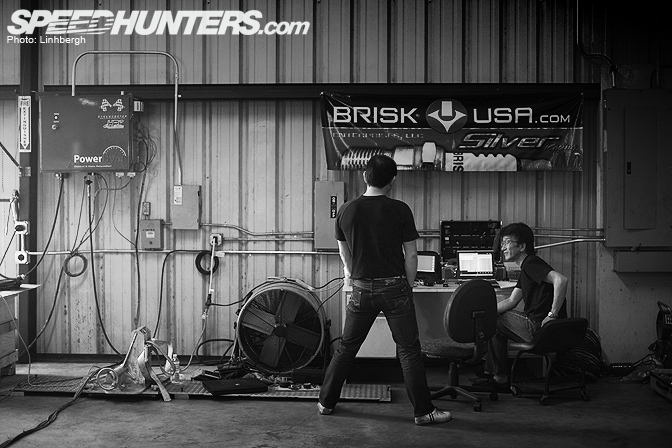 Then I finally got a car. It a 1970 Mitsubishi Galant GTO with over fenders! One time the was broken, and the Toyota president helped me fix it. A friendship grew, then I started working for Toyota as a mechanic. Just doing mechanics work wasn't any fun… so I started changing, or modifying cars for myself for fun. I started having a lot of fun playing around with cars and wanted to be a racing driver. Trying to become a racing driver in Hokkaido was really difficult, so I moved to Tokyo.
When I moved to Tokyo I became interested Trust/Greddy. They had racing programs going on and I asked them to give me any job just so I can get in.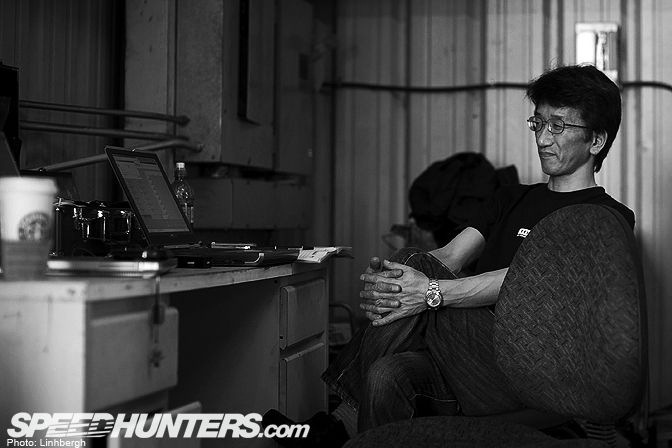 Linhbergh: So, What did you do at Trust/Greddy?
Smokey Nagata: When I first started, I worked in the packaging department. Packing things like exhausts and turbos. As you can imagine, it was not fun. But during the after hours, I went to the racing division to offer my help to them. Which of course, they were more than happy to get an extra hand…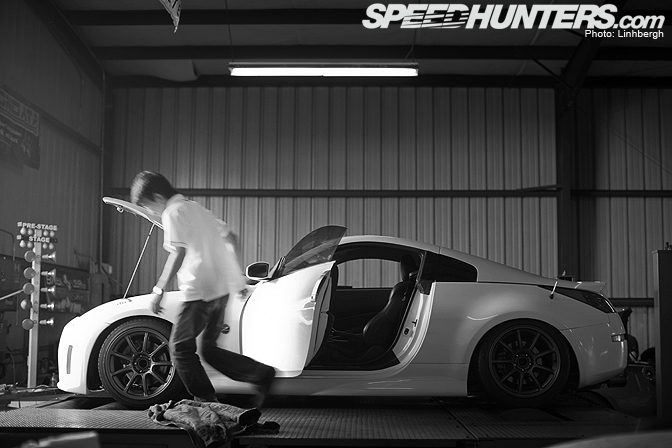 Linhbergh: Who were your biggest influences?
Smoky Nagata: Isami Amemiya, of RE Amemiya, and Masamitsu Hayakawa, of Trust/Greddy. During the early years, those  two were very active in racing and top speed competitions which I had great interest in. The work that these two put forth inspired and influenced my work ethic, and passion greatly.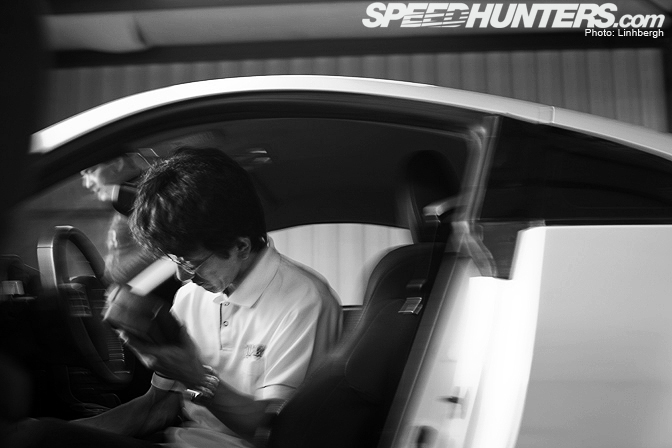 Linhbergh: Let's continue the story of how you started…
Smoky Nagata: So as I worked for the racing division at Trust and watched them create parts for their racing cars, I also wanted to learn how to create parts for cars for myself. So during the late hours of the day, with nobody at the company, I worked on creating my own parts.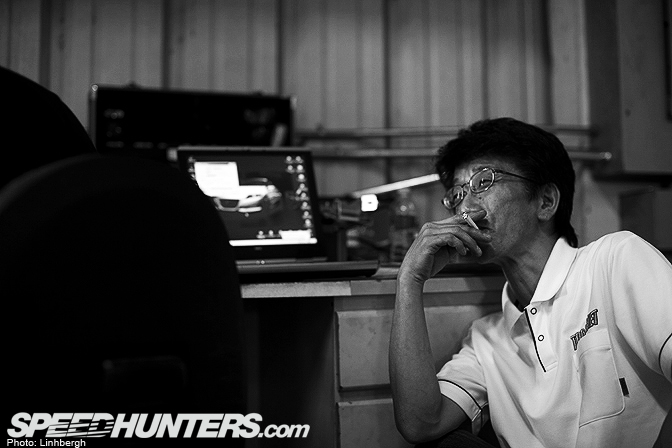 I worked on my own cars and my own parts during the after hours. I didn't want anyone to know that I was doing this… but then the top management of the company found out. I wanted to quit so I wouldn't get in any more trouble than I already was. Management told me that I cannot quit this job because they valued my work so much. They told me that I can continue working on my stuff, but to not tell anyone else in the company. Only the top management knew. A year later, I opened my own shop, Top Secret. And the name, as you guessed, came from my time at Trust! Only the top management at Trust knew what I was doing, and they told me to keep it a secret! Hahaha.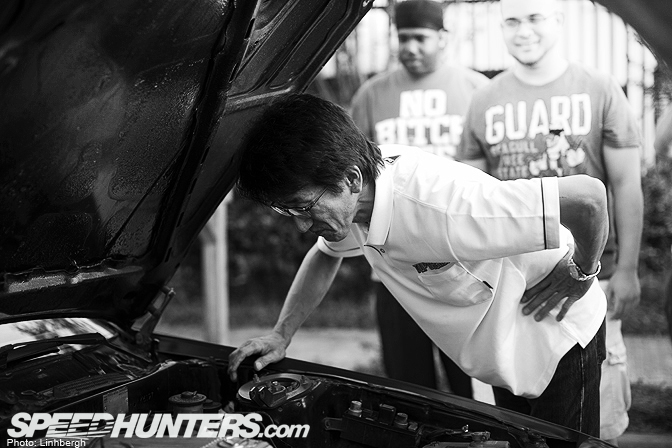 Linhbergh: What was the first car you built under the Top Secret name?
Smoky Nagata: When I first started, I didn't have money so I couldn't buy my own cars. So, in Makuhari, you know, where the Tokyo Auto Salon is held every year… And in those early days, that location was known as a very popular street racing location because in front of the TAS building, there is a very long and very straight street. People drag raced on that strip back in the day. So I had a customer with a Toyota Soarer with a 7MGTE, and that was the first Top Secret car.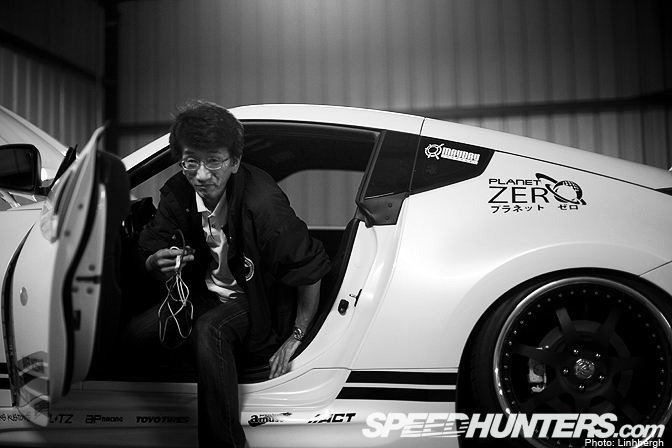 Linhbergh: How fast was that Soarer?
Smoky Nagata: About a 12 second quarter mile… You have to think that back in those days, that was really good.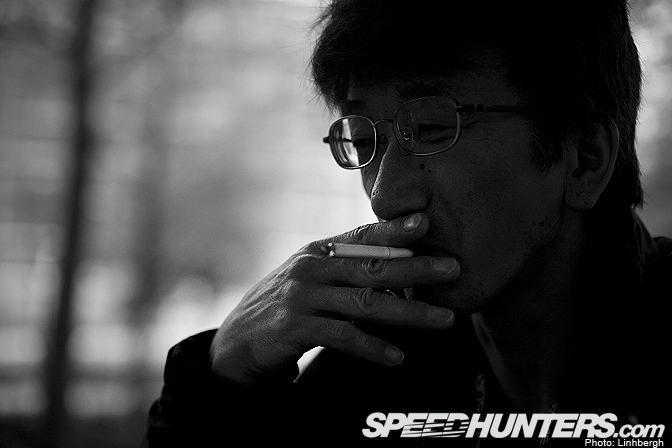 Linhbergh: What's your favorite car that you've built?
Smoky Nagata: I really liked my first demo car which was an R32 GTR. But by far my favorite has to be the V12 Toyota Supra. I've been working on it for years now. It keeps changing and I'm trying to improve it more and more every time I work on it.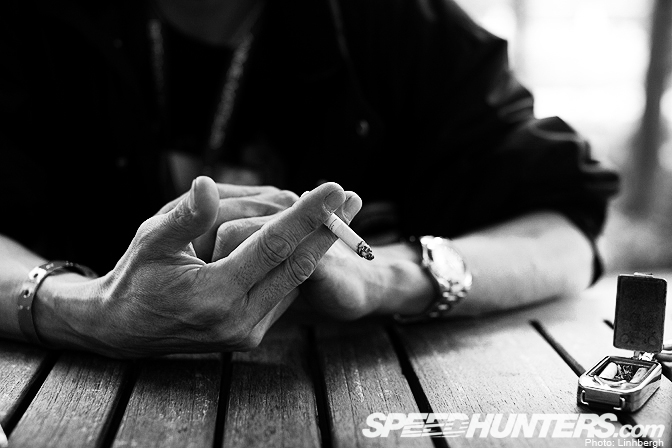 Linhbergh: What's your favorite beer?
Smoky Nagata: Shiner Bock, no question!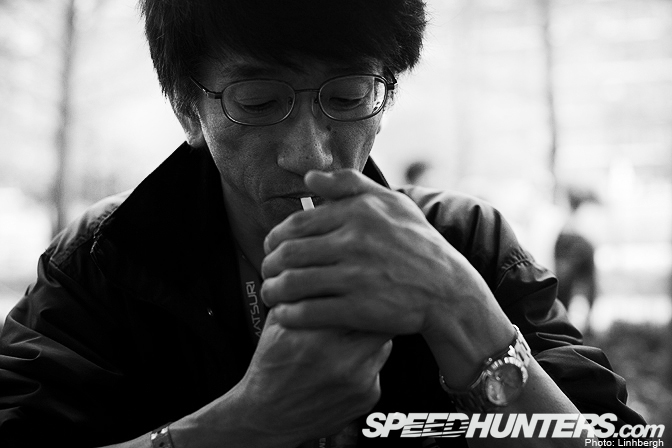 Linhbergh: You've traveled a lot. What is your favorite place you've been to? And why?
Smoky Nagata: The country that left the biggest impression on me was when I was in jail in the UK! (watch this video to find out about his UK escapades)
Linhbergh: Are you still banned from the UK?
Smoky Nagata: I visited the UK eight years after my jail and subsequent banning from the country. I didn't have any problems going in, so I guess I'm not!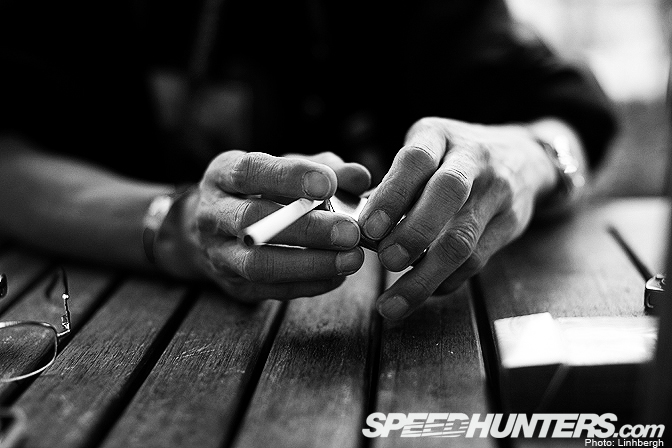 Linhbergh: Have you been to Bonneville? And do you plan to campaign any cars to Bonneville?
Smoky Nagata: No, I've never been to Bonneville… but I would like to go to Bonneville sometime. I like to make street cars, so if and when I do create a car to go to those salt flats, it'll be a street car.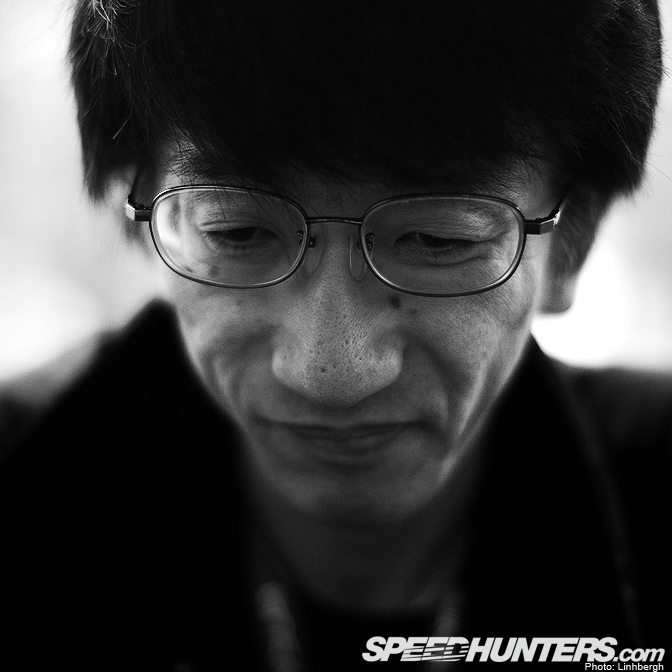 Linhbergh: What steps do you do to tune a car? What do you consider to be a good tuned car?
Smoky Nagata: What I look for is total balance of a car, not just horse power. At top speeds when you brake, and maybe to avoid some objects, the car should still be safe in those conditions. A stock car is very unstable and unsafe during high speeds. So I tune cars to be safer. That's my philosophy with car tuning. The faster you go, the safer the car has to be. The car's body kit, suspension and braking all have to work together to create a safe car.
Linhbergh: Do you like peanut butter?
Smoky Nagata: Yes.
So, there you have it folks. Smoky Nagata likes peanut butter!
P.S. I'd like to thank Hajime Maki for being with me during the interview to translate. 
Speedhunters Import Reactor 2010 coverage