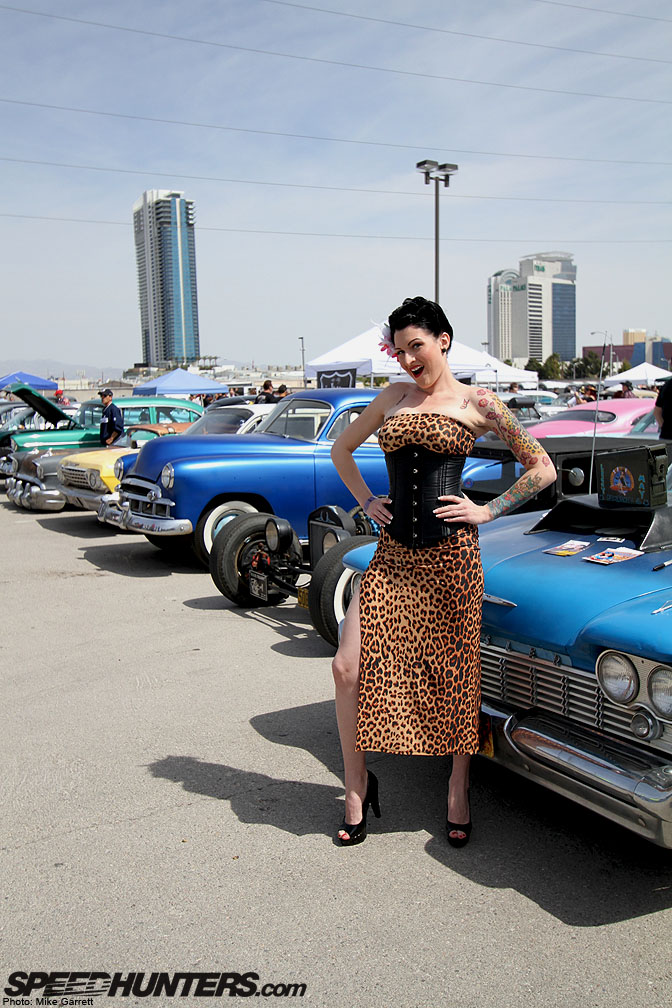 For my next bit of coverage from the Viva Las Vegas Rockabilly Weekend, I'll be focusing on the car show – held all day Saturday in the parking lot of The Orleans hotel.
Besides the hundreds of traditional hot rods and customs that had gathered, there were was plenty of cool stuff to buy, lots of beer consumed, and the occaisonal pinup girl making the rounds…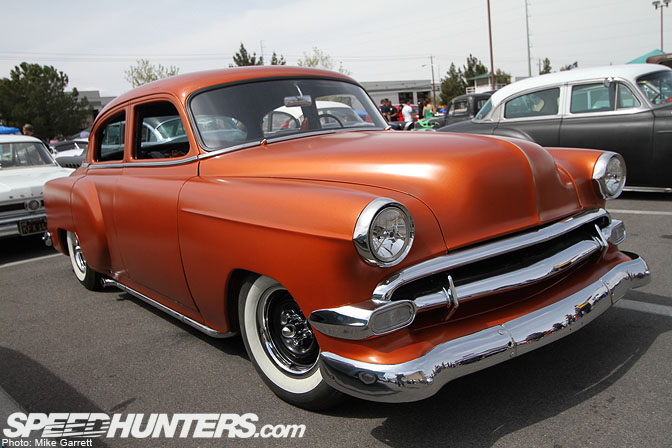 Simple and clean never fails, as shown on this Chevy sedan. Love the wide whites, steelies, and beauty rings.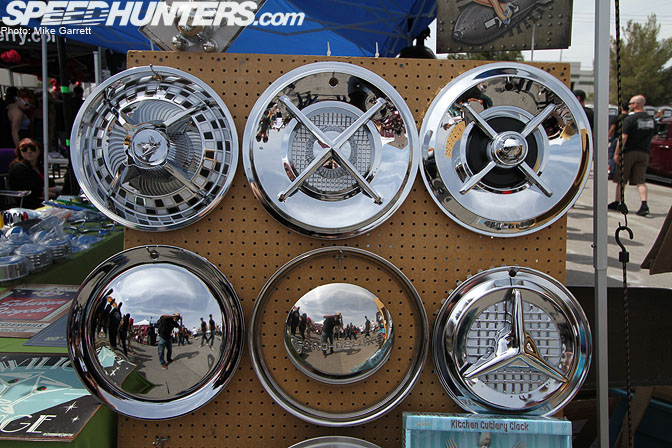 Hmmm, what would a set of these wheel covers look like on my van? Do you have them in 17 inch?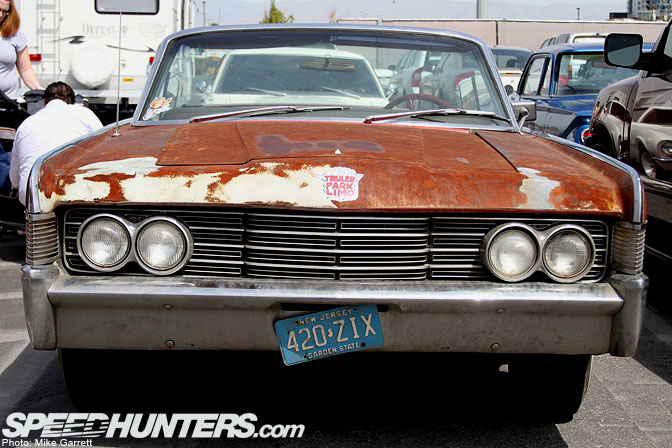 This rusted out drop top Lincoln Contintental stopped me in my tracks in the parking lot outside the main gate.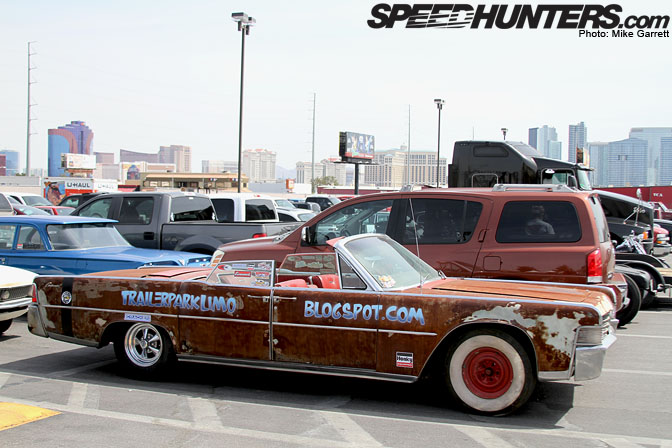 Wide whites and steelies up front, with Cragars in the back. You've got to love it.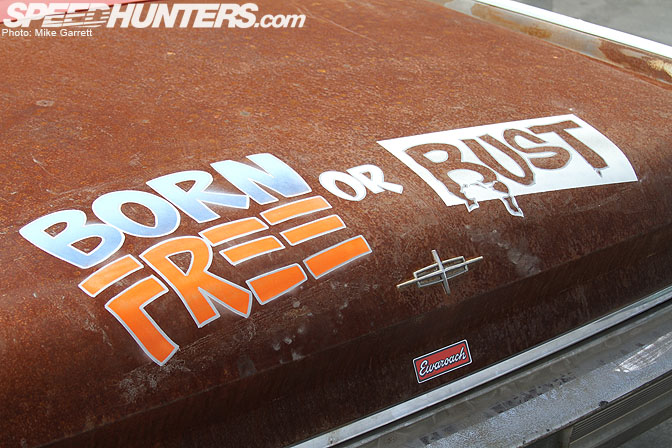 Is there a such thing as a car with too much character? Eh, probably not.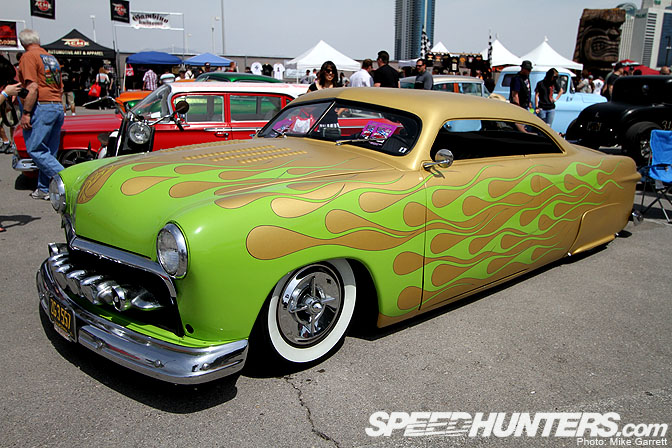 Nothing beats a properly done sled, whether its decked out with perfect retro style flames…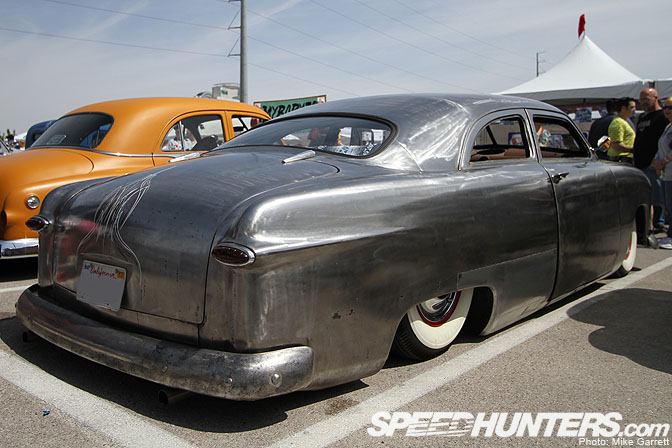 …or lacking any paint whatsoever.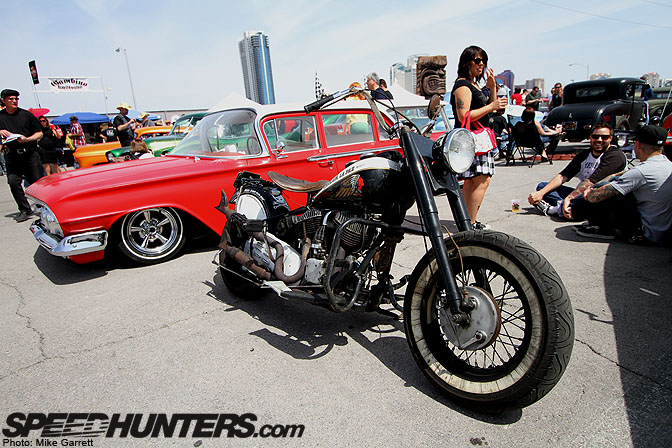 A little more two-wheeled action, with a sweet looking Chevy wagon lurking in the background.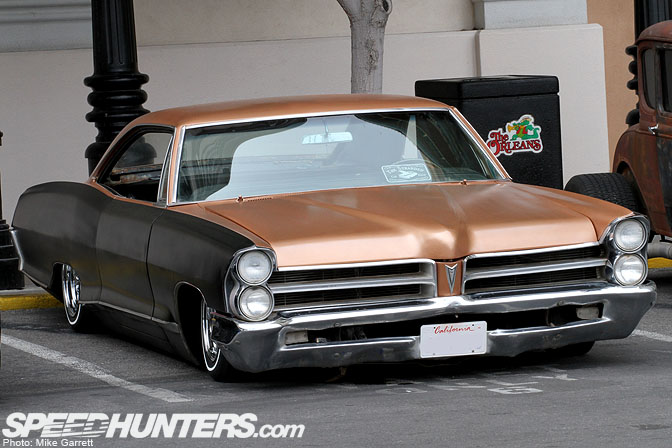 Loved this frame-laying '65 Pontiac, one of the many cars at the show wearing California plates. I'd say about 70% of the cars at the event made the trip across the desert from the Golden State.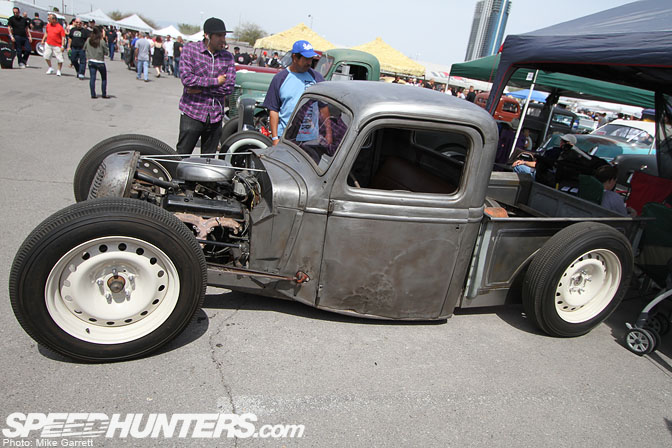 Cool little pickup here, with some big diameter steelies all around.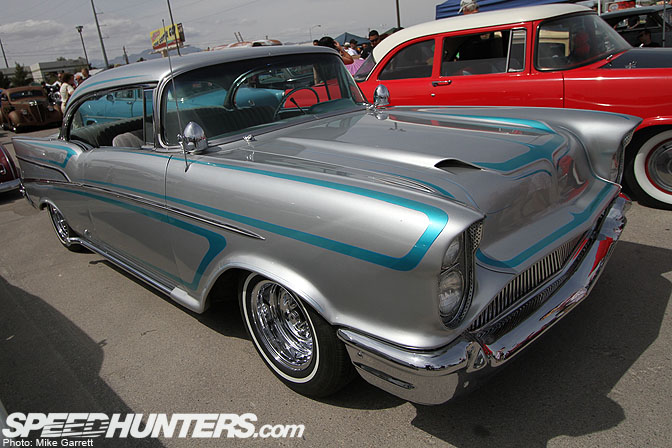 How about this totally period style '57 Chevy custom, complete with stacked headlights and wide chrome reverse wheels.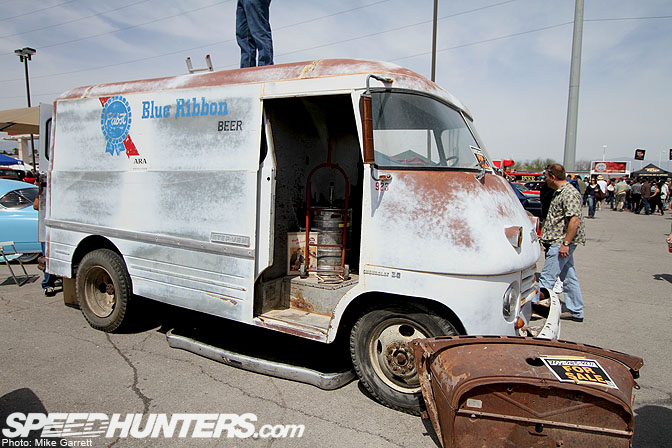 The official beer transport of Viva Las Vegas…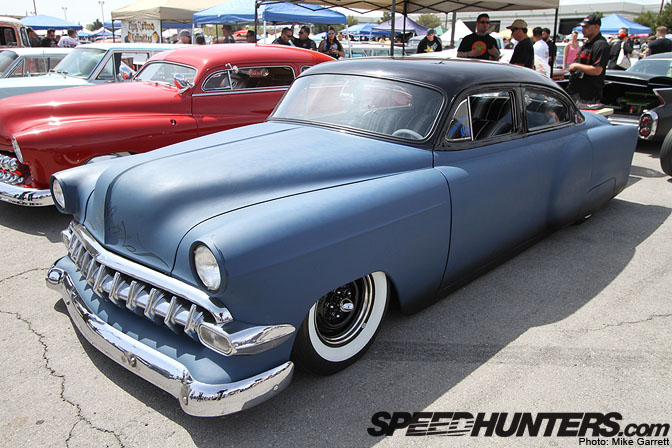 If this shaved and slammed Chevy was a person, parents would warn their children to stay away from it. So bitchin'.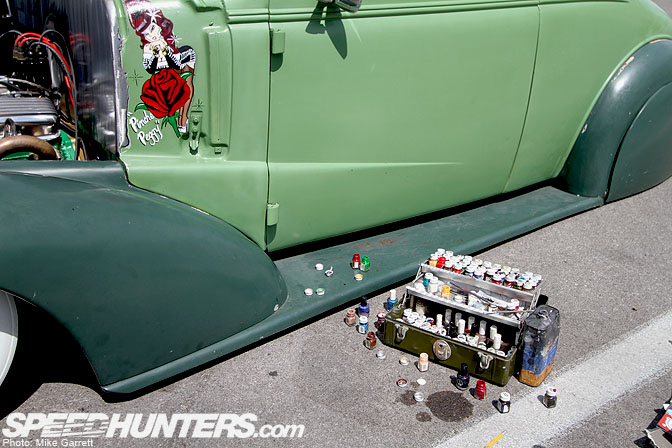 A bit of paintwork being done, in the style of WW2 aircraft nose art…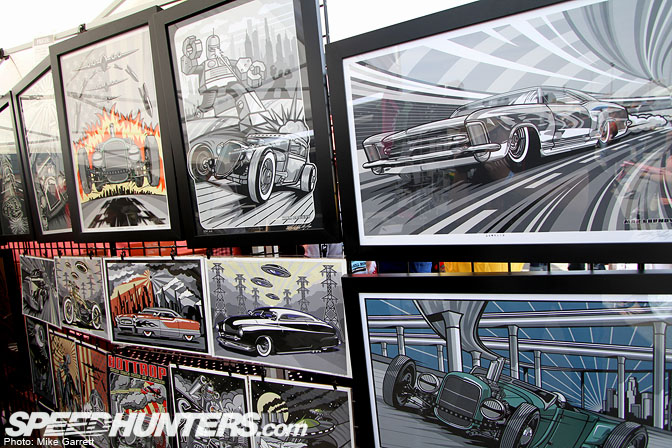 Speaking of artwork, here are some of the stunning creations of artist Max Grundy.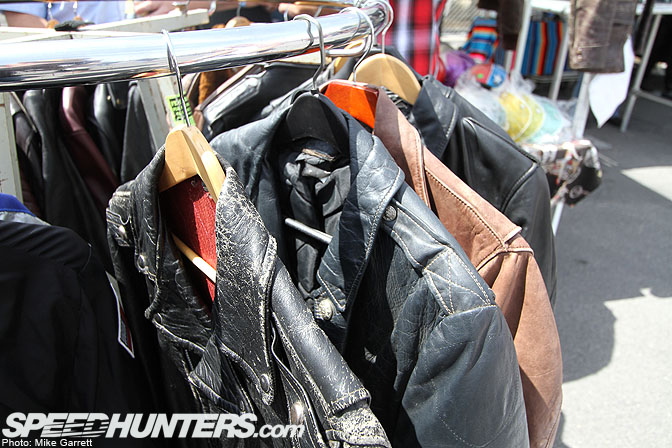 All sorts of apparel was being sold by the vendors at Viva Las Vegas, from old leather jackets…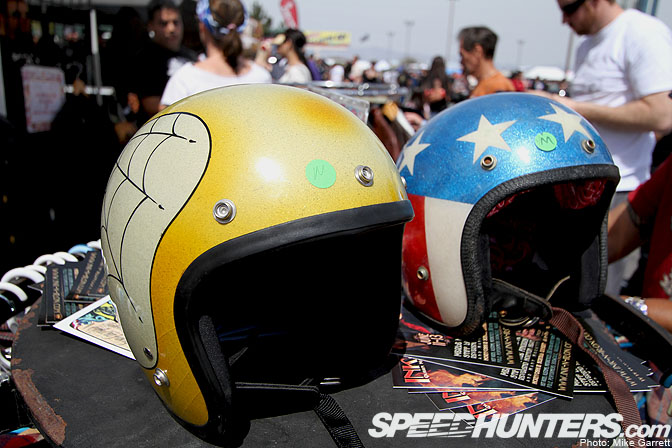 …to old racing helmets. Somehow I doubt these are FIA-approved.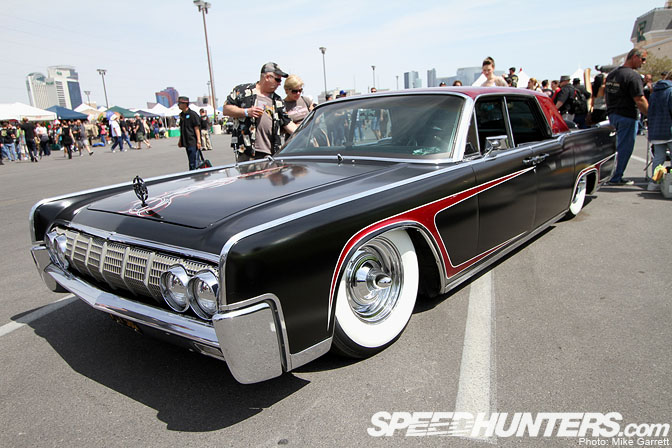 Here's another Continental, this one an airbagged hardtop tucking some big white walls in those fenders.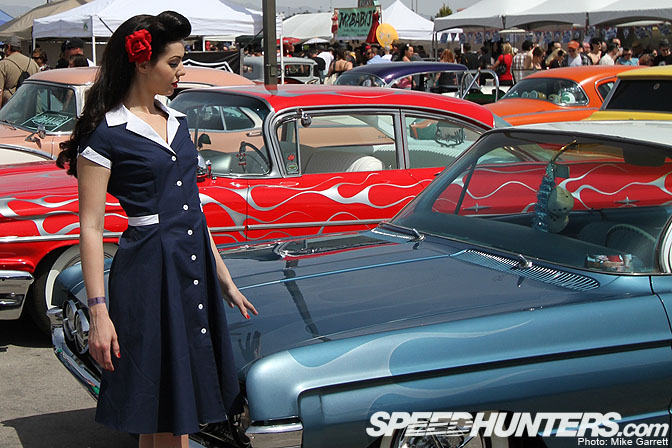 Ok, that'll do it for now. I'm going to head down to Long Beach to check out the load-in day for Formula Drift.
Next time I'll be back with a look at some the "details" of Viva Las Vegas 13.
-Mike Garrett