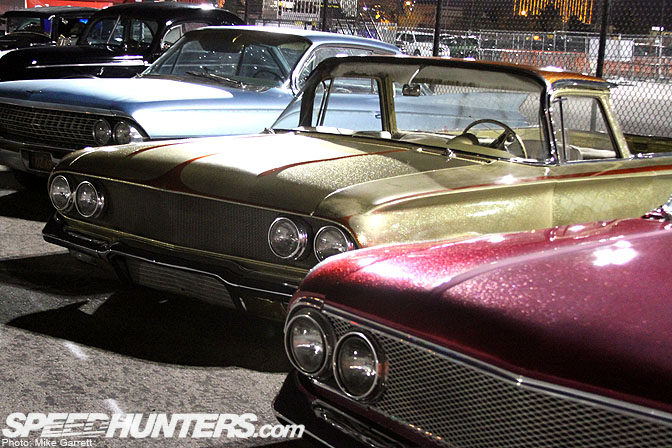 Last Friday night, after losing my fair share of cash in the casinos I headed over to the The Orleans Hotel to see if anything was going on at ground zero for Viva Las Vegas.
The main show wouldn't be going on until Saturday, but I figured I might be able to catch some cars cruising around under the lights.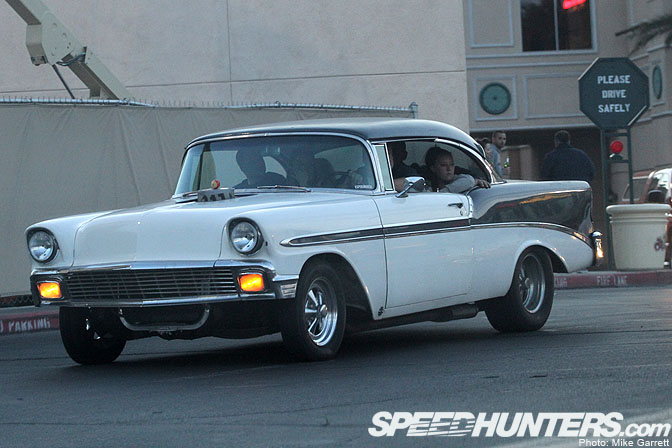 And while there were a few vintage machines rolling around, like this '56 Chevy…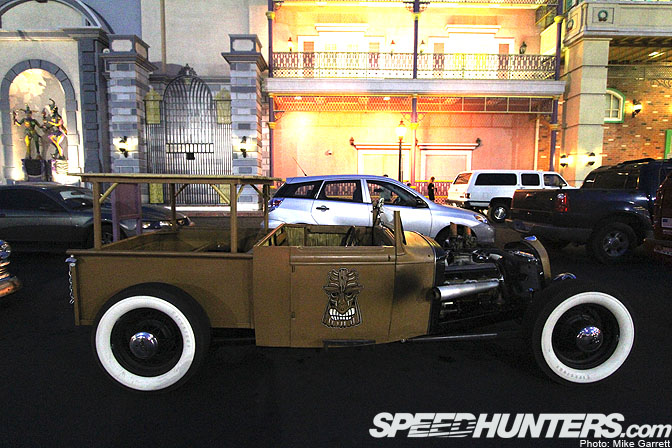 …or this awesome little pickup in the valet area.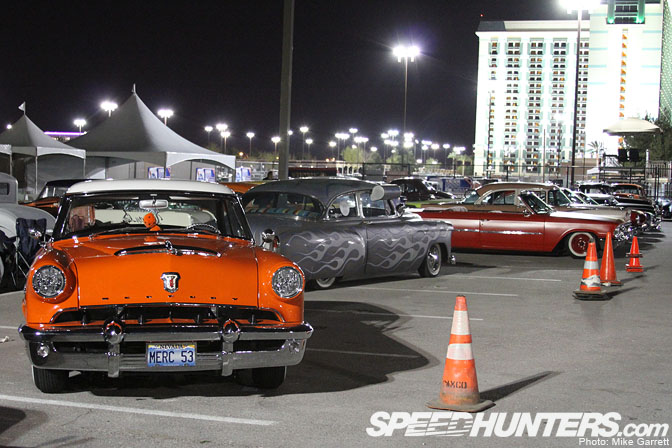 It turns out the best thing I found was the car show itself.
Nearly all the cars had been assembled in the parking lot, with very little human activity.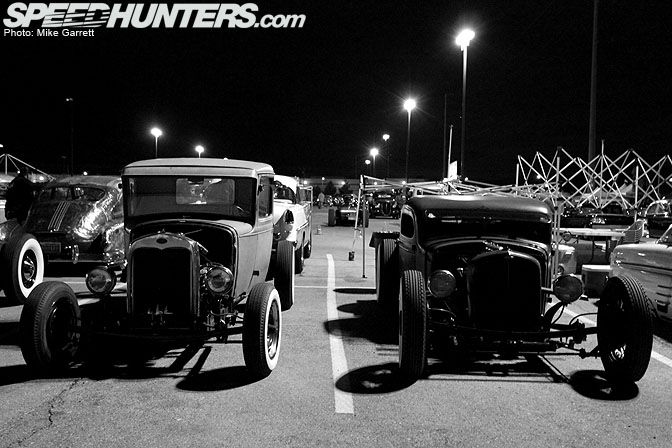 There were a few people hanging around and talking cars, but the vast majority of the showgoers were inside the hotel listening to rockabilly music and drinking PBR.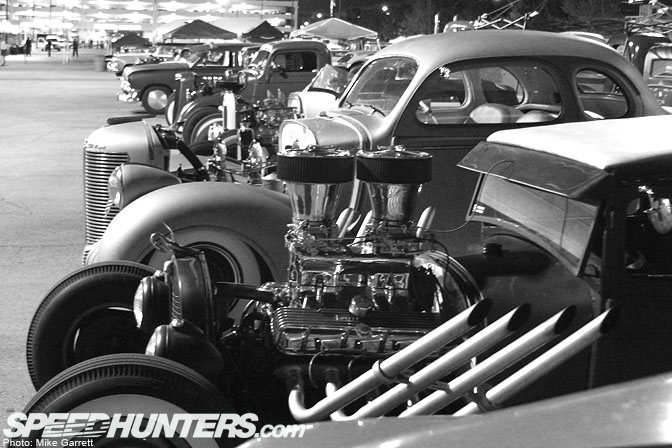 Since I knew the show would be packed with people the following day, I spent quite a while walking around shooting pics. In fact, it was actually a bit eery.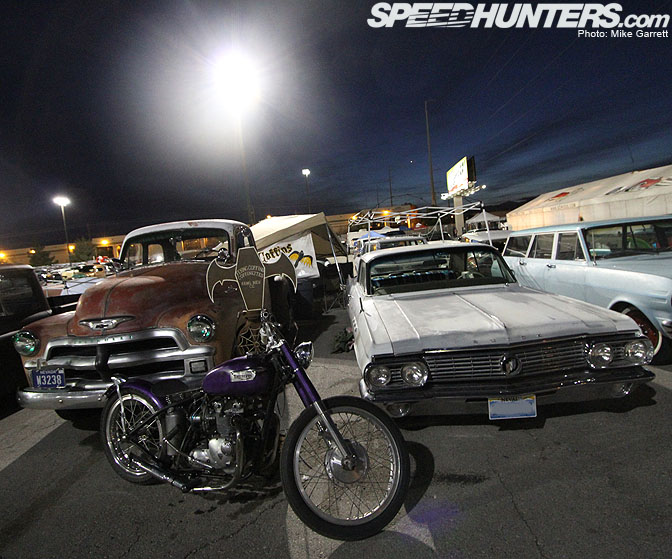 It was sort of like a ghost car show you could say. Haunted or not, it was an awesome experience seeing all the cars gathered under the lights.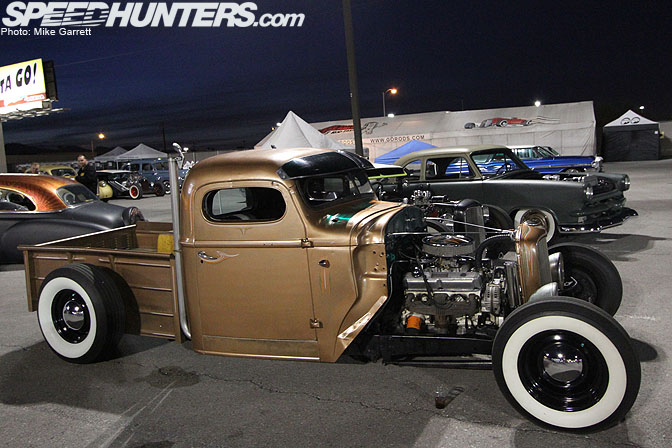 One of the first cars that caught my eye was this "truck rod". I've been noticing a lot of these builds based on later model pickups recently. Very cool.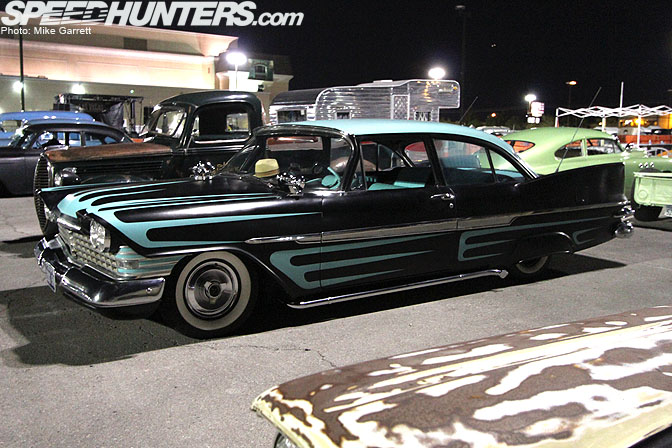 I'm such a sucker for cars like this '59 Plymouth. I guess it's the fins. This car looks like a typical "late model" custom you'd see rolling around in the late '50s or early '60s.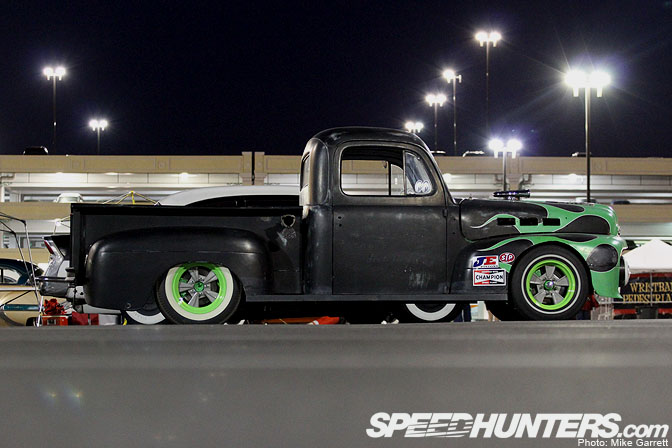 Not really sure what style you would call this truck, but I thought it looked pretty sweet.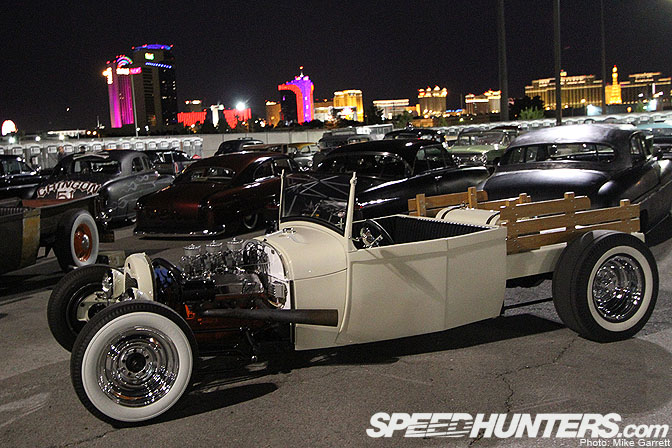 The conditions also allowed me to test out low light capabilities of my Canon 7D. The camera itself did fine, but I need some faster glass!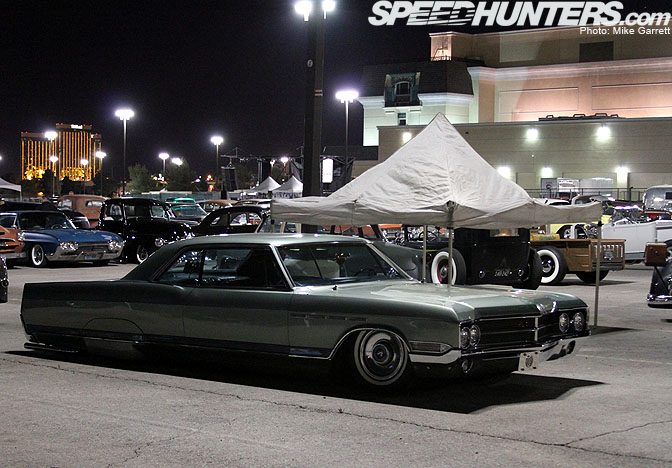 This lowdown full size Buick was one of the newest cars in the entire show. I bet this guy had a comfy a trip across the desert!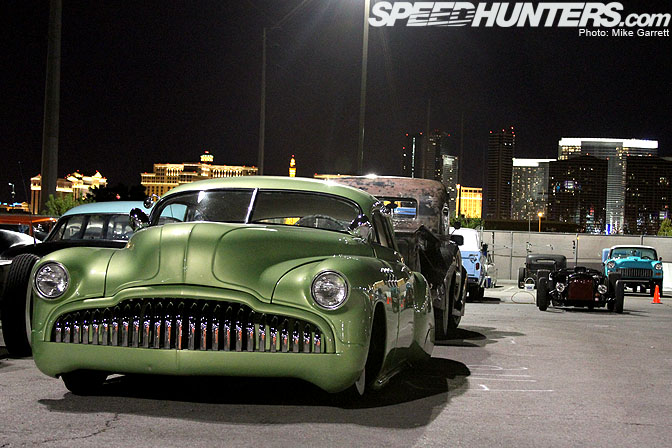 And another Buick you might remember from the feature that we did on it a while back.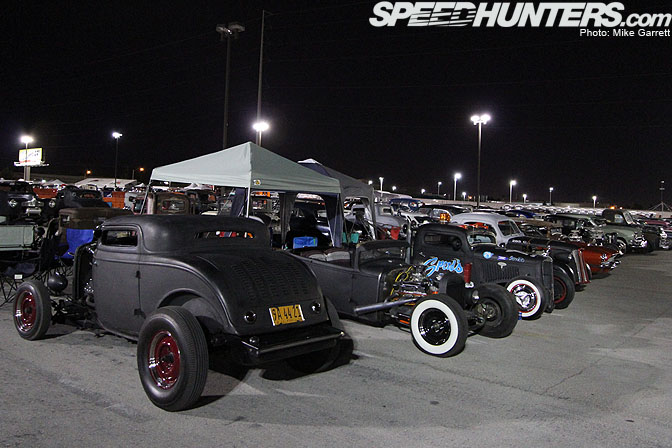 The flat black cars didn't really "shine" under the lights, but took on their own unique look.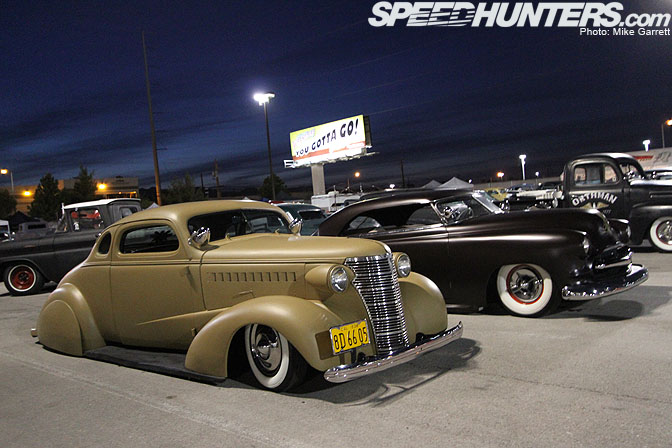 Many of the cars at Viva I'd seen at other events in the past, but you never really tire of seeing these cars.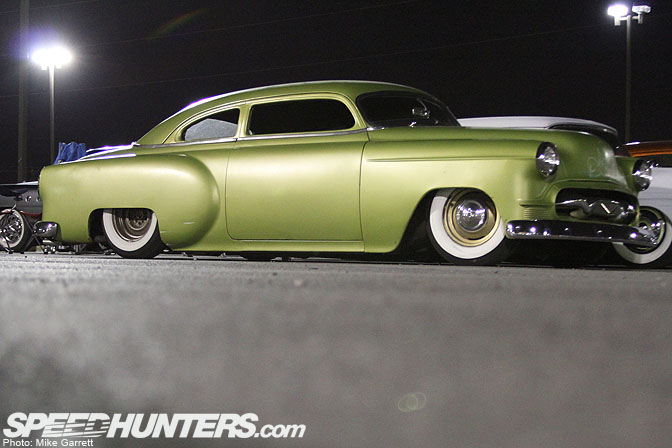 This chopped up Chevy coupe was another one of my favorites. Love the body and wheel color combo here.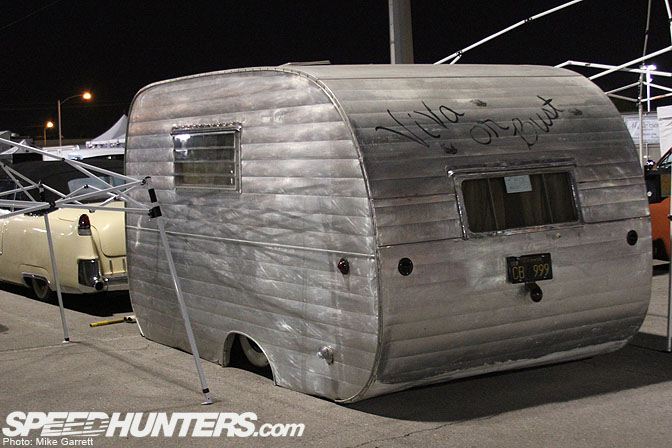 If it has wheels, it can be slammed.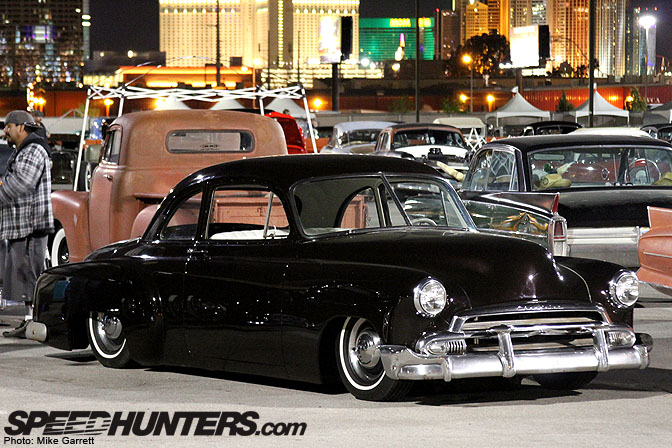 It's amazing all the different ways people do '49-'53 Chevys. Here's a nice example of a mild custom.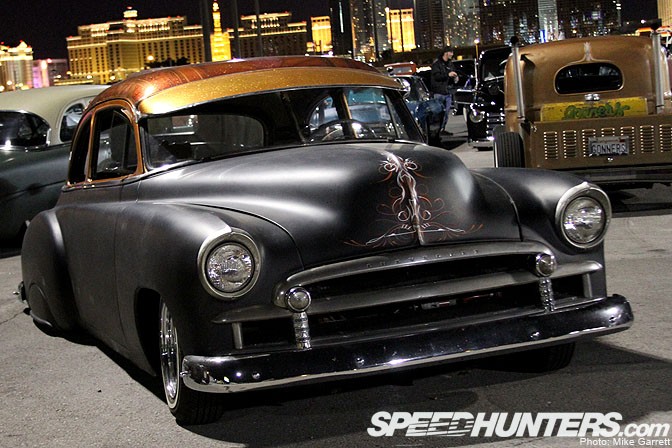 Along with a more lowrider-inspired version.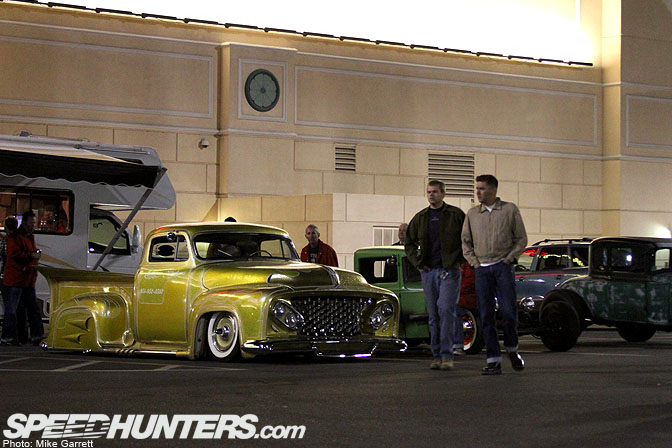 OK that's it for now. Time to head down to Long Beach for the Formula Drift Media Day.
Much more from Viva Las Vegas on the way!
-Mike Garrett