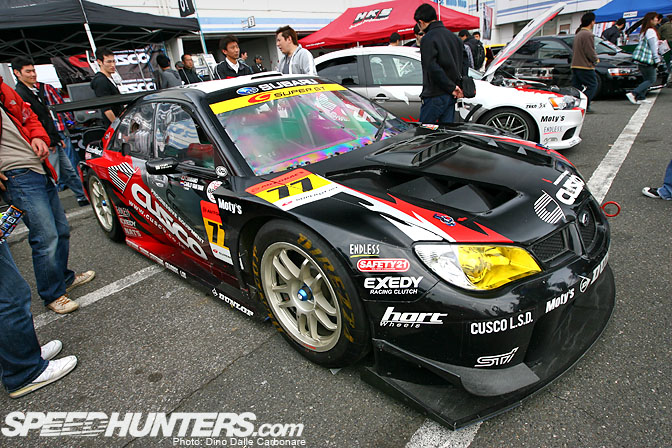 One of the biggest attraction of the Hyper Meeting is always the race cars and you can't get more aggressive than this GT300 Cusco Impreza, a car that was never particularly successful in Super GT but one that always grabbed the heart of enthusiasts. This is now replaced by the Legacy in the GT300 class.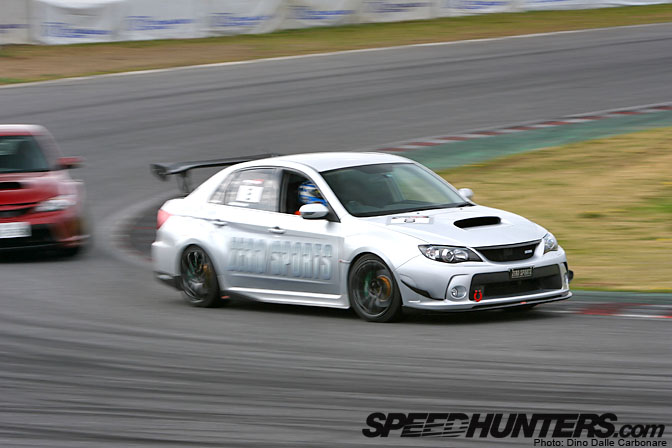 It is yet unknown if Zero Sport will create another open class Impreza to participate in the Super Lap Battle. If they do I'd really like to see this 4-door STi be used, a car that they built back in 2008 for the 2009 Tokyo Auto Salon.  The rear fenders and widening has all been done by hand and looking at the official STi sedan recently unveiled at the New York Auto Show it looks like Subaru may have grabbed a few ideas from them LOL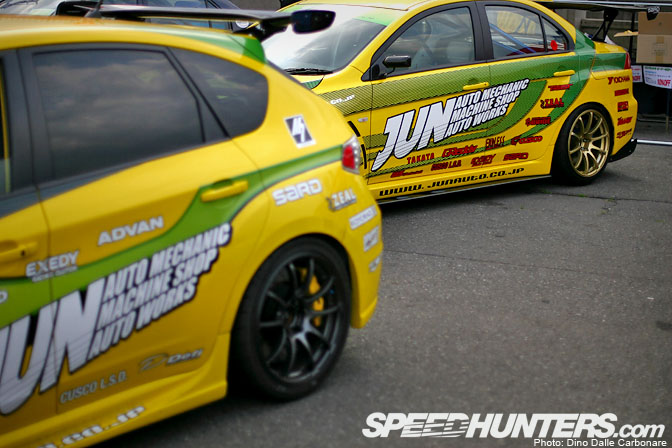 The 630 HP JUN Evo X's retirement will allow JUN to concentrate in turning the GRB into a real time attack monster. The CZ4A is still up for sale for under 6-million Yen.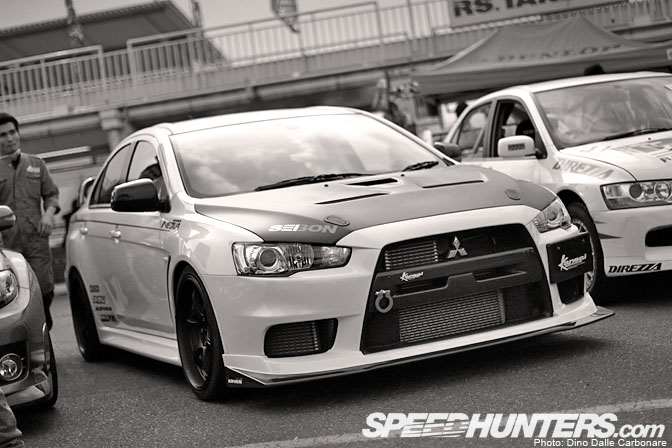 Yep, it's the HKS Kansai Service Evo X again! Simplicity at its best.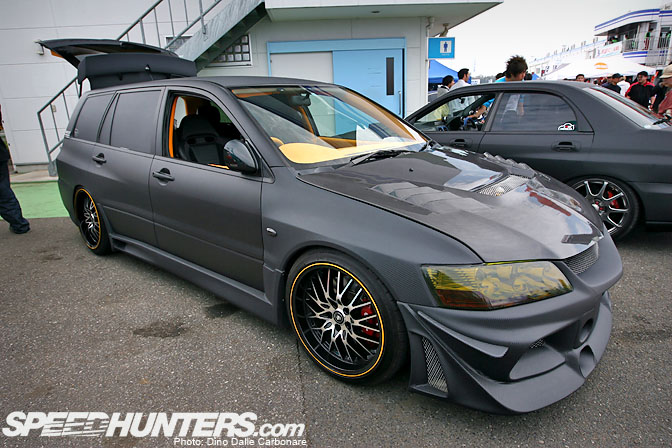 Wrapping is getting very popular in Japan, especially the 3M carbon sheets, applied here to the Area 2 Motorsport Evo 9 Wagon demo car. The show car was brought to show off all the accessories A2M supplies, including alarm systems and a new flocking service to that gives all your interior trim a soft velvet-like texture.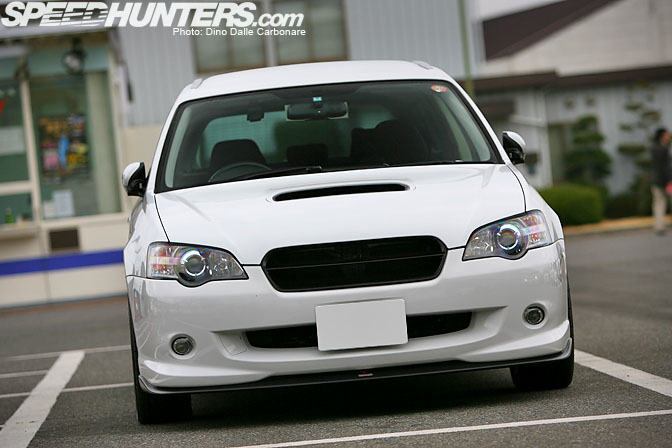 Spotted this Legacy Wagon in the parking lot. Lowered ride height, an STi front lip spoiler and a very nice grille conversion made it particularly cool. Will need to find out who makes that grille, as I'd love to give a similar stealth look to my 3.0R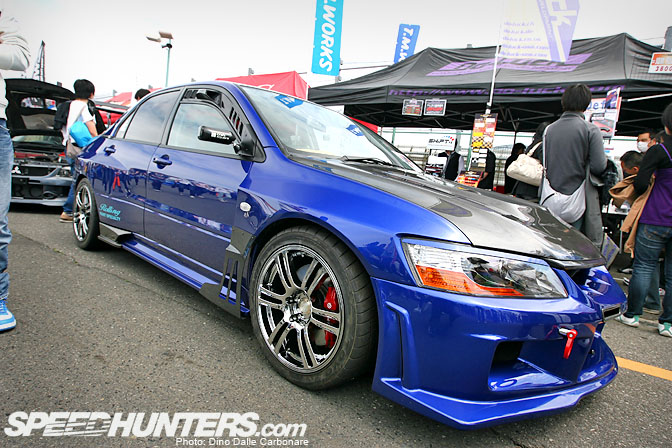 You can't beat Do-Luck for intricate body kits that differentiate themselves from anything out there. I hear they are currently designing a very cool front lip for the R35 GT-R, can't wait to see what they come up with!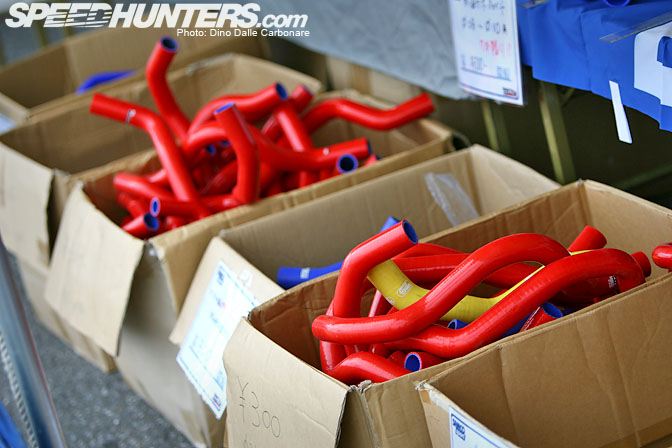 The Hyper Meeting is always the place to head when looking for bargains and discounts. Pretty much every exhibitor has a vast parts selection on special offer for the day and people literally go crazy.  I saw many carrying Samco radiator hoses around most of the morning until I found the place where they were getting them from.  Can't go wrong for $3 a pipe!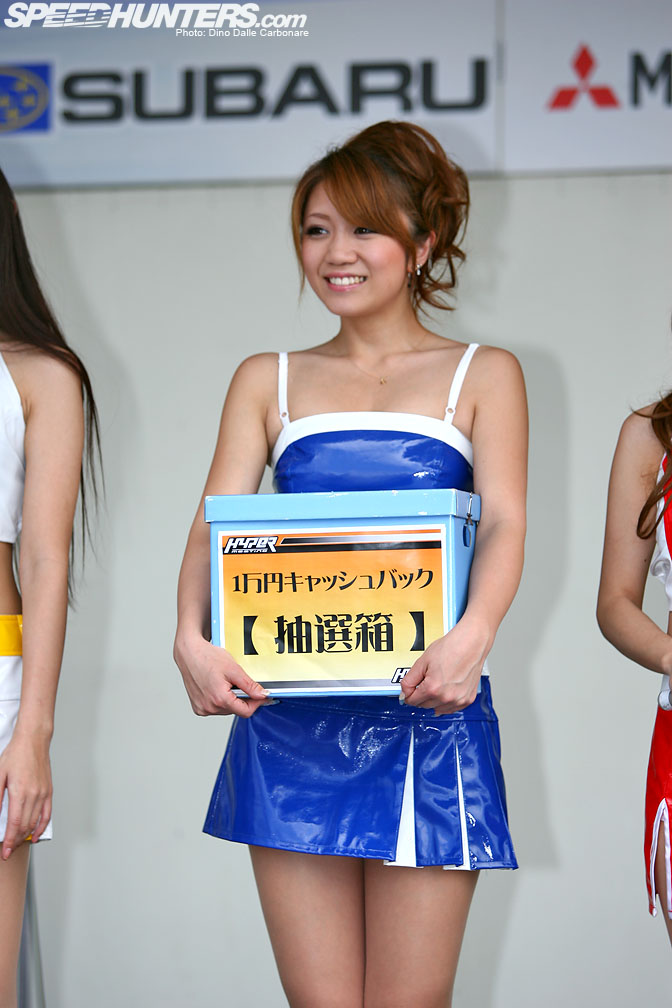 I'll sneak another girl picture in here too, you can thank me down in the comment area;)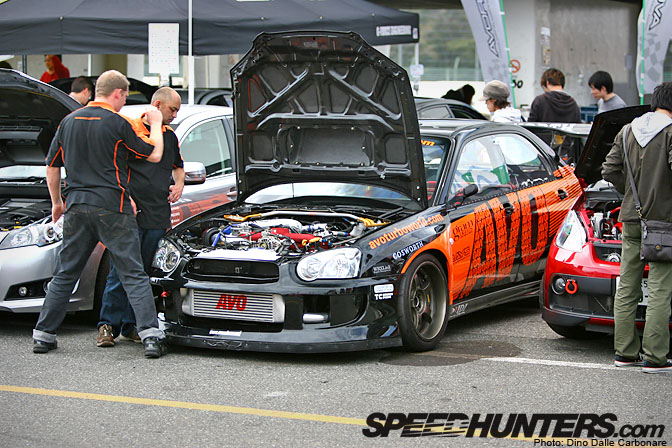 The mighty AVO Impreza sitting in the cramped paddock. There were just so many cars this year that space was on the tight side. I wonder if Sodegaura Forest Raceway will be used this year to host some events. The new circuit in Chiba-ken has one big problem, noise restrictions, with surrounding neighbors not particularly fond of loud cars. This has put a lot of organizers off.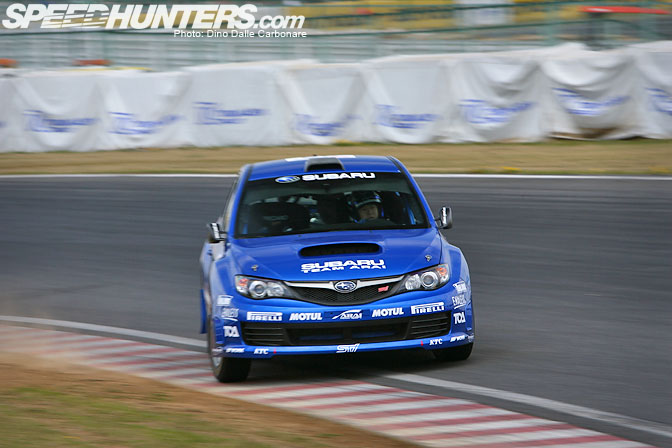 Here is Toshio Arai in the first stage of a brutal Scandinavian flick. A split second after I grabbed this shot the car was flicked into a massive four-wheel drift.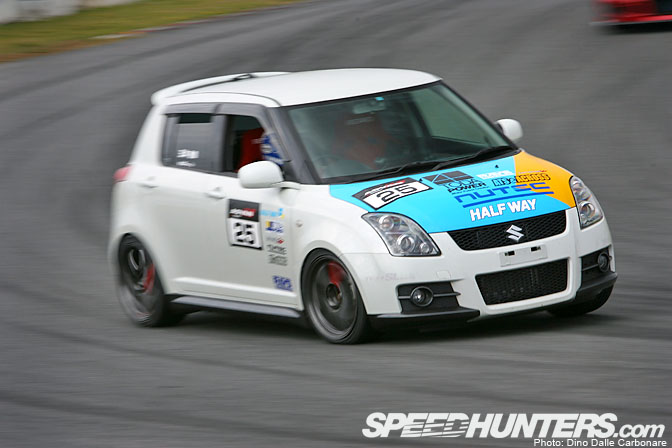 More Swift love with the little Half Way demo car tackling the entrance into the in-field hairpin. I really like this car as it doesn't resort to force feeding to get extra power, instead it runs a 1.9L stroker kit that makes it scream only like an NA car would.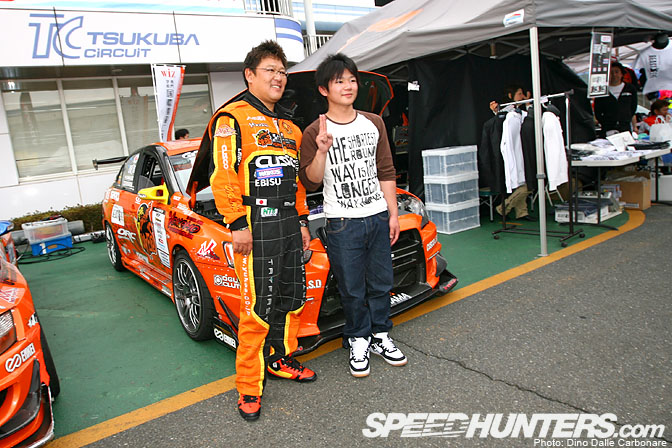 I've bumped into the Team Orange guys three weekends in a row now, first at the D1 in Odaiba, then down in Nagoya and this past Sunday in Tsukuba. Here is Kuma doing the rounds posing for pictures…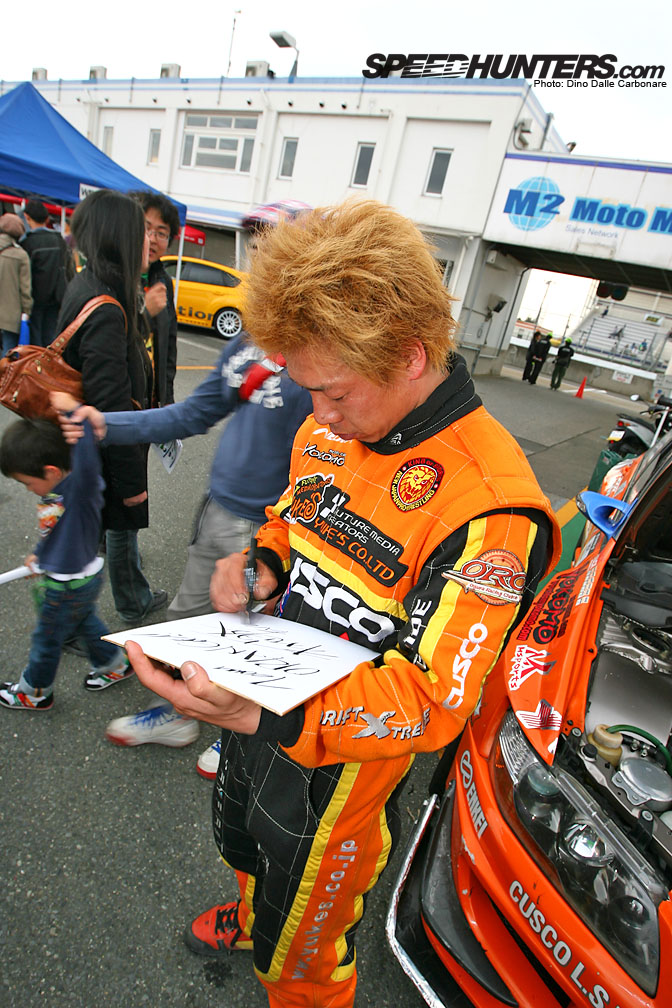 …while Suenaga was busy signing autographs.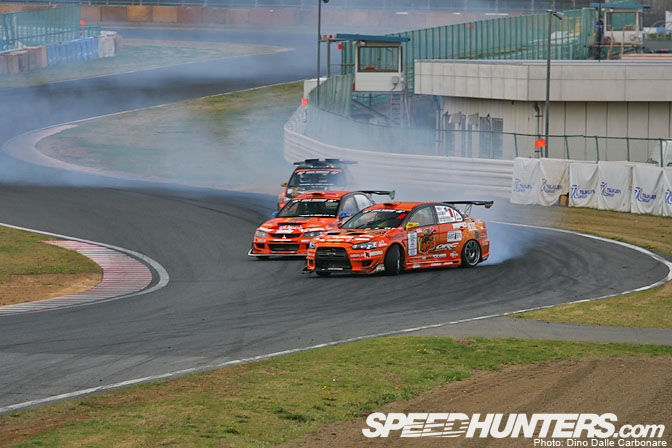 These guys are doing a great job of bringing drifting to the masses. Hats off to them!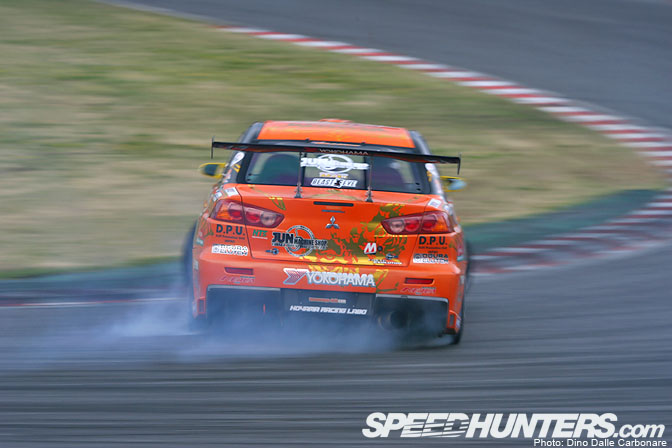 I'll be meeting up with them later on this month as I head up to Ebisu Circuit for some drifting fun before the Spring Matsuri gets under way.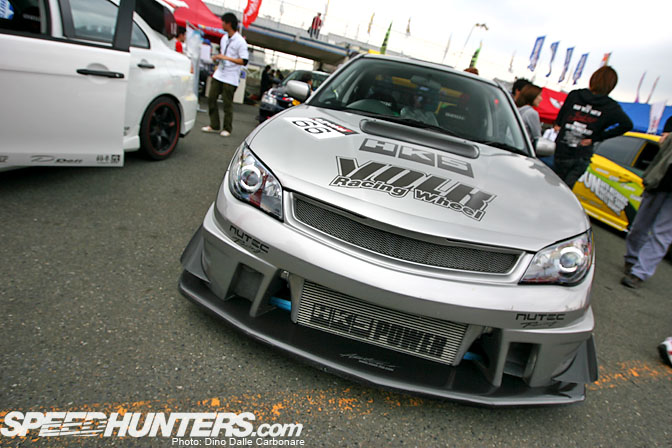 I liked the bumper fitted to the Aqua GDB which allows the HKS front mounted intercooler to do its job very efficiently. This was pretty fast out on track, but unfortunately I can't give you any times, you will have to check out the Video Option DVD at the end of the month for that.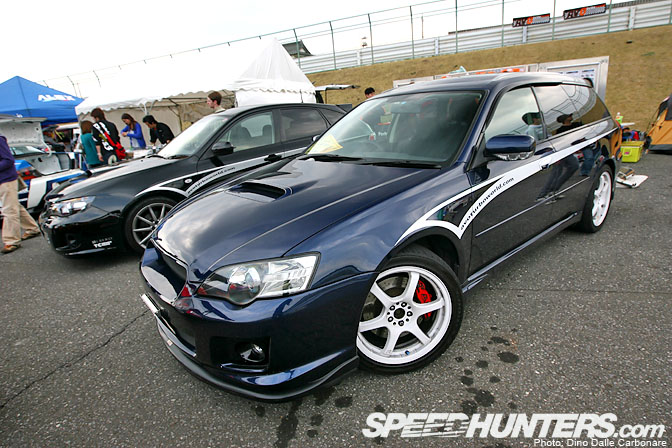 AVO also brought their Legacy Wagon and Impreza ST out…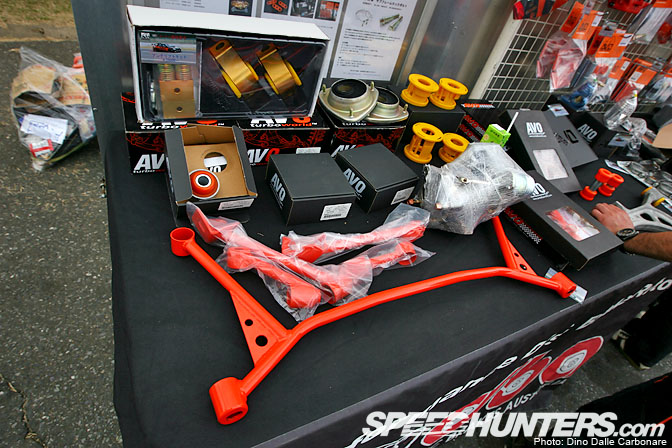 …as well as a vast number of their suspension tuning parts. It's good to see that there are some out there that value the importance of suspension upgrades over outright power! I'm a firm believer in this too, no point having the power if you can't control it properly.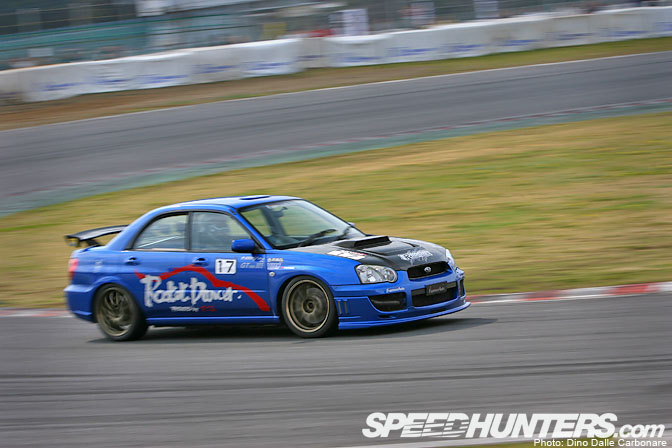 "Roketto-Dansa"…sorry I just love saying it a' la' Japanese.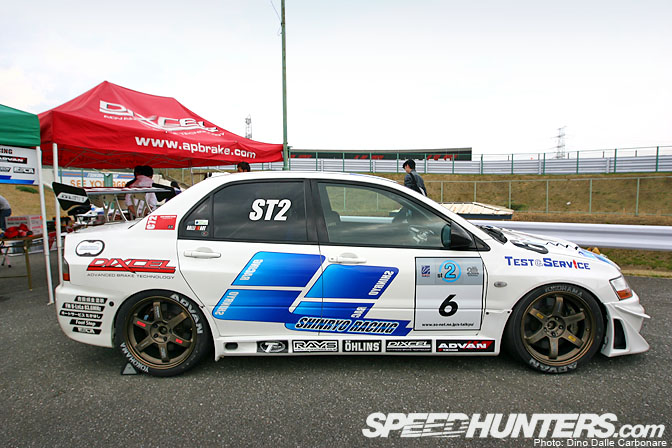 Another race car, this time a Dixcel sponsored Super Taikyu Evo 9. Bronze TE37s with Advan slicks, is there a better combination?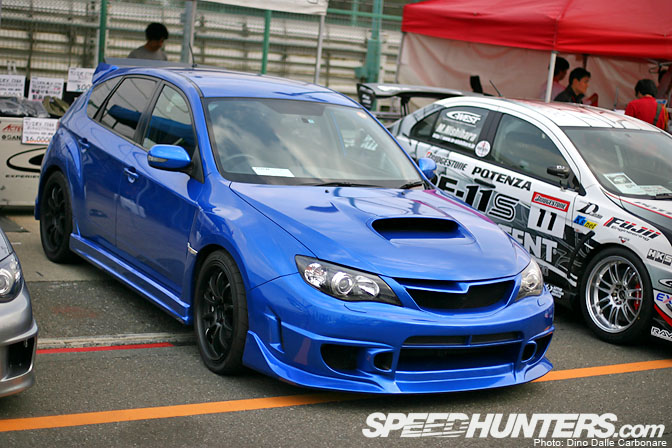 I've put together a final collection of pictures from Sunday…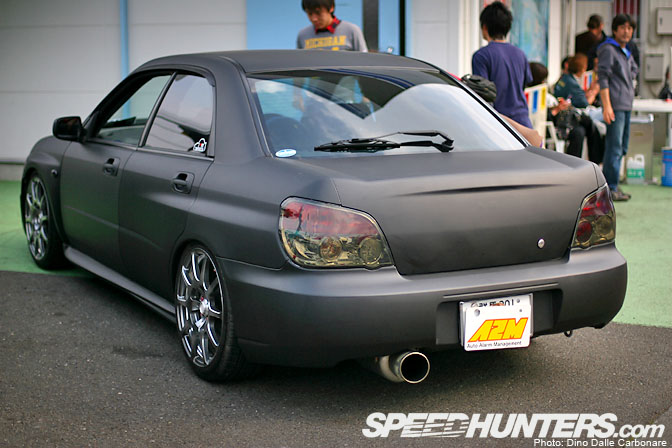 …so don't miss the wrap up from the Hyper Meeting coming to your screens very soon!
-Dino Dalle Carbonare