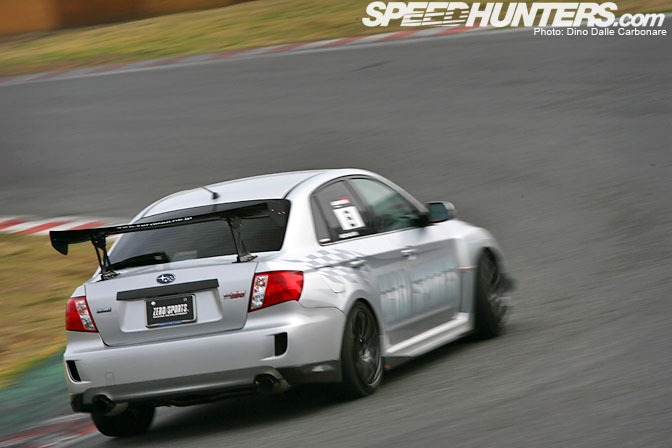 After spending last weekend down in Nagoya it was back to the Ibaraki-ken countryside today for what has for many years been one of the biggest track events of the year, the Hyper Meeting. As I made my way through the paddock this morning I was very impressed with the turnout of cars, which seemed to span as far as the eye could see, and the number of people that had turned up to check out the various track events was simply outstanding. If you think Tokyo Auto Salon gets buys, you should check out the Hyper Meeting!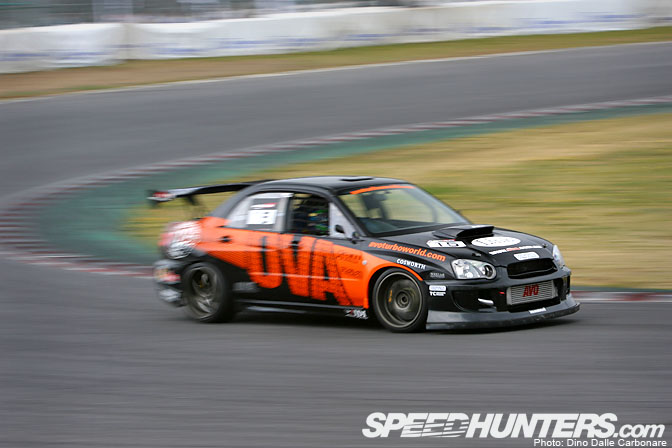 As ever the fastest Imprezas, Lancers and Legacys in Japan hit the track in a series of practice runs followed by 5-lap battle races. Unfortunately since Video Option was out filming the event for an upcoming DVD I am not allowed to disclose any of the race results or details, so pictures will have to do this time. One car that did very well was the AVO turboworld Japan GH8 Impreza. Over the last few month's since the Super Lap Battle Ross has been concentrating in shaving off weight with 60 kg being removed thanks to parts like lighter stripped-out doors and paper-thin lexan glass. A new modified AVO turbo allows the 2.5L flat-four to crank out 600 HP. Ross was smiling at the end of the day, happy with the car's result, which again I am not at liberty to disclose.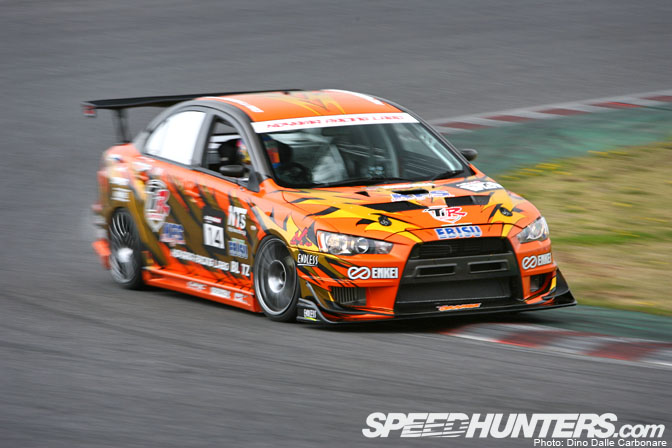 The Koyama Racing Labo Evo X was out showing just how fast it is, and in case you are wondering it was very fast indeed!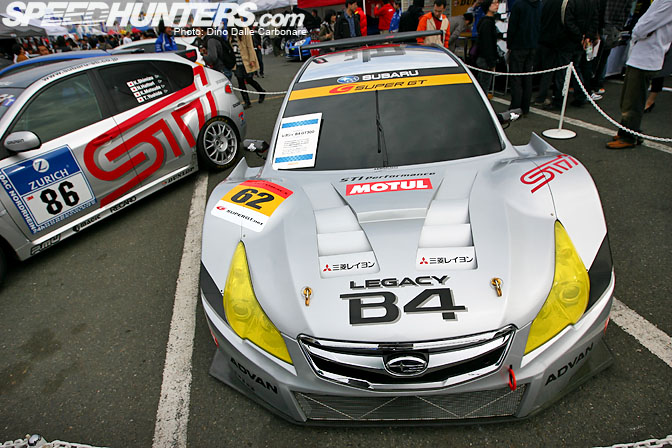 As ever the Hyper Meeting is a place where aficionados of Subarus and Mitsubishis can get close to their favorite race cars like the wildly styled GT-300 Super GT Legacy.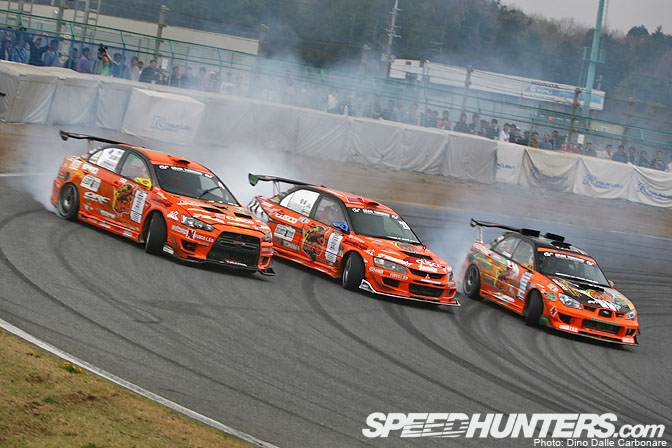 Team Orange put on two triple drift shows during the day, showing everyone that 4WD cars can be turned into pro drift machines with a little bit of work. The third Team Orange driver for the 2010 season was also announced.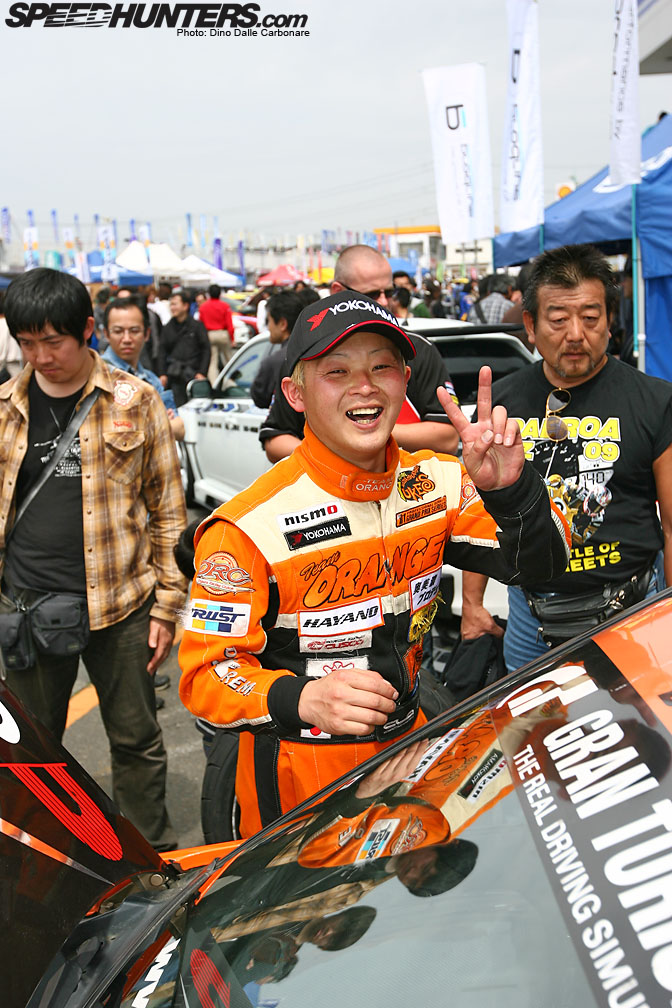 Oshima-san will take over Tanaka's spot from Round 2 in Autopolis at the end of the month.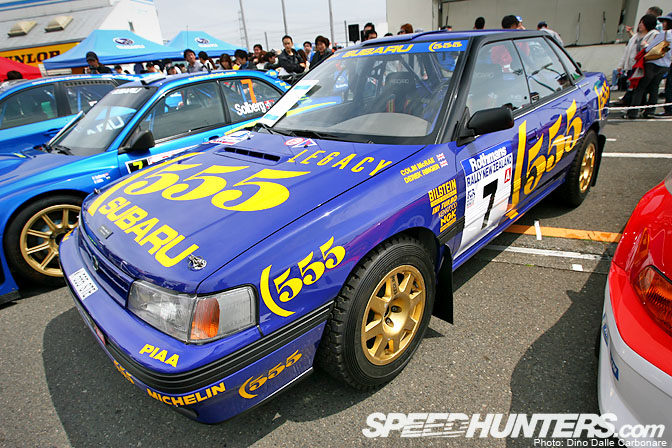 Unlike many other events here in Japan I always like the rally emphasis that is put on the Hyper Meet, and the cars on show included this old McRae Legacy.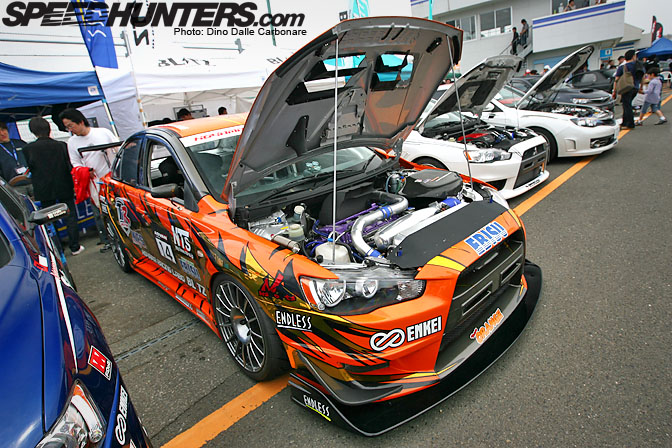 Here is the KRL Evo X again cooling off in the paddock.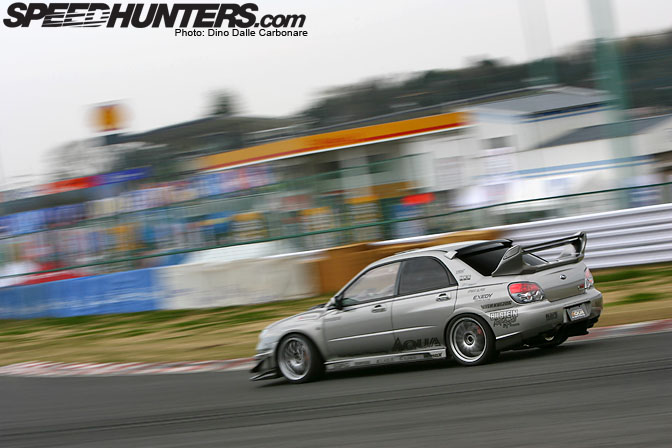 The action on track never stopped with countless staged events and time attack/practice sessions for the open and street class races that were to be held at the end of the day.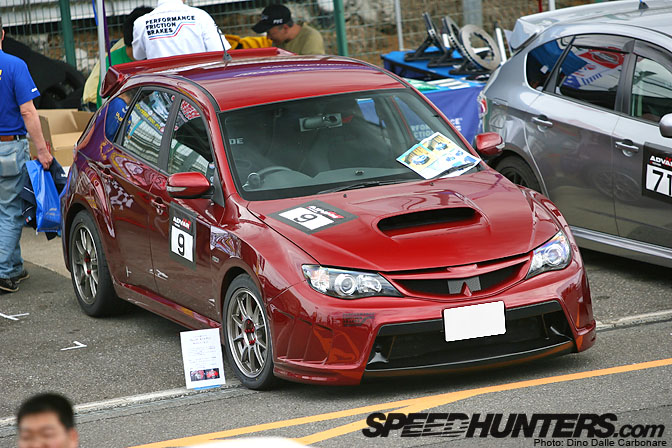 I though this C-ser/Maroya GRB looked pretty different with this shade of burgundy.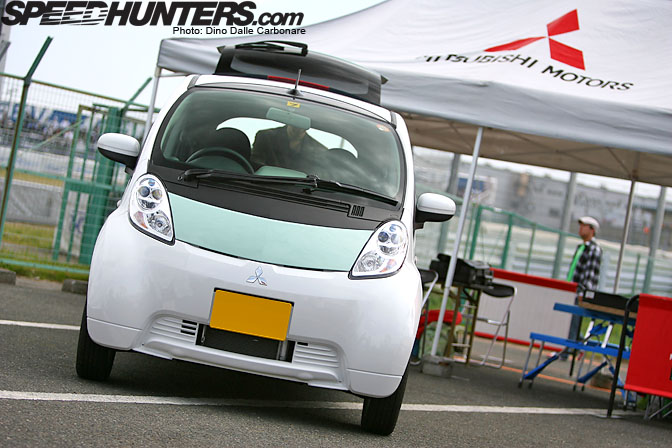 The Mitsubishi i-Miev all-electric car has recently gone on sale in Japan, and MMC wasn't going to pass up the opportunity to show it off to the public. The little i boasts a 100 mile range on a full charge which can be achieved in 7 hours via a home 100 Volt outlet, or in 30 min via a high-voltage quick-charge station. There are tons of these charging stations popping up across Tokyo and the rest of Japan allowing you to charge your car for free. A home charge will cost you 90 Yen, about 96¢.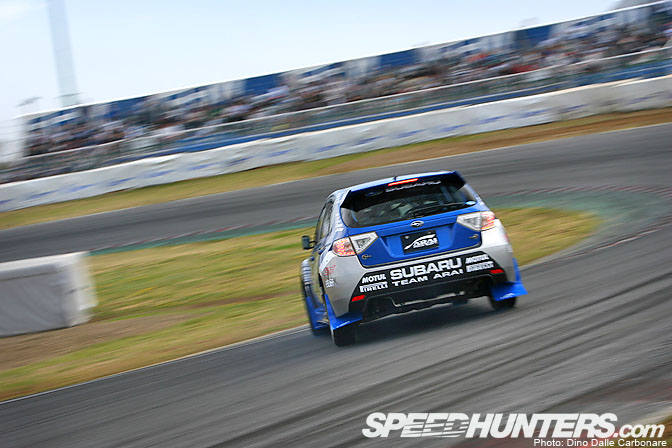 Rally driver Toshio Arai was out with a Gr.N GRB on snow tires showing off how Scandinavian-flicks should be executed. A few lucky people managed to score rides in the Impreza…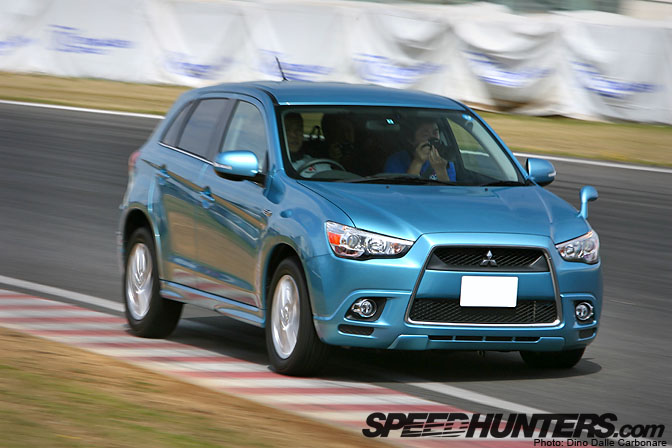 …while others had to do with less performance-oriented vehicles like this new Mitsubishi RVR.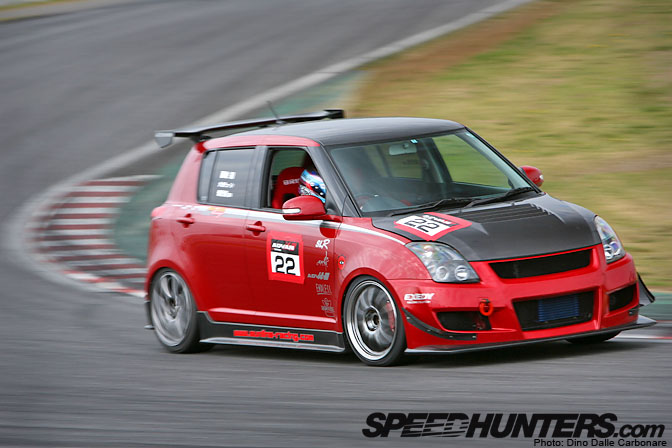 Sunline Racing came up all the way from Okayama to participate in the Swift race, but also showed up with a brand new demo car. More on this later on.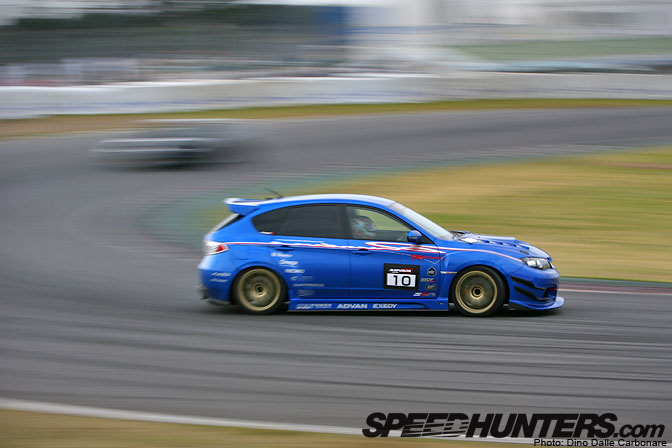 Now that's how you exit the hairpin at Tsukuba!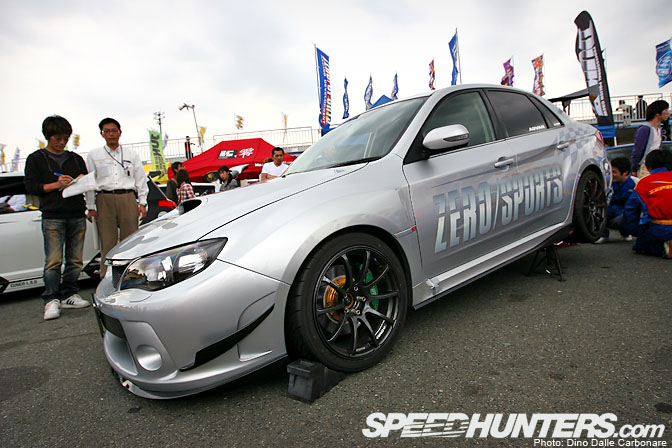 If you like your Imprezas in sedan form then this custom built GRB might be the car for you…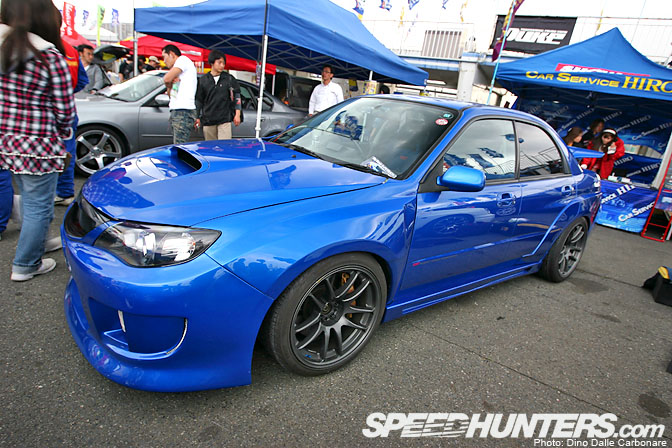 ..or how about a GRB front swap and full wide-body conversion for your GDB? This kit is offered by body-specialist Car Service Hiro.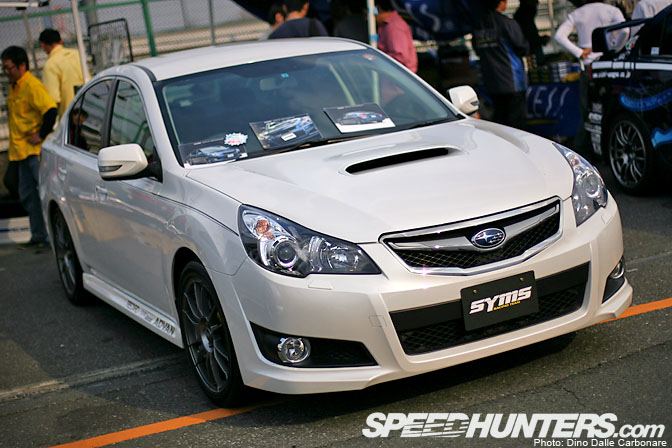 And how can I forget the Legacy. The new gen car is so much longer, taller and wider than the previous model, but despite its Outback-like dimensions and stance as stock it can be made to look pretty nice with a few choice aero goods, and of course wheels.
More Legacy, Impreza and Lancer goodness to come in Part 1.
-Dino Dalle Carbonare