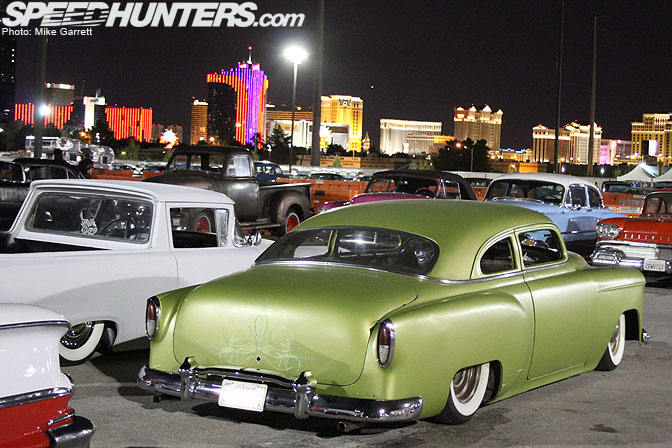 I just got home a couple hours ago from Sin City after spending the weekend at "Viva Las Vegas" – the Rockabilly festival and car gathering that's been a Vegas tradition for 13 years now. Over the past year I've been to some of the finest hot rod and custom gatherings on the west coast, but this was my first time ever attending Viva.
With combination of cars, girls, and good music I've found that Viva Las Vegas has all the things that make life worth living.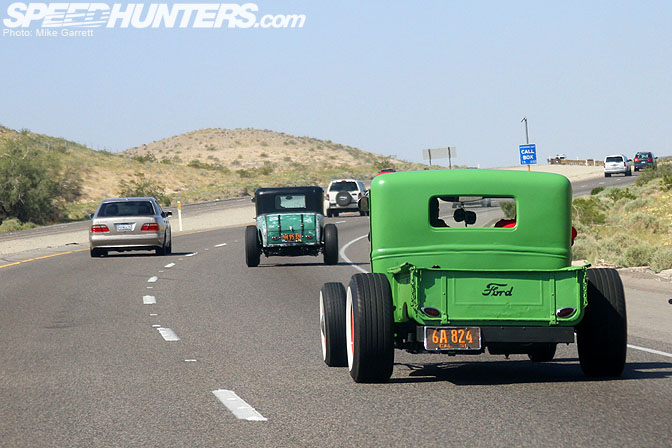 As they say, "getting there is half of the fun".
During the drives to and from Vegas, Interstate 15 was filled with countless hot rods and customs – standing apart from the sea of rental cars and big rigs.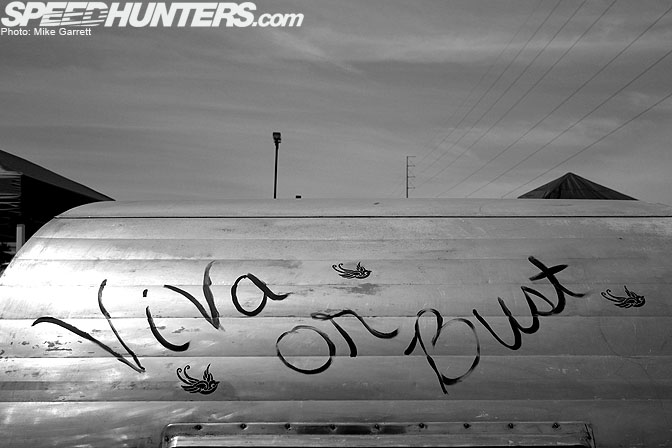 That's one of my favorite parts of this event. You get the feeling the Viva Las Vegas is more of pilgrimage than just a car show.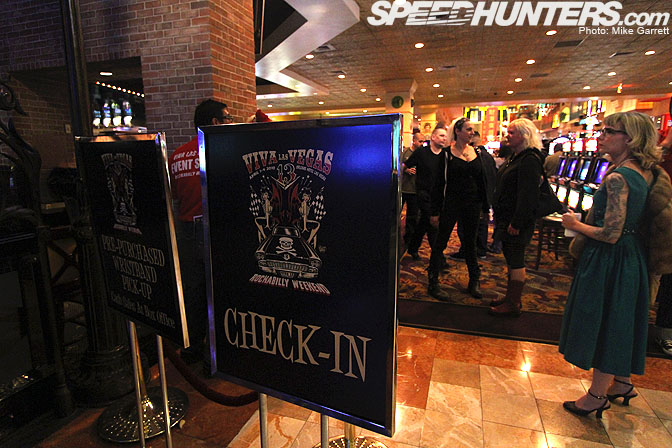 Held over the course of four days at the Orleans Hotel and Casino, Viva Las Vegas includes everything from a pool party to a fashion show, a burlesque competition, and more bands than you can count.
Me? I mostly came for the cars.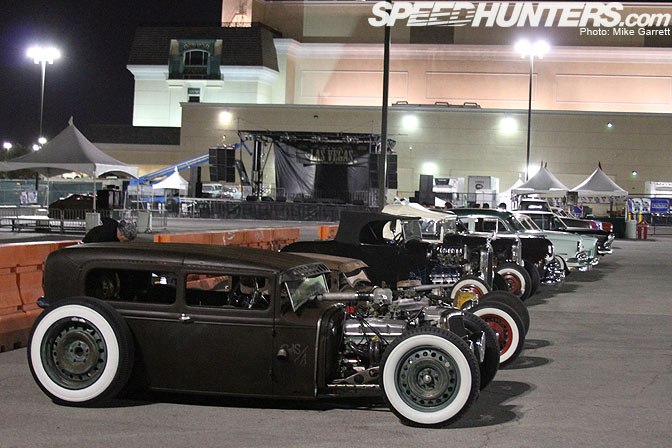 And cars there were…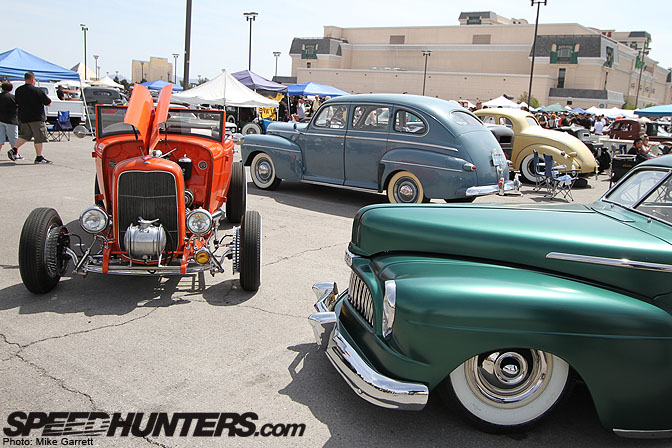 Hundreds of them to exact – with none dating more recent than the mid '60s.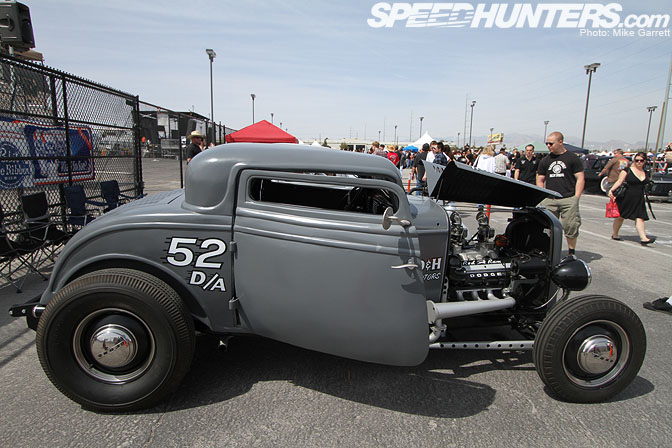 There was everything from traditional type hot rods…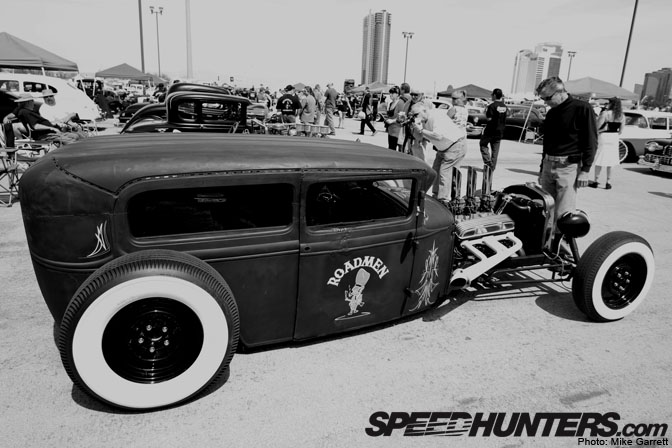 …to "rat" rods (for lack of a better term).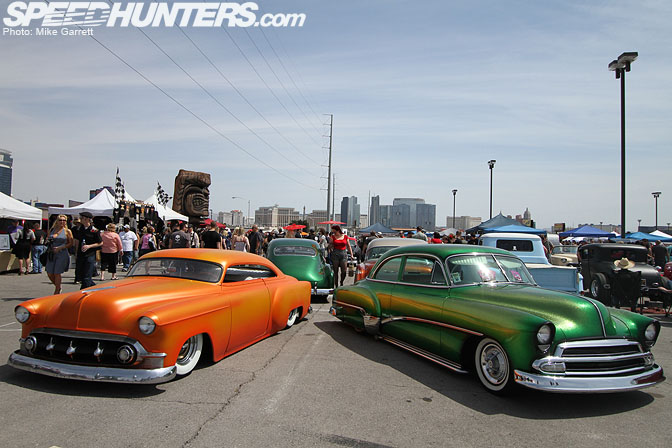 Plenty of late '40s and early '50s sleds were also kicking about.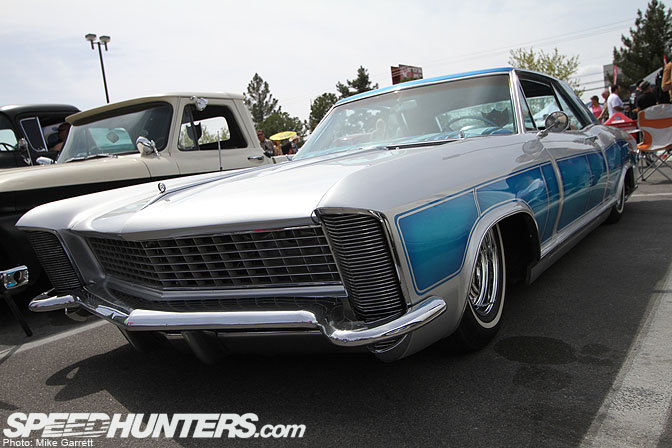 Along with 1960's era lowdown customs like this fresh Riviera.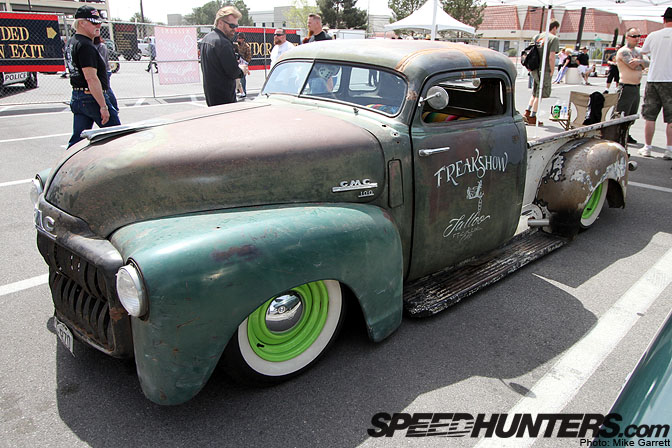 As usual, there were also good number of pickup trucks spread around the car show.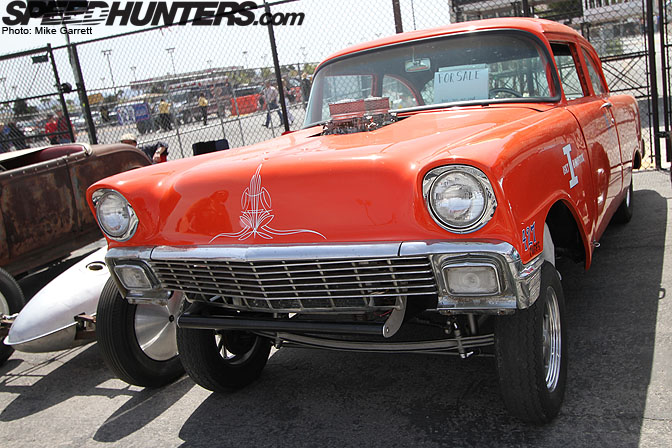 Even a few race cars here and there.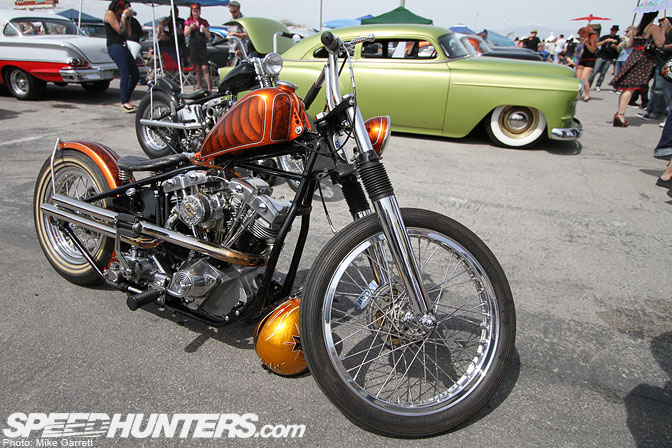 Meanwhile, some prefer to get their nostalgic kicks on two wheels.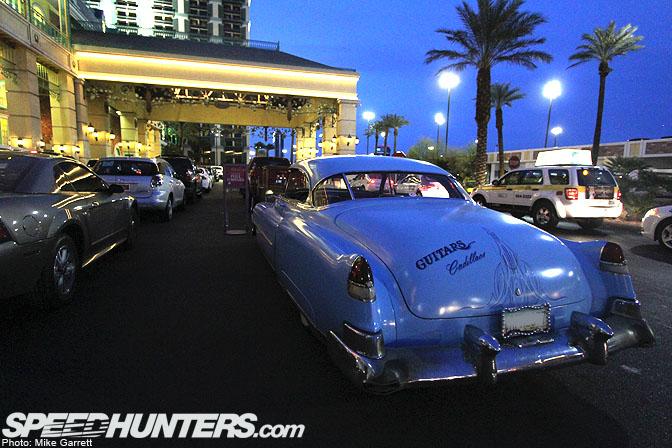 As made my way around The Orleans, I spotted license plates and car club logos from all over the Western United States. More on this later.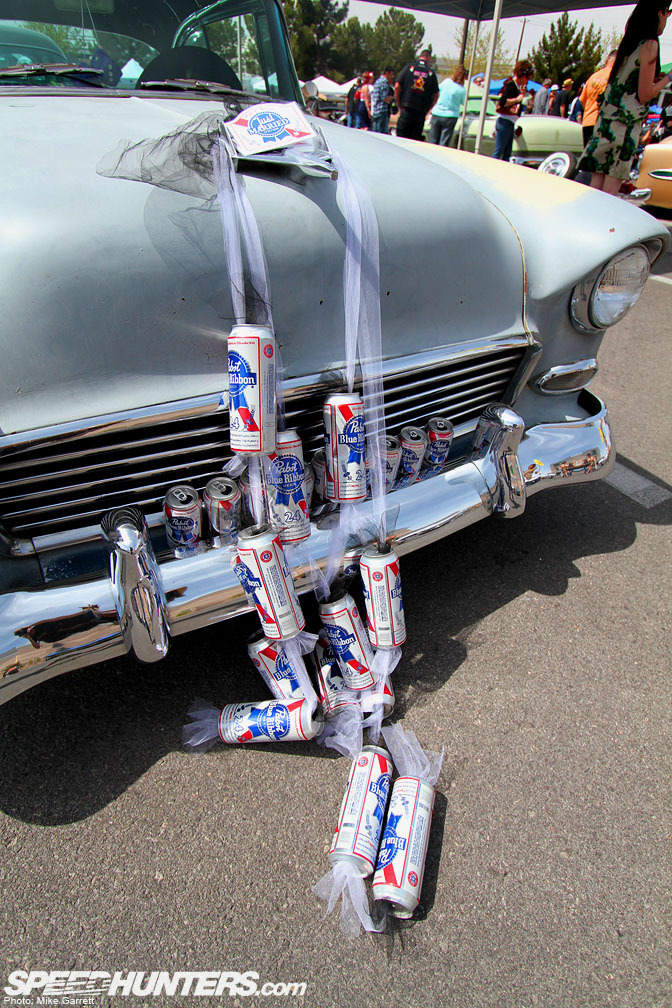 Throughout the weekend there was never any question as to what the preferred beverage was at Viva Las Vegas. The PBR flowed like a river…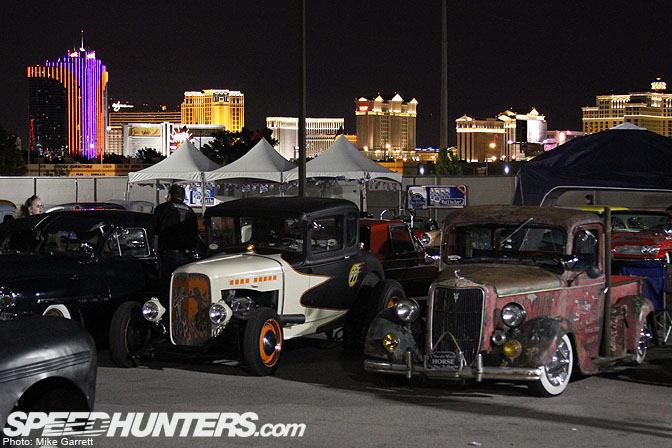 The lights of Las Vegas make a very cool backdrop for a rod and custom gathering, no?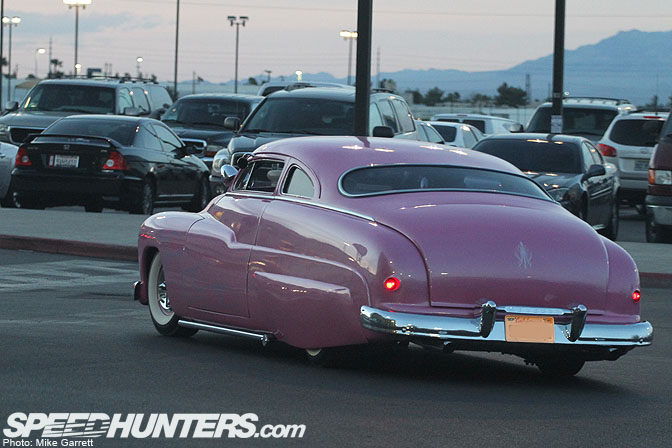 In fact, all day and all night you could see the cars cruising on the streets around the Orleans, with a few venturing over to join the parade of taxis and limos on the strip.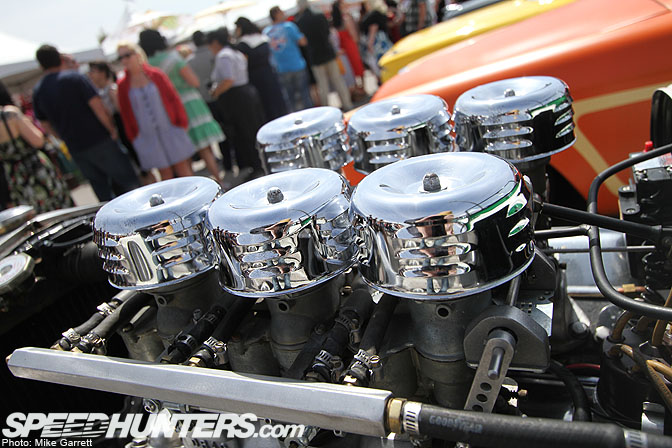 The car parts, the fashion, and the hairstyles might have been retro – but it was a still a bit funny hearing a pinup model or pinstriper mention their Twitter or Facebook account.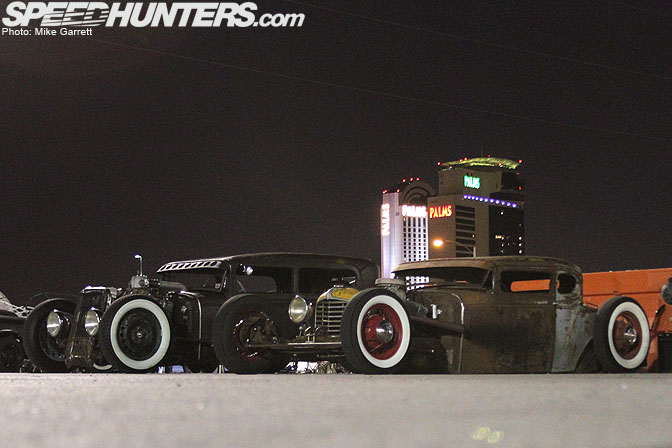 Well, I'm just getting started with my impressions from Viva Las Vegas.
Expect much more over the course of the next week or so, as I squeeze in posts between prepping for Formula Drift Long Beach.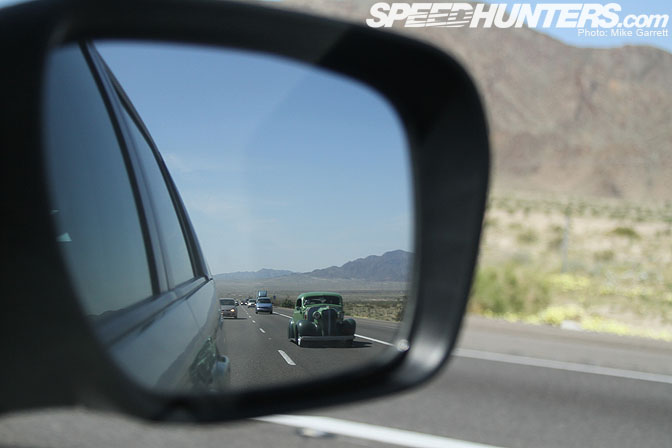 For now I'll leave you with this shot taken on my way back to LA this afternoon.
Seeing an old sled at a car show is one thing, seeing one cruising up a steep desert hill at 80mph is even cooler!
-Mike Garrett