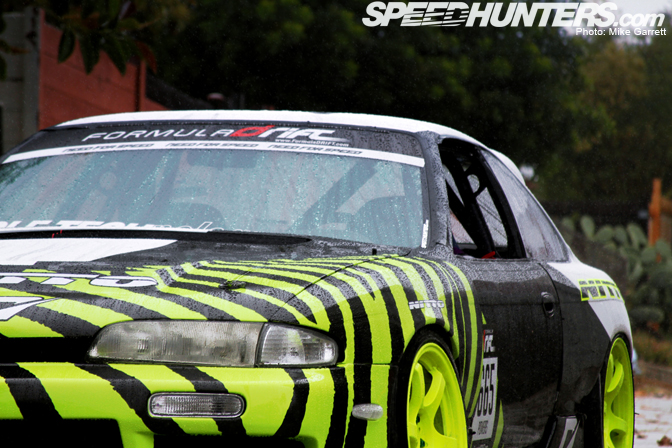 What's up SpeedHunters! I hope you have been playing Sudoku and eating lots of protein over the past few months or something, because I've been working hard to blow your minds this year!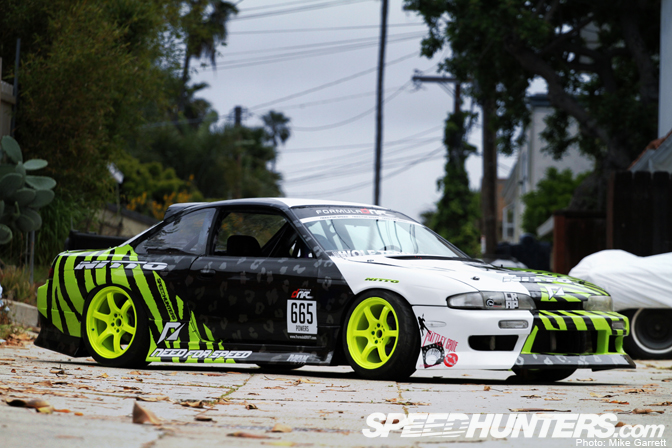 This year I'm very excited to drive the full Formula D season, in my same s14 from last year with some cool changes. First of all, I'm now a Team Need for Speed driver and I will be on Nitto tires.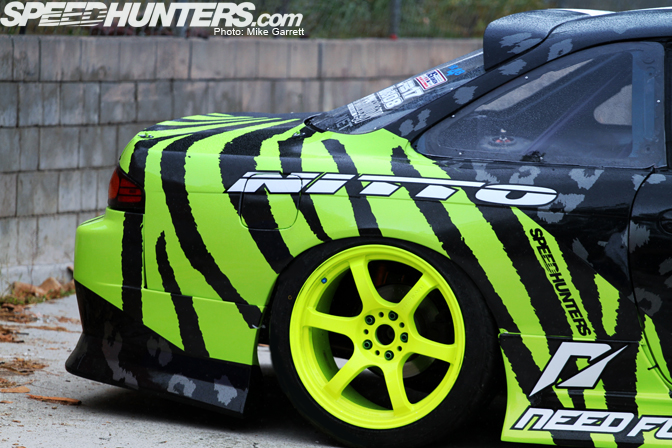 These are big changes from my grassroots program last year, but I'm very excited and thankful for the support Need for Speed and Nitto are giving me and I think you guys should be too. Basically this means I'm going to rock you harder and more often than last year. In addition to FD I will be running All Star Bash and other grassroots events.
First off is the livery change for this year:
This is a huge change that took a lot of work, clearly. I knew that I wanted something much more exciting for this year, so I applied some rock to the Need for Speed theme and this is what we came up with.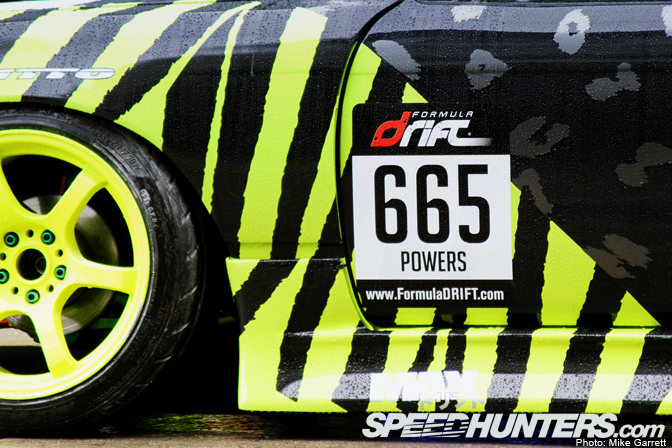 What do you think? I think it looks like a fierce wild animal ready to attack, or someone on stage at a rock show. 
Next are the motor upgrades. Last year my car was pretty slow for FD standards, which really held me back. I'm still running a KA24DE for this year, but it has some huge improvements. It now has a Jim Wolf Technology rod/piston setup, Jim Wolf C78 prototype cams, a JSP turbo manifold, Part Shop MAX piping, and a gt3071 turbo with larger housings than last year. The car also now has an OS Giken 1st-3rd gear set and twin plate clutch, and a Jordan Innovations wiring harness. The motor was assembled by Big Tom (Tommy Roberts' dad) and it rocks. We really turned the motor to 11 for this year. Girls love it.
p.s. this is horsepower at the hubs, not the flywheel as it says. Tuning was done at Jim Wolf Technology
So now that you've gotten the big updates, here are some pics from the build Sorry for the quality, I'm no Linhbergh.
Here is my front end all unbolted and with the motor out. I did this after a big crash at FD team drift last year as an effort not to have to get a new car. I love being able to stack some extensions together, and work on my car while standing 4 feet away. Maybe drinking a smoothie at the same time.
… and this is my motor right before I put it in, looking clean.
My car looks great without the fender on huh? This dent used to be called "thor."
One time at all star bash my floor got so hot from the exhaust, that the bathroom rug I had for a floor mat caught on fire, so now I've done this
I made this gauge cluster at JSP, then my tach goes in the stock location still
Here's the front end more together and my messy garage
Here is a shot of my old wiring harness. What a nightmare!
And this is the new wiring harness from Jordan Innovations. It uses circuit breakers instead of fuses. I specifically had him wire up the fuel pump separate from the ignition so I could label them "sex," "drugs," and the starter "rock and roll" to get me in the zone before driving haha.
I got some new rear fenders: BN sports! The rest of the car is DMAX.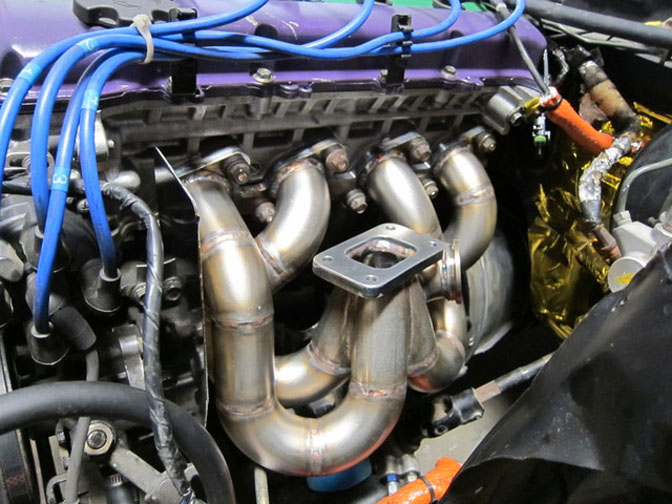 I'm really excited about my new exhaust manifold from JSP. This is John Russakoff's shop. He is also one of my favorite FD drivers.
This is my wastegate dump tube
Yes, it is a megaphone haha. Basically whenever I do anything on my car, I try to consider what is going to rock you the hardest, and this is what I came up with. Instead of asking "is this too much?" I now judge myself according to "Is this enough?" I've never seen anyone use a megaphone like this before. I also have one on the exhaust.
Here is the piping all made up from Part Shop MAX and a pic of the engine bay complete
…gauge panel and ebrake stuff
Same Gram Lights as last year, but now 18's for the rear! I changed to these wheels from the lipped VSXX last year right before Irwindale. I gave up a lot of lip, stretch, and good fitment for these but overall these have way more impact
Also had some issues with my spline type lug nuts last year, so I got some new ones
This is Clark from JWT tuning my car. I love that he has to cover his ears up now while tuning my car.
These are some photos from my first test day
My friend/main pit crew guy Max, getting super jacked on an energy drink. We had a lot of these this weekend
Me, probably sitting in LA traffic
These are my gloves. The left one is actually JTP's glove, and I wear it because he is my favorite drifter and I want to drive more like him.
Set up at the track
…at Willow Springs oval
Kinda cool photo where you can really see the layout of HTM in the background.
Some pictures from balcony:
Love the Nitto NT05 smoke!
Great first day…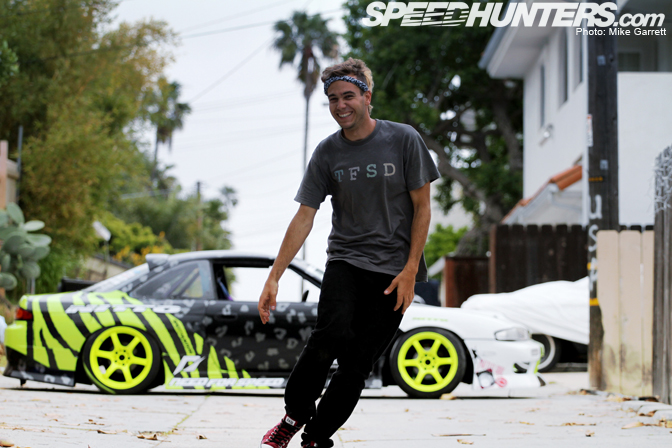 So, that has been my life over the past month. I'll be posting regularly on SpeedHunters now, and on my new website, driftparty.com (check it out!)
Really excited for this year and FD round 1 at Long Beach! See you there!
Matt.