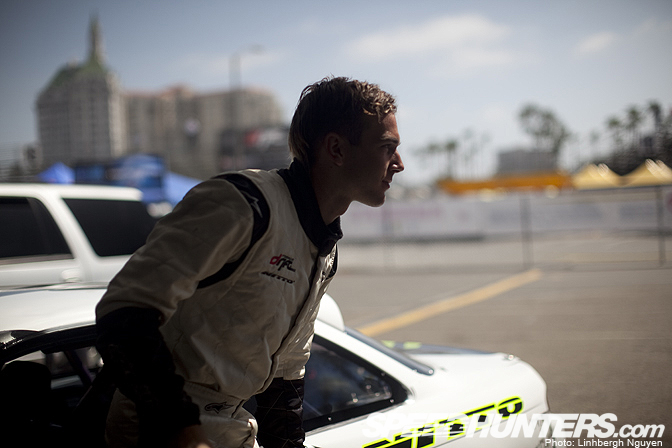 Whats up SpeedHunters. This is my blog from the week of Formula D long beach. I titled it "every rose has its thorn" after the Poison song because it was a great week with lots of new and exciting changes, but I lost earlier than I had hoped to which was disappointing. Overall it was a lot of good times and a learning experience and I'm ready to bring the heat in Hotlanta.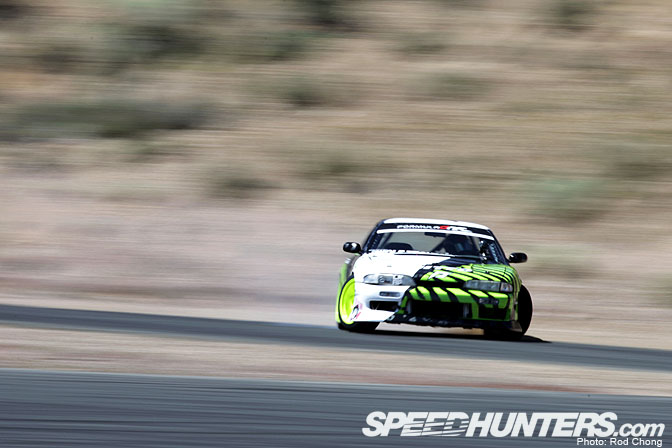 I went to Willow Springs on Wednesday to do a photo shoot and have a test day with Mad Mike. His car was overheating when we got there so we didn't get to see him in action or drive with him.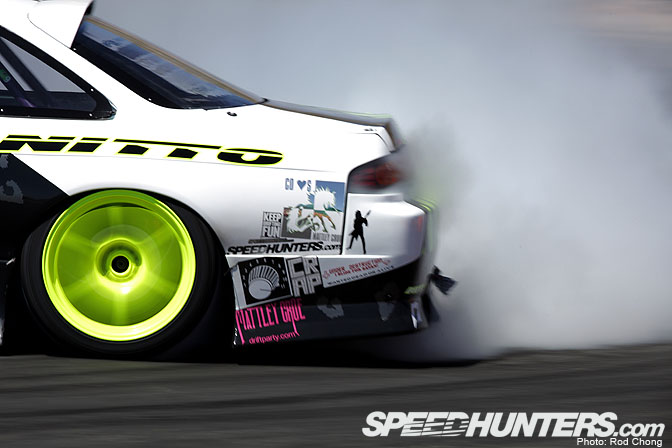 Rod loves my sticker placement. I'm more interested in the cheetah print underwear flapping out from the back bumper. Also you can se how thick the smoke is from the NT05 tires.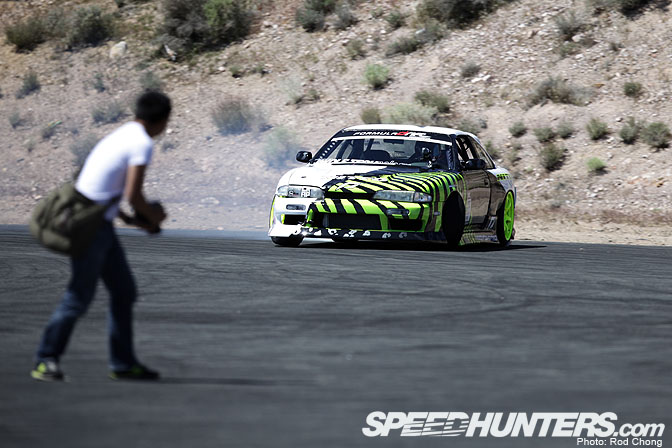 This is from the test/media day at Willow Springs with Mad Mike right before long beach. You can see Linhbergh standing in the middle of the track, he kept telling me to get close to him haha.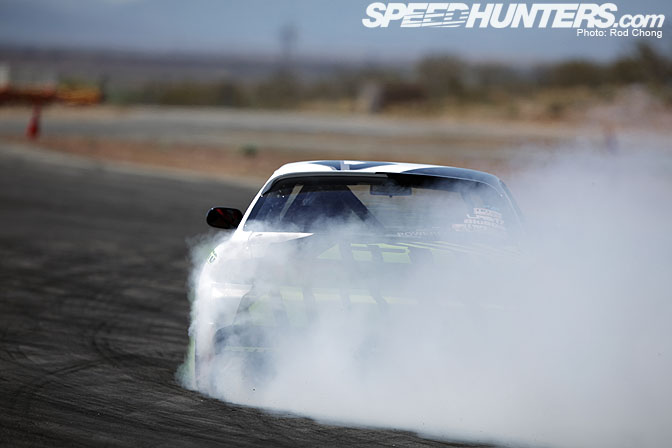 Later during the test day my rear coilover fell off while driving down the straight. We set up a mini long beach style course and it took like 4 hours to make it back to LA in traffic.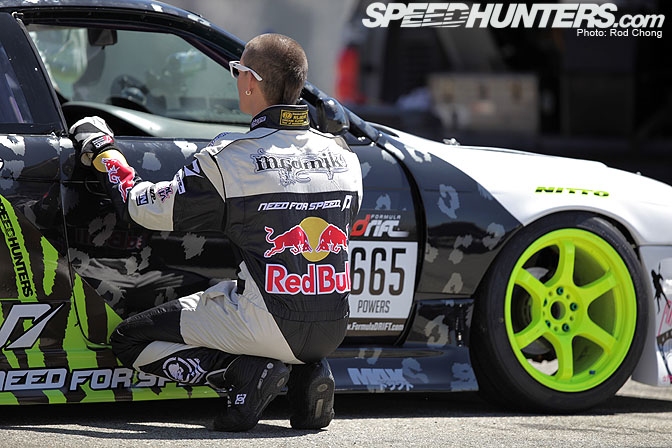 I'm kinda out of the frame, but right now I'm setting up the drivers side walkie talkie set I had just gotten. Mad Mike came over since this was the first time we had met. I think the partnering of us two will be good since we both are energetic, creative, and somewhat (or totally) new to Formula D.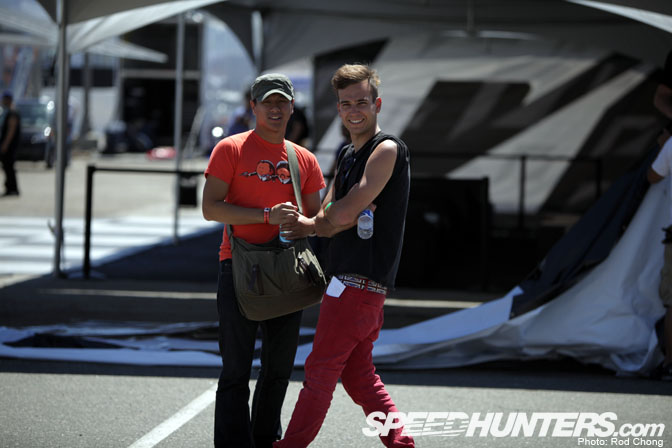 This is Thursday during Load In. I think Linhbergh and I both were
excited to see the Electro Lounge. You wish you could touch that hair.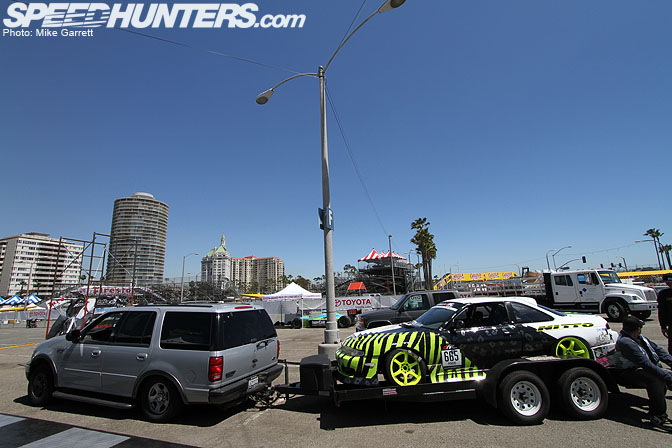 Here's the expo, my tow vehicle. I borrow it from my dad when I
need to. As you can see the back suspension is totally f'ed. I'm not sure if I
will have to use this to go to New Jersey or not, but I do love this thing as
it has like 15 speakers in it stock and the stereo really goes to 11.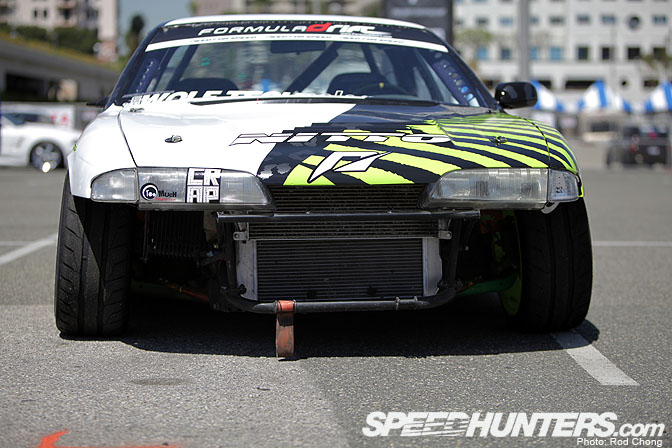 It's pretty crazy for me to think about the transformation of this
car over the past 5 years: from a stock s14, to an iconic grassroots drift car,
now to a professional drift car. My mirror is off because it started to fall
off on the freeway.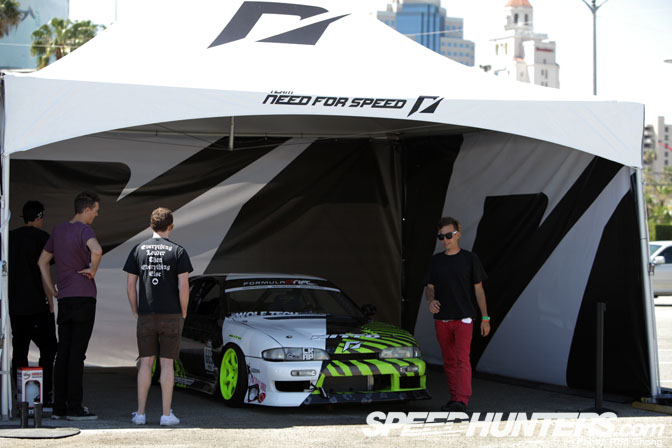 My friends and I setup in the "Mad-Powers" pit area/Electro
lounge. At first I was nervous about how the area would come up, but I ended up
being very happy with it. I have wireless internet, power, a large, secure, and
shaded pit area, and am in a premier spot in the pits. Thanks Need for Speed!
The super white guy in the shorts just came in from Canada to hang out for the
weekend. More on those guys later.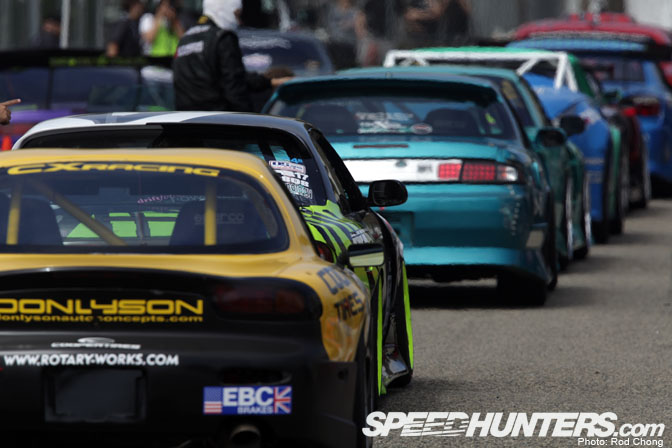 There were a TON of cars in practice Friday morning, and everyone
gridded at the same time so the lines were pretty long to get to do a run. Long
Beach always has the most entrants though. 
My friend's girlfriend installed my fire suppression for me (awesome), then stickered up my helmet. It's the first thing I see when I look at this photo. I was just trying to take it easy during practice since quite a few people were crashing.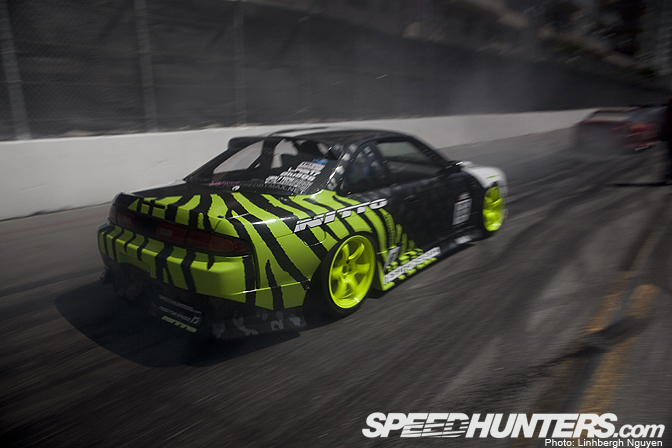 I think Linhbergh was trying to capture me doing a burn out. I'm
always kind of scared of them, and when I did one before my second qualifying
one my axle broke. I do like to do them in the pits though.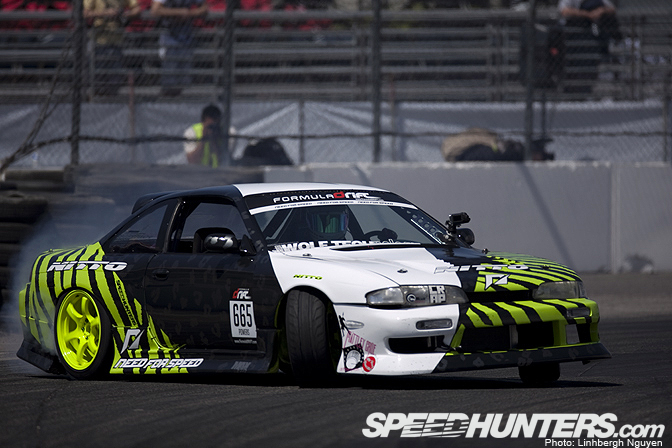 I tried to get lots of footage from last week , here you can see the camera mounted on the windshield aimed at my face. I think its funny.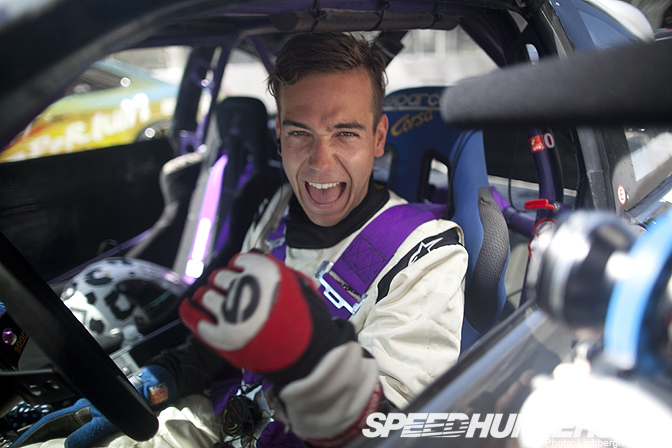 Death or glory!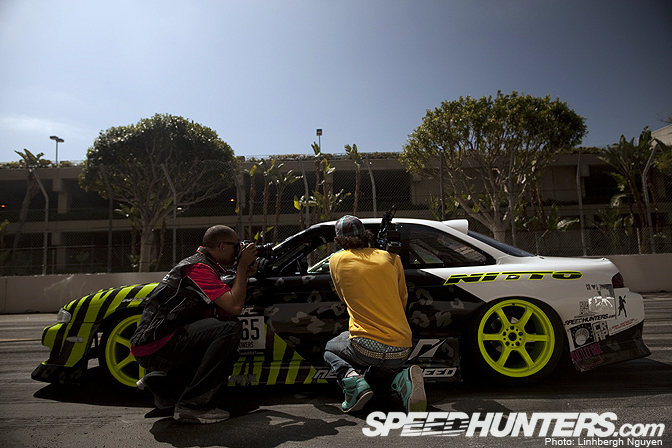 This looks like a lot of media, but really it comes in waves I
guess. Linhbergh and Will usually roll around together, so when ones on me,
they are both on me. I probably just have my earplugs in and am trying to get
excited and inspired for the next run.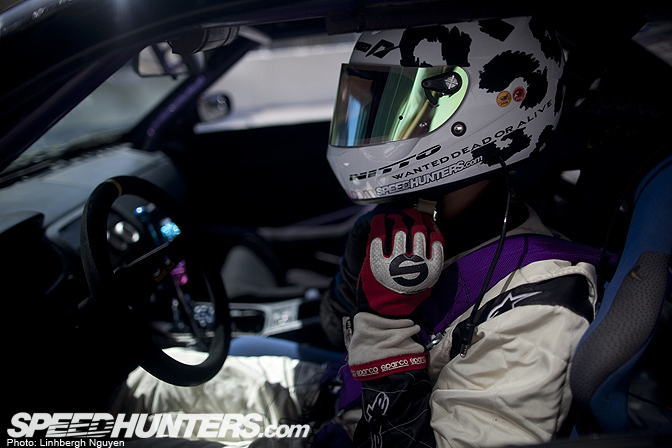 I'm
trying to master fastening my helmet with gloves on, it's tough. Also you can see
the jack for my radio set, my friend Max is anxiously waiting to tell me to
suck it, as soon as I plug that in.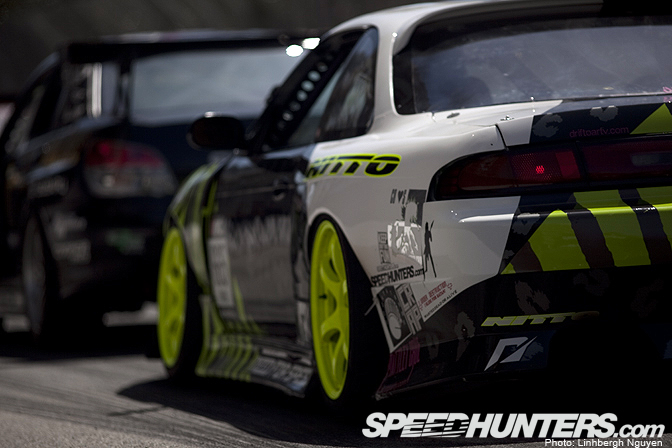 Gridded behind Stephan Verdier. Last year it was pretty intimidating being staged next to all these top guys but now im getting used to it.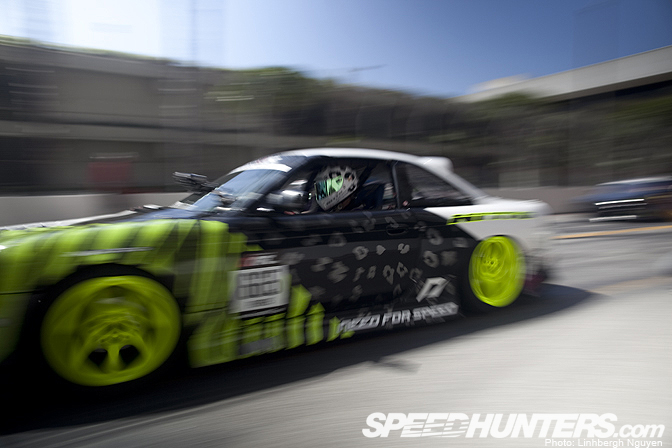 The course at Long Beach is really fun. You floor
it through third then do an early ebrake entry. There is random buildings and
parking structures like in this photo too all over.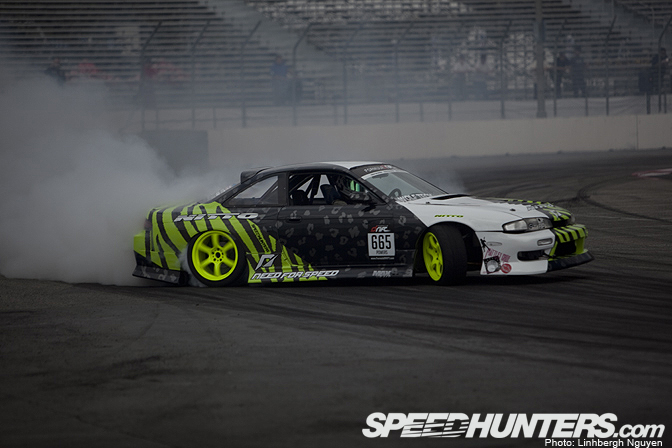 Notice how empty the stands are when it's not the main day…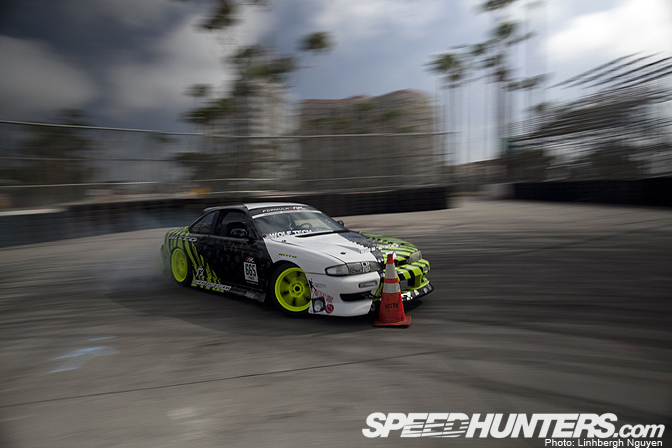 The hair pin is really tight, and its difficult
to do with my new motor set up since the low end is pretty bad. I don't
remember hitting this cone.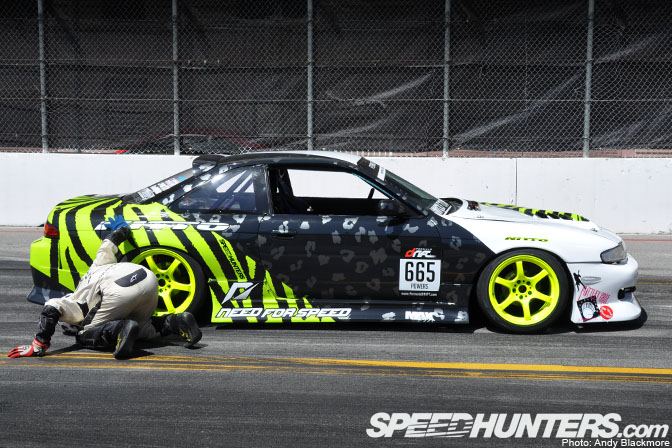 My second lap I went to warm up my tires and my car made a weird sound. I yelled at Andy to see if my tires were moving, and as I went to do another burn out my axle exploded. Having a lot of power combined with how grippy the Nitto tires are it's hard on my drivetrain. I was literally next up to go qualify again. Bad Luck.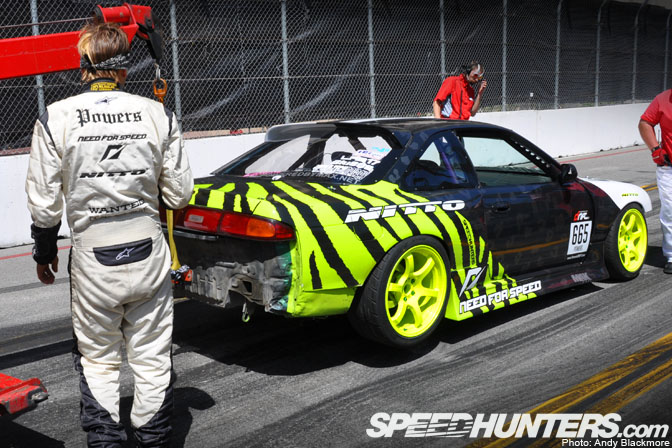 I wasn't too worried about it since I knew I put down an ok run
earlier, but I was feeling a lot better for the next one.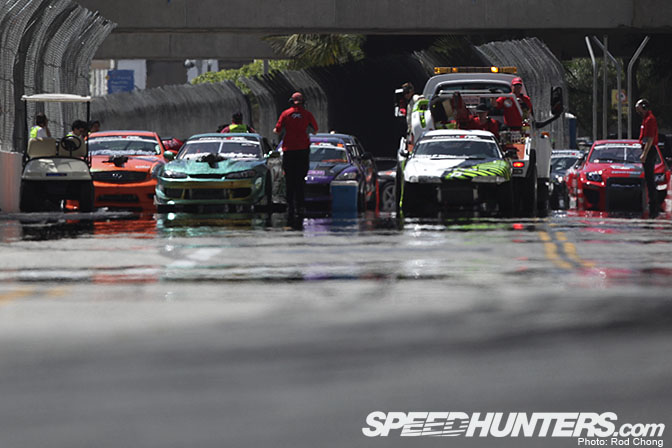 I think it's funny the way they had to tow my car out of there. I
was pretty excited about my ride on this thing and wanted to stand on the side
like a firefighter haha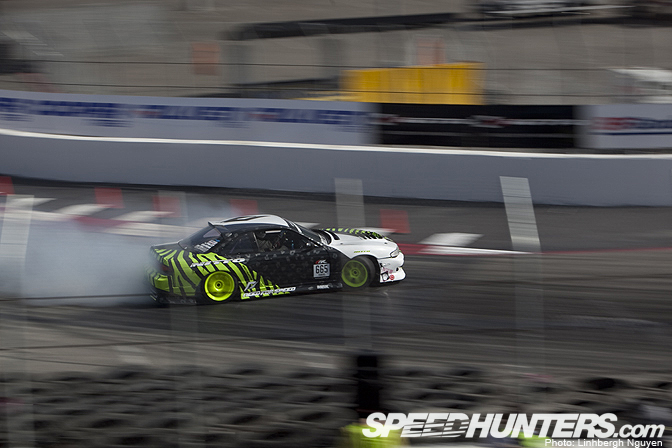 Got my car all fixed up for top 32 practice.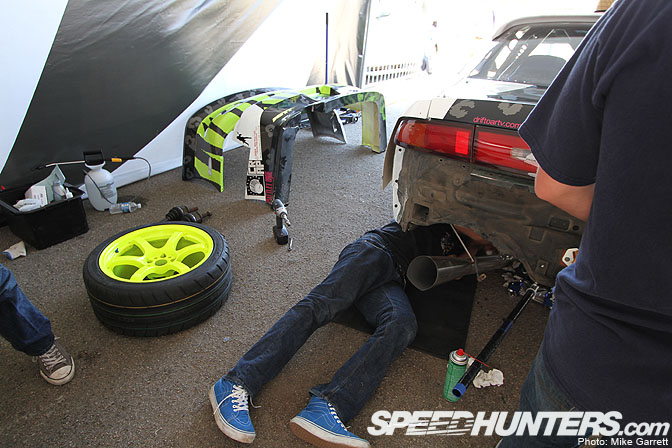 My friends fixed my car while I went to the drivers meeting. 
I didn't see any of Mike's runs but he came in 33rd place, one short of making the main day. I wouldn't worry about it too much though since I think only like 2 or 3 new drivers to Formula D made it into top 32. I heard he was at Horse Thief Mile last week dialing in his car more to get ready for Atlanta.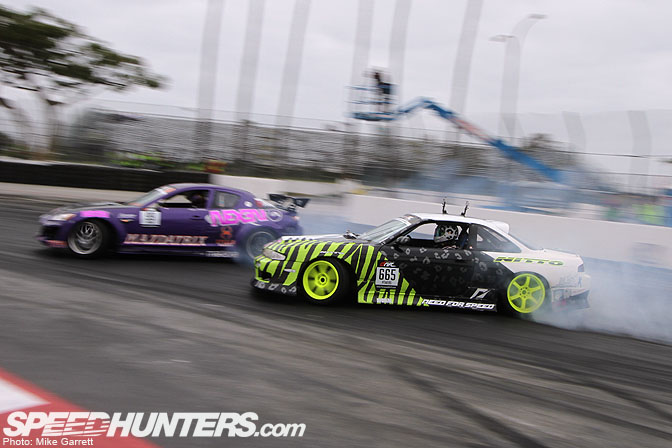 This was one of my last runs during practice before top 32
started. After running with Kyle here I was feeling pretty good about things
and started to feel better after waking up kinda sick.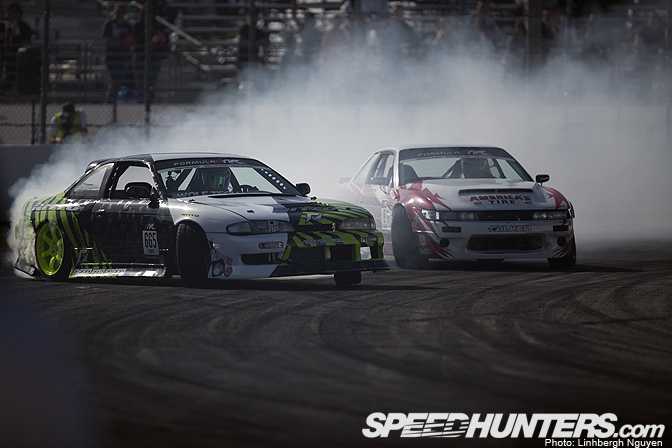 Morning practice.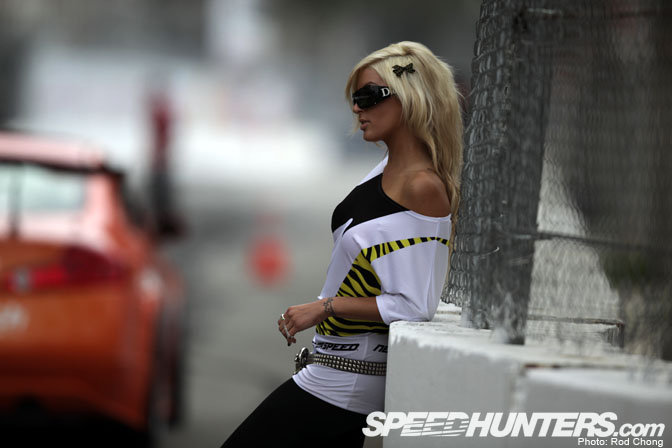 This is my model Vanessa, her shirt matches my car. I like her
tattoos and stuff. I can't tell whether this is a model pose or she is just
tough. Either way she's hot!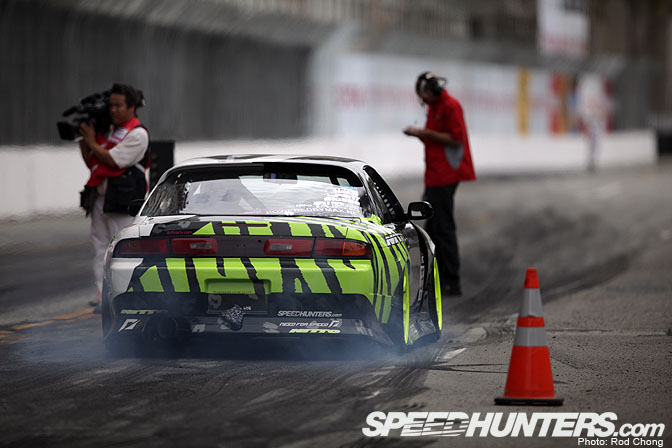 Getting ready for the top 32.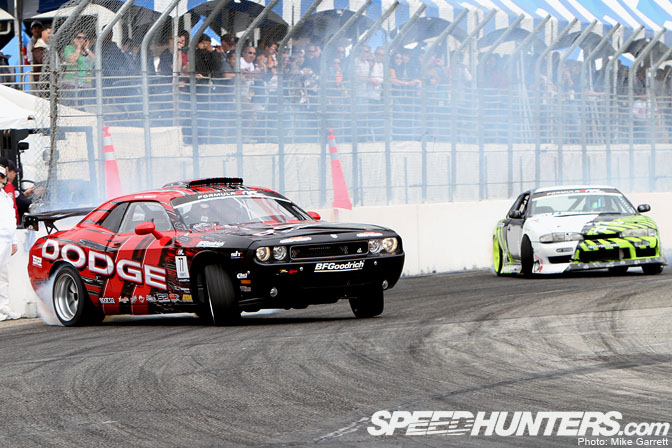 People that had run said Sam's car make your eyes water and made
it difficult to breath from the fuel he runs. I didn't really notice anything.
His car was pretty fast down the straight.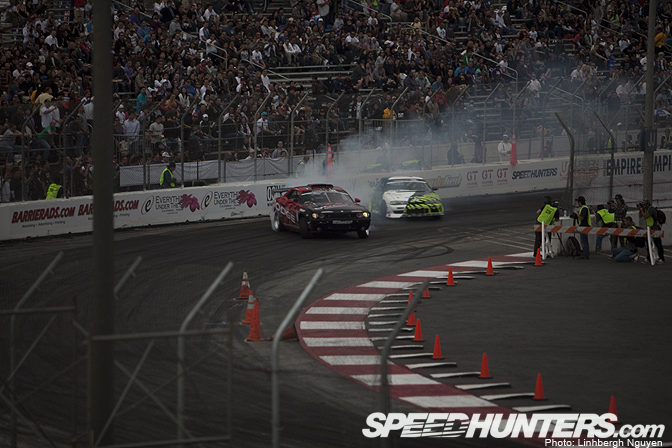 My plan was to get decently close during the main sweeper, then
back off coming into the hair pin. After watching the majority of last years
tandem here I know he can be real slow and weird through the hair pin.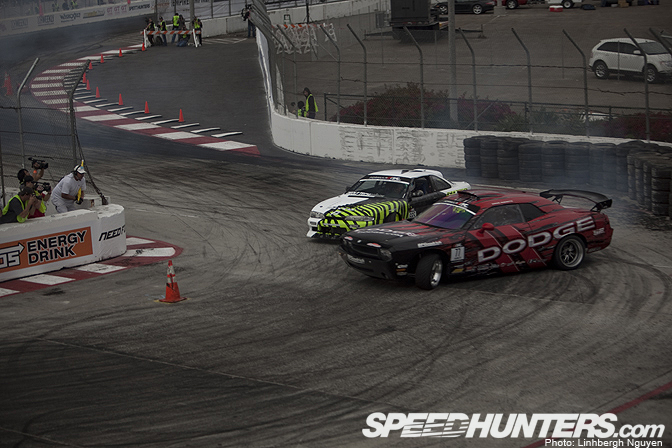 His car is huge, you can see we are like 5 feet
apart.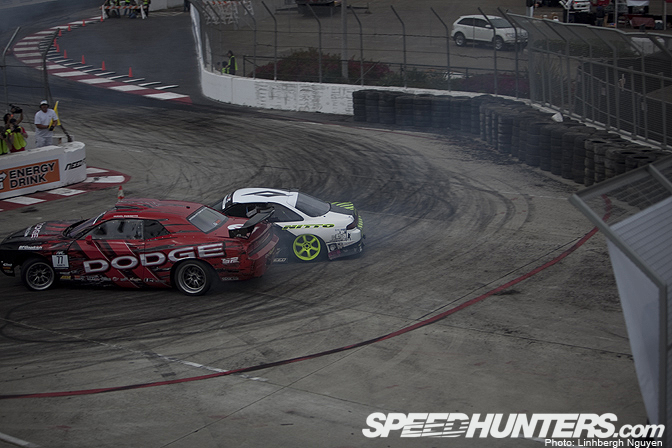 Then I hit him.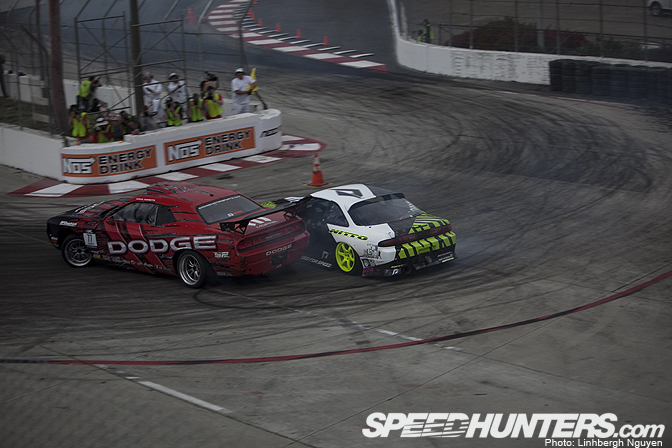 Then I spun – My tire rubbed off his tequila sponsor.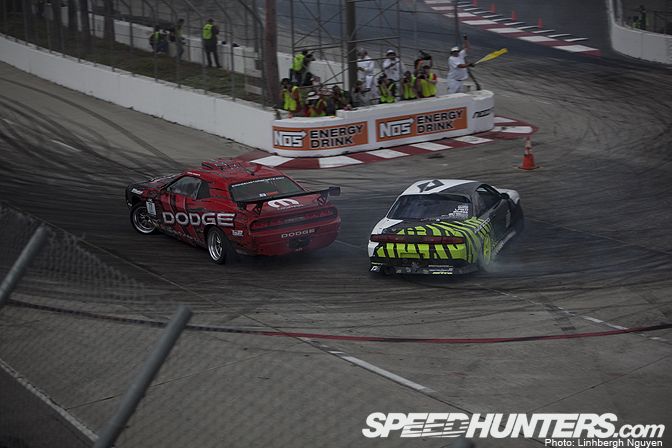 I was kinda bummed but I was also
just like…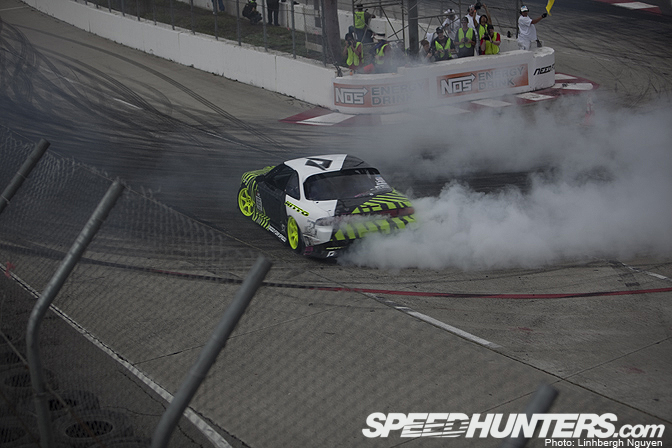 … ah *** it and did a burn out!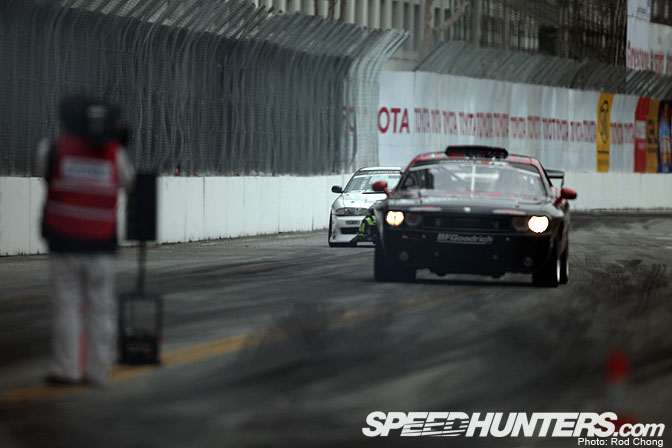 I was a little disappointed after I spun, and just wanted to lay
down a clean run and hope for at best a one more time.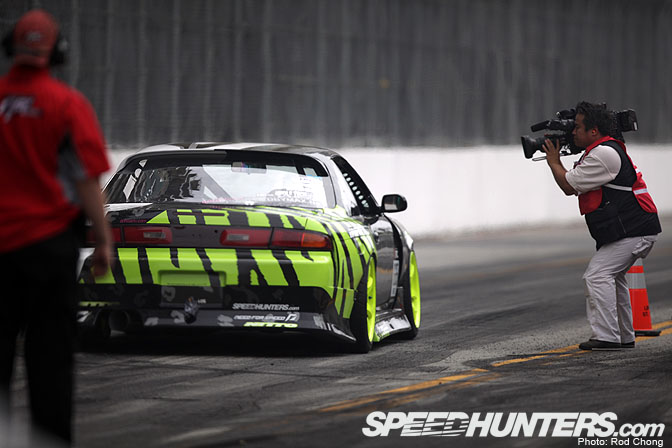 I probably didn't notice this guys sweet power stance before the
run, otherwise I surely would have won!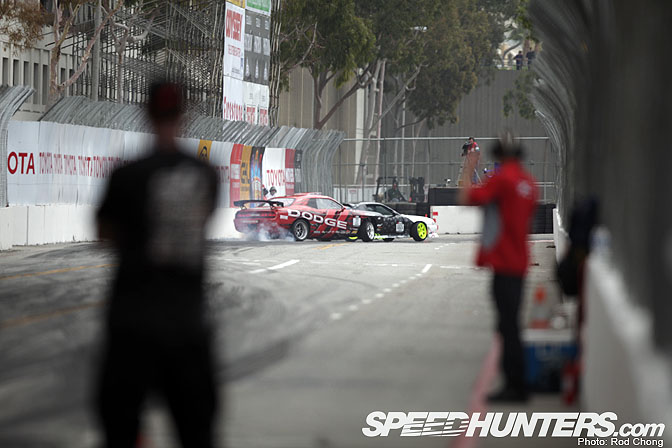 Into the first corner.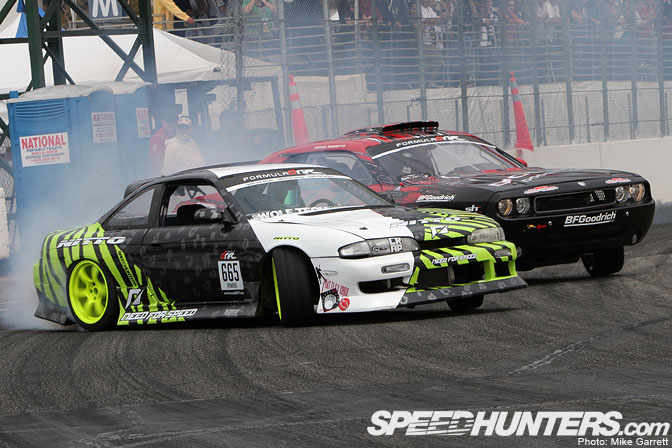 Sam followed me pretty consistently.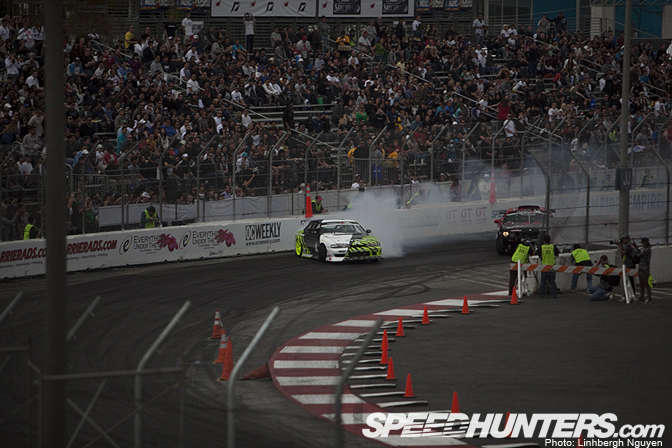 He's a fair bit shallower than me here.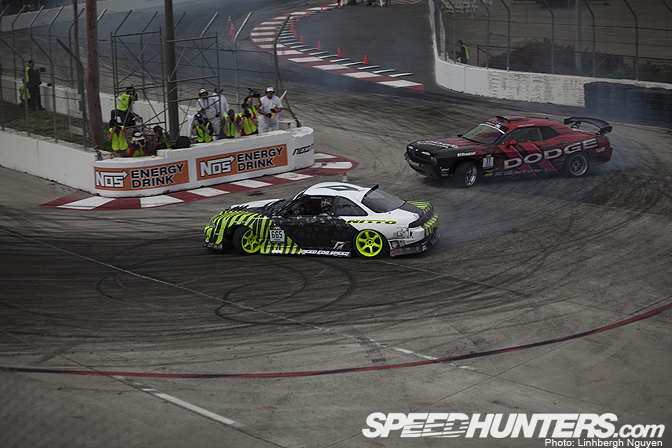 Looking back exiting the hair pin I could see that he laid down a clean follow run and knew that my weekend was over.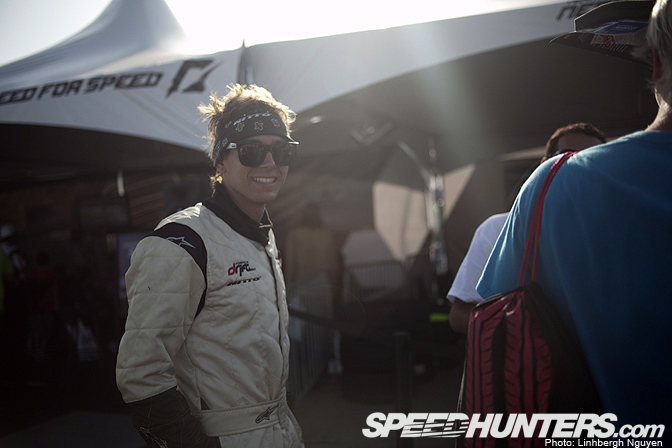 I talking to a fan I met last year that promised me some free chipotle. Im still waiting on him to deliver!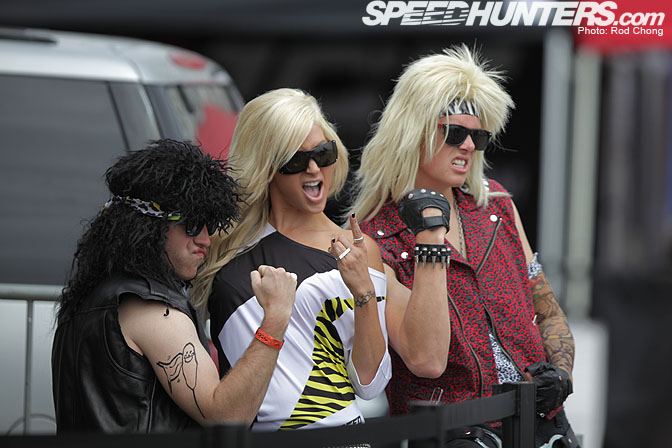 The blonde is Nate and the dark haired guy is CJ. They are the
Mattley Crue, just friends that come rock out to support me and get me excited.
Vanessa gave CJ that sweet corndog tattoo. From this angle it looks like Cj is
humping her leg. I hope so. This all started during the FD pro am nationals in
2008 when I first got my FD license, Nate dressed up like an awesome dude to
get me pumped to try to do well. From then its just grown into stuff like this.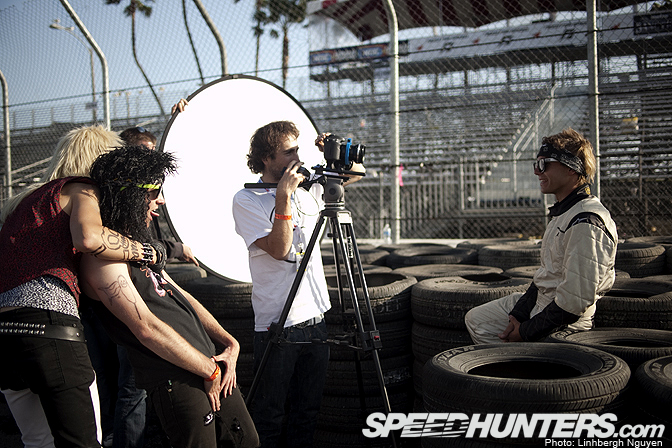 After the event Will wanted to do an interview for an upcoming
SpeedHunters movie. A few moments after this shot I saw Cj's balls which were a
great inspiration for the interview.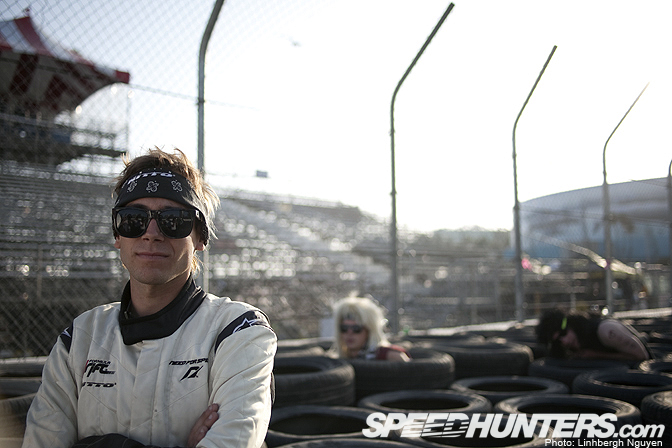 Peekaboo!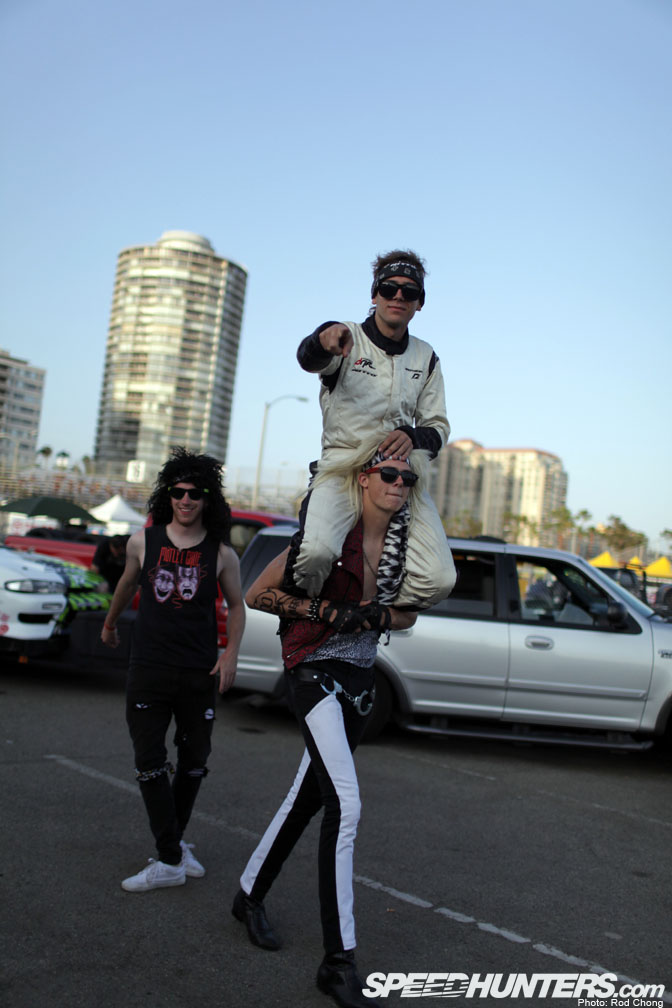 Even though I lost I had fun and after the event they carried me
around on their shoulders which cheered me up.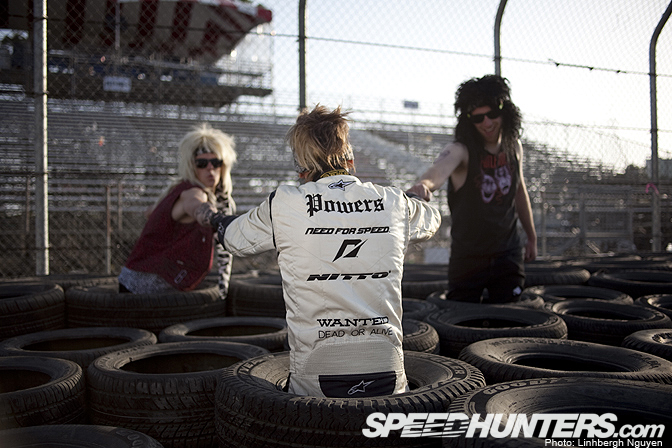 This is my favorite photo from the weekend. Everyones hair and
outfits are super funny and its pretty much the conclusion of an awesome
weekend!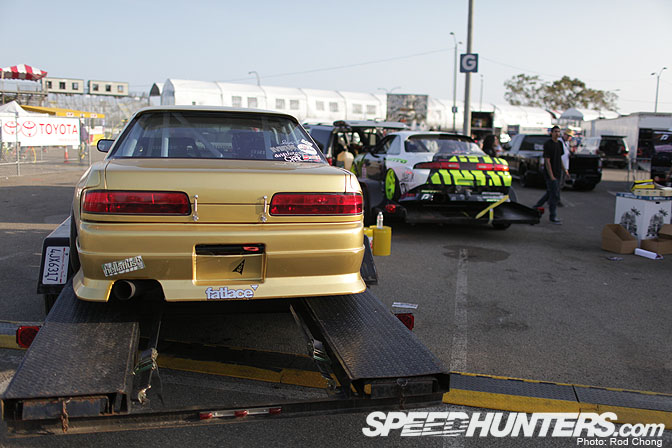 All packed up!
-Matt Powers