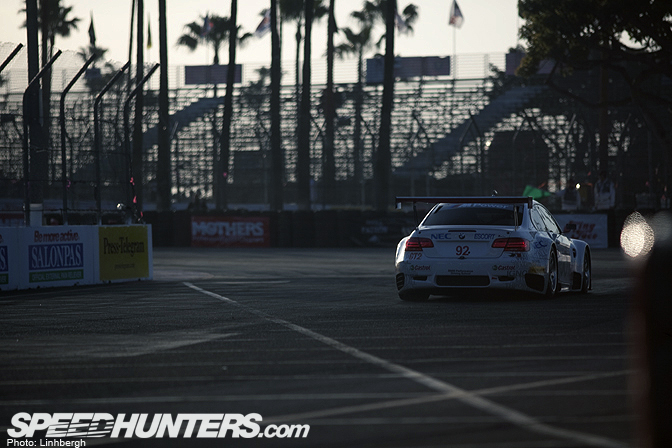 What's up SpeedHunters – Round 2 of the American Le Mans Series at
the Long Beach Grand Prix street course. It's the only street race on
the calendar this year for the ALMS and it is also the shortest race of
the season for us at only 100 minutes. From the longest of the year,
Sebring 12 Hour, to the shortest.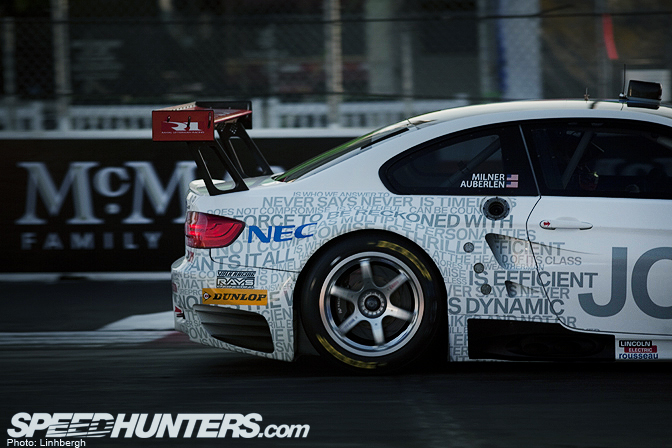 JOY is a lot of things if you ask BMW, apparently. JOY for me,
besides driving this awesome M3 GT car, is a straight up battle on the
streets. That's exactly what this weekend was. It's a battle to fit 36
ALMS competitors into the tiny paddock we get outside of T9 / T10 / T11.
It's a battle to fight your way through the massive crowds as we had to
cross into the IndyCar paddock to our hospitality tent.
The
biggest battle though was on track.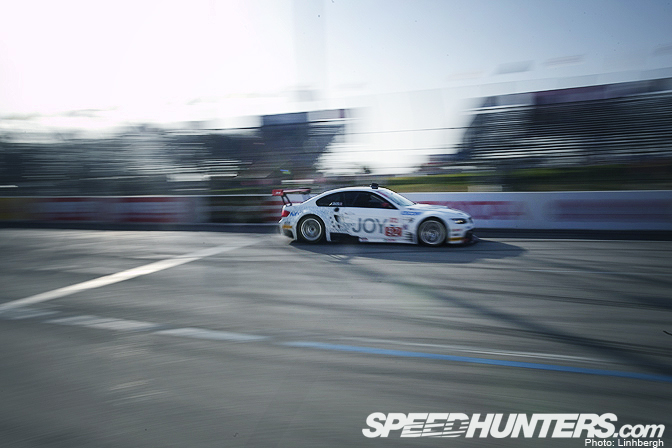 We had very little practice for this race. A 7:15am Friday session.
Yeah, session. Not a drivers meeting, which is why us drivers are
usually bitching about being at the track early. No, we're the first
ones on track. Because of that, we decided to do a leak check and bed
brakes right away and then wait for everyone else to rubber in the track
some and clean it up, and then head out on track. So the 2 hour session
for us turned into an hour pretty quick.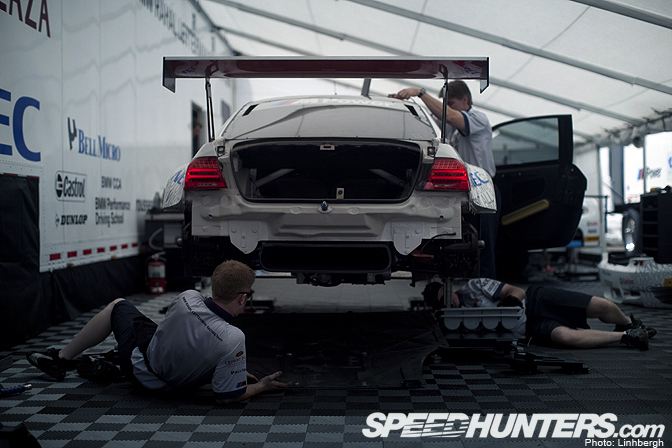 Thankfully for me, I've been here the last three years and I know the
track really well. I even had some awesome in car footage from last
year, thanks to all of the activity last year with the drivers films
for Need for Speed: Shift and then the feature SpeedHunters did.
Watching those was a great way to just get that feel and flow of Long
Beach back into my brain. Not to mention get me stoked to go racing
again.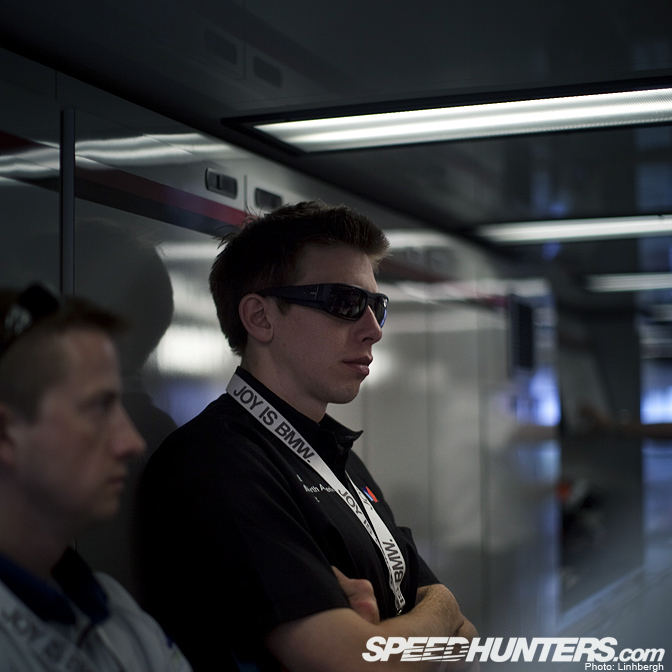 So, after my 15 laps in the morning, I was done driving until the race.
Bill, who has been a man on a mission so far this year, would get
qualifying duties. Bill and the engineer on our 92 car Jay O'Connell are
just out of frame in this shot. We've just finished our debrief with
all of the BMW Motorsport and RLR Engineering staff after our morning
practice and now Bill, Jay, Uwe, and myself are discussing the finer
details of what changes we want to make for practice and qualifying.
We'd only get one shot at it as any big change we make now will have to
carry over to qualifying.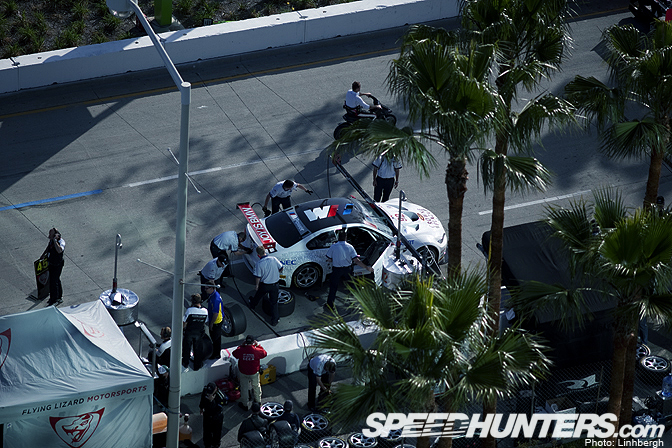 Bill was pretty happy with the car during the short 30 minute practice
session before qualifying so there were no real big changes needed.
Qualifying happened only 10 minutes after the end of the 2nd practice
session. Bill had done his qual-sim on new tires and liked the handling
of the car so that's how he'd qualify the car.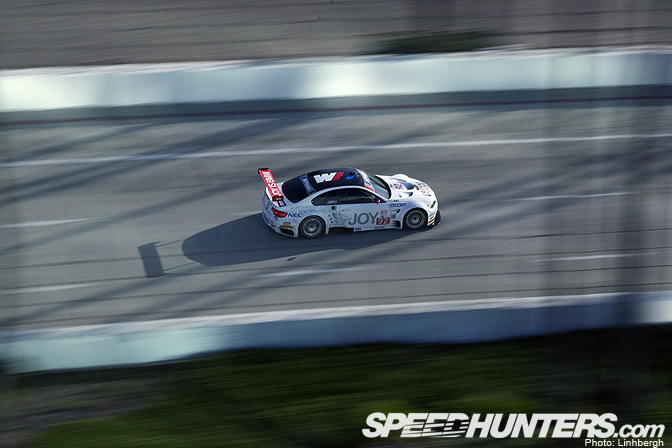 As evidenced by the fact that the 45 car crew was doing a lot of
practice tire changes before and after the practice sessions, they would
likely change tires in the race and were running a soft compound tire
from that French tire company. We, however, decided before the weekend
started that track position was the most important thing to think about
on these street courses and we'd race on a compound from Dunlop that was
not the softest we had available.
Since we have to
race on the tires we qualify on, we needed that harder compound which
would hold up for all 100 minutes of the race plus qualifying. In the
end, Bill qualified 6th and Joey, in the 90 car, qualified 7th. Not the
best place to start the race from, since it's so hard to pass at Long
Beach, but with our strategy we hoped this wouldn't be too much of a
issue for us at the end of the race.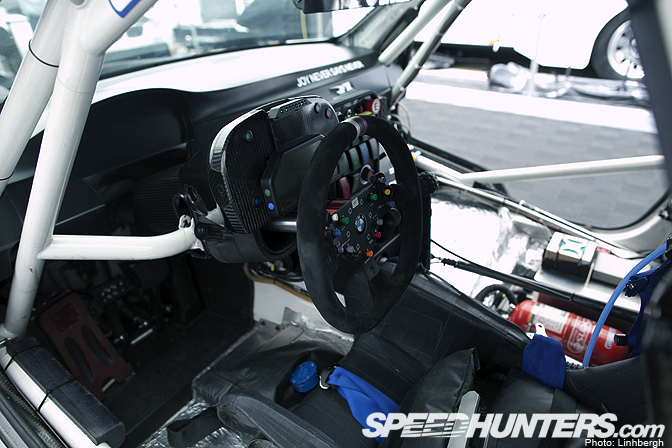 My mobile office aboard the #92 BMW M3 GT. The seat is actually
comfortable, despite the fact it's made completely out of carbon fiber
and has only a few millimeters of padding.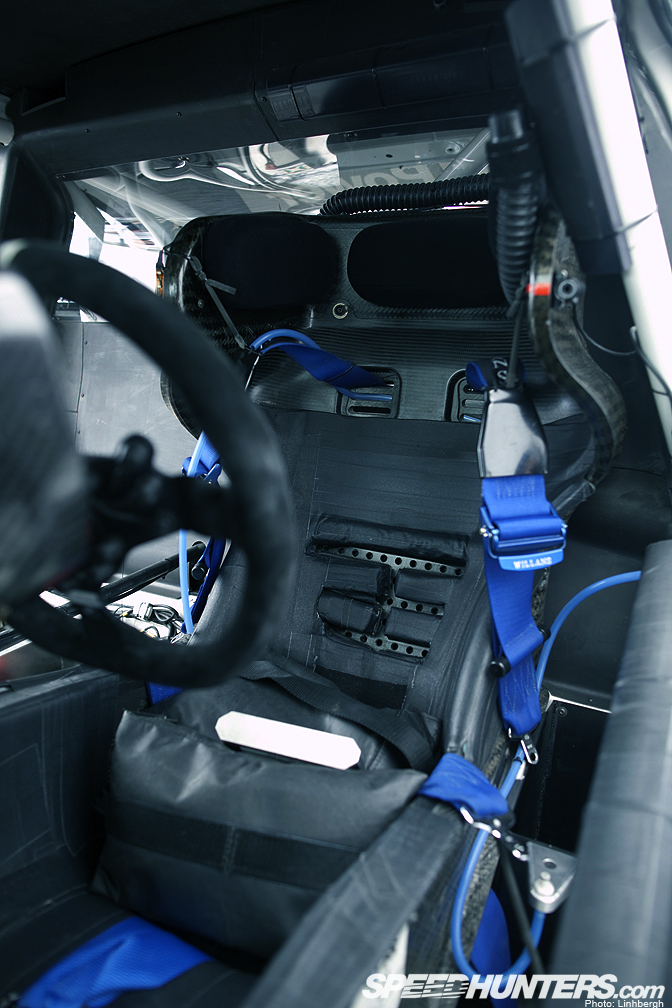 The holes in the back of the seat are fed cold air from our AC unit
so we stay cool in the car. The heat wasn't a problem at Long Beach but
some of the other races during the year this AC is a huge help.
Those
black bags are filled with lead shot and are used to simulate driver
weight during the setup and setdowns the team does before and after
every session.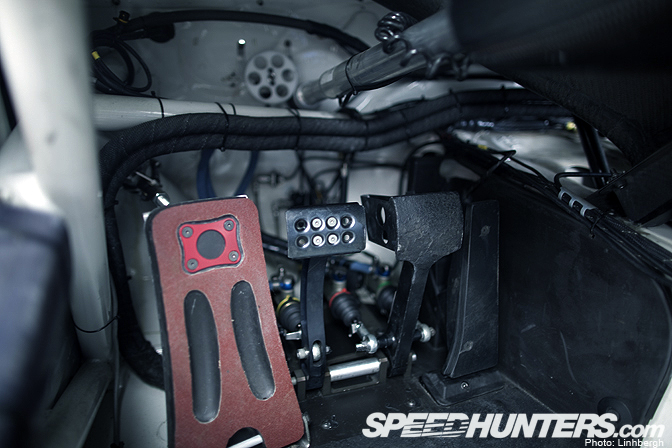 All business in the footbox. The two hoses you see feed some of the cool
air to our feet to keep them from getting too hot. The clutch we only
have to use when stopping and starting. Not much else going on down
here.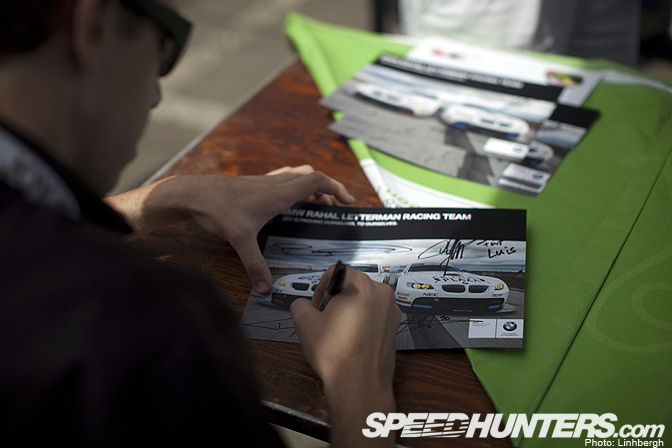 Since the weekend was so short at Long Beach, there was a
lot to do in short time. The autograph session was a nice break to just
sit down and relax.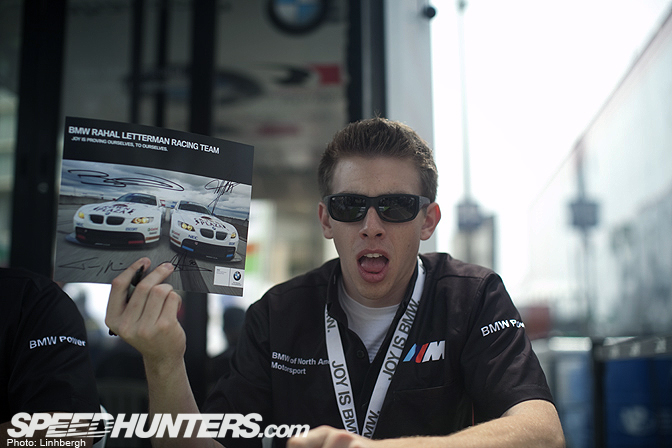 Another battle at Long Beach, as fans line up easily a half hour in
advance to get in line first to get these things signed. I've been on
the other end of it though too where no one is lined up for you for the
autograph sessions. I guess when you drive an M3 people are more
interested.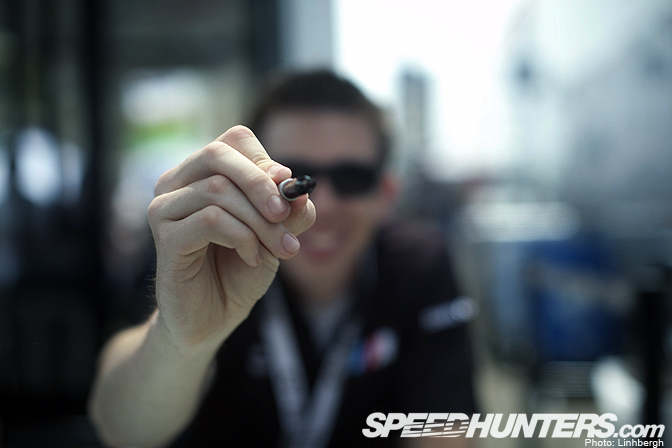 Just the tip?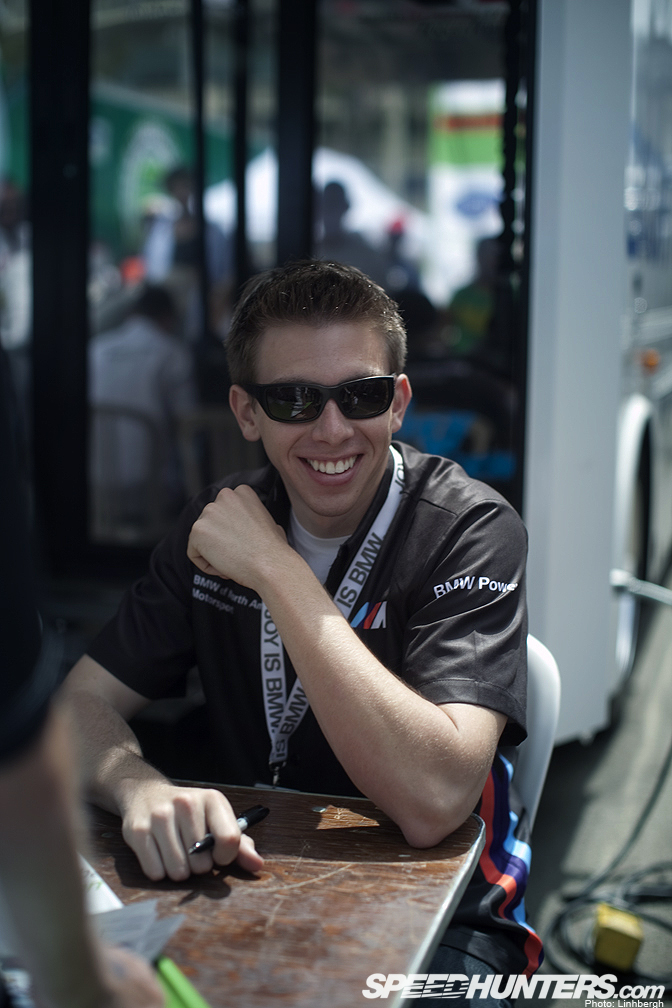 Always having fun at the track. There's nothing else I'd rather be
doing.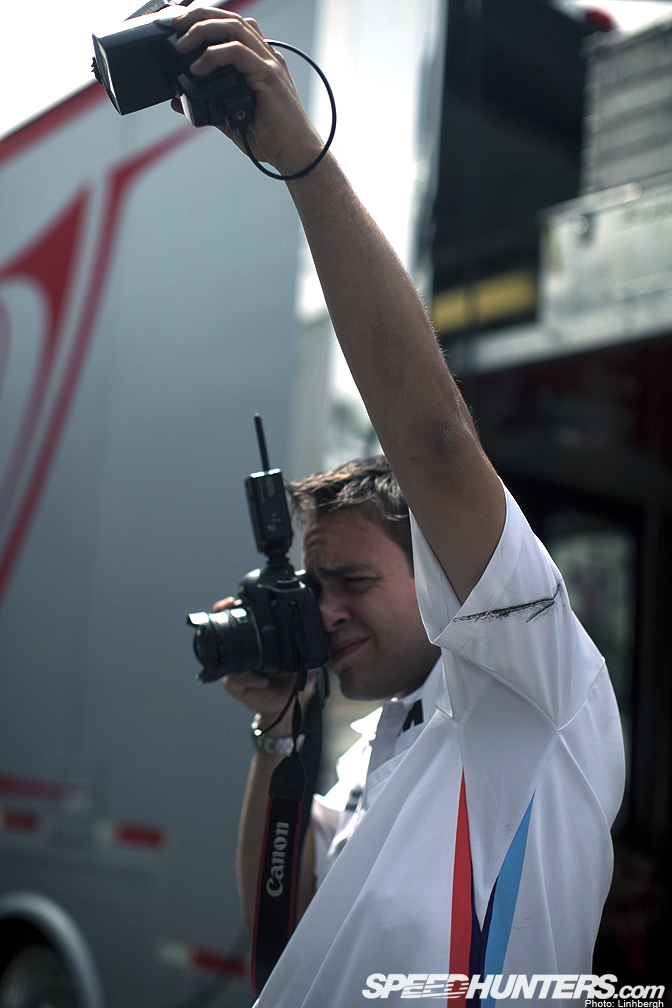 There is no lack of photographers at these events. That's one of the
things I look forward to the most after a race weekend is browsing
through all of the different pics posted of the weekend. I look for any
special ones that might look great hanging up on my wall.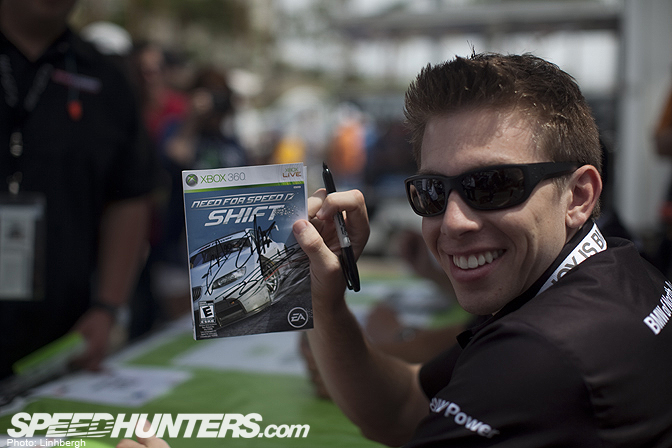 I must sign a few of these every race. I still haven't played the game
enough to unlock my car in the game though! If it weren't for the car
being on the cover I think some of my friends wouldn't believe me when I
say my car is in the game!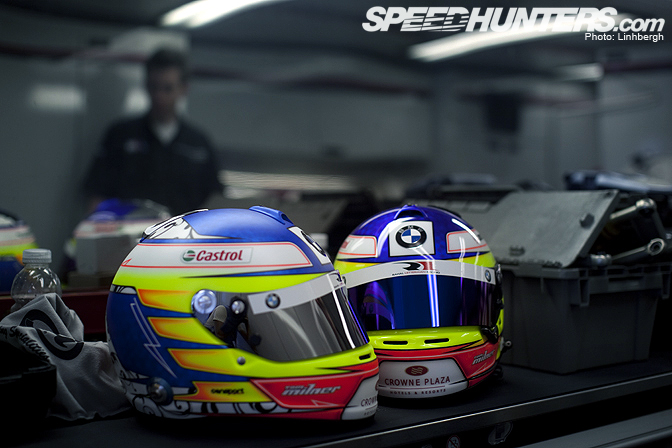 So stoked to get my lids from my helmet painter Tyler, of Censport
Graphics. I'm always interested in seeing what other drivers come
up with for their helmet designs. So I'm real critical of what mine look
like. The matte clear on the one in the foreground I think stands out
as being my favorite. Still love the chromie in the background though.
With
a couple of the BMW sponsors now having to be on our helmets I had a
make a few tweaks to the design to fit them into the helmet better. The
biggest change was the Crowne Plaza on the front and Tyler did an
awesome job of working the requirements in for that logo on the front.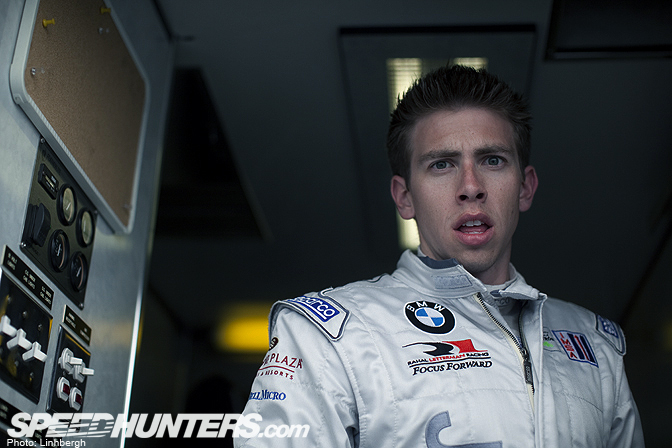 Alright, back to the weekend. It's race day and we've got some driver
change practice planned. I'm all suited up here getting ready to try and
perfect and shave tenths off the driver change since it would have to
be done right around 10 seconds.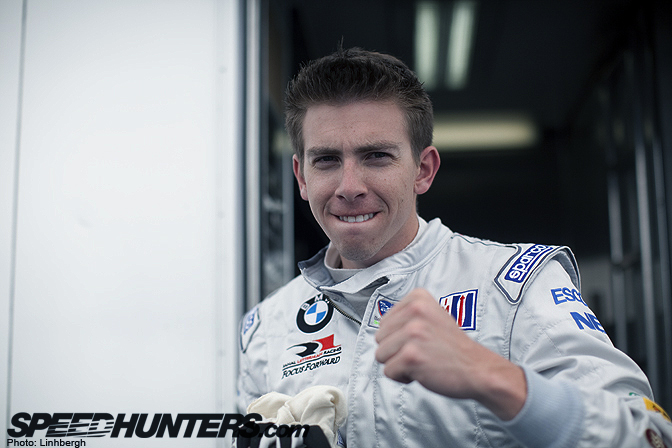 Thrown' some punches at Linhbergh. There were some others looking to
throw some punches later…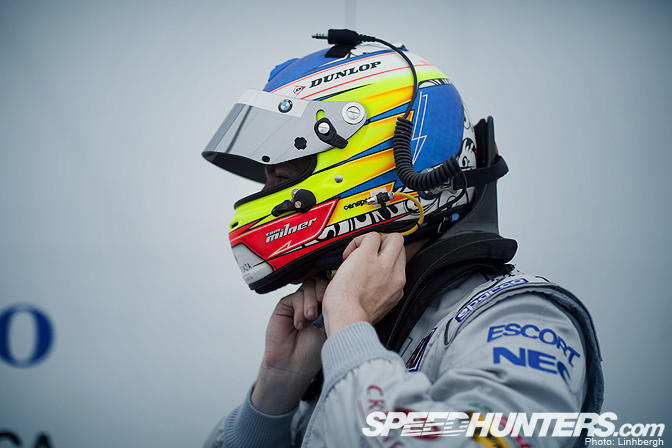 Censport's sexy design and paintwork. Diggin' it. Needs some
SpeedHunters stickerage though to finish it off.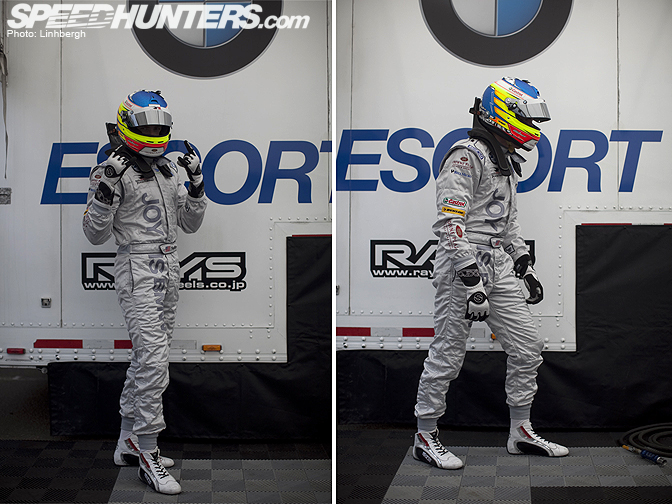 So, as I said, our pitstops in the race would be right around 10 seconds
we figured to just add fuel to get to the end of the race. Remember, no
tire change for this race. That's not much time to get Bill out of the
car, get me in the car, do all my belts, change the driver ID, and be
ready to go hurl this M3 through the cement lined streets of Long Beach.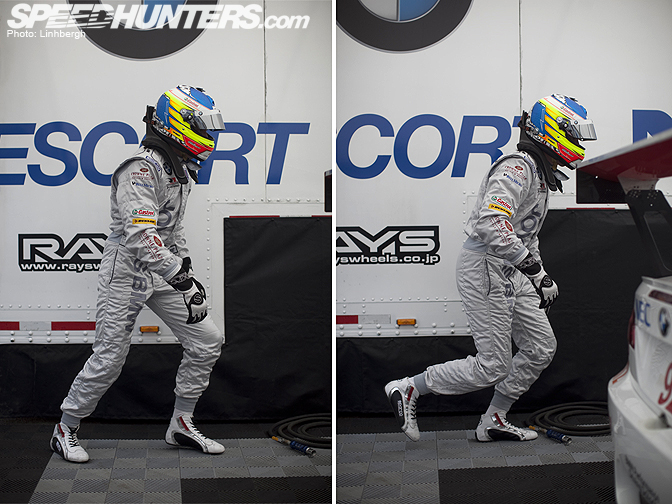 RLR's pitstops were the best at Sebring of anyone in GT2 but we can't
just relax and assume we'll be the best again. We're racing against some
of the most professional teams in North America. They'll be doing just
as much practice as we are.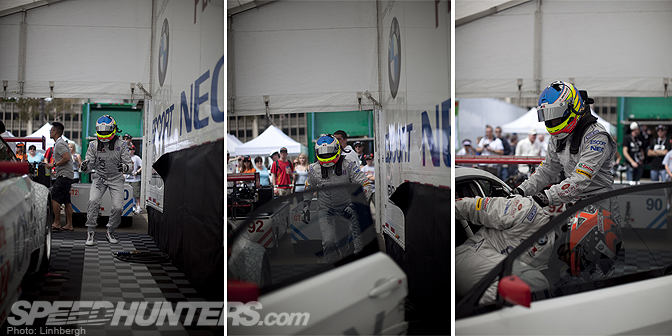 I don't know how Bill does it but he's literally out of the car in less
than a second. That makes up for the extra time it takes for me to
squeeze my 6'2″ frame into the seat. Getting in for me is easier than
getting out so the plan to have me finish will help minimize the time in
the pits.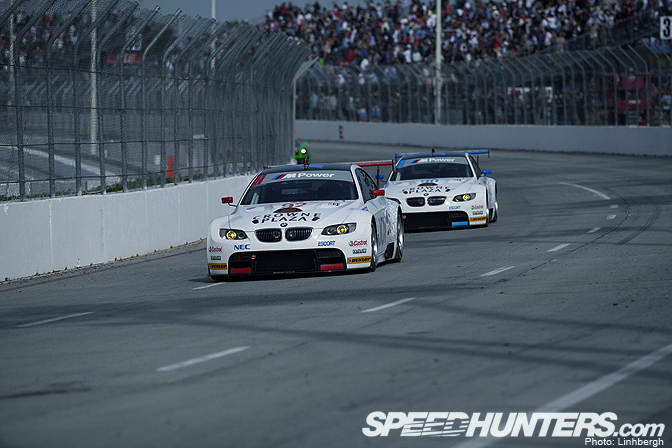 Time to get down and dirty. The GT2 class held their qualifying
positions pretty much as they were, with the exception of the Falken
Porsche sneaking ahead of the Risi Ferrari early on. That Porsche has
really come a long way from last year. We'll definitely have to add them
to the already large list of contenders in GT2.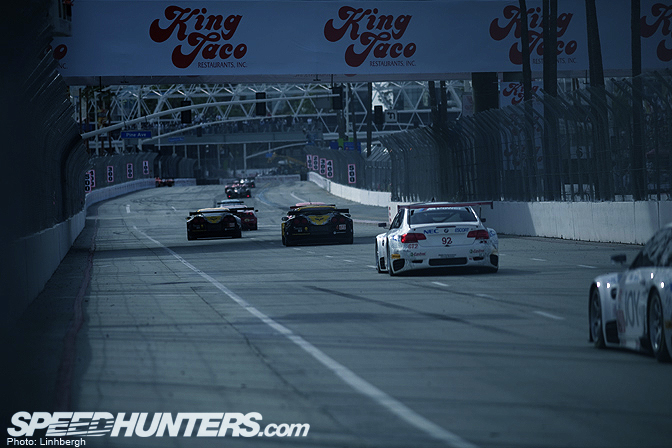 Bill had an awesome first stint. We were keeping touch with the whole
GT2 class and setting lap times that were right there with the leaders.
If we wanted our strategy to not take tires to work, we needed to keep
touch with them early on.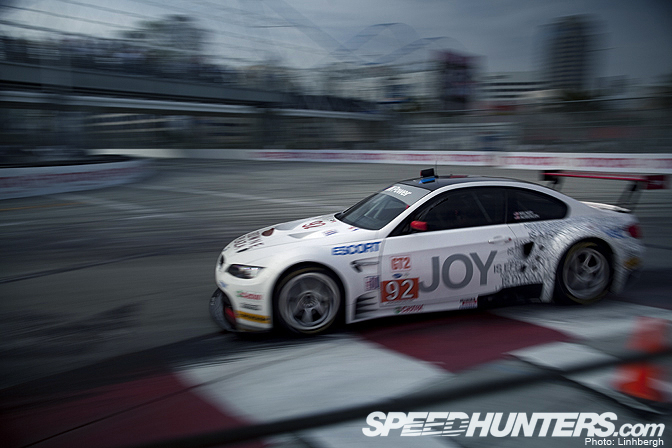 Here's Bill hitting the curb at turn 1.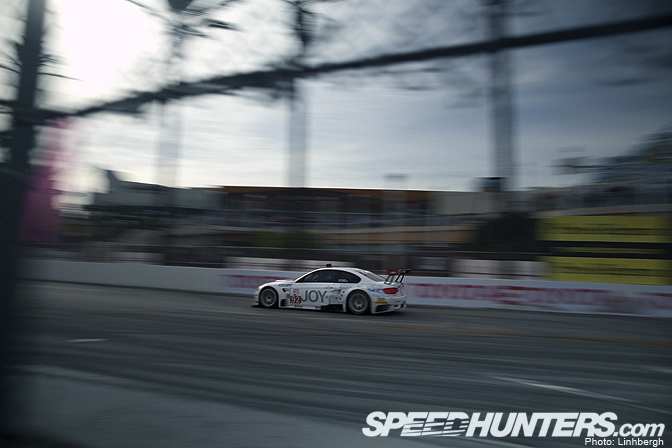 … and exiting turn 1 heading to turn 2. Turn 1 is a great place to
pass as the long front straightaway allows for plenty of drafting and
outbraking possibilities into T1.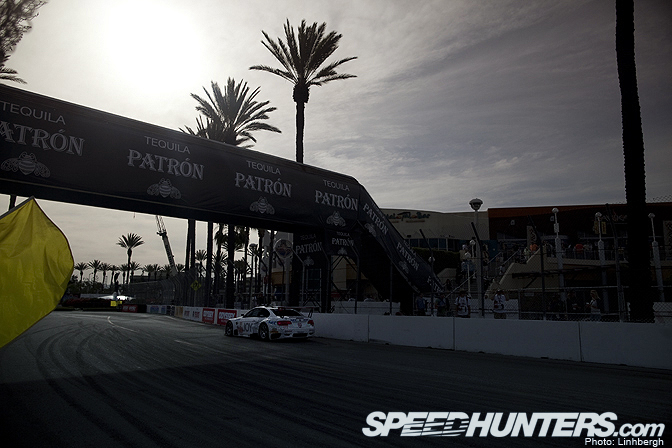 As we expected, there were a couple full course cautions early with some
of the lesser experienced drivers that have been added to the series
with the Challenge classes causing most of those yellow flags. This kept
the field bunched up pretty good.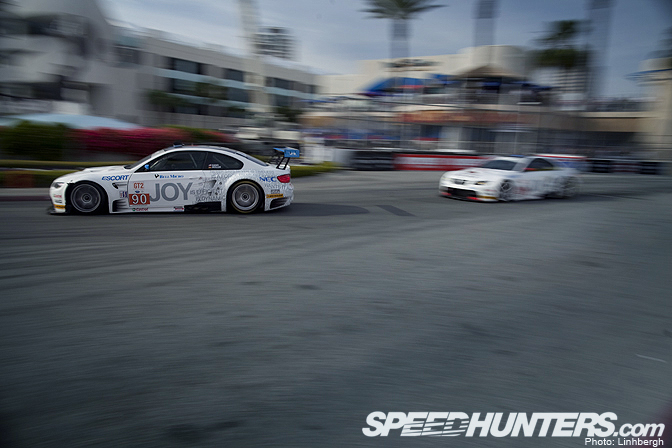 I said in the Sebring blog that there were no team orders within the
team and Long Beach was no different. Dirk and Bill both were battling
hard in their stints. Dirk actually loosened up Bill in the hairpin,
enough for Dirk to squeeze by. We like racing at BMW Rahal Letterman
Racing! Neither car had any damage so they both continued on.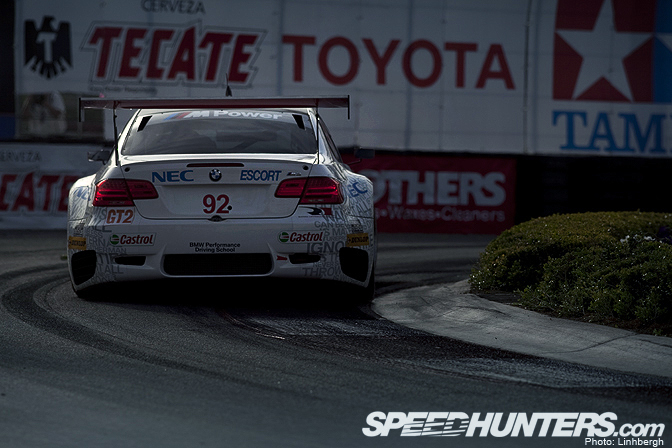 Whoever is driving here must have gone in way too fast and missed the
apex. Usually we run two wheels up on the curb in the bushes there. This
is the "Fountain Turn" or turn 2.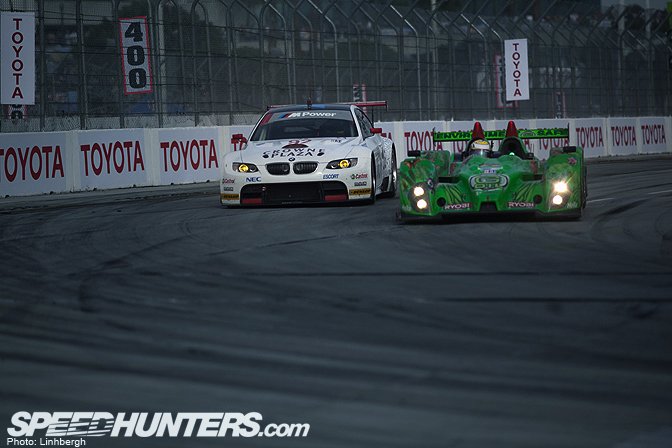 With 36 cars on the track, we're almost always passing or
getting passed. Bill getting passed by the 99 car driven by my former
teammate from '06, Gunnar Jeannette and also my first go kart mechanic I
ever had, Elton Julian. They went on to win in LMPC so I was stoked for
them.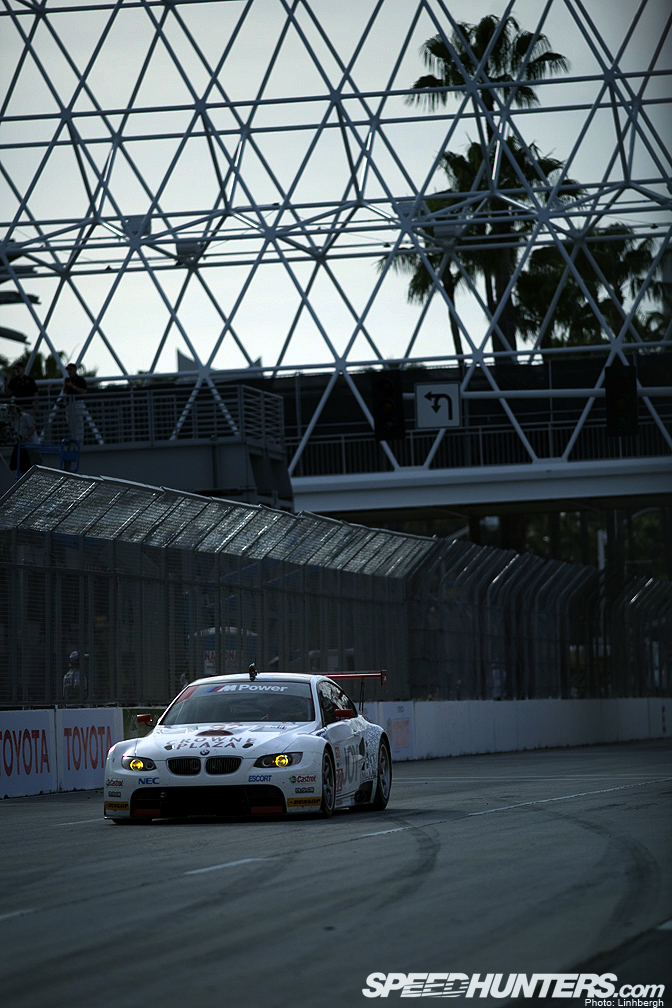 Some street tracks are run in parking lots or through parks. In Long
Beach though, you really feel like your driving through Long
Beach, ripping past restaurants, big parking garages, stop lights, under
parking garages, and then finish it off with a quick U-Turn. Sometimes I
wish we had an E-Brake like the guys in Formula Drift have for T11.
That has to be the slowest turn in all of motorsport.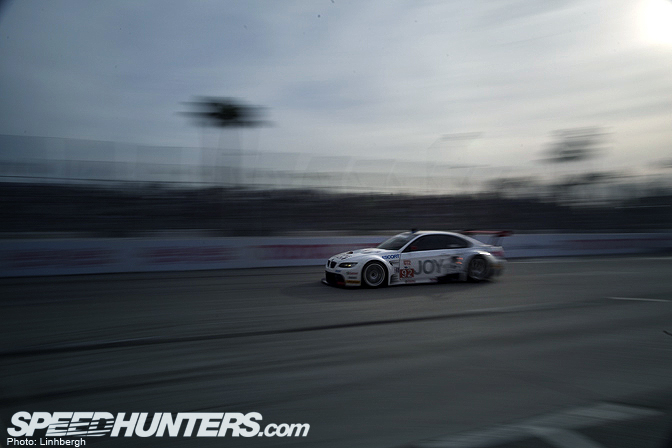 More Linhbergh magic.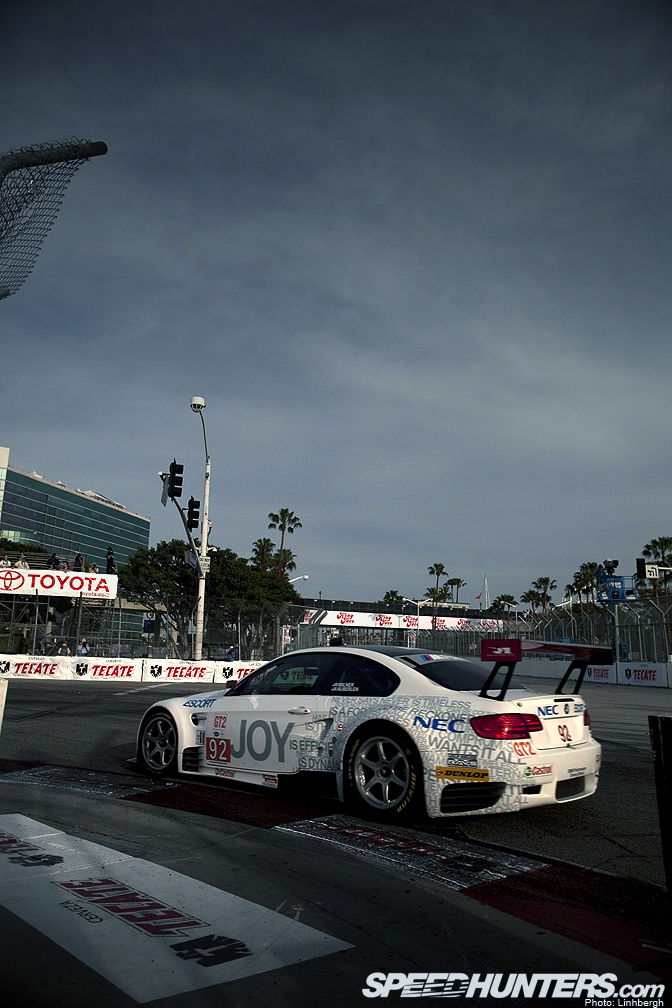 I just want as many of these pictures in this blog as I can fit so I'm
dragging this on.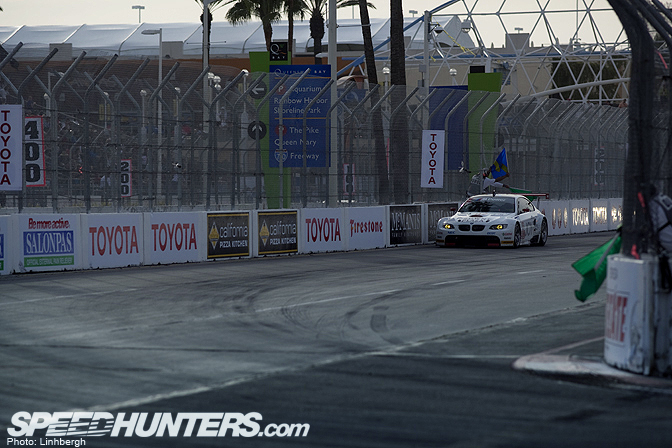 Back to the race. There was a lot debris down on the track, most
significantly a big piece of bodywork from an LMP car. We had to get
past 30 minutes into the race so that each driver would get points. It
was 38 minutes in, so an awesome call by our race strategist and No. 2
at RLR, Scott Roembke, had Bill pit for our one pit stop. This would
allow us to pit without any other cars in the very crowded pit lane and
ensure that we had the fastest pitstop possible.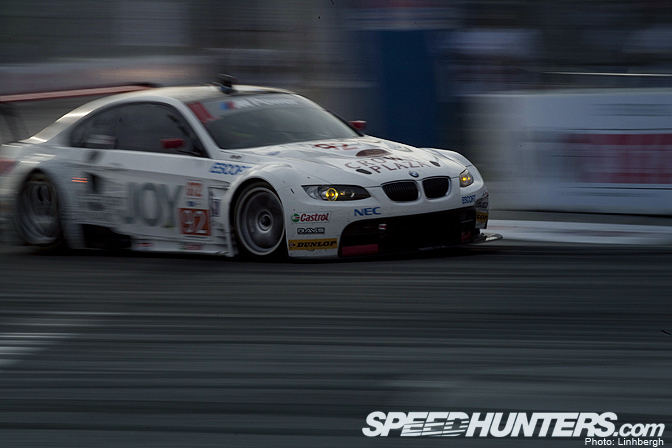 I don't really remember the pit stop to be honest. It's
all a complete blur. I was in the zone. Everything just happened like it
should in the driver change. Each belt snapped right into the buckle
without any problem and the only thing I remember really after standing
on the pitwall was hitting the pit limiter button again to blast off
down to T1.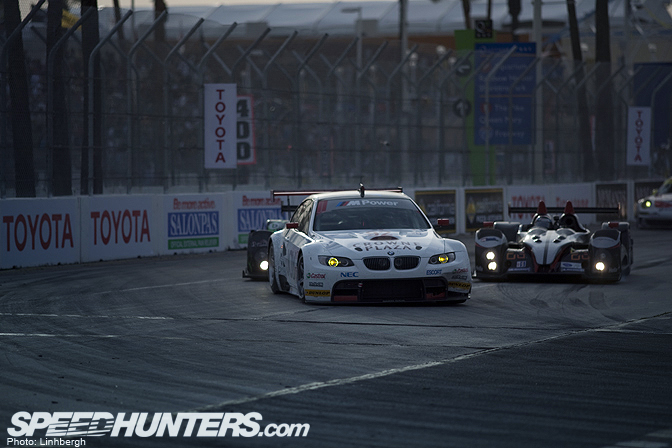 I was still pulling the belts tight as I got to T1 and went off on my
stint. I hadn't been on the track since the day before and not even on
the same compound tire as I was on now. I didn't have time to even
question or feel the car out. I just had to go. Flat out.
The
yellow came out soon after I got in the car which let me really make
sure I was comfortable in the car. I had a helmet hose behind my back
that was annoying that I was able to reach for and get out of the way
again. I had time to breathe actually.
This was exactly
what we wanted. All the other GT2 cars pitted under yellow, with the
exception of our teammates who had pitted soon after us under green. As
it cycled through, I was sitting in first place. Just like we thought. I
was on old tires and everyone behind us would be on new rubber, except
the 90 car.
I peaked in my mirror and there was the
entire GT2 field behind me. 90, 45, 62, 3.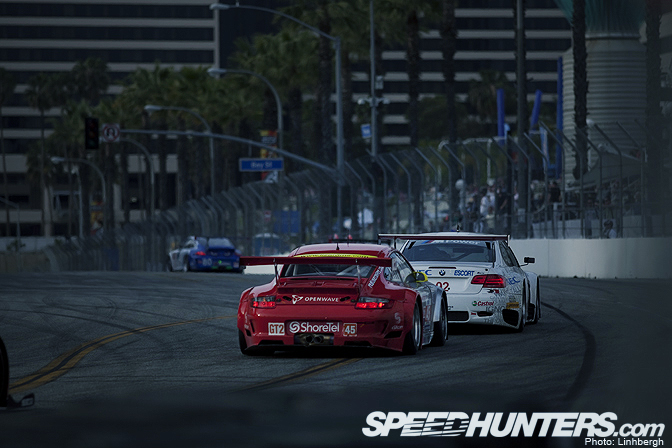 Milner, Hand, Long, Melo, Magnussen. I like that order.
The
Tommy 3 years ago would have been nervous about these guys behind me.
Not this year. Not with this car. Not this race.
Green
flag and I'm doing one thing and one thing only. Looking forward.
Focusing on hitting my marks. Not making any mistakes.
Joey
faded quickly and soon it was the 45 Porsche of Pat Long coming after
me. I would check my mirror every lap at start finish to see what the
gap was doing. Getting bigger? Smaller? It was getting smaller. I wasn't
surprised. The Porsche was on brand new tires and I was on full tanks
and half a stint old tires. The Dunlops though were holding on really
well. I had the confidence to push every lap with them.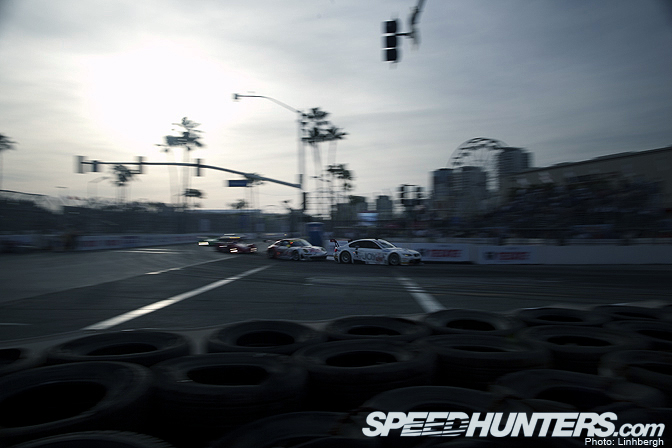 The 45 car caught me in about 6 laps and there was another
15 or so to go. I knew this was going to take some creative driving to
keep him behind. I did everything I could to keep him behind, defending
every passing zone, using the traffic to make advantage where I could.
We ran nose to tail for about 6 laps.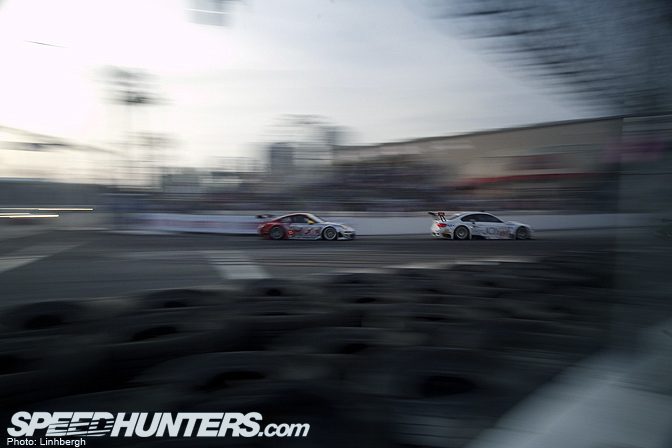 My tires were now going off a bit more and it was becoming harder and
harder to keep the lap time. I didn't quit though and drove as hard as I
could. I set my best lap holding off Pat, only 3 tenths off of the best
lap from Bill from earlier in the race when he had a bit fresher tires.
It wasn't enough though to pull away from the 45. Their new tires were
just too much of an advantage. Our strategy to not take tires at this
point was the right call and now it was just up to me to hold on.
I
got a big understeer through T8, heading onto the back straightaway.
Pat followed me closely on the right hand side of the road, under the
parking garage, and down towards T9. I went for the brakes and then BAM!
Pat
started using me as brakes and probably even went back to throttle for a
moment to push me wide at the apex of T9. I did everything I could to
keep the car on the line. The brakes on our M3 are pretty amazing, and
I'm sure Pat wish he had them on his Porsche, but they're not designed
to stop two race cars.
He sneaked by on the inside. I
didn't give up though and ran through T10 as hard as I could. Pat went
too deep into T11 and I was able to get a nose underneath him. He just
hit me, so I returned the favor. I got the 45 car sideways coming out of
the hairpin. Somehow, he saved it and kept going.
The
62 Ferrari and 3 Corvette were both right there behind us too with all
of this going on. When all was said and done, it was Magnussen who was
next in line who wanted a shot at me. Magically, the Corvette was able
to run the 10 fastest race laps of GT2 right at the end and I had no
hope. He got by with two to go. I tried to give him a little bump in the
hairpin too but it was helpless. We'd have to settle for third.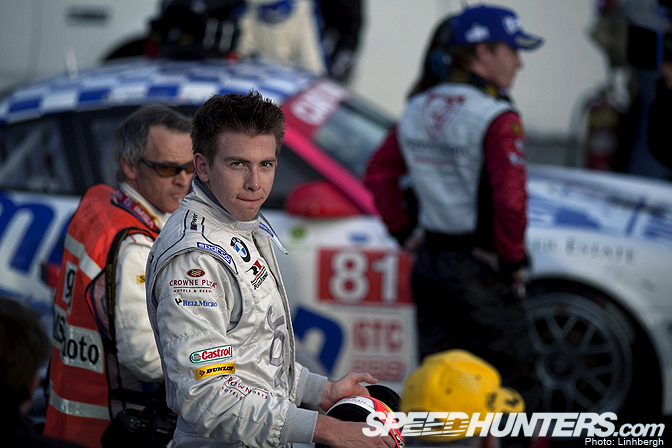 I was happy with my performance. The team was happy. We did everything
we could to win this one and it just wasn't quite enough. Pat came up to
me at the end of the race and we talked about our little battle. He was
mostly apologetic in his tone as we talked and I'm a sensible person.
It was racing. He gave me a little and I gave back.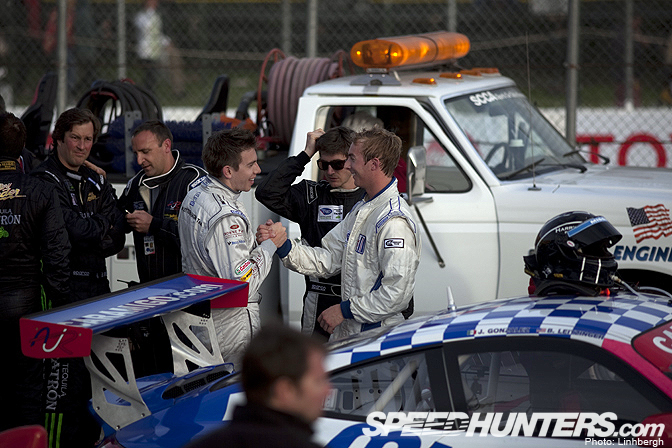 Congratulating my good friend and old teammate, Tom Sutherland who also
had a great race, finishing 3rd in LMPC.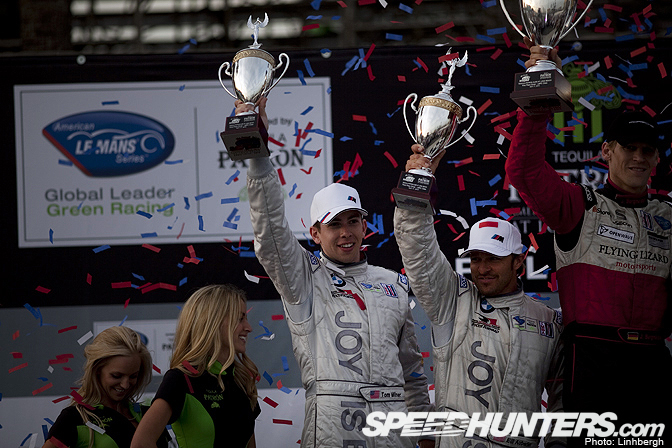 The lovely Patron girls on the podium with us while Bill
and I celebrate our 3rd place finish.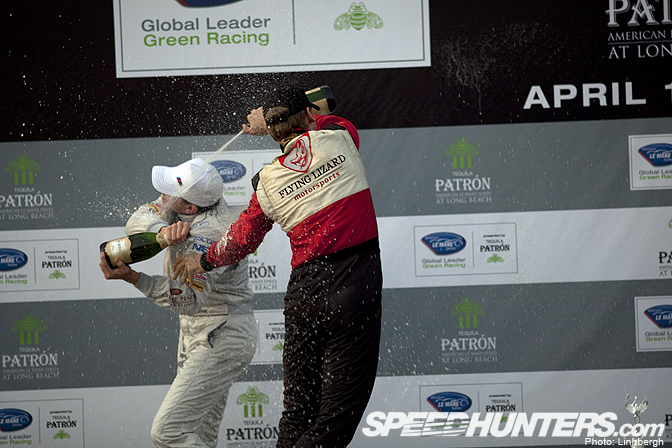 Who said drivers have to be small? Joerg and I have to be the tallest
drivers in the paddock.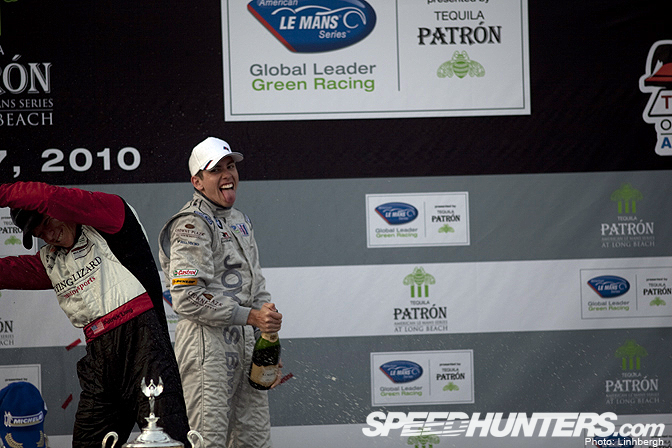 Yeahhhh boyyyy! 2010 is off to a good start.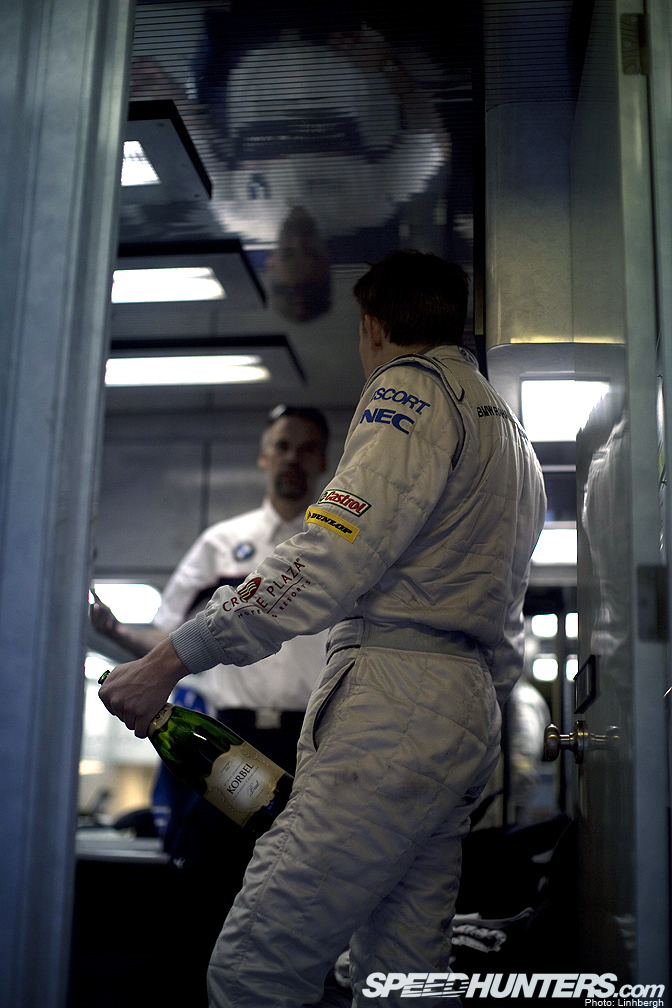 After the podium ceremony it's right back to business and I'm already
debriefing with BMW Motorsport engineers about how the car was in the
race.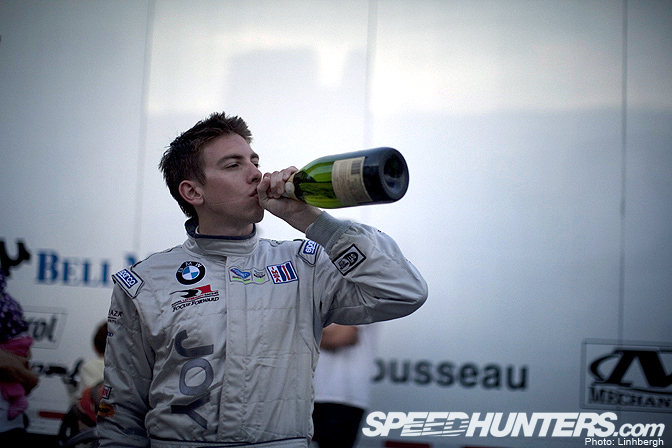 I still have yet to taste victory in the ALMS in four years trying. Lots
of podiums but never victory. I'd like to see that one zero fixed on my
stat sheet. The next race for us is in about a month for the 6 Hours at
Laguna Seca. You can bet Bill, myself, and the whole BMW Rahal
Letterman Racing Team will be doing everything we can to get the M3 GT
back to the top step of the podium.
-Tommy Milner