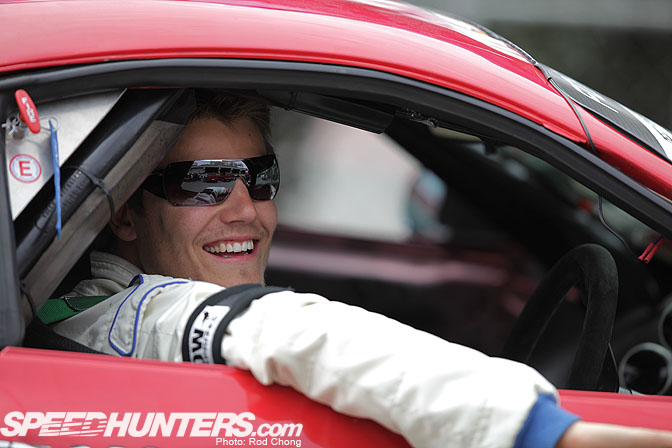 First, thank you very much to Speedhunters for allowing me to up a guest blog. We had a really good time at Long Beach, going out there doing what we love the most! The support we got overwhelmed, and we are very thankful for all the kind words.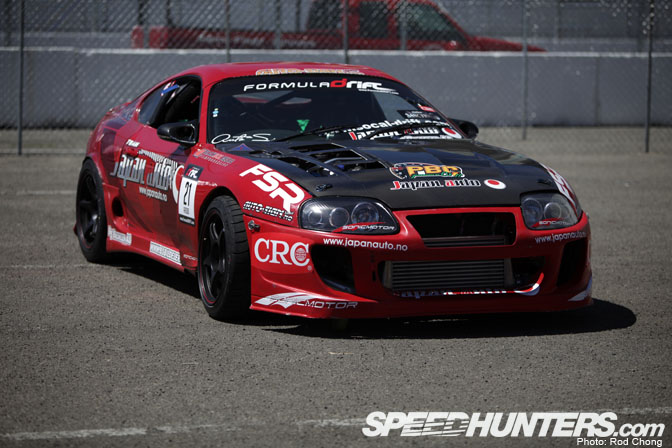 My crew guy and "right hand" Steffen and I have followed the Formula DRIFT: Streets of Long Beach closely over the last few years. We have been anticipating this event over the winter working hard to get the funding in place and I have tried to visualize and simulate the course we have been practicing.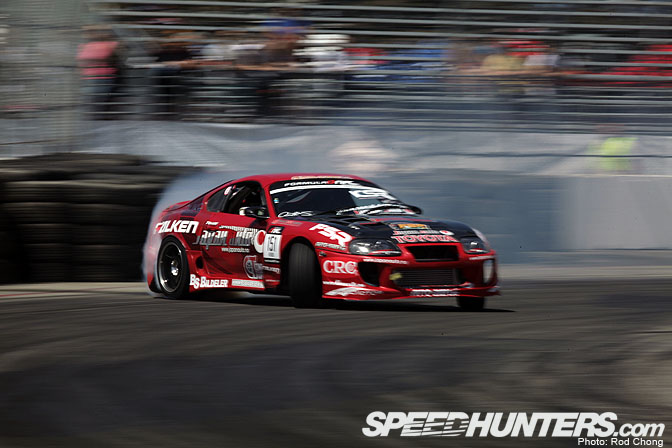 Therefore, when we came to the track Thursday knowing we would only get a few practice runs in prior to qualifying, we still had at least some grasp of the course and that really helped me adapt to it.  A number of drivers, such as Pat Mordaunt, gave us hints and tips on the track surfaces and have they change throughout the course. I think that is a great testament to the spirit of the drivers and proof that Formula DRIFT is one big family!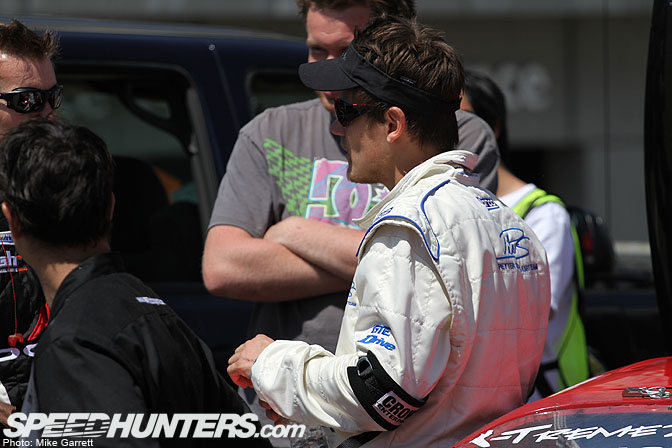 So, keeping in mind the fact that FD is becoming more and more competitive over the years, my impression of the entire FD community is that is a truly great group of people who wants to put on the best show. Our first time over in the US ever, prior to the Red Bull Drifting World Championship, we went to SEMA Show in Las Vegas, and I saw Conrad Grunewald. Being a little afraid to chat it up with the big boys, I put on enough courage to ask him if he knew where a certain stand was. Conrad was the nicest guy, and he took time to show us around and getting to know us. Since, then we have met a lot of great personalities in the FD community, and that is certainly one of the reasons we put it all at stake and go for it
My spotter Chris and I had agreed to work hard and focused during practice to find the gangster line.  The new Falken RT-615K tires put us right up there  with the speeds and we had a really good feeling for the tires after testing them the week before.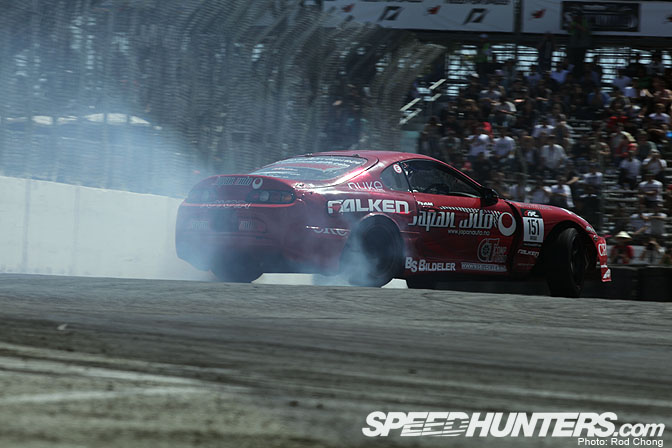 Chris simply told me to have fun and get gangster with it – and it all
worked out. After the first qualifying session we were sitting in second
but I could not really believe it. "What is happening???", I asked
Chris. He's reply was "Gangster, gangster, gangster."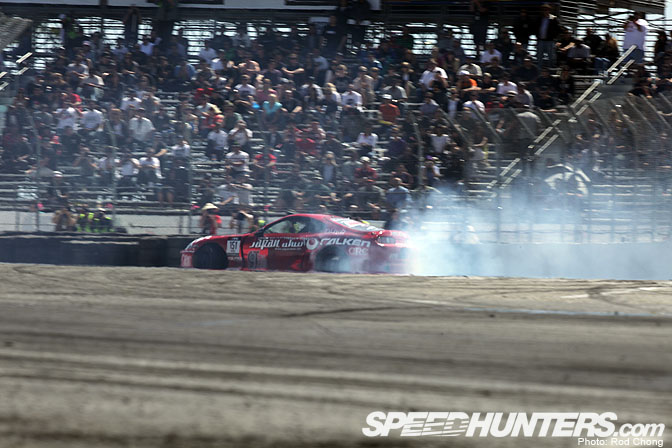 The next session saw a lot of the drivers push it even further, and
being one of the first to guys in the row to qualify I got to watch it.
That reminded me  why I love drifting. Falken Tire driver Tyler
McQuarrie's transition had me almost jump over the fence – it was
straight up BAD ASS!! I admire those guys so much and I decided to push
it even further now that we got through to the finals!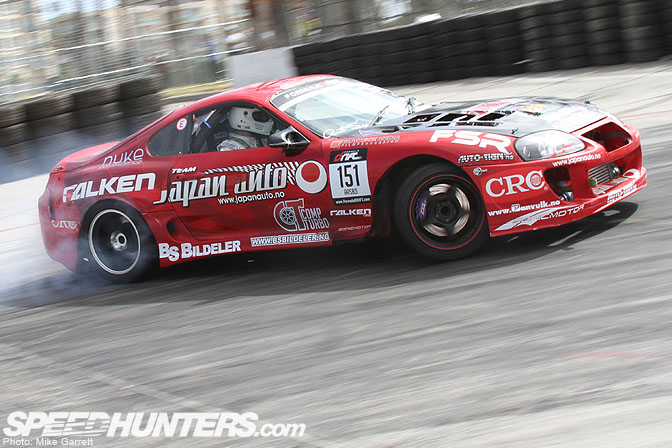 From our preparations to LB I knew the hairpin was going to be a tough one. A lot of upsets have happened going into the hairpin in the past, and this event proved no different. The various cars and drivers have very different speeds going into the hairpin, and you have to really watch out.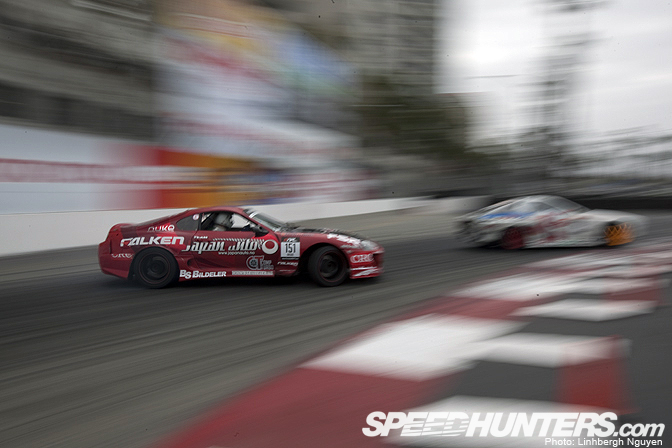 I tried be really focused on not messing up in the hairpin, and did not really do any major mistakes prior to me putting fifth instead of third out if it in my lead run against Tanner, which fried the clutch. Oh well, although the Supra has strong, Diesel-like torque, I guess putting fifth was asking a little too much from my beloved chariot.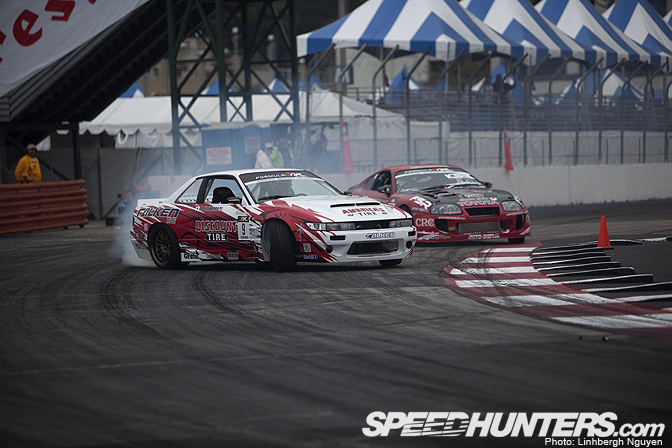 Here I am in practice. I have great respect for Dai Yoshihara. He is a great ambassador for drifting, always greeting his fans and he is always very welcoming to everyone. Plus Dai looks like a cartoon character! J/K J/K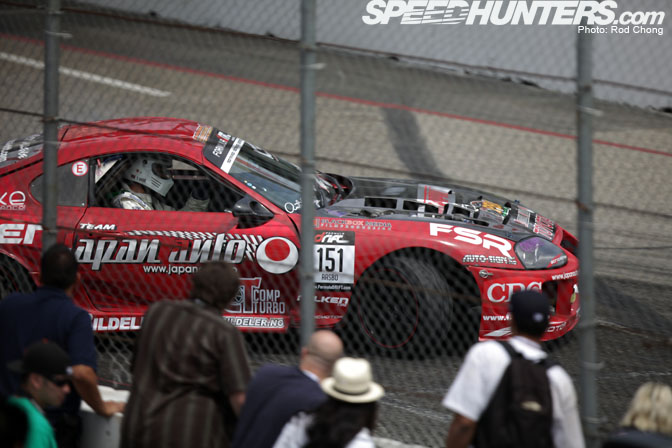 What I love the most about drifting is that you get so heavily penalized for just the smallest errors. For Steffen, my partner in crime, and me, the month we have over here in SoCal peaked and culminated with the two runs against Dean. That was two 20 second passes that set the tone and proved the outcome of a month of hard work.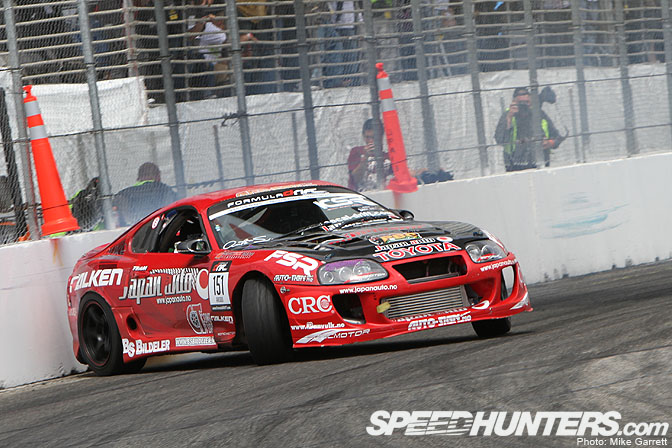 When you are sitting there in the car, at the grid, with the most experienced drift drivers from the world around you revving out their high screaming engines and you know you have put it all at stake and you are next – that's when you feel alive.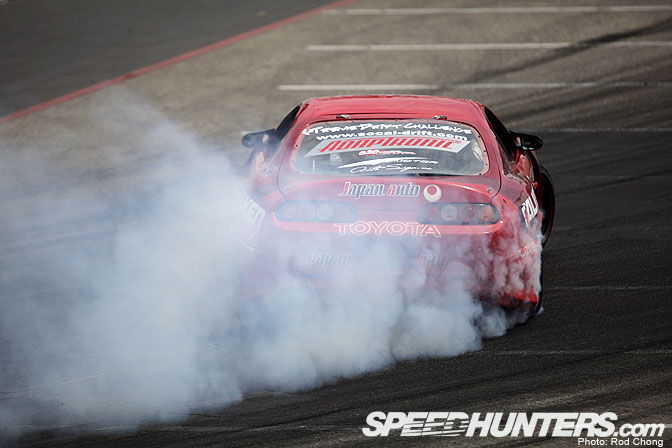 After we were able to take out Mr. Karnage from Ireland after two very even runs, I screamed so high in my radio Chris almost got deaf. Dean, with the problems and stress you had leading up to the top 32, I want to let you know I admire your driving and I wish you all the best in Atlanta.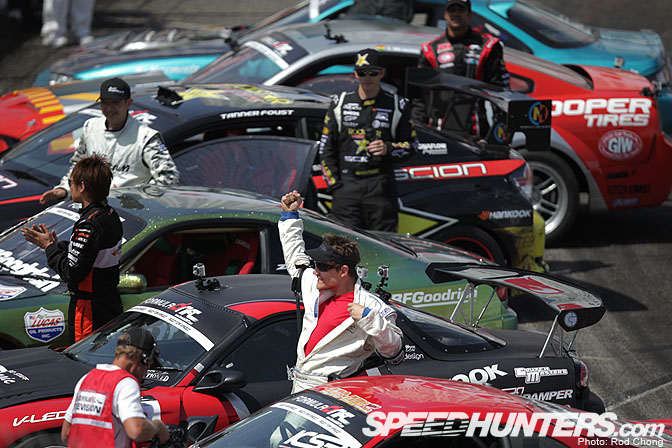 It feels strange and at the same time overwhelming to come all the way from Norway and still have a lot of guys root for you. I am deeply and truly thankful fo the guys cheering us on, and we could not have done it without you – it really pushed us to go all out. We really really really want to do more FD rounds this year, but right now we don't have the funds to do it. As you can see, we don't have any logos on the shirt and the spot is up for grabs. We will put your logo close to our hearts.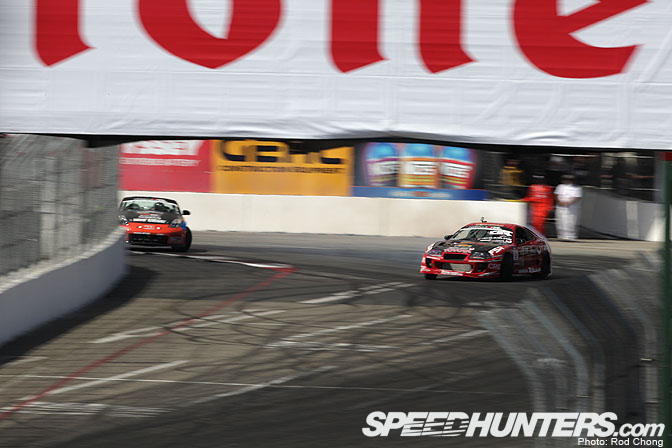 I am a great fan of Chris Forsberg and we have followed his build and progress over the last years being in awe of his focused approach. In my eyes, Chris and the 350Z is the perfect package – a driver that is probably the most consistent out there and a car that is tweaked at all corners over time with an engine/transmission package that is scaled to be run at its full potential at all times.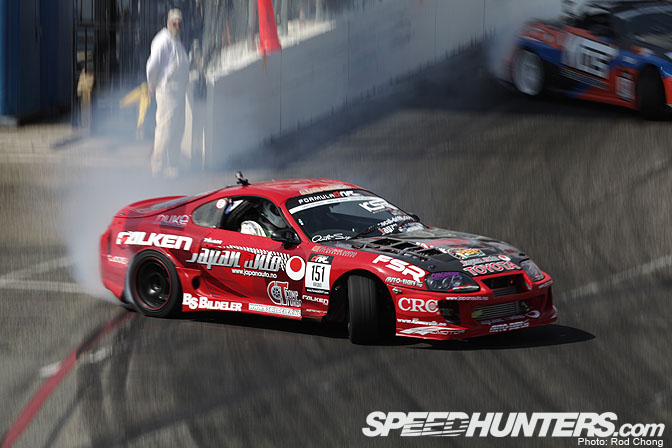 After taking out Dean and moving on to battle Forsberg, the Japan Auto
and FSR team were at the peak of how  focused we have ever been. We were
so stoked to get the chance to go up against our idol!
The new Falken RT-615K's really are the best tire I have driven on, and
they made me feel safe – a strange feeling to have when you are trying
to hold the throttle down and aiming at concrete walls.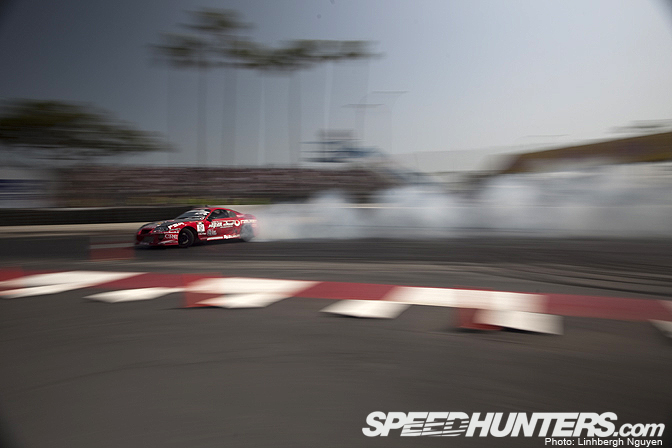 You see, as our Supra engine has stock turbos we put out just 396 whp
and the engine is really limited on high revs – it's almost like driving
a diesel and I need to keep the foot down to have it accelerate.
Therefore we are really focused to try to keep up with the other cars in
the start. Chris asked me to just go for it at the start.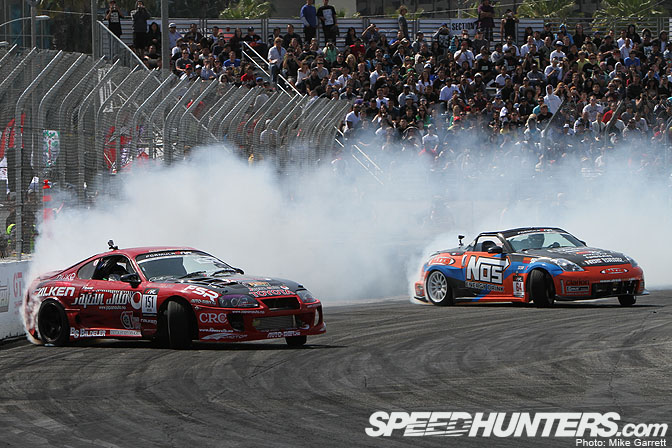 That I did,
and the rest of the runs I can't remember – they're dug down somewhere
down my spine for me to bring up if I ever get old.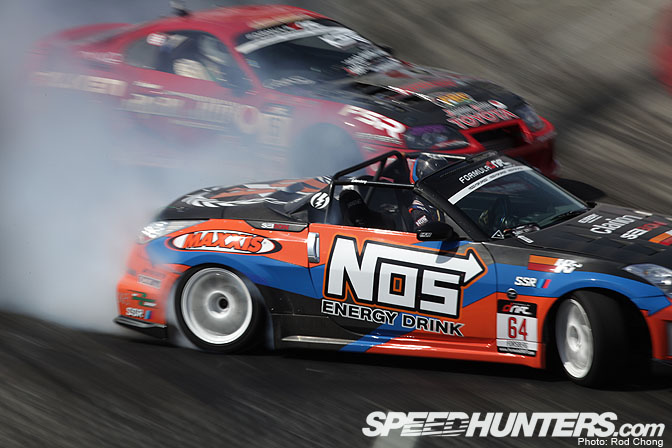 Forsberg is so smooth and consistent – he is literally flying through the course. The only thing I remember from the run, is thinking "This is unreal." We are here to learn from the best and I am very thankful for being allowed to go up against the best.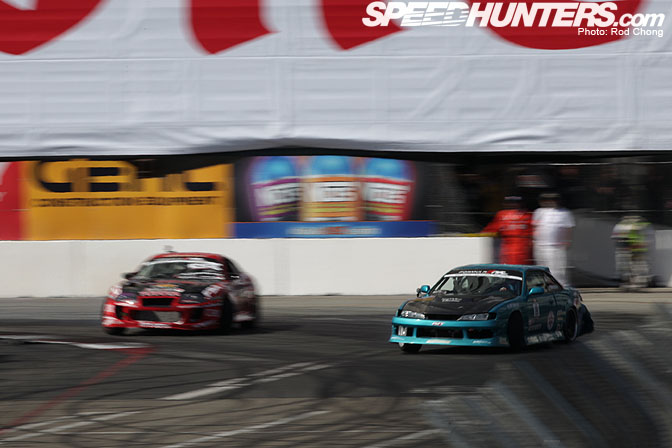 Pat had a great event and that guy certainly has the future in him! In his lead run unfortunately he spun off turn 9, the first right hander, and I applied a little left foot brake and passed him, still getting fairly close to the first outer clipping zone. After the event I got told a lot of the spectators really liked that event, and I think that's really cool.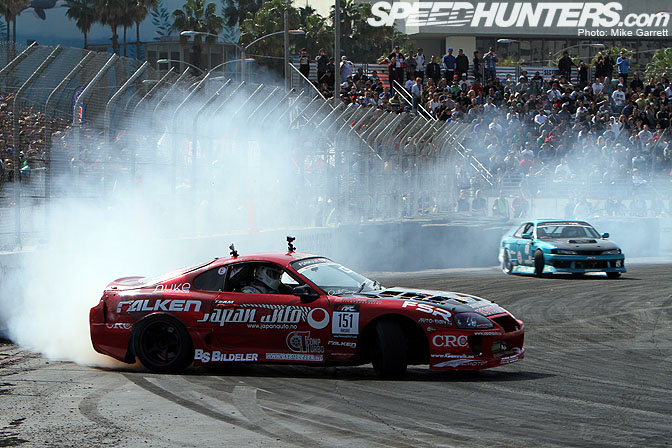 See, back in Norway most of the events are run in a way where every car
is let out on the track at the same, be it a 1000 hp 4wd Ex-rally car or
a novice in a stock rear wheel drive Miata. Then we will just go for it
until a couple of cars roll, there is a crash or the spectators go
home.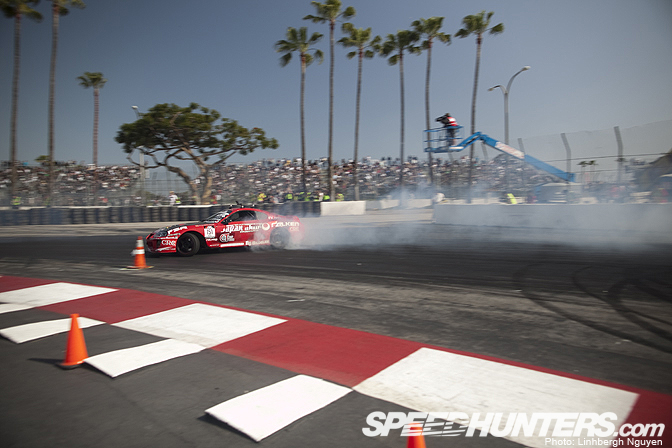 Hence, usually a lot of our practice back in Norway is done in
traffic on the track and it has us face a lot of different situations
and – how to put it – incidents. Check out GATEBIL on YouTube for a
little more insight.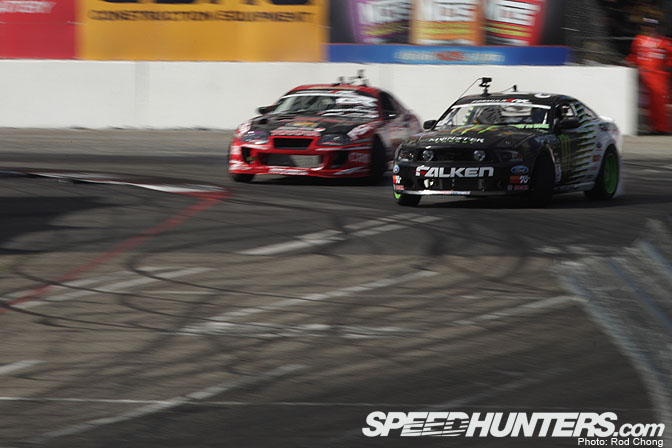 Vaughn Gittin JR. , or "Captain America", as my fellow Norwegians back home nicknamed him, was on fire during the event!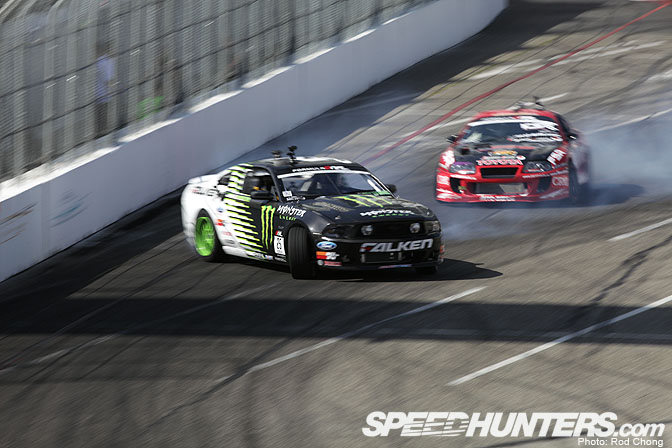 He certainly was a monster out there, blasting through the course. I
gave it all I got and a little extra, and it was the coolest feeling
ever!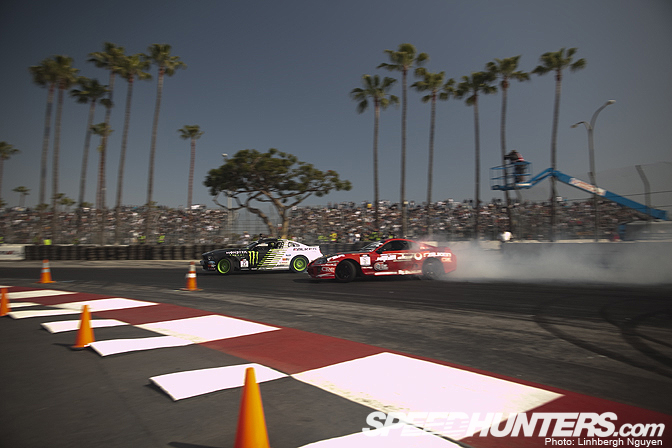 We came here to learn from the big boys, and now we were up there
playing with the boys. What I think is cool is when you actually go all
out battling the FD top hitters it's actually just the same as being
back home at a practice session kicking it with your closest friends.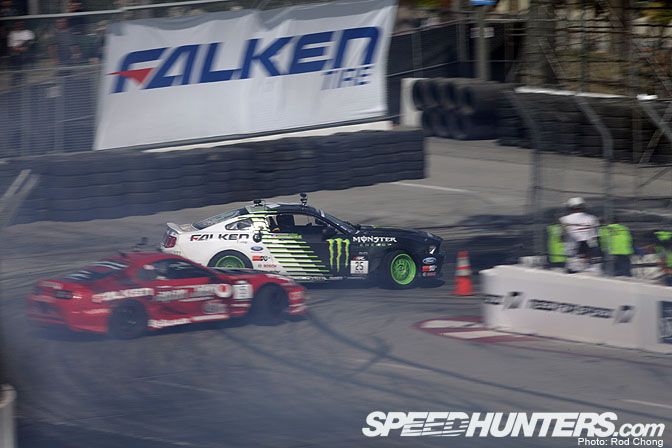 It's still all about going out there, learning, adapting, pushing it and
HAVING FUN.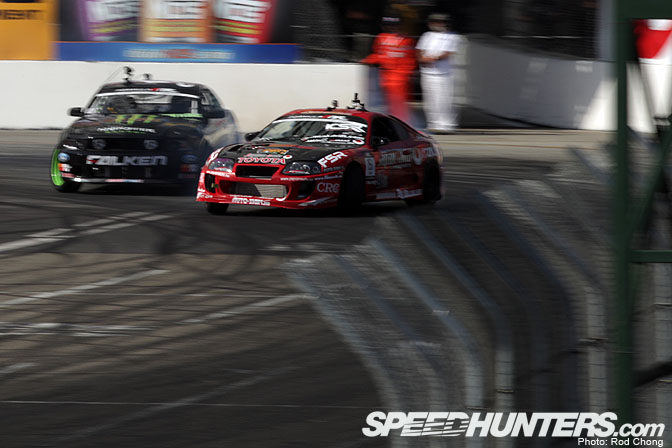 At this point I think I had stopped thinking – I was in a cloud of smoke doing what I love the most.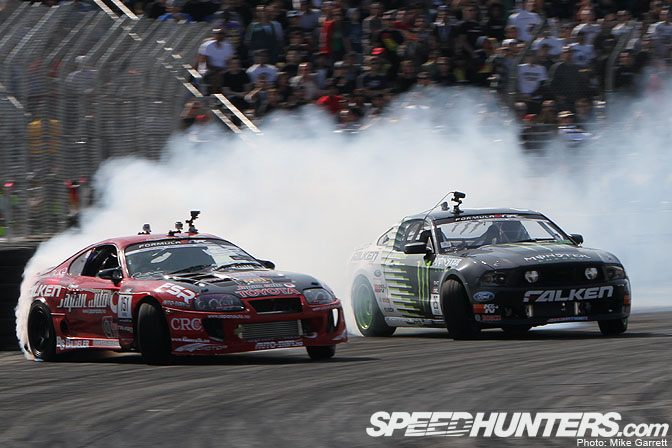 After the battles JR told me we did a great job and I really really
appreciate that, coming from the charismatic Chief Falken Tire
Destroyer.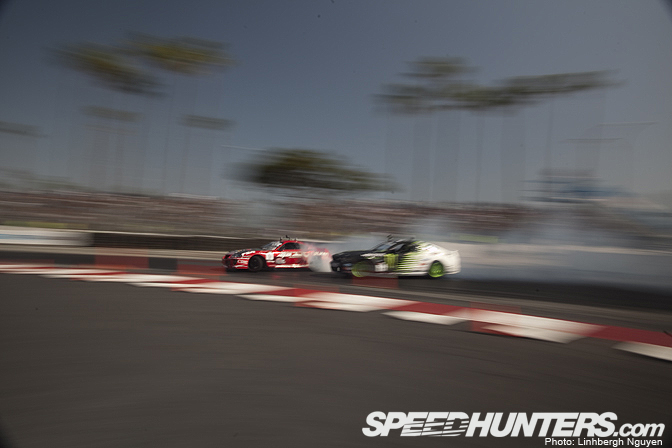 Thank you JR, and big congratulations to you and the entire Falken team
for a well deserved win!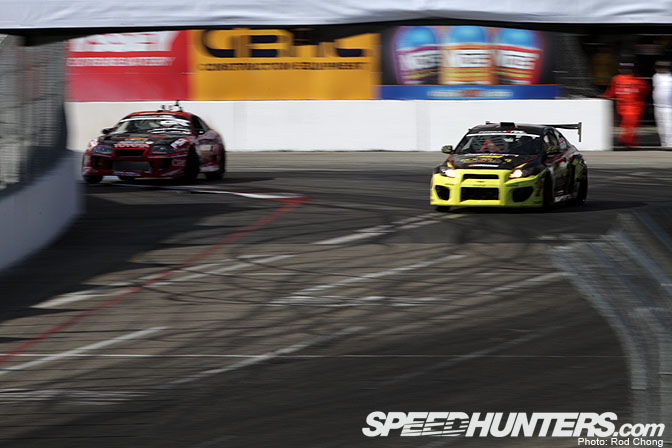 Foust and the Rockstar Team has a very professional approach to drifting.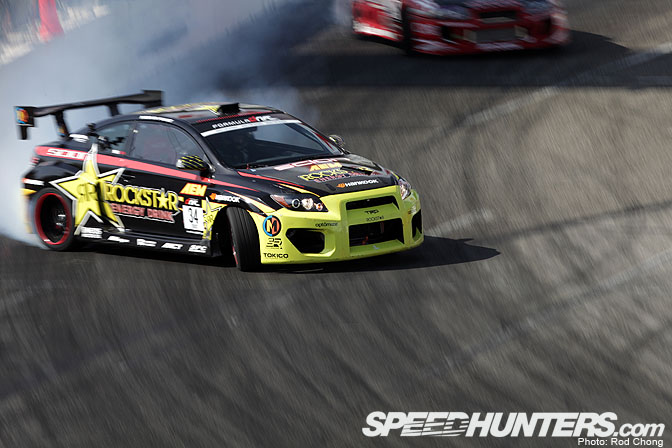 Ever since battling Foust at some of the Red Bull Drifting World
Championship practice runs back in 2008, I have noticed he runs a little
different line than most giving him extra speed. He is also extremely
fast going into the course.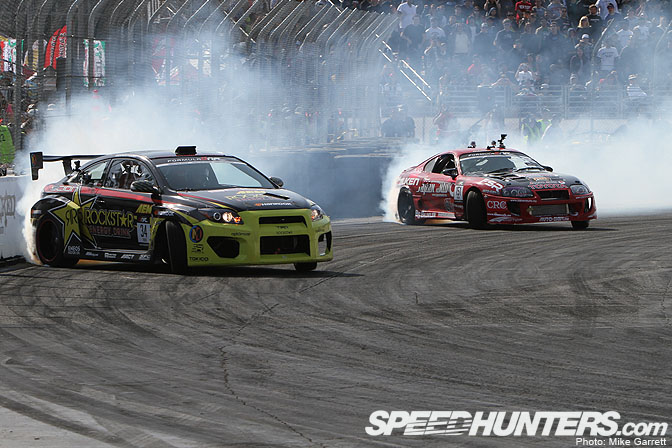 To me, that is a true testament to Foust's
skills and I honestly think the Foust & Papadakis way of "thinking
outside the box" really adds to the diversity and forward thinking in
the sport.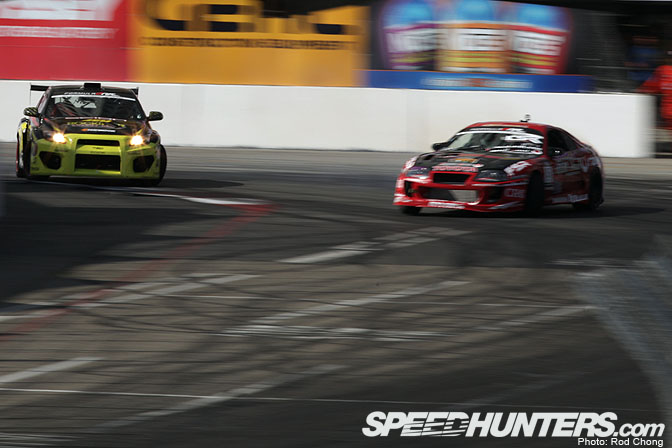 The best thing about participating in Formula DRIFT is how much you learn. I have gotten a lot of pointers on my driving that I really want to work on, and with the Supra being almost stock suspension and engine wise I think we are nowhere near its limits in certain aspects.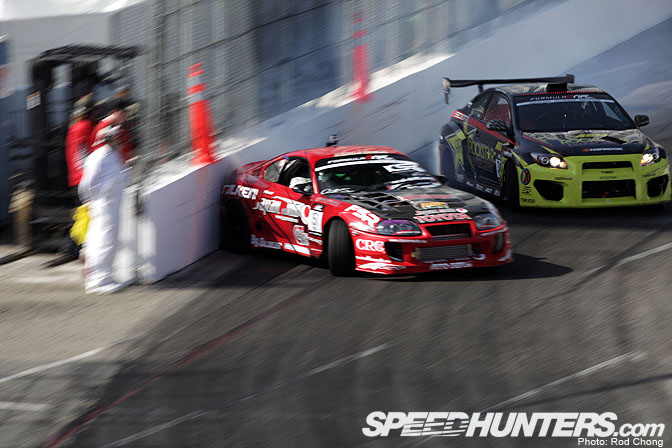 After Tanners fantastic lead run I had absolutely nothing to lose, and decided to go a little harder.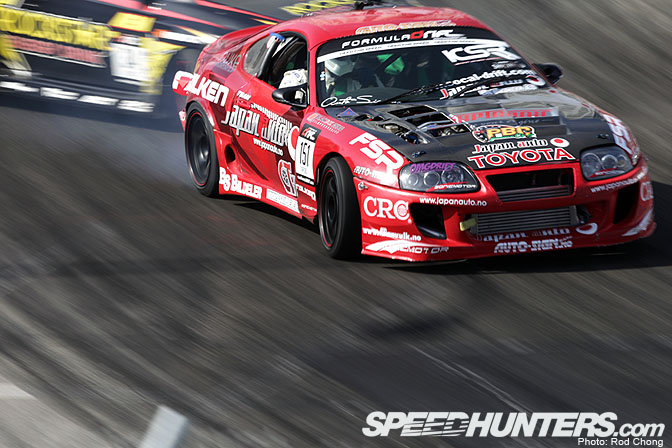 So, I must have taken that literally as I hit the wall a little to hard,
which took out the battery and the ECU…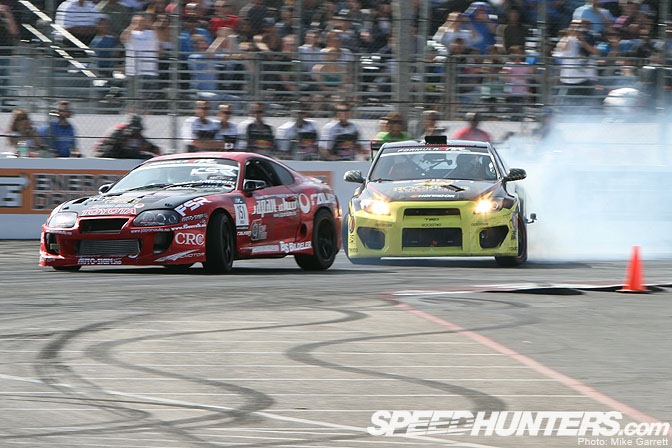 … for a second  I lost all
power for a short blink until it came back on. With no power to the
wheels, I straightened out.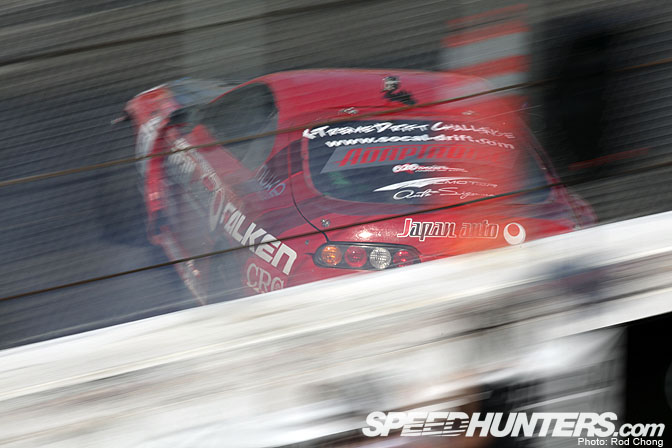 Note to self: Concrete walls won't move.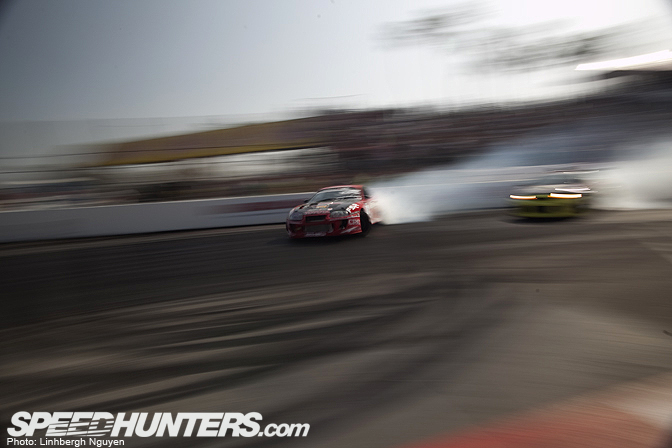 All in all we are deeply grateful to be allowed to go up against the
best at the Streets of Long Beach. Big thanks go out to Steffen, Chris,
Tom Ole and the entire Japan Auto Crew, the FSR Motorsport Creations
crew that serves our cars and all our friends and family in the US and
in Europe.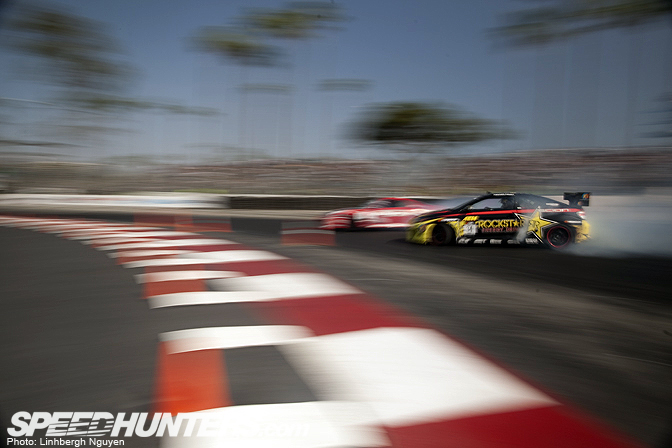 We got told that our friends from back home almost took over the Livestream, and I think it's really cool to see how drift fans from all over the world embrace the Formula DRIFT Series. We will keep pushing to come out to as many of the events as we can, but right now we are about USD $7000 short to be able to run at Atlanta.  We are all up for it though – hope to see you there!
Many thanks,
Fredric