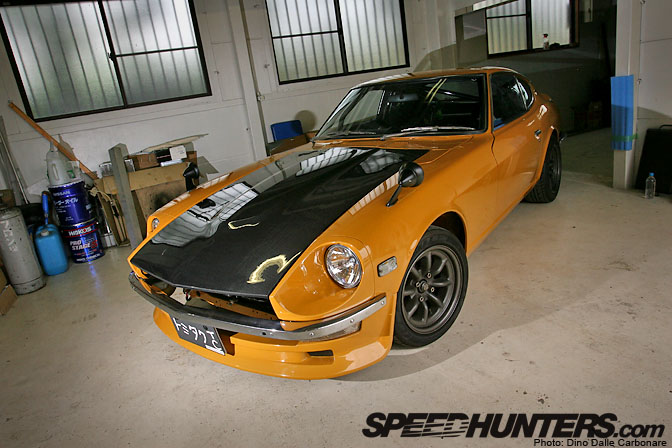 You are looking at a very special Fairlday Z. Unique doesn't even begin to describe this completely custom project that has become very well known in vintage car circles in Japan. The owner and creator of this S30 is Tomimatsu-san, an engineer and development team manager at OS Giken in Okayama. Tomimatsu has been working at OS Giken since 1994, driven by an incredible passion for cars, but more to the point tuning them with state of the art parts. Away from his day job he enjoys looking after his own vehicles, and working on projects in his fully accessorized garage next to his house. Welcome to Office Tomitaku.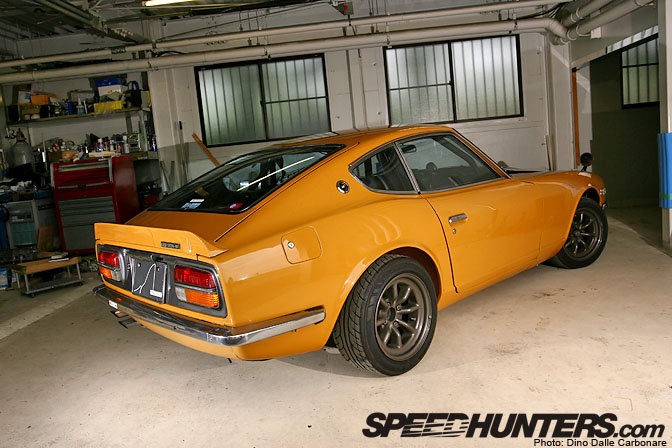 The name Tomitaku probably comes from a combination of his name and the Japanese word Otaku, used to describe anyone with an obsessive passion or interest. And there is no doubt that only an extreme Otaku could have created something like this Zeddo. Tomimatsu wanted to create the ultimate S30 and began his project over 5 years ago after finding a suitable car to base this build on. While the body was sent off to get restored, stiffened up, spot welded and repainted he got to work on the Nissan L24 straight six engine.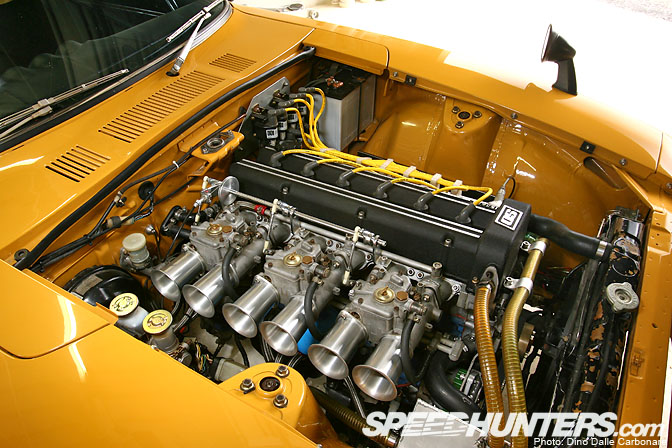 Being part of OS Giken allowed Tomimatsu to get hold of one of only nine OS Giken TC24-B1 complete heads. This very special assembly is probably the most sought after item in the Fairlady world, with them almost never coming up for sale. Forget your S20 engines, with enough money those are relatively easy to come by. To the right person the TC24-B1 head is worth its weight in gold! The history behind it begins way back in 1973 when OS Giken president Osamu Okazaki decided to see just how much power he could get out of an L16 engine. He ended up casting and creating his very own 16-valve complete head which allowed the L16 to be revved well past the previous 7,000~7,500 rpm limit, allowing for much more power to be developed as well as better low-rpm torque. The T16-MA2 equipped L16 he built revved to 9,000 rpm and managed to develop 232 HP at 8,500 rpm making his Datsun Sunny 1600 a very, very fast car. After this first head Okazaki-san created one for the L24 straight-six engine, following pretty much the same configuration of 4-valves per cylinder and allowing the engine to rev to 9.000 rpm and develop well over 300 HP depending on configuration. This is precisely what Tomimatsu fitted to his L24…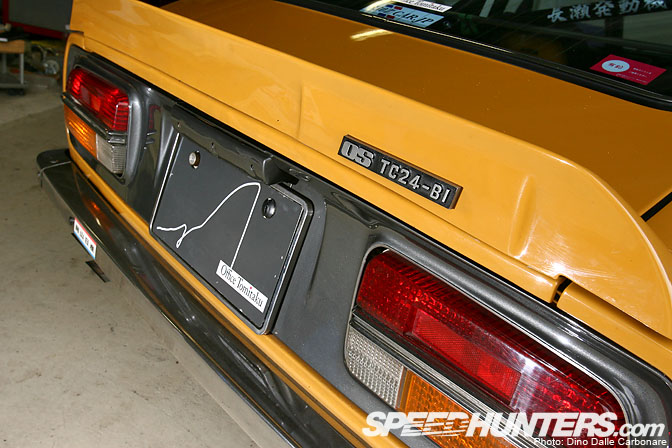 …hence the badge on the trunk spoiler.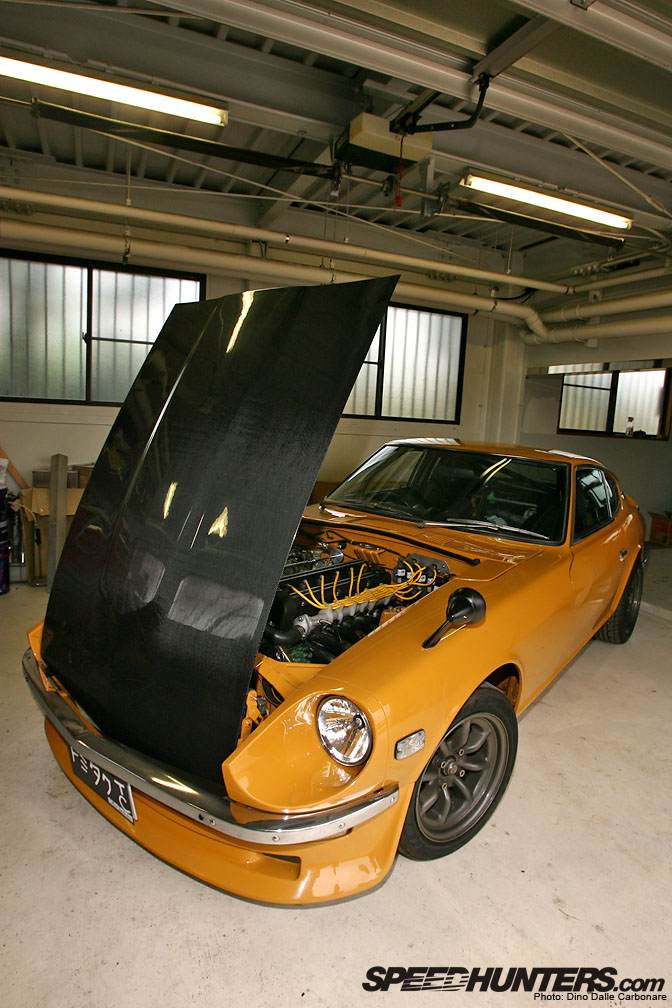 The car was finished off with in a mustard pastel hue and, as a hint at the performance within, a dry carbon hood was fitted.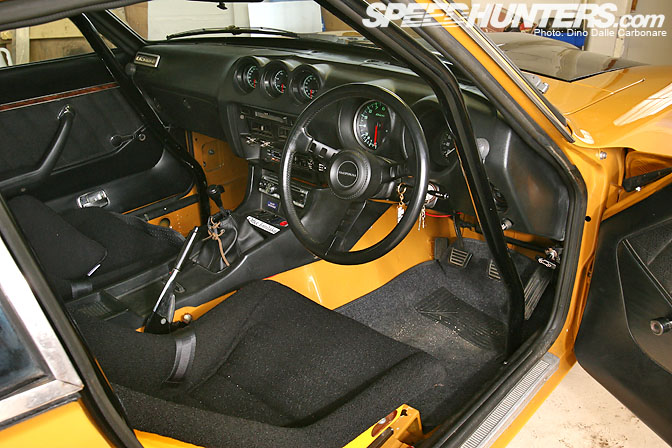 The interior looks mostly stock but is fitted with modern and accurate Defi gauges and fixed bucket seats. The roll cage helps to further stiffen the chassis without being too intrusive.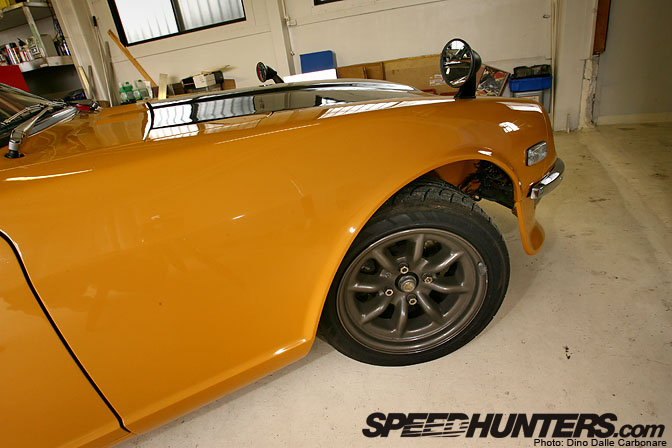 Watanabes and Neovas, a great combination to say the least.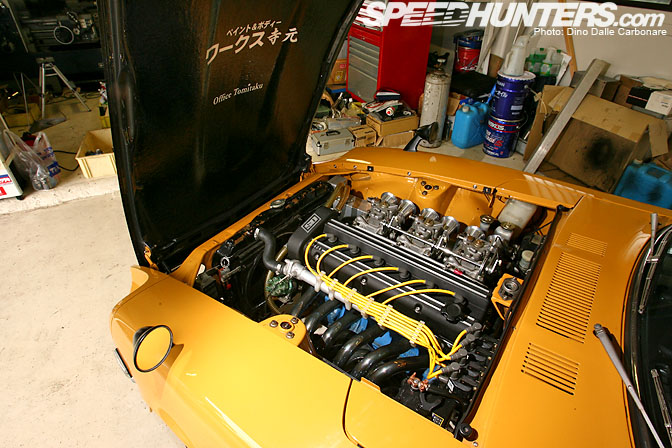 Tomimatsu built up the engine in his garage documenting all of the progress for this website tomitaku.com. The block is fitted with a stock but balanced L28 crank and ø 87.8 mm forged pistons that help raise capacity to 2,870 cc.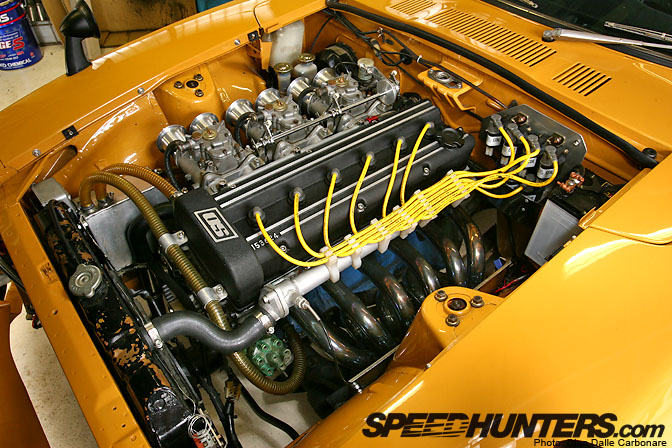 The engine bay is nothing short of a work of art, simple and clean down to the custom made headers. The TC24-B1 head breathes through ø 55 mm Weber carbs allowing it to develop a little over 300 HP. This is probably because the rev limit has been set at 8,500 rpm as most people are sure it could crank out a lot more. Tomimatsu also rebuilt a TC16-MA2 which he found lying around at OS Giken, which ended up being fitted to a H510 Bluebird 1800 SSS sedan. The engine in that car revs to 10,500 rpm with plenty of torque being developed throughout the rev-range.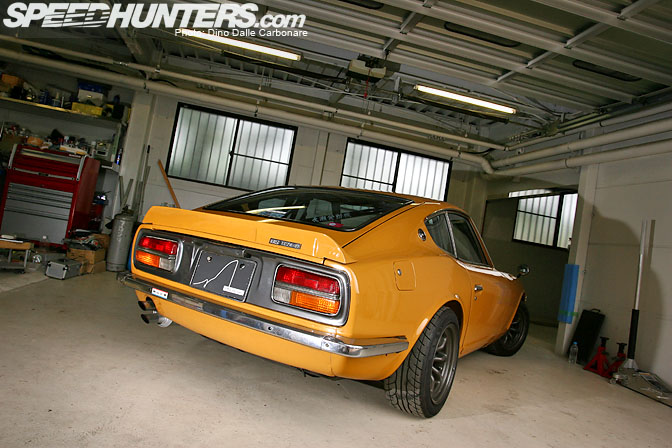 This S30 is up there on my list as one of the most desirable cars, ever.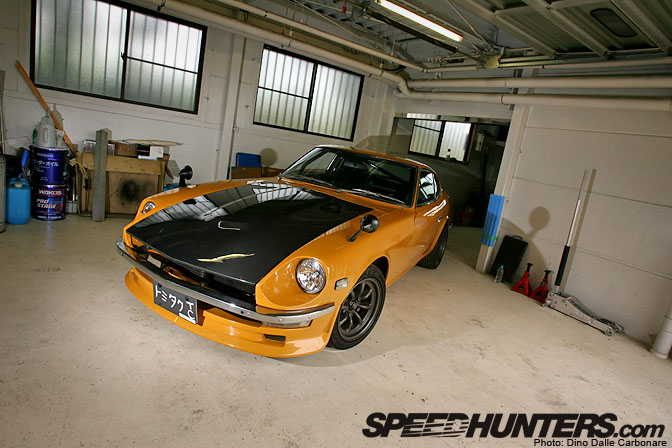 I'd like to thank Tomimatsu-san for taking me to his house to kindly show me this stunning machine and his other collection of cars. For more info on the build of this car take a look at the respective section on his website. While you are at it check out his other cars.
-Dino Dalle Carbonare