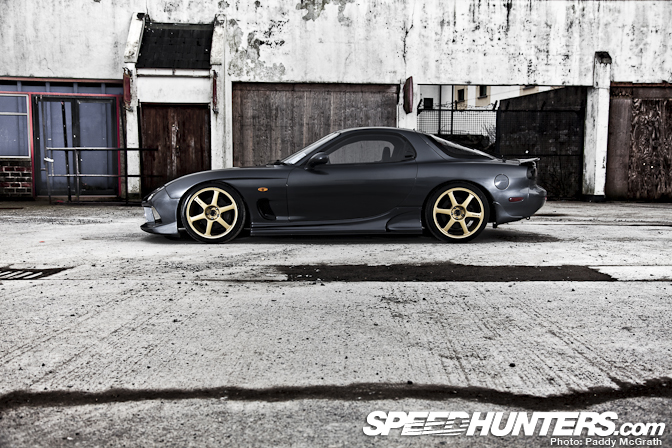 Because it's Motorsport Month here on Speedhunters, you may be asking why you are looking at a street FD RX7. I might struggle to justify this but, to me at least, this is a proper, realistic race car on the road. The highlights are 450BHP, full cage, single turbo conversion, bucket seats and harnesses. A lot of race inspired street cars are just race cars with registration plates or are those which just try to exploit or just avoid local road legal requirements. This has a full interior, it has comfort (although it doesn't have a radio, yet) and it's just as comfortable being in start / stop traffic as it is on the track.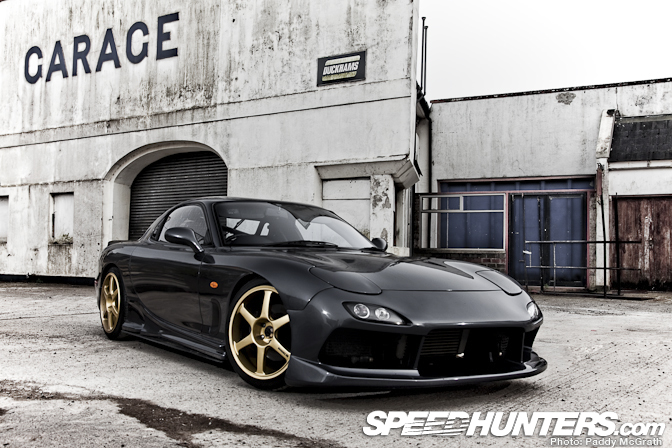 I think it's refreshing to see a car that doesn't rely on mega-dished wheels to look good. Instead the owner has chosen to go with Advan Model 6's; 18 x 9s on the front and 18 x 10s on the rear. The wheels use a hollow core techology that keeps the weight down and the strength up.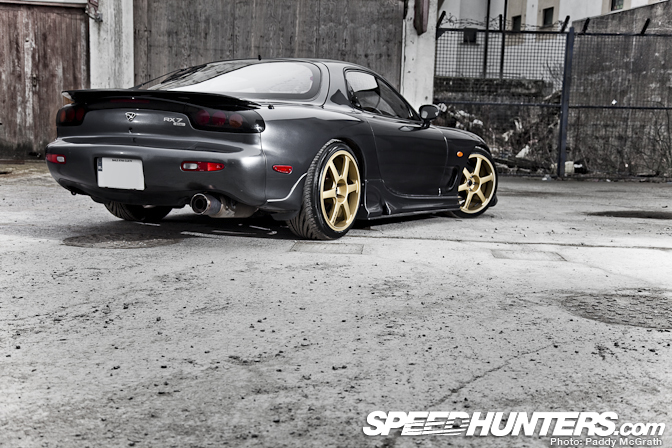 Before someone points it out, the rear tires are non-directional and are not on back to front !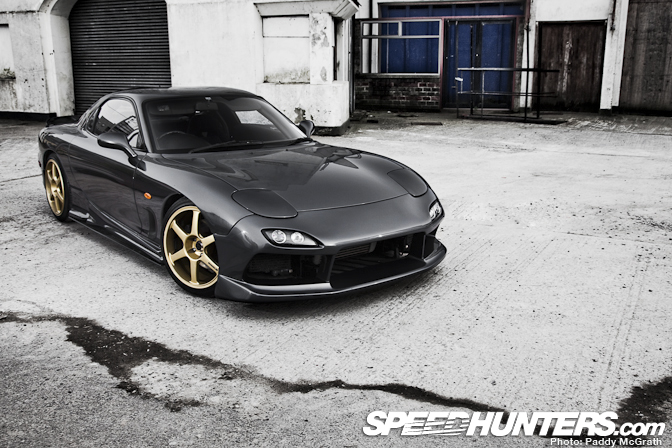 The Origin front bumper works well with the R Magic front wings, RE-Amemiya side skirts and URAS front lights. You can just about spy the GReddy front mount intercooler hiding behind the front bumper.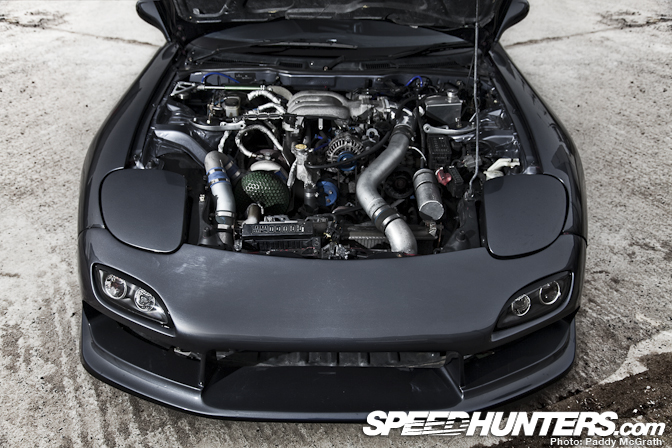 Here is when things get a little bit more interesting. We have a new 13B motor built by Dragon Performance, with an Aquamist 2D water injection system. There's a Greddy exhaust manifold, external wastegate and thick core front mount intercooler. 1600cc injectors in top-fed KG fuel rail, GReddy lightweight underdrive pulley kit and an Apex'i alloy air separator tank.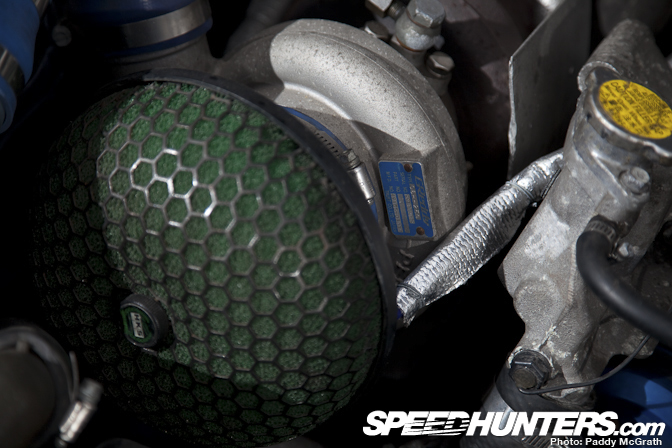 The GReddy TD-06 25G single turbo conversion is on a new street ported engine.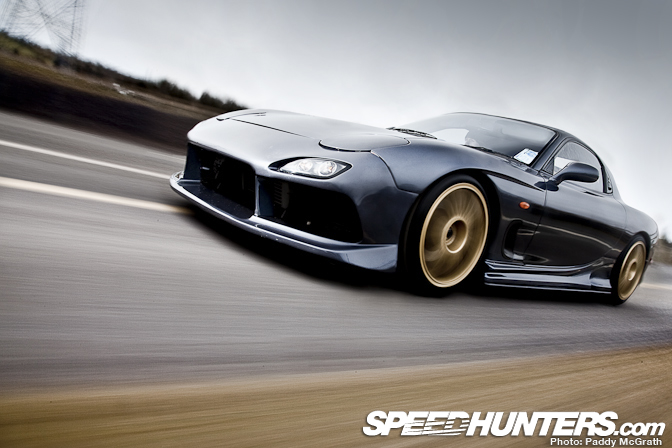 It looks sublime in motion. All those choice exterior modifications have really paid off.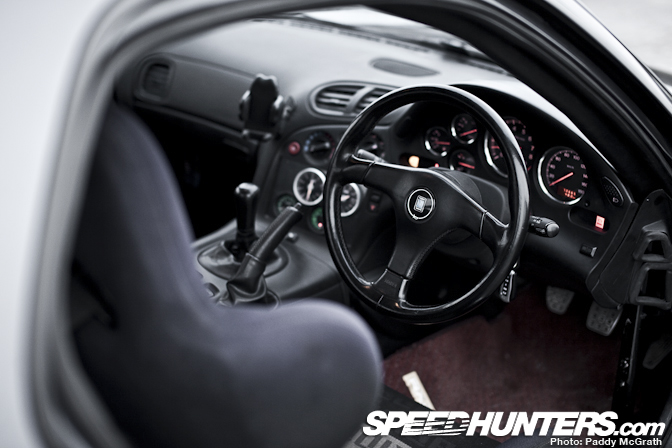 The interior combines that same mix of performance and praticallity.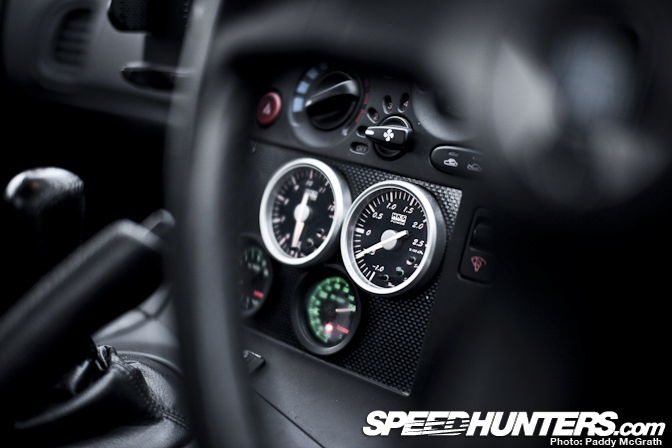 A HKS Tachometer and boost gauge sit above a pair of Omori oil pressure and temperature gauges on a carbon plate where the radio used to be.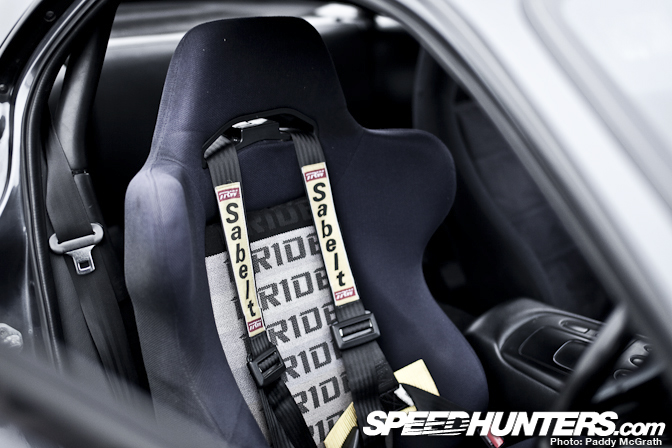 Bride reclining bucket seat and Sabelt harnesses. You'll just about notice the stealthy and padded seven point Cusco through-dash cage in some of these shots as well.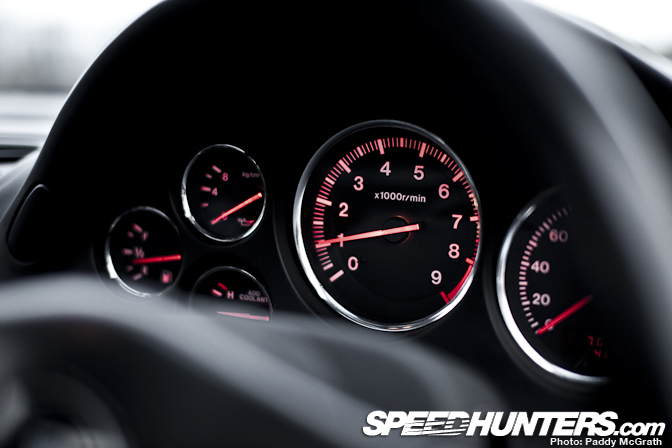 With the standard gauges, the tachometer takes centre stage. I love those 9,000RPM clocks.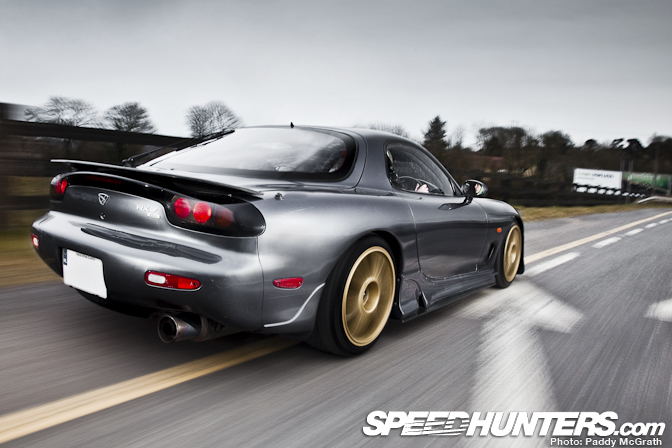 The rear wing is an Origin drag item; the exhaust is a custom titanium piece. All these exterior clues provide us with hints of subtle agression.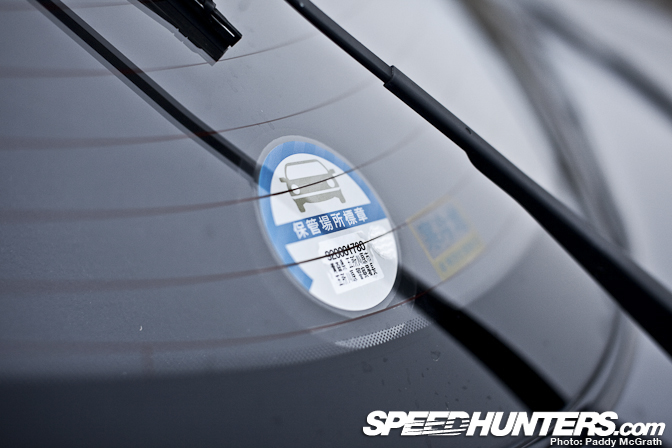 A small reminder of this cars origins; a Japanese parking permit as ar as I know ?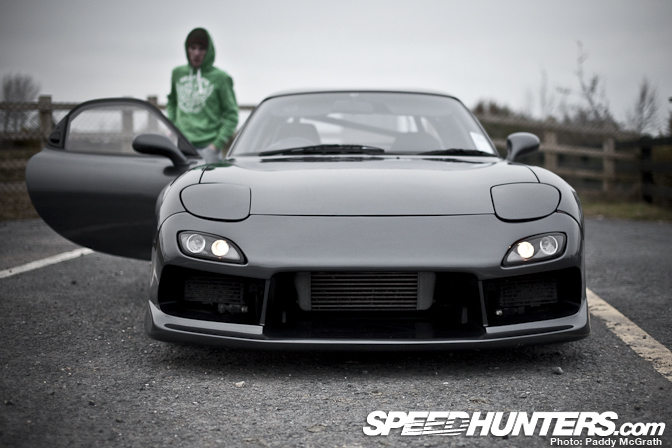 I usually prefer the fixed headlamps but the original pop-up lights really play to this car's attributes.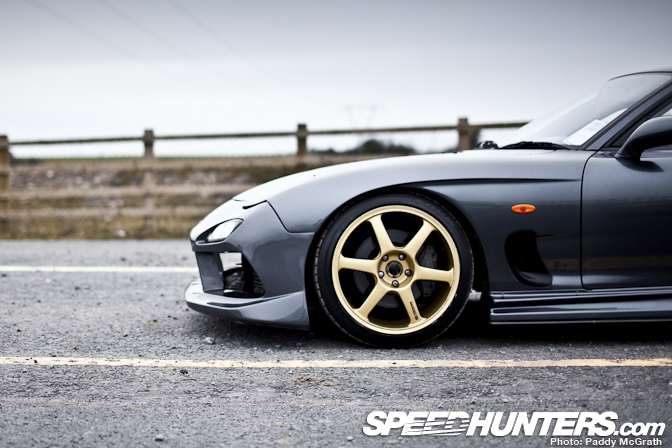 It was with this last shot I noticed the lines on the R Magic wings. Even after spending an entire day with the car, you still keep noticing more and more of the small things.
What does everyone make of this ? Is this the proper way of building a fast road car ? Do you prefer the stripped interior and bare essentials look ? Do cars like this even belong on the road ?
I'm sure this car will divide opinions, but if we were to all like the same things it'd be a boring world !
Paddy.