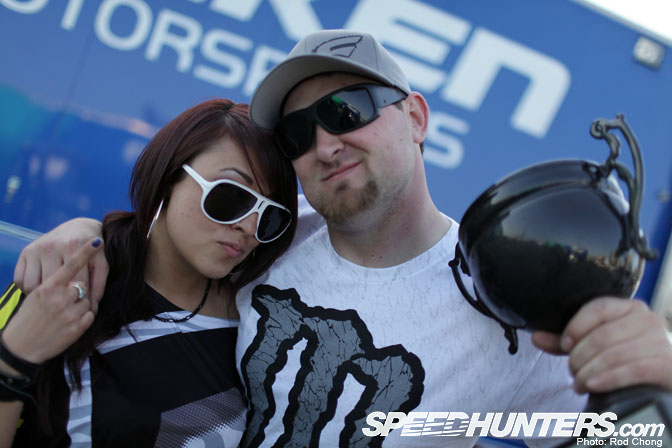 Hey everyone, I'm Miki, the newest member of Team Need for Speed as host and DJ.
I am very excited to tell you all about my experience at the season starter for Formula Drift.  But, before further a-do, I'd like to give a big congrats (and high-five) to Vaughn Gitten Jr., who took 1st place in Long Beach!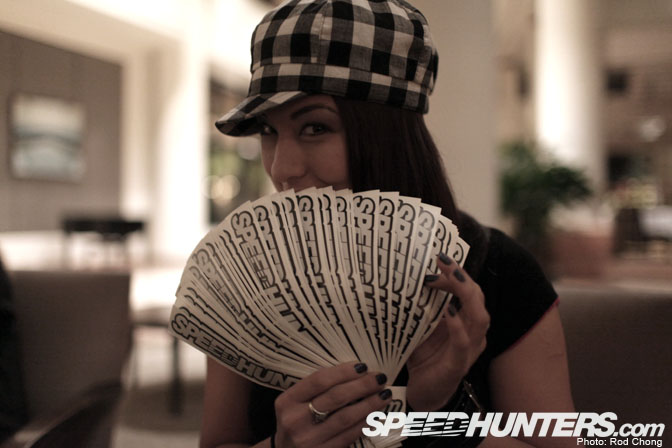 For anyone who received a Speedhunters decal sticker from me at Formula Drift, I'm ready to give you all an explanation for the code word.
It's no secret that I'm not the quick-witted person I'd like to consider myself to be, but I'll give you some background as to why I make that statement.  For the months leading up to Formula Drift, Rod Chong, from Speedhunters, and myself exchanged several emails.  In those emails, he addressed me as M-8, which I assumed to be a nickname… and a cool one, at that!
Upon arrival to Long Beach, I met up with Team Need for Speed and Speedhunters crew to brainstorm on some ideas for a promo giveaway on Speedhunters.com.  In all my excitement, I referred to myself as M-8, really feeling like a part of the team.  After receiving some confused looks, it was then I was informed that M-8 refers to "mate" and is commonly used in email conversations.  (gasp)
Those of you who already know that, I hope you're laughing… because I laughed at myself for a good while.  Since I was so clueless, we decided that would make for a perfect code word AND I have officially been dubbed, M-8.  Yes, mate!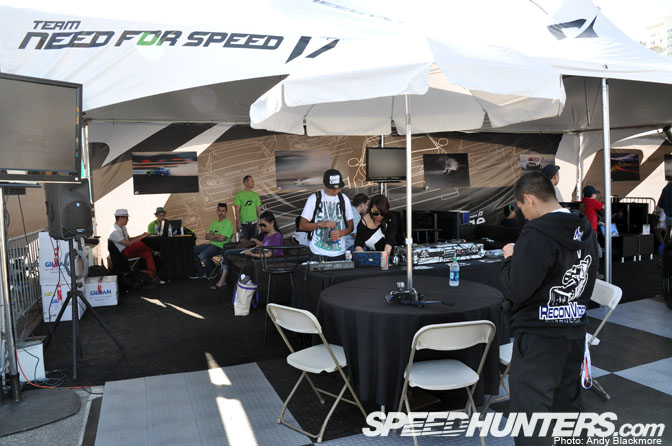 The Electro Lounge was a plethora of stimulation and relaxation.  We had rows of comfy couches, TVs and games set up.  It was the perfect spot for any and everyone to hang out while getting their Need for Speed: Shift gaming fix.
I was having my own fun, of course… keeping the mood funky!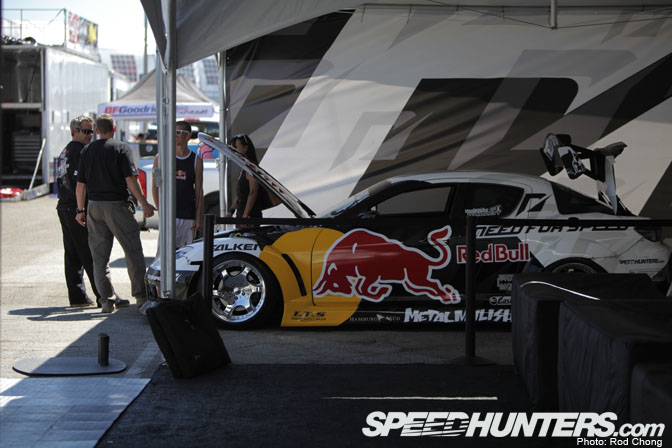 To my right, Mad Mike's car was reppin' Red Bull, Falken and Need for Speed.  I enjoyed chatting with his crew about rock tunes, while sneaking a few Red Bulls to feed my caffeine addiction.  I love Kiwis, by the way!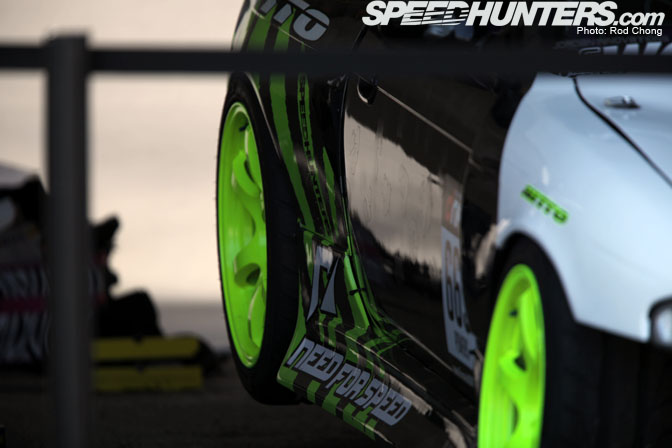 And to my left, was Matt Powers' funkdafied neon green, tiger-striped ride.  Purrrrrrrrr… I mean, GRRRRRRR!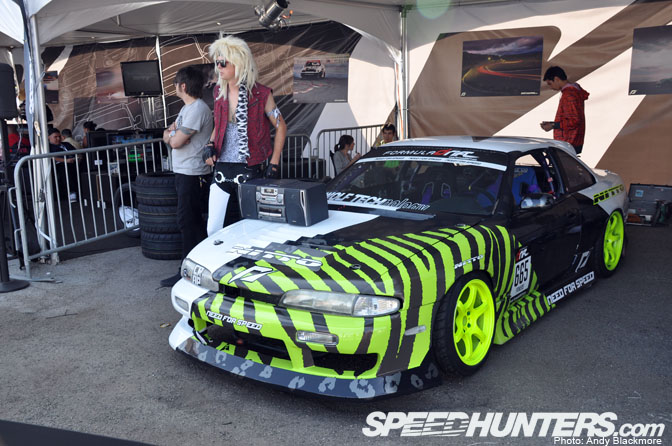 What can I say? It's just so… fresh and so clean, clean. The decals on this car are ALMOST as rad as the man that drives it, along with his equally fresh Mattley Crew!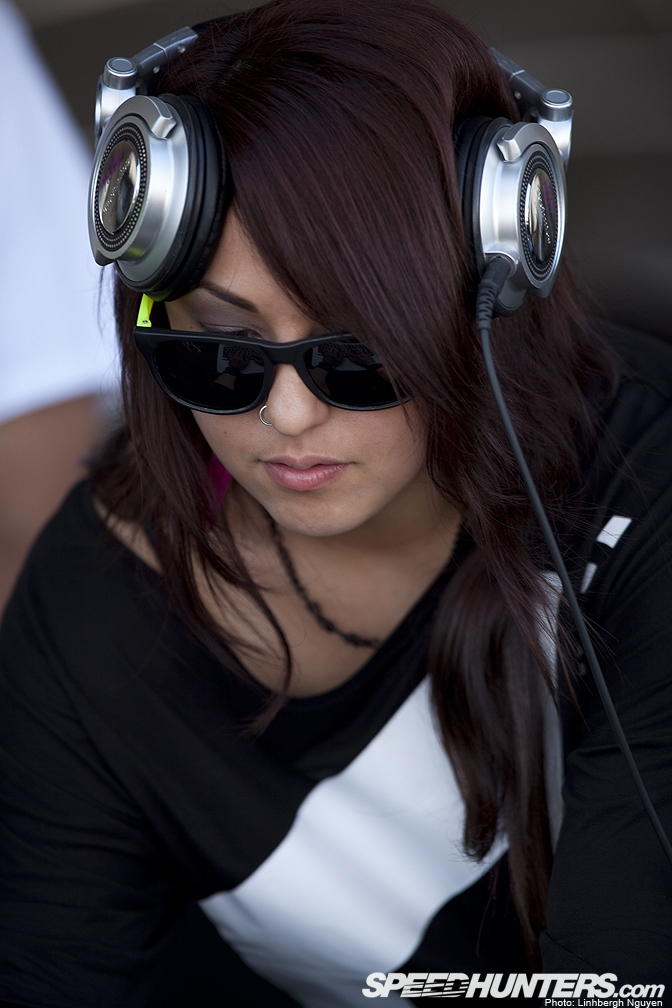 Looking at that last photo gives me the wild urge to strum my air guitar but I'll get into DJ talk.  Yes, let's talk music…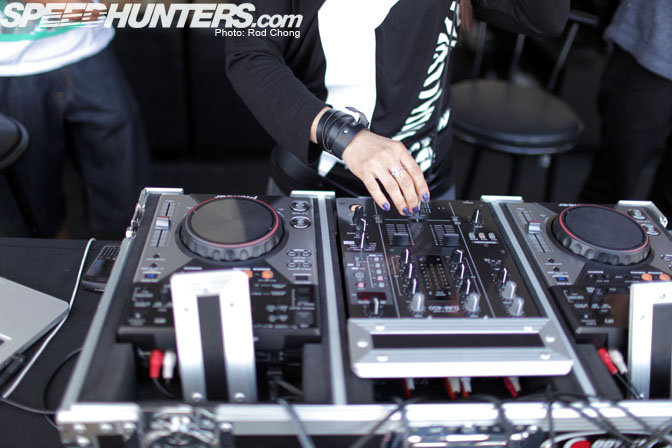 Thanks to Need for Speed, I've been given the incredible opportunity to pursue three of my top passions… cars, music and sharing!  For the most part, I'm an electro-house junkie but I listen to and spin anything that makes me feel good.  So, the feel we were going for in the NFS Electro Lounge was right down my alley.  Music is expression and since I'm not much of a musician, DJing is my way of sharing that expression.  Anyway… blah, blah, right?!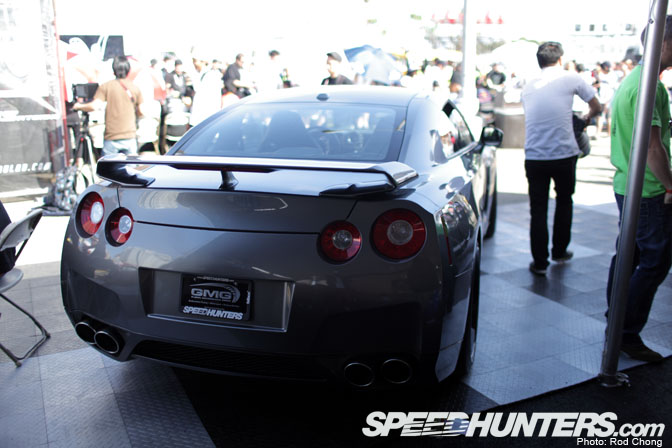 Back to cars!  This Nissan R35 GT-R street machine graced the Need for Speed booth and will be at all of the 6 remaining Formula Drift events.  It's not just there for show, either… YOU have the chance to win this sexy beast.
Check HERE for more info on how to make it yours.
Yo Parts is giving this car to someone who really knows their stuff, so bring your A game!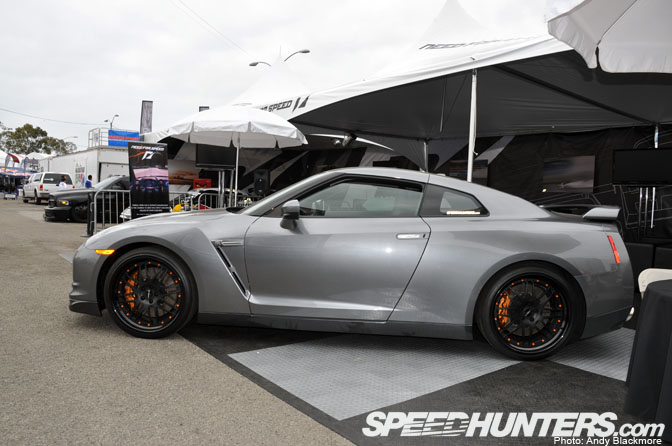 Seriously, stop me from drooling!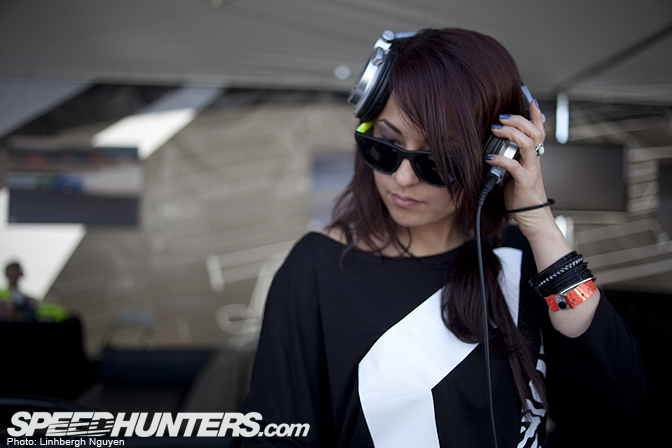 The sticker and poster giveaway was fabulous.  I mean, who doesn't like to get free stuff?!  I certainly enjoy giving it out.  All-in-all, I'd have to say that my personal highlight was keeping track of how many people knew that M-8 stands for "mate."  As it turns out, I'm NOT the only person who didn't know.  SCORE!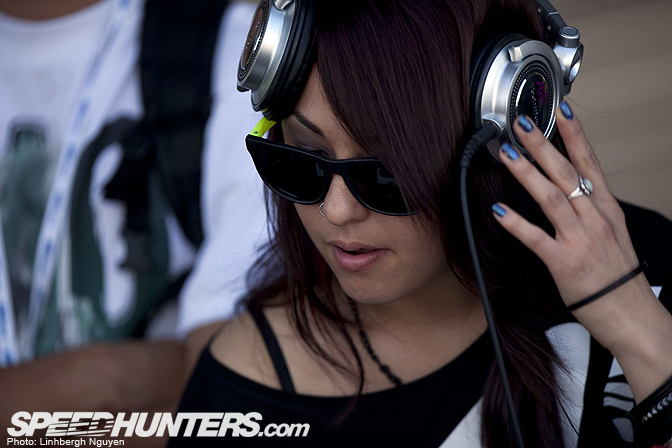 UNCE, UNCE, UNCE, UNCE!  Yeah, baby, yeah…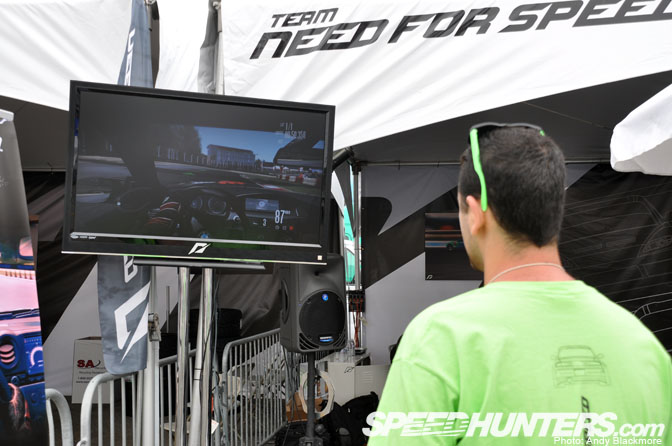 The energy of the Electro Lounge was invigorating, to say the least.  When I broke from DJing, I took some time to trash talk my Team Need for Speed roadies, while they played.
"Look out, Stefan, I'm coming for you!" … "Oh yeah, watch out for that wall… smack!"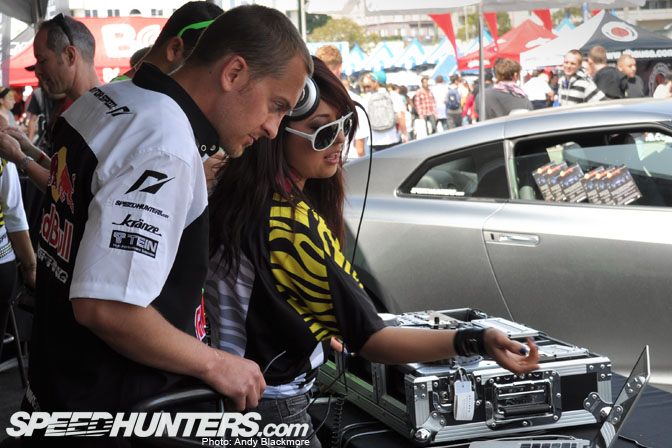 Here, Eric (from Twins Turbo) and I discussed music, while I showed him some of the basics behind beatmatching.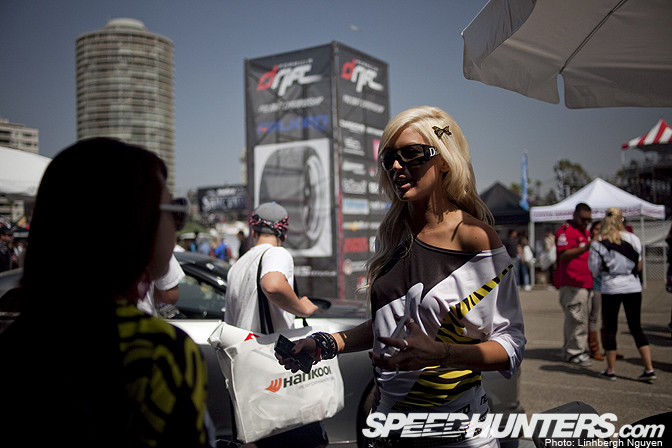 Taking a chit-chat break with Vanessa.  I'm a bit bummed I don't have any pics to share of the air guitar strumming that took place…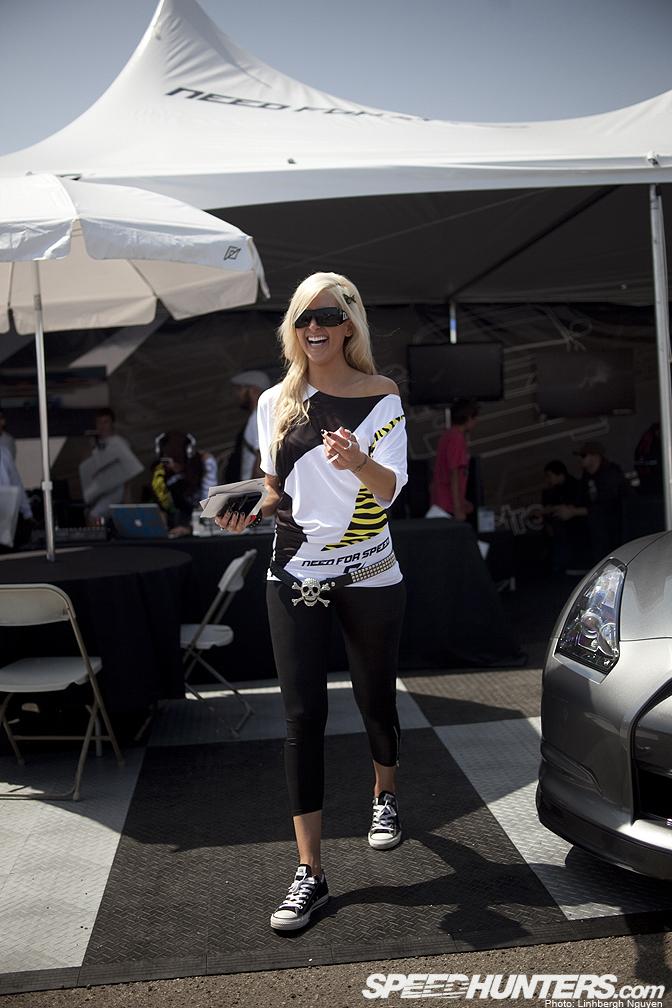 A pair of dirty Chuck Taylors was quickly agreed upon to be the Team NFS offical foot wear. You should see mine, worn and unwashed for over a year.  Why aren't we sponsored by Converse?!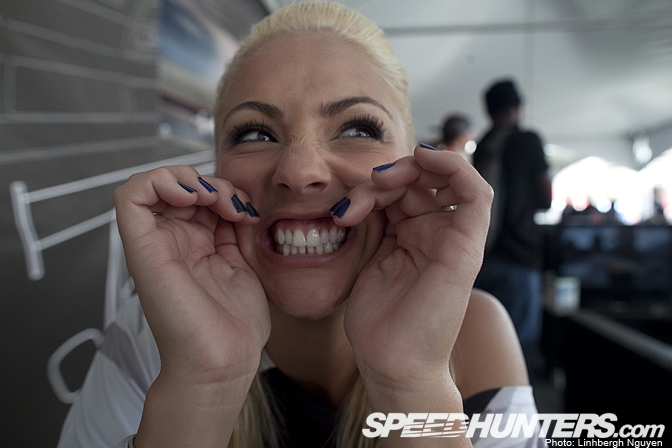 Courtney Day showing off her teeth in a very appealing manner.  For those who don't know Courtney, look out, because this girl really knows her drifting!  I think we had a little too much fun.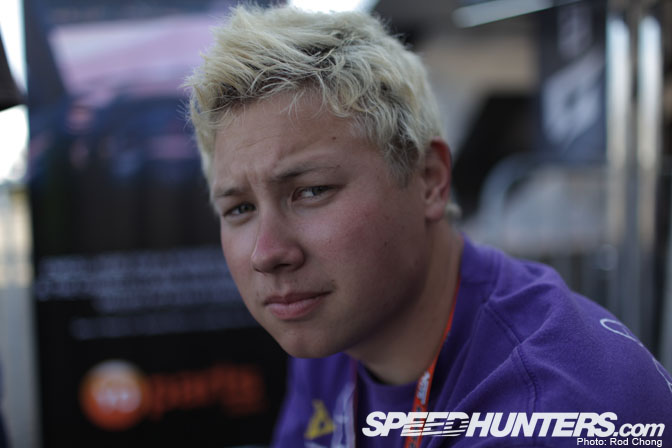 My fellow electro-head and drifter buddy, Pat Mordant, stopped by to hang out.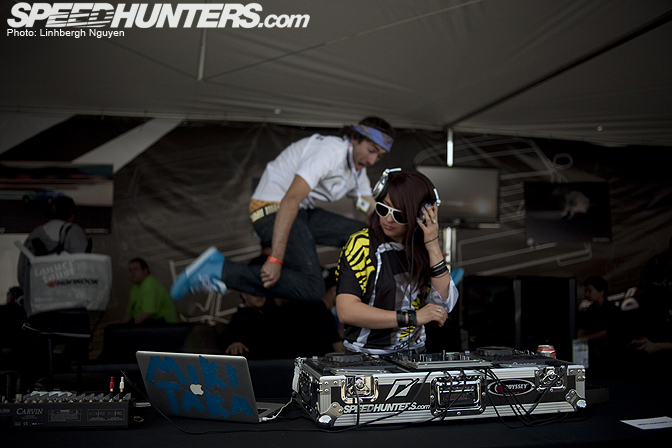 Will Roegge slamming some serious cords behind me with his amazing air guitar.  What a show off.  I need to take lessons from him ASAP!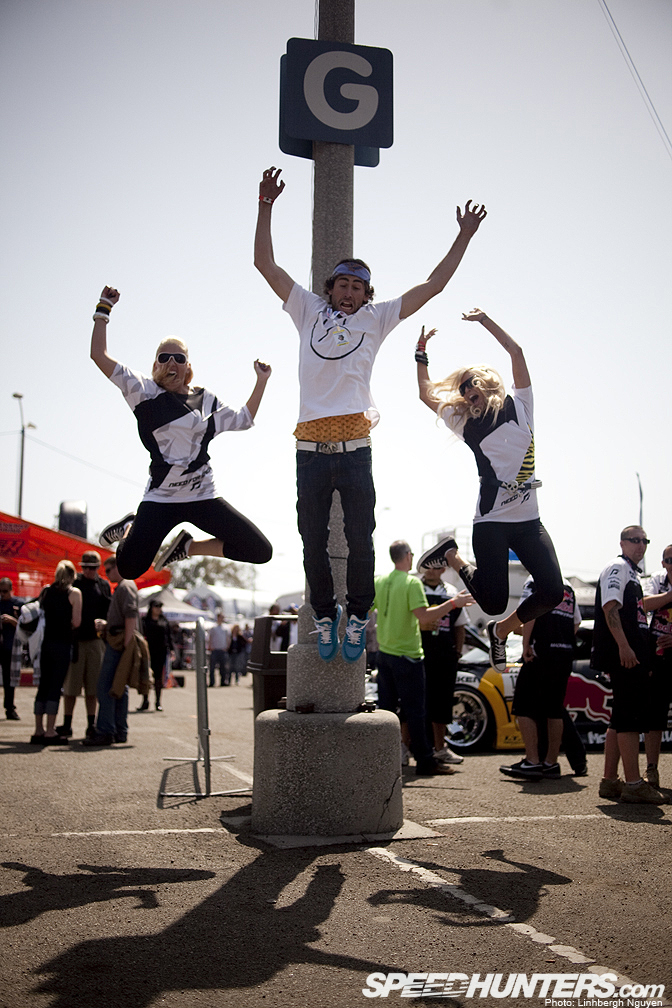 Courtney, Will & Vanessa doing some very anti-model things.  They don't hold umbrellas, they throw them!  I kid, again.  But seriously, these girls (and Will) are a ton of fun.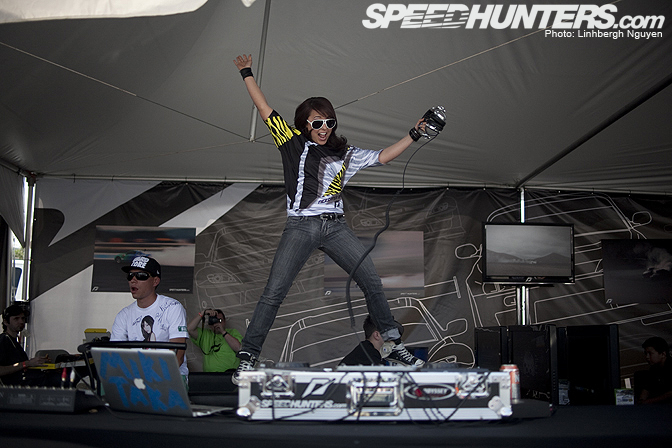 Airborne!  I wanted in on the action, so I hopped up on the couch and landed on my butt a few times.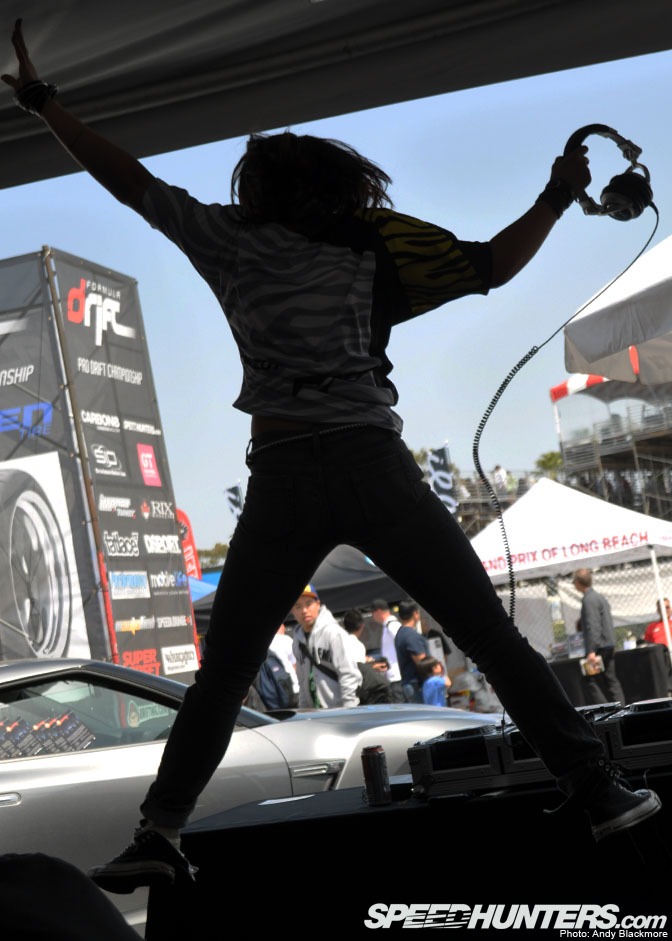 If at first you don't succeed, try (and fall on your butt) again!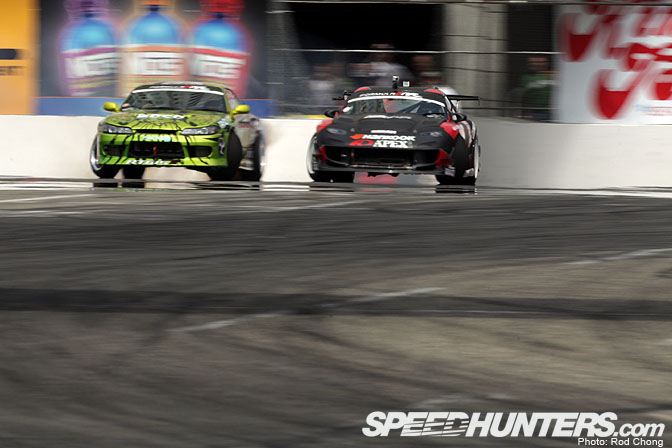 As a fan, I always enjoy watching from the stands… but it's best from the frontlines.  When I say I like the smell of burnt rubber, I'm not lying!
Last year, as Miss Formula Drift, I had the chance dig into the minds of the Formula Drift staff, judges and drivers.  It allowed me to learn so much about the sport as a whole and appreciate it on an entirely different level than I had in prior years.  I love the concept of winning based on how the car gets to the finish line, rather than simply how fast it gets there.  I also admire the drivers and their ability to maneuver the cars in such an aggressive, yet, graceful way around the track.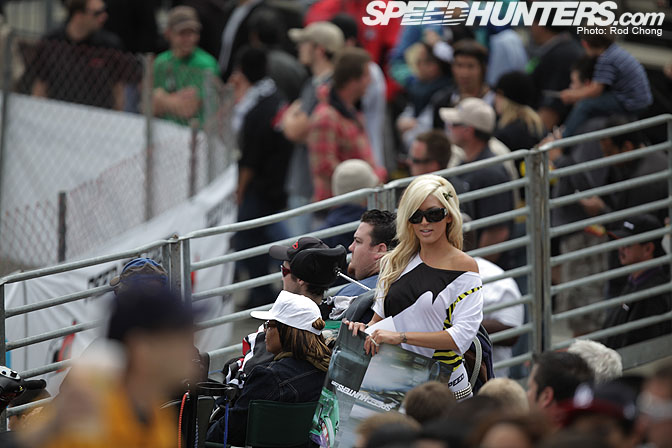 When we weren't goofing off in the Electro Lounge, we ventured out into the stands to kick-it and give out goodies.  Here, Vanessa hands out Speedhunters posters.
If you don't have one on your wall, then shame on you!  Just kidding.  Get at me in Atlanta for the next Formula Drift and I'll hook you up.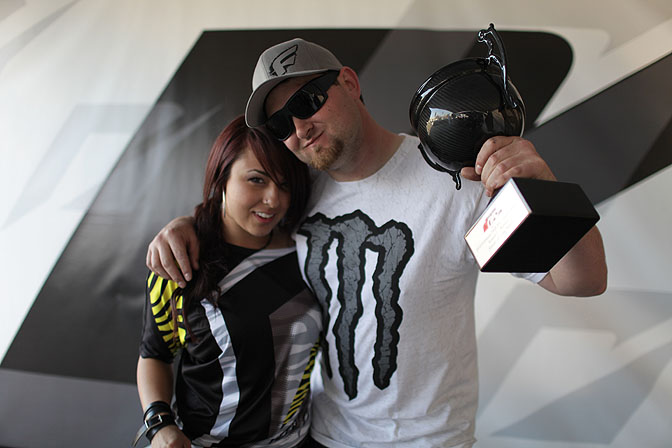 Again, congrats to Vaughn for taking 1st in Long Beach!  What a great way to start the season…
I CAN'T WAIT for Atlanta!
Don't forget to stop by and hit me up for some Speedhunters decals… M-8!
-Miki Taka