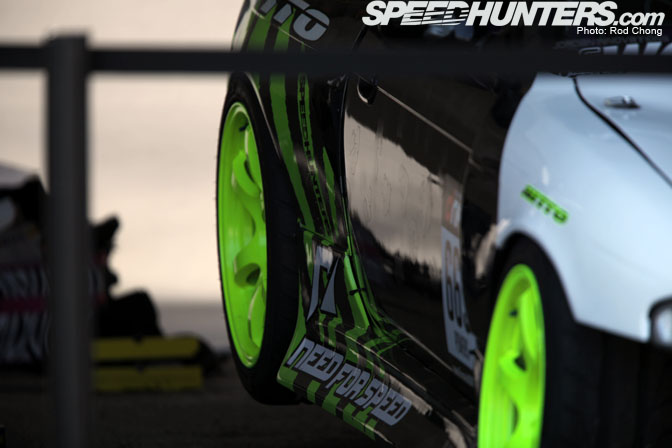 Ok let's jump straight in, to finish up my observations from Formula D Long Beach, with a look at some snaps from Saturday, the final event day.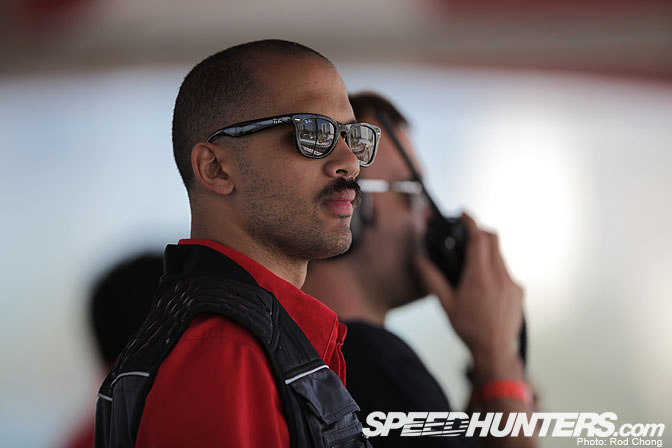 I decided to shoot the qualifying sessions from the Formula D judging tower. From this vantage point you can get a view of the full circuit which is great. I was also able to grab a quick snap of FD staff photographer Jose's new facial hair setup… Mustaches FTW!
From my vantage point in the sky I was also able to get some nice close up shots of the cars riding next to the walls of the Long Beach circuit.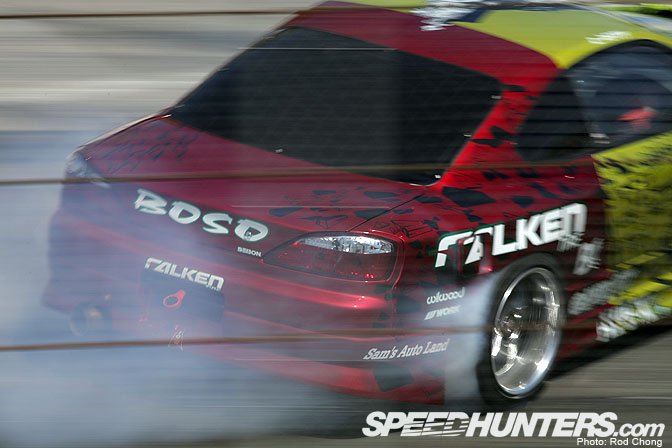 I think someone wanted to see a shot of Petty's updated S15. This is a good snap of him doing some wall riding.
Unfortunately another AE86 bit the dust…. too bad.
Here's Ian Fournier doing his first drift initiation while attempting to qualify for the Top 32.
Ian didn't make the cut, but reigning Pro Drift Champion Dean Kearney was able to qualify.
I then decided to see if I could find any other unusual shooting locations and decided to make my way to the outside of the final hairpin… it's a location that most photographers don't go to. On my way over I stopped by the Fatlace booth to say hello.
It's interesting to see how Mark and company continue to develop in influence. I'm glad to call them collaborators!
Right… so the view from the outside of the hairpin looks like so. It's ok for cars which don't produce megasmoke, but you can't get much with the high power cars… just images of smoke…. I am reasonably happy with this shot of Pat Mourdant though.
I then walked all the way around the finish area so I could get a straight-on shot of the cars finishing their runs.  The best shot from this vantage point was of Samuel's high-riding Challenger.
This car had very unusual body language with its soft, body roll focused setup. It's a bit of an odd one to watch with its lazy, high CG setup.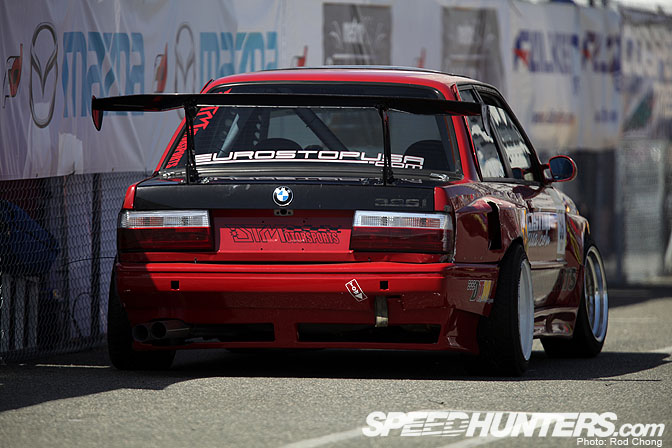 Another shot of Dave Blunt's BMW. I took this shot post qualifying so he would have known by this stage his weekend was over.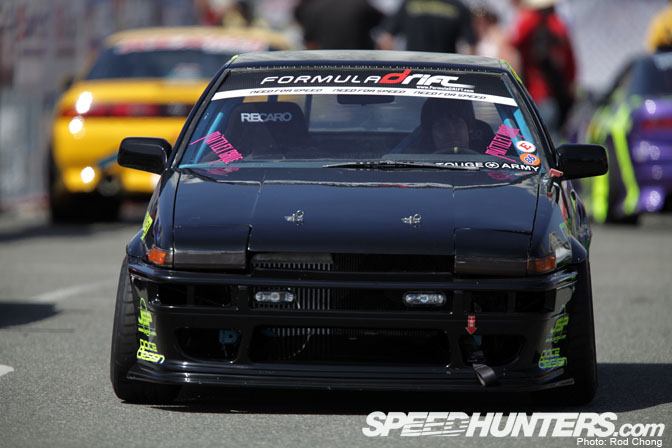 John Rusakoff's new look…. note the Mattley Crue decals on the windscreen :>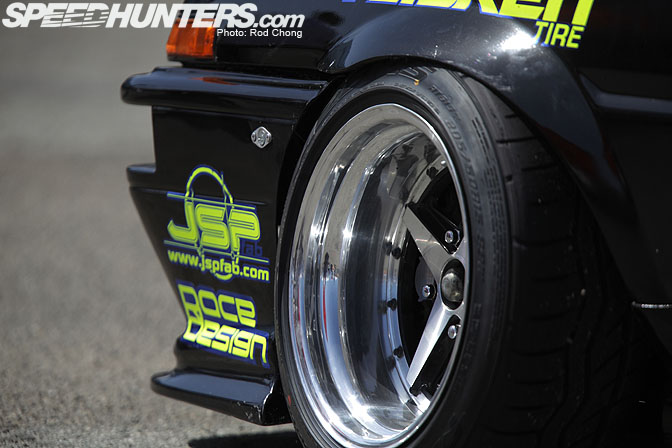 Proper.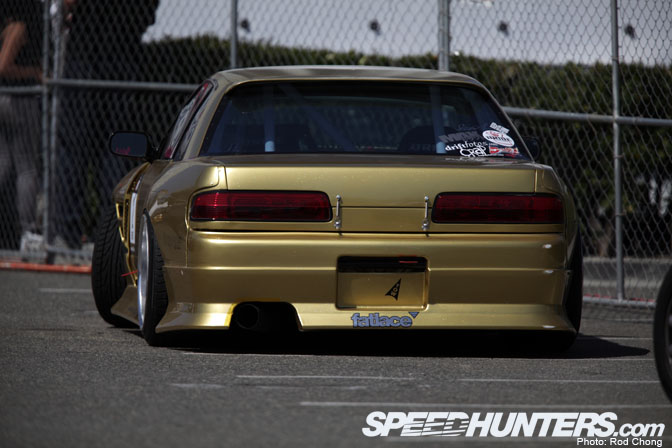 My camera is magnetically attracted to Tommy Roberts' S13… just love this car to bits…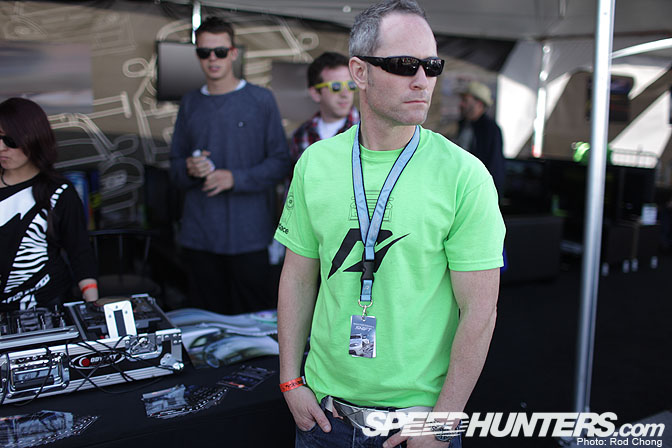 This is Jesse Abney who will be the on site representative for NFS at all Formula D events this year. If you are passionate about racing games and want to chat just hit him up at the Electro Lounge. He'd love to hear your thoughts about the state of racing games… BTW who are those two guys lurking in the BG? Do they look familiar?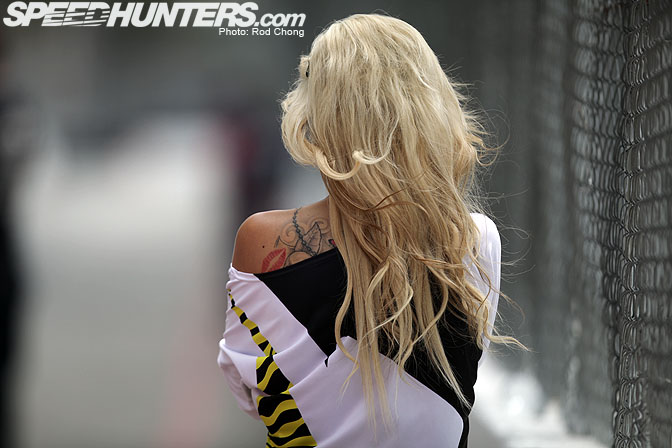 For the start of the Top 32 I headed down to the pregrid area to shoot Matt Powers… you'll have to wait for his blog to see these shots though. I will give you this photo of new NFS Girl, Vanessa in the meantime.
On the way back  to the paddock, I grabbed this snap of Dai rolling out for his Top 32 run… It's one of the best looking cars on the grid now.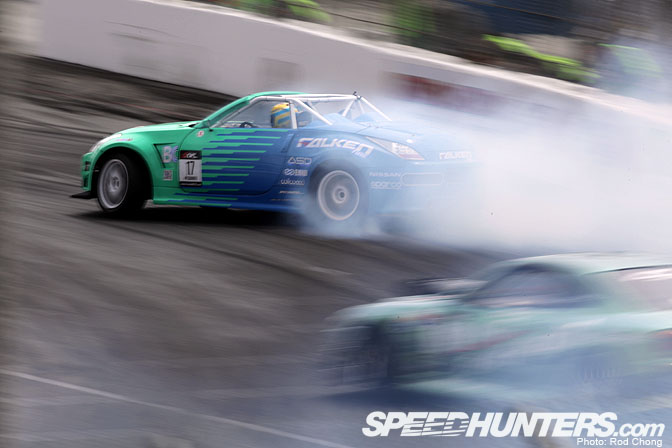 More top 32 action… this time shot from the top of one of the grandstands… you can see that I was trying to avoid fighting for space with all the other photographers.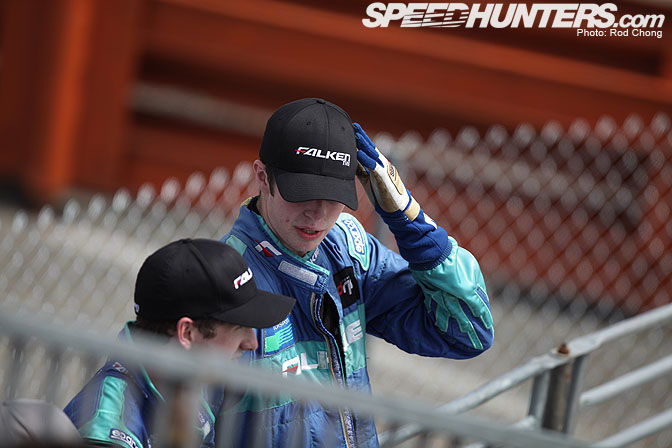 I bumped into Dmac and James Deane and they cheerfully told me they were about to do a run against each other…. I'm not sure if Darren really thought that he could lose that battle, but we'll wait for his blog to see what his thoughts are.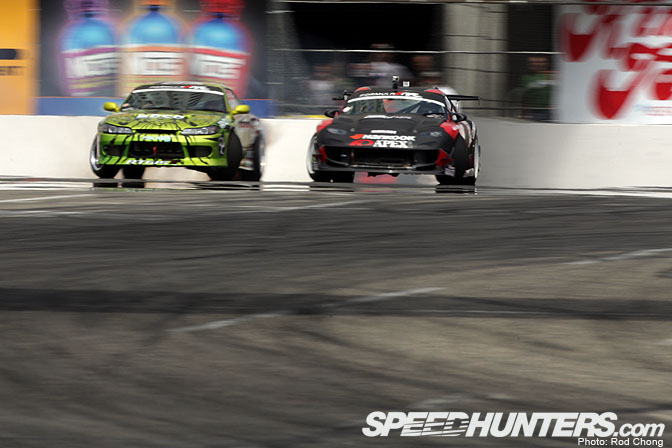 A telephoto image of Miki vs Ross. The mirage effect is cool!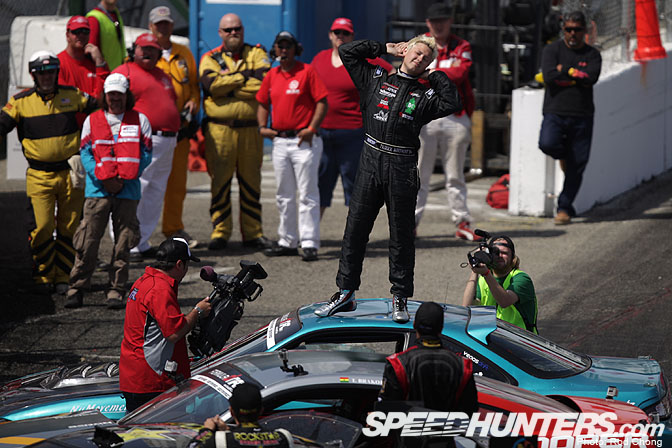 For Top 16 I decided to shoot from the judging tower again. Photographers aren't normally allowed into this area, but I managed to get permission from the FD crew to set up shop with my camera. From this vantage point I snapped this photo of Pat Mourdant working the crowd during the opening ceremony.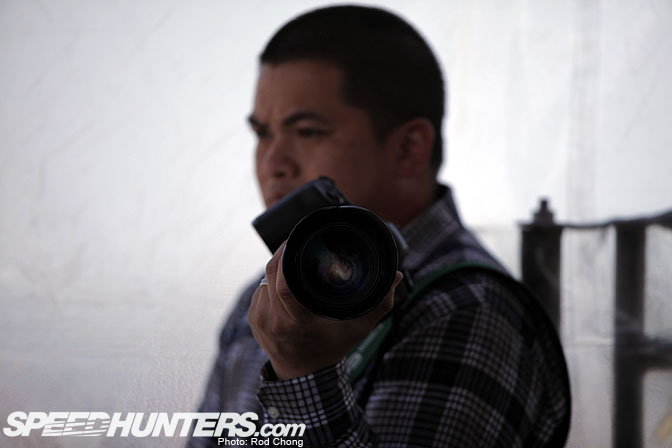 There were a few notable people in the tower like Mark Arcenal from Fatlace/Hellaflush. I was trying to get his attention but he never did notice me… Too mesmerized with the drifting perhaps.
I love how his camera lens is the only thing in focus in this shot.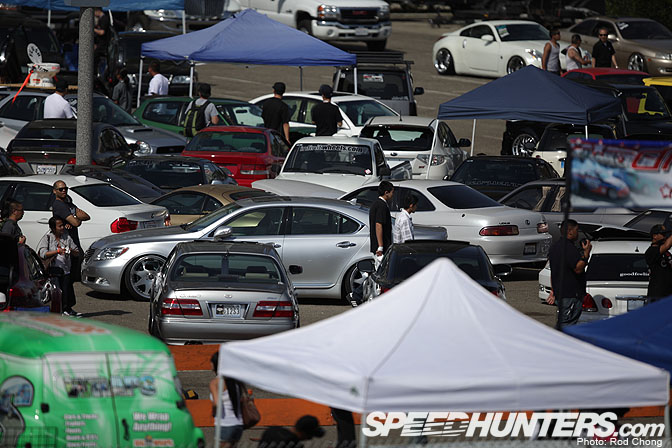 You know I never did get a chance to visit the Fatlace car show…. all I could do was look though my telephoto lens at the cars and wish that I had more time.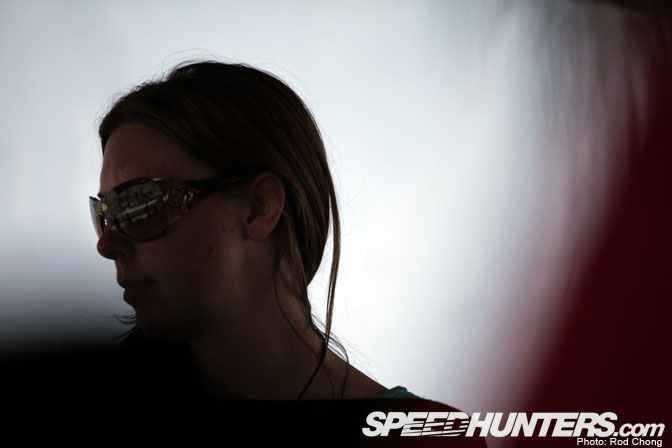 I've noticed a few people keep thinking that I work for a bank, not a video game company…. If they were really smart though, they'd know that this is the person they really need to talk to about their sponsorship needs. This is the Marketing Director of Need for Speed, Tabitha who was on site enjoying the drift action from the tower.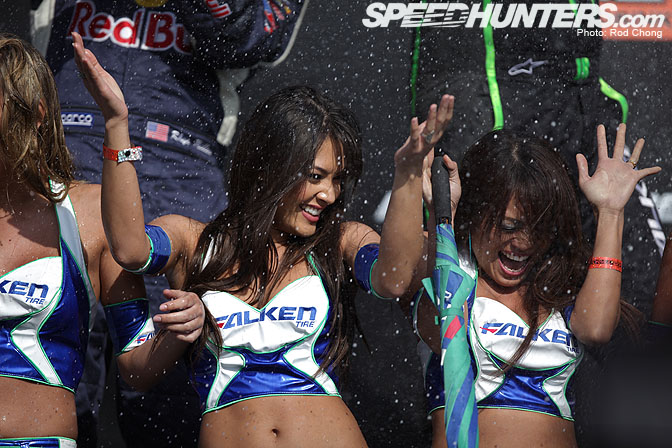 High speed shutters and spraying champagne always makes for good shots!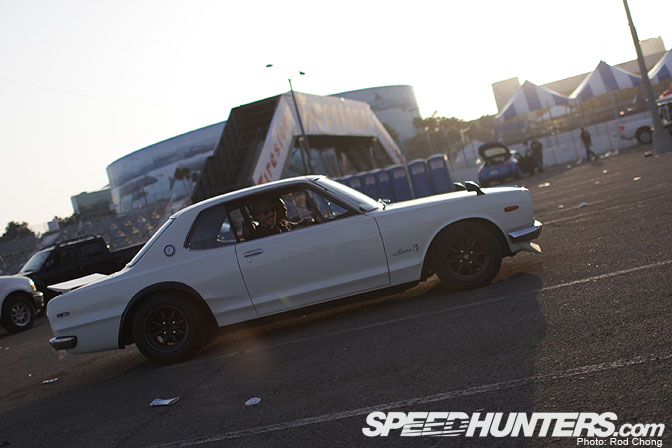 The day ended with a very special treat. Well after the show was over Linhbergh and I decided we wanted to try and find Fredric Aasbo to have a chat…. we never did find him, but ended up bumping into Mark from Fatlace who was letting his friends try out his new Hakosuka.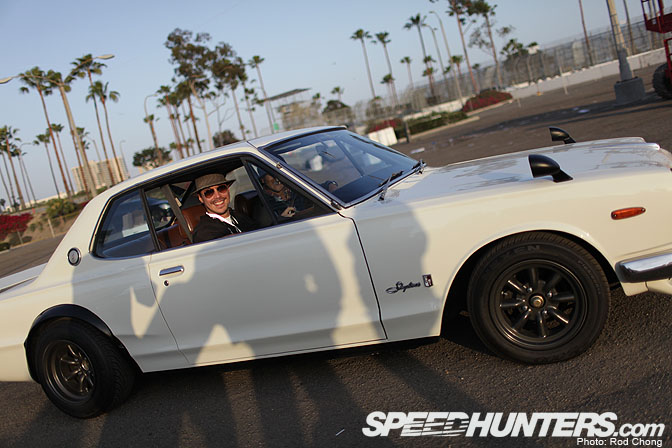 Lucky for me, Mark let me drive it… This was possibly the highlight of the entire weekend… Wow… BTW you can see Mark's shadow being cast onto the car.
OK That's it for me from Long Beach, but we do have more driver blogs coming from Matt Powers, Fredric Aasbo, Joon Maeng, Darren McNamara and Mad Mike Whiddett.
:R