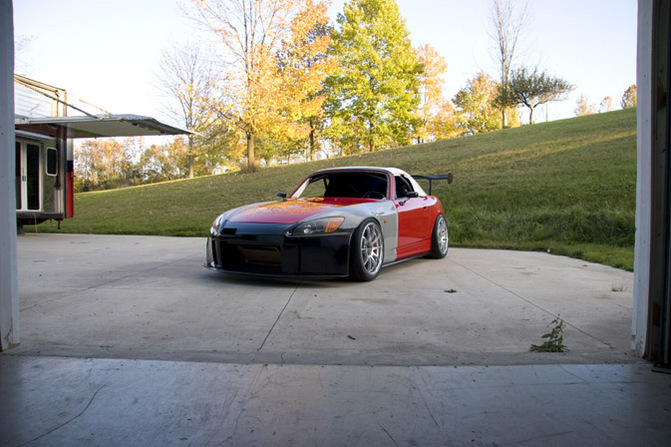 Building up and modifying cars is what most of us are truly passionate about. There's just something about adding a new part onto your car that makes it a rewarding process.
For me personally, the build up is just as fun as driving the car thereafter. At Modified, our whole team, including myself have always been passionate about building cars and making them go fast. That's why for this month's entry I wanted to give you an inside look at some of the cars we are building.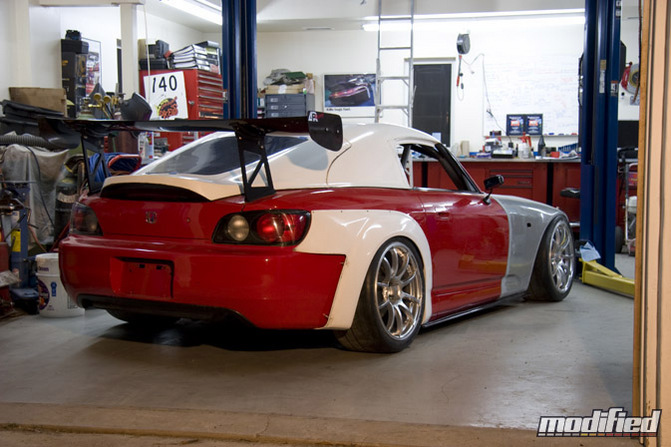 This is our Unlimited Time Attack Project S2000. It is being built with no expense spared to be a real contender in the unlimited RWD class in our Super Lap Battle series. Exterior wise, this is what the S2K currently looks like. With an APR
wing, a Spoon rear hatch, J's racing front bumper and front and rear
fenders, the aero department seems to be covered.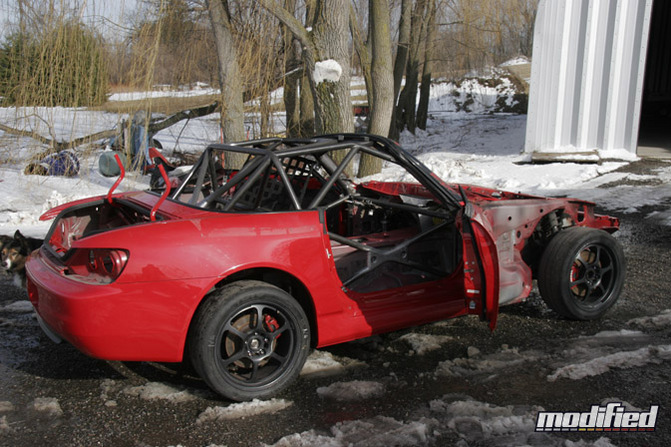 It started off life as an AP1 Honda S2000 and quickly had a real roll cage welded in.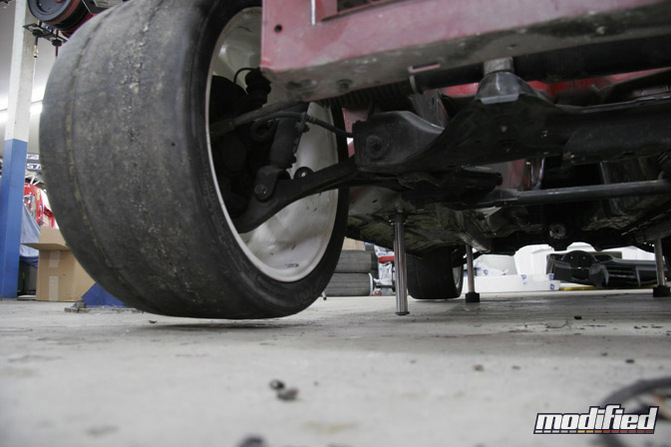 Then came some air jacks, which will aid in quick tire changes and make it much easier to work on the car in the pits.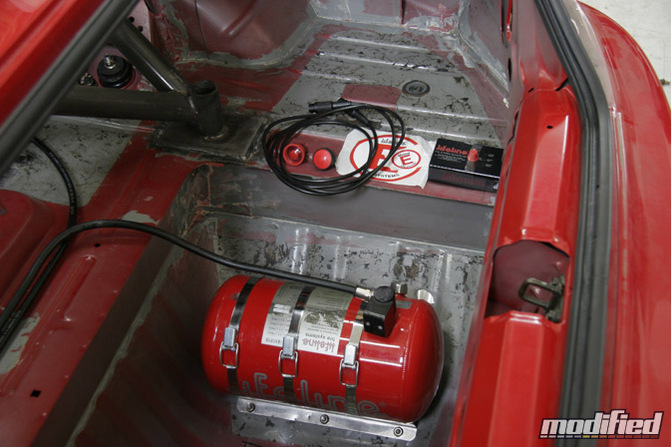 A full certified fire suppression system has been installed as well. You can't be too safe out there and incase there is a fire in the car, this system can save the life of the driver and the car itself.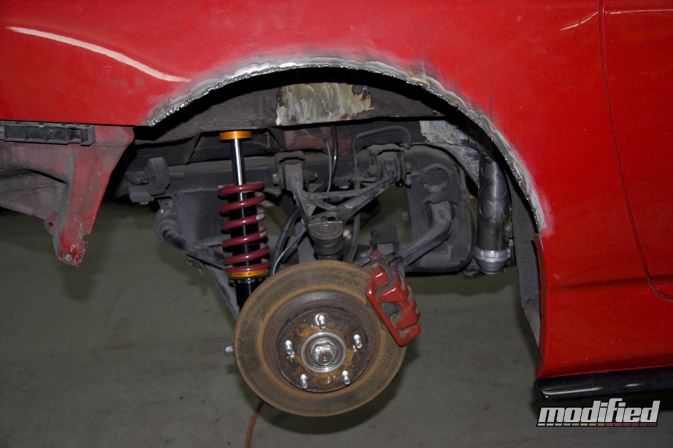 Andrew Wojteczko who owns and is currently building the S2K decided that a wider track would be necessary so the rear fender wells were cut away and sealed up to accommodate the wider rubber and J's Racing over fenders.
While the engine is being built for a Full-Race turbo setup, a Quaife sequential dog-box transmission has been sourced. It will allow quicker and more precise shifts and hold up to the increased power output of the engine. Here is it mated to the engine, ready to be dropped into the bay and mocked up.
Be sure to check out future issues to see how this build comes together. Even for myself, it's been quite a treat to see and read about the entire process of building a car of this caliber.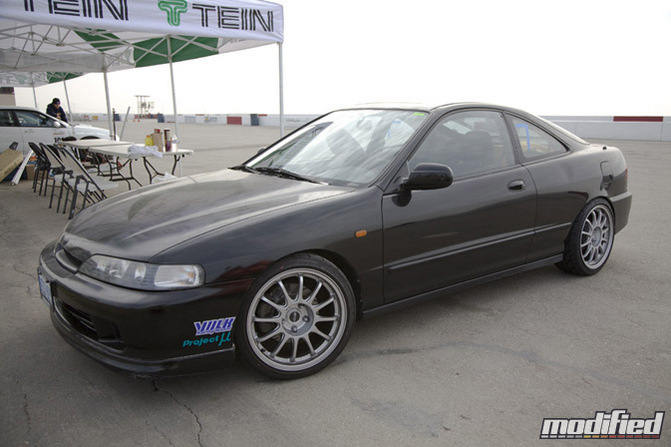 Next up is my own 1999 Acura Integra GS-R. It started life as a theft recovery car that I bought sight unseen at an auction. To say it was a bit rough around the edges would be an understatement. It was beat up pretty bad but I vowed I would bring it back from the dead and build a fun track car.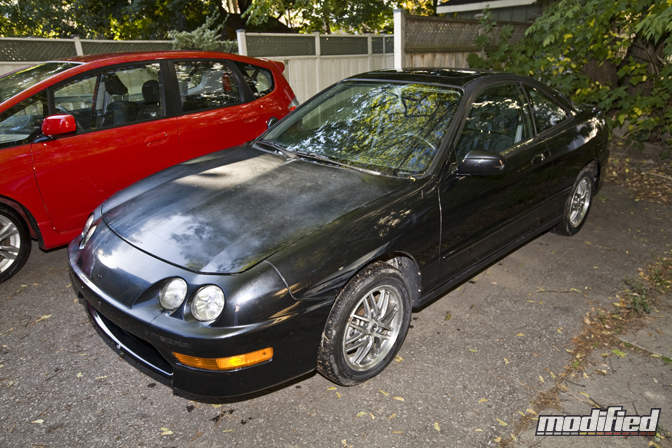 This is what it looked like when I bought it. It was vandalized with key marks all over the body, the tires were going flat, and the engine was not a GS-R but rather an LS B18B. Someone slapped this car back together to sell it off quickly.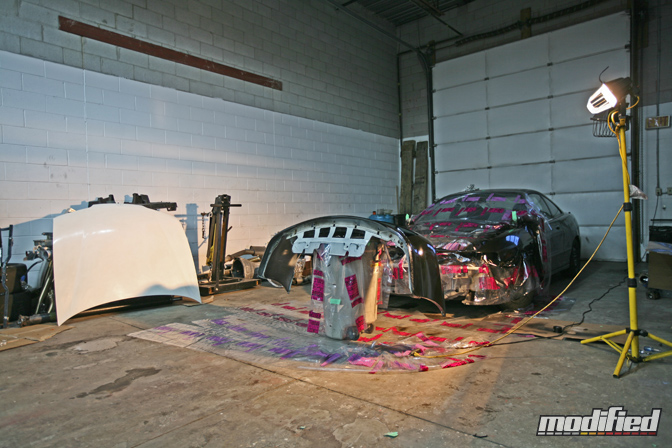 One of the first mods I did was change the front end out in favor of the JDM counterpart. I have never been a fan of the rounded lights on the Integra and the JDM front end looks so much better in my opinion. I also decided to rattle it since I couldn't rock a white/black paint combo on the street. The results were surprisingly good. The paint you see in the first photo is how it still looks today.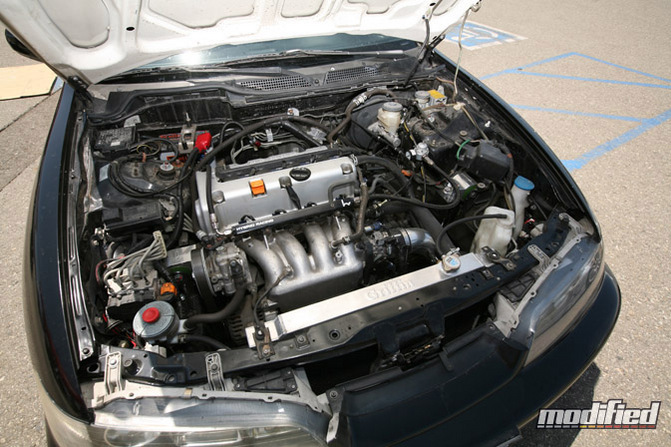 Before I bought the car I knew that I wanted to do a K20A engine swap because of its incredible power potential and reliability factor on the track. It wasn't a very easy swap to do but with the help of Hybrid Racing who supplied me with a lot of the essential parts for the conversion, and a couple good friends, my Integra was now K20 equipped.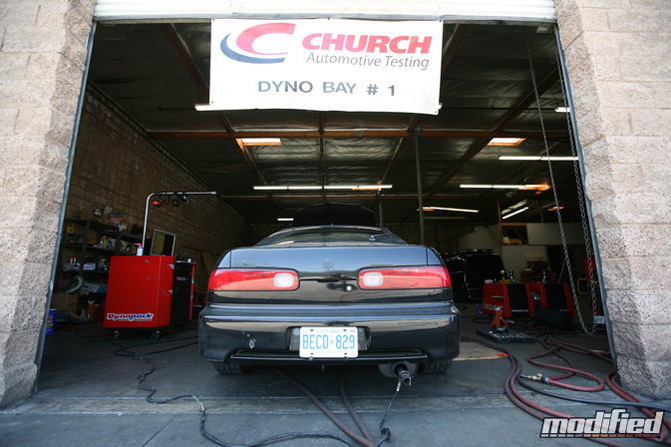 I had the car tuned at Church Automotive and it belted out a solid 228whp and 173ft-lbs of torque.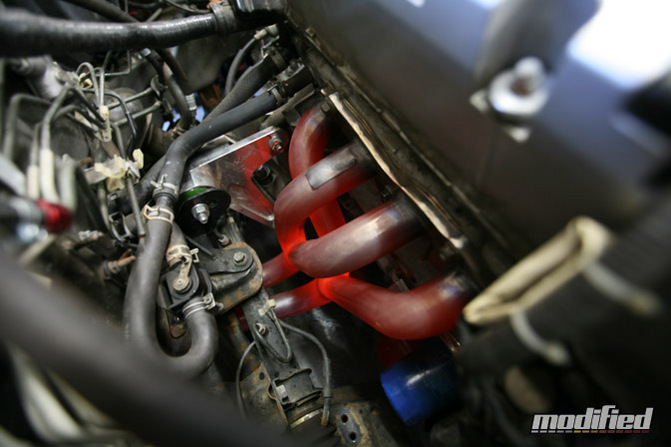 Here is the K-Tuned header glowing red hot on the dyno!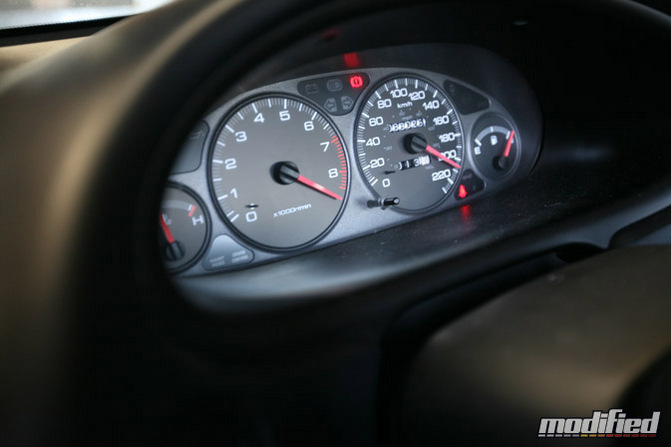 One of the reasons why I chose the K20 over the K24, which makes much better torque, was its ability to rev so high.  On stock valve train I am able to touch 9000rpm!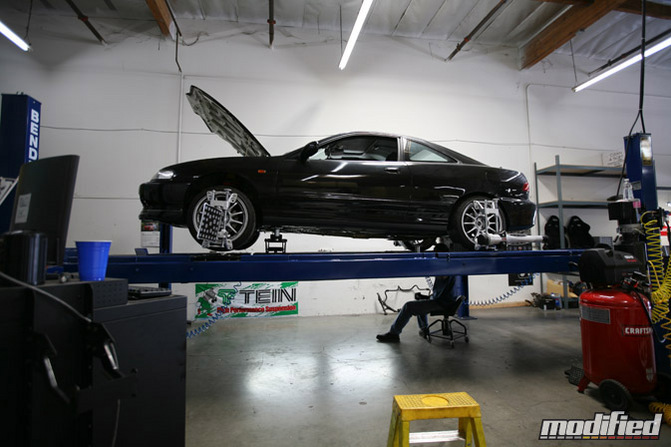 Before I hit the track with the new mods and engine setup I needed a good alignment and Evasive Motorsports took care of that quite handily.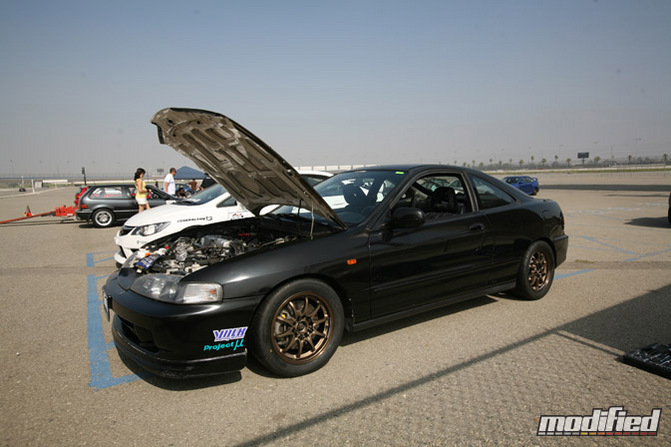 Finally, this is how the car looks in track trim. Some 15×7-inch Volk CE28n's with 225/45R15 Nitto NT01 tires replace the 17-inch SSR Type-F wheels that I use on the street.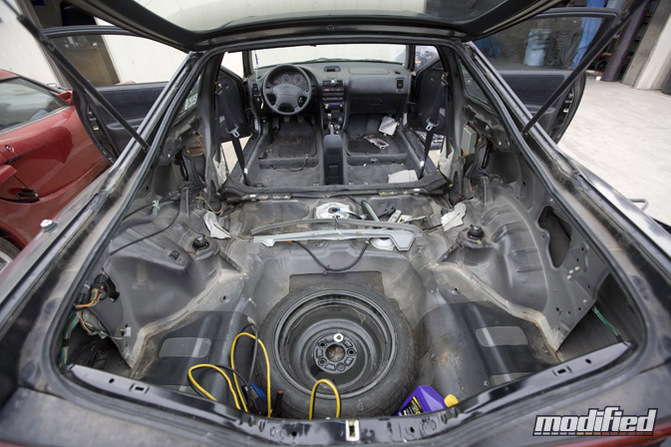 This is the current state of the Integra. I am currently having a half cage put into the car and a proper bucket seat courtesy of Sparco. I hope to add some Seibon carbon parts to lighten the car up and I desperately need a proper LSD which will come soon enough.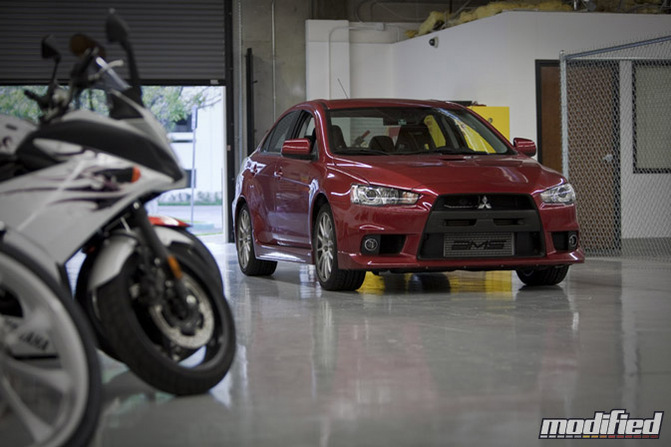 My other project car and now daily driver is a 2008 Mitsubishi Evolution GSR. My Integra became too uncomfortable to drive on the street so this was the perfect replacement.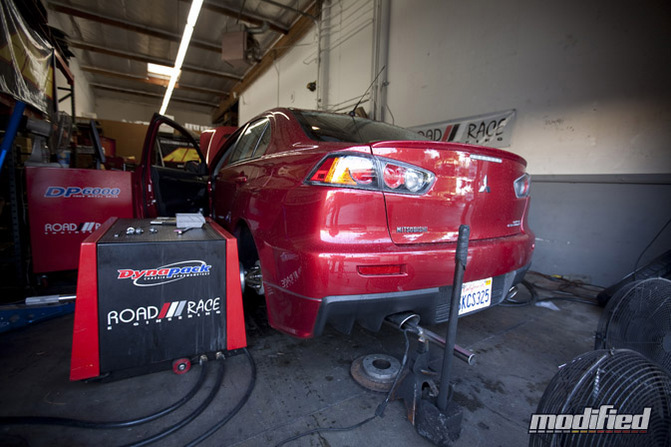 It didn't stay stock for very long. In fact with only 500 miles on the engine it was already on the RRE dyno making pulls. On this particular run we were testing the 3-inch Cobb Tuning exhaust and AMS intercooler. It made 340whp and 348 ft-lbs of torque.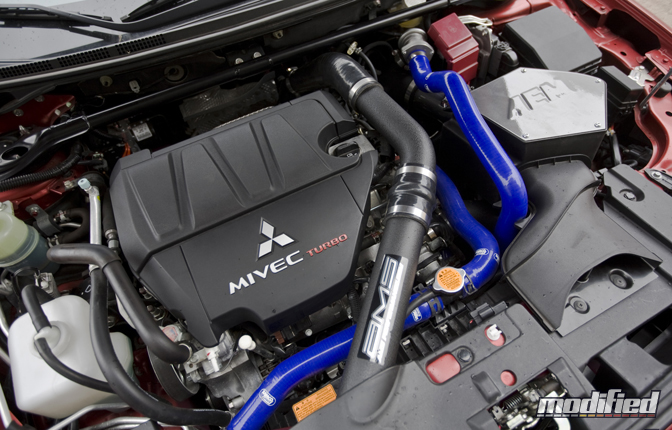 I'm trying to keep the engine bay very clean and tidy. Those Samco hoses will soon be replaced with black ones for an even stealthier look.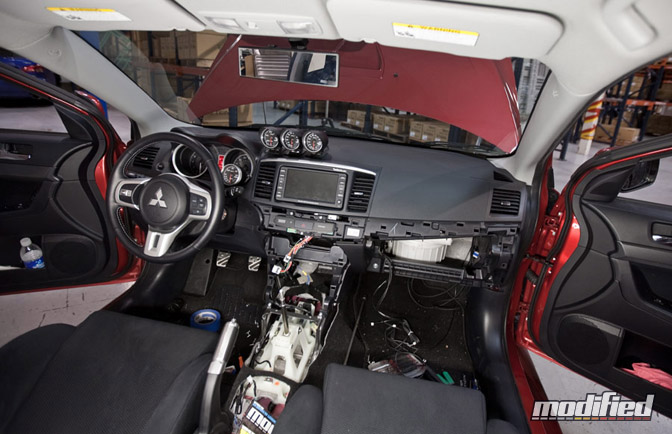 I also had the entire dash ripped apart already to install some Defi Advance CR gauges.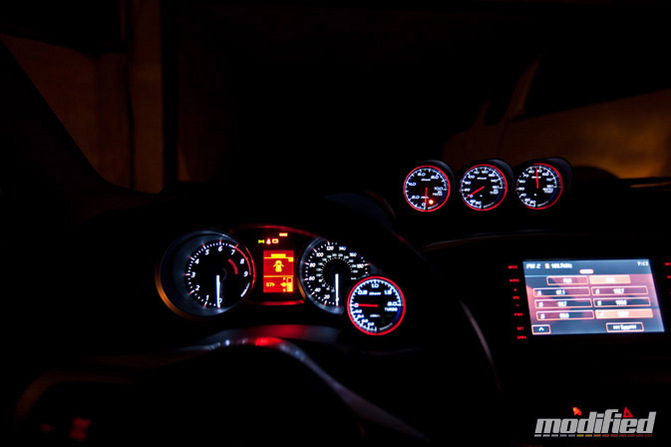 They look so good at night and match the stock cluster almost perfectly.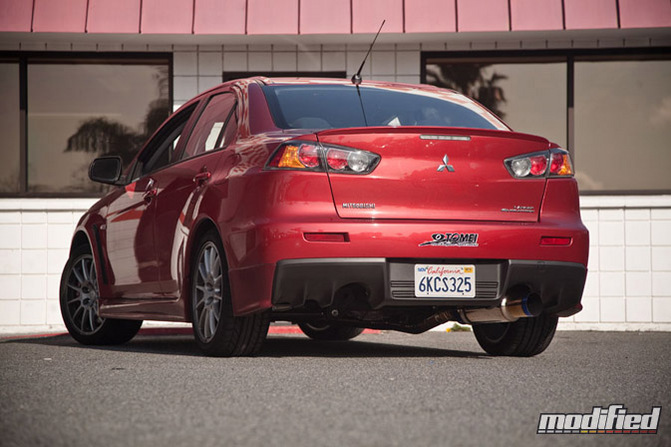 Just recently I tested Tomei's new TiExpreme 3-inch titanium exhaust.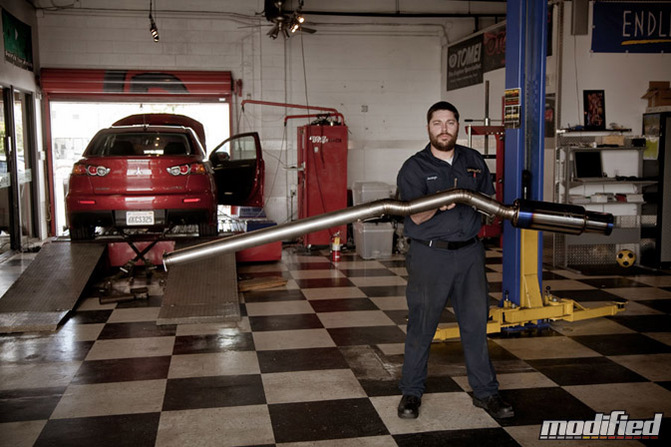 It weighs a scant 9.7lbs for the entire system! The stock one weighs over 50lbs so the weight savings is tremendous.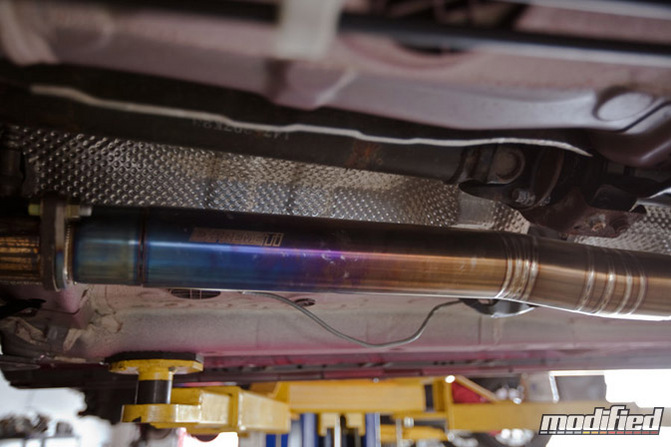 As titanium heats up it changes color in various hues of blue. Also note the exhaust is not bent rather cut and welded to produce bends because it's so difficult to bend titanium.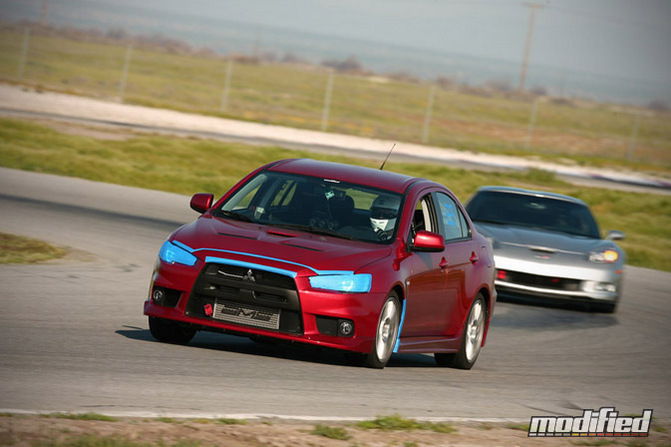 Last week the EVO saw its first track day that exposed more weaknesses in my setup which I will address in the future. If you'd like to watch a lap of it around the track check HERE out  for the video.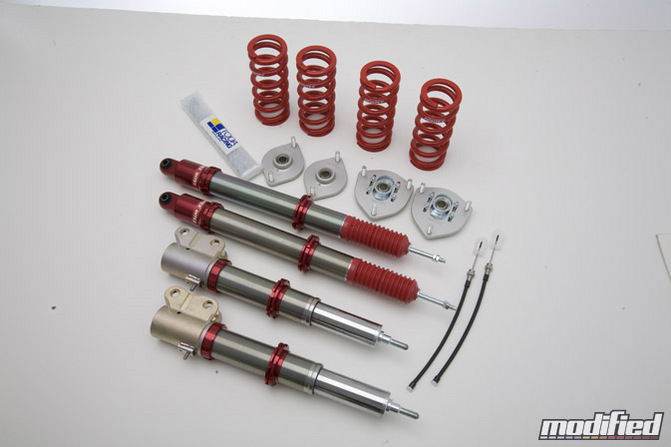 Brand new to the market, Toda Fightex coilovers will be my next upgrade. They will surely provide added grip at the track that I so desperately need right now.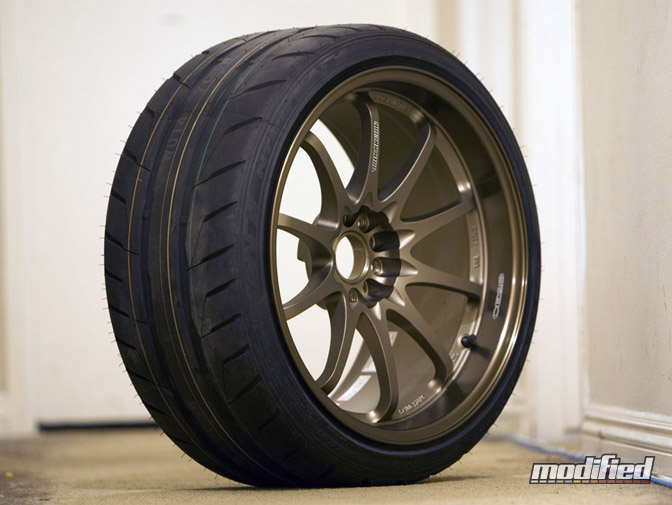 And some 19×10.5 +12 Volk CE's with 275/35R18 Nitto NT05's will be my street setup. It's going to require some massaging of the fenders to make these fit but I'm confident it can be done.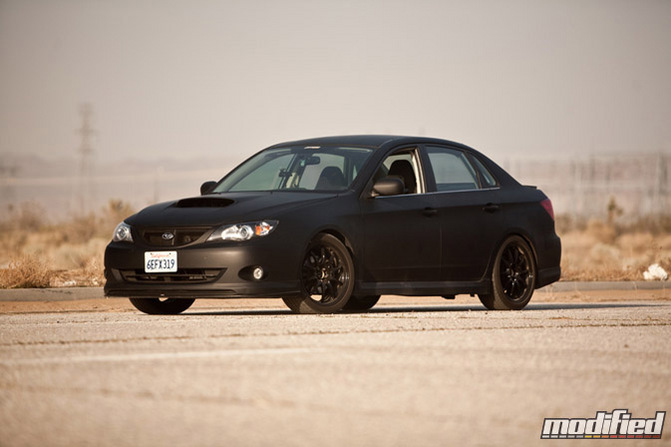 You'll quickly notice that I have a soft spot for Volk CE28n's as they are on almost all my project cars including the '08 Subaru WRX. I inherited this car from Sport Compact Car after its demise. Yes, that's a flat black paint job not vinyl for those of you who are curious.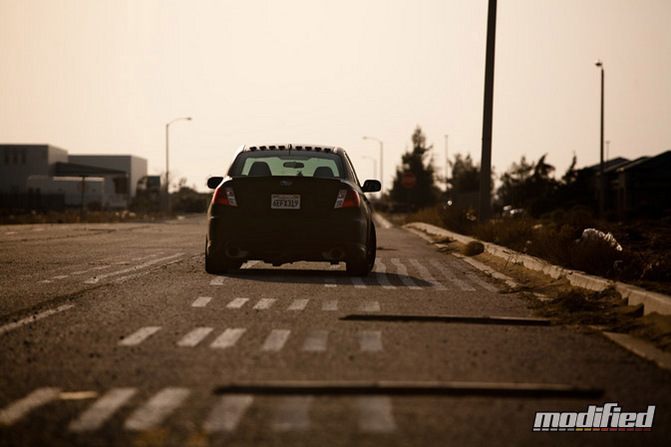 I haven't done much to it lately because I've been so busy with the other project cars but it serves as a great vehicle to test little parts on and haul large gear in.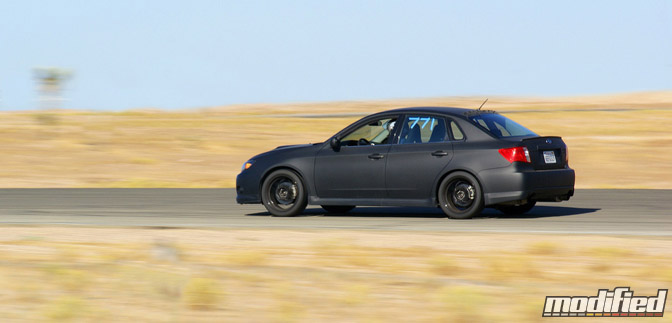 I have also taken it on the track but with its weak brakes and lackluster power delivery it will be used more on the street than the track.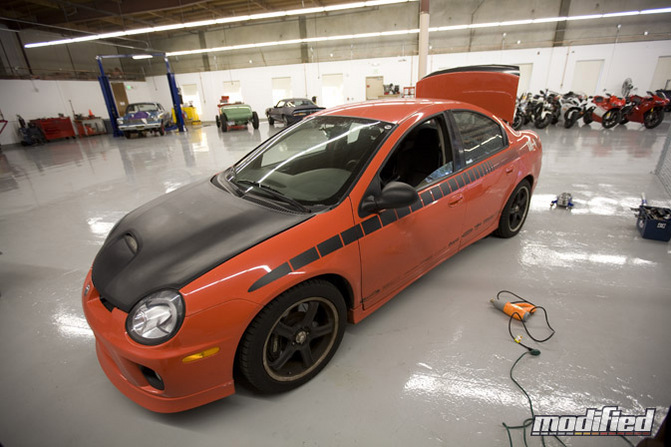 Another car that came over from SCC was this orange 2003 Dodge Neon SRT-4. It's the b-a-s-t-a-r-d child of the project car fleet right now with it's faded orange paint job and outdated wheels.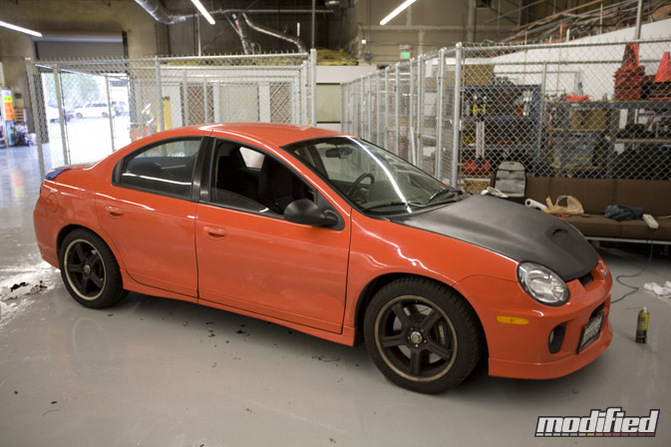 The old graphics package has since been stripped and I am planning to give it a make over very soon. Changing the wheels and painting the car are top priorities and then it will be onto the engine in hopes to make close to 400whp. I plan to run it at some high speed events similar to the Texas Mile.
There you have it, our current project car fleet. Let me know what you think and your thoughts on where you'd like to see some of these cars go. We are also contemplating adding an RX-8 or 370Z to the project car lineup very soon. I personally want to get an RX-7 and throw a V8 in it but right now I've already got too many cars to build. Maybe one day!
-Peter Tarach