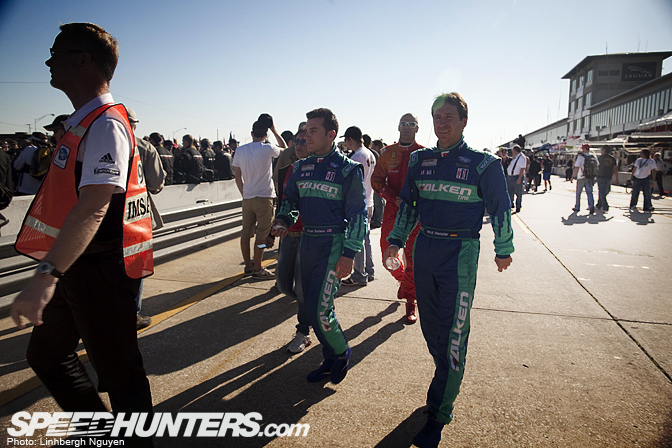 Remember those days that start of just perfectly, then gradually make a downward spiral into well, to be frank, a not-so-perfect day? The ALMS Falken team had one of those days at the 58th running of the 12 hours of Sebring. The day before the race, the signature green and teal porsche, qualified on the front row in the GT2 class. It was the team's best qualifying position to date, and they all were just ecstatic about it!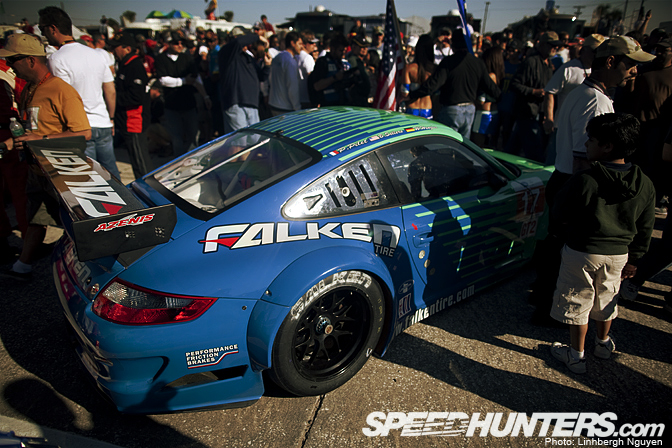 At the start of the race, good news continued to pour in: the Falken Porsche passed the Flying Lizard on the outside of turn and the Falken Porsche continued to lead the GT2 class for the next fourteen laps!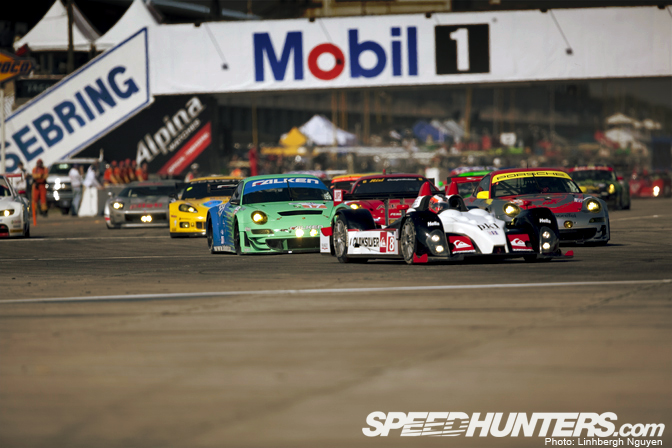 As the race continued, Team Blue & Teal settled into the field at the sixth position and continued the race in that position for the next few hours.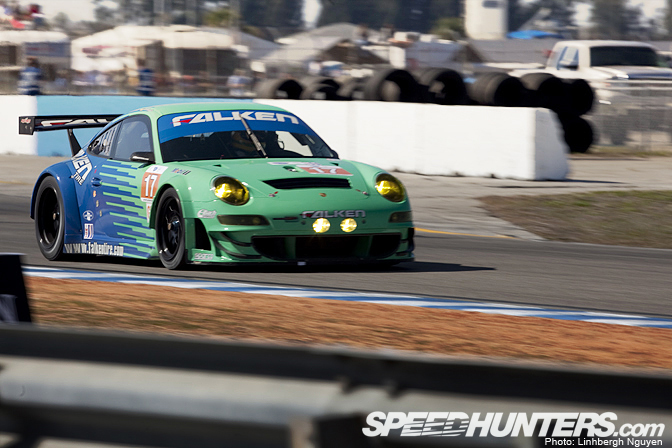 Their good day out on the track turned into disaster at hour seven. Falken and Porsche factory driver, Wolf Henzler, hit a curb at high speed and went over the inside edge of the left rear wheel. What would looked like a small accident to an outside viewer actually caused the centerlock wheel nut to fail and resulted in the wheel and tire to be thrown off the car! Wolf navigated the injured car around the track and into the pits where it was quickly repaired. The car rolled out on track once again and the toll of dragging a car on three wheels across more than three quarters of the track became apparent as the same wheel and tire was thrown off once again!
The car was pulled into the team's race trailer where the engineers got to work on replacing the car's right rear suspension, brakes and undertray with brand new ones.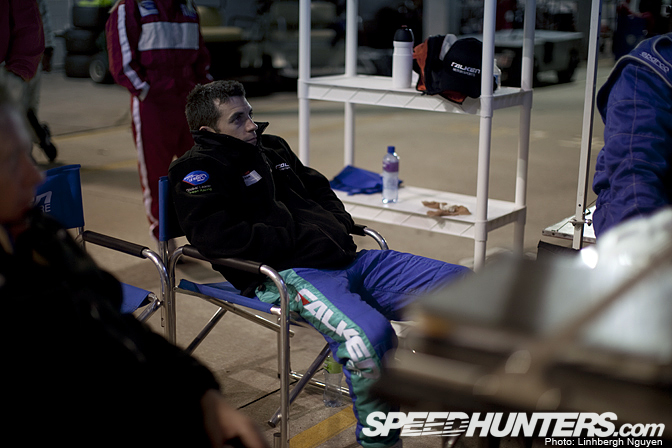 At the 10 hour mark of the race, the car once again rolled out onto the track to race. After all that happened to their car, the team finished in 12th position while also earning some valuable Lemans series points for the 2010 season!

Before all the drama during raceday and right after the qualifying session on Friday, I had the chance to sit down with all three drivers for a small chat to get to know them a bit more. It's a fantastic insight into humanizing people whom we put up on a whole different pedestal. Professional racing drivers are just a whole different level people, right? You'll be surprised.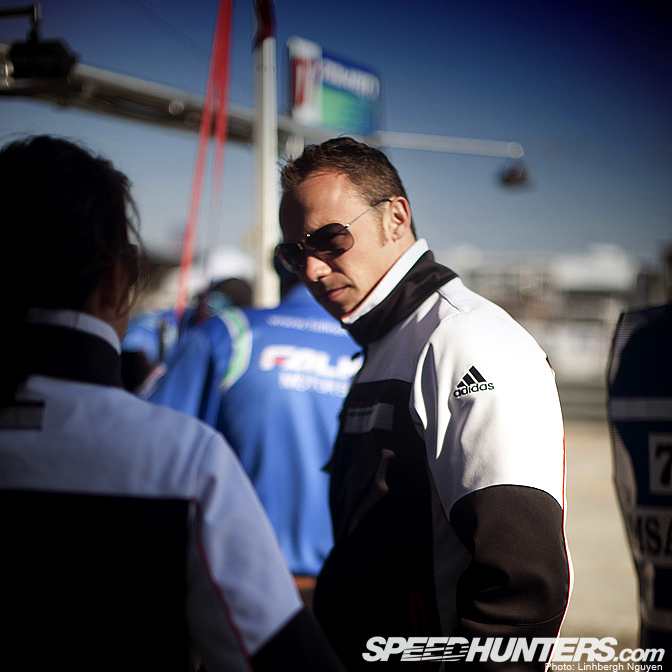 Linhbergh: So, who are you guys? 
Patrick Pilet: I'm Patrick Pilet, and I'm from France. I'm a Porsche factory driver. I'm the third driver for the 12 Hours of Sebring. Sebring is the longest race on the ALMS calendar so Falken needed another driver.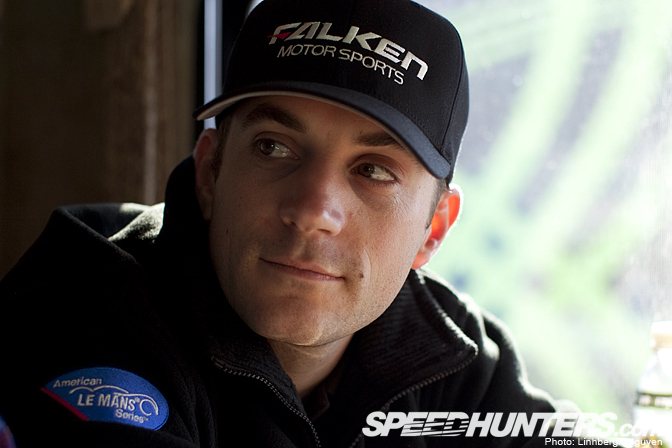 Bryan Sellers: My name is Bryan Sellers I race in ALMS for Falken tire. That's what I do. Hahaha!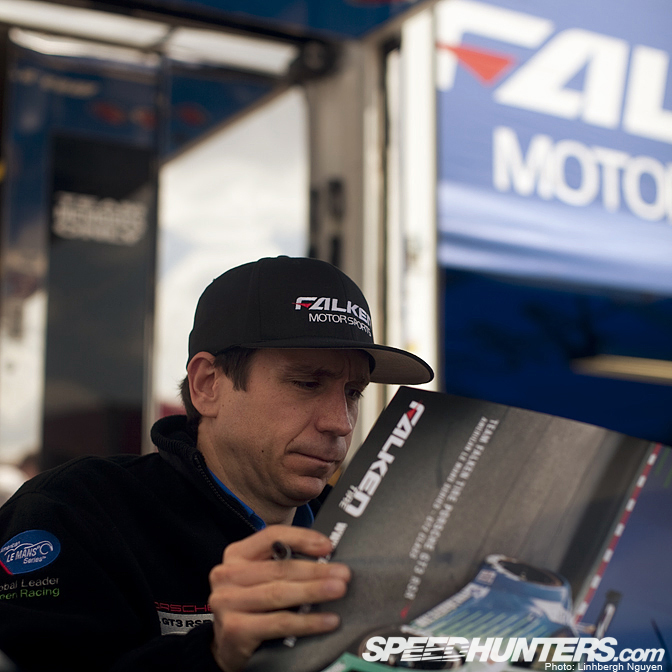 Wolf Henzler: I'm Wolf Henzler, I'm from Germany. I'm a Porsche factory driver and I'm racing in ALMS this year for Falken tire. My co-driver this year is Brian.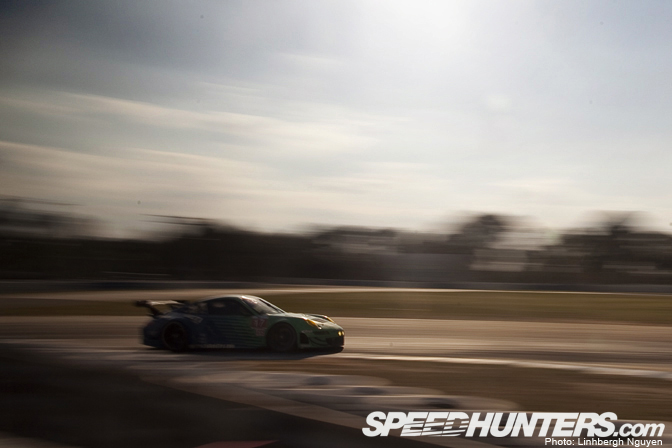 Linhbergh: How did you guys get into driving?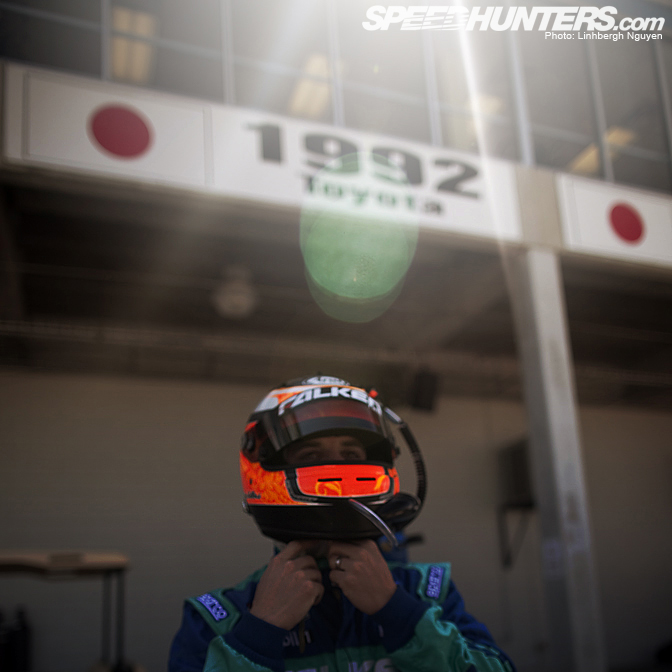 Bryan: I started in karting. My dad karted when he was a kid… nothing serious. As I was growing up I saw all the pictures of my dad at my grandparents' house. When I was 6 or 7, I said to my dad: "Dad, I wanna race, I wanna race!" I kept pushing and pushing and pushing. He kept telling me; "No, no, no!"
One year for Christmas, I got a kart and kind of went from there. I was fortunate enough to start, continue and move up the ranks!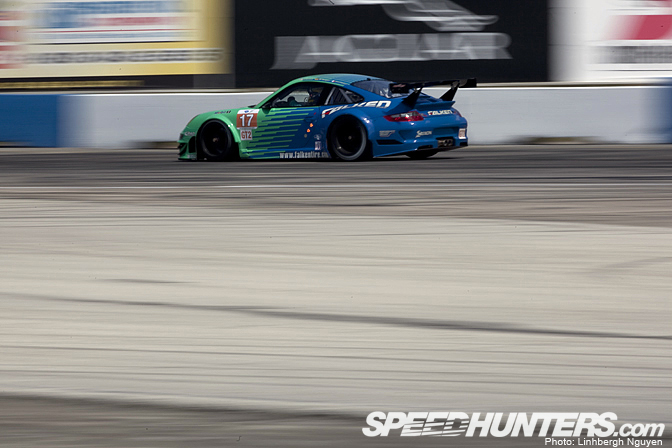 Patrick: It's funny that Brian and I grew up basically the same. We talk about how our lives are really similar. Our wives have the same jobs… So it's really funny to me. I started with go karts and I made it to the higher levels in the karting, like world championships. After that I made it into Formula Renault, it's a single seater, which I won many races. I won the French Porsche Cup championship in '07 and I signed right after that in '08 to become a factory driver for Porsche.
I know ALMS pretty well because I drove with Flying Lizard with Wolf. he was in the #45 car, and I was in the #46. It was a great experience to drive in America for my first season.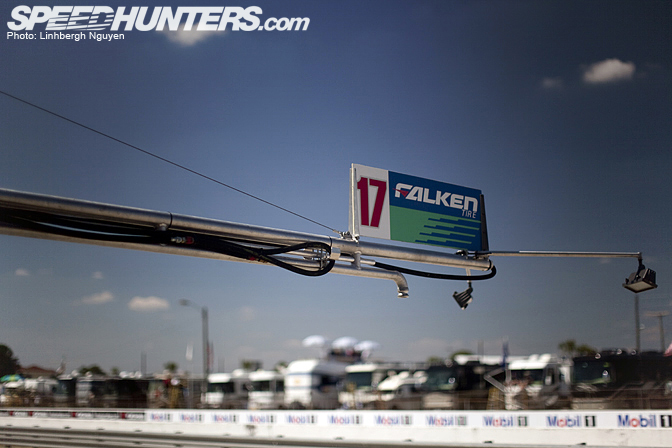 Wolf: I started racing with go karts. My dad raced, and my uncle raced but they never asked me if I ever wanted to race. One day I came home after seeing go karts on the track and I told them that I needed one! So, I left for the holidays and came back to a go kart waiting for me. I was 14 when I got my first kart… I was a bit older than Patrick and Brian when I started. I did two years of go karting on the German championship. I did a couple of years of single seaters and I here I am driving for Porsche as a factory driver.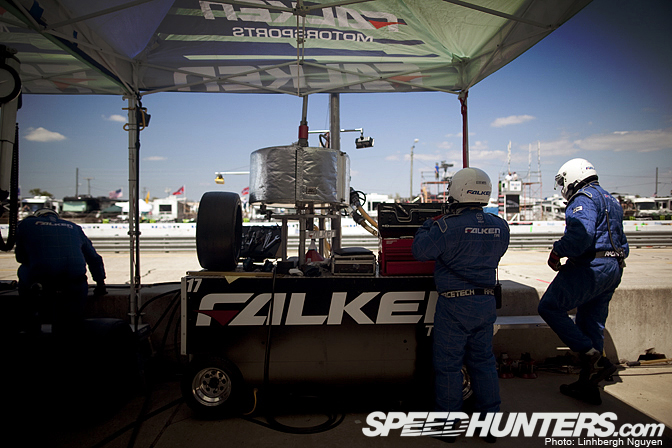 Linhbergh: Okay, the next question is really blunt: Have you ever peed in your racing suit?
*All three drivers laugh*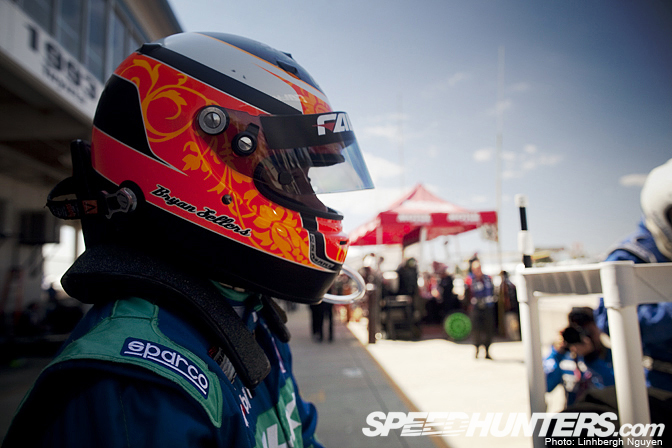 Bryan: No… no, I've never peed in a racing suit, no.
Patrick: If you ever do that, you're finishing the race no matter what!
Bryan: …you mean start and finish, Patrick! But no, I've never peed in a racing suit. I've had to go before but I held it.
Wolf: I've also never peed in a racing suit, but I know a driver who has!
Patrick: I know a lot of drivers who have!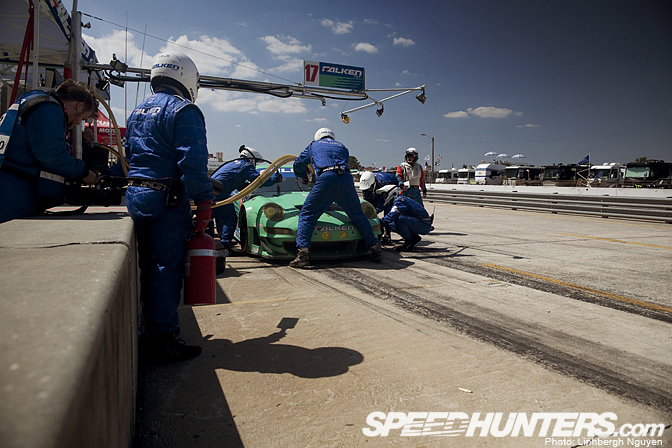 Bryan: I've had team mates that would pee in a car before every race in a single seater car –a single seater! EVERY RACE!! A 45 minute race… and they would have to change the belts every two races. It must have been a good luck thing before a race. Can you imagine the engineer that would belt in the driver? That's bad…
Patrick: I always tell my other teammates to go before the race also mention to them: "If you pee in the car, you finish the race!"
I'm not jumping into their pee.
Wolf: …and after the race, the mechanic had to drive the car to scrutineering. Poor guy…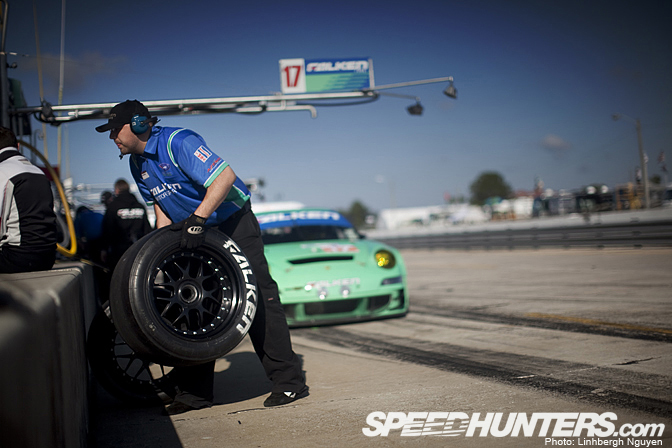 Bryan: The best story I ever heard was here in Sebring: "If you pee in the car, you're in for the rest of the time."
So, it went full course yellow and this one driver had to pee, so he unbelted, opened the door behind the pace car on the back straight and peed out the door so he wouldn't have to drive the rest of the race! The best part was that it was all on camera!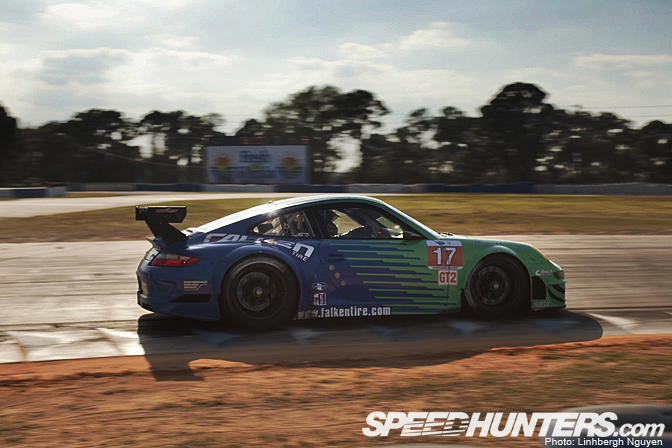 Linhbergh: When you were a kid, which Lego set did you want but did not get?
Patrick: Definitely the Formula 1 Lego get.
Wolf: I didn't play with Legos, I played with Barbies.
Bryan: Hahaha! Taught you how to do your hair and make up, right Wolfe??
Wolf: Of course!
Bryan: But really, mine I think was also Formula 1 car. They had a Ferrari set, which I didn't get. I got this dumb castle thing instead which I didn't really want! It was a giant plastic bucket in which you have to build on top this giant plastic thing. It was boring, I'd much rather have a Formula 1 car.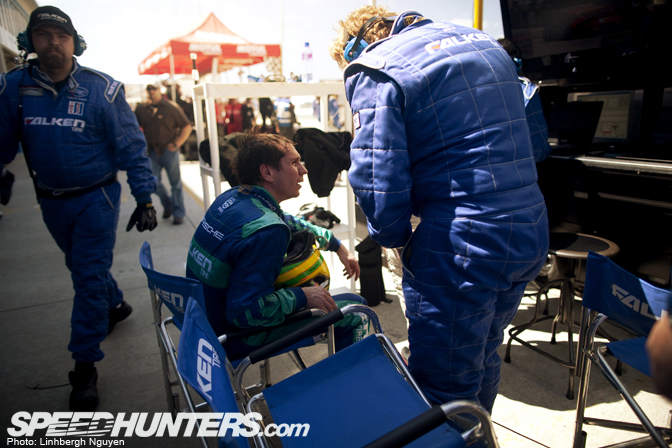 Linhbergh: How does the Porsche feel to drive?
Wolf: It's fast but a car could always be faster and be improved. Always more horse power, more downforce, more maximum speed.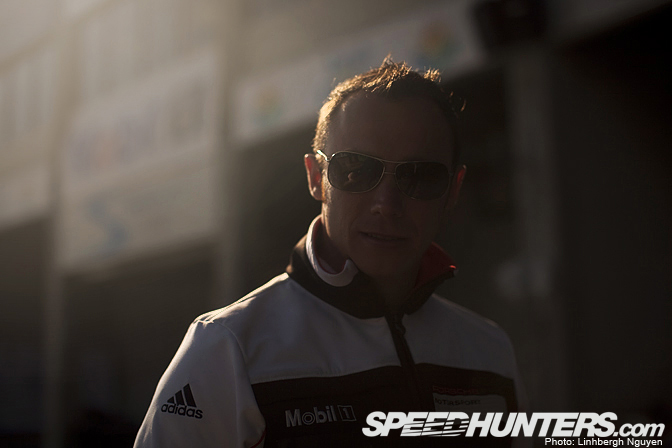 Patrick: We all come from single seaters in which normally the fastest cars are like Formula 1. And coming from a formula car to a GT car, I remember I'd always go 30 KPH faster everywhere! It was just too fast for the GT car to handle. I had to adapt my speed to the category I was driving in. We always want more grip and more power.
Bryan: If we took the drift motor out of the Falken Mustang, imagine the horse power we'd have!
Wolf: It would be good but it would only be good for one stint!
Bryan: Then it's settled, we just need the Porsche motor with 750 horse power.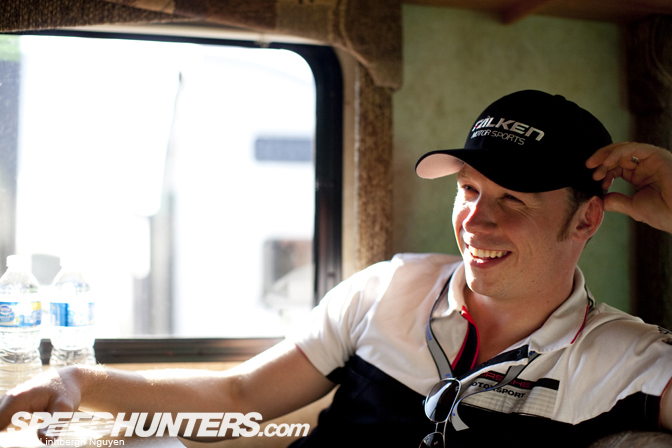 Linhbergh: What was your best date ever? 
Patrick: The first time I met my wife. It was at the track and I was coaching as a driver. There was a party the night before the race. I saw her, I met her, and started talking to her. We spent the whole night just talking for hours and… well kissing after. After that, I said to myself that this girl was the wife of my life. Three years after we got married.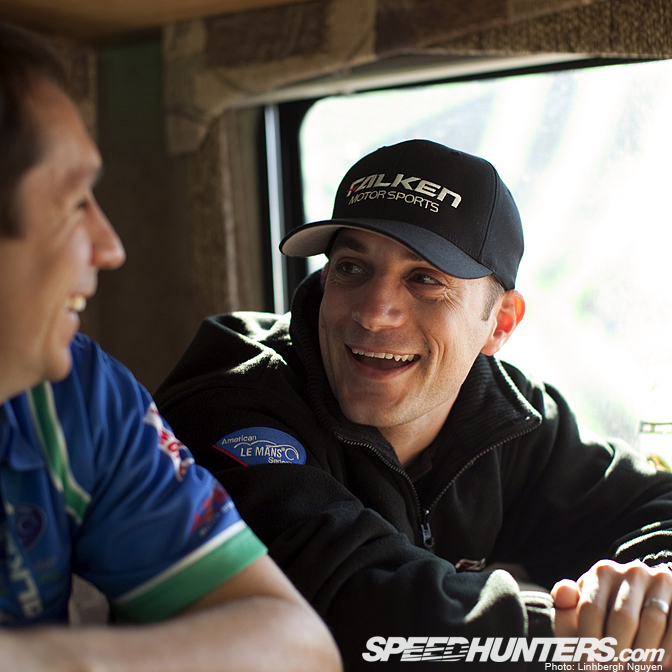 Bryan: Mine was also my wife. Patrick and my wife were at the track as interview reporters. My story is a little bit different though. When I met my wife, she was not interested in me at all –AT ALL. So we spent a week together on this trip. And the first night of the trip I asked her if she wanted to go to dinner, she said no. Second night, no. I asked her a third, forth and fifth time which she said denied me. It was almost a week straight in which she's said no.
Linhbergh: I would've quit by then!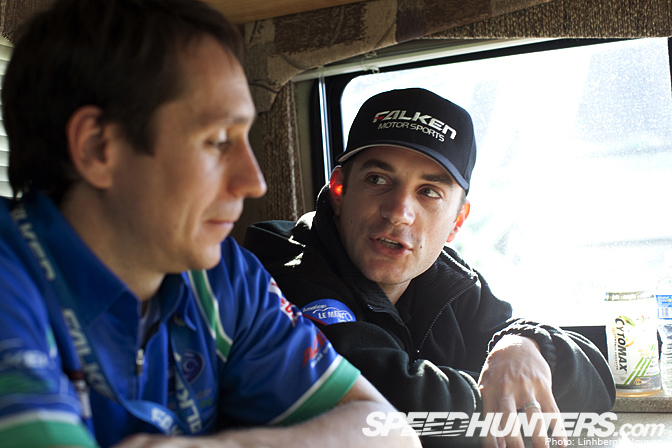 Bryan: I would've quit too! I don't know why I didn't. On the forth night, Marino Franchitti and I shared a room… and at midnight he asked me if I was sleeping yet. I answered with "nah… I'm still awake."
He then said, "you know, this has been really bothering me. You should give up because you look like an idiot getting shot down this many times!"
And I said to him, "Gosh, maybe you are right maybe I will give up." So we had two more days on the trip the next day I didn't say anything, and then the final day I thought to myself how I much work I've put in and got shot down too many times not to try again! I finally just said to her, "Hey look, go out to dinner with me, if its not fun, I'll never talk to you again. It's fine, it's over."
We went out to dinner at the end of the race weekend, we went to this really cool restaurant in Portland, Oregon, on top of the city. And from there it was good. We've been together ever since! It was like a huge triumph for me! It was like winning the race!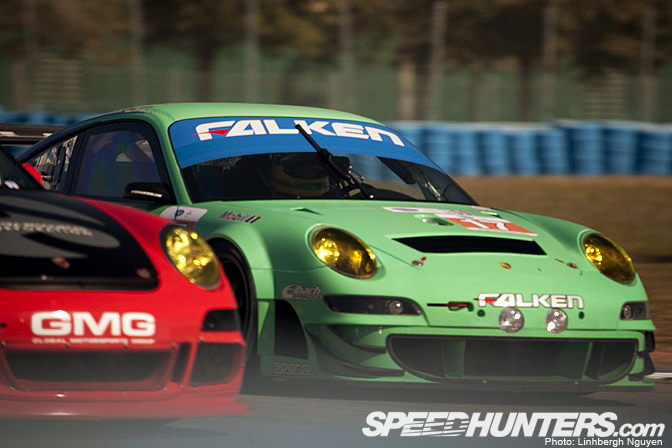 Wolf: My best date was when I met my girlfriend almost 10 years ago. We met in a carnival in Germany during the month of February. So everyone dresses up and goes partying. I dressed up as a girl…
*Brian and Patrick laugh*
…she was an M&M! So that was the the first day we met.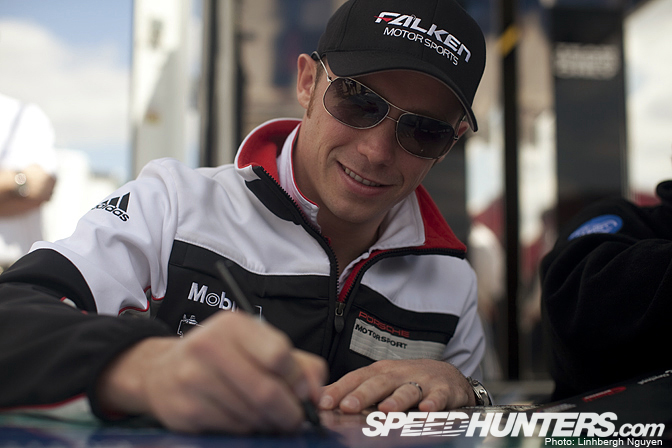 Linhbergh: What was your first car? Daily driver? Dream Car?
Wolf: My first car was a BMW… it was a 320. Now I'm driving a Porsche Cayenne. And my dream car… umm… a porsche Cayenne. Haha!
Patrick: My first car? I was about ten years old, and I know it was forbidden to drive outside of a racetrack. But all the parents were all partying and so I just took the key and drove on the public roads! It was a Renault R5. It was a really small, and a really cheap car. But It was perfect. I used the hand brake and tossed it around all the time. Now I drive a Cayenne GTS.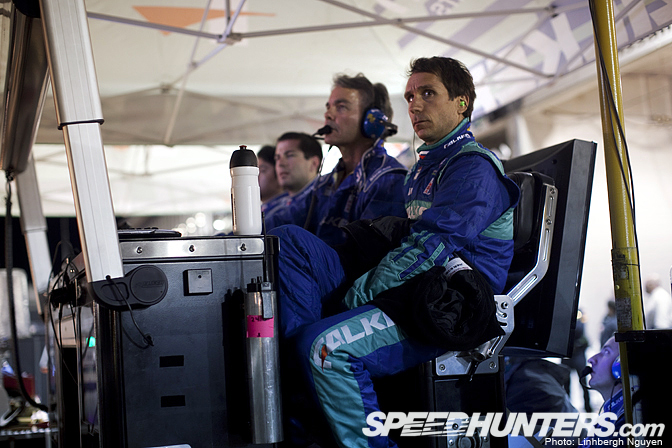 Wolf: So nothing as changed besides the car! You're still using the hand brake!
Patrick: No, you can't! Thats the only problem with the car, you can't hand brake. Dream car? Carrera GT. It's not a new car, but it's the most beautiful car I've ever seen. The car's performance is also right.
Bryan: My first car was a Jeep Wrangler. To get my jeep my parents had to put down $4000. And to pay them back, I had to cut grass for three summers straight to match the down payment which they paid! It was a 1996 or 1997 I think…? I'll take Wolfe to Patrick's Cayenne as a dream car, that would be perfectly fine with me! But now I drive a Dodge Ram.
Linhbergh: Was it a conscious decision to stick with domestics?
Bryan: Pfft! No. It was cheaper –a lot cheaper. But it was cheaper. I went into the dealership and they couldn't sell trucks. And the guy said to me that he'll take $17,000 off the list price to the truck. And I said, "uhhh… okay! Do you have it in black?" So I have my truck. And you can't be a redneck without a truck and since I've moved down to the south and you can't live down there without one. Actually, the real reason I got it so I can put my mountain bikes on the back of it! Pretty much the same reason why Wolfe has his Cayenne: to put his bikes in the back.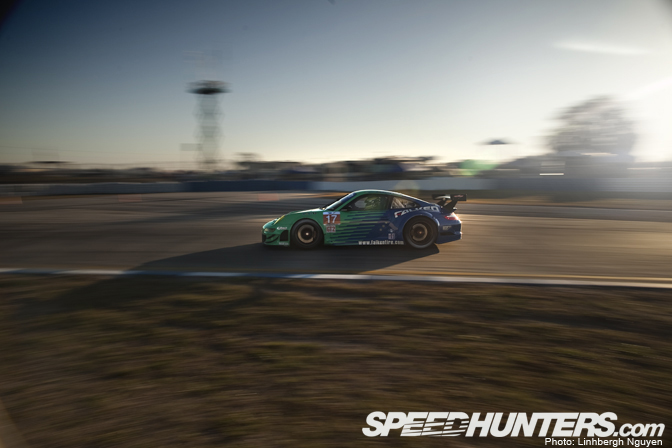 Linhbergh: Okay guys, last question. Do you think a drifter can come in and drive the Porsche? Can you hop into a drift car and do what they do?
Wolf: I think it wouldn't work both ways.
Patrick: Nahh! I think you've got a thing for drifting sometimes Wolfe!
Wolf: When you're sitting next to me in a rental car, sometimes I have a good drift. But both disciplines are so specialized that the driver has to be specialized for what they do. For example I did an event for Porsche last year on the racetrack and I did some laps in which I tried to drift. I pulled the handbrake at the entry of the turn, the car started to oversteer and I automatically started to correct it. I corrected with the steering wheel and with a little bit of power. I tried this a couple times and I couldn't get a really good drift! I was automatically fixing the drift too. Drifting is not for driving fast, but it is really good for show. In the end, I did have some little drifts, but I'm sure nothing like a real drifter can do.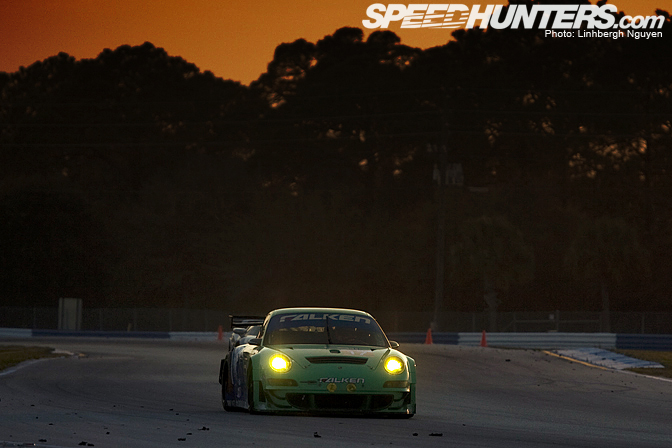 These interviews are a part of what will be multiple stories on the inner workings of an ALMS racing team over the course of the 2010 season. Now that we know a bit more about the drivers (maybe a bit more than we bargained for…), we'll be getting to know another part of the team at the Long Beach Grand Prix: the mysterious and masked engineers!
-Linhbergh