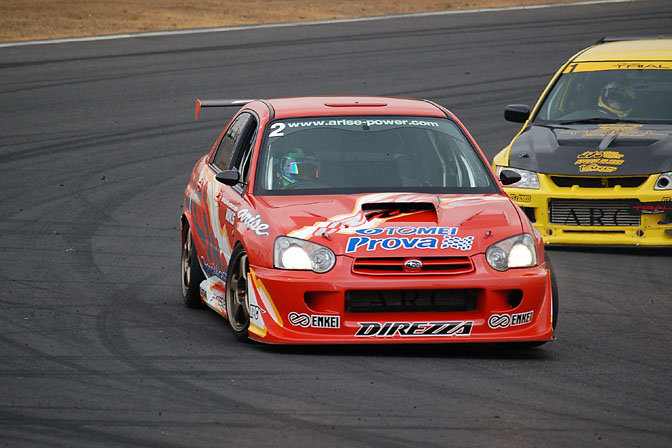 Hello Speedhunters my name is Mathieu van den Oever and I am from Utrecht in The Netherlands. After I had stopped skateboarding due to injuries, my love for racing and drifting took over and it has not stopped since. Things got even worse after my first trip to Japan where I got introduced to cars and products I could only dream of before.
At the moment I am the photographer of the Total Mazda MaX5 Cup (which you can compare to the Spec Miata races in the U.S.) Besides that, I cover events for Turn1.nl and a new website which will be released soon called Pagoda Garage.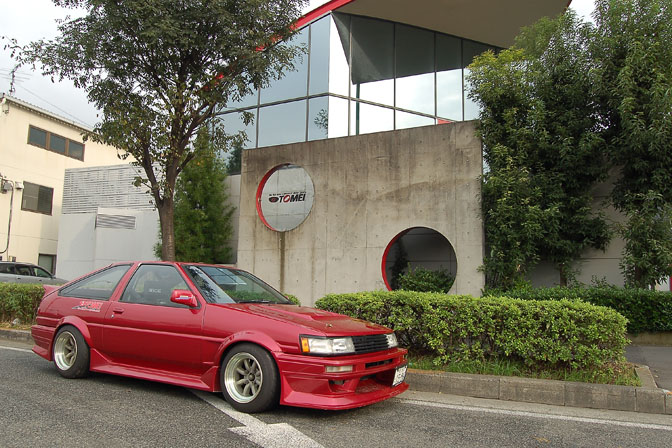 On my last trip to Japan I got an invitation from Allen Lorenzo at Tomei Powered to visit their facility in Tsuruma. (You can see Allen's awesome AE86 standing in front of the Tomei building in the photo above.)
In 2006, Allen and I met at the RevSpeed Hyper meeting in Tsukuba (opening shot) and we have kept in contact ever since. So when I received his invitation I was more than willing to make the trip over and find out what Tomei is all about.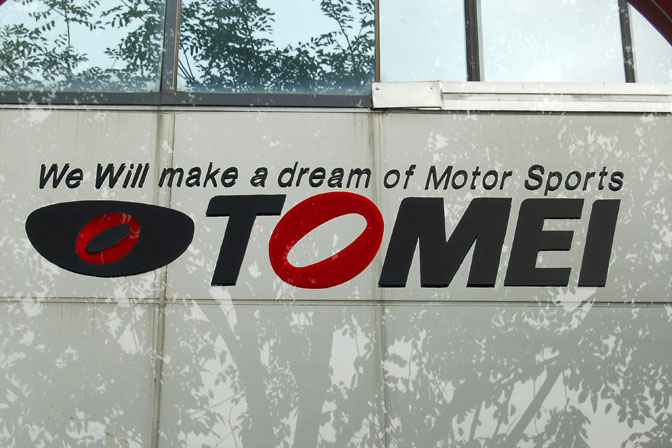 As you can see, Tomei is very clear on what is going on behind these glass panels.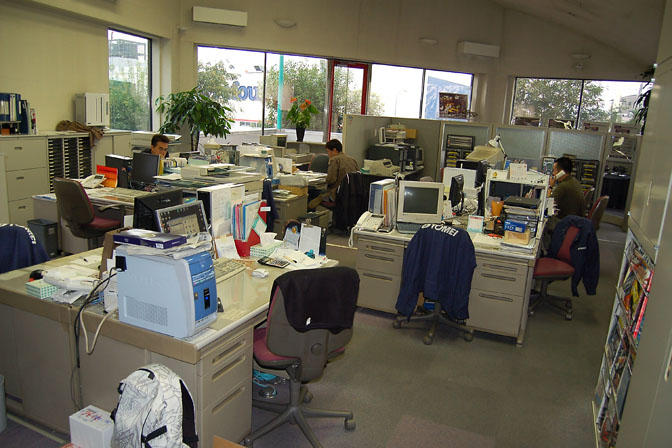 The office is not that big but still there is a lot laying around that could keep many car fanatics busy for some time. Magazines, new & vintage car parts and great posters to name a few.
The company was founded by Mister Seiichi Suzuki back in 1968.  As he was a works driver and great tuner himself it did not take long before Tomei started gaining a lot of respect and became very successful in motorsports.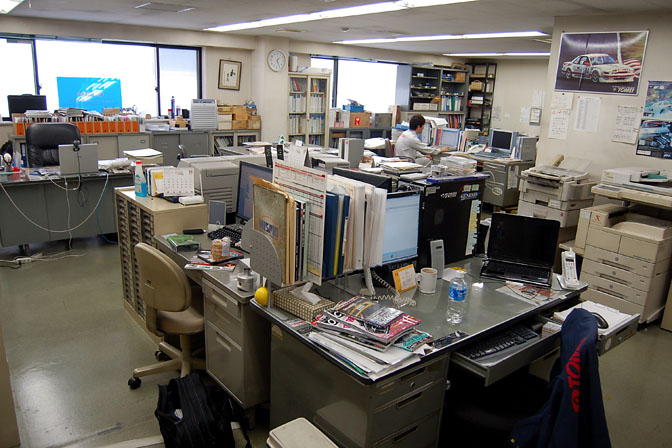 Most race wins start with a lot of R&D and here you can see the room where the engineers come up with all their ideas for the Tomei parts.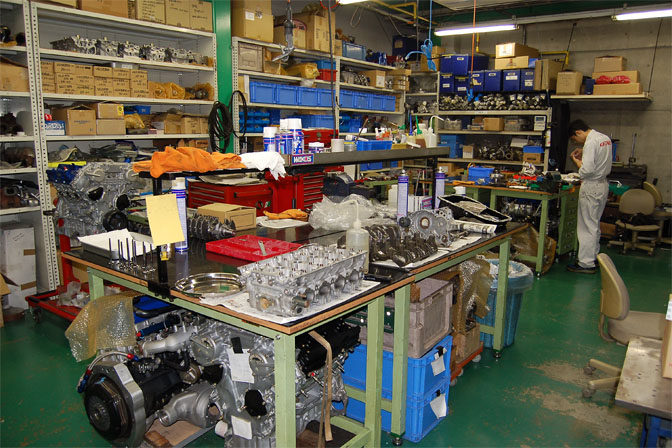 Than the real trip starts as we make our way down the stairs. In this R&D lab room the engineers and mechanics work on developing new parts like turbo's, crankshafts and of course improvement of the race parts.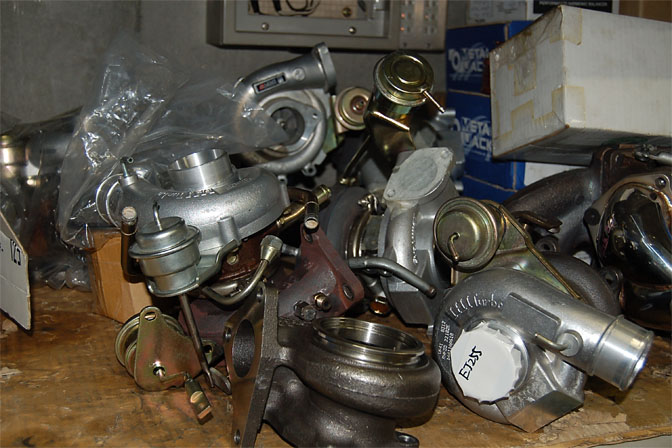 There is a great amount of test products spread out in the room. Turbo's anyone?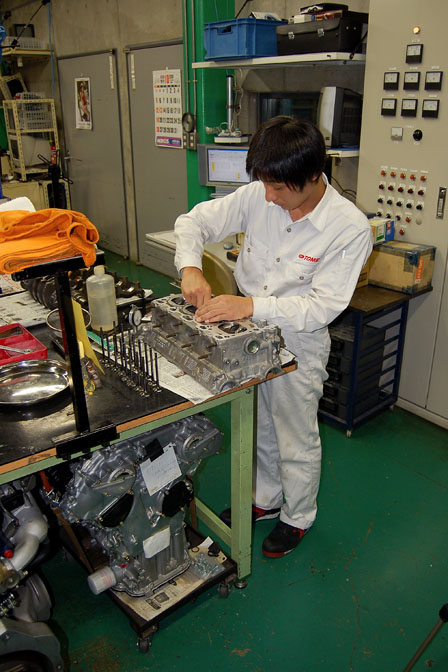 If you want an engine that can smoke the competition this is the man to talk to! Mr. Gou Tahara builds the Tomei race engines and he loves it so much that he even works on them on his weekends!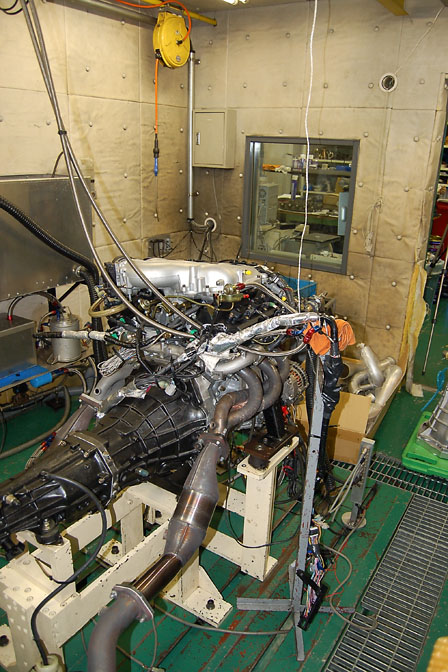 To make sure the Tomei engines live up to their reputation, there are two dyno rooms present in the factory. This is were the engines are developed, tested and checked before they are shipped off to the customer or being placed in one of Tomei's project cars.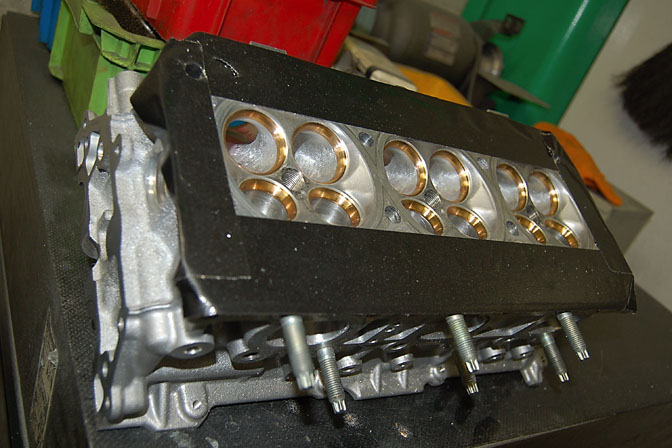 Of to the porting room. Here the mechanics make sure that the internal parts are getting the perfect treatment for the customer's wishes. This VQ35DE block, for a 350Z, got a special make over with Tomei's Bery Rings. These bronze rings are made out of Beryllium and expand the valve's lifespan by absorbing the heat and dissipating it into to the aluminum cylinder head.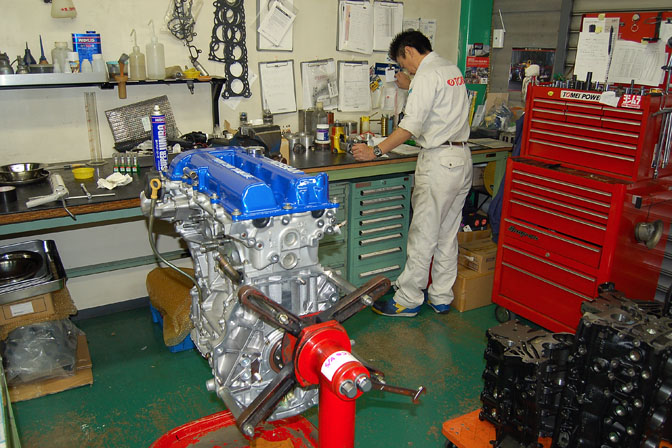 Next up is the part of the Tomei factory where all the new customer engines are assembled. This room, like the R&D lab, has a constant temperature of 20 degrees Celsius. (68F)
With this temperature the engines different components do not expand or compress during the assembly. This shows the high standard Tomei uses for their products. Every single piece has to fit perfect to reach the engine's optimal performance.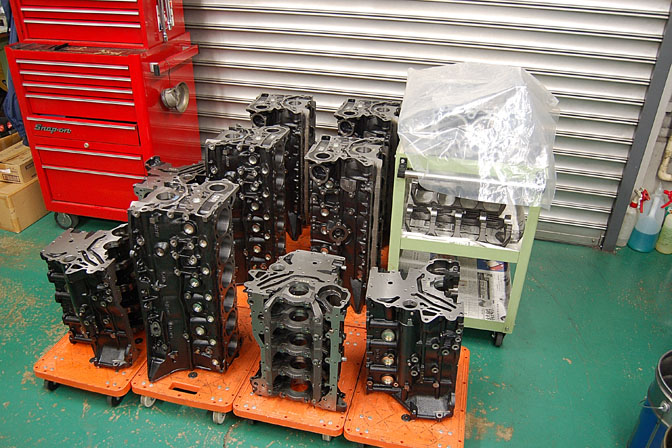 As the engine builders work on, there are plenty more engines waiting for them. In between those engines you can see some RB26 units stick out.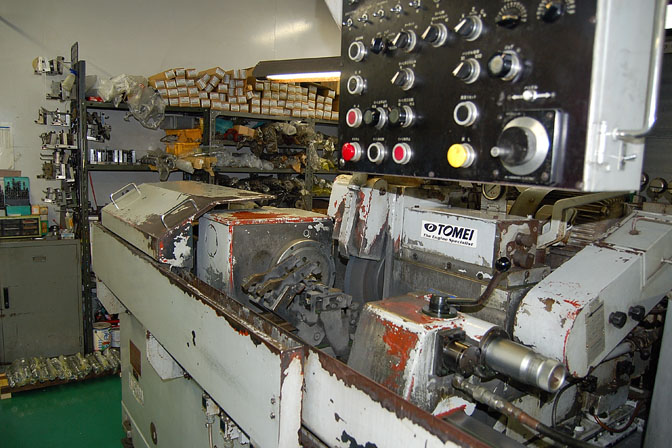 The core of the Tomei business is their camshafts. The CNC machine you see here has been in service for over 25 years now. Prototypes, one-off's and custom requests are all made on this machine. It is operated by MR. Jyunzou Suzuki who has been working at Tomei since day one. There is not a car in the world he cannot make the right camshaft for.
Mr. Suzuki actually is one of the brothers of the founder of Tomei, Mr. Seiichi Suzuki.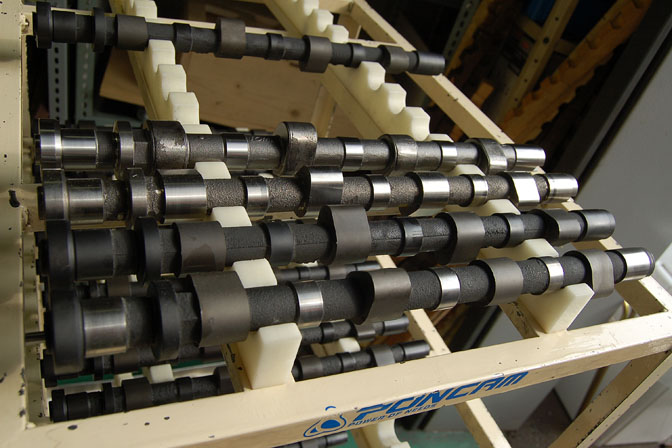 On the second cnc machine the famous Tomei Poncams are made. The picture shows the four stages a camshaft goes through to become a finished product, like the one on the bottom of the shot. PON means "ease of installation" in Japanese but is also translated in Power Of Needs. So they fit right into your car and deliver power straight away!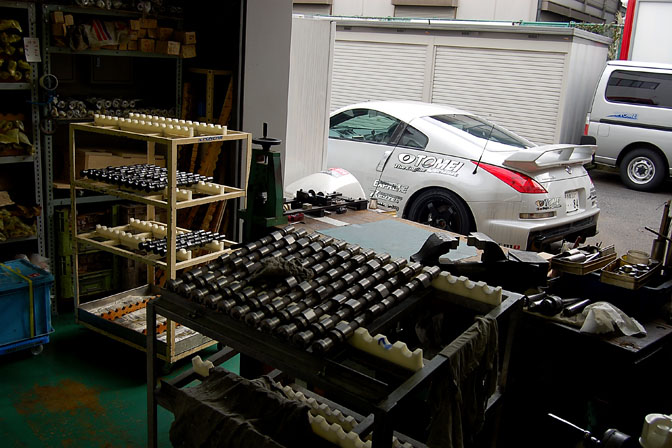 So enough with the tech talk I can hear you guys think. It's Tomei, don't they have any great cars out there? Yes they do! I got a bit distracted as well when I saw this Fairlady Z standing outside the garage doors.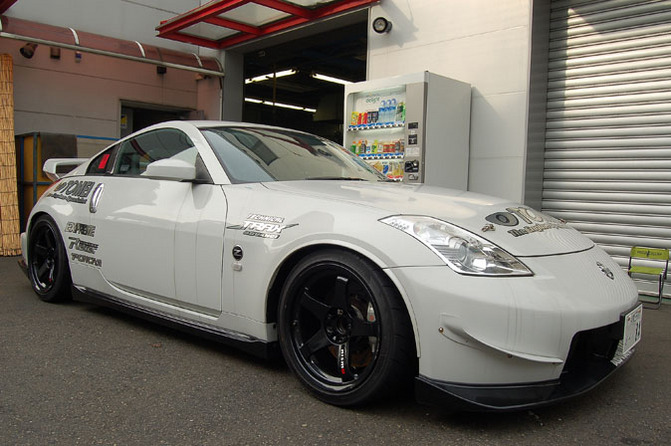 This car has been designed by Nismo and Tomei together to participate at the Z Masters Challenge race cup series during 2007 and 2008.
Until now it is also used as a show car. (When you look at the Lancers & Impreza's at TAS 2010 coverage of Dino, you will see the car standing next to the Tomei/Cusco time attack GDB.) During the shoot Allen kept apologizing for the car being dirty, but I think it looks pretty mean the way it is covered in dirt.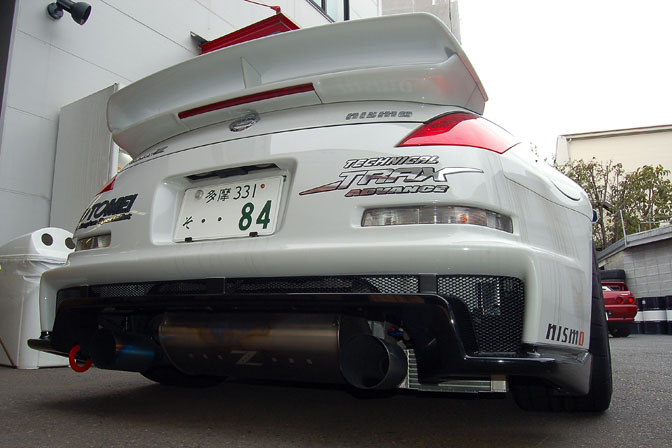 This car is serious business and both Nismo and Tomei are no strangers when it comes down to modifying cars. Just look at the rear end of the Fairlady. Small rear diffusers, a double titanium exhaust and a big wing. Oh. and that highlighted silver thingy, that's an oil cooler for the Technical Traxx differential. You have got to love it!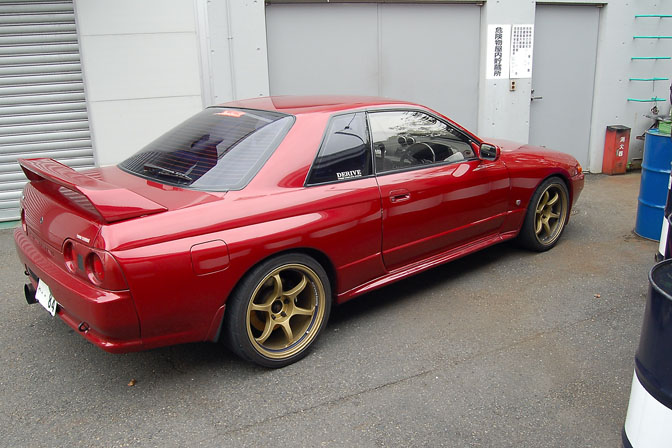 At the rear of the garage area there was a real clean R32 tucked away. This daily driver for the Tomei staff is occasionally used to promote Tomei at shows. It uses a 2.8L Derive engine and is rolling on some nice Advan wheels.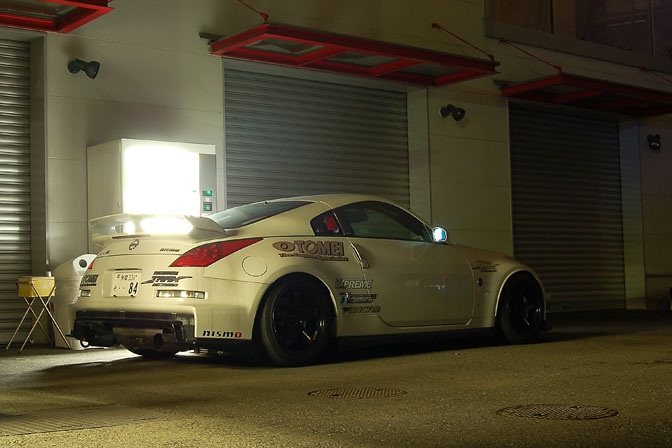 A day passes really fast when you get an opportunity like this. So to conclude my visit to Tomei I leave you guys with one last shot of the Tomei/Nismo 350Z at night.
I would like to thank Allen Lorenzo for an awesome day and all the help he gave me!
-Mat
For additional information on Tomei or their products please check: