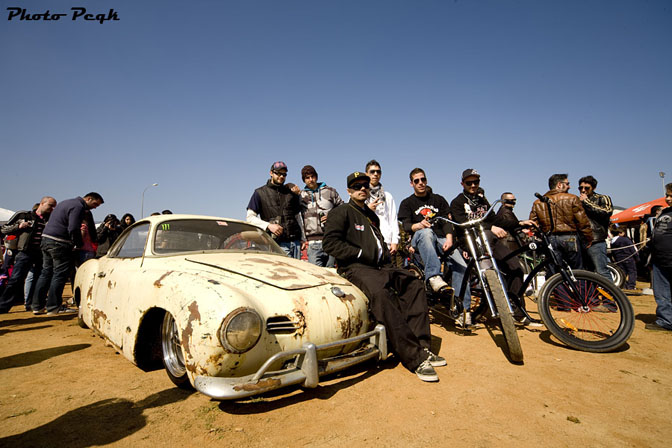 You think you are low? Think again…
There is a saying that 'Low is a lifestyle' -well these guys surely know how to live that life. There are no airbags in sight and still they are able to drive these cars, amazing. I'm sure it is not to everyone's liking, but I can't stop staring at the Karmann Ghia in the opening picture. The car belongs to a group of friends that call themselves the 3 Splines Gangsta's and are members of the Panscrapers crew in Spain.
It's cool that these hardcore VW enthusiast are really making a name for themselves inside the VW community. I couldn't stop browsing through their blog, feeling excited at what the next page would bring.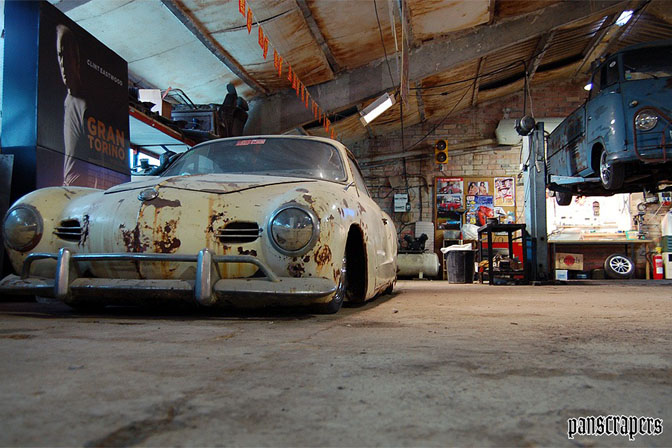 Have you ever seen a Karmann Ghia this low? The rust and the faded chrome bumper all ads to the style these guys are going for. The car wears its scars with pride and the owner isn't afraid to show them to the public.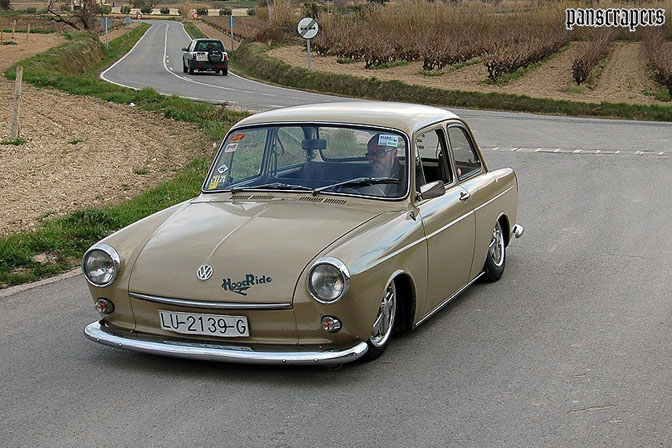 This is a Volkswagen Type 3  also known as the VW 1600. It reminds me a bit of the Japanese luxury barges with their crazy cambers. But I do think that this car has much more character. And yes the car drives like this. Check out this small youtube video of it driving through the country roads.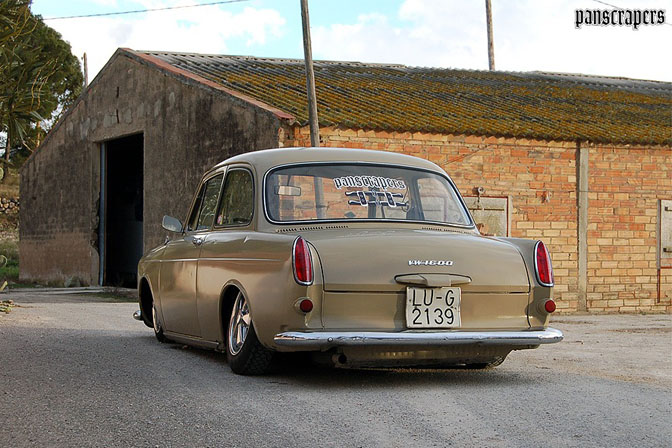 A VW 1600 never looked this good. I'm no expert on lowering a car, but I think it isn't as easy as just buying a lowering kit.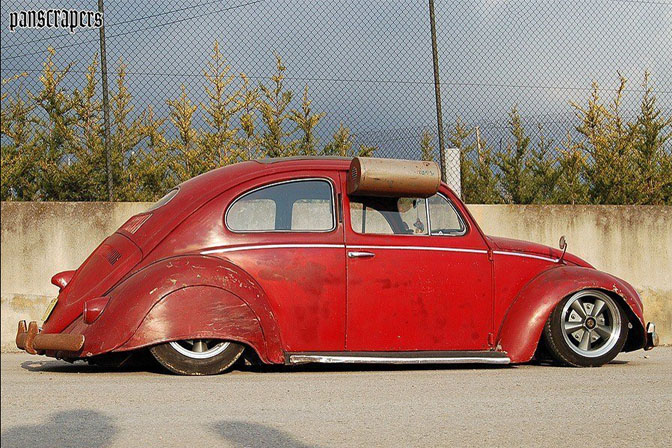 A Beetle in red never disappoints. I don't know why but I just love the shabby paintjob and rusted rear bumper. There is something with these cars that attracts me in a strange way.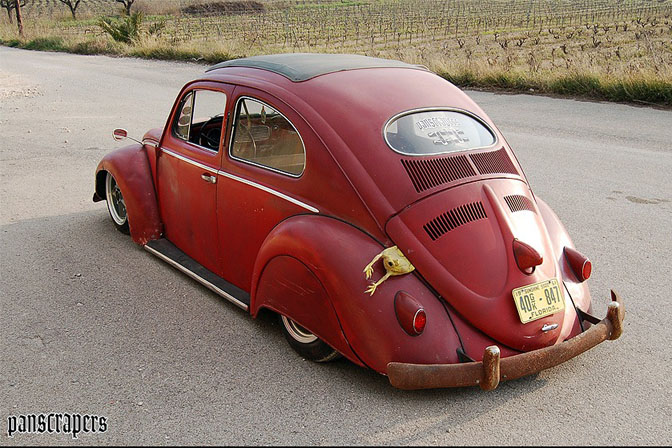 Are the wheel covers a factory option? Never seen those before so I guess not. I guess that the chicken saw too much and to payed the ultimate price.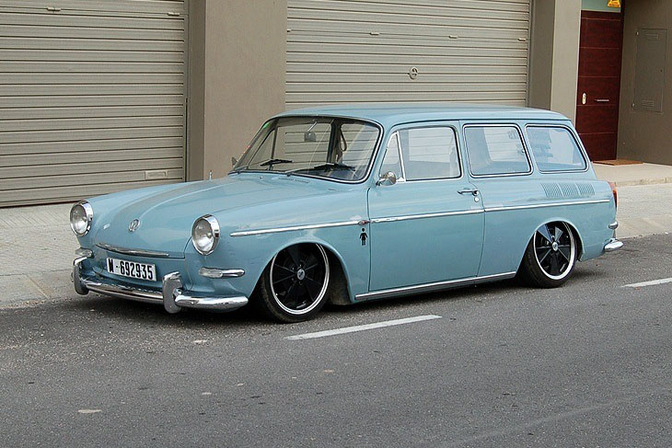 This old school VW Variant has been restored unlike the others. The wheels look like a modern version of the Fuchs wheels. The black contrasts nicely with the baby blue exterior.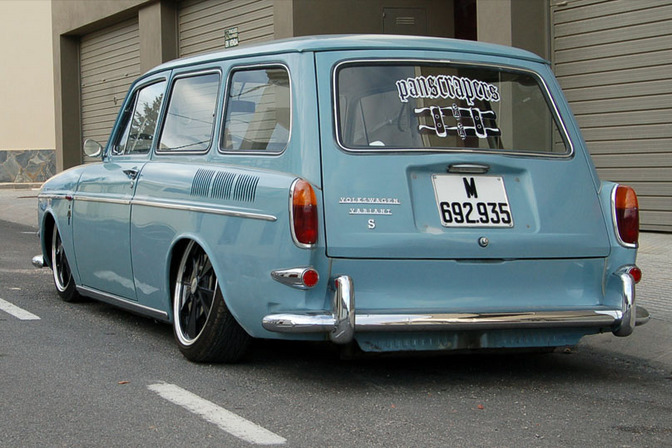 The car wears the Panscrapers logo with pride.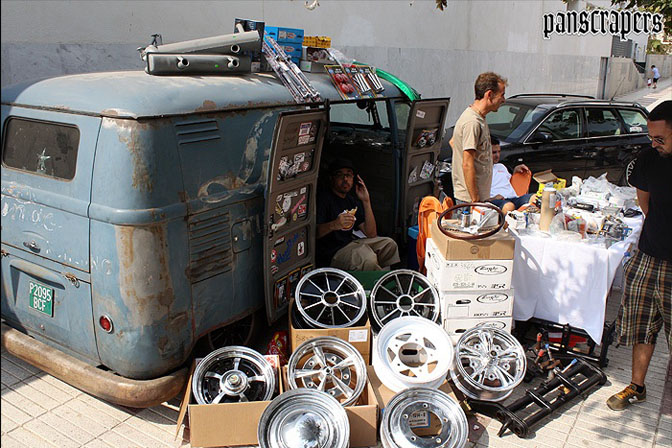 A would love to own a bus like this in the future. I love the fact the old Linde (Industrial gases) logo is still in place. These cars are full of character.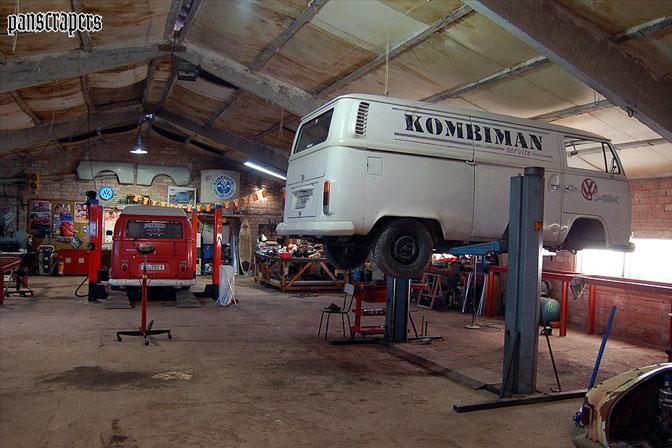 A sneak peak inside the Panscrapers garage reveals even more busses. It looks like an old stable that has been converted into this garage. Perfect for some late night restorations.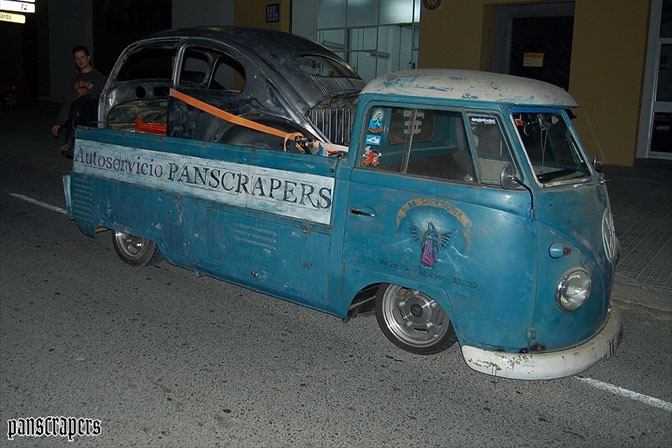 The perfect way to end this gallery with a shot of their new project on their own version of a flatbed truck.
Be sure to check out their blog for more pictures and a cool insight into their hobby.
-Jeroen Willemsen