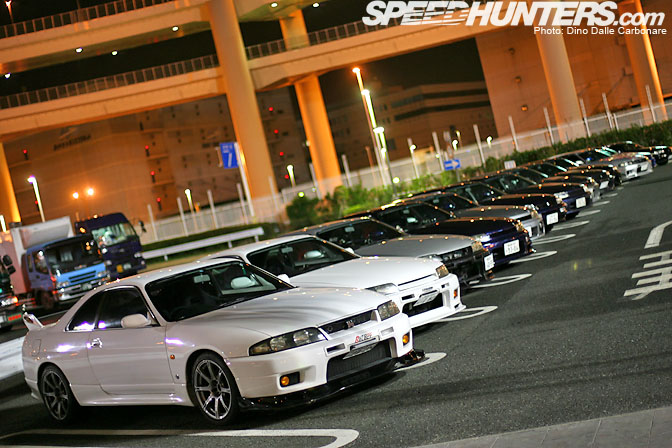 So it was back at Daikoku last night for the R33 March 3rd meeting that turned out to be pretty good compared to the previous day's R32 gathering. The line-up of cars was great and I was happy to see that not only GT-Rs had shown up but also GTSs in both 2-door and 4-door variants.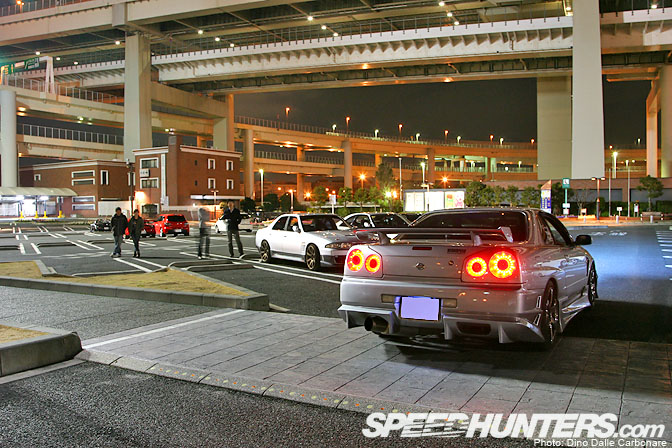 Cars kept arriving and taking off throughout the night giving a continuous selection of rides to snap away at. There were also a couple of R34s around too, probably checking what the Daikoku scene is like this week.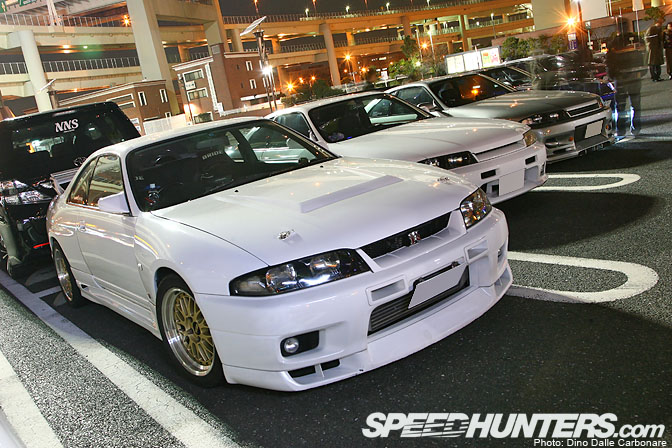 There was everything from track prepared tuned GT-Rs like this white example riding on BBSs to show cars and drift machines.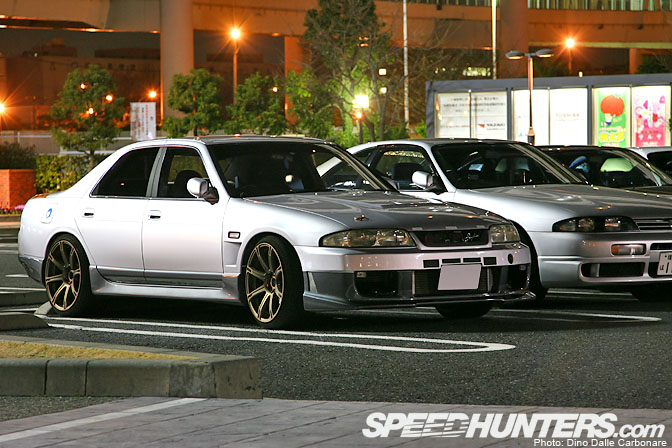 I though this particular GTS25t was sitting pretty nicely on its 18-inch Work Emotion XC8s…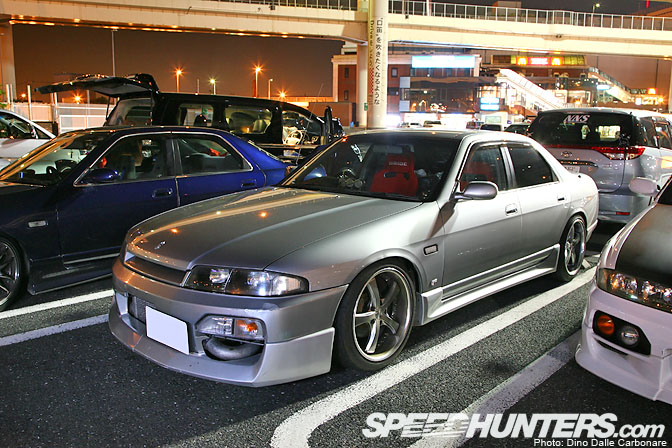 …while this was going for a more period correct look with old Blitz wheels.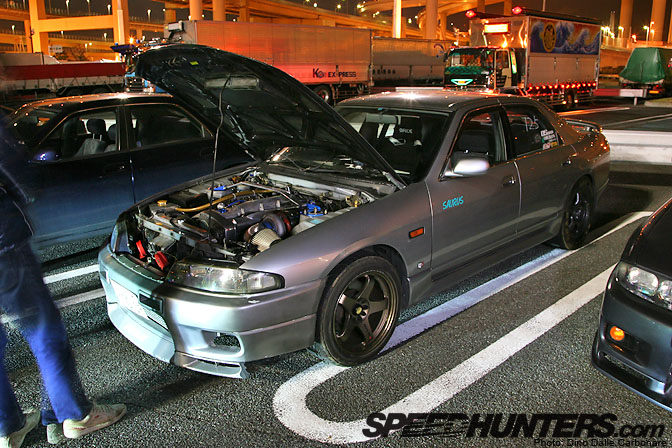 But if I had to choose one sedan from last night it would have to be this Garage Saurus tuned drag spec GTS25t running…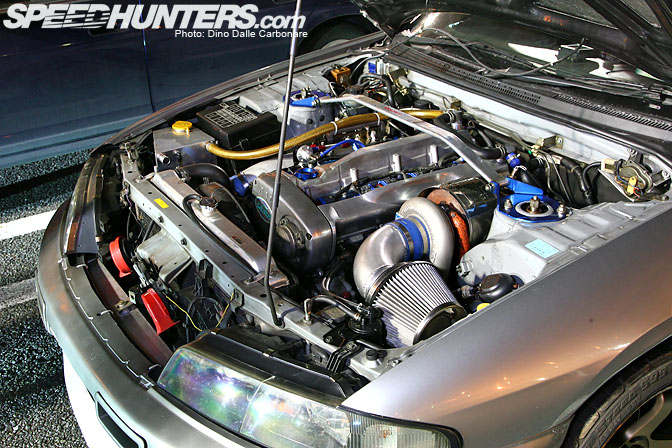 …a rebuilt RB26 and single turbo conversion.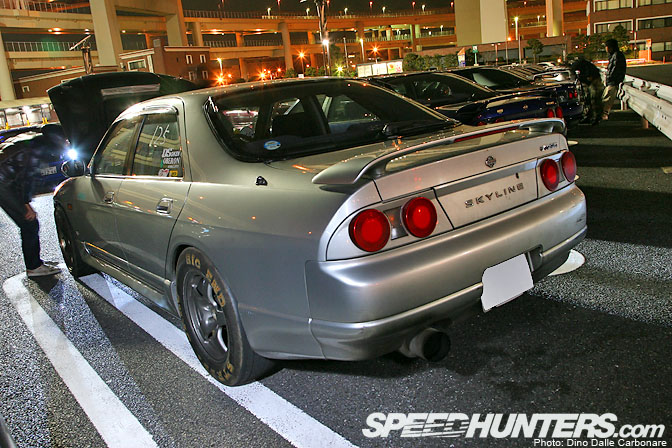 The rear 17" BNR32 wheels were wrapped in big sticky drag radials for a look I have never before seen on such a sedate looking car!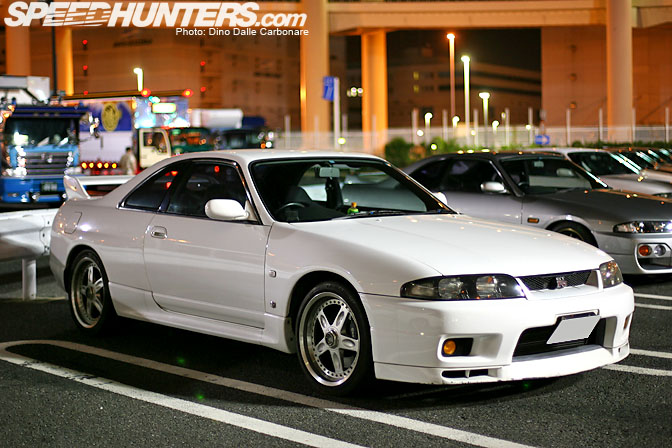 There were a few BCNR33s running on some older wheels which I thought looked pretty cool like this white one…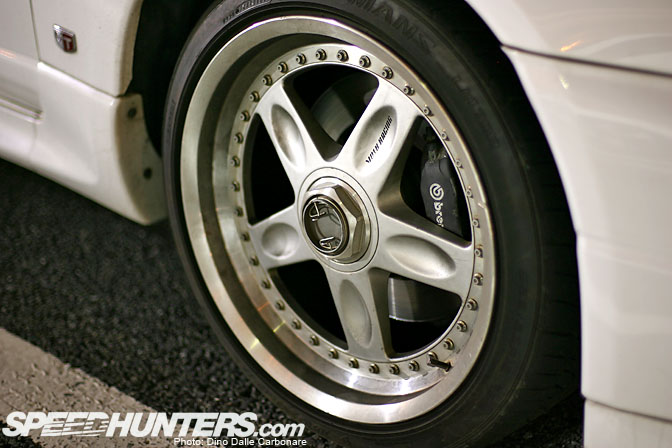 …fitted with a set of old Volk Racing CV Pro 5-spoke rims.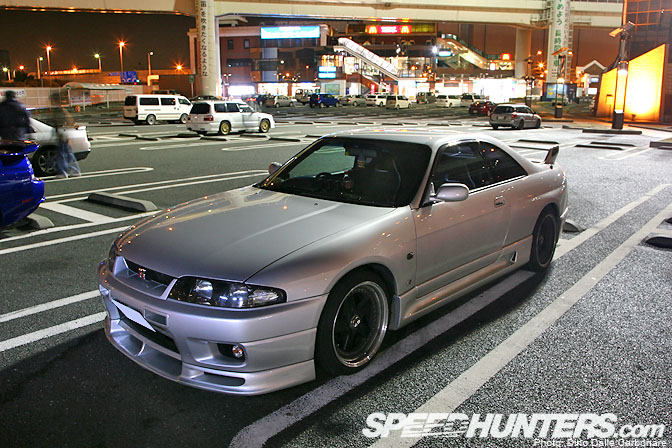 Or how about some Panasport G7 with polished dish!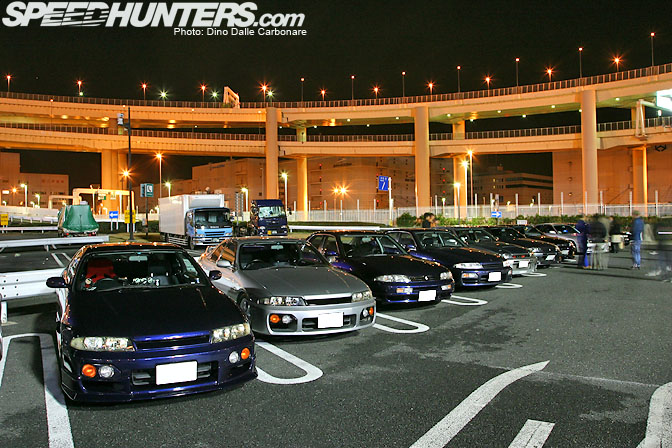 This is the lineup I wanted to see on the "33" day, and I very pleased my trip wasn't wasted!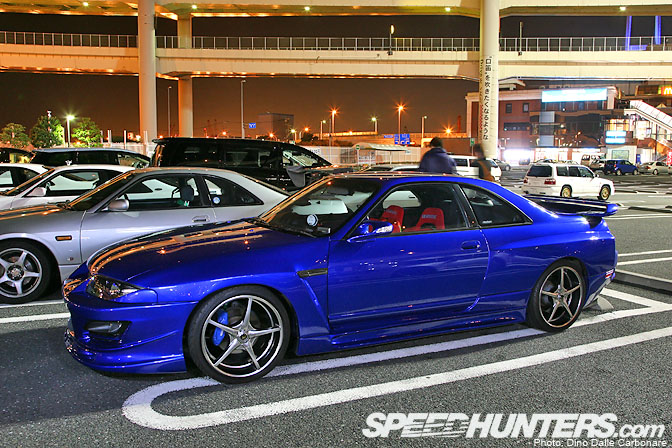 This blue ECR33 looked like it was fitted with a lot of Abflug parts but I can't say I recognize the R35 GT-R style front fenders.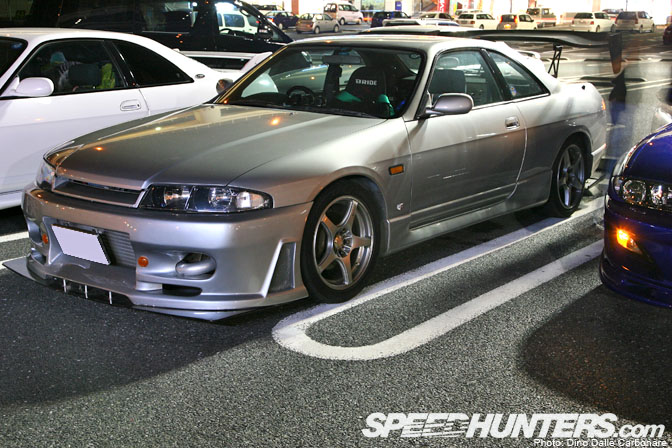 Track spec GTS…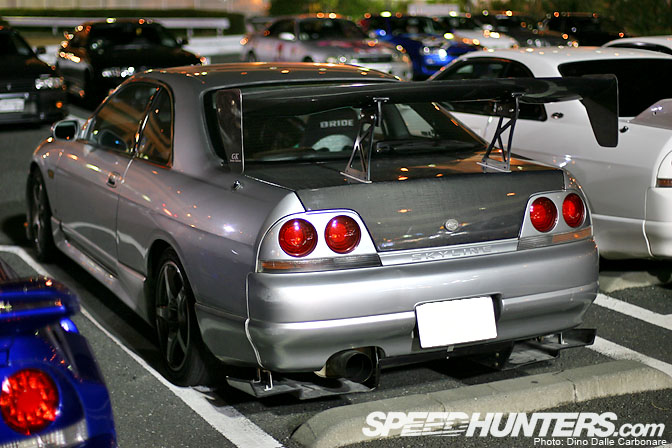 …with massive GT-wing and carbon diffuser.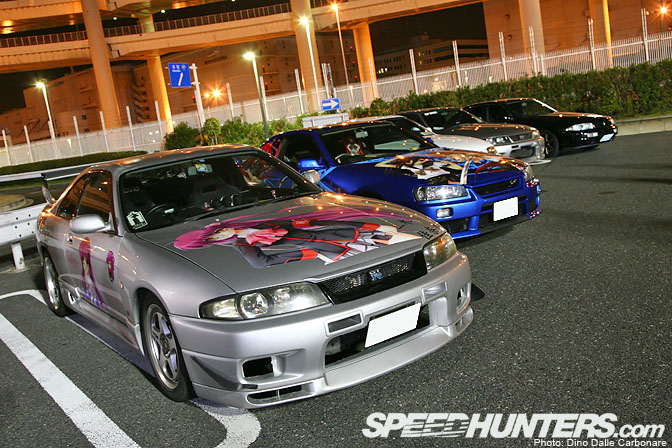 What would a Daikoku meeting be without a showing from the itasha crew!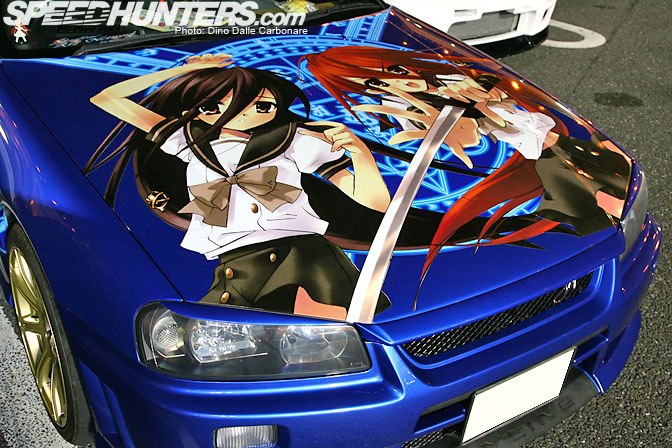 I heard this style is losing popularity but it seems more fashionable than ever to me!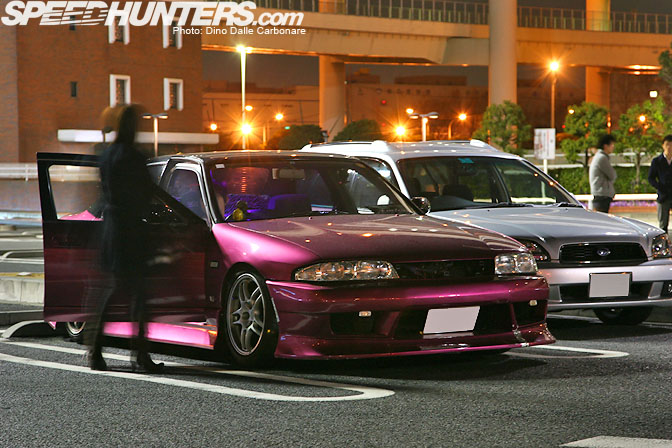 I spotted the odd drift car too, some in better shape…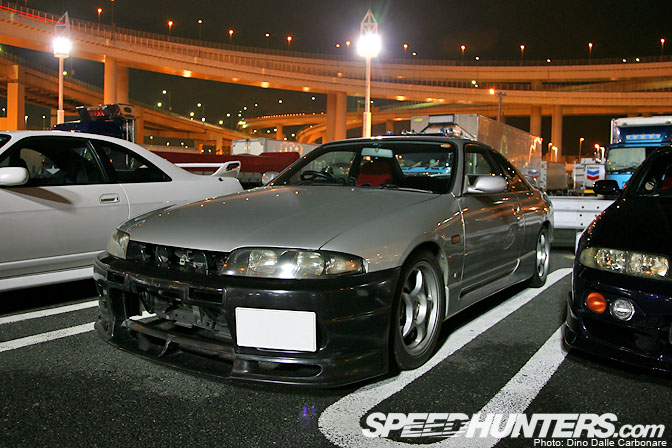 …than others.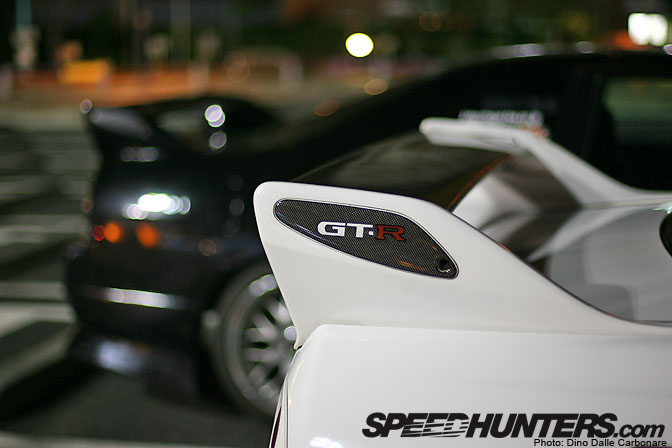 Carbon GT-R end caps for the stock spoiler. Great match for the Nismo carbon rear wing!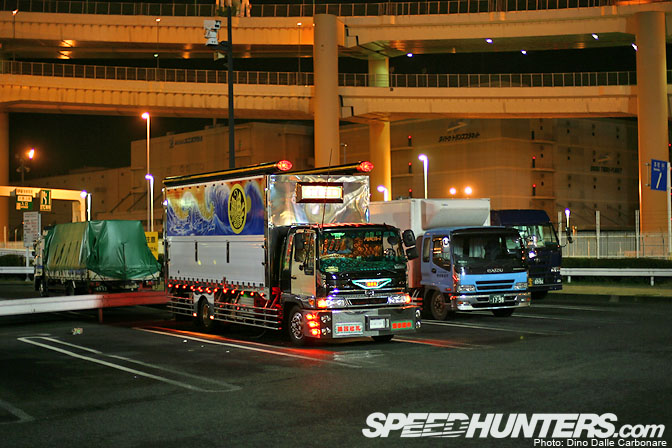 Not as extreme as they get but a dekotora also decided to stop by Daikoku for a while. Trucking JDM style!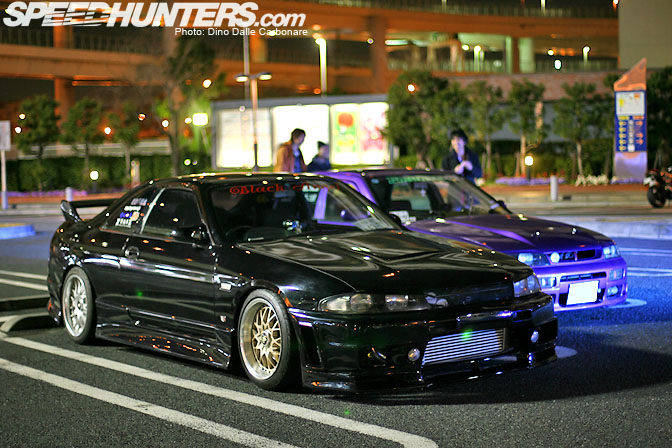 What was nice to see was that a lot of the owners of the cars that showed up last night were young kids. Lately, in big cities like Tokyo and Yokohama, people in their 20s seem to have little or no interest in cars. High costs of ownership, parking and the current state of the Japanese economy are to blame but it was good to see that there is still some interest.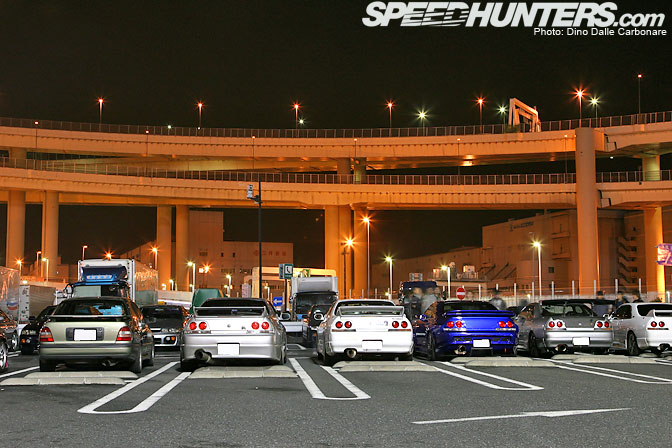 Yep that is a Sunny hatchback on the far left. Sounded like it was sporting a few engine mods too.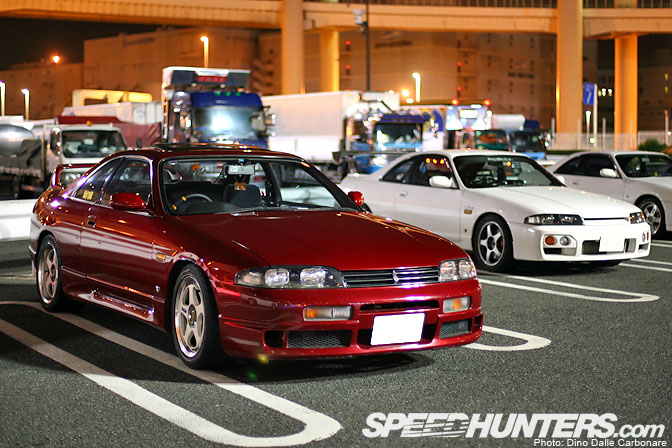 More vintage wheels, this time from Nismo!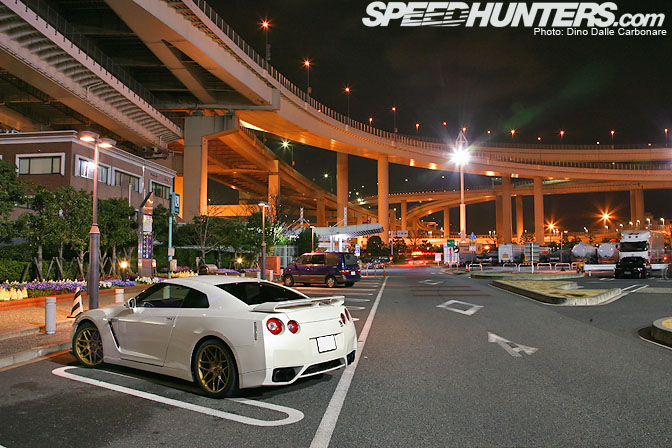 As I was about to take off I noticed a very nice R35 on the far side of the parking lot, running a set of very expensive Neez 7Model wheels. Can't wait to see how many R35s show up on Friday but before that I got to check out what the R34 crew will be getting up to tonight. More on that tomorrow!
-Dino Dalle Carbonare