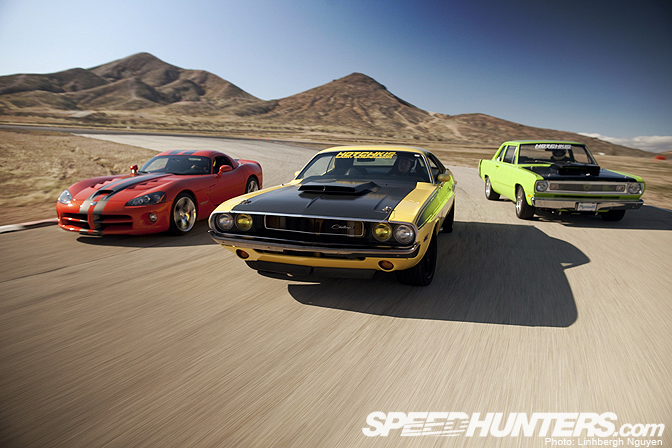 One look at the picture above and you can instantly imagine the rumbling of all that Detroit metal. Each of the three cars give you a completely different sort badassery. The green Plymouth Valiant is classically sophisticated, the yellow Dodge Challenger is a rugged badass, and the Viper is just pure, raw, gut wrenching power. The guys at Hotchkis Suspension held a track day at Willow Springs International Raceway and invited Speedhunters to come and drive their various selection of tuned muscle cars.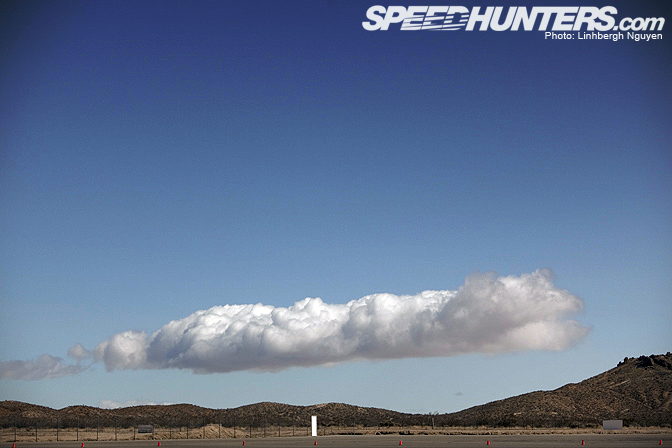 The weather at Willow Springs is usually skin-barbequingly hot, or why-the-heck-am-I-standing-outside cold. There's only one or two days of the year when the weather is just perfect at the track, and you better have the luck of all the gods of Mt. Olympus on your side to be at the track to experience those rare days. That day at the track, Willow Springs served up a main entree of blistering cold with a side order of gale force winds.
Despite the face-hurting cold and soul-sucking wind, the day was gorgeous. Blue skies, a few specks of puffy marshmallow clouds, an empty race track and a day spent with some American iron? Yes please.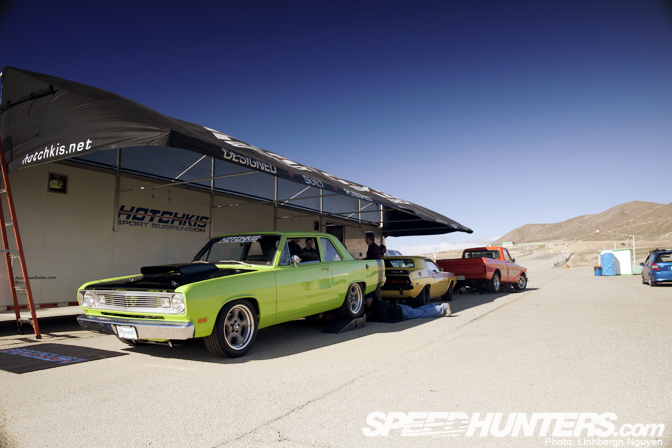 Hotchkis brought out all sorts of toys that day. Their main focus was to test various suspension and tuning on some of the cars. My main focus was to drive as many of these cars as possible.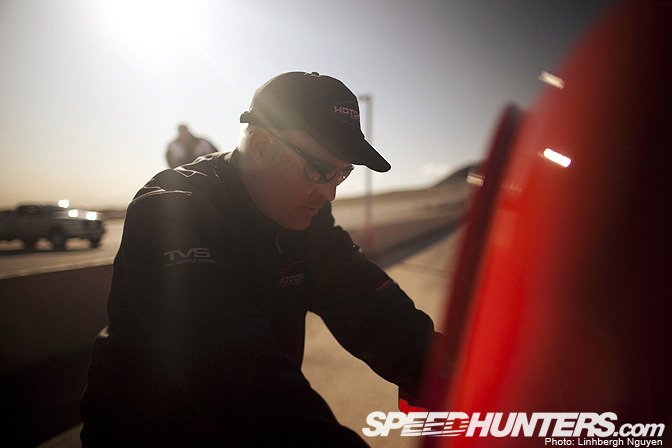 This is the Hotchkis man himself, John Hotchkis.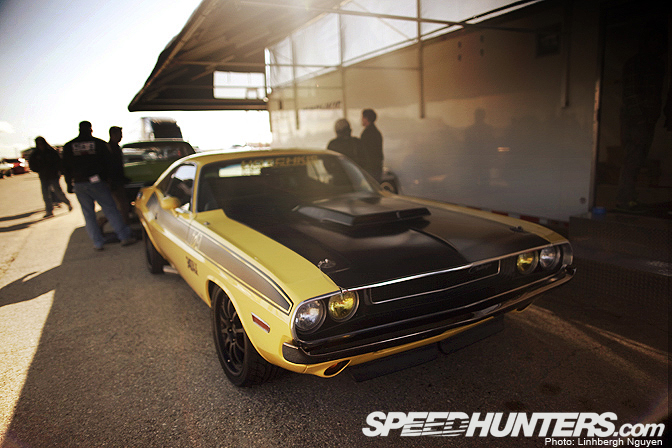 Out of all the cars that were at my disposal that day, this car was the biggest smile factory. Trust me when I say that this 1970 E-Max Dodge Challenger drives like a giant go-kart.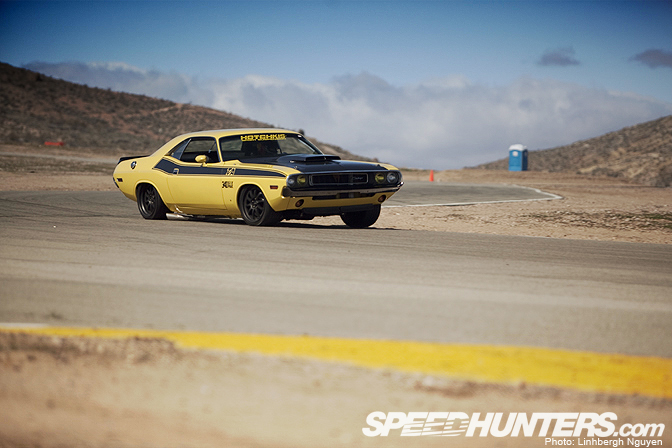 I pulled the car out out onto the track I reminded myself I had heavy, gurgling monster that was summoned through the power of my right foot. Pedal met with detroit metal and the noise that roared from the car tickled and pleased the deepest and most primeval instincts. The first turn was soon upon me and my ignorant gear head stereotype bubbled up: American muscle dating an apex? No. Effin'. Way.
I gently eased the road side yacht into the corner thinking that this it will roll harder a wounded Ewok down a forested hill in Endor. I was wrong. There was no roll.
Completely astonished and impressed, I entered the next set of corners with added bravery and confidence. This car is a goddamn go-kart with a detroit V8 thundering it. Simple as that.
My poor cheeks were burning from me smiling so much. This driving this car does that to you. It makes you feel like a five year old playing with your Hot Wheels.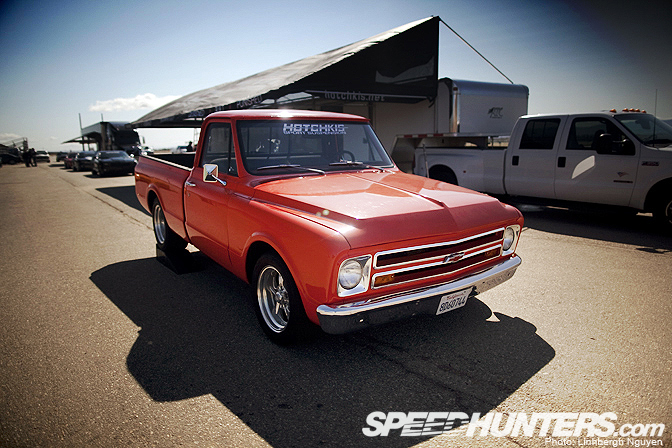 This Chevy C-10 truck sported NASCAR suspension. It seemed like quite a handfull still as I witnessed the driver spin out a few times out on the track.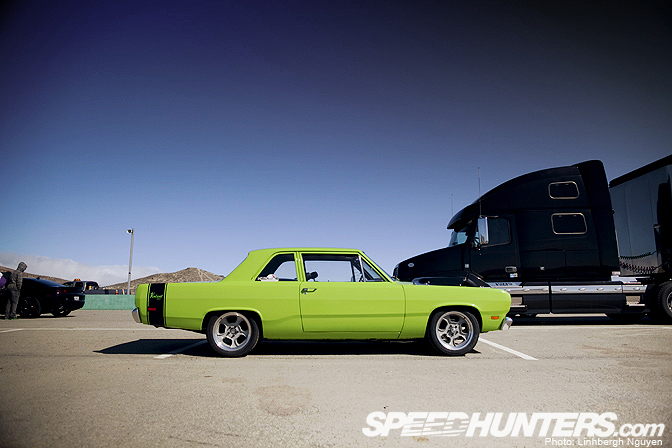 I just love the green paint that this 1969 Plymouth Valiant has….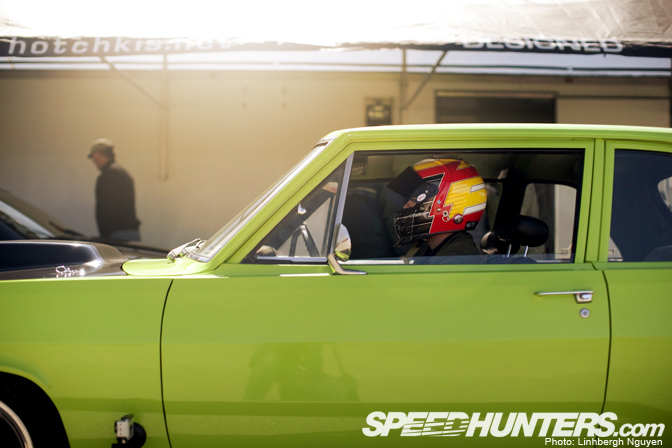 Just a year ago, this car was completely stock. They brought it out to see just how much the upgraded suspension components actually improved the car overall.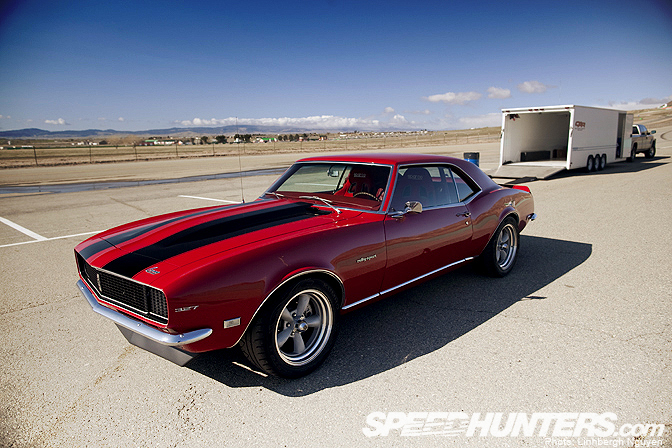 A Hotchkis customer brought out this immaculate example of a '68 Camaro RS.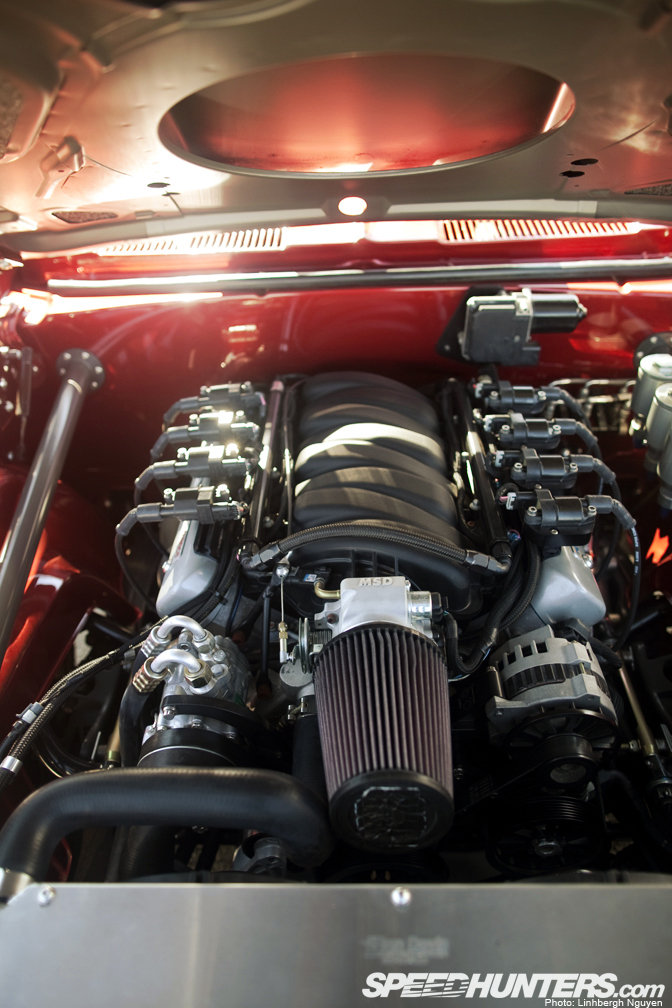 The original motor was swapped out for this LSx.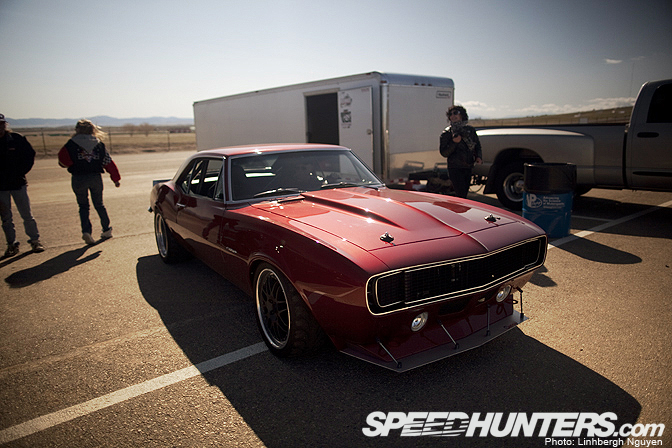 My personal favorite Camaro of the day, another Hotchkis customer's car, was this candy red '67 RS. The color of the paint, the wheel choice and the aggressive front splitter all equated to a car that just oozed baddass. Imagine Gene Hackman plowing through downtown New York City in this car rather than the infamous 1971 Pontiac LeMans. The classic film could be ruined or it would just tickle those testosterone hormones even more.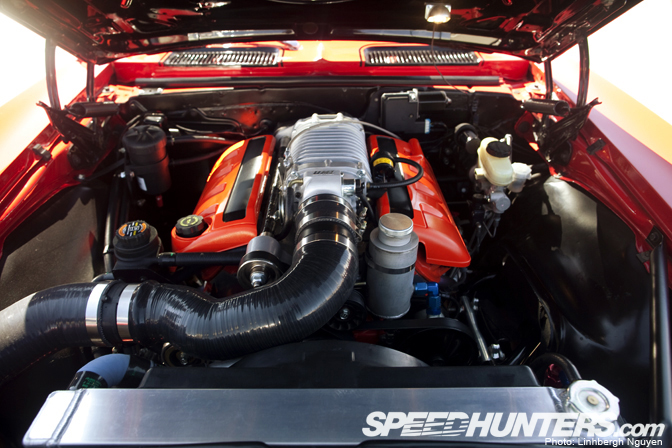 The Candy Red Camaro wasn't all looks of course. It contained Hotchkis suspension components and this super charged LSx!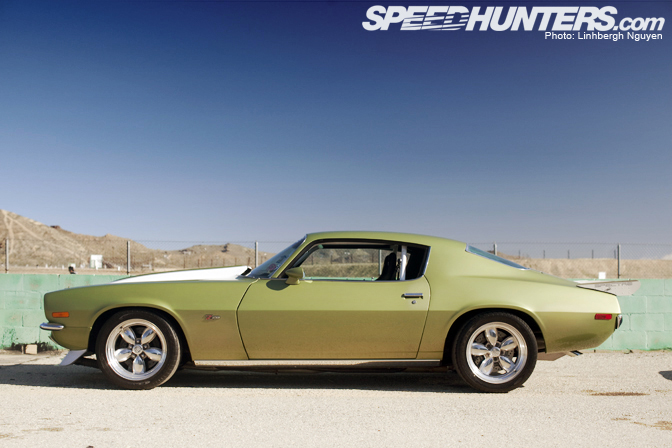 Hotchkis also invited their good friends at Spectre Performance to come out and bring their toys to play also. And since we're on the topic of Camaros check out this second generation that Spectre brought out. The green isn't as flamboyant as the Valiant's, but its still quite flattering to the eye.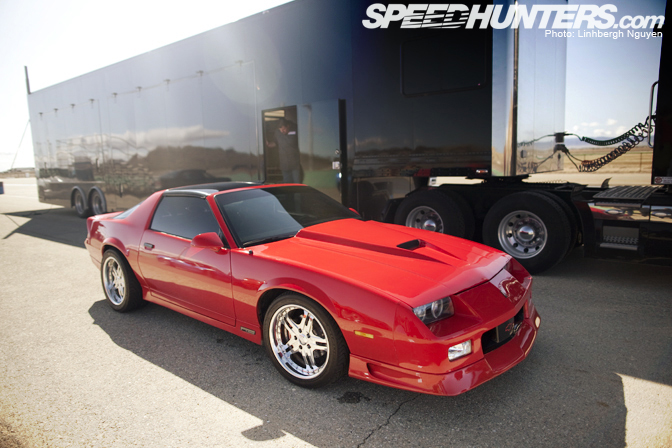 The guys at Hotchkis wanted to see all the generations of Camaro out on the track, so they also invited another customer of theirs that had a third gen with an LS1. This was the owners first ever track day. He mentioned that he's generally a straight line sort of fellow.
Notice the BMW E36 headlight conversion, pretty cool!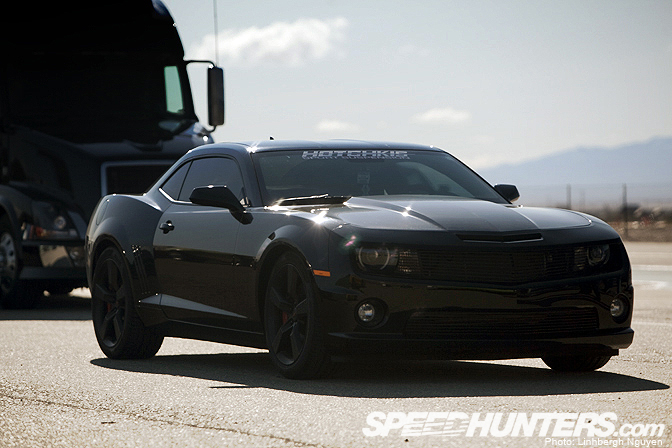 Then Michael Knight showed up with "KITT"…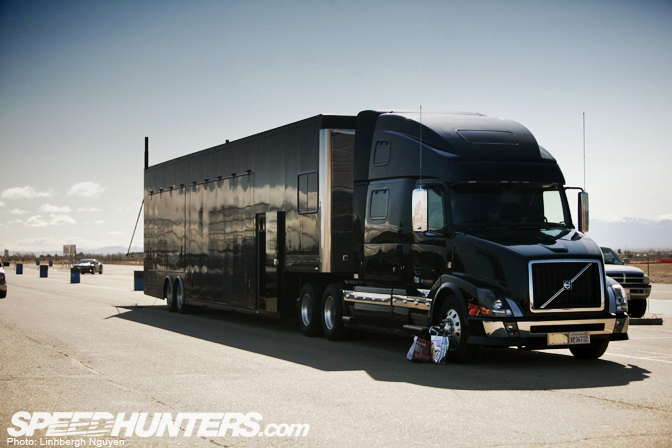 …followed by Garthe Knight and "Goliath."
Actually, I lied. The all black 2010 Camaro is another Hotchkis customer car, and the truck s Spectre Performance's brand spankin' new rig.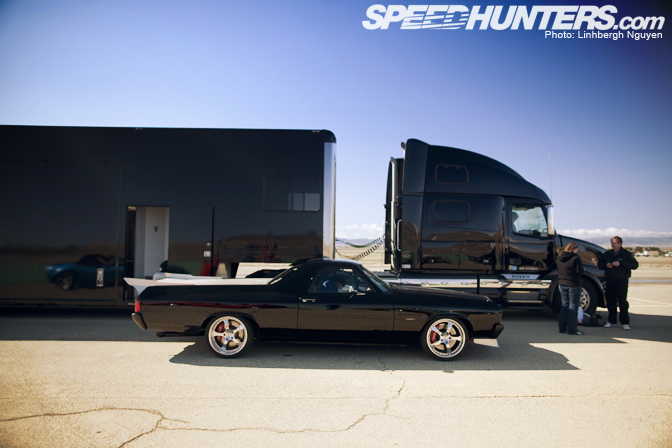 Spectre also brought out this loon-mobile. This El Camino mid-engined and sports an LS7. There's no way I would even dare to step into that car to drive it out on the track!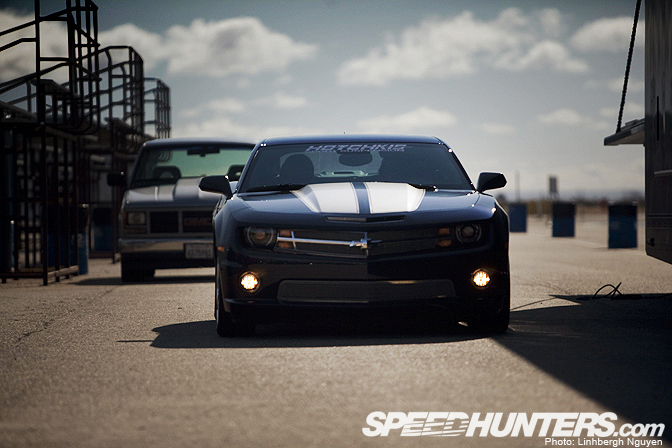 As I was photographing the all black Camaro, another 2010 pulls up.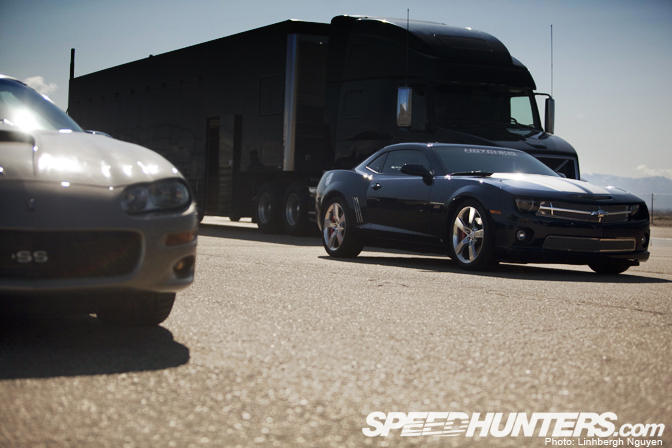 I instantly fell in love with this one. The blue looked fantastic under the California Sun and the stripes spiced up the car with added contrast. Fifth generation Camaros look ridiculously huge when they're stock, but when they have a lower stance like this one, it just transforms it to a ridiculously huge badass.
It's amazing what a slight drop does to a car aesthetically.
The owner of the Camaro above looks just as grizzled and badass as his car.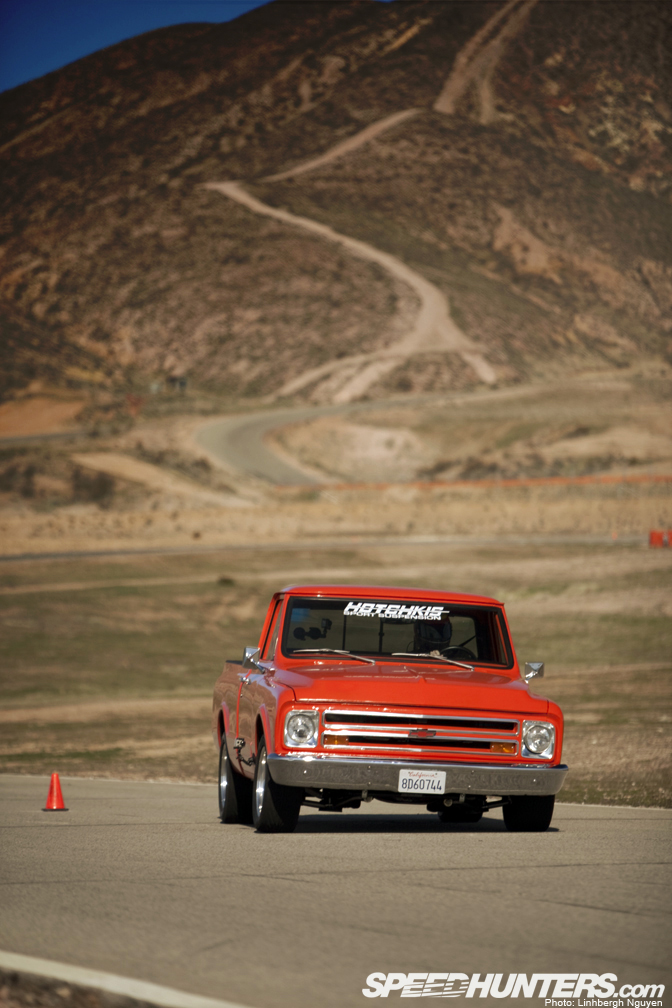 With car introductions out of the way, we headed onto the track! The C-10 pickup was the first to go out.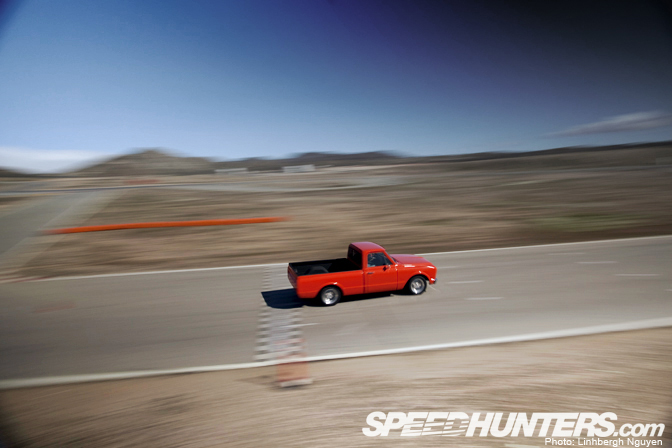 The front straight was used during the early part of the day for testing cars on a slalom.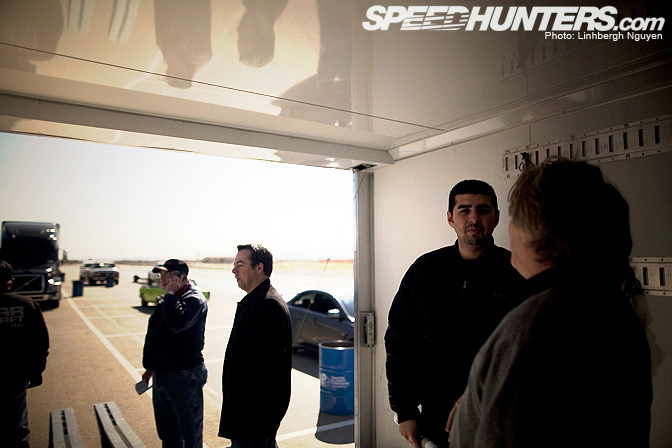 Throughout the day, the chilly weather and wind was just relentless. Many of us saw refuge in the Hotchkis rig.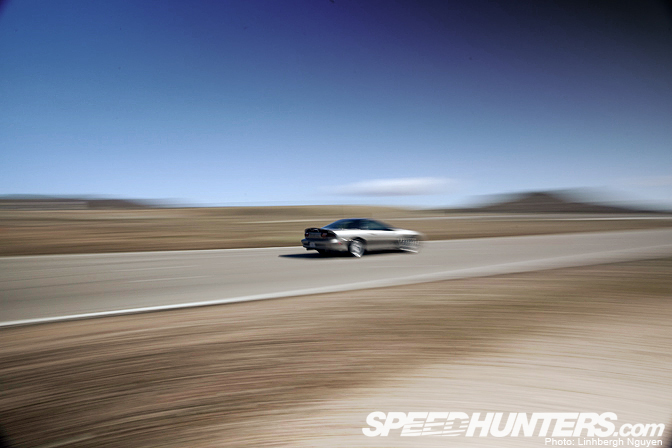 This fourth generation Camaro SS was one of my favorite cars to drive that day. It was forgiving, tail happy and I felt the most comfortable driving it.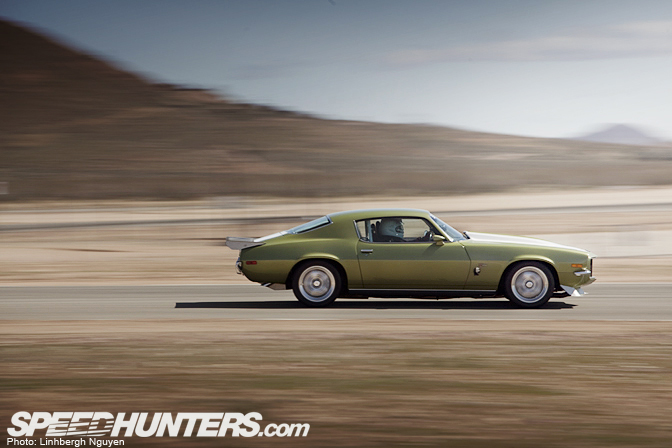 The Spectre Camaro looked fantastic out on the track.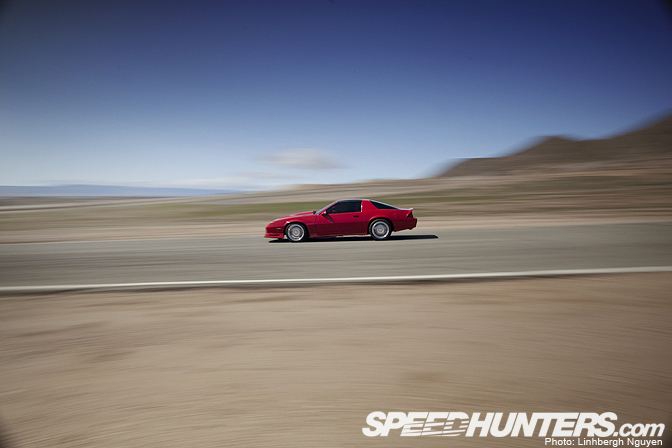 Being the LS1 third gen Camaro's first track day, the owner was a bit hesitant. As he racked up the number of laps, so he added confidence to his driving. Towards the end of the day, this straight line racer got bit by the road racing bug. Next on to get item on his list? Hotchkis sway bars.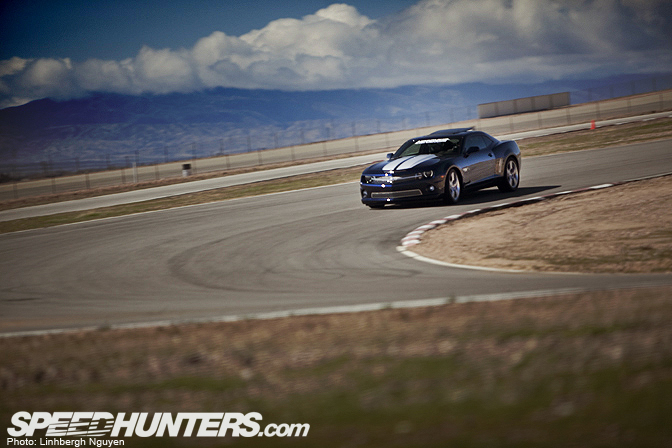 Let me indulge you in some track side eye candy, starting with the blue 2010 Camaro.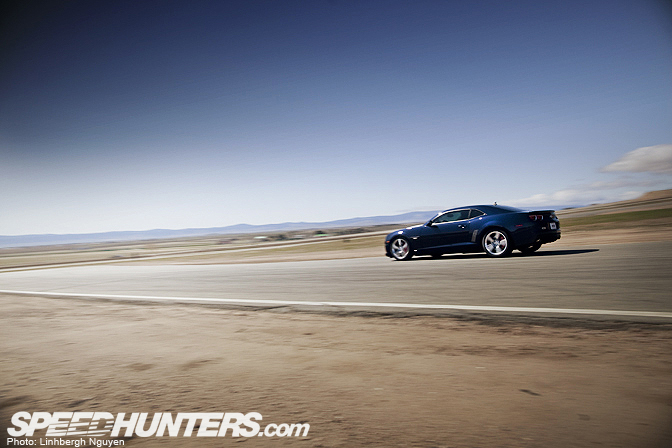 It looked fantastic out on the track.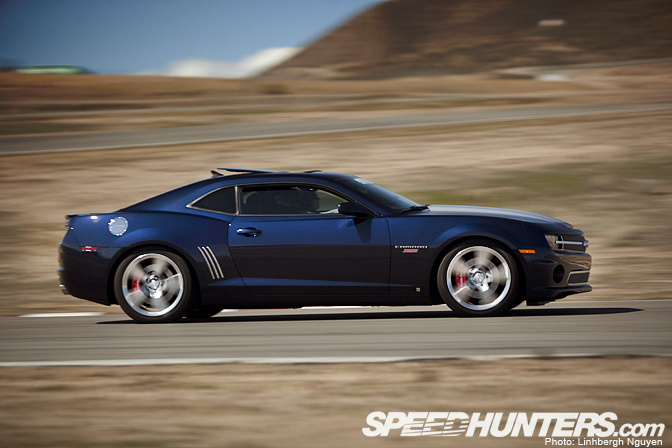 If I was to have a Camaro of this generation, it would have to be this dark blue.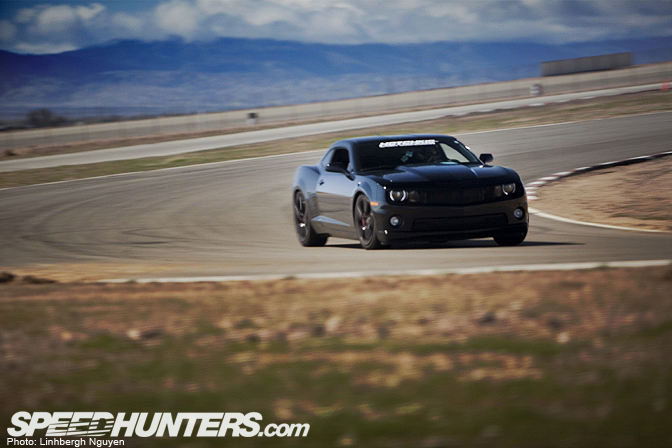 Even Knight Rider made it out on track and looking as ridiculously badass as ever.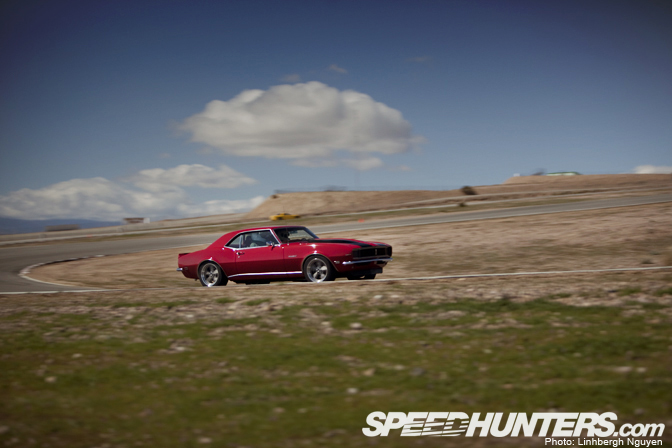 I'm so used to seeing late model imports scream around the Streets of Willow, it was a nice change to see so much thundering Detroit metal on track instead.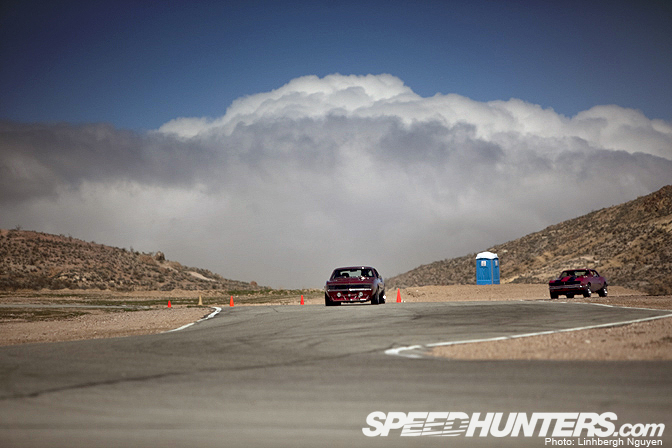 Both '67 and '68 RS Camaros dueled with each other for most of the day. Each car passing the other over and over. It was a fantastic gladiatorial spectacle. The candy red '67 swallowed up the straights with its super charger. The '68 showed that it wasn't just power that wins the day but a large dose of bravery (and balls).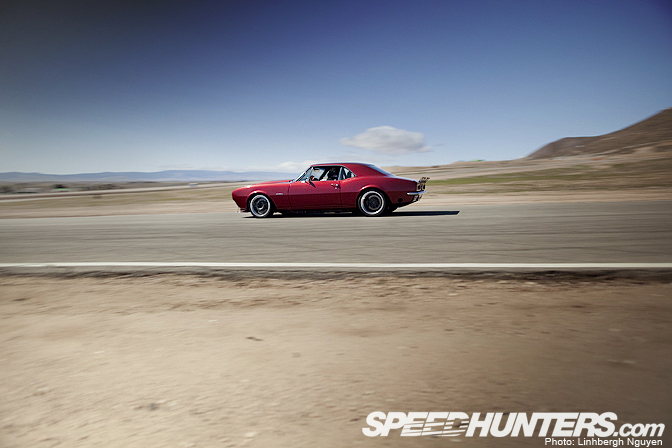 The candy red '67 RS looking quite pretty.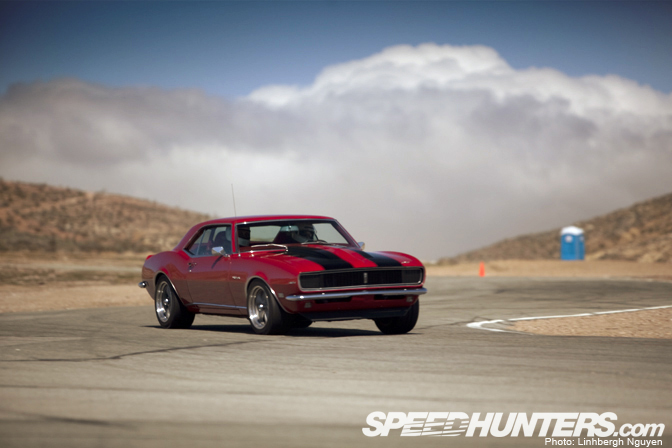 All these cars corner surprisingly flat. But I should've known already since Hotchkis is all about suspension!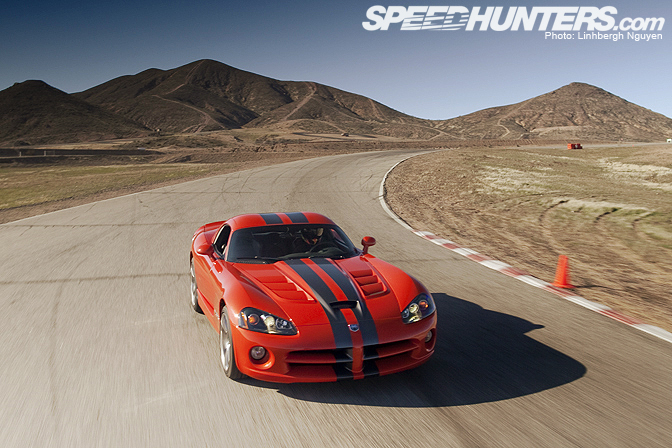 Here's a bit of Mopar eye candy.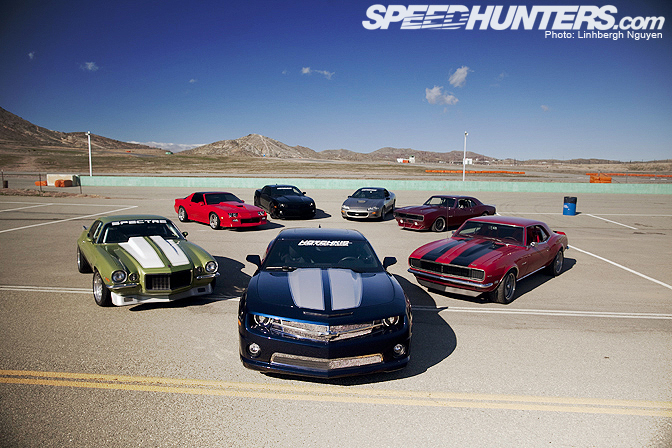 Seeing how we had all generations of Camaro at the track, we just had to organize a photo of them all together.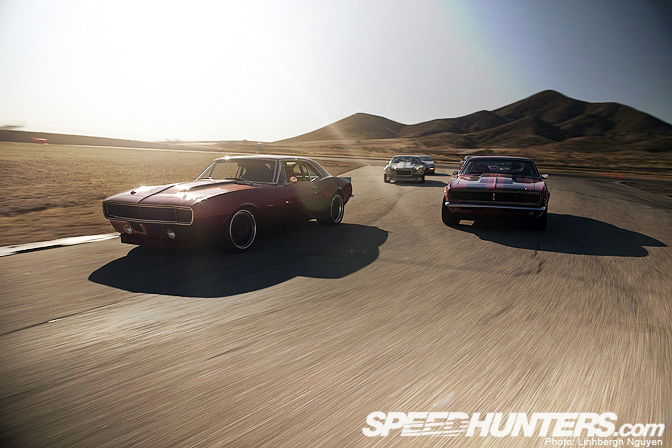 As the sun started its routine decent into the west, we took all the Camaros around the track for a few snaps. What a way to end a day, no?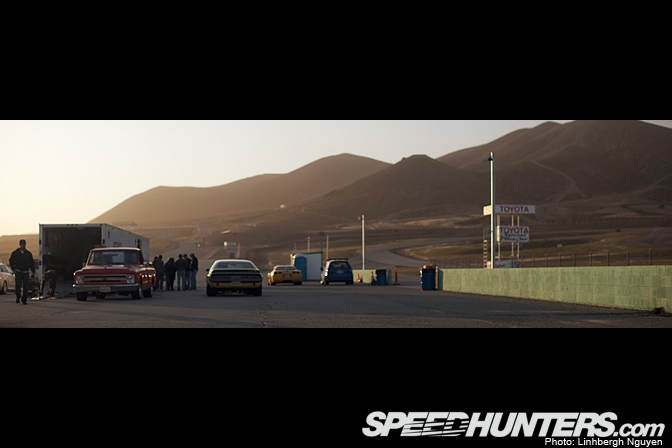 It was a great experience to be able to drive so many different cars around the track. It was equally great opportunity that it broke me out of my safety cocoon of late model imports. I've always loved American muscle cars, but I've never had an opportunity to fully appreciate them until that day. But then again, I should've already known this. Speedhunters is never about playing it safe. We love everything under the gigantic umbrella of the automobile world –including the controversial to the unpopular. I'm feel humbled that I had an opportunity to broaden my automotive umbrella. I'd like to thank Hotchkis Suspension and Spectre Performance for such warm hospitality on such a brisk and chilly day.
-Linhbergh