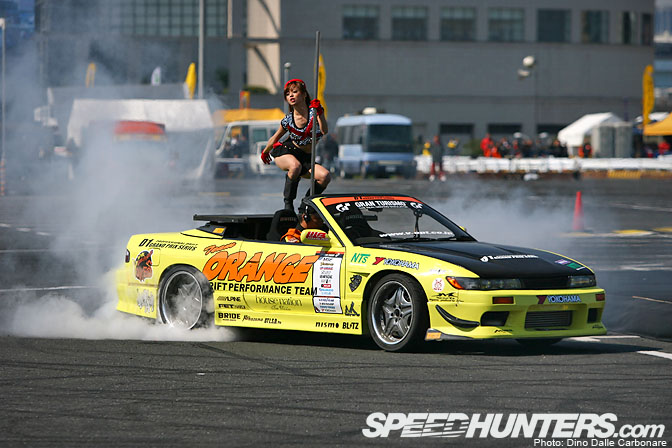 After checking out some action from Odaiba in the previous post it's time now to take a look behind the scenes at what helps make D1 the spectacle it has become. Organizers did a great job this year of bridging the action together with demonstration runs out on track and various shows which included some singing from up-and-coming artists as well as tons of entertainment in the paddock. The pit walk remains the most popular part of the day as fans can get closer to the cars, take pictures and grab autographs from their favorite drivers. For me it was Team Orange's show that really grabbed my attention, you really can't beat skimpily dressed women dancing around drifting cars! Kuma, in the picture above, even had his own pole-dace show going on on the back of the Silvia cabriolet!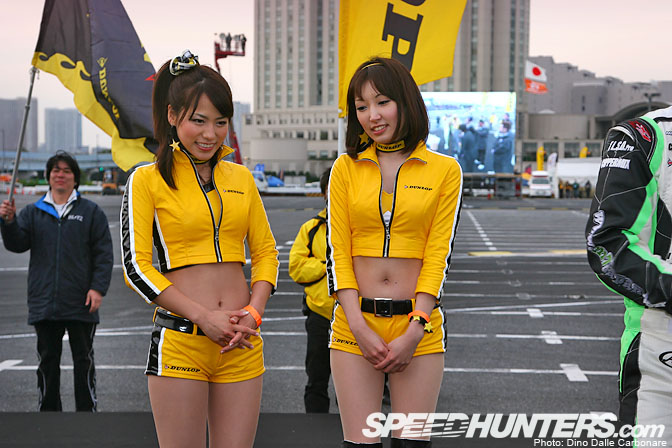 The Dunlop girls were the ones attracting most of the attention. Here they are looking very happy as Imamura takes the first win for Dunlop in 2010 after switching over from Bridgestone.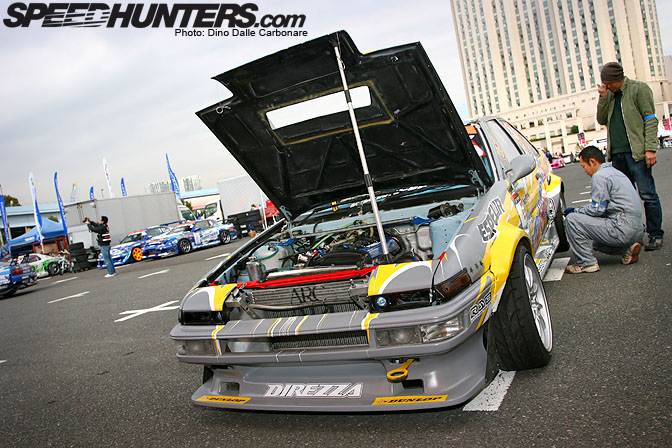 The pits are where I like to spend a lot of time during the first rounds of the year, nosing around cars and checking out the new modifications. Hibino's AE86 looks so good when sitting in the pits but when in action it always seems to lift the front end under power giving it that rally-car stance a few of you were complaining about.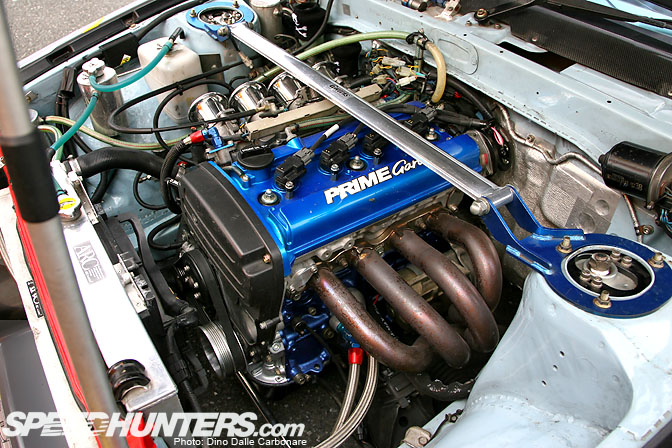 The fully built 4AG pushes out 370 HP thanks to a hell of a lot of nitrous oxide. There are no less than three tanks in his car, two behind the front seats and one in the corner of the trunk. He had no problem keeping up with Saito's monster powered JZX100, so the little 4AG is still up to the job!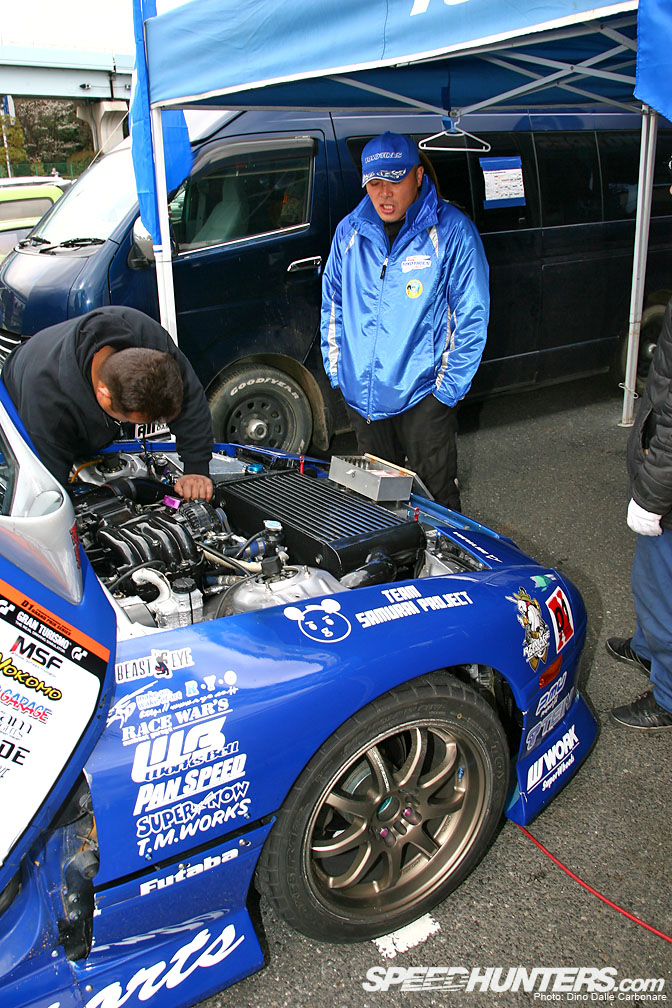 Here is Takahiro Imamura, aka Drift Samurai, checking over his FC before the first round of qualifying got going early in the morning. I love how all of his 13B has been painted black, as well as the intercooler and intake plenum.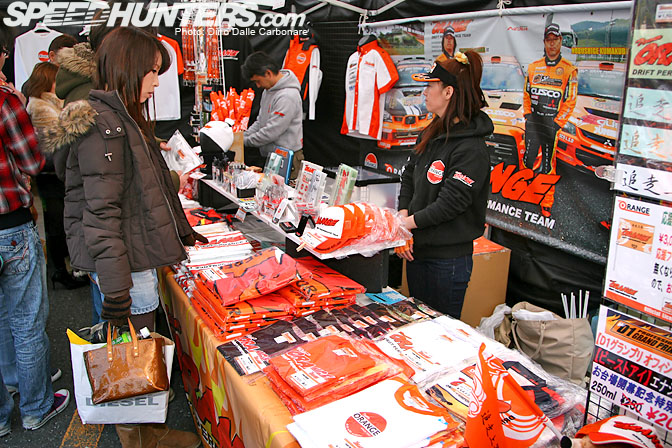 The Japanese love their souvenirs and there was definitely no shortage of apparel shops in the paddock. I stopped over at the Team Orange booth to see if I could find something but as ever sizes in Japan are a little on the small side. Depressed I couldn't find anything I made my way over…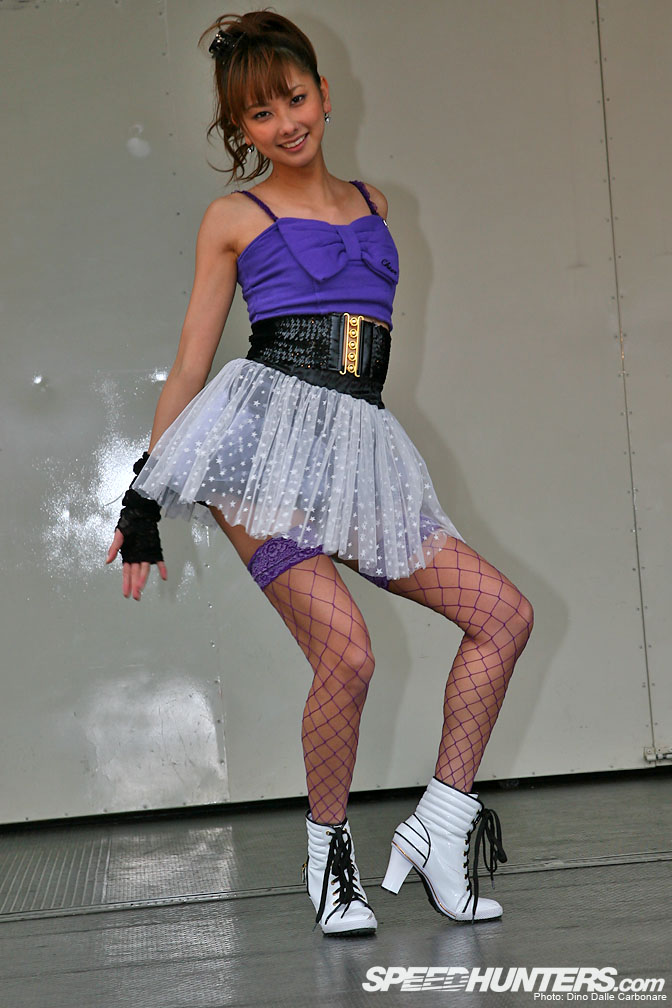 …to the stage area where a few girls were dancing to some para-para type music. This cheered me up in no time!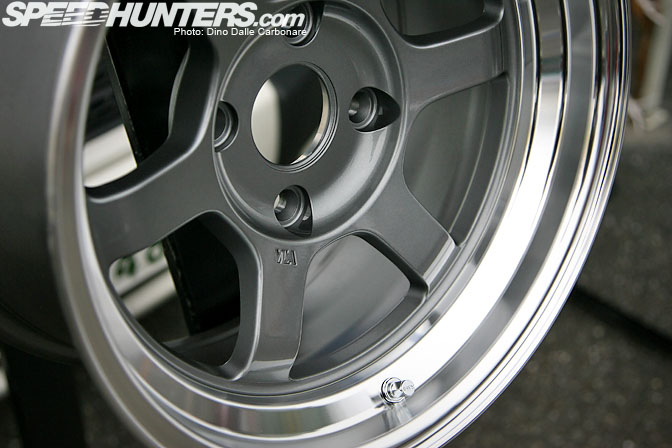 Finally managed to get a good look at the TE37V on display over at Rays, loving this silver example with diamond cut lip. Can't wait to see these fitted to more vintage JDM machinery.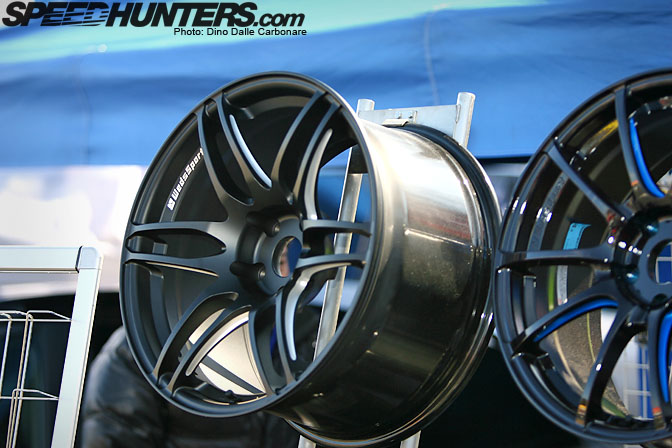 But it has to be these brand new Weds SA-66M split-6 spoke wheels that grabbed my attention the most. I can already see a nice set of these matte black ones fitted to my Legacy wagon. 19-inch would sit so well! They are not on sale yet though…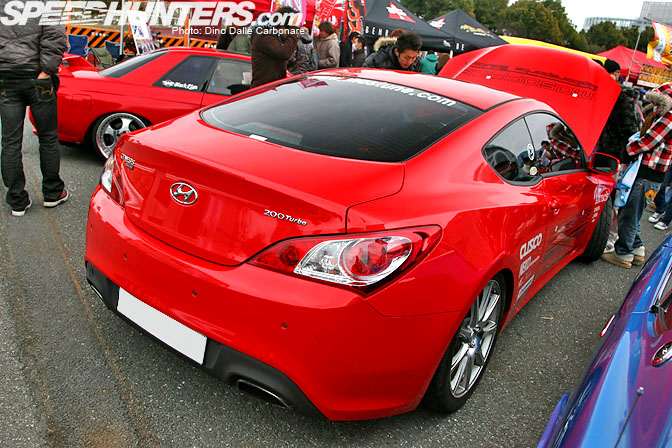 The lack of FR cars from Nissan and Toyota has led to people taking matters into their own hands. The Hyundai Genesis Coupe is now being imported into Japan by the guys at Genesis Japan. The red car on display next to the Doriten and G-Works stands was attracting a massive amount of attention!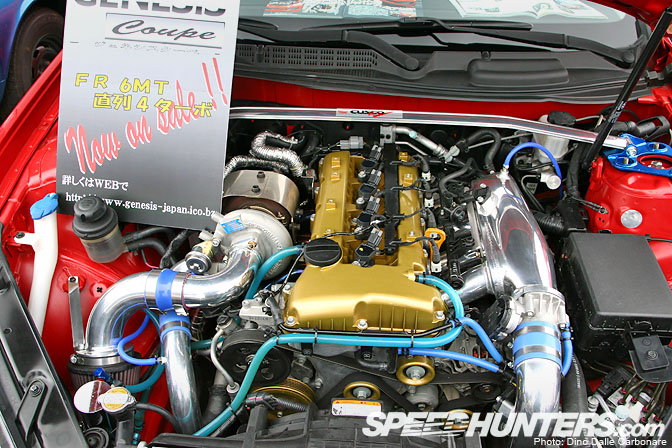 I didn't manage to find out the price of the car as there are so many options available, but lots of tuning shops are participating and cars will be available through places like Kazama Auto and Top Secret.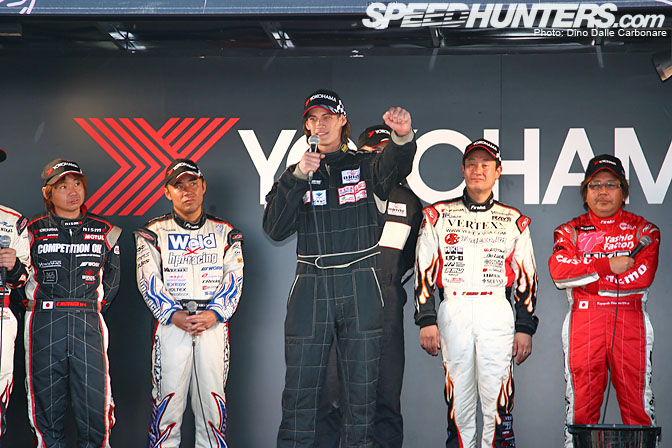 Over in the Yokohama area I spotted Forrest Wang playing jan-ken-pon, or rock-paper-scissors, with the crowd, a cool way to give presents away I thought.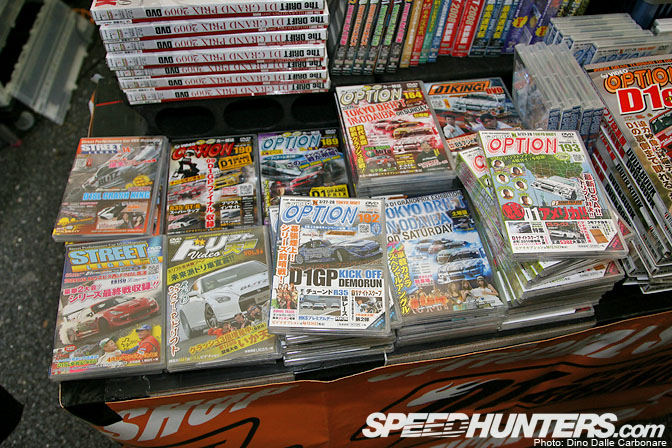 Check out the stack of Option and Doriten DVDs for sale in the D1 tent…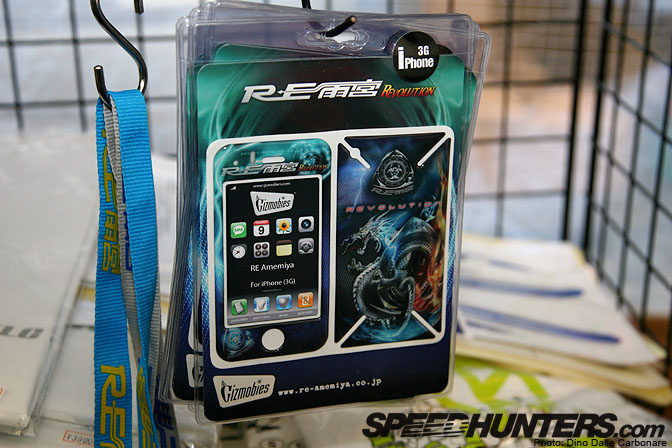 …but the coolest gadget I saw was the RE-Amemiya iPhone cover!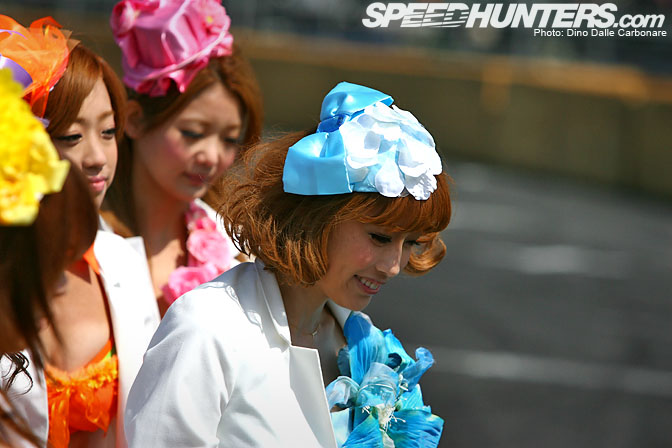 Colorful girls!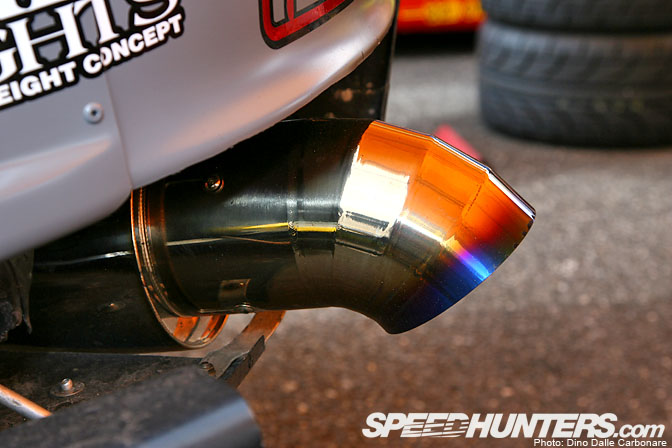 All teams have to bolt on downward facing exhaust outlets for Odaiba, but Droo-P took this one step further by welding a titanium add-on to the existing exhaust. Nice, however I seriously doubt this style will catch on for the street, I hardly see any RE-Amemiya dolphin-tail mufflers fitted to RX-7s any more.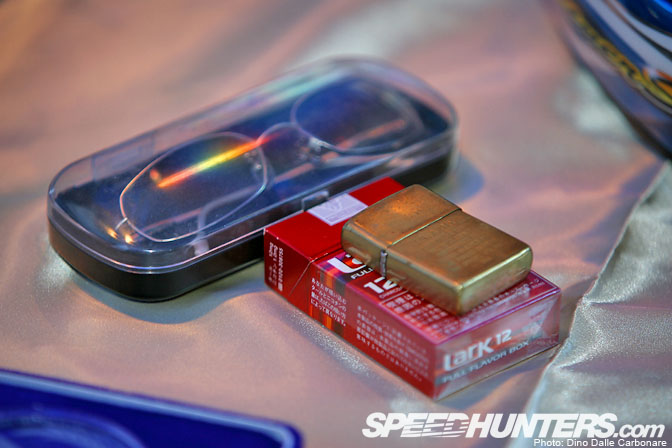 To end the Saturday Round 1 coverage let's revisit Kuroi's memorial area where some stuff of his was on display like his glasses, his Zippo lighter and his favorite Lark smokes…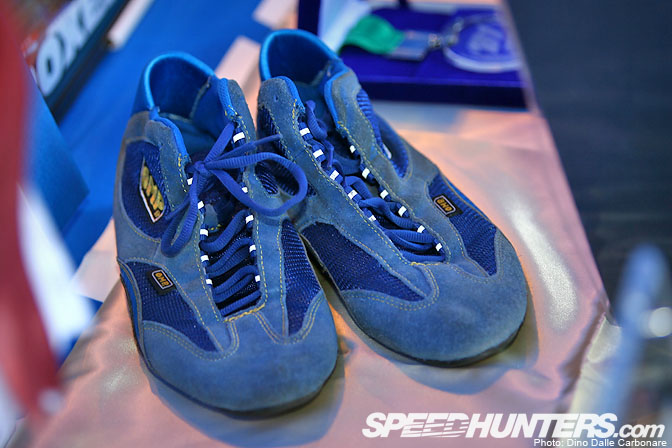 …along with his OMP driving shoes…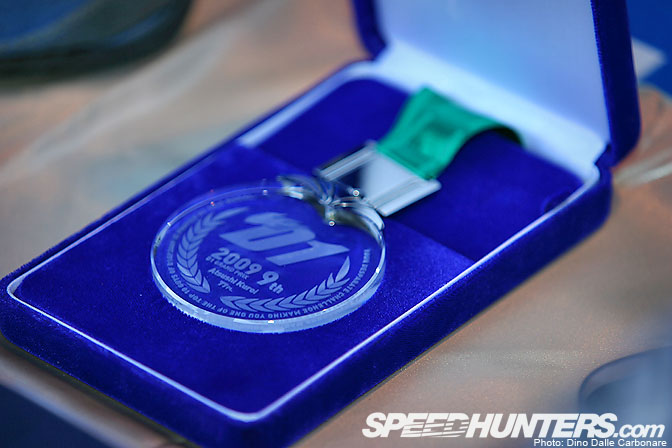 …and the award he received last year for coming 9th in the 2009 championship. 
Coming up next is a look at Sunday's All Star match where the turn out was just as impressive, with probably more extreme action than during the Round 1 competition. All in the name of entertainment as they say!
-Dino Dalle Carbonare