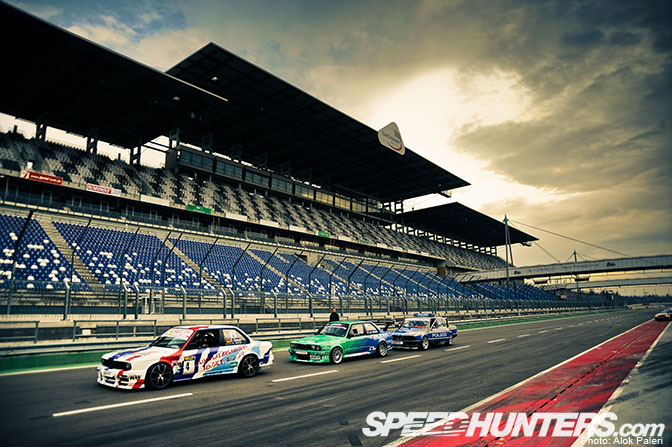 Following the rather long winter break, it is that time of the year again when the air is about to be filled with the thick smell of burnt rubber. The International Drift Series 2010 season opener is a little over two weeks from now, and most of the drivers are keeping their cards close to the chest about the details of their 2010 builds.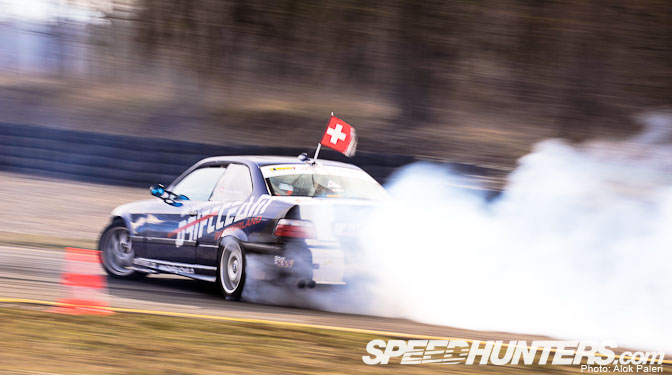 Having finished another third championship ranking in the 2009
season, Driftteam Switzerland are all set to do better this season. I
caught Benno Frieden testing his new airbox at the French track Anneau
du Rhin on Thursday.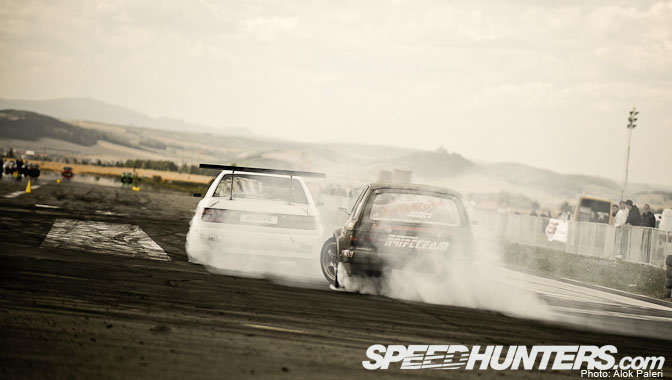 Benno's teammates Michael Sahli who drove the season in an ultralight
canvas roof-ed camo BMW E30 "M336i" estate in the 2009 season and
finishing second overall in the championship ranking is bringing back
his car for the new season, but with a new look. Here's he's battling
his teammate Florian Zimmermann at Alkersleben airstrip in Germany.
Florian drifts an Audi Quattro with a 3.6l Audi V8, little wonder for
someone who I'm told works for the Audi tuner ABT.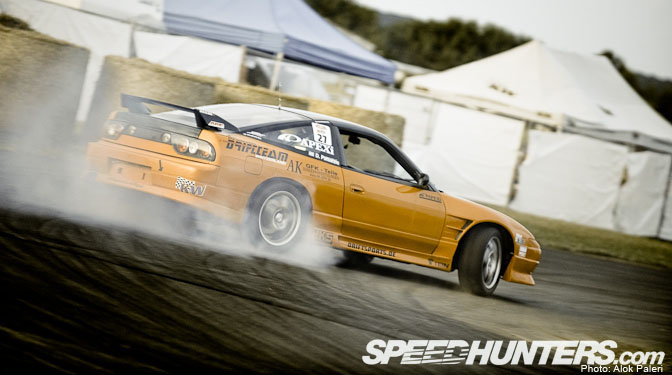 Another Driftteam Swizterland driver Dimitrios "Dimi" Patsatzis is back
this year in his Nissan S13. Dimi is one of the smokiest guys I know.
During practice sessions, it is almost impossible to get a clean shot of
the driver behind him.
The Falken drivers are back again this year. I met Lennard Wander at Nürburgring yesterday where we talked a little about his rebuilt S14A. He's managed to cut out 300 kilos of weight off the car during the winter. Shod with stretched 245 tires at the front and 265s at the back, this should be one of the cars to look for this season.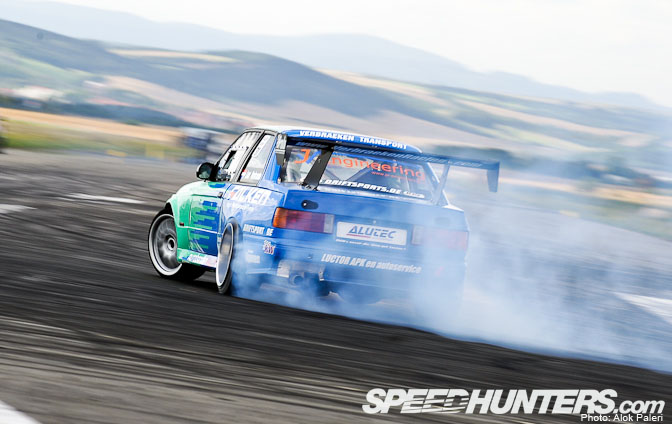 Lars Verbraeken is back this year as well, with a bizarre and questionable engine swap from his V8 to a Toyota 1JZ motor – something that's been met with dropped jaws. Lars told me he wasn't happy with the 400hp he had from the V8, so he is looking for an extra 100hp from this build. The question remains – will it sound better than the rude V8?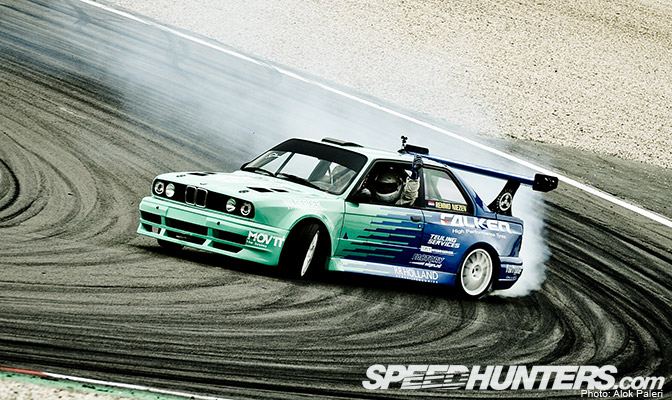 Remmo Niezen is also to be expected back in his wide body E30 that was featured by Ross alongside Lars' car last year.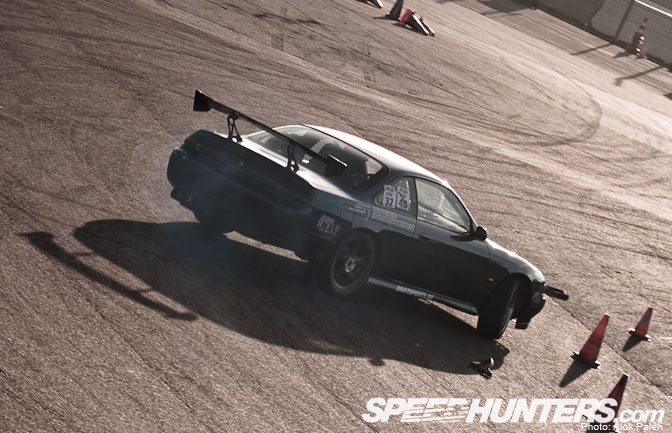 A change of format for this season of IDS means that drivers no longer need to register for an entire season in order to enter an event. This has attracted a lot of new faces, like Alain Thomet from Switzerland ,who competes very regularly in the French drift scene. He's going to drive in a few rounds of IDS this year.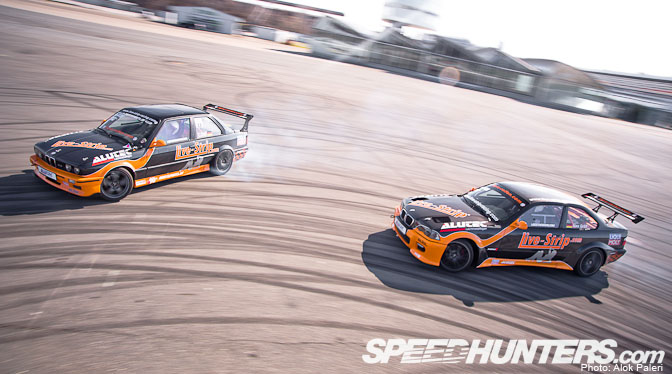 The drift couple – Alexander and Corinna Gräff have entered the field with two BMWs for this season – a 4.4l V8 powered E30 for Corinna and an E36 with an E46 front for Alex, putting out an estimated 320hp.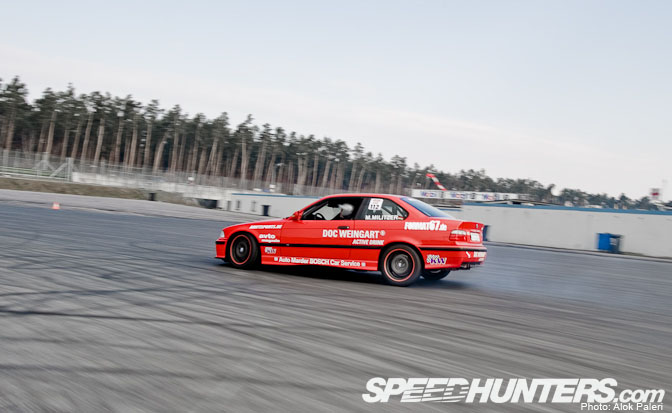 Yet another BMW in the running is Markus Miitzer in his E36 M3 that's still street legal! Last year we drove around 1000km to Slovenia, drifted for two days and drove back all in the same car!
Representing Speed Industries – a trackday group – is Tobias Welti, a yet another Swiss entry in the field. He drove the entire 2009 season with 138hp. Seeing him battle some of the big horsepower cars has always been a delight. Tobias posting some of the fastest entries and almost completely full throttle runs. He's currently swapping his motor for a Honda S2000 lump, expected to give him an estimated 80 percent power upgrade.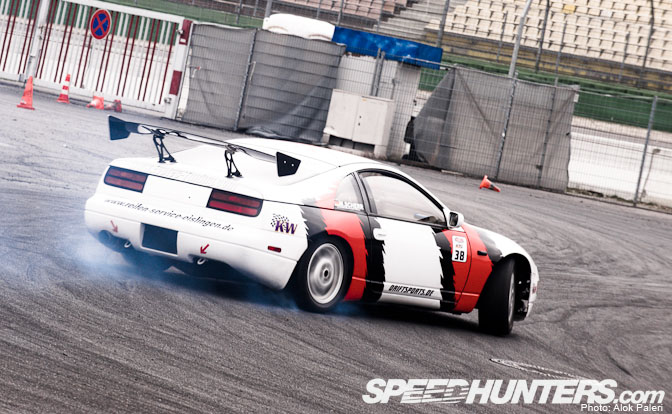 Michael Scherr from Germany is also currently at work on his Nissan 300ZX tweaking the engine and the car setup until its eyes pop.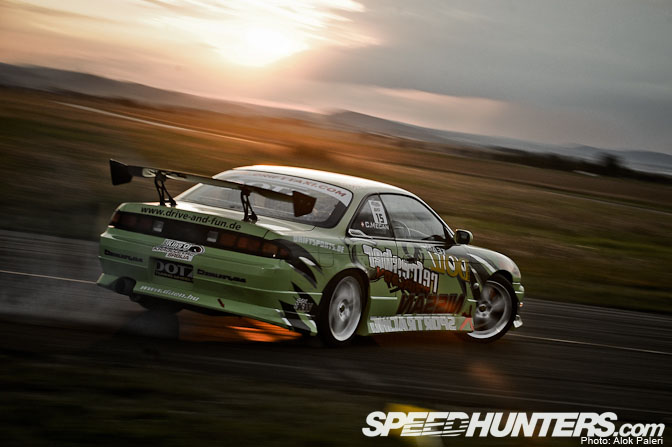 A yet another Swiss driver, this time a woman at that, is Carola Mecan. Carola drove the 2009 in the Dotz Wheels drift team but in a move that caught the drift scene by surprise, she moved to Alutec wheels drift team for the 2010 season. Her lime-green S14 dubbed "Refresher" is reputedly the most fan-photographed car in 2009.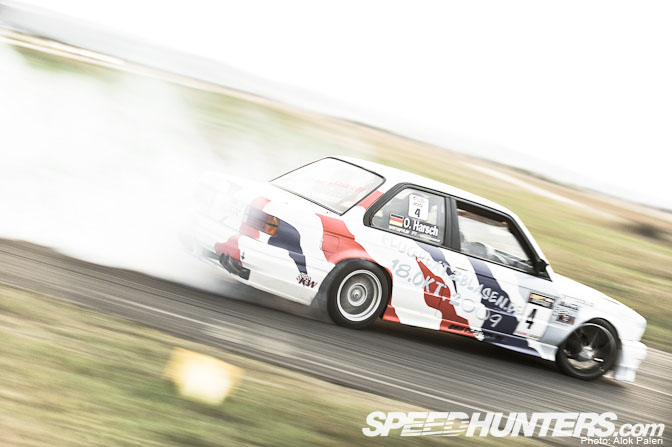 German hillclimb racer-turned-drifter Oliver Harsch is also preparing his BMW E30 with an estimated 300hp will be back this year with a fresh sponsorship deal from Motorex oils. Will the car be competitive enough to run with some of the crazy builds that are going on? I guess we'll have to wait and see.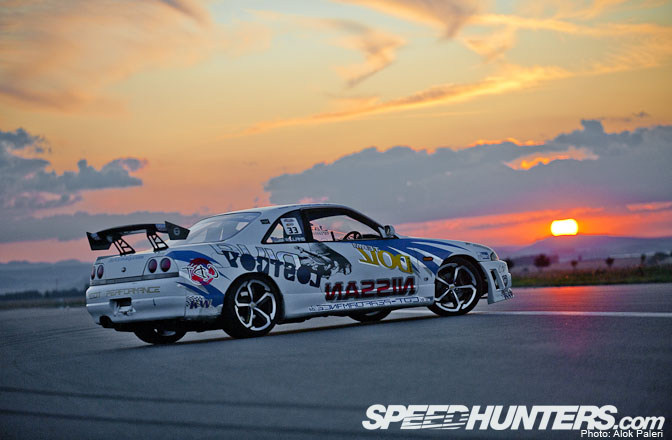 The only American drifting professionally in mainland Europe and one of the maddest guys I know, Jazz "Lostboy" Williams from California just recently landed Federal Tire sponsorship and his R33 Skyline GTST is undergoing a massive rebuild and rebranding as I write this.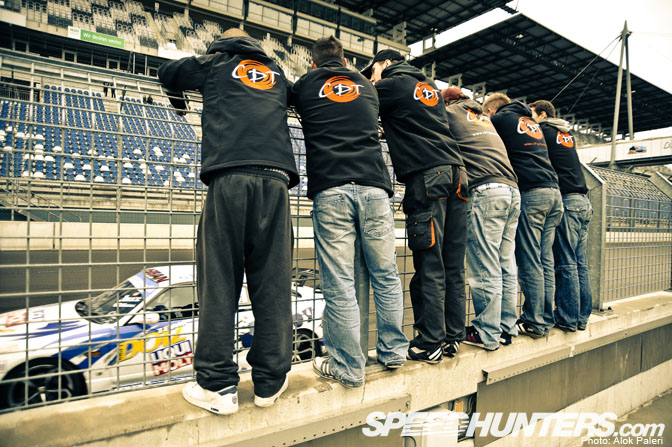 His team is one of the coolest I know, just a bunch of friends who do what they love. I dug up this picture from last year at the Eurospeedway Lausitz.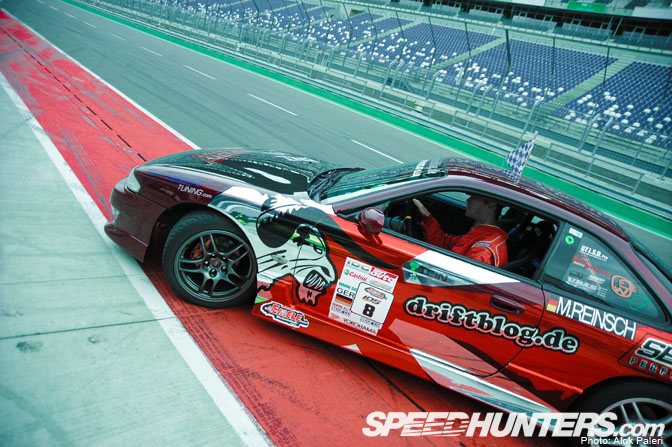 Here's Martin "TurboGrinch" Reinsch from Germany, a yet another super-smoky drifter. I am hoping to see more action from him this year.
As i write this, I just received a call from Vanessa from IDS. i have been told that a few of the Team Twisted drifters from the UK will be coming along this year.
 Is International Drift Series about to get a whole lot more International? I sure hope so!
International Drift Series dates:
Pro Search: April 10 – 11
Round 1 : May 12 – 14, Nürburgring
Round 2 : June 3 – 6, Oschersleben
Round 3 : July 16 – 18, Nürburgring
Round 4 : August 21 – 22, Augsburg
Round 5 : September 18 – 19, Black Forest 
Round 6 : October 10, Eurospeedway Lausitz
Season Finale, European Championship : October 29 – 31, Nürburgring
-Alok Paleri