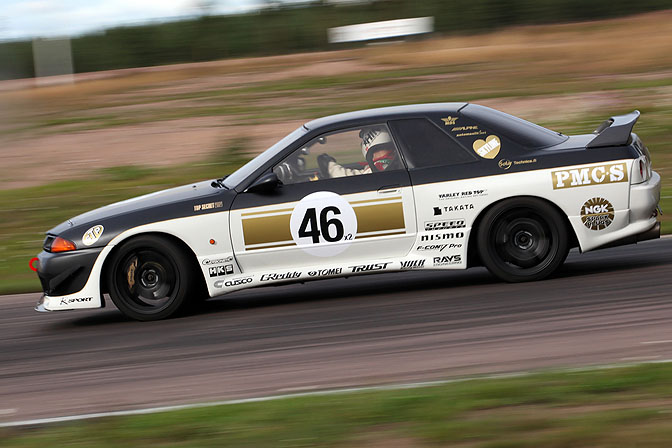 Hello Sepeedhunters! My name is Samui Salokangas and I wanted to show you all my ongoing project which I've named "Skysuka."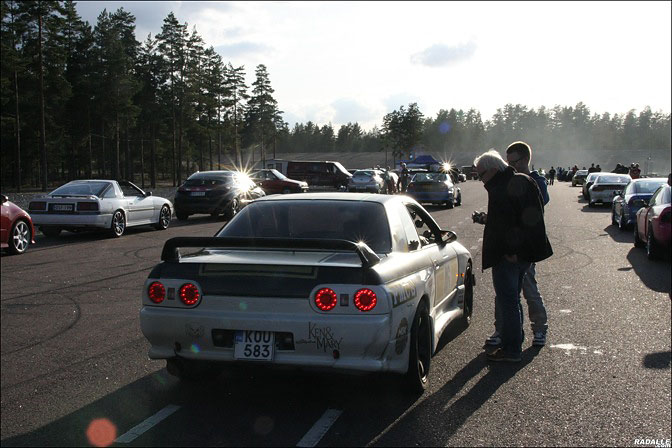 "Skysuka" is a tribute to Nissan Skyline racing history and the theme consists of two-tone retro-style paint with gold pinstripes and KGC10 Hakosuka-style racing graphics. It also has a few Ken & Mary logos and umbrellas as well.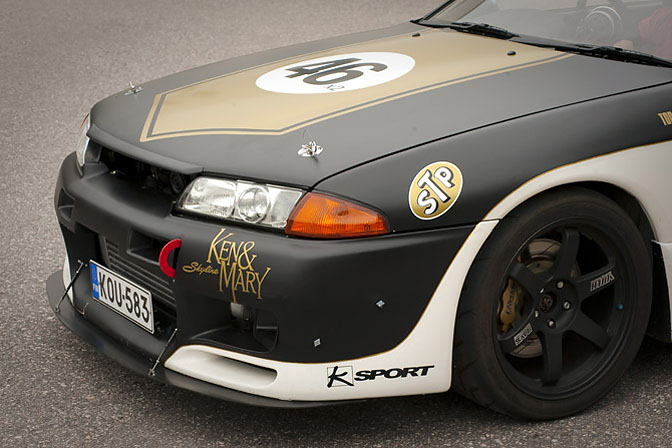 The number 46 on the front and sides comes from the car's year model, ´92 divided by two. Flat black, shiny carbon and light gray add contrast and give an old feel. The front needed real functional aero, not just something for looks. The bodykit is a genuine Trust Gracer item from Japan while the front grille was removed and a JDM tow-hook added. The hand-made thick carbon splitter will eventually be extended under the chassis. Carbon canards are attached when the car is on track. The wheels were originally bronze Volk Racing TE37 9,5 x 18", but they were painted flat black for the sake of the retro theme. I bought OEM Volk stickers from eBay and attached them after painting. Tires in the pics are Falken FK452  255/35/18, but they were replaced by 265/35/18 Toyo´s R888 for track use. Greddy 6-pot brakes were fitted at the front with 330 mm discs and Ferodo DS2.11-racing pads. Huge racing air ducts are bringing fresh air to the brakes. I also fitted a Cusco Master Cylinder Brake stopper and used to have K-Sport adjustable coil-overs. Those are now sold and replaced with Nitron top-of-the-line race coil-overs. All suspension components are replaced with fully-adjustable Cusco, Whiteline and Driftwork items.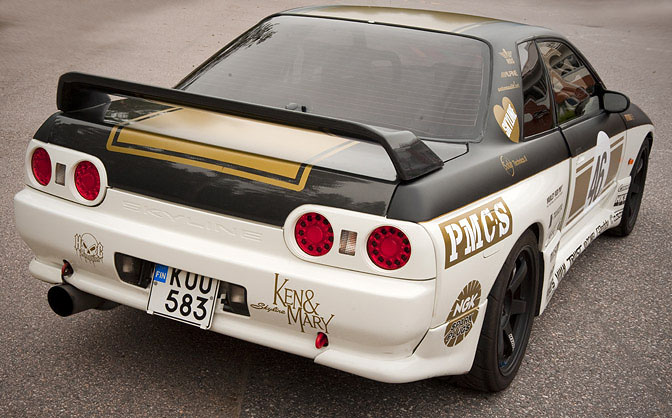 JDM Aero mirrors and Essex Racing LED rear lights give the car a bit different look. Rear and quarter windows are tinted black. OEM tow hooks in the back are just painted red, witch make them stand out nicely.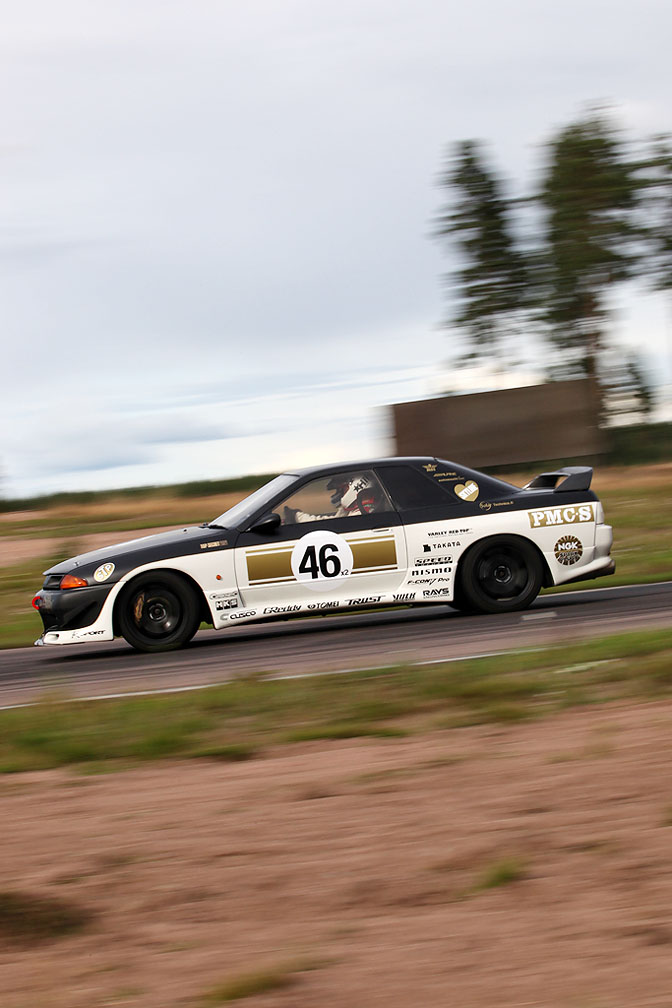 While racing the right front light is replaced with Tomei´s headlight air duct. These pictures are showing the car as it was during the 2009 season. It was built mainly for the street use, but was very heavy and not really that suitable for track. Still, it was the fastest Time Attack car in Finland (Club class). For a benchmark, it was 5-seconds faster per lap than a new Lamborghini Gallardo convertible.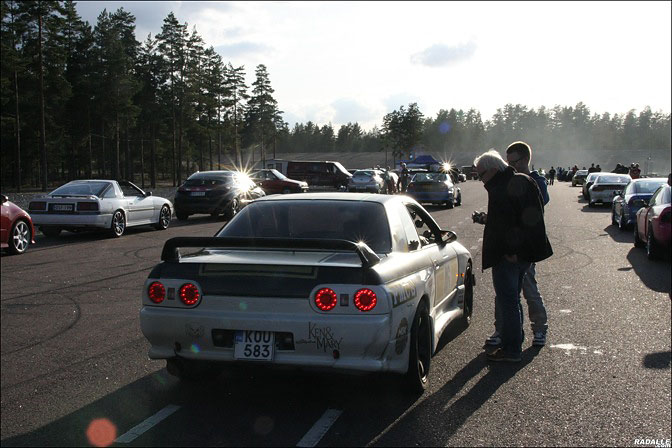 For the 2010 season it is being purpose built for Time Attack in the Competition class with full roll gage, but being still street legal in Finland.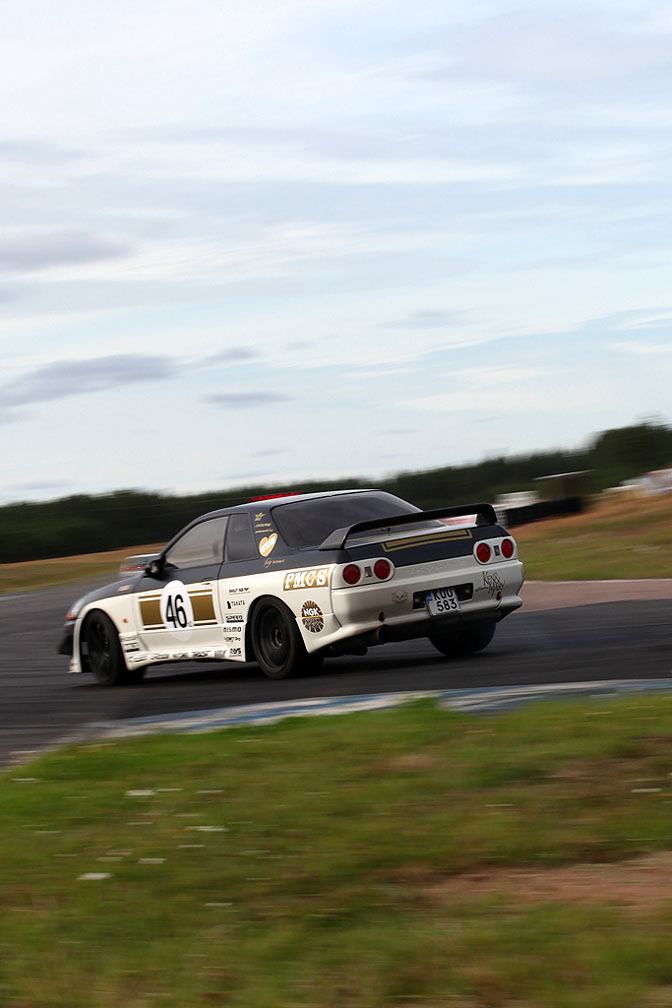 Some more track action.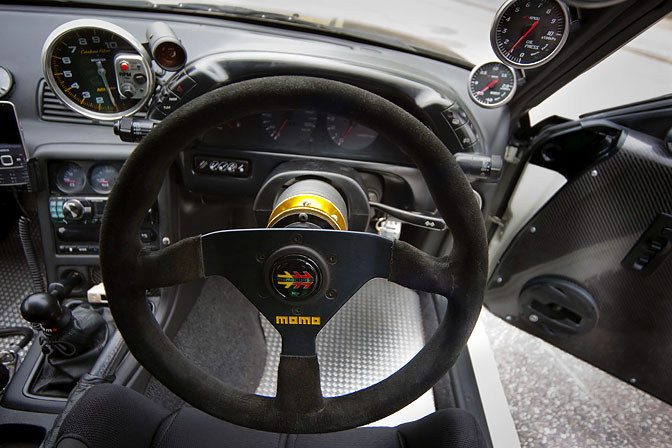 The Interior consists of a pair of Cobra Evolution S -racing seats with Takata-seatbelts. The Momo suede steering wheel is fitted onto a Works Bell RAPFIX GTC folding boss. The transferred heat from the transmission is disabled with a black Nismo Duracon shift knob, which is attached to a Cusco short shifter. Sparco Reflex pedals shine together with custom made aluminum mats. Door cards are custom made from carbon fiber. The Densel 320 km/h speedo cluster is barely covering the speed this car is capable of while the Autometer Monster Carbon rev counter and shift light became useless after I learned to drive the car the way it is supposed to: to the limiter all the time!! Apex´i digital oil pressure, water temp and boost gauges with PLX Devices AFR-unit make sure nothing bad happens. Last summer the car had full stereo consisting of Alpine CDE9880R-player, MDS GP4 amp, MDS GP800 amp, MDS 10" subwoofer, MDS 6´5" speakers, Blaupunkt indoor antenna and iPod Classic 60 GB. All audio was ditched after the shocking weight (1580kg/3483 lbs) made me perform bad in a drag racing event. Back then the time was a disappointing low 12´s but after the current mods and over a 200 kg weight loss, it´ll do high or mid 11´s easily. Skyline Racing Team´s goal is to be the fastest street legal track car in Finland in 2010.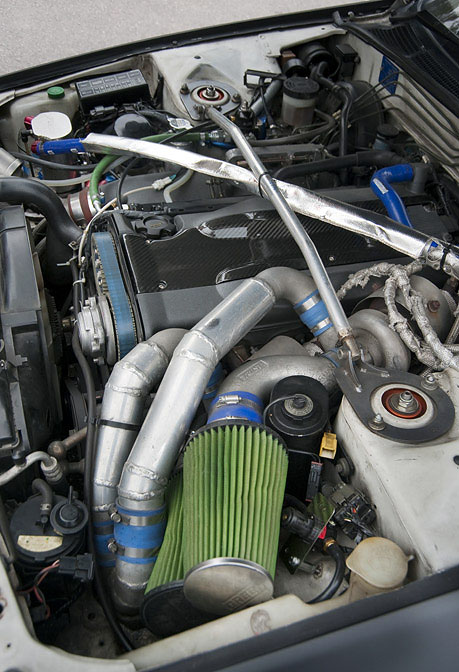 The engine has been rebuilt and fitted with Trust TD05H-16G turbos which at 1.5 bar help develop 650 HP and 715 Nm of torque.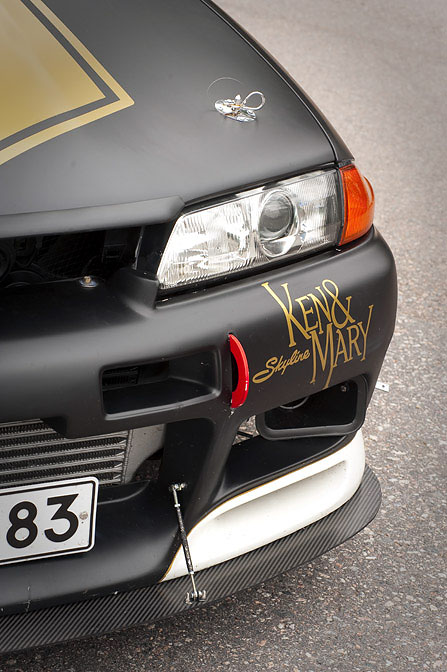 Another look at the front end.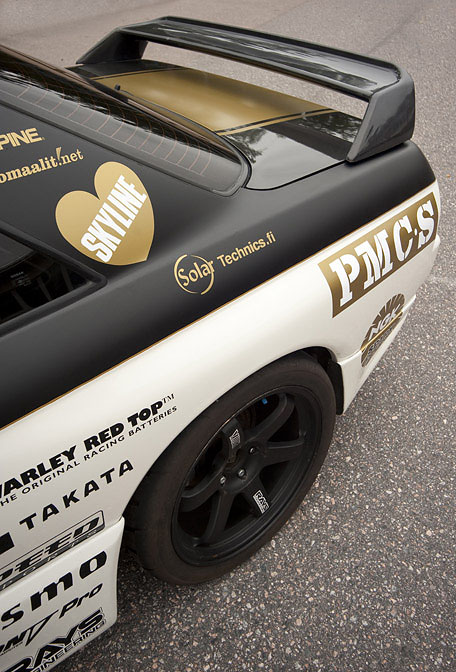 Nismo rear subframe bushes and hand picked polyurethane bushes are keeping the rear stable. Hicas is fully removed. Rear braking is upgraded with EBC Turbo Groove discs and Ferodo 3000 pads – enough for Time Attack use. Trunk lid is carbon fiber as well as the 1.7 kg (3.74 lbs) wing.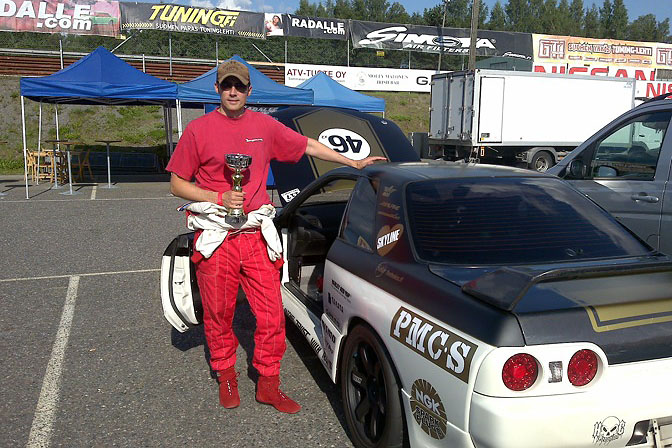 Here I am looking very proud!
-Samuli Salokangas