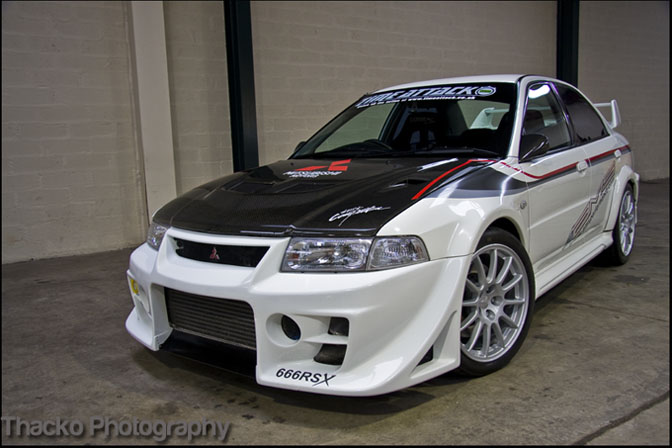 Before I start i must make one thing clear, I dont own this hardcore track focused Evo VI RSX you see before you but I know a man who does, Tony Elrick. Unfortunatly at this moment in time Tony is in hospital recovering from a serious road accident (thankfully not in his Evo) so he can't give you the story in his own words but I hope I can do Tony and the car justice, hopefully seeing this will help his recovery that little bit extra!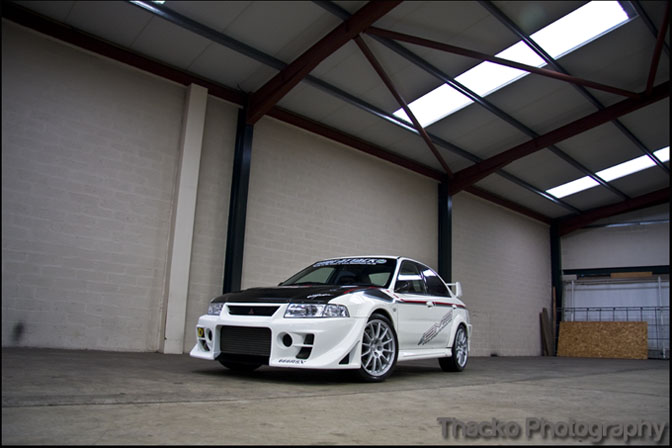 So lets start from the beginning, purchased back in 2005, this Mitsubishi Evo VI RSX was completely standard, bought from a fellow member of the Mitsubishi Lancer Register (MLR), Tony knew he was buying a car of high quality. When Tony loved the car and straight away started to compete in local race meetings, needless to say (as we all probably know) the car broke so Tony and his friend Martin set about replacing and upgrading the parts that gave up. Bushes, shocks, springs links and all the bolts to hold it together. Drivetrain parts followed with transfer box and rear differential. A few engine goodies were added for the time being but he ultimately knew that he wanted to rebuild the engine to a higher spec than it left the factory in Japan.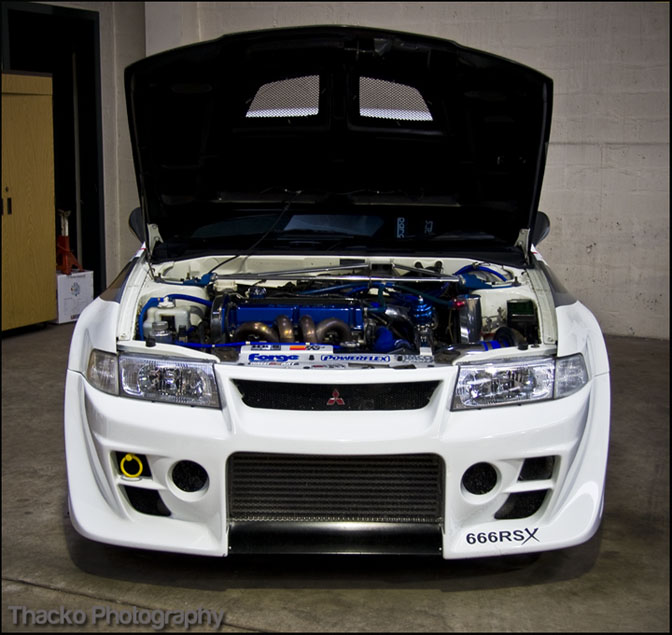 He continued on for the time being and started competing in the "MLRSS" which is an Evo only Sprint Series held on six different circuits throughout the UK, it has different classes also for different levels on tune. He did pretty well in class for the first year out, attending most of the rounds (which is quite a feat as he lives near Aberdeen in Scotland and all the events, bar one, being at least 400 miles away). To say he got the bug would be an understatement and the rest, as they say, is history.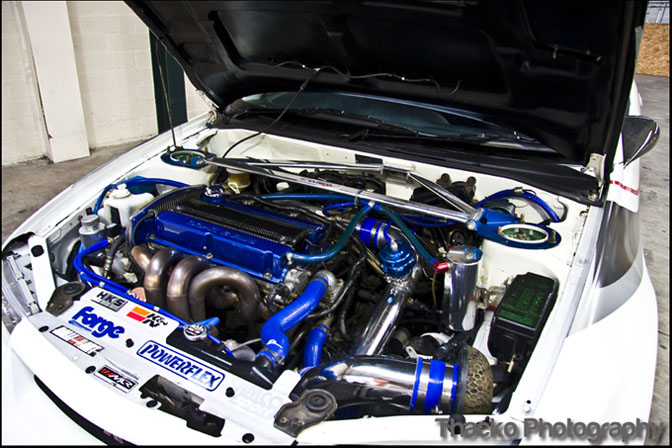 The car became a road-legal, track-focused car, the engine was sent to Steve Hill Motorsport, it was rebuilt with a brand new crank and block, they fitted HKS pistons and rods, Piper 285º camshafts, ported the cylinder head aswell as removing the balancer shaft. Fueling and ECU were taken care of by a Motec M800, two Bosch 044 fuel pumps and RC 1000cc injectors all mapped by Wallace Performance in Aberdeen. The gearbox and transfer boxes received a "full freshen up" and the clutch was uprated to a HKS twin plate to deal with the soon to be fitted Evo 400 Turbo Dynamics Turbo kit, which would push the Brand new  engine to 410 HP and a respectable 370 ft/lbs of torque!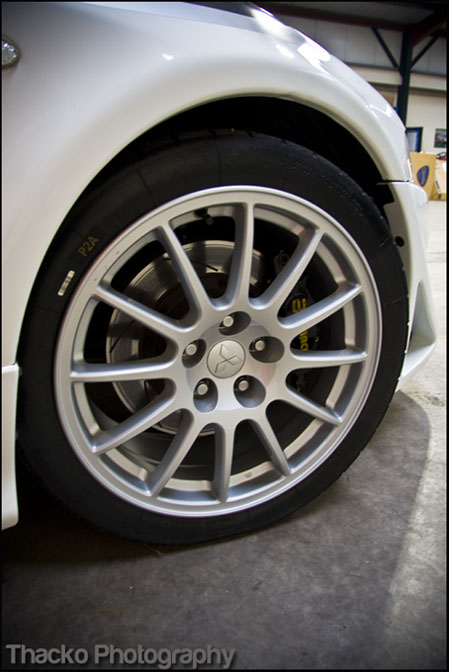 To stop all this though, there had to be a serious amount of braking force, which comes from AP Racing and a 330 mm/6-pot brake kit at the front, and Standard GSR spec Brembos at the rear. The wheels, Evo X items in these pictures are purely for the road but Tony loves to run his faithful 9Jx17" Enkies on the track with Toyo R 888's all round.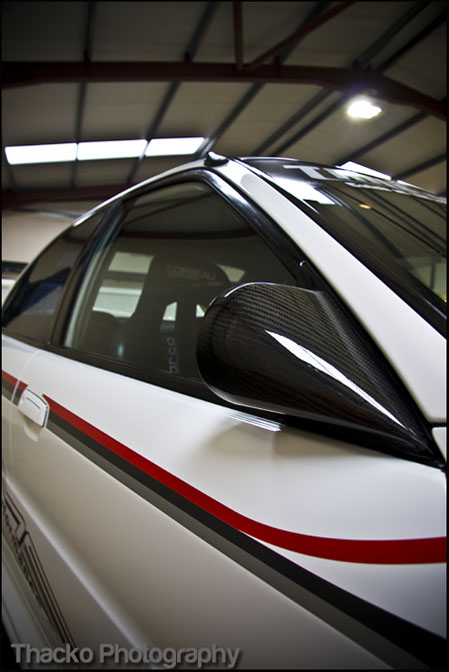 With the go-factor sorted, it was onto the looks! A Damd front bumper was added along with a carbon bonnet  and the TME stripes it wears very well. Tony added some bling for the interior…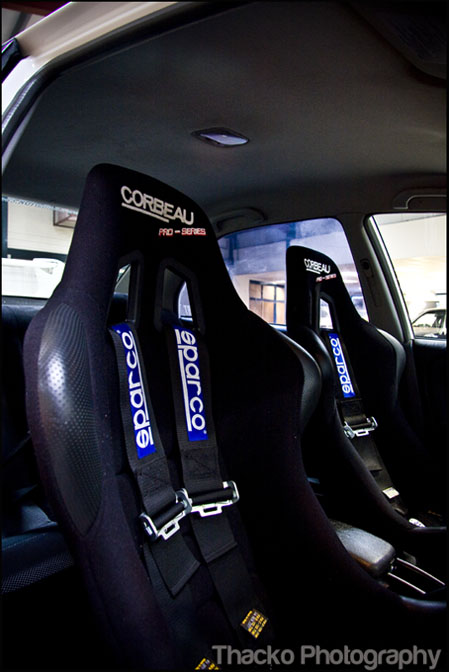 …a Ralliart gearknob along with a few safety features like Corbeau Seats and Sparco 3" Harnesses.
With all this completed Tony was ready for action! Or so Tony thought. He upgraded to an AMS 50 R turbo kit (an added 110 HP and 50 ft/lbs of torque) just in time for the first event of the season. He started 2009 with a lot of events under his belt from previous years but no clear indication of what was going to happen in the coming year.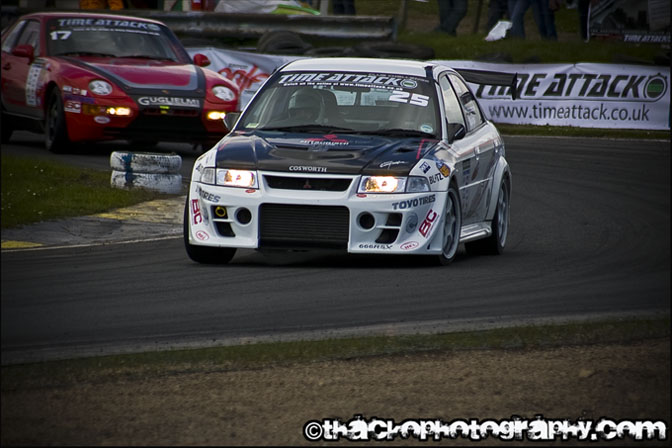 Countless wins and 1 Track record in class at the various North of Scotland Sprint and hillclimb events followed, a 2nd place overall in the MLR Sprint Series out of 88 entrants, a special invite to compete in the one off MLR driver shootout (7 drivers go head to head with a professional driver to see who is the best) and a one-off entrance into UK Time Attack at Knockhill in Scotland, where he came second in the Club Class. A great year, I'm sure you will agree.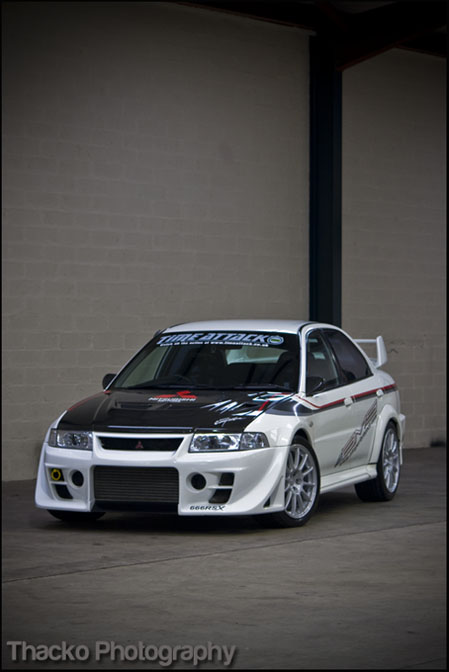 And so with 2009 gone and onto 2010, what now for the "beast"? Time to sell! Tony has decided that after such a great year and the car at its peak that its time to let go and kind of settle down. He has just bought a new house and the constant costs for entering events and maintaining the car can't be covered with the added day to day house bills and mortgage.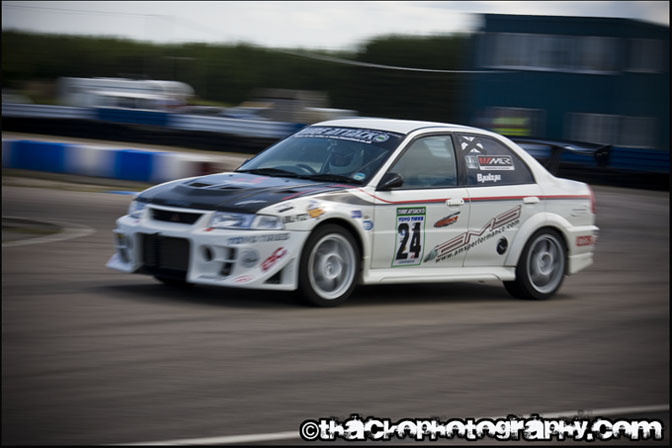 With the price tag of around £20k ($32,000) I'm sure you will agree it is a hell of a car for such little money!
-Stephen Thackwray