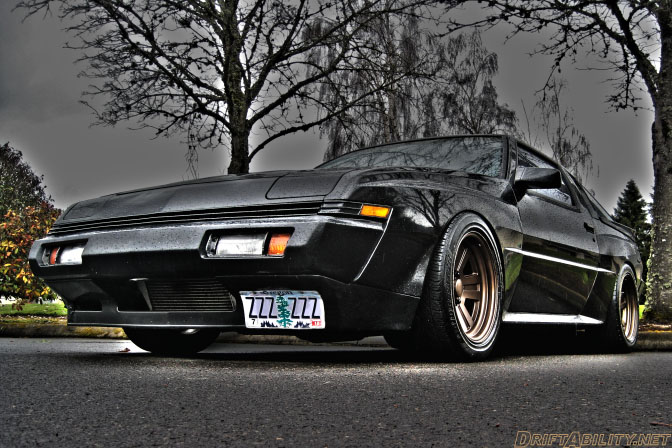 Hello Speedhunters, my name is Robert G and I roam the streets of the Portland Oregon area.  I bought this 86 Mitsubishi Starion as a wounded animal, miss treated and abused.  I saw it as a blank canvas to paint my dream car and could not resist.  This would be my 3rd 1986 Starion, 3rd time's the charm I guess.  I gave away my first two to fellow Starion addicts, but I still see (and maintain/modify) them regularly.  I am addicted to cars, and Mitsubishi Starions are my drug of choice.  They are understated, and sophisticated.  They are bold, and confident, without being too ostentatious.  Just my style.
This is my car last year, I used a set of stock rear wheels in the front, 16×8" -10 offset.  And added 25mm spacers to the rear.  I have it lowered on MK1 suspension and camber plates.  But this just wasn't low enough for me.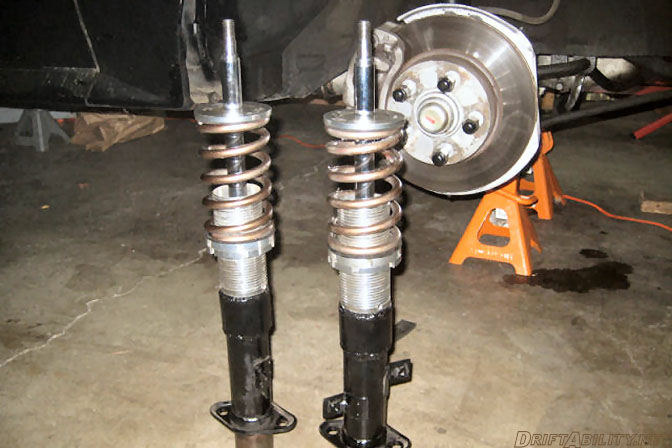 I sliced my strut housings by nearly 2" and used shorter Tokico Illumina shock inserts from a Mr-2.  I also wrote a detailed how to guide on how to do this for fellow Starion owners, and anyone interested in using MR-2 struts, on my site DriftAbility.net.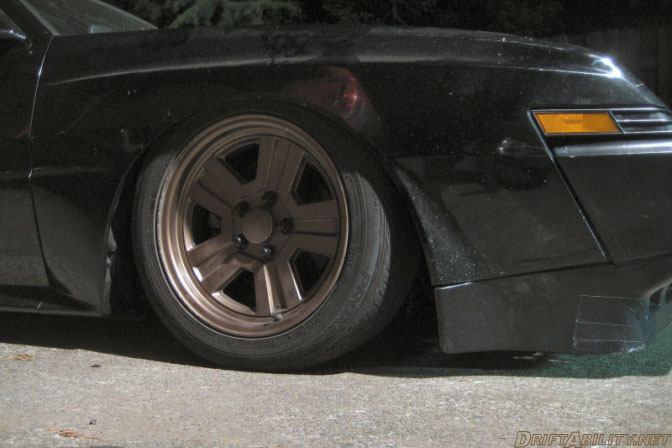 This gave me my injection of low that I was craving for badly. I couldn't drive it this low without major modifications for wheel clearance.  I raised it, BARELY.  My exhaust at the time was turned into a permanent spark machine. So I built a 3" exhaust and tucked it high up so I could roll low on the daily.  Yes, daily.  If I don't drive it daily I get withdrawals.  Once when I blew a tire, and then my spare, far from home and had to leave it, I could not stop worrying about it.  When I came back later that day, I had butterflies in my stomach when I was reunited.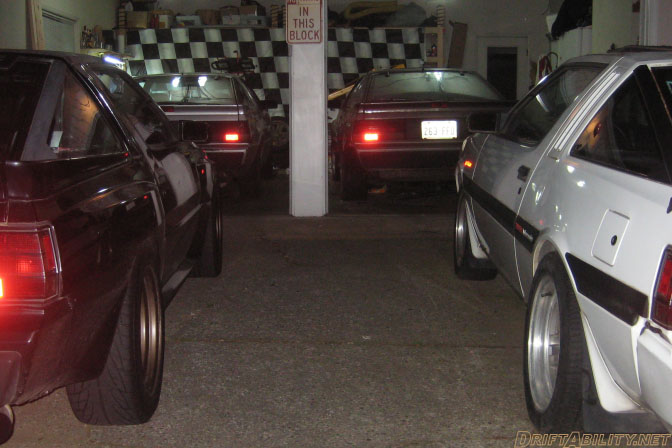 A quick snap next to a few of the local guys/close friends, from NWStarQuest.com at my shop.  Mine is just a touch lower… haha.  I've owned all of these cars at one point in time, believe it or not.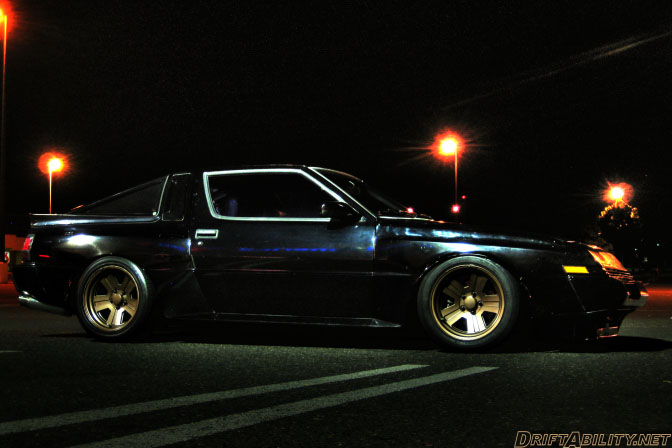 Ben over at JapaneseNostalgicCar.com called it pure evil ; however, for me it is heaven and a dream come true.  If I were allowed to love something more than my wife, this would be it.  From what I can tell, she loves me back.  And I'm sure I'll never leave her.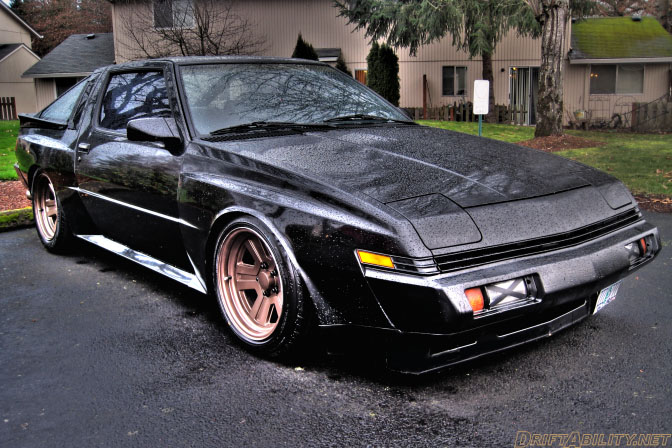 Here is how she sits now, I took off the rear spacers so I could go lower and plan on getting another set to bring the wheels back out to flush.  After adding a rebuilt 2.6 when I first got it, I've upgraded her with a 6 bolt Ralliart LSD/rear end, Porterfield Carbon Kevlar brake pads, custom hard pipes, and a Walbro fuel pump.  A TurboXS RFL Bov backs up the factory "Turbo" door handles.
Almost every time I stop at light, a car in the next lane will talk to me about my Starion.  When I pull into a gas station, attendants ask "What the hell is that thing?!"  Without the current members and great friends at StarQuestClub.com, I would not have found this beast, or any of the 5 Starions that have passed through my hands.  I currently stable 3 of them, one for the wife of course, and the other… that'll be a surprise.
-Robert Gordon